1stSgt Barbara S. Wamsley U.S. Marine Corps (Ret) (1976-1996)
Read the service reflections of US Marine
1stSgt Barbara S. Wamsley
U.S. Marine Corps (Ret)
(1976-1996)
Shadow Box: http://marines.togetherweserved.com/bio/Barbara.Wamsley
PLEASE DESCRIBE WHO OR WHAT INFLUENCED YOUR DECISION TO JOIN THE MARINE CORPS?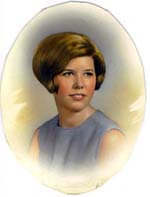 The desire to give back and travel. I couldn't see myself continuing my life in Norfolk and my aunt, Connie Stokley Shortt, proposed the idea. I visited all the recruiters, except for the Navy, because I wanted to see another part of the country along with the fact that my experience as a civilian in a Navy town wasn't the most flattering. The Army showed very little interest in me and the Air Force struck me as too easy for what I was looking for. I was surprised that there were women in the Marine Corps, and I wanted to see California before an earthquake leveled it. Additionally, having spent 12 years in Catholic school uniforms, I preferred the Marine Corps uniform over the others.
The other driving factor for me was I would be assured of equal pay for equal work no matter what branch I entered and I could learn new skills not offered in the private sector.
WHETHER YOU WERE IN THE SERVICE FOR SEVERAL YEARS OR AS A CAREER, PLEASE DESCRIBE THE DIRECTION OR PATH YOU TOOK.
With California as my original goal, I enlisted under an open contract taking the chance that I would get a MOS that was a good fit for me and the Corps. It worked and I was fortunate to be one of the first 10 Women Marines in 1976 to go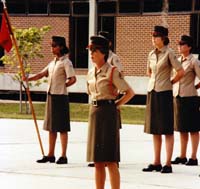 into Avionics. It still amazes me that women weren't in that field until that time. I met my future husband, Don, during MOS schooling at NAS Millington, TN and then left for the west coast at MCAS El Toro. We married in December, 1976 so we would be stationed together in El Toro. In 1981, Don got orders to DI school in SC and I went to MCAS Beaufort. Once his DI tour was complete he was also stationed at MCAS Beaufort with VMFA-333.
I got out of the Marine Corps in 1980 for the birth of our second child, but came back eight months later. I really agonized over both the decision to leave and then the decision to re-enlist. Eventually we both went into Career Planning, working together at H&MS-31. In 1984 I went to the drill field. After my tour at Parris Island as a DI, SDI, CDI and with the Depot Inspector's Office, I used my DI option for an accompanied tour overseas because Don was due for orders there. I never was due for overseas orders then, another surprise
We served three years in Okinawa as Career Planners, thoroughly enjoyed the experience with our family, but very glad to return stateside. We went back to our MOSs at MALS-32 (Don) and MALS-14 (me, obviously) at MCAS Cherry Point. In August,1990, Cherry Point was gearing up for Desert Shield and sending women Marines was on and off, finally resulting in WMs going due to the billets required. Additionally, Don was being told he was going and then he wasn't. It worked out for us that Don stayed and I went.
When I returned, I was selected for First Sergeant and wasn't too thrilled with my choices for duty stations, so I applied for the Army's Sergeants Major Academy. I was one of only two Marines in an international class of over 400 students. It was a fantastic experience to be part of Class 39 of USASMA. With Don recently retired, I accepted the billet of I&I 1st Sgt. for Ammo company, Greenville, SC for the last four years of my Marine Corps career.
IF YOU PARTICIPATED IN COMBAT, PEACEKEEPING OR HUMANITARIAN OPERATIONS, PLEASE DESCRIBE THOSE WHICH WERE THE MOST SIGNIFICANT TO YOU AND, IF LIFE-CHANGING, IN WHAT WAY.
I was involved in Desert Shield/Desert Storm with Avionics at King Abdul Aziz. It was inspiring to see all of the pieces of training and squadrons coming together in such an awesome way. To meet and interact with troops from all over the country, not to mention Scots and Brits,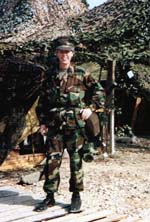 was so educational and cemented the philosophy of everyone having their place for the greater good.
The Seabees were way beyond expectations. We had drawers made from MRE cases and they were anxious to keep improving our lives in the desert. Our CO organized night RECON appropriation missions which was spectacular, especially since the green camo netting didn't especially blend well with the sand terrain, but we had such an awesome feeling of safety there. Didn't have email or Skype then, and I was lucky to be able to talk to Don a couple of times on WATS line and went to the AT&T phone tents to talk with the kids.
Many funny stories, most not appropriate for public dissemination, but the camaraderie was phenomenal. I remember opening my Sunday missal, wondering when we would be home. It opened on the First Sunday before Easter and, by the Grace of God, I was at Mass that Sunday at home. Homecoming was wonderful. It was so good to smell the pine trees! We learned a lot of lessons and hopefully didn't repeat too many mistakes on how to go to war.
OF ALL YOUR DUTY STATIONS OR ASSIGNMENTS, WHICH ONE DO YOU HAVE FONDEST MEMORIES OF AND WHY? WHICH ONE WAS YOUR LEAST FAVORITE?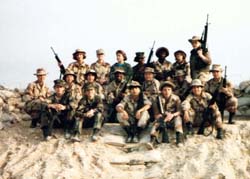 It is a toss-up. Parris Island will always hold a special place for me, but so will MALS-14. I thoroughly enjoyed time with my Marine Corps brothers and sisters, especially since we supported Desert Shield/Desert Storm. This was a wonderful, tight unit of Marines. This picture is of the Women Marines of MALS-14 (I am far left). To be the senior WM from that unit was a true honor. I believe the leadership learned that we are all Marines who take our responsibilities seriously.
My least favorite was my final assignment, I&I Staff, Ammo Company. Working with reservists is a completely different experience and going from "Swinging with the Wing" to the ground side was also a new ball of wax. I was the first WM 1stSgt this group had experienced and both sides had some adjusting involved.
FROM YOUR ENTIRE SERVICE, INCLUDING COMBAT, DESCRIBE THE PERSONAL MEMORIES WHICH HAVE IMPACTED YOU MOST?
Don and I remain grateful that the Corps kept us together throughout our careers. We were both career planners at the same unit and that worked out better than the CO thought it would. So, for a short time, we only needed one car. We then both served in separate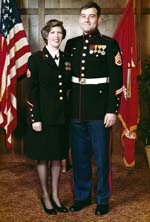 units as career planners in Okinawa.
Service on the drill field was outstanding. Personally, I preferred to work platoons back-to-back or overlap, mostly because I really enjoyed watching the transformation of women into Marines. I was on the street when women were finally allowed to qualify with the rifle. We DIs had a great time in the hot summer going through the PMI course. There was a Native American recruit who beat the range record in our first series to go through marksmanship-her name was Pvt. Killsplenty. Watching hundreds of women being fitted for their uniforms made me realize that God gave us all the same body parts, but we sure are arranged differently!
My most brutal discovery was the large percentage of women who are sexually and emotionally abused in their young lives. We desperately tried to keep and graduate these women, but some were just too fragile to complete training and had to return home. This still haunts me. Our daughter was in preschool and the teacher was alarmed that her favorite color was black until she heard the reason: "Because of Mom's shiny shoes." To be a part of making Marines from across the entire country and the bonds between Drill Instructors that remain so strong today are some of my most cherished memories.
Before deploying to Desert Shield, there was a woman Corporal in my unit who had remarried and was raising 6 children. She was giving her SNCO all kinds of grief, so I asked her if she signed the same contract that he and I did. I didn't remember anything in my contract about disobeying orders due to the size of my family.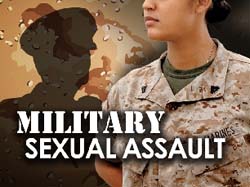 I then went to my Major and asked him to make sure she didn't deploy.
While in Saudi Arabia, I think the hardest conversation I had was when we had been issued vials of Valium. Most Marines were making jokes and excited until I explained that these were lethal and to be used only when all other methods of saving someone failed. Once we got passed that and the decontamination process should we be gassed, we had some great times watching all of our training kick into gear and getting to know each other and understanding how united we always were.
IF YOU RECEIVED ANY MEDALS FOR VALOR OR AWARDS FOR SIGNIFICANT ACHIEVEMENT, PLEASE DESCRIBE HOW THESE WERE EARNED.
No, even though my Sergeant Major gave me a combat action ribbon when we returned from Desert Storm. It was a nice gesture.
OF ALL THE MEDALS, AWARDS, QUALIFICATION BADGES OR DEVICE YOU RECEIVED, PLEASE DESCRIBE THE ONE(S) MOST MEANINGFUL TO YOU AND WHY?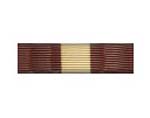 They are all good, but I never got into all of the medal counting and impression stuff. If I had to name one it would be the DI ribbon, even though that came after I retired.
I am very proud to have worn the scarlet DI cord from the first time it was awarded and to see it retired.
WHICH INDIVIDUAL(S) FROM YOUR TIME IN THE MILITARY STAND OUT AS HAVING THE MOST POSITIVE IMPACT ON YOU AND WHY?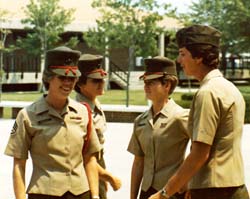 There are three – first, my husband, for obvious reasons. He is my rock.
Second, Lt.Col. Shelley B. Mayer, CO of WRTC and an incredible leader. I had to report to her once because she had received a call from the Depot about her DIs playing grab-ass with film crews in the area. Another DI was laughing at the fact that I had left my girdle on under our camo PT gear and as we exited the van she decided to make sure. So I apologized to the Colonel and she just threatened to take my first born. She is so missed.
Third and by far not least – Captain Barbara Purvis, my series Commander for many recruit platoons and my dear friend who has always kept me going in the right direction. She not only gave us great professional guidance but phenomenal comfort and laughter for the past two decades.
CAN YOU RECOUNT A PARTICULAR INCIDENT FROM YOUR SERVICE WHICH MAY OR MAY NOT HAVE BEEN FUNNY AT THE TIME, BUT STILL MAKES YOU LAUGH?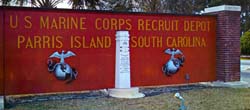 There are so many! I guess it's when I was with the Depot Inspector's office and walking through Parris Island one morning between battalions when I saw one of our white trucks and thought it was a fellow Inspector, so I did the "Funky Chicken" in the road only to find out it was the Drill Master from DI School.
WHAT PROFESSION DID YOU FOLLOW AFTER YOUR MILITARY SERVICE AND WHAT ARE YOU DOING NOW? IF YOU ARE CURRENTLY SERVING, WHAT IS YOUR PRESENT OCCUPATIONAL SPECIALTY?
I am the office manager for Premier Physical Therapy and Premier Personal Training. I love this job and all the great people we meet every day. The work atmosphere is beyond motivating.
WHAT MILITARY ASSOCIATIONS ARE YOU A MEMBER OF, IF ANY? WHAT SPECIFIC BENEFITS DO YOU DERIVE FROM YOUR MEMBERSHIPS?
We are not currently involved in any military associations due to the polarizing political atmosphere and in one case, inappropriate dealings with women members.
IN WHAT WAYS HAS SERVING IN THE MILITARY INFLUENCED THE WAY YOU HAVE APPROACHED YOUR LIFE AND YOUR CAREER?
By knowing who to surround ourselves with, to treat everyone with fairness and integrity. Through service in the Marine Corps we know who we really are as people and our love for this great country is beyond measure.
BASED ON YOUR OWN EXPERIENCES, WHAT ADVICE WOULD YOU GIVE TO THOSE WHO HAVE RECENTLY JOINED THE MARINE CORPS?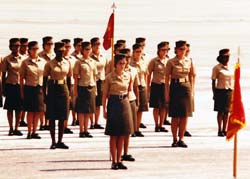 Thank you for choosing the military. Please know that your journey has a tremendous impact around the world. No matter how unpleasant your past or current billet, it will change a lot sooner than in the private sector. Your home is where you are and make the most of all you can. Your friends and family applaud ALL that you do and represent.
IN WHAT WAYS HAS TOGETHERWESERVED.COM HELPED YOU REMEMBER YOUR MILITARY SERVICE AND THE FRIENDS YOU SERVED WITH.
TWS has connected us with many past friends from all of our duty stations and we are thankful.