LtCol Scott Yost U.S. Marine Corps (Ret) (1980-2007)
by dianeshort2014
Read the service history of US Marine Corps veteran:
LtCol Scott Yost
U.S. Marine Corps (Ret)
(1980-2007)
View his shadow box on togetherweserved.com
PLEASE DESCRIBE WHO OR WHAT INFLUENCED YOUR DECISION TO JOIN THE MARINE CORPS?
As with any good high school senior, I was planning on going to college, getting an education, coming back to my home area, getting a good job and eventually working until retirement age. Well, sometime before Christmas 1979, I had just come home from school when I heard the mail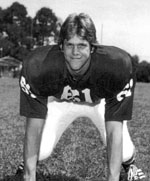 drop into the house (yes, we actually had a mail slot in the door and the postman would walk up and slide the letters in). I saw that there were letters from the two colleges I really wanted to attend: Penn State and University of Ohio. Opened up the Penn State letter and it said, "Sorry, not this time." The Ohio State letter said the same thing. I was devastated!
Within an hour or so, the phone rang and I picked it up (this was before cell phones and caller ID). The voice on the other end of the line said, "Hello, Scott Yost, this is Gunnery Sergeant Rodney Glover, United States Marine Corps. How would you like to join the Marines?" I said, "Sure, why not. I'm not going to college anyway." I think he was stunned. It took him a few moments before he gathered his composure and asked me to come down to the recruiting office in Mechanicsburg, PA.
WHETHER YOU WERE IN THE SERVICE FOR SEVERAL YEARS OR AS A CAREER, PLEASE DESCRIBE THE DIRECTION OR PATH YOU TOOK.
I enlisted on the delayed entry program in January 1980 and went to Parris Island for boot camp in September of that year. I was assigned the MOS of 4421, legal services specialist. After training at Camp Pendleton, CA, I was sent to the 1st Marine Brigade at Kaneohe Bay,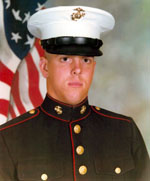 HI. While there I made a WestPac deployment aboard the USS Tripoli (LPH-10). After Hawaii, I went back to Parris Island and was only there for six months before I was selected for the MECEP enlisted commissioning program.
During the summer of 1985, I went to the MECEP prep school in San Diego, followed by college at Auburn University in Alabama. I went to OCS in the summer of 1986 and returned to finish up my degree (BA in History) by June of 1988. Next were TBS and a year at Pensacola for NFO training, before I found out that I have no tolerance for high G maneuvering. Off to logistics officer school in Little Creek, VA in January of 1990 followed by MOS designation of 0402, logistics officer and assignment to 2nd Landing Support Bn at Camp Lejeune, NC.
Deployed to Desert Shield/Desert Storm and upon return was immediately deployed to the Mediterranean as the S-4 with MSSG-24 aboard the USS Fairfax County (LST-1193) and later to CENTCOM/Somalia aboard the USS El Paso (LKA-117).
Next duty station was Quantico, VA as a Joint Doctrine Officer from 1994-1997. I then attended the Army's Combined Logistics Officer Advance Course at Ft Lee, VA, followed by a return trip to Hawaii as the S-4 for 3d Marine Regiment.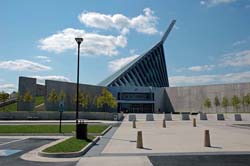 In 2000 I returned to CONUS with an assignment to HQMC, Installations & Logistics which was interrupted by the 9/11 attack and a selection to deploy to Camp Arifjan, Kuwait as an Individual Augment to the Coalition HQ staff. When I got home, I went to Marine Corps University, Quantico VA as the G-4 and was again sent overseas as an Individual Augment, this time to the 2nd Marine Logistics Group. After six months, I returned home and was reassigned to the Marine Corps Museum with the instructions to "get the construction finished on time, open the Museum and help run it until your time is up", which I did until I retired on Sept. 1, 2007.
IF YOU PARTICIPATED IN COMBAT, PEACEKEEPING OR HUMANITARIAN OPERATIONS, PLEASE DESCRIBE THOSE WHICH WERE THE MOST SIGNIFICANT TO YOU AND, IF LIFE-CHANGING, IN WHAT WAY.
Desert Shield/Desert Storm: I was a Platoon Commander for 2nd Landing Support Battalion. We started by unloading MPF ships in Al Jubayl, Saudi Arabia in December 1990. We then moved to Ras Al Mishab, just south of Kuwait, where my platoon and I did helicopter support team (HST) operations, hooking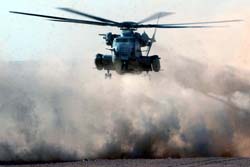 up 8 pallets of MREs under hovering CH-53E helicopters all day, every day. Just prior to the start of the ground war, we moved up to Kibrit, where we moved supplies around for units passing through on the way to Al Kanjar and helped operate the expeditionary airstrip.
After the 5-day war, we moved back to Al Jubayl and loaded some I MEF equipment onto ships for them, then back to Ras Al Mishab where we spent the last couple of months backloading ammo for transport back to the states.
Restore Hope/UNOSOM II (Somalia): As the S-4 for MSSG-24, I went ashore with a small liaison party to find supplies and lay the groundwork for the rest of the MEU to land in Mogidishu. After a couple of days, the entire MEU (-) bugged out in the middle of the night for Kismayu and left me and my team high and dry. So we tried to help out BSSG-7, because we had nothing else to do.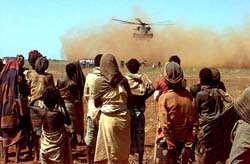 We pulled duty on convoys and helped out with the washdown at the "old port". We were there about a month before we were able to hitch a ride on an Australian C-123 Caribou down to Kismayu and join up with the rest of the MEU. We went to Kuwait for a training exercise and as soon as we got everything off of the ships, we were told to get back to Somalia. We never made it to Mogadishu, but we did do some humanitarian assistance projects in the north of the country.
Operation Iraqi Freedom: December 2002, I got snagged out of my cushy office job at HQMC to be an Individual Augment (i.e., the hired help) to the Coalition HQ in Camp Arifjan, Kuwait. I was the ground transportation chief. As soon as the war kicked off, and our forces made it to Baghdad, the lines of communication became fairly well stretched to the limits. An Army major, Troy Kok,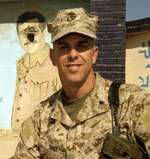 and I had the idea to work with the Brits in Um Qasr, Iraq to use the Iraqi railroad to move containers full of water up to the forces west and north of Baghdad. It took a couple of days of coordination and meetings, but we got the water containers to the port and got the trains set up and ready to roll. But since there was no way to tie the containers to the cars, they would have to be held in place by what I referred to as "gravity, friction, and wishful thinking." By mid-afternoon, we had a full train ready to go. That's when the trouble started.
First, the engineer came to us and said, "The men, they are hungry. So we will go to Um Qasr and get some food and we will drive the train tomorrow." Troy and I then tracked down a couple of cases of MREs and handed them out. A little while later, the engineer came to us and said, "The men, they are thirsty. So we will go to Um Qasr and get water and we will drive the train tomorrow." So Troy and I got two cases of bottled water and handed them out. About 5:00, the engineer came to us and said, "The men, they are out of cigarettes, so we will go to Um Qasr and get some and we will drive the train tomorrow."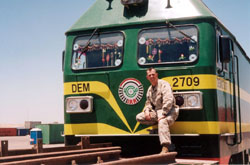 So Troy and I went to the British PX and bought a couple cartons of Marlboro cigarettes and handed them out. The engineer realized that for every excuse, we had an answer and resigned himself to the fact that he WAS going to drive the train today. We got the train crew loaded and then someone started taking pictures. Every time there was a camera flash, the train crew stopped what they were doing and got out and smiled for the pictures. This went on for about half an hour. Then around sunset, after MREs, water, cigarettes, photos and everything else, the train blew its whistle and departed the port.
The delivery went off without a hitch.
But other than the few of us who were at the Port of Um Qasr, nobody else knew that the first northbound run of the Iraqi Republican Railroad in support of the coalition was paid for with bribes of food, water, and cigarettes.
OIF II: In September 2005, the Individual Augment Fairy came to visit me again. At least this time I got to go with the Marines. I was assigned as the Deputy G-3 for the 2nd FSSG, which was re-designated as 2nd Marine Logistics Group (MLG) halfway through the deployment. I was pretty much stuck at Camp Taqaddum (TQ), Iraq for the whole six months. It's not that I was trying to be a "fobbit", but rather that the G-3 wanted me to stay there to take care of details. We needed to make sure that all the infantry units in Ramadi and Fallujah had everything they needed, so details were very important. Other than supporting the combat ops for the MEF, one of our big events was helping to coordinate the constitutional referrendum for the Iraqis in October '05. Only once was I able to get off TQ and was to go on a site survey to most of the camps in western Al Anbar.
FROM YOUR ENTIRE SERVICE, INCLUDING COMBAT, DESCRIBE THE PERSONAL MEMORIES WHICH HAVE IMPACTED YOU MOST?
My twilight tour is one that most Marines could only dream about. I was the Operations Officer and Deputy Director of the National Museum of the Marine Corps. I got to do and see some things that I still have a hard time believing. I helped organize the opening ceremony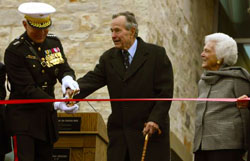 where President Bush "cut the ribbon" for our Museum. I got to lead dignitaries from all over the world through the Museum and share the Marine Corps' story with them. Some of the visitors were President Bush's adviser, Karl Rove, John McCain's mother (99 years old at the time) the Commandant of the Korean Marine Corps, actor Kevin Bacon, Ollie North, Leopold d'Arenberg – Prince of Belgium, the Director of Scotland Yard, several groups of WWII veterans, including Raiders, Para-marines, and Iwo Jima survivors, just to name a few. I didn't get to take him on a tour, but I did get to meet one of my childhood heroes – Astronaut John Glenn.
I helped hang the Iwo Jima flag when it was first installed in the Museum and I got to handle all four of Dan Daly and Smedley Butler's Medals of Honor. I was present when the niece of Pvt John J. Kelly donated her "Uncle Johnny's" medals from WWI, including an Army Medal of Honor, a Navy "Tiffany Cross" Medal of Honor, six Silver Stars and four Purple Hearts.
Prior to the Museum opening, I spent 4 hours covered in plaster and rubber while they made a full-body life-cast of me to use as a cast figure (mannequin) in the HO3-S helicopter in the Korean War display area. One of the last things I did was help out artist James Dietz by posing in my Dress Blue "A" for use in his painting, "You Will Not Fail Us" that shows Marines in various uniforms from the 1950s through 2007.
IF YOU RECEIVED ANY MEDALS FOR VALOR OR AWARDS FOR SIGNIFICANT ACHIEVEMENT, PLEASE DESCRIBE HOW THESE WERE EARNED.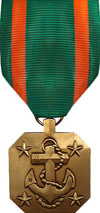 No awards for valor in combat, although my first Navy Achievement medal was for helping to stop an armed robbery in Hawaii. I was never in a position to earn a combat award for valor, even though I was deployed to combat zones four separate times. The billets to which I was assigned and the areas I worked out of never afforded me the opportunity to display the level of performance required for an award for valor.
OF ALL THE MEDALS, AWARDS, QUALIFICATION BADGES OR DEVICE YOU RECEIVED, PLEASE DESCRIBE THE ONE(S) MOST MEANINGFUL TO YOU AND WHY?
Well, all the awards I have earned have meaning to me. However, there are a couple that I have a special fondness for. First would be my Good Conduct Medal w/bronze star. I spent most of my Marine Corps career as an officer, so having the credibility shown by the nearly 6+ years of enlisted service was a big help. Also, my Sea Service Deployment Ribbon w/silver star means quite a bit. The Marine Corps is a service that prides itself on going wherever the action is. I was fortunate enough to deploy six separate times – three aboard ship (WestPac, Med, & Somalia), once to Desert Storm, once to Kuwait, and once to Iraq.
My first Navy Achievement Medal was awarded to me as a Cpl for helping to stop an armed robbery in Honolulu in 1983, so obviously that's another one with meaning. One award that I never received, even though I met all the criteria for was the Outstanding Volunteer Medal – I just have a real heartburn with putting myself in for a medal.
WHICH INDIVIDUAL(S) FROM YOUR TIME IN THE MILITARY STAND OUT AS HAVING THE MOST POSITIVE IMPACT ON YOU AND WHY?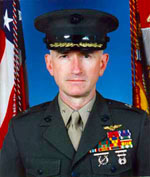 That's a fairly easy question. The most impact on me (other than my Drill Instructors) was my first boss, LtCol (later BGen) Gerald Miller. He was the Staff Judge Advocate at the Brigade Legal Center at MCB Kaneohe Bay, Hawaii. He saw something in me that led him to recommend that I apply for a commission via the MECEP program. Although I didn't make it my first time around, I was successful on the second attempt. It made all the difference in my life, because it put me on the path to where I am now.
CAN YOU RECOUNT A PARTICULAR INCIDENT FROM YOUR SERVICE WHICH MAY OR MAY NOT HAVE BEEN FUNNY AT THE TIME, BUT STILL MAKES YOU LAUGH?
When I was a corporal at HQCo, 1st Marine Brigade, Kaneohe Bay, Hawaii, we went to Bellows Air Force Base on a field exercise. One of my buddies, Cpl Bill Webb, was the M151 jeep driver. The Company Gunny told him to camouflage his vehicle, so he cut a few branches and threw them over the jeep. Gunny told him that it wasn't good enough, so Bill got into the jeep, put it into 4-wheel drive and rammed it full speed into the bushes until it was completely covered. The gunny didn't think it was funny but we all did.
WHAT PROFESSION DID YOU FOLLOW AFTER YOUR MILITARY SERVICE AND WHAT ARE YOU DOING NOW? IF YOU ARE CURRENTLY SERVING, WHAT IS YOUR PRESENT OCCUPATIONAL SPECIALTY?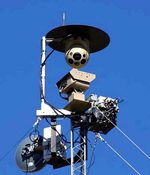 Right after retirement, I went to work as a logistics analyst for one of the many defense consulting firms in the northern Virginia area. Fortunately, I immediately started working on a project to develop the logistics concept for a piece of equipment, called G-BOSS, that provided 24/7 observation in and around Marine outposts in Iraq and Afghanistan. So, even though I was no longer on active duty, I was still serving the Marine Corps and protecting Marines.
Since then, I've worked with HQMC, I&L, Logistics Vision & Strategy and Maintenance Policy sections, III MEF for an analysis of the procedures units are using in GCSS-MC and now I'm working on Maritime Prepositioning Program policy.
WHAT MILITARY ASSOCIATIONS ARE YOU A MEMBER OF, IF ANY? WHAT SPECIFIC BENEFITS DO YOU DERIVE FROM YOUR MEMBERSHIPS?
Life member of the VFW, member of Military Officers Association of America (MOAA) and Marine Corps Association (MCA).
With MCA, I get a subscription to Marine Corps Gazette, which is edited by my old 3d Marine Regiment CO, Col John Keenan. I got job hunting advice from MOAA and the VFW membership gets me into their bi-monthly gun shows for free.
IN WHAT WAYS HAS SERVING IN THE MILITARY INFLUENCED THE WAY YOU HAVE APPROACHED YOUR LIFE AND YOUR CAREER?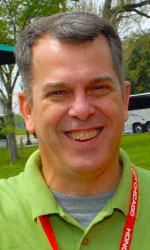 I would not be where I am today if not for the Marine Corps. It taught me discipline and self reliance. I have learned how to be a leader and how to be a follower and how to know the difference between the two. Several times I was tested to levels beyond what I thought I was capable of, but I was always able to make it through.
I have been provided with a wealth of experiences to draw upon to help me make better decisions. I have seen different cultures in 30 foreign countries that helps me to make sense of other points of view.
BASED ON YOUR OWN EXPERIENCES, WHAT ADVICE WOULD YOU GIVE TO THOSE WHO HAVE RECENTLY JOINED THE MARINE CORPS?
Always do your best and always to what you know to be right. The 14 Leadership Traits are a good place to start – live by them and make them an integral part of your life. Work hard, play hard, follow orders and realize that you DON'T know everything. Everyone can learn something new – if you don't learn something new every day, you've wasted that day.
Most of all, have fun and enjoy your time in the Corps – it ends before you realize it.
IN WHAT WAYS HAS TOGETHERWESERVED.COM HELPED YOU REMEMBER YOUR MILITARY SERVICE AND THE FRIENDS YOU SERVED WITH.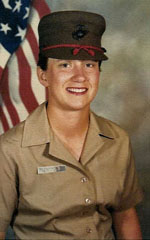 One of the first people who contacted me after joining was Tina Adams. We were stationed together in HQCo, 1st Marine Brigade at Kaneohe Bay, Hawaii. Tina actually beat me in a meritorious corporal selection board while we were there.
There are several Marines I served with that I've been able to contact through the member search feature. I've also found out via the remembrance profiles that sadly, some others have passed on.
I enjoy reading the good natured banter on the forums – it sounds just like the stuff that used to go in in the squadbay. Mostly I just read other people's posts, and very rarely do I post anything – usually just one liners or some smart-assed comment.
The only reason I'm doing this is because Kim Crawford guilted me into it.