MSTC John Murphy U.S. Coast Guard (1963-1971)
by dianeshort2014
Read the Service story of U.S. Coast Guardsman:
MSTC John Murphy
U.S. Coast Guard
(1963-1971)
Shadow Box:
http://coastguard.togetherweserved.com/bio/John.Murphy
PLEASE DESCRIBE WHO OR WHAT INFLUENCED YOUR DECISION TO JOIN THE COAST GUARD?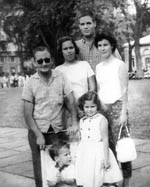 After a year in college I was feeling restless and looking to go out in the world and do something productive. I had always enjoyed boats and being on the water so joining one of the sea services seemed like a natural. My career interests were in science and technology so I went to visit the Navy recruiter to discuss the nuclear propulsion field. I passed all the tests except one: I was too TALL. The height limit on subs was 6-4 in those days and I was already 6-5 and still growing. The recruiter suggested I go across the hall to see his Coast Guard counterpart as they were "always looking for guys over six feet tall." Having fond recollections of Coasties zipping around in their forty footers in Montauk, performing rescues and saving pretty girls from their sinking yachts, I walked across the hall and met with the Coast Guard recruiter in New York. After hearing his pitch I was sold and signed up the same day.
WHETHER YOU WERE IN THE SERVICE FOR SEVERAL YEARS OR AS A CAREER, PLEASE DESCRIBE THE DIRECTION OR PATH YOU TOOK. WHAT WAS YOUR REASON FOR LEAVING?
After completing basic training in Cape May on my 19th birthday, I was sent to Key West to await the next class of Sonar School. I was a bit of a "sea lawyer" (wise-guy) so the Navy CMAA sent me to the Coast Guard base to work for "my own kind" instead of cleaning heads, mess-cooking or doing something else where I would have a chance to "mess up" HIS Navy. Spent the next month day working at the CG moorings and filling in for an injured crewman on one of the station's 40 footers. Finished Sonar School second in my class, was advanced to PO3 and sent to the CGC Half Moon based at Staten, Island, New York. Enjoyed my two year tour on the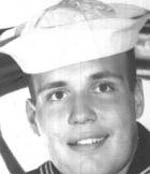 Half Moon immensely. I made E-5 and attended the Class-C school for Oceanography, steering my career toward the Marine Sciences. I was transferred to the Coast Guard Oceanographic Unit in 1966 where I worked with early computer systems and then took over running the Unit's marine chemistry lab.
I made a number of TAD cruises aboard Evergreen, Sweetgum, and Glacier as a member of the scientific party. I made E-6 in 1967 and then laterally transferred to Marine Science Technician when the rating came into existence. I was sent to the CG Institute to develop the rating quals and service-wide exams for the new rating and then transferred to Governor's Island as an instructor in the new MST "A" School. I made Chief in 1969 and was assigned collateral duties developing the prototype of the first computerized Satellite/Loran shipboard navigation system – the forerunner of today's GPS systems. I spent the last two years teaching "A" School students and developing computer programs for the CG's Honeywell computer systems. I would have liked to stay in but family responsibilities dictated that I leave the service after a wonderful 8 years.
OF ALL YOUR DUTY STATIONS OR ASSIGNMENTS, WHICH ONE DO YOU HAVE FONDEST MEMORIES OF AND WHY? WHICH ONE WAS YOUR LEAST FAVORITE?
Fleet Sonar School – a tough six month school. CGC Half Moon – my favorite unit of all. A great ship with a great crew. I made a lot of patrols and visited some great liberty ports. Coast Guard Oceanographic Unit – highly challenging work. I learned computer programming and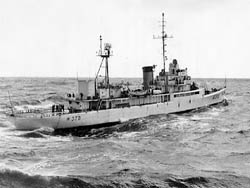 ended up running the unit's marine chemistry lab. CGC Evergreen – I made a number of oceanographic cruises aboard this research cutter including Ice Patrol off the coast of Greenland. CGC Sweetgum – made a trip where divers were checking on the wrecks of tankers sunk by U-boats during WW-2.
My job was to analyze the water in and around the wrecks looking for signs of residual oil seeping into the environment. No oil but some great fishing over the wrecks and a chance to help with the hard-hat diving ops. CGC Glacier – the cruise of a lifetime. DeepFreeze 68 to the Weddell Sea. The crew was awarded the Navy Unit Commendation Medal for meritorious service, literally going where no man had gone before. TRACEN Governor's Island – really enjoyed instructing as well as my collateral assignment of developing the prototype GPS system. Awarded the CG Commendation Medal for this effort.
FROM YOUR ENTIRE SERVICE, INCLUDING COMBAT, DESCRIBE THE PERSONAL MEMORIES WHICH HAVE IMPACTED YOU MOST?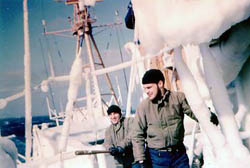 The research trip to Antarctica aboard CGC Glacier. Spent 6 months planning and making preparations for the scientific aspects of the trip. Once underway we had to set up a full multi-discipline research station aboard a ship including computers, physical, chemical, biological and geologic oceanographic equipment. We were the first ship to successfully penetrate the Weddell Sea ice since Shackleton in 1915. Once we passed the limits of where Shackleton had gone we were the first men to ever see the parts of the Antarctic coast we saw on portions of that trip.
WHAT ACHIEVEMENT(S) ARE YOU MOST PROUD OF FROM YOUR MILITARY CAREER? 


The Coast Guard Commendation Medal. It took a lot of teamwork and hard work. We all pulled together to complete a complex project. My Good Conduct Medals for almost 10 years of hard work, and our Navy Unit Meritorious Commendation for the team.
OF ALL THE MEDALS, AWARDS, FORMAL PRESENTATIONS AND QUALIFICATION BADGES YOU RECEIVED, OR ANY OTHER MEMORABILIA, PLEASE DESCRIBE THOSE WHICH ARE THE MOST MEANINGFUL TO YOU AND WHY?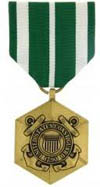 The Coast Guard Commendation Medal as it was awarded in recognition of my work on a highly complex project – developing the first integrated Shipboard Navigation System consisting of Satellite, Loran-A and Loran-C components. We also implemented the first system capable of determining a ship's position from only two Loran stations rather than the typical three, a big plus in polar waters where it was impossible to be within range of more than two.
WHICH INDIVIDUAL(S) FROM YOUR TIME IN THE MILITARY STAND OUT AS HAVING THE MOST POSITIVE IMPACT ON YOU AND WHY?
Chief Don Etzler, one of my instructors in Sonar School and later my Leading Petty Officer on Governors Island. He taught me about the technical aspects of my job, how to be a good Coast Guardsman, a good Petty Officer. He set a wonderful example of what it meant to be a Chief. In short he helped me become a man.
CAN YOU RECOUNT A PARTICULAR INCIDENT FROM YOUR SERVICE WHICH MAY OR MAY NOT HAVE BEEN FUNNY AT THE TIME, BUT STILL MAKES YOU LAUGH?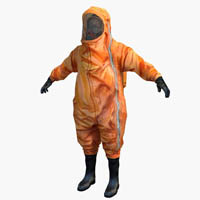 On Ocean Station around Halloween we had a very superstitious lookout on the flying bridge. One of the DCs dressed up in an N-B-C suit and climbed up to the flying bridge where the lookout was stationed. The poor seaman freaked out and scrambled down the ladder to the bridge, explaining to the OD how a spaceman had landed aboard the ship. He refused to go back up saying he'd rather risk court martial than the chance of being abducted.
WHAT PROFESSION DID YOU FOLLOW AFTER YOUR MILITARY SERVICE AND WHAT ARE YOU DOING NOW? IF YOU ARE CURRENTLY SERVING, WHAT IS YOUR PRESENT OCCUPATIONAL SPECIALTY?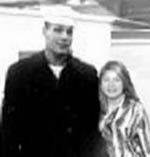 I worked in a variety of positions in the computer field for the 30 years after my discharge. Most were in the area of Systems Engineering, making a bunch of gadgets work together with a computer, something the CG taught me how to do well.
IN WHAT WAYS HAS SERVING IN THE MILITARY INFLUENCED THE WAY YOU HAVE APPROACHED YOUR LIFE AND YOUR CAREER?
The Coast Guard was an excellent environment in which to learn leadership skills along with the technical training associated with a particular rating. This proved to be invaluable in civilian life and provided a natural foundation for a successful career in middle management. As far as the influence on my personal life, the regimentation was highly useful when I found myself the father of six children. I have to admit that there have been times when my wife and children had to remind me I'm not a Chief in the Coast Guard anymore.
BASED ON YOUR OWN EXPERIENCES, WHAT ADVICE WOULD YOU GIVE TO THOSE WHO HAVE RECENTLY JOINED THE COAST GUARD?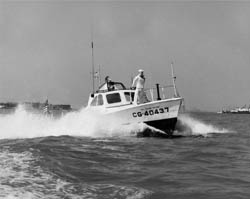 Above everything else – be true to the traditions of those who went before you. Learn from your leaders and utilize the training afforded you. In those unexpected situations where you haven't been trained, use the common sense you were born with, the Coast Guard accepted you as one of their members as they have faith in your ability to make the right decision.
IN WHAT WAYS HAS TOGETHERWESERVED.COM HELPED YOU REMEMBER YOUR MILITARY SERVICE AND THE FRIENDS YOU SERVED WITH.
Keeping in touch with former shipmates and refreshing cherished old memories. An added bonus has been being able to show my grand-kids the kinds of things their grandfather did when he was a much younger man.