Read the service reflections of U.S. Air Force Airman:
CMSgt Gilberto Flores
U.S. Air Force (Ret)
(Served 1961-1987)
Shadow Box: http://airforce.togetherweserved.com/bio/Gilberto.Flores
If you are a veteran or a family member of a veteran, join us TogetherWeServed.com
PLEASE DESCRIBE WHO OR WHAT INFLUENCED YOUR DECISION TO JOIN THE AIR FORCE?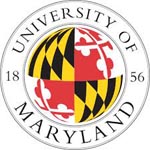 Having little or no money to attend college after high school, I decided to join the Air Force, learn a skill and obtain a degree. I'm pleased to say that the Air Force was very supportive of higher education, and I managed to obtain a BS degree from Embry-Riddle Aeronautical University, an Associates degree from the Community College of the Air Force, and another Associates degree from the University of Maryland. This education helped me gain employment in Aerospace when I retired from the Air Force.
WHETHER YOU WERE IN THE SERVICE FOR SEVERAL YEARS OR AS A CAREER, PLEASE DESCRIBE THE DIRECTION OR PATH YOU TOOK.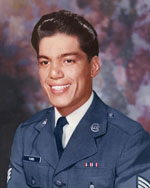 I was in the Administrative/Information Management career field in my early years as an Airman. When I enlisted in 1961, there were not many available or open career fields other than support type jobs such as Supply, Food Service, Personnel, and so on. Because I did not have 20/20 vision without glasses, I was unable to enter combat related fields such as Combat Control teams, Weather, Rescue, etc. which I really wanted. However, I managed to attain the grade of Staff Sgt. before I retrained in the Aircraft Maintenance career field which enabled me to be promoted all the way to Chief Master Sergeant.
IF YOU PARTICIPATED IN COMBAT, PEACEKEEPING OR HUMANITARIAN OPERATIONS, PLEASE DESCRIBE THOSE WHICH WERE THE MOST SIGNIFICANT TO YOU AND, IF LIFE-CHANGING, IN WHAT WAY.
While assigned to the 315th Air Commander Group (TC) at Tan Son Nut AB, Republic of Vietnam and working in the Airlift Control Center by day, I volunteered to fly aboard C-123 aircraft as an Illuminator Operator (commonly called "flare kickers"). We flew an average of 8-10 hours at night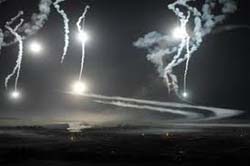 supporting ground forces under attack by enemy combatants. Because we flew at low altitudes while dropping our flares, we were always subject to enemy ground fire. In fact, several of our assigned aircraft came back from the missions with bullet holes and other damage. During my 14 months in country we lost two C-123 aircraft due to enemy action.
I flew a total of 42 combat missions and was awarded the Air Medal, of which I am very proud. I was 8 combat missions short of an additional medal. At the time the criteria for the Air Medal was 25 combat missions.
It should be noted that my Air Commando Group consisted of four airlift squadrons, including the Ranch Hand squadron which was responsible for defoliant operations. Little did we know how "Agent Orange" would affect us later!
OF ALL YOUR DUTY STATIONS OR ASSIGNMENTS, WHICH ONE DO YOU HAVE FONDEST MEMORIES OF AND WHY? WHICH ONE WAS YOUR LEAST FAVORITE?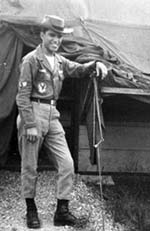 My favorite assignment was in Vietnam with the 315th Air Commando Group. It was an honor to serve with outstanding Airman (Air Commandos) whom I greatly admired and who had a great history and tradition going all the way back to WWII. This is the group I have the fondest memories of due to the fact that we were in a war. In fact , I always make it a point to tell people that I was surrounded by heroes every day while I was in Vietnam.
My least favorite assignment was serving 6 months in Guam. Other than work, there was not much else to do and the time went slowly before we returned to our home base in California. Those 189 days in Guam seemed like the longest in my 26 year career. We were in Guam in support of B-52/KC-135 operations during Operation Arc Light missions in Vietnam. During that period, several SAC combat wings deployed to Guam and Thailand for six month periods on a rotational basis.
FROM YOUR ENTIRE SERVICE, INCLUDING COMBAT, DESCRIBE THE PERSONAL MEMORIES WHICH HAVE IMPACTED YOU MOST?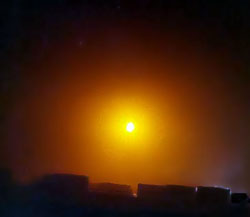 Throwing out a "hot flare" while on a combat mission in early 1965. Flying through turbulence and ground fire, one of our flares did not clear the open ramp and came back in to the floor of our aircraft–hot. Being closest to the ramp at the time, I somehow managed to grab a hold of the flare and threw it out of the aircraft before it ignited. As soon as it cleared the aircraft it did ignite turning night into daylight.
I think the Good Lord was on our side that night, and I thank him frequently for saving our aircraft and my 10 fellow Airmen on board. Each flare has a million candle power when fully ignited, and we carried several hundred of them on each flight. The aircraft commander told me after the mission that we would have surely lost the aircraft had it ignited inside the aircraft.
IF YOU RECEIVED ANY MEDALS FOR VALOR OR AWARDS FOR SIGNIFICANT ACHIEVEMENT, PLEASE DESCRIBE HOW THESE WERE EARNED.
Proud of my Air Medal and aircrew wings which I earned in Vietnam while flying as an additional crew member on C-123, C-130 and C-7 aircraft supporting our ground troops with flare drop missions.
OF ALL THE MEDALS, AWARDS, QUALIFICATION BADGES OR DEVICE YOU RECEIVED, PLEASE DESCRIBE THE ONE(S) MOST MEANINGFUL TO YOU AND WHY?
The Air Medal for combat service in Vietnam and my four Meritorious Service Medals (MSM) and Commendation Medals in recognition of my service. Award of these prestigious medals showed me that my Air Force appreciated my contributions to the mission.
WHICH INDIVIDUAL(S) FROM YOUR TIME IN THE MILITARY STAND OUT AS HAVING THE MOST POSITIVE IMPACT ON YOU AND WHY?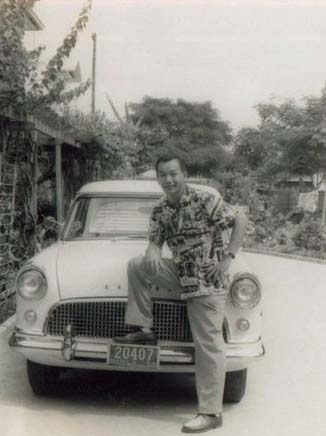 Master Sgt. Gilbert Ching, my Administration supervisor and role model at the 3595th Aerospace Test Wing at Vandenberg AFB. He always told me to be the best I can be in everything I do as an Airman, NCO or Civilian.
His leadership style and professionalism left an enduring, positive impact on me and stayed with me throughout my career and into my current life. I unfortunately lost contact with him, but I often think of him.
CAN YOU RECOUNT A PARTICULAR INCIDENT FROM YOUR SERVICE WHICH MAY OR MAY NOT HAVE BEEN FUNNY AT THE TIME, BUT STILL MAKES YOU LAUGH?
My NCOIC and I were traveling through the flight line at March AFB in the fall of 1968 when we inadvertently entered a highly restricted area. Needless to say, after being laid out on the hot runway by a dozen Security Policemen and two guard dogs, and having to face the old man afterward, this was not funny at the time. It was downright embarrassing.However, throughout the years, I laugh when I think about the incident and have fond memories of my NCOIC who took responsibility, since he was driving the maintenance truck when the incident (a 7-High) occurred.
WHAT PROFESSION DID YOU FOLLOW AFTER YOUR MILITARY SERVICE AND WHAT ARE YOU DOING NOW? IF YOU ARE CURRENTLY SERVING, WHAT IS YOUR PRESENT OCCUPATIONAL SPECIALTY?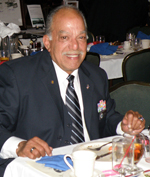 Due to my experience in the Air Force, I went in to the Aerospace profession with McDonnell Douglas and the Boeing Company. I worked a total of 15 years in aerospace, mainly on transport aircraft, including the C-17 program.
Presently, I am happily retired and working with Veteran service organizations such as the American Legion, the Disabled American Veterans and the Vietnam Veterans of America. I hold an officer position in each one of these organization. This keeps me busy and I enjoy helping my fellow Veterans and their families.
WHAT MILITARY ASSOCIATIONS ARE YOU A MEMBER OF, IF ANY? WHAT SPECIFIC BENEFITS DO YOU DERIVE FROM YOUR MEMBERSHIPS?
As listed in my profile, I belong to several military associations such as the Air Force Association, the Air Commando Association and TREA.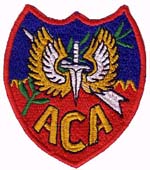 They each offer their own specific benefits, but the most important thing that do is working with, and on behalf, of Veterans both active duty and retired. Additionally, my membership allows me to keep a connection to the U.S. Air Force, although I no longer serve in the military.
IN WHAT WAYS HAS SERVING IN THE MILITARY INFLUENCED THE WAY YOU HAVE APPROACHED YOUR LIFE AND YOUR CAREER?
It thought me management, leadership and personal skills which has served me well throughout my life and made me the person that I am.
Because of my many years serving in the U.S. Air Force, I strongly believe in and try to live my life in accordance with our Air Force creed of: "Integrity First, Service before Self and Excellence in All We Do."
BASED ON YOUR OWN EXPERIENCES, WHAT ADVICE WOULD YOU GIVE TO THOSE WHO HAVE RECENTLY JOINED THE AIR FORCE?
Always aim high (it's more than a slogan), get educated, do your job to the best of our ability, and love your country. Best of luck to those of you who have recently joined the Air Force. You are now part of a great heritage, a proud history and a member of the world's finest Air Force.
IN WHAT WAYS HAS TOGETHERWESERVED.COM HELPED YOU REMEMBER YOUR MILITARY SERVICE AND THE FRIENDS YOU SERVED WITH.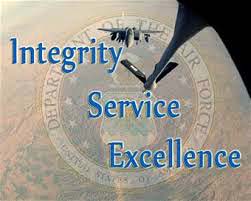 TogetherWeServed.com has allowed me to keep in contact with my fellow Airmen, whom I consider to be my brothers and sisters. Further, it has encouraged me to put together my military service and contributions in a well laid out personal profile for others to see if they wish. In short, I am proud to be a member of this great organization. Thank you for all you do on behalf of our Air Force.
Lastly, it has showed me those former members of the various units I served with, and who are no longer with us. Let us never forget them, and may they continue to rest in peace at Post Everlasting.