Cpl Stephen Robey U.S. Marine Corps (1986-1990)
Read the service story of U.S. Marine
Cpl Stephen Robey
U.S. Marine Corps
(1986-1990)
Shadow Box: http://marines.togetherweserved.com/bio/Stephen.Robey
PLEASE DESCRIBE WHO OR WHAT INFLUENCED YOUR DECISION TO JOIN THE MARINE CORPS?
A very good friend of mine during my sophomore year at West High School in Rockford, IL decided to go into the Marine Corps as a way to better his life and "get out of this town and do something." We were both in ROTC while in high school, and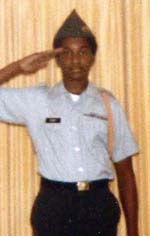 both of us were on the Rifle Team and Drill Team together. I was the Drill Team Commander and he and I were Co-Captains of the Rifle Team!
One day, when the Marine recruiter came by the school to meet with my friend, I was coming down the hallway when I start to see kids move to the side like Moses was parting the Red Sea, but it wasn't Moses. It was the recruiter in full Dress Blues, and that scene is what made me decide I wanted to be a Marine!
As he passed, all the kids were looking, pointing, saying stuff…you could see the look of "awe" they had. As he walked by me, I admit I was a little in awe too. I had never seen a "real" Marine before. He looked at me, asked me if I knew where the ROTC classroom was and I just said, "Yes sir, it's that way" as I pointed down the hall.
The level of respect he commanded just walking down the hallway stuck with me for a long time, and let's face it, NO ONE has a better uniform than the Marines and Dress Blues! I wanted it!
WHETHER YOU WERE IN THE SERVICE FOR SEVERAL YEARS OR AS A CAREER, PLEASE DESCRIBE THE DIRECTION OR PATH YOU TOOK.
I chose Avionics because I loved jets…who knew I'd get helos at Camp Pendleton?
I remember on graduation day in Memphis, when I was handed my orders by the Maintenance/Avionics Chief for the school. I looked down and saw "H-1 Huey/ OV-10" and I asked Top, "What the hell is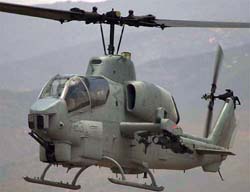 an OV dash 1 Zero?"
He said, "Those are reconnaissance planes."
I said, "Planes? With propellers?"
He said "Yep!"
Inside I said, "What the hell?"
I got to Pendleton, saw the OV-10's on the flight-line, and immediately thought "HELL NO! Those are NOT F-18's!" But then, I saw the AH-1W's, LIVE, flying around the flight-line, and that changed it up for me. I fell in love with them immediately. I know… they're skinny, not very sexy…but you know what? I think they're badasses!
My goal shortly after getting settled in at Camp Pendleton was to become a Drill Instructor. I didn't always stay "hardcore," but that goal remained, so in 1988 I went to NCO School at MCAS El Toro with the intention of going to D.I. School after I graduated.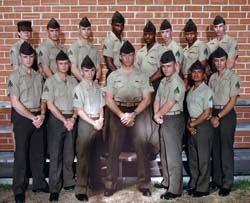 So, the plan was D.I. school right after NCO School, but unfortunately it was during NCO School that I twisted two discs in my back and what I didn't know then, that was the beginning of the end for my active duty time as a Marine.
So to this day, I still have that as unfinished business so to speak…and there's still this tiny hole in me for not being able to do that, and not accomplishing my self-made goal of "being a Marine until I make Gunny or hit 20 years…whichever comes first."
Truthfully, being on TWS has somewhat helped fill in that void. I'm not gonna lie, it still hurts me that I did not get the chance to finish the way I wanted to, but it hurts less today than it did in the past. Maybe one day I'll go back to USMCRD, stand on those beloved Yellow Footprints one more time, and maybe going full circle will do it for me. We'll see!
IF YOU PARTICIPATED IN COMBAT, PEACEKEEPING OR HUMANITARIAN OPERATIONS, PLEASE DESCRIBE THOSE WHICH WERE THE MOST SIGNIFICANT TO YOU AND, IF LIFE-CHANGING, IN WHAT WAY.
I saw no combat action. The closest I got was when all of our birds on the flight-line would leave green and come back tan!
I was still at Pendleton during Desert Shield and had to watch a lot of my friends and shop mates head out overseas for what became Desert Storm. Our shop got thinner and thinner, the flight-line slowly became a ghost-town, and it was pretty unsettling for me. I kinda felt helpless.
That slowly became a regret of mine, that I did NOT go, and I have a lot of respect for my brothers that did. However, I did somehow get a "little"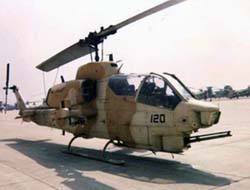 pride over watching the CNN footage of the AH-1W's "getting' some" in Iraq! I was watching news footage looking for Squadron insignia's on the tails and fuselage yelling, "That one was mine, that one too!" But to this day, it's still a little bitter-sweet. I don't know how else to explain it.
Just last week, I was explaining this to a Vietnam combat Veteran that I met at a seminar, and he told me these great words: "Those that did not go, feel guilty. Those that were in the rear, feel guilty. Those that went, survived, and made it back home, feel guilty. That's not on you. You served honorably didn't you? You did your job didn't you? Then it's not your fault and you shouldn't carry that."
Those were the best words EVER told to me about this "ache" that I've been carrying around for over 20 years, and having heard it from someone who's been there done that, made it even more powerful for me, and he was right.
I did my part while at Pendleton: I still humped gear, I still fixed stuff for our birds, and you're damn right I did my job. It was still "different," but now it doesn't sting as much, thanks to him.
OF ALL YOUR DUTY STATIONS OR ASSIGNMENTS, WHICH ONE DO YOU HAVE FONDEST MEMORIES OF AND WHY? WHICH ONE WAS YOUR LEAST FAVORITE?
Least favorite? Well gee, should I go with USMCRD San Diego you think? Boot Camp was as billed, HELL! I know there are some Marines who say it was easy, there are those that say it was hell. I'm the guy that votes for "it was hell!" I guess my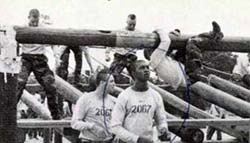 D.I.'s did their job!
Worse moment ever in boot camp was when I nearly drowned during Swim-Qual. Let's see, take a guy who barely knew how to swim in the first place, now put him in full cammies, complete with ALICE pack and a weapon, and say jump in off the high dive board. Yeah, this is gonna work out just fine. WRONG!
I dropped to the bottom, kicked up to the top, then…DOWN LIKE A STONE! I struggled until a hook came from the Heavens to pull me out of the pool. But wait, it couldn't have been from the Heavens because wouldn't you know it, there was one of Satan's Minions standing there, yelling at me, making me get back in line. Repeat earlier steps, same result. Bottom line, it took me almost all week to pass Swim-Qual! I have always hated water, the Marine Corps just helped solidify that for me!
Fondest memories? Had to be NAS Millington and all the time I spent hanging with one new friend after another! We had a lot of fun in Memphis, sometimes too much fun. The pool halls with my best friend Rick Gillian while listening to George Thorogood's 'Bad To The Bone' on the jukebox, going to the E-Club on Tuesday nights for ladies night, then on Friday cause it was Friday, and again on Saturday, well, cause it was Saturday!
I tell a lot of civilian friends that Memphis was 'my college' and I had a good time. Now, throw in the fact that we also had an official Marine Corps Mascot Bulldog named 'Bones' in our barracks that hated squid-lids? Ooh-Rah!
FROM YOUR ENTIRE SERVICE, INCLUDING COMBAT, DESCRIBE THE PERSONAL MEMORIES WHICH HAVE IMPACTED YOU MOST?
My best friend from NAS Millington was Richard D. Gillian! Good 'ol Rick! That guy and I were like the odd-couple, but I'd step in front of a train for him. Not only did he have my back in Millington, but he later came out to Pendleton in 1987 for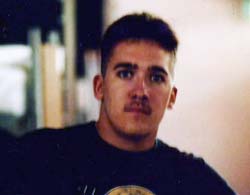 TAD, and we hung out again even though it was only for a little while.
Picture a 6'3 "dark green" Marine (remember that?) from the city of Rockford, Ill and a 5'7'ish light green Marine from Flatwoods, KY blasting down the highway in an old Chevy Cavalier with the windows down, screaming the words to "White Wedding" by Billy Idol at the top of their lungs! And if that wasn't enough, we also "rocked out" to some Whitesnake! Now THAT ladies and gentlemen is the definition of pals! Who knew?
We headed down to Coronado (San Diego) from Camp Pendleton, and decided to go see if we could watch the Navy SEAL's training. Well, we found a spot on a hill somewhere, and not only did we see them, but for some (stupid) reason, we decided to

make fun of them…and yes, they could hear us!
Now, I have no idea why Rick decided to taunt them by yelling, "Ring the bell, you know you want to, ring the bell!" But I maintain that I was the voice of reason throughout this entire ordeal, at least in my mind (LOL).
To this day, over 25 years later, I still tell stories about my man Rick! He was one of the most American Made, down to earth, as real as it gets kind of guys you will ever meet. And thanks to TWS, I finally reconnected with him!
Thank You!!!
WHAT ACHIEVEMENT(S) ARE YOU MOST PROUD OF FROM YOUR MILITARY CAREER? 
The Meritorious Unit Citation. MALS-39 was awarded this due to the work we did in improving AH-1W Super Cobra implementation into service. I know my shop (Work Center 620) did a lot on the "Whiskeys" for the batteries, voltage regulators, and generators!
I personally tested and repaired a LOT of Whiskey-Gens (as we called them), and had fun doing it. L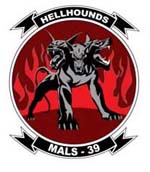 istening to those things get up to speed on the Vari-Drive test bench was a trip! There were times where I thought "Man, if that thing breaks loose, there's no question it's going through that door, FAST!"
I can't speak for the other shops, but I know 620 put in work, and I had a lot of pride in working on the AH-1W Super Cobra gear, then seeing and hearing them flying around Camp Pendleton afterwards, watching them do touch and go's with the skids dragging on the flight deck, and knowing that I had a MAJOR part in that? OOH-RAH big time!
OF ALL THE MEDALS, AWARDS, QUALIFICATION BADGES OR DEVICES YOU RECEIVED, PLEASE DESCRIBE THE ONE(S) MOST MEANINGFUL TO YOU AND WHY?
I didn't get a lot of fruit salad while I was enlisted, so I have nothing to really point out. My guess is the MUC probably means more to me than most Marines that get it, because I know what my contribution was in our unit getting it, but, overall, I guess I'd have to go with my

Expert Rifle badge (I know…that's it?).
Like I said, not a lot of fruit salad, but I was kind of proud of going from firing .22 cal. bolt action rifles in High School JROTC (competitively I might add, and damn good at it) to an actual M-16A2 Service Rifle! And not only did I qualify Expert, but I did it twice!
WHICH INDIVIDUAL(S) FROM YOUR TIME IN THE MILITARY STAND OUT AS HAVING THE MOST POSITIVE IMPACT ON YOU AND WHY?
That would be my Senior Drill Instructor (then) SSGT Feriss, but the best way to show my respect for him is through the Tribute I posted on his profile! Semper Fi!
Then, it would be my shop NCOIC, GySgt David Clayton! I thought Gunny was the man, and I know a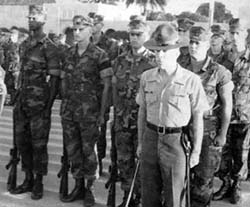 lot of people didn't agree with me, but so what.
It really hit home when he had my back one day as a 2nd Lt. was riding me about getting his battery back for his bird, and I was trying (very hard) to explain to him (very professionally) that he couldn't have it. Well, the 2nd Lt. kept pushing and I lost my bearing a little bit, called him out, and then he went yelling for my Gunny.
Turns out, Gunny took my side, put the 2nd Lt. in his place (professionally of course), and had my back the whole time! Now, to be fair…Gunny then pulled me aside and told me the better way to handle that in the future because I was a bit of pit-bull with 2nd Lt's, couldn't help it sometimes, and that was when I started to respect him the most. He took the time to help me "mature" and teach me some things while he was our NCOIC. He was a good man and a good boss.
CAN YOU RECOUNT A PARTICULAR INCIDENT FROM YOUR SERVICE WHICH MAY OR MAY NOT HAVE BEEN FUNNY AT THE TIME, BUT STILL MAKES YOU LAUGH?
Of course the time I went out with my NAS Millington classmates for Happy Hour on Friday… and woke up on Sunday!
We leave class after deciding to go to Dirty Dan's (I think that was the name). Almost our whole class went, then others showed up, and well, now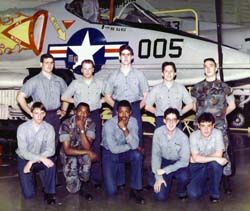 you've got a party.
First came the BIG margaritas, one after another. Then came the beer pitcher specials. When the beer pitchers showed up, I handed Rick my car keys!!!
Next thing I know, I wake up in my rack. I hear what sounds like a football game coming from the common area, I struggle through the bright light and the obscenely loud noise to find a few Marines watching a football game. "Hey, he's awake!" I hear through the haze.
"Which schools are playing?" I ask.
"Schools? Man it's Sunday!"
Yeah, it was funny, except for those Marines who carried me up four flights of stairs Friday night after I got completely tore-up (which I of course have no recollection of). And to (then) Lance Cpl. Green from New York, where ever you are, I'm sorry for calling you names while you guys were carrying me up the stairs. It was told to me later I was pretty hard on you bro. I have no recollection!
WHAT PROFESSION DID YOU FOLLOW AFTER YOUR MILITARY SERVICE AND WHAT ARE YOU DOING NOW? IF YOU ARE CURRENTLY SERVING, WHAT IS YOUR PRESENT OCCUPATIONAL SPECIALTY?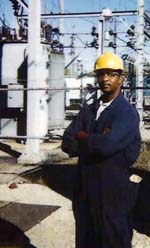 I'm in the critical power industry, which really came about because of all my DC Voltage/Battery experience in the Marine Corps. I am one of those guys who "being in the Marine Corps opened doors for me"… ya know?
Throughout my career, I've gone from working on Forklift batteries, to working on emergency standby battery applications, to cellular tower buildings, to emergency critical power equipment in facilities such as Yahoo, SUN Microsystems, and Microsoft!
I've traveled more throughout this country since being OUT of the Marine Corps then I did when I was in! Of all the 50 states, my list is down to 6 states that I haven't been to at one point or another! I have the Marine Corps to thank for kicking down that door for me! Ooh-Rah!
WHAT MILITARY ASSOCIATIONS ARE YOU A MEMBER OF, IF ANY? WHAT SPECIFIC BENEFITS DO YOU DERIVE FROM YOUR MEMBERSHIPS?
Marine Corps Heritage Foundation. It's nice to stay in touch with the history of the Marine Corps, and this helps meet that need. I admit that since joining TWS, I've slowly become more and more of a historian when it comes to being a Marine. It almost makes me wish they would have taught us more while we were enlisted, but that's okay, because I still get a tremendous amount of pride out of almost everything I discover.

National Association of Uniformed Services. This association helps connect me more from a "political" perspective. It helps maintain the visibility of our veterans' involvement with the government, the struggles we have with legislation, etc.
IN WHAT WAYS HAS SERVING IN THE MILITARY INFLUENCED THE WAY YOU HAVE APPROACHED YOUR LIFE AND YOUR CAREER?
Determination, facing adversity (boot camp still kicks in once in a while), and pride!
Pride and respect are the biggest things I got from being in the Marine Corps, so mission accomplished, because that was the main reason I went in, for the PRIDE & RESPECT! It also doesn't hurt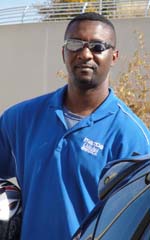 that when you walk into a room, people just sometimes 'know', and I swear I can see on their faces "that guy looks like he was a Marine or something." Yeah, I've seen it… or maybe it was because I was wearing my Marine Veteran hat (LOL).
I enjoy having the confidence and swagger that I get from being a Marine. It helps avert situations before they even arise, and I think only another Marine can understand what that means, but it's true. I don't flaunt it, I don't brag about it; it's just there. I earned it, and I use it so much that sometimes it's hard to say "how has it influenced me" when in reality, sometimes it's never off, it's always in use!
Once a Marine, Always a Marine!
BASED ON YOUR OWN EXPERIENCES, WHAT ADVICE WOULD YOU GIVE TO THOSE WHO HAVE RECENTLY JOINED THE MARINE CORPS?
The advice I would give ANYONE wanting to join the Marine Corps would be very important, not just for them knowing exactly what it means (to me) to be a Marine, but what it will mean to them later, and the Marines before and after them!
1. You need to WANT
to be a Marine! We are not like any other branch, and you don't just join the Marine Corps on a whim! You don't just get to be a Marine some of the time. You either are or you're not! PERIOD!
2. You have to WANT what the Marine Corps gives you in return, because it sure as hell won't be given to you for free! It is earned, no question about it, and in my opinion, once you earn it, you will cherish it for the rest of your life. No hand-outs in my beloved Marine Corps, and I pray it never gets to the point where it differs from that.
3. Learn from it and carry your pride with you wherever you go! The Scarlet and Gold is like a worldwide accepted business card when shown properly! And if that doesn't work, PUT 'EM IN THE PIT because they probably deserved it anyway!
4. If you DO become a Marine, don't EVER…EVER…EVER disrespect the colors, the uniform, your brothers and sisters, or my beloved Eagle Globe & Anchor! I readily admit that if I ever saw someone disrespect my EGA, the gloves come off, and the best part is, Marines have a tendency to just show up out of thin air as air support! Ooh-Rah!
IN WHAT WAYS HAS TOGETHERWESERVED.COM HELPED YOU REMEMBER YOUR MILITARY SERVICE AND THE FRIENDS YOU SERVED WITH.
The thing I am the most impressed with is how it actually "displays" what I've done! I love the Shadow Box, the patches are awesome, and painting a picture of my accomplishments is, to be frank, badass! After two days of "trying it out," I went full membership, and have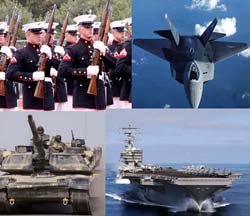 loved it ever since!
The camaraderie is outstanding! It's sometimes hard to explain what it's like to know you can log on to TWS and instantly be surrounded by not just your "brothers and sister," but like-minded individuals, that for the most part…see things a certain way, from a certain perspective, that is unique to just us Marines! We get each other, we have our own language and own way of communicating, and it's nice to have that place!
I've told virtually all of my former military associates about the site, and have sent out a ton of referrals! It doesn't matter what branch they were in, they have gotten invites from me!
September 2013 UPDATE: I got 3 Marines and 2 Sailors to join TWS within the first few weeks of being a member, and TWS has helped me find Rick! This has become a life-line to my Marine Corps pride, and I can't thank TWS enough.
October 2013 UPDATE: I am proud to say that I am now a member of the TWS Volunteer Profile Assistance (VPA) Team! I have only been a member of TWS for a month and a half, but have had such a good time with my profile, the forums, and helping out other Marines, to be a member of this team is an honor! Every time I think I can't thank TWS enough, I get another reason too!
October 28th 2013 UPDATE: I spoke to one of my DI's last night for the first time in 27 years! It's all because of TWS that this was possible! Special thanks to Cpl. George Reilly, again!