SP 4 Tom Hirst U.S. Army (1969-1971)
Read the service reflections of U.S. Army Soldier:
SP 4 Tom Hirst
U.S. Army
(1969-1971)
Shadow Box: http://army.togetherweserved.com/bio/Tom.Hirst
(Veterans, if you would like to share your story and leave a lasting legacy of your time in the service, join us at  http://togetherweserved.com
PLEASE DESCRIBE WHO OR WHAT INFLUENCED YOUR DECISION TO JOIN THE ARMY?
After graduating from high school in 1967, I did what my parents wanted me to do: Stay in school. So I went on to college for one year and maintained my II-S student deferment. I left college and took a job at the local Dodge dealership in Washington D.C.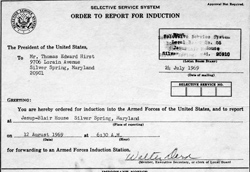 My life was work and fast cars, a girlfriend and spending most every weekend at the local drag strips. Life was good! The realities of the "my world" were measured in a quarter mile at a time. Not that I wasn't aware of the escalation of the Vietnam War. I watched footage of it on the evening news but I didn't really pay too much attention. It never occurred to me that I might be in those news reels myself someday. I guess I was a little naive about what was happening in the "real world" and what losing my student deferment would really mean.
I got my first reality check in December 1968, when I received word that one of my high school friends had been killed in Vietnam. Nolan Byrd had been "In-Country" for a short time when he was killed in a fire fight. Nolan became a "Medic, which was unusually for a couple of reasons. At my high school, everyone was trained to be a Medic. We even had a pseudo military organization called the Medical Cadet Corps. Also, because of our religious beliefs and family upbringing, we considered ourselves "Consciences Objectors" (COs). All us guys knew we might eventually be called upon to fulfill our military obligation but because we were assigned a draft rating of IA-O, we knew it would be in a noncombatant position.
Returning home from work during the first week of August 1969, I found a letter in my mailbox from the Selective Service System. Printed at the top of the letter were the words 'ORDER TO REPORT FOR INDUCTION.' The body of the letter began with the word "Greetings…" As it turned out, this was the last draft call before the lottery system took effect. My induction was postponed until October 1, 1969 because of my job, but they got me after all. If I had been fortunate enough to skate by for two more months, I would not have been drafted. My lottery number was 322.
WHETHER YOU WERE IN THE SERVICE FOR SEVERAL YEARS OR AS A CAREER, PLEASE DESCRIBE THE DIRECTION OR PATH YOU TOOK.
I don't know think "career path" applies to me as I was a two-year draftee and a conscientious objector with limited possibilities. As it turns out and what I had already figured, the only MOS for me was Medic 91A10 . I was sent to Ft. Sam Houston in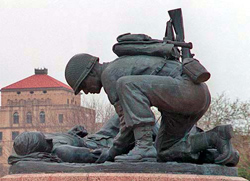 San Antonio, Texas to attend a 10-week Combat Medic Course.
One night in early December 1969, a sergeant with a clip board greeted us outside the mess hall one evening and said, "Listen Up! If your last name falls between the letter "A" through "M", you are going to Vietnam!" My "career path" just got a little clearer. Of the 150-200 medics in training at Ft. Sam. half of us went to 'Nam and the others went to Germany.
As the plane descended into Bien Hoa AFB in the early morning hours of March 5, 1970, I wondered where I was going to end up. As we taxied to the terminal, the stewardess' attitude changed from "Fly the friendly skies" to "In the case of a rocket attack……" When we boarded a bus taking me to my next adventure, I was starting to realize that things could get a little hairy. I asked the soldier next to me, who was on his second tour, if it was this hot all the time and what the metal screen was for over the bus windows was for? He looked at me and said, "Well, FNG, this here heat is cool 'cause it still early. The ass kicking heat begins a little before noon and lasts until nightfall. Now that mesh there, it's to keep grenades from being thrown into the bus!" I rode silently for the rest of the bus ride.
I was dropped off at the First Team Academy which I found out was the "Orientation Center" for the First Cavalry Division. Up until this time, I didn't actually know where I had been assigned or where I was going. After a few days there, I watched as some of my fellow Medics were sent to their respective duty stations. I figured that they must be saving a really good assignment for me.
A couple of days later I got my assignment and took my first helicopter ride to a place called "Song Be" where I was to report to the 12th Cavalry Regiment's Battalion Aid Station. It was hot when we took off but as we climbed higher, cool air blew through the open side doors. It was a refreshing surprise. Below the countryside was becoming more rural, some farms but mostly rice paddies and green jungle as far as the eye could see. But mostly my attention was on the two gunners on each side of the helicopter. Both looked to be seasoned warriors ready to immediately swing their M60 machine guns into action. That's when the realization hit me: I was heading into a real war where people are trying to kill each other.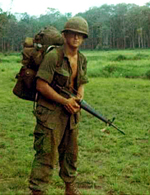 Arriving at the Aid Station, I spent a few days handing out pills at Sick Call. This wouldn't be too bad. It was more like a dispensary with no badly wounded to take care or bed pans to empty. A week went by and finally I was told that I was going to replace one of the field medics in the 3rd Platoon of Charlie Company 1st Battalion, 12th Cavalry Regiment. More reality set in when they offered me a .45 caliber pistol and said, "You might need this!" and that I would probably spend the next 6 months with an infantry company in "the bush." I thought about the impending journey and opted for an M-16, rationalizing it would be a much better "patient protector" than a .45 caliber pistol.
Landing Zone (LZ) Snuffy was at the end of my next chopper ride. Wasn't much there other than mud, sandbags, bunkers and 105mm artillery pieces. I was told that "log day" (resupply) was the next day and it was time for me to get ready to meet Charlie Company's third platoon already in the field. There seemed to be a lot of excitement that day since the company had been in "contact" that morning and there was one KIA and one WIA. When the chopper landed, I jumped off as a "body bag" was loaded on. One hell of a way to spend Easter Sunday!
For the next 7.5 months, my career path would be humping the jungles and hard packed, slick trails with 75 pounds on my back.
DID YOU PARTICIPATE IN COMBAT OPERATIONS? IF SO, COULD YOU DESCRIBE THOSE WHICH WERE SIGNIFICANT TO YOU?
When I flew out to join Charlie Company for the first time, I'd been told we may be landing in a "hot LZ," meaning there had been a firefight in the area earlier. The LZ itself was small, just big enough for one helicopter and surrounded with thick jungle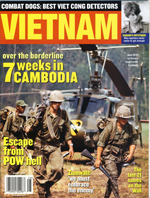 on all sides. When it set down, I jumped off and Ken Garski, the soldier that had been killed, was placed inside and the helicopter took off.
That evening as we set up our NDP (night defensive position), I found out what an "ARC Light" felt like when 500 pound bombs dropped by B52s thousands of feet overhead exploded a few clicks (kilometers) from our position, shaking the earth like a 6-point earthquake.
For the next few weeks Charlie Company conducted "search and destroy" missions along the Cambodia border. I spent most of my time treating minor injuries and jungle rot as well as dispenses anti-malaria pills. In fact, malaria was so bad, the company had to report to battalion every morning that all men had been seen taking their pills. I also had my first Medevac when Greg Egan got a bad reaction to a bee sting.
After I had been with 3rd platoon for about a month, we were called back to Fire Support Base (FSB) Buttons near the village of Song Be for a "secret mission." We were issued a lot of replacements and new equipment, some we normally didn't carry such as handheld M-72 LAW (Light Anti-Tank Weapons) and 90mm Recoilless Rifles. On the minds of all of us was, where are we going? We found out that night.
The next day, May 5, 1970, we made a combat assault into Cambodia where we spent the better part of the next two months before returning to Vietnam June 29, 1970. It didn't take too long to find the enemy. We had many encounters with Vietcong and North Vietnamese Regulars during this operation. [See VIETNAM MAGAZINE, AUG 2010 issue]
One night, as we sat in our NDP, we saw flashlights and the sound of a small group speaking Vietnamese coming toward us. What they didn't know is we had put out a number of automatic ambushes (AA) along the trails leading into our NDP. Automatic ambushes were claymores daisy chained together by electricity that would go off when a trip wire was engaged. Anyone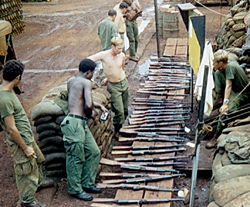 caught in the killing zone would be a goner. We heard one explosion go off. A few minutes later, another went off. We heard moaning for a few hours and then a single gunshot. In the morning we found 9 NVA bodies, one who had killed himself with his rifle by his pulling the trigger with his toe. We also found one wounded who had survived the blast. He was put on a helicopter but we heard later he too had died.
We found many bunker complexes of significant size during our patrols. As odd as it may seem, while the NVA higher command knew we had invaded their sanctuary , many field units didn't know we were in the area. On one patrol we walked right up on soldiers playing cards after dinner. The platoon sniper started the firefight by doing his job and the rest of us chimed in to help. We called air support and the Cobras showed up and did their work for the rest of the day. The next day we returned to recon the area. It was a huge complex and we were only platoon size. There was a brief firefight before the few enemy withdrew. We were lucky that the rest of the NVA were not at home that day.
For a month and a half, we had suffered a few minor wounds but no deaths while eliminating dozens enemy. But our luck changed on June 14th.
While following a very well-used trail with signs of recent movement, we ran into the proverbial "hornet's nest." First Platoon was on point and my 3rd Platoon was on drag. Second platoon was in the middle. Moving slowly and looking in all directions, the point element spotted NVA in the processes of setting up a hasty ambush. They signaled their sighting and then let loose with their M-16's on full automatic. The enemy fired back with everything they had and because they were in bunkers and semi-set up, they had the advantage. The first platoon and my platoons moved against the bunkers under heavy fire. Second platoon became the center of our hastily drawn perimeter. Within a few minutes, we suffered our first casualty while in Cambodia. Sgt. Mickey Wright was killed and Tom "TJ" Johnson was badly wounded. Making things worse we were in an area that hampered our radio contact with any support elements. Eventually with the heroics of one of the forward observers, Spec. 4 Tom Thon, who held the radio up over his head while hiding behind a tree, we were able to get air and fire support. We found numerous blood trails and the next day found 10 freshly dug graves.
The next morning we evacuate Mickey's body and stayed in the same LZ for a resupply. As food and ammunition was coming in, we heard a loud explosion coming from the bunker complex were we had the firefight the day before. We figured it was the automatic ambushes our company commander, Capt. Michael Christy, wanted left in place until after we were resupplied. When we checked it out, we found three dead enemy; one was carrying an RPG with many rounds and other two carrying AK-47s with hundreds of rounds ammunition. They 'd plan to hurt us bad but never got the chance.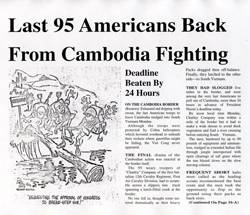 Our tour in Cambodia turned out to be pretty devastating for the enemy. We found many caches with tons of rice, 55 gallon drums of gasoline that were destroyed and a large motor pool with 25 trucks. Drawing from my old "drag racing" days and tinkering with cars in general, I was able to "hot wire" many of the trucks and jeeps that we found. Using the captured trucks, we loaded up all of the usable supplies that we found in that "motor pool cache." Tires, tools, bicycles, spare parts and even a diesel powered arc welder were "convoyed" back to LZ Evans with the 1/9th Pink Teams flying "cover" for us and telling us which way to go. At LZ Evans the equipment was airlifted back to the rear area in Bien Hoa. Chinooks with deuce and half's underneath them made for a pretty strange picture! The unserviceable trucks we destroyed. We keep two trucks to carry our heavy packs marking Charlie Company a kind of a quasi-mechanized unit. It only lasted a couple of day until we got back into thicker jungle but those two days were like heaven.
On June 28th we were told that we had to be back in Vietnam by noon on the 29th, the next day. Although Nixon's "incursion" was to end June 30, he had ordered us out one day earlier. We had a pretty good distance to travel but in the open fields of Cambodia, the "humping" was easy. Midway between the river we were to cross into Vietnam, a dozen print and television journalists were flown in to accompany us the rest of the way out of Cambodia. It seemed we were the last rifle company to leave Cambodia. With movie cameras and note pads in hand, they interviewed people from their own hometown areas and we got our 15 minutes of fame.
We made it out by the deadline only to be caught up in another unfortunate circumstance later that night. In the early morning hours of June 30, 1970, three mortar rounds from our own fire base smashed into our perimeter. The intent was to fire at suspected enemy positions. Only two of the rounds exploded, but those two rounds killed Denny Dentino and Michael Waters and wounded more than 25 others from our company. Forty decades later we are all still trying to come to grips with that tragic incident.
OF ALL YOUR DUTY STATIONS OR ASSIGNMENTS, WHICH ONE DO YOU HAVE FONDEST MEMORIES OF AND WHY? WHICH ONE WAS YOUR LEAST FAVORITE?
According to my DD Form 214, I spent 13 months and 5 days in 'Nam which was my only duty station other than basic training and AIT. After my 7 months "in the bush" with Charlie Company's 3rd platoon, I got a really "cushy job" as the Colonel's driver at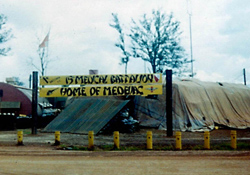 the Division Surgeon's Office, 15th Medical Battalion at Phouc Vinh.
I was truly a R.E.M.F.! Every day I "broke starch" and wore jungle boots shined by mama-san and every night, I went to sleep in a bed. I also had a 24 hour dispatch on the Colonel's jeep! After I drove the Colonel to the Tactical Operation Center (TOC) around 6:45 am each day, I was off for the rest of the day unless somebody needed a jeep to go do an inspection or to the PX or just take a ride around Phouc Vinh on a "photo op". [See my profile photo section for scenes around Phouc Vinh and Song be and many "BUSH" pictures]
One day the Colonel said he wanted to go to Vung Tau and do some in country R&R. He added that he would like to have the jeep down there as well. The Colonel took one of our choppers and flew down while I grabbed one of the other guys from 15th Med and a couple of M-16s along with the .45 caliber "grease gun" that I brought back from Cambodia and drove down to Vung Tau from Phouc Vinh. This was a distance of 150 miles or so. Everybody thought I was NUTS! A single jeep with two people all the way down through Bien Hoa/ Long Binh to Vung Tau and back. No big deal. Maybe that R.E.M.F. mentality of invincibility had actually taken effect.
FROM YOUR ENTIRE SERVICE CAREER WHAT PARTICULAR MEMORY STANDS OUT?
Sadly, the things that made the biggest impression on me were the men killed in my company. The things that I saw being a combat medic were pretty horrific. I suppose it can be rationalized that combat deaths are inevitable in war, but the stupid mistakes that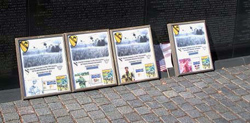 kill and wound people, like "friendly fire" is an OXYMORON!
The company was supposed to be airlifted by Chinook for an in-country R&R in Bien Hoa once we arrived at FSB Thor. Unfortunately for us, there were not enough helicopters available that afternoon. This forced us into an NDP outside FSB Thor until the next day. During that night of 29/30 June, our mortar platoon, "E" Company 1/12th, fired mortar rounds at a "suspected enemy" trying to get back across the border into Cambodia. Three rounds fell short of the objective and landed directly on top of Charlie Company's NDP, killing two and wounding twenty five. This horrible incident is the one memory that stands out the most and it is the one that can never be erased from my memory.
A better memory stems from the recent visit to the Vietnam Memorial where Danny Long, Al Wall, Keith Forry and Mickey Wright's little sister Anita Rosenberg and her husband joined us in honoring our fallen brothers. "Operation Wall to Wall" was originally spawned one day when I realized that I still had four T-Shirts that were not "claimed" after the reunion in Myrtle Beach. I figured these are the T-Shirts I that would have been worn by Mickey Wright, Denny Dentino, Michael Waters and David Osborne.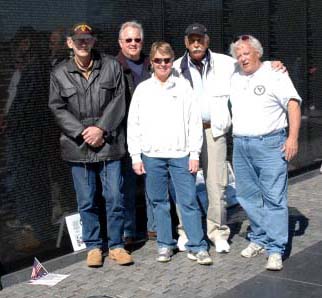 Unfortunately these were the four brothers in arms that were killed while I was with Charlie Company. Using the T-Shirts as the back drop in a shadow box worked out well.
Danny Long made DVD's of photographs that plays a slide show with music. Name plates were donated by the local trophy company and Vietnam magazine donated copies of the August 2010 issue that we put in the back of the shadow box. Each soldier's medal board from The Wall was also printed out and placed in the shadowbox. It was my first trip to The Wall and it felt pretty good. I tried to visit the Moving Wall back in the 80's when it came to town, but I couldn't finish the visit. I got as far as the directory for panel numbers but could not make it down to The Wall itself.
Two more donated T-Shirts made up shadow boxes for Larry Downs and Ken Garski. All total, we left six shadow boxes to honor Charlie Company Brothers. I also left tributes to two high school and college friends who died in Vietnam. Both were medics: Nolan Byrd and Jay T. Diller.
IF YOU RECEIVED ANY MEDALS FOR VALOR OR AWARDS FOR SIGNIFICANT ACHIEVEMENT, PLEASE DESCRIBE HOW THESE WERE EARNED.
The other two Medics, "Doc" [Steve] Willey and "Doc" [Larry] Stansberry and me were all awarded the Army Commendation Medal for our actions on June 30, 1970. We had dead and wounded troopers all over the place. It was a pretty hectic/chaotic morning. I guess this medal is the most important to me. I realize that it is below the Bronze Star that I received, but I think it is the most important one in my collection. My Combat Medics Badge ranks right up there as well.
OF ALL THE MEDALS, AWARDS, QUALIFICATION BADGES OR DEVICE YOU RECEIVED, PLEASE DESCRIBE THE ONE(S) MOST MEANINGFUL TO YOU AND WHY?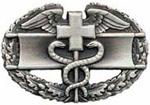 Of the awards I received, my Combat Medics Badge is one of my more prized possessions. It is the single greatest recognition for all combat medics. It tell the world that I served as a combat medic while serving the infantryman "out in the bush."
The other medal that I was presented was the Army Commendation Medal with Valor device for the not so "friendly fire incident" on 30 June 1970. Our head medic, "Doc Johnson" was severely wounded by the mortar rounds that hit us. This left us one medic short to treat all of the wounded and we did the best we could. Captain Christy nominated the three remaining medics, "Doc Willey", "Doc Stansberry, and me, to honor our efforts that early morning. I think if you ask the other two "Doc's", they would have the same response.
WHICH INDIVIDUAL(S) FROM YOUR TIME IN THE MILITARY STAND OUT AS HAVING THE MOST POSITIVE IMPACT ON YOU AND WHY?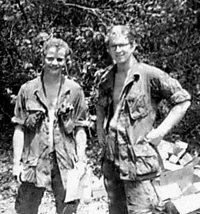 To say any "ONE" individual had the biggest influence on me would be negating my respect for all of the people that helped me during these days. My first day, 3rd platoon RTO (Radio Operator) Gene Tetzlaff took me under his wing and helped the "FNG" get squared away.
As I became more aware of my surroundings, I realized just how lucky I had been being assigned to a very competent bunch of INDIAN FIGHTERS! Capt. Michael Christy led Charlie Company; 1st Lt. Rick Friedrich was my platoon leader in 3rd platoon (photo is Lt. Rick on left and me)and other enlisted NCO's like "Pappy" and "Oz" kept us all inline.
The simple fact that I AM HERE to report on the days that I spent with Charlie Company is what makes the biggest impact on me!
CAN YOU RECOUNT A PARTICULAR INCIDENT FROM YOUR SERVICE WHICH MAY OR MAY NOT HAVE BEEN FUNNY AT THE TIME, BUT STILL MAKES YOU LAUGH?
We lived in miserably hot, humid weather most of the time and because we were out humping the jungle 30-days at a time, we went weeks without bathing. That's why I spent a lot of time dealing with hygiene problems. And the two most common problems were ringworm
and crotch rot, both made worse by a lack of clean clothes.
The subject of ringworm came up at our 40th reunion in Myrtle Beach 2010. Jim Wilson, one of the guys in my platoon came up to me and said, "Doc, I think about you every time my ass itches!" That made me laugh and reminded me of the antifungal medication treatment I used on ringworm that the guys called "liquid fire." It never seemed to fail that Jim or somebody else would show up for "treatment" just when I was ready to eat my dinner. Thinking about it now, I did take some perverse pleasure in watching them run around the NDP wanting to shout out just how much this stuff burned, but they COULDN'T MAKE ANY NOISE for fear it might be heard by the enemy.
WHAT PROFESSION DID YOU FOLLOW AFTER YOUR MILITARY SERVICE AND WHAT ARE YOU DOING NOW? IF YOU ARE CURRENTLY SERVING, WHAT IS YOUR PRESENT OCCUPATIONAL SPECIALTY?
After Nam, I went back to the Chrysler/Plymouth Dealership in Washington D.C. before I got drafted. Things in the "postwar era" were pretty dull considering where I had spent the previous year or so. I worked for a year and then decided to quit working and take advantage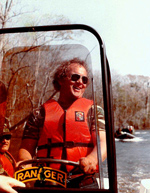 of the GI Bill. Seven to eight years later, having exhausted the government dole, I opened my own auto repair business. During this time period, I discovered the marine industry.
Using my mechanical abilities to repair boats seemed like more fun than working on greasy old cars. Besides, people that owned boats were more "appreciative" than people that only owned cars. During this time period, I worked for Zodiac of North America in a support role for the Government Sales Division. In 1980, we developed the "prototype" of the F470 Assault boat which the SEALS and Rangers still use today. You probably have seen the ARMY STRONG commercial where they drive the inflatable boat up into the back of the hovering Chinook and take off….this is the boat that I got to develop and play with. I spent time with the Army Rangers at Eglin AFB, Florida and the Navy Seals at Norfolk Naval Base, Virginia and the Forward Air Control at Pope AFB in the middle of Fort Bragg, North Carolina. All these guys are pretty crazy!
After my move to Florida in 1984, I went back to the "civilian" boating business where I still work in today. I have worked with all of the marine manufacturers from Johnson/Evinrude to Volvo. Currently, I am still working in the marine industry with the Cummins/Mercury/Suzuki companies. I run the parts department here at the Cummins Dealership in St. Petersburg, Florida.
WHAT MILITARY ASSOCIATIONS ARE YOU A MEMBER OF, IF ANY? WHAT SPECIFIC BENEFITS DO YOU DERIVE FROM YOUR MEMBERSHIPS?
I joined the Vietnam Veterans of America (VVA) because I think that this is the best forum for people of our time period. I enjoy their newsletters every month and like reading how other people were affected by their tour of duty.
IN WHAT WAYS HAS SERVING IN THE MILITARY INFLUENCED THE WAY YOU HAVE APPROACHED YOUR LIFE AND YOUR CAREER?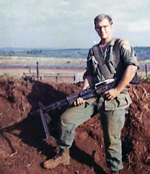 I am convinced the biggest impact the military had on my life was that it "cut the apron strings" and made me survive on my own. It also opened my eyes to all the possibilities that exists for those who spend a couple of years within a disciplined structure where following the rules creates good order. It also makes a person grow in self-esteem, giving them the confidence to take risks in order to achieve great results. Frankly, I think a couple of years of mandatory military/civil service would work wonders for today's youth. It may also reveal a talent they didn't know they had.
If nothing else, a couple of years in the military makes a person grow tenfold over most entry-level civilian jobs.
BASED ON YOUR OWN EXPERIENCES, WHAT ADVICE WOULD YOU GIVE TO THOSE WHO HAVE RECENTLY JOINED THE ARMY?
For the active duty folks, I advise them to learn their jobs and the job of the person above them. I also recommend that you consider your time in the military as a valuable learning experience on how to get along with others who have nothing or very little in common with yourself. It's a skill you can use in your community and in your chosen work field. It will also keep you out of trouble.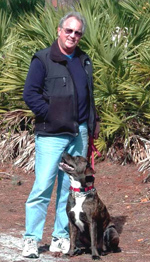 I also have some advice for those who got out of military service recently or for old guys like me: Take advantage of the GI Bill, especially the college benefits. I did and I am forever grateful. However, there was one huge benefit I ignored for years: The many program offered by the VA. I just didn't realize or didn't want to accept how things I experienced in Vietnam affected me emotionally and physically. Not wanting to come to grips with this reality intensified as the years crept up. A few years ago I finally enrolled in the VA and now use it on a regular basis. My advice to you? Don't wait like I did.
Fortunately for me, I had developed a skill I could return to in the automobile business where I was employed before I was drafted. Hopefully you active duty types and veterans acquired a skill set that can be employed in today's work place. If not, use the tools at the VA and get some specialized training in a field that interests you. There's nothing wrong with working with your hands building or repairing something. This ability is fast becoming a "lost art" in America today.
IN WHAT WAYS HAS TOGETHERWESERVED.COM HELPED YOU REMEMBER YOUR MILITARY SERVICE AND THE FRIENDS YOU SERVED WITH.
Seventeen of my company met at Myrtle Beach for our 40th reunion. I had not seen 16 of them since I left 'Nam. I even found out one of them from my platoon, Danny Long, live within an hour of my home.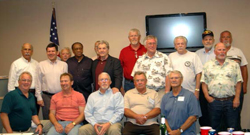 I discovered Danny and I had the same email provider which led to our reunion after 38-39 years. (Danny is second row, last person of left. I am just below him in green shirt.)
ATWS also helped us locate many of the other members of Charlie Company that attended the reunion. Danny and I also made a trip to the Vietnam Memorial where we were joined by Al Wall, Keith Forry and the adopted "little sister" of Charlie Company Anita Wright-Rosenberg, sister of Mickey Wright who was KIA in Cambodia.
Hear Tom tell his story in his own words: