SO1 Don Hammill US Navy (1942-1945)
by dianeshort2014
Read the service reflections of US Navy Sailor:
SO1 Don Hammill
US Navy
(1942-1945)
WHAT PERSUADED YOU TO JOIN THE NAVY?
Some of my boyhood friends had joined the Navy and some were going to join.  After the attack on Pearl Harbor my parents agreed that I should join.  I was very patriotic and intended to serve my country and fight the enemy.
BRIEFLY, WHAT WAS YOUR CAREER PATH IN THE SERVICE?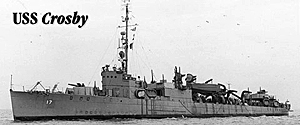 My journey began when I arrived at NTS, San Diego on 10 Jan 1942.  I spent 3 weeks in Boot Camp then I was assigned to Sonar School before being sent to the USS Crosby (DD 164) in February, 1942.  The Crosby patrolled the West Cost on Escort Duty until February, 1943.  We eventually entered the Mare Island Navy Yard for convesion to a high Speed Transport and were reclassified as APD-17, High Speed Destroyer Transport.  We cleared San Francisco on 27 February 1943 and sailed, by way of Pearl Harbor, Samoa, Vitu Levu Noumea and Espiritu Santo.  We practiced beach landings at Santo with James Roosevelt's "Marine Raiders" in March of 1943.  We were cleared on 29 April for Guadalcanal as a Transport Screen and on 6 June 1943 we reported for escrot duty in the Solomon Islands.
DID YOU PARTICIPATE IN COMBAT OPERATIONS?
We saw tremendous action on the USS Crosby with 17 Amphibious Landings.  We went through all of the Solomon Islands, New Guinea, and all islands in between to the Phillipines, we finally secured after Corregedor and Manila.  We then went back to Ulithi in the Central Pacific to prepare for the Okinawa Operation.
I saw my first combat in June 1943 when 120 enemy plane came down slot to attack Guadalcanal and the fleet in channel between Tulagi and Guadalcanal.  American and New Zealand planes and surface ships shot down 94 Jap planes with a loss of 6 U.S. Planes and the recovery of 2 U.S. pilots.
The Crosby was one of the American surface ships in this battle.  We began island hopping from our forward bast at Tulagi and were eventually awarded 10 Battle Stars for the following Operations; Eastern New Guinea, New Georgia Group, Bismarck Archipelago, Treasure-Bougainville, Western New Guinea, Hollandi, Leyte, Luzon, Manila Bay and Okinawa Gunto.
Additionally, the Crosby was awarded the Navy Unit Commendation for the following Operations: New Georgia Group, Bougainville Landings, Cape Gloucester, Leyte Gulf, Ormoc Bay Landing, Lingayen Landings and the Okinawa Operation.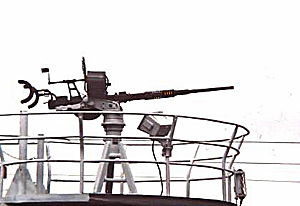 My battle station was a gunner on the 20mm on flying bridge on the Crosby.  In November 1943 a low flying plane came in directly at the bridge of the Crosby.  I unloaded a full magazine on my 20mm and shot down the enemy plane. I also shot down a suicide plane in Lingayen Gulf as it was headed for the bridge. That was in January 1945.  My Shipmate, Albert Johnson, was an eyewitness to each of these actions.  Albert, who was stationed at a searchlight platfrom directly above me, was going to send me an affidavit on the incidents but regretfully he passed away before he was able to send it.  I do have a copy of it now, provided below.  His description depicts actions against the enemy that day:
"Statement regarding the participation of Don E. Hammill of Murray, Utah and Albert R. Johnson of Phoeniz, AZ in actions against the Japanese on November 17, 1943 while serving aboard the USS Crosby (APD 17):
I was a member of the crew of the USS Crosby (DD164/APD17) with the rate of SM2C and was a shipmate of Don E. Hammill, Sonarman 2nd Class on November 17, 1943.  On said date, at approximately 0800, our ship was landing troops in Operations off Bougainville Island in the Solomon Islands, when our ship came under attack by Japanese planes. We were at General Quarters and my Battle Station while landing troops was in Boat One of a Four Boat group where I was the communications between the mother ship and the USS Crosby.  Our four boats had left the Crosby when Japanese aircraft entered the landing area.  Boat one was 100 yards off the starboard bow of the Crosby when two planes dropped bombs on the Crosby, One bomb landed close aboard the bridge on the starboard side.  The plane bulled out of its bomb run, gained altitude and turned into a strafing run on the port side of the Crosby.  Sonarman Hammill's 20mm gun on the flying bridge opened fire emptying a full magazine into the enemy plane, tracer fire could be clearly seen entering the engine and cockpit of the plane.  it appears that the 20mm fire hit the enemy pilot as the plane veered radically and plunged into the sea.  Sonorman Hammill's 20mm machine gun was the only one that could have had the opportunity to get a first hit on the enemy plane.
Signed/Dated,
22 September 2003
Albert R. Johnson, Lt (USNR/Ret)"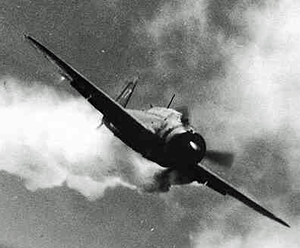 FROM YOUR ENTIRE SERVICE CAREER WHAT PARTICULAR MEMORY STANDS OUT?
My particular memories during 23 consecutive months in the South Pacific were when I was literally staring into the eyes of the enemy pilots while manning my 20mm gun.
WHICH INDIVIDUAL PERSON FROM YOUR SERVICE STANDS OUT AS THE ONE WHO HAD THE BIGGEST IMPACT ON YOU…AND WHY?
I didn't have an individual person that had a particular impact on me personally but I never forgot the great strategy of Admiral Spruance in the "Miracle at Midway."  We were all inspired by the Admiral's actions since he, against all odds, stopped the Japanese fleet early in the war and the Battle of Midway early in 1942 prevented the enemy from occupying Hawaii and the West Coast of the United States.
DO YOU HAVE A PARTICULARLY FUNNY STORY FROM YOUR SERVICE THAT YOU WOULD LIKE TO SHARE?
When we were at Esperado, before being sent to Guadalcanal, and were training with the 4th Marine Raiders practicing landings with them. They were commanded by James Roosevelt.   While we were there, Roosevelt got word that the Army club at the base there had a nice big piano, but there wasn't one in the Marines club.  Not having a piano, but wanted one, he organized a group of some of the larger Marines in the unit to go and "re-locate" that piano in the middle of the night and put it in the Marines club.  That was of course the subject of more than a few exchanges between the various service members but it was a lot of fun.
WHAT PROFESSION DID YOU FOLLOW AFTER THE SERVICE AND WHAT ARE YOU DOING NOW?
I was discharged in November of 1945.  I returned to Salt Lake, City and graduated from the University of Utah Law School in 1950 with a Juris Doctor degree and practiced law for 30 years.  I am now retired and Vice President of Membership and Development for the Utah Council of the Navy League of the United States.
HOW HAS SERVING IN THE NAVY INFLUENCED THE WAY YOU NOW APPROACH YOUR LIFE AND CAREER?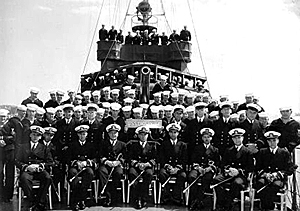 I have always been proud of my service in the Navy and my family aboard the Crosby and my contact with the TWS Family and my Shipmates there.
WHAT ADVICE WOULD YOU HAVE FOR THOSE THAT ARE STILL SERVING?
After getting out of the service I can say that what I learned in the service was real discipline.  I was young and cocky when I started my time in the service and it wasn't until after my first battle at Guadalcanal that I realized we were in a real war and other people were trying to kill us. Anyone who is currently serving should be proud and have respect for their seniors and those serving with them.  The reality is that war is harsh so they must train hard, learn their job well and execute their duties to the best of their ability. You should be proud to be in the greatest Navy in the world and do everything you can to be the very best Sailor you can be.  I salute everyone who has or is currently serving.
HOW HAS TOGETHERWESERVED.COM HELPED YOU TO MAINTAIN A BOND WITH THE SERVICE AND THOSE YOU SERVED WITH?
Becoming a member of TWS has been the most rewarding experience of my retirement years.  The ability to talk with all of my shipmates on TWS is great.  My daughter Jill literally saved my life by getting me into Huntsman Cancer Hospital for emergency surgery in 2009. It was after this surgery that a lot of shipmates on TWS kept me in their thoughts and prayers during a long, slow and painful recovery. I must give a hand salute to MCPO Ed Armstrong for keeping everyone on TWS updated regarding my condition and for calling me every day for more than a year to check on me. I would like to wish blessings on him and all my TWS shipmates and the United States of America.