MSgt Barry W Parker U.S. Marine Corps (Ret) (1977-2008)
Read the service reflections of US Marine:
MSgt Barry W Parker
U.S. Marine Corps (Ret)
(1977-2008)
Shadow Box: http://marines.togetherweserved.com/bio/Barry.Parker
PLEASE DESCRIBE WHO OR WHAT INFLUENCED YOUR DECISION TO JOIN THE MARINE CORPS?
I'm one of seven Children and my parents believed it was a good idea to have each of us tested, in our pre-teen years, to find our path in life based on our interests. This was back in the early 70's and to my knowledge, testing your children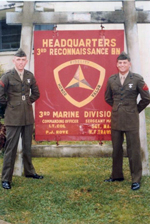 to see what job in life best suited them, was never heard of. My parent were way ahead of their time in a lot of aspects and have aways been a great influence in our lives. The results of my tests came back and stated, I would be highly succeed in the military. With that, I picked the Marine Corps of course, because I believed then and still do today that we are the finest fight force ever. I'd gone to College for a bit before I joined the Corps and got an AA on my own dime. Then a friend, who I worked with at the time, told me he was going in the Corps and asked if I'd like to go in with him on the Buddy Program. It seemed as good time as any, so I informed my parent that it I was joining the Corps. They of course were very happy and supportive of my decision. About a week later I was on a Plane to MCRD San Diego.
WHETHER YOU WERE IN THE SERVICE FOR SEVERAL YEARS OR AS A CAREER, PLEASE DESCRIBE THE DIRECTION OR PATH YOU TOOK. WHAT WAS YOUR REASON FOR LEAVING?
I started out in RECON in 1978 in Okinawa Japan, which was awesome. The NCO's and Officers I served with as a young Marine, I believe, were the basis of my success. They gave me a good foundation to work on, so I spent the first couple of years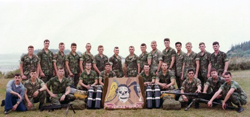 jumping out of perfectly good aircraft, scuba diving, swimming out of subs, shooting and blowing stuff up. It was great training. The picture is of our platoon in 1978. Ona Point, Okinawa Japan. Later in my career, (SGT) I decided to re-up because of an opportunity to join Marine Corps Aviation. So I went from Hopping and Popping, Snooping and Pooping, Looting and Shoot to Swinging with the Wing. I was sent to ADJ school in Millington TN for my new A school, then got orders to New River, NC and worked as a T-58GE-16 (CH-46E) Engine Mechanic. Back then it was H&MS-26 (Headquarter and Maintenance Squadron) which later became MAL-26 (Marine Aviation and Logistical Squadron) which is Intermediate level Maintenance. From there I went to the Organizational Level Squadrons, as a Senior Sgt, and the real fun began.
IF YOU PARTICIPATED IN COMBAT, PEACEKEEPING OR HUMANITARIAN OPERATIONS, PLEASE DESCRIBE THOSE WHICH WERE THE MOST SIGNIFICANT TO YOU AND, IF LIFE-CHANGING, IN WHAT WAY.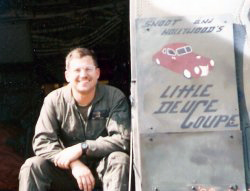 Beirut 4 times with HMM-261 Raging Bulls. We were there so many times we thought about renaming ourselves "The Beirut Bulls", Then 1st Gulf War, then Operation Restore Hope Somalia, Iraqi Freedom, Operation Enduring Freedom. Mostly sitting off the Coast of one Country or another waiting for the word to go in and pick up or drop off the Marine Landing/Assault Element. "We're have fun now bro's!" Going 120 Knotts, tree top high with 50 Cals out each side of the Aircraft, ready to rock! Hitting the LZ hard and fast. We also did a lot of aid work in poor 3rd world countries that needed basic necessities like food, water and medical supplies. I remember flying lots of hours over the years providing medical support and care workers into Impoverished country.
OF ALL YOUR DUTY STATIONS OR ASSIGNMENTS, WHICH ONE DO YOU HAVE FONDEST MEMORIES OF AND WHY? WHICH ONE WAS YOUR LEAST FAVORITE?
East Coast, HMM-261, Raging Bulls was my first Squadron where I got my Aircrew Training. Deployed to Beirut several time and did a lot of Mediterranean cruises. The crew pictured below were all senior NCO's and Staff NCO's. Best and Tightest crew I've ever served with. Over the years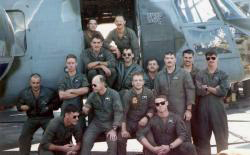 I've spent sometime looking for these Marines pictured and catching up on how there lives turned out. Marriage, Kids, Jobs and such. I found most of them on Together We Served or Facebook. Most of them, I'm happy to say, have had great and happy lives. Whenever I tracked down one of the crew that had been missing, I reach out to the others and let them know how they are doing and how to look them up. It's been great. After several Med. Cruises, I was sent to the West Coast, to HMM-268, Red Dragons. Great team of Marines there as well. Deployed to the First Gulf War and then the ongoing peace keeping forces in Somalia, back to Kuwait on the 5 year Anniversary.
FROM YOUR ENTIRE SERVICE, INCLUDING COMBAT, DESCRIBE THE PERSONAL MEMORIES WHICH HAVE IMPACTED YOU MOST?
Surviving some pretty hairy situations. Mostly support the ground element ashore with P.M.C. (Packs, Mail and Cargo) and Medivac missions. While doing so, getting shot at from below. Lost some great Bro's but felt proud as hell to have serve with them. Always in my thoughts and prayers.
WHAT ACHIEVEMENT(S) ARE YOU MOST PROUD OF FROM YOUR MILITARY CAREER? IF YOU RECEIVED ANY MEDALS FOR VALOR OR OTHER SIGNIFICANT AWARDS, PLEASE DESCRIBE HOW THESE WERE EARNED.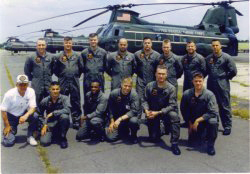 3 Combat Action and 3 Air Medals from Beirut. 1st Gulf War, Operation Restore Hope/Battle of Mogadishu and Iraqi Freedom. Meritorious Service Medal for the Presidential Helicopter Squadron HMX-1. All in all it was a great ride and great memories. "That which does not kill us, makes us stronger" I was selected to server as the Quality Assurance Chief at Presidential Helicopter Squadron HMX-1. Pictured is myself and the Flight Crew, supporting the President on one of his trips.
OF ALL THE MEDALS, AWARDS, QUALIFICATION BADGES OR DEVICES YOU RECEIVED, PLEASE DESCRIBE THE ONE(S) MOST MEANINGFUL TO YOU AND WHY?
Scuba Dive Badge: Naval Dive School back in the 70's was one of the toughest I've been through. Army Airborne School, known as Jump School was a piece of cake. I got tired of jumping out of perfectly good Aircraft, had a wife and baby on the way so I joined the Air Wing. Can't say it was any safer but I believed and was correct in thinking, that this move would give me some great opportunities when I retired. So I joined the Air Wing, went to Aircrew school and got my second set of Gold Wings (Aircrew Wings).
WHICH INDIVIDUAL(S) FROM YOUR TIME IN THE MILITARY STAND OUT AS HAVING THE MOST POSITIVE IMPACT ON YOU AND WHY?
First I'd say it was my NCO's, Staff NCO's and Officers, when I was a young Marine in Okinawa. They gave me a good base of knowledge to start with. You have to remember it was Post Vietnam then and a lot of the Senior Staff NCO's were combat vets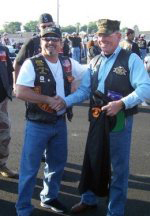 of which you could learn a lot from. Later on in my Career I had the pleasure of meeting and working with General Al Gray, Twenty-ninth Commandant of the Marine Corps and Sergeant Major Harold G. Overstreet,12th Sergeant Major of the Marine Corps. Other than that, I could spend all day telling you of all the great people I met, worked with and who influenced me to be the best Jar Head I could be. Sergeant Major Overstreet is a big supporter of our annual Rolling Thunder ride to DC in support of our POW/MIA's. Sergeant Major Overstreet would ride his Motorcycle from Texas, some 18 hundred miles to support and ride with us to the Wall. The Picture is of me shaking hands with the SgtMaj. at the Pentagon parking lot waiting to roll out 750 thousand motorcycles into downtown DC.
CAN YOU RECOUNT A PARTICULAR INCIDENT FROM YOUR SERVICE WHICH MAY OR MAY NOT HAVE BEEN FUNNY AT THE TIME, BUT STILL MAKES YOU LAUGH?
The Navy Shellback Initiation and Certificate. It was some silly stuff but a lot of fun to go threw and help pass the time and built moral. Flying with the Presidential Clinton's Staff, the Secret Service and the Press that covered his movement was something else. Met some awesome people and have some great stories to tell. Not sure if I can tell them all here because they maybe classified 🙂
WHAT PROFESSION DID YOU FOLLOW AFTER YOUR MILITARY SERVICE AND WHAT ARE YOU DOING NOW? IF YOU ARE CURRENTLY SERVING, WHAT IS YOUR PRESENT OCCUPATIONAL SPECIALTY?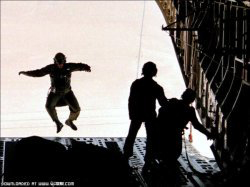 After I retired and I then got a job supporting the Army PEO Soldier at Fort Belvoir. I did that for several years, supporting their Weapons Systems programs. Then an opportunity opened up, of which I'm now back with the Marine Corps at Marine Corps Base Quantico G-4. Back with my Bro's! I'm working for the G-4 Operations and Logistics Branch now. I retired in this area and think it is the best place, for a veteran, to get a job or maintain a job. I also can help out our troops and our Vets in the area.
WHAT MILITARY ASSOCIATIONS ARE YOU A MEMBER OF, IF ANY? WHAT SPECIFIC BENEFITS DO YOU DERIVE FROM YOUR MEMBERSHIPS?
NRA Life Member, Pop a Smoke Association, Force Recon Association, Marine Corps League life member at Mickey Finns detachment Veteran of Foreign War life member and Band of Brothers Motorcycle Riding Club. The picture is of the Band of Brothers Motorcycle Riding Club on our annual Toys 4 Toys run. We do this every year along with Rolling Thunder, IWO Jima Wreath laying ceremony, Walter Reed wounded veteran, Children's Hospital fund raiser and poker runs supporting our Wounded Warriors.
IN WHAT WAYS HAS SERVING IN THE MILITARY INFLUENCED THE WAY YOU HAVE APPROACHED YOUR LIFE AND YOUR CAREER?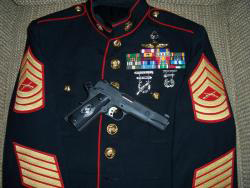 Always Faithful to my family: The importance of my family and family values was taught to me by my Parents. Married over 60 years, my parents were a great role model for me growing up and it was reinforced in the Marine Corps values. Keep the faith with my Marine Corps Brothers and Sisters: This was always stressed to me as a young Marine and I always passed it on to the younger Marines I taught and served with. The Mission comes first: This was always stressed to me in my younger days but I always believed if you didn't take care of your Marine and train them properly the Mission would not succeed. God, Country, Corps. and helping out your Veteran and Wounded Warriors is also a must and something I taught and believe in.
BASED ON YOUR OWN EXPERIENCES, WHAT ADVICE WOULD YOU GIVE TO THOSE WHO HAVE RECENTLY JOINED THE MARINE CORPS?
Take advise from your senior enlisted. Keep on training. Keep the Faith. Know thyself and seek improvement. Don't be afraid to ask for help. The only dumb question is the one not asked. Call your Mom and Pop once in a while, for goodness sake, you don't know how long you might have left with them. Semper Fi, Snoot out!!
IN WHAT WAYS HAS TOGETHERWESERVED.COM HELPED YOU REMEMBER YOUR MILITARY SERVICE AND THE FRIENDS YOU SERVED WITH.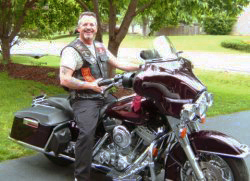 Long story, short. I came out of a 3 month coma from a motorcycle accident. Had some memory loss of my past. So my Doc. says, try reaching out to people who might remember you and ask them about your past to jog your memory. I signed up on Together We Served, dug through all my photo albums, reached out to my family and friends, to ask about things I've done, places I've been. When I joined Together We Served I got all kinds of hits and calls from Marines I knew from my past. I used T.W.S. to rebuild the memory of my past experiences and people I knew. What a trip. "I did what!" 🙂 It's been great therapy.