QM3 Robert Zinn U.S. Navy (1967-1970)
by dianeshort2014
Read the service reflections of US Navy Sailor
QM3 Robert Zinn
U.S. Navy
(1967-1970)
Shadow Box on TogetherWeServed.com
http://navy.togetherweserved.com/profile/525307
PLEASE DESCRIBE WHO OR WHAT INFLUENCED YOUR DECISION TO JOIN THE NAVY?
My father was with the 6th Marines on Eniwetok and Kwajalein Atolls during WWII. He came back with what was then described as battle fatigue and is now post traumatic stress disorder. My parents insisted I go to college after high school but I quickly realized after one semester it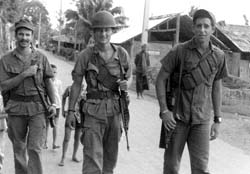 wasn't for me. I remember coming home telling my father I was joining the Marines as some kids want to follow in their fathers footsteps. It was the first time I could remember he talking to me as an adult when he said to me "You're 18 now I can't tell you what to do but if you want to join the military join the Navy as it will keep you out of Vietnam." Wanting to follow him and trusting his wisdom I joined the Navy and off to Recruit Training Great Lakes, Illinois in January 1967 I went. I can't begin to explain nor will I ever forget the look on his face when he found out I'd been assigned to Mobile Riverine Force, Mekong Delta. My father was and always will be my hero and I will always be proud of following in his foot steps as part of the military.
WHETHER YOU WERE IN THE SERVICE FOR SEVERAL YEARS OR AS A CAREER, PLEASE DESCRIBE THE DIRECTION OR PATH YOU TOOK. WHAT WAS YOUR REASON FOR LEAVING?
After graduation from high school I was pressed by my parents to attend college. After one semester I knew it wasn't for me. I informed my parents of my decision to quit college and join the Marines as my father was. It was the first time my father really talked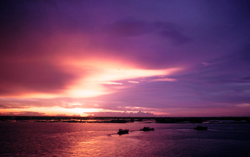 to me as a man and asked me if I was going to enlist to join the Navy. He was devastated when I told him I was going to Vietnam. I started aboard the USS Ajax AR-6, home ported in Sasebo, Japan but making trips to Vung Tao as a support mission. After six months, I volunteered for service in South Vietnam assigned to the USS Benewah APB-35, Mekong Delta Mobile Riverine Force, River Assault Flotilla One. Once in-country I found it unpleasant to say the least. I figured I was there, nothing I could do about it so I made the most of it becoming diverse and being assigned to various units. Leaving was a thoughtless process. Upon separation from active duty I was offered $10,000 to re-up for another six years. Asking where I would be assigned I was told another tour in country. Again a no brainer.
IF YOU PARTICIPATED IN ANY MILITARY OPERATIONS, INCLUDING COMBAT, HUMANITARIAN AND PEACEKEEPING OPERATIONS, PLEASE DESCRIBE THOSE WHICH WERE THE MOST SIGNIFICANT TO YOU AND, IF LIFE-CHANGING, IN WHAT WAY.
Rung Sat Special Zone Cambodia and Trung Hao XI. One night in 1968 I was awoken by one of the on-watch staff telling me the XO wanted me on the bridge on the double. On the bridge I was summoned to the chart room. At the time I was the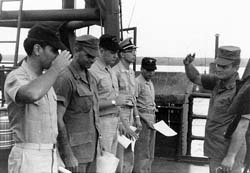 lead Quartermaster. The XO asked me to pull all the charts we had from our position up to Phenom Pem Cambodia. He wanted me to chart a course from where we were up the Mekong and into Cambodia. In looking at the charts, there were no depth markings into Cambodia as these were uncharted waters. With my XO and OPS Officer LT. Paul Ferguson we came to the decision to put four River Patrol Boats. "PBR'S" a couple of hundred yards ahead and relay depth soundings.
I took position behind the wheel of the lead PBR calling soundings back to the fleet. Coming to the position the orders we were given, I had the fleet anchor in approximately 21 feet of water all seemed to be well. At approximately 0500 the following morning I was summoned to the bridge of the Benewah by a very upset sailor. Upon my arrival on the bridge I was met by my CO, LCDR. D.L. SOLOMON, the XO LT. KMETZ, and LT. FERGUSON. Much to my dismay and theirs the fleet was aground, the tide ebbing by more than 20 feet overnight obviously unanticipated. There weren't too many suits pleased with me. After all was said and done, and no one pointing the finger at me or anyone else, the tide came in, once afloat I had found a large area of deep water about five miles ahead of us where we found safe anchor. We were not supposed to be that far north. Thankfully we took no significant damage and sustained no casualties.
OF ALL YOUR DUTY STATIONS OR ASSIGNMENTS, WHICH ONE DO YOU HAVE FONDEST MEMORIES OF AND WHY? WHICH ONE WAS YOUR LEAST FAVORITE?
Aboard the USS Ajax AR-6 I requested and was granted to go to Quartermaster school in Yokosuka, Japan. Upon successfully completing the course I decided life aboard the Ajax wasn't for me and wanted to navigate the rivers of the Mekong. I put in for transfer and was assigned t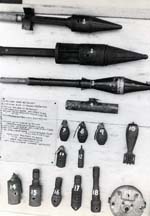 o Mobile Riverine Force USS Benewah APB-35, a self propelled barracks ship joining it in Dong Tam, South Vietnam. I found a happy medium between love and hate in my new assignment being given a lot of flexibility as to what I could do. I became part of the Helicopter flight crew which in the end recorded a record number of landings. I was able to fly door gunner on an Army UH-1, fly in the co-pilots seat on a light observation Helicopter (LOH), patrol with PBR'S doing insertion and extractions and laying fire in designated free fire zones, and able to be the shooter on the forward quad 40mm mount.
This diversity kept me occupied and made the time go a little faster. My fondest memory I had is when the Commanding Officer came to me and asked if I would like to take Benewah and reposition her. We would have to move every night even if it were 50 to 100 feet in case "CHARLIE" set up on us during the day. B-40 rockets could be set up and when night fell all the enemy would have to do is come back, fire and run, thus moving everyday became a necessity. It was a thrill to have Command, even for the brief period of the fleet movement.
FROM YOUR ENTIRE SERVICE, INCLUDING COMBAT, DESCRIBE THE PERSONAL MEMORIES WHICH HAVE IMPACTED YOU MOST?
Clearly the horrors of war is something no man or woman who has experienced it will ever forget. The vision of a body bag with someone you served with whether you knew that person or not is a vision which can be unrelenting. When the body of our Radarman, a good friend, who went missing one night was found floating in the Mekong is a vision I will never forget.
WHAT ACHIEVEMENT(S) ARE YOU MOST PROUD OF FROM YOUR MILITARY CAREER? IF YOU RECEIVED ANY MEDALS, AWARDS, FORMAL PRESENTATIONS OR QUALIFICATION BADGES FOR SIGNIFICANT ACHIEVEMENT OR VALOR, PLEASE DESCRIBE HOW THESE WERE EARNED.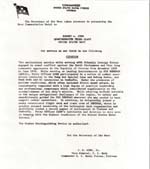 Upon my separation from active duty I was awarded The Navy Commendation with Combat Distinguishing Device "V" authorized for Meritorious Service. I remember being asked to attend a ceremony at the Third Naval District in Brooklyn, New York to receive the award. I discussed it with my father explaining I had no desire to put my uniform back on, he didn't persuade me to do it as I think he understood my decision having served. Thinking back on it now it was a bad decision and probably selfish on my part not having my family be part of it. The award was sent in the mail. I regret it to this day.
OF ALL THE MEDALS, AWARDS, FORMAL PRESENTATIONS AND QUALIFICATION BADGES YOU RECEIVED, OR ANY OTHER MEMORABILIA, PLEASE DESCRIBE THOSE WHICH ARE THE MOST MEANINGFUL TO YOU AND WHY?
The Presidential unit citation and two Naval Unit Citations were probably the most significant as it shows the great team I was privileged to be a part of. No one person in and of himself could achieve the missions and goals we were tasked with. Mobile Riverine Force, "The Brown Water Navy" was unique and one of the most successful units to have served in the Vietnam war. To have been a very small part of it was and always will be an honor and privilege.
WHICH INDIVIDUAL(S) FROM YOUR TIME IN THE MILITARY STAND OUT AS HAVING THE MOST POSITIVE IMPACT ON YOU AND WHY?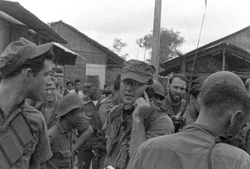 LCDR D. L. Solomon, as my Commanding Officer, he always led by example. Being a mustang and becoming the CO, he always had everyone's respect for his authority and leadership. Also LT. Paul Ferguson our Operations Officer put his faith and trust in me, probably more times than he should have, always having my back. For that I am forever grateful.
CAN YOU RECOUNT A PARTICULAR INCIDENT FROM YOUR SERVICE WHICH MAY OR MAY NOT HAVE BEEN FUNNY AT THE TIME, BUT STILL MAKES YOU LAUGH?
As told previously coming up to the bridge after putting my boats aground in Cambodia seeing my outfit playing football in the muddy bottom around my boat. Certainly not laughing on the outside at the time and after having thoughts of my short lived military career coming to an end I found the event to be hysterical after all was said and done and everyone was safe.
WHAT PROFESSION DID YOU FOLLOW AFTER YOUR MILITARY SERVICE AND WHAT ARE YOU DOING NOW? IF YOU ARE CURRENTLY SERVING, WHAT IS YOUR PRESENT OCCUPATIONAL SPECIALTY?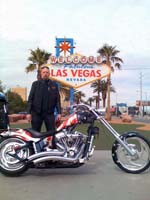 I always challenged myself to succeed by putting my entrepreneurial visions to work. The work ethic my father and the military instilled in me drove me then as it does now. After building and selling several business's I moved to Las Vegas to join my two boys in a consulting business. Leaving them to tend to the business on their own. I now am a Security Supervisor at a Las Vegas Strip Casino leading a young group of Officers and trying to instill upon them the work ethics which were taught to me. I am very fortunate to have the staff I work with. At my age of 66 they all keep me going. I can retire if I choose, but I love what I do. If you love your work you've never worked a day rings so true.
WHAT MILITARY ASSOCIATIONS ARE YOU A MEMBER OF, IF ANY? WHAT SPECIFIC BENEFITS DO YOU DERIVE FROM YOUR MEMBERSHIPS?
Mobile Riverine Force Association. The benefit I receive from them is that I am always reminded that, even though it was an unpopular time in our nations history, that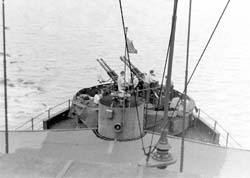 I did not question when we were in conflict, and our freedom's may be in jeopardy. I am still proud of myself and all of the men and women with whom I had the extreme privilege of being a part of.
IN WHAT WAYS HAS SERVING IN THE MILITARY INFLUENCED THE WAY YOU HAVE APPROACHED YOUR LIFE AND YOUR CAREER?
To respect authority, and to be as responsible of a person as I can be. I have to this day maintained a routine. I've been reminded by my superiors at times I'm no longer in the military. I have learned to back down and accept those for who they are not what I want them to be.
BASED ON YOUR OWN EXPERIENCES, WHAT ADVICE WOULD YOU GIVE TO THOSE WHO HAVE RECENTLY JOINED THE NAVY?
No matter what the situation of your assignment, no matter what the civilian world thinks of the duties you are assigned to, you are still a part of the GREATEST and most POWERFUL military in the world and defending the GREATEST nation on earth. Always remember we may all not support the actions our nation takes, however, those of us at home will always support, and honor you that are serving. The wrong things happened years ago, we'll not let that happen again. My son served in the Submarine Service of which I am extremely proud of. He is fifth generation generation Navy from our family and served his nation proudly.
IN WHAT WAYS HAS TOGETHERWESERVED.COM HELPED YOU REMEMBER YOUR MILITARY SERVICE AND THE FRIENDS YOU SERVED WITH.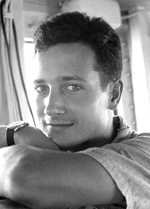 It enabled me to contact some of those I served with, and whom I have not had contact with for over 35 years. The pictures in this section and those in my profile were provided to me by QM3 Bruce Holdsworth who I the pleasure of seeing again a few years ago in Vegas, and our Operations Officer Paul Ferguson whom I've had contact with for more than several years now.