1stSgt Jack Moritz U.S. Air Force (Ret) (1954-1975)
by dianeshort2014
Read the service reflections of Airman:
1stSgt Jack Moritz
U.S. Air Force (Ret)
(1954-1975)
Shadow Box: http://airforce.togetherweserved.com/profile/166178
PLEASE DESCRIBE WHO OR WHAT INFLUENCED YOUR DECISION TO JOIN THE AIR FORCE?
This from my perspective, being Jacks son, I found out a lot about my dad mostly from family and friends who served with him not from him. He was a very private man about his service. My dad joined the Marines in 1950, mostly to get off of the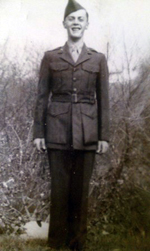 farm. He was 17 and didn't want to miss out on going to Korea as he missed out on WWII. Well he went. From what I've heard, he was a wild man back then. Did a little whiskey running out of Kentucky. Got shot at by the law several times. He told me many times though how scared he was in Korea.
When it came time for reenlistment he was ready. He loved military life, but the Marines refused to allow him to reenlist because his teeth were so bad it would cost a mint to get them in shape. Ah peace time Marines.
The Air Force was really just getting started and was changing from the Army Air Corps. He decided to go there. They didn't even have their own Good Conduct Medal yet, that is why he has an Army Good Conduct Medal is on his profile. He hung with the Air Force until he retired in 1975. He achieved the rank of 1stSgt.
WHETHER YOU WERE IN THE SERVICE FOR SEVERAL YEARS OR AS A CAREER, PLEASE DESCRIBE THE DIRECTION OR PATH YOU TOOK. WHAT WAS YOUR REASON FOR LEAVING?
USAF 1954-1975, he became a flight engineer. He loved flying. He gave up several promotions to keep flying. You'd think it being the Air Force they would like it if you were flying, but he couldn't make E-9 because he continued to fly up until 1973. He was made a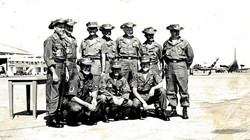 1stSgt at McGuire AFB. He really didn't like it much. Admin was not his thing. He did his first tour in Vietnam early in the war, from 1963 to 1964. He was stationed at Norton AFB for the next 3 years with an interruption of 6 months back in Vietnam.
Had a choice to go to Panama or Alaska. Asked the family which one. If Panama we would have to get rid of all of our pets, so it was Alaska. Great duty there.
Went to Vietnam on short TDY's, Temporary Assigned Duty. Left Alaska in early 1973.
I joined the Marines a year earlier. I took after the ole man.
He transferred to McGuire AFB NJ. Worst duty station of his career he told me. They wouldn't let him fly anymore. That was alwasy his first love.
IF YOU PARTICIPATED IN ANY MILITARY OPERATIONS, INCLUDING COMBAT, HUMANITARIAN AND PEACEKEEPING OPERATIONS, PLEASE DESCRIBE THOSE WHICH WERE THE MOST SIGNIFICANT TO YOU AND, IF LIFE-CHANGING, IN WHAT WAY.
Yes several operations in Korea several operations in Vietnam. He received 19 Air Medals and the Distinguished Flying Cross for his aerial shenanigans in Vietnam. He was a real war hero. That's me saying that not him.
I have all of the citations but as most of these missions were covert they don't give many details. Most of them or I should say all of them just list the award and date. Nothing about what happened.
OF ALL YOUR DUTY STATIONS OR ASSIGNMENTS, WHICH ONE DO YOU HAVE FONDEST MEMORIES OF AND WHY? WHICH ONE WAS YOUR LEAST FAVORITE?
Probably Elmendorf Air Force Base. Good duty. as the flight engineer for the Dall Sheep squadron on board with a general flying a C-123. Flew all over the world on this bird. The general would want to go somewhere and Jack would be ready to go at a moments notice.
He flew with this general in Vietnam when the general was a Lt Col. in 1964. The general had box seats at arrow head stadium and would go to every home game. Jack went along with him. Why not, free beer. misappropriation of funds I would say but hey, maybe he had legitimate business there. Jack was given a clothing allowance to buy civilian clothes when on outings with the general.
I remember as a kid he'd bring my mother something from wherever he went. On occasion he'd bring us kids a little something. He brought me a florescent switchblade knife he said he got off a Coastie. It was really cool. After I went in the Marines, I left it at home. I think my little sister got it but won't admit it. He also brought me a piggy bank after his first trip to 'Nam. Not sure why but I still have it today. Man, I miss him.
FROM YOUR ENTIRE SERVICE, INCLUDING COMBAT, DESCRIBE THE PERSONAL MEMORIES WHICH HAVE IMPACTED YOU MOST?
This is a story my Brother in law, Bob, told me recently about my father. Dad really liked Bob as he was there around the family when I was not and dad thought of Bob as a son. Dad would have never told me this story. I'm not hurt that my dad wouldn't tell me, I'm just glad that he felt comfortable enough with someone to tell it. I'm just glad he had the proper training and where with all to come home.
I've heard several stories about my dad and other strange occurrences in his life like this.
October 22, 2012
Dear Scott,
This story is the account of the C-123 Provider military airplane that crashed in Vietnam as told to me by your Dad shortly before his death in 1997. What had started as a simple conversation in the back yard turned into note taking because I was so interested in the story he told me. Now, years later at your request I am looking over these aging notes and I will attempt to give a reasonable account of the events as told to me. I will tell you the story as best I can remember. I will leave further research of facts and actualities to you or anyone else who wants to delve deeper into the incident.
As you know, your Dad was an Air Force Tech Sergeant serving as a Flight Engineer aboard a C-123 in Vietnam. During this time the U.S. military attachment to South Vietnam, as Jack remembered, was about 15,000 troops.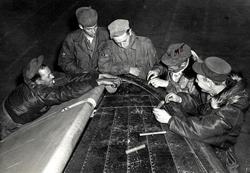 They were designated as advisers. It was January or February of 1964 which would have made Jack a 31 year old 13 year military veteran. There were covert operations taking place in Vietnam at this time and the mission that Jack was on was to deliver food and supplies from Saigon to a French owned rubber plantation (probably Michelin). On board were four men; the pilot who was a Captain, the co-pilot who was a First Lieutenant, the flight engineer (Jack), and a buck Sergeant who was the loadmaster. The names of these men I do not know. It was the rainy season so the pilot was flying at 2500 feet due to the weather.
This was a night flight about 9:30 PM. The mountains they were flying over reminded Jack of the Alleghenies. At an air speed of 200 mph and not long into the flight the right engine went out and the plane descended quickly and went down in the jungle. They may have taken a hit because your Dad said there were North Vietnamese in the jungle with 50 caliber or maybe even 20 millimeter guns. There was radio communication up until the crash. The pilot and co-pilot were killed on impact. Jack and the loadmaster survived the crash. I have no details of the wreckage nor of what, if anything, was done or even could be done for the bodies of the pilot and co-pilot.
As Jack told the next part of this story he emphasized the disorientation and haste the two survivors were dealing with along with the feelings of being pumped with adrenaline. That, combined with the intensity of the situation left certain details sketchy. He said he believed it was within minutes that the two of them were separated as they left the crash scene knowing that possible enemy combatants could find the twisted wreckage first. He remembered running through the jungle stopping occasionally to try to get his bearings. He guessed that the loadmaster surrendered.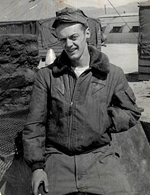 After several bearing checks and trying to think through his heavy breathing and extreme emotions Jack reckoned a course that would hopefully take him near the rubber plantation which was the only place he was sure there were Americans. He proceeded through the jungle to near exhaustion. Jack said at one point he could hear people faintly jabbering in Vietnamese and so took cover in some underbrush and hunkered down there to assess the situation. No sleep came that night and he didn't dare light a cigarette in the darkness as it could easily give away his position. So he stayed put. Thinking. Breathing. Wanting a smoke. Thinking again. Thinking of survival training. Thinking of mother and the kids. Catching his breath, he listened. He could see shanty lights. At least he thought they were shanty lights. He couldn't chance contact because he didn't know who was being friendly toward Americans. His adrenalin pumped again. Fear again. No sleep.
Morning came. Jack wondered what to do next. He tried to reestablish his bearings. He could still faintly hear Vietnamese. He would continue toward the rubber plantation.
Scott, this next part is strange but I'm telling you it's real close to how your Dad told it to me. At this point Jack heard a voice in English and saw what he called a human-like image. It was dressed in a black kind of jump suit, I think he said. It said to him something like, If you have your passport we can get out of here. Jack didn't know if he was hallucinating or not but he did tell me he did not like the thing as he called it. He drank some rain water and started moving from his night spot. He would move and hide and would see the thing again. The thing was smoking a cigarette and was luring Jack to have a smoke. Jack told the thing to put the cigarette out or they would find him. At one point as Jack was hiding he said that a few Vietnamese (he didn't say if they were soldiers or not) came within a few feet of him as the "thing", the image, stood nearby. He said the Vietnamese could not see the thing. Throughout this first day of moving and hiding the thing appeared to Jack four or five times, once or twice offering cigarettes and food. Whether there was real food and cigarettes Jack did not know. He did tell me he felt that it was an evil presence whether real, imagined, or conjured up by hallucination. I will tell you that it gave me chills on the back of my neck as your Dad talked of it. He told me he never told anyone else about this part of the story.
Night two came and Jack hunkered down as best he could. He did not know how many miles he had come but he had made some progress. He ate nothing; only drank rain water. The temperature was chilly and damp in the low to mid-fifties so he sought some slight comfort under the brush. He was chilled to the bone. In the distance a dog barked endlessly and there was some sound of Vietnamese music.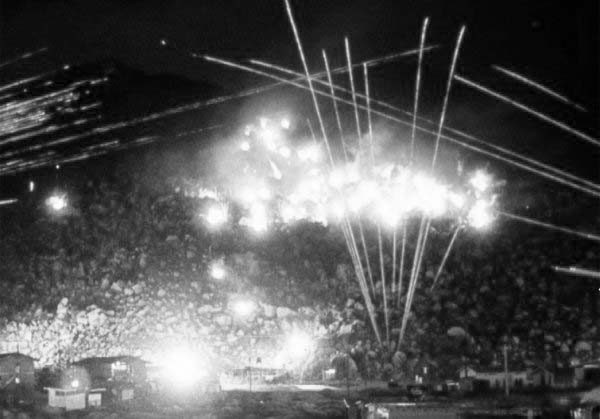 No sleep came. A nod maybe, but no sleep. Jack wondered if the creepy image from the day before was lurking and if it was going to appear again. It did not. Then some miles off there was the rat-tat-tat of fire-fights and the sound of aircraft delivering rounds of ammunition. Through the jungle brush Jack could see ground to air tracers piercing the night sky. He stayed put. Another night. Hiding from the unknown. Alone. Again.
Daylight came again and Jack continued his weary path and as he told me the story of this second day I sensed that he had gained a determination to exit this predicament. Concerning this second day Jack did not talk of his fear or of lost comrades. He did not talk of jungle noises or shanties in the distance and there was no mention of strange images. He said he walked and hid and walked again and made more progress. He heard voices and hid again. But these voices were American and Vietnamese mixed. Considering his condition he carefully peered through the brush toward a rough road and saw a patrol of four U.S. Marines with about forty South Vietnamese. Your Dad decided to emerge. As tattered as he must have looked he stood in plain view of those combat ready ground troops. With his hands up as if to surrender and to avoid being shot by friendly fire he identified himself as Technical Sergeant Jack P. Moritz; flight Engineer from the C-123.
We crashed! he told them in his exhaustion.
He heard a Marine say, We know. You're okay now. The troops lowered their rifles.
The patrol took care of your Dad's initial needs and then transported him to the rubber plantation which was about thirty five miles away. He washed, was given clean fatigues, ate, smoked, was debriefed, smoked again, and slept. That night he slept again on the relative comfort of a cot within the confines of a well-guarded business interest.
As your Dad waited for the next air supply shuttle back to Saigon the officer in charge asked him if he needed anything else. Jack said, Sir, I'd like a cold beer and I'd like to have that American flag flying over this compound. The officer accommodated him. Such was the story as told to me. It was certainly an adventure revisiting this memoir and I am happy to have finally written it for you and, I guess, for your Dad also. May God be always in your heart. These are things my dad confided in me over the years My wife's fear of flying.
We drove from every duty station to the next even though we could have flown for free. She saw me crash land at Griffith Air Force base early in my career and it scared her so much that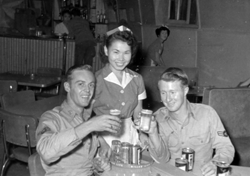 she refused to fly ever. We drove the car hauling a trailer, 5 kids, 2 dogs, and a cat from Norton Air force base in Southern California to Elmendorf in Alaska. Took about a month. I was there. Lost the cat. We drove the Alcan (Alaskan highway) in the dead of winter. Very few hotels or restaurants where open during the winter. I remember cooking cans of beans on top of the warm engine of the car. Also Canadians pour vinegar on their potatoes to keep them fresh in the winter. Gives them a disgusting flavor though. At least for kids it does. The trip from Otis AFB in MA to Norton AFB Calif was a long one but welcomed as it was right after my first tour of Vietnam. It was great to see the country. My wife lost her fear of flying when we were stationed at McQuire AFB in NJ, our oldest daughter was pregnant and had our first grandchild. She flew back to Alaska to see him.
My wife never drank but we poured her onto the plane full of liquor and tranquilizers. I know they won't let you fly any longer in this condition but this was in 1974.
WHAT ACHIEVEMENT(S) ARE YOU MOST PROUD OF FROM YOUR MILITARY CAREER? 
Distinguished Flying Cross, Air Medals. I was there at the ceremony at Norton when he received the awards. There was a major also receiving awards but my dad got so many I was getting tired of hearing his name. It took several hours. It made the local paper. I have the citations. Also the Airman's Medal for flying where he had no business flying as I was told. I always figured it was for missions flown over China. He neither confirmed or denied my assumption.
OF ALL THE MEDALS, AWARDS, FORMAL PRESENTATIONS AND QUALIFICATION BADGES YOU RECEIVED, OR ANY OTHER MEMORABILIA, PLEASE DESCRIBE THOSE WHICH ARE THE MOST MEANINGFUL TO YOU AND WHY?
Distinguished Flying Cross. I asked him that same question once. His response was, " Damn boy, I'm in the Air Force. That's top dog right there don't you know." What a dumb ass. That's how he talked.
WHICH INDIVIDUAL(S) FROM YOUR TIME IN THE MILITARY STAND OUT AS HAVING THE MOST POSITIVE IMPACT ON YOU AND WHY?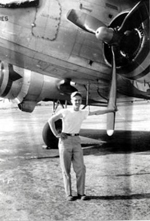 Several Generals come to mind. I don't have their names yet. I do however have several pictures from the early years I will post. I know Jack and MSgt Dick Braun where very close. Dick always was a very serious man or so it seemed to me. Dick had a wife that he'd met in Germany named Inge. She was quite a beauty.
CAN YOU RECOUNT A PARTICULAR INCIDENT FROM YOUR SERVICE WHICH MAY OR MAY NOT HAVE BEEN FUNNY AT THE TIME, BUT STILL MAKES YOU LAUGH?
These are things my dad confided in me over the years. In Alaska at Elmendorf AFB. Good friend Ssgt John Rollins his wife and mine went out in town. (Anchorage). Now the entertainment at the time was slim but they were advertising a 500lbs stripper at some joint downtown. Jack had to see this so he brought along John his wife and Jacks wife. Well when they got to the place, John who drank pretty heavily anyway opened the door and we followed him in. The place was filled with nothing but black people as the jumbo lady happened to be black. John says in a loud booming voice" where in the hell did all of theses n(word)s come from. Jack laughed and they felt obliged to leave immediately. Never saw the stripper.
John use to get so drunk he'd call my son who was only 12 or 13 at the time with no drivers license to come drive him home from the club. We lived in walking distance from the club. Good thing his mother never found out. She'd have killed me and John. Scottie drove better than John even when John was sober. I didn't have much to teach him about driving when it came his time other than slowing down. Boy that man was crazy. Good times though.
WHAT PROFESSION DID YOU FOLLOW AFTER YOUR MILITARY SERVICE AND WHAT ARE YOU DOING NOW? IF YOU ARE CURRENTLY SERVING, WHAT IS YOUR PRESENT OCCUPATIONAL SPECIALTY?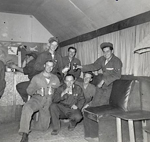 He got out in 1975. The economy sucked so bad Jack could not find employment so he went to college and studied electronics. He graduated with an Associates degree and went to work for Hobart brothers as an electrical tech in 1978. Retired from there in 1993. He loved working there but really missed the military life and being in charge. He still rarely told me of his exploits other than a few drunks he was on.
WHAT MILITARY ASSOCIATIONS ARE YOU A MEMBER OF, IF ANY? WHAT SPECIFIC BENEFITS DO YOU DERIVE FROM YOUR MEMBERSHIPS?
VFW; AMVETS; Eagles; Benifits: camaraderie with fellow service men and of course cheap beer; Loved his beer.
Every time Jack would visit the Vietnam memorial in Washington DC he would come back and not be worth a damn for about 3 or 4 weeks. I'd beg him not to go back but him and his buddies from the AMVETs or VFW would plan a trip to go see it He lost many friends there. When he saw the Korean memorial, I was told he cried. I'd only seen my father cry once and that was when his father died in 1966.
IN WHAT WAYS HAS SERVING IN THE MILITARY INFLUENCED THE WAY YOU HAVE APPROACHED YOUR LIFE AND YOUR CAREER?
My dad was a very serious man when it came to his career. He loved the military and this country more than his life. He would have given it up for the asking for his country I'm sure of that. Be better than I was he always told me. While I was in the Marines, I must have forgotten that. In civilian life I've always striven to be as good or better than he. In many areas I have fallen short of this goal.
During the Gulf War when we were attacking, at the age of almost 62, he wanted to go back and join the military. He said he'd go in any capacity that he still could do things and had a lot to offer. I believed him. They told him, let the young 'uns handle this one Jack. He was crushed though.
BASED ON YOUR OWN EXPERIENCES, WHAT ADVICE WOULD YOU GIVE TO THOSE WHO HAVE RECENTLY JOINED THE AIR FORCE?
Always do better than what you think you can and expect more from your children than you do of yourself. At least make them want to be better and have better than you did. Jack was a tough act to follow.
IN WHAT WAYS HAS TOGETHERWESERVED.COM HELPED YOU REMEMBER YOUR MILITARY SERVICE AND THE FRIENDS YOU SERVED WITH.



Thanks for allowing me to post this tribute to my dad. Most of these stories I'm handing down as they were told to me. His accomplishments were many. He died at home and got to say goodbye to all of his children and his wife Darlyn who would go anywhere he went. I remember the last time I saw him I shook his hand and hugged him. I said I'd see him. He said not too soon I hope. Always lighthearted to the end. Tough ole bird. The world is less interesting without him in it.
Note from Admin: If you have a veteran in your life and you would like to assist them in telling their story, please join us at our new website http://sos.togetherweserved.org.