FTCM Lonnie Jones U.S. Coast Guard (Ret) (1956-1977)
by dianeshort2014
Read the service reflections of Coast Guardsman:
FTCM Lonnie Jones
U.S. Coast Guard (Ret)
(1956-1977)
Shadow box: http://coastguard.togetherweserved.com/profile/12150
PLEASE DESCRIBE WHO OR WHAT INFLUENCED YOUR DECISION TO JOIN THE COAST GUARD?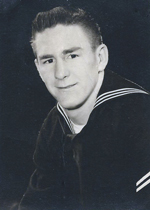 I graduated high school and was hanging out at the park and playing baseball for a church. One Saturday morning, I think it was the 16th of July 1956, I went into the kitchen for breakfast. Mother met me with a quarter and the want ads making the statement "Get a job or join the service TODAY." I opened the want ad and there was the big advertisement: "Be a Life Saver", "Join the U.S. Coast Guard". Mobile recruiting unit in from of the post office today. God said to me, "Here you go. That's where I want you." I caught the bus went to the mobile recruiting trailer and took the test. The Recruiter told me I qualified and if I joined I would go to "A" school from Boot Camp. I called my mother, she came up signed the papers.
Monday I received a physical. Tuesday I was sworn in and put on a plane for Boot Camp.
I don't ever remember hearing it was for just four years.
WHETHER YOU WERE IN THE SERVICE FOR SEVERAL YEARS OR AS A CAREER, PLEASE DESCRIBE THE DIRECTION OR PATH YOU TOOK. WHAT WAS YOUR REASON FOR LEAVING?
In Boot Camp I made the Coast Guard football team and played that season. The Coach, Ltjg Hinds, got me assigned to Fire Control "A" School, Groton CT. in hopes I would be assigned to the Unimack and be available for 1957 season. I was shocked when I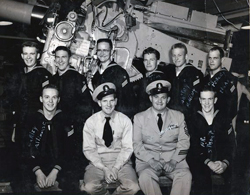 arrived at FT School and found out I would not be a fire fighter but a Fire Control Technician operating the Ordnance equipment and controlling the fire power of the ship. I started the school, eight graduated and I was #7 of the 8. I received orders to the CGC Absecon in Norfolk.
I arrived at the Absecon as a SNFT. Promoted to FT3, 1 September, 1957, FT2 1 May 1958.
Transferred to the CGC Unimack Dec 1959 where I was promoted to FT1(E6) on 1 January 1960.
Transferred to the CGC Westwind 2 FEB 1963 and advanced to FTC(E7) 1 October 1964.
I was assigned to CG District 3, 5/11/64 till 10/1967, CG Eastern Area Inspectors 10/67 to 7/1/1969,
CG TRACEN, Governors Island, NY 7/1/1969 where I was advanced to FTCS(E8) on 1/1/1970 and FTCM(E9) 12/1/1970.the same year.
7/1/1972 I transferred to CG Institute.
7/1/71975 transferred to CGHQ-OMR and retired 10/1/1977. SR(E1) to FTCM(E9) in 14 years 6 months and 12 days.
IF YOU PARTICIPATED IN ANY MILITARY OPERATIONS, INCLUDING COMBAT, HUMANITARIAN AND PEACEKEEPING OPERATIONS, PLEASE DESCRIBE THOSE WHICH WERE THE MOST SIGNIFICANT TO YOU AND, IF LIFE-CHANGING, IN WHAT WAY.
In 1957 the Absecon was on Ocean Station Echo, just north of Bermuda, Hurricane Carrie sunk the German Naval Academy training ship Pamir. We had to go in one side, through the eye and out the other side of the hurricane to reach the rescue area. There were only 6 survivors. I was in the CGC Absecon Life Boat crew that recovered one of them.
The next day the sea was like a sheet of glass, not a ripple on it. Like it had swallowed it's fill and was now satisfied.
I can't really say how it makes you feel, but it does change your life.
OF ALL YOUR DUTY STATIONS OR ASSIGNMENTS, WHICH ONE DO YOU HAVE FONDEST MEMORIES OF AND WHY? WHICH ONE WAS YOUR LEAST FAVORITE?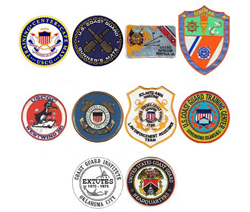 I never had a bad assignment. I guess I enjoyed the Eastern Area evaluator job the most. I got to travel from Maine to Brownsville, Texas evaluating operations on every type of Coast Guard unit ashore and at sea including aviation units.
I do not have a least favorite.
The Cadet Cruise's to Europe on the Absecon, The port's of call on the Unimack, The trip on the Westwind to Thule and the Arctic, Instructing students at the TRACEN,
How could you choose one over the other?
FROM YOUR ENTIRE SERVICE, INCLUDING COMBAT, DESCRIBE THE PERSONAL MEMORIES WHICH HAVE IMPACTED YOU MOST?
With the Pamir rescue, we had to go in one side thru the eye and out the other side of hurricane Carrie, which enforced the slogan "You have to go out, You do not have to return". Training and supervising 6×8 reserves on the Unimack, my first FT3's on the West Wind, all shipboard FT's in the 3rd district, and FT "C" school students at the training center were the most rewarding.
WHAT ACHIEVEMENT(S) ARE YOU MOST PROUD OF FROM YOUR MILITARY CAREER? IF YOU RECEIVED ANY MEDALS, AWARDS, FORMAL PRESENTATIONS OR QUALIFICATION BADGES FOR SIGNIFICANT ACHIEVEMENT OR VALOR, PLEASE DESCRIBE HOW THESE WERE EARNED.
I was transferred from the CG Institute to CGHQ-OMR for the main purpose of rewriting CG272, The Ordnance manual.I received the Coast Guard Achievement Medal for Superior Performance of Duty from June 1975 to March 1976. It reads:
"Master Chief Petty Officer Jones is cited for outstanding achievement and superior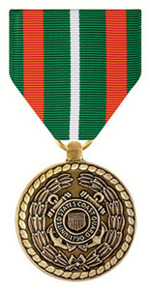 performance of duty while serving as Chief, Technical Publications Section, Military Capabilities Branch, Military Readiness Division, Office of Operations, U.S. Coast Guard Headquarters from June 1975 to March 1976. Demonstrating exceptional administrative ability, Master Chief Petty Officer Jones was the primary editor, organizer,and expediter of the rewriting of the Coast Guard Ordnance manual (CG-272) which went to press in March 1976. Displaying excellent foresight and a clear understanding of the needs of the Coast Guard, Master Chief Petty Officer Jones applied himself to the task of updating this ten-year-old 590 page technical and administrative manual and successfully insured the the correctness of information and references and the deletion of outdated portions.
Working long hours organizing the material, he coordinated and cleared the project through numerous branches, divisions and offices in an effort that produced an efficient and useful document of 384 pages which will result in improved administration of the Military Readiness Program throughout the Coast Guard. Master Chief Petty Officer Jones' diligence, initiative and unwavering devotion to duty in this assignment are most heartily commended and are in keeping with the highest traditions of the United States Coast Guard. "
I not only researched, assembled and laid out the material, I taught myself the 3M Word Processor and typed the whole manual with tables, charts and pictures properly inserted in the text which was dual column, I proofread the material and cleared the manual through all concerned divisions of Headquarters getting approval to go to print in record time.
OF ALL THE MEDALS, AWARDS, FORMAL PRESENTATIONS AND QUALIFICATION BADGES YOU RECEIVED, OR ANY OTHER MEMORABILIA, PLEASE DESCRIBE THOSE WHICH ARE THE MOST MEANINGFUL TO YOU AND WHY?
U. S. Coast Guard Achievement Medal described before. I am equally proud of my 21 years with Good Conduct Medals and the gold stripes I wore.
WHICH INDIVIDUAL(S) FROM YOUR TIME IN THE MILITARY STAND OUT AS HAVING THE MOST POSITIVE IMPACT ON YOU AND WHY?
GMC Hugh Brady, my first Chief on my first ship. He instilled the sense of duty to be where I was suppose to be, do what I was suppose to do, and complete the task to the best of my ability.
CAN YOU RECOUNT A PARTICULAR INCIDENT FROM YOUR SERVICE WHICH MAY OR MAY NOT HAVE BEEN FUNNY AT THE TIME, BUT STILL MAKES YOU LAUGH?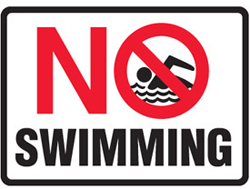 Swimming off the side of the CGC Unimack while berthed at Cape May I swung out on a life boat line which slipped, I froze and swung back into the side of the ship hitting an angle iron sticking out of the side of the ship with my right foot. Because this was against orders to swim off the ship in port we called our shipboard Corpsman back to sew up the hole in my foot instead of going to the base dispensary. Jerry came back a little under the influence and sewed up the toughest skin on the body.
The comments made by him while forcing a large needle thru the tough skin of the sole of the foot are not repeatable. We remain friends and have several more unrepeatable stories.
WHAT PROFESSION DID YOU FOLLOW AFTER YOUR MILITARY SERVICE AND WHAT ARE YOU DOING NOW? IF YOU ARE CURRENTLY SERVING, WHAT IS YOUR PRESENT OCCUPATIONAL SPECIALTY?
After teaching myself the 3M word processor while writing the Ordnance Manual I became an expert on the word processing capabilities. I was sent to 3M to learn Assembler programming language to develop programs for the Coast Guard. While in school at 3M, they offered me a job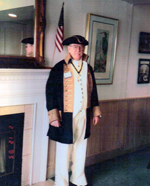 and I immediately retired and started work for 3M Business Communications products. This lasted for 11 years with changes from Word Processing to Facsimile to "Whisper Writer" Electronic Mail Products.
In 1986 I was trained as a Service Technician and moved from VA to FL to service corporate units and expand the base by selling more units when not servicing existing units. 1987 3M dropped the product line and we ended up with Harris Lanier with a guaranteed employment for 90 days. After 9 months as a Service/Sale Representative for Lanier I was let go.
January 1989 I was hired by U.S. Navy Aviation Depot Pensacola as an Aviation Electrician. The depot was closed by congress and I went on the road for Raytheon, Lockheed Martin, L3 and Crestview Aviation as a contract field team Aviation Electrician This lasted about 25 years.
My last job from 2011 to 2013 was with GE Wind Energy as an Assembler. I am now unemployed/retired.
WHAT MILITARY ASSOCIATIONS ARE YOU A MEMBER OF, IF ANY? WHAT SPECIFIC BENEFITS DO YOU DERIVE FROM YOUR MEMBERSHIPS?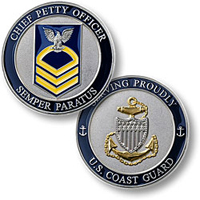 Coast Guard Chief Petty Officers Association(Charter and Silver Life Member )
Fleet Reserve Association
American Legion
Sons of the American Revolution (Life member)
Society of the Descendants of Washington's Army at Valley Forge
Society of the War of 1812
Sons of Confederate Veterans
Society of the American Colonist
National Rifle Association
Mostly a little life insurance, car and home insurance availability, health and accident offers and fellowship with members and the show of patriotism.
IN WHAT WAYS HAS SERVING IN THE MILITARY INFLUENCED THE WAY YOU HAVE APPROACHED YOUR LIFE AND YOUR CAREER?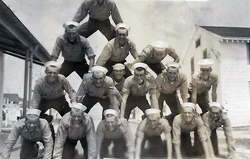 It has provided me with the security to do things I want to do with out worrying about money and health concerns. The commitment to fulfill the obligations to my employers, organizations, family and friends to the best of my ability were instilled by my military service.
BASED ON YOUR OWN EXPERIENCES, WHAT ADVICE WOULD YOU GIVE TO THOSE WHO HAVE RECENTLY JOINED THE COAST GUARD?
Stay with it. Be in the right place at the right time and BE READY. You volunteered to serve and made the commitment to do you best. Keep the flexibility to go where and when the Coast Guard needs you without regrets. Follow orders to the best of your ability. Remember, You made the commitment to the Coast Guard and you need to bend with the needs of the service.
IN WHAT WAYS HAS TOGETHERWESERVED.COM HELPED YOU REMEMBER YOUR MILITARY SERVICE AND THE FRIENDS YOU SERVED WITH.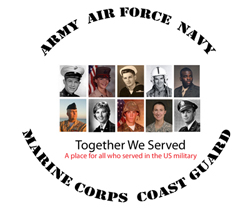 Immensely! Going through my pictures, books, certificates, and records brings back many memories. Remembering the Places, People, Activities, Stories and Accomplishments help restore my feeling of self worth. Cures some depression and restores passion for the future.