Sgt James Hastings U.S. Army (1951-1953)
by dianeshort2014
Read the service reflections of TogetherWeServed.com member:
Sgt James Hastings
U.S. Army
(1951-1953)
Shadow Box: http://army.togetherweserved.com/profile/348999
PLEASE DESCRIBE WHO OR WHAT INFLUENCED YOUR DECISION TO JOIN THE ARMY?
I had saved my money from the time I started working at 14 in food preparation in a Mexican deli in East Los Angeles and later as a warehouse worker for Western Electric in Los Angeles. I had learned to speak French and German and intended to travel to Europe,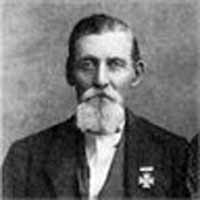 buy a bicycle, and tour several countries for a year or so after I graduated high school. Unfortunately the Korean War started just after I graduated in 1950. I realized that I was going to be drafted sooner or later and didn't want to have my life disrupted before it really began, so I visited all the recruiting stations and finally decided that the Army was for me and enlisted.
My father had served in the peacetime Army from 1930-1932. mainly because of the Depression and lack of other jobs. He was drafted and served again from 1942-1945, fighting in the Aleutian Islands against the invading Japanese Army. He was wounded on Aku Island. My great grandfather had been an Officer in the Confederate Army during the Civil War. He had been wounded and after some basic medical treatment, walked home on crutches until he healed enough to rejoin his Company at Appromattox.
It seems that Army has been in our family for several generations and I continued that tradition.
My son also served. He joined the US Air Force and was assigned to the Pentagon as a computer programmer for most of his 6 years.
WHETHER YOU WERE IN THE SERVICE FOR SEVERAL YEARS OR AS A CAREER, PLEASE DESCRIBE THE DIRECTION OR PATH YOU TOOK. WHAT WAS YOUR REASON FOR LEAVING?
I intended to try for Officer Candidate School but during Basic Training I made some stupid decisions, so that was out. I had worked for the Telephone Company before enlisting so I went to Wire School to increase my knowledge so that when I returned to civilian life after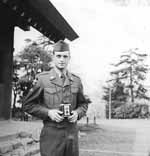 my 3 years I might be able to get a better job with the Telephone Company.
After getting out of the hospital, recovering from combat wounds I was assigned to the 8001st Transportation Depot in Yokohama, Japan. I met, dated and later, married a Japanese lady while serving in Japan. I took my discharge in Japan and went to work for the Department of the Army as a Civilian. Part of the next 5 years I worked for 8th Army HQ supervising the printing of all classified materials. As such, I had to proofread all the classified correspondence from the front as well as from agencies that were not supposed to exist (Black Ops). That made my life difficult since I no longer could talk to anyone about anything except weather, sports and art since I couldn't take the chance that I would say something not in agreement with the "news" about the various wars in the Far East. I also was a part of FECTAC: the war room to run WWIII if the stateside war room was destroyed.
I later asked for a transfer and was assigned to the Signal Corps in charge of inventorying and negotiating the return of telephone exchanges that the US Army had confiscated during the occupation of Japan. I spoke Japanese fluently enough to act as an interpreter during some of these negotiations with the Japanese Government since, at that time, the Telephone company was run by the government.
IF YOU PARTICIPATED IN ANY MILITARY OPERATIONS, INCLUDING COMBAT, HUMANITARIAN AND PEACEKEEPING OPERATIONS, PLEASE DESCRIBE THOSE WHICH WERE THE MOST SIGNIFICANT TO YOU AND, IF LIFE-CHANGING, IN WHAT WAY.
Well, as a "green soldier" I just arrived at the front, I was assigned to the Second Division, 38th Regiment, Charlie Company to replace the Wire Chief at the front lines. The next day, he took me out to lay a new telephone line to our troops who were engaged in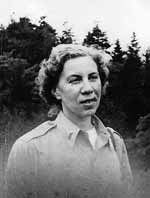 combat with the enemy. We were in part of North Korea at the time. As we walked along a pathway it appeared that he tripped a booby trap wire and the homemade explosive device blew up right next to me. My right arm was sprayed with shrapnel and a piece went through my belt very close to my spine. I also had shrapnel in the joint of my little finger and couldn't move it. The roll of wire on my back was full of shrapnel, which made it unusable.
So, we walked in the center of the river until we reached an aid station. I was transported to a MASH unit where I was X-rayed and from there to the Army Hospital in Pusan and later to the Jutlandia (Danish hospital ship), docked in Pusan harbor, for surgery to my hand. When I was in recovery stage, my Doctor sent me to Japan to recover, and from there I was reassigned to the 8001st Transportation Corps Depot in Yokohama, Japan where I served until discharge December of 1953.
OF ALL YOUR DUTY STATIONS OR ASSIGNMENTS, WHICH ONE DO YOU HAVE FONDEST MEMORIES OF AND WHY? WHICH ONE WAS YOUR LEAST FAVORITE?
Of course the least favorite was at the front lines because of my injuries. That leaves only my time at 8001st TC Depot in Yokohama. I was progressively promoted from E-2 to E-5 within a year and was put in charge of an Accounting Section where I served until my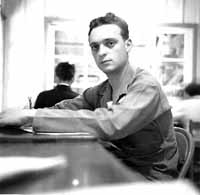 discharge. One of my employees had been a Japanese Army Officer who was trained in English with the intent to serve in the United States, after it was conquered, as a liaison officer. I studied Japanese with him and then took 2 years of Japanese from the local University of Maryland school in Yokohama. I was able to become proficient in the spoken language and learned to read some also.
Off duty I was asked to teach English at a local Japanese Business College which I did for several years. This gave me a love of learning and teaching. I learned to brush write Japanese characters from a Japanese college professor which gave me an appreciation for Japanese brush painting which I used to make my own paintings. I also studied Kamakura style wood carving and carved some plates as well as some bookends with the Japanese name that I was known as by my closest Japanese friends.
FROM YOUR ENTIRE SERVICE, INCLUDING COMBAT, DESCRIBE THE PERSONAL MEMORIES WHICH HAVE IMPACTED YOU MOST?
Yokohama was fire bombed prior to the end of the war so when I served there, some 5 years after the war ended, it was still a very struggling economy. I walked all over Yokohama on my days off, taking pictures, many of which I still have. As I learned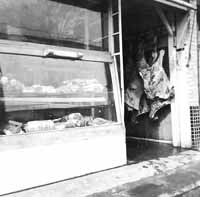 to speak Japanese better, I talked to shop keepers and everyone that I could. I ate at a restaurant for day laborers. At that time the going rate for day labor was the equivalent of around 56 cents a day! (200 yen). The yen was 360 to $1.00. A dinner at this restaurant cost the equivalent of $0.20, so, I frequently ate with these men even though my salary as a Sgt at that time was close to $500 a month. I did this to get to know people.
As soon as I spoke to them in Japanese their attitude towards me changed from one of being an outsider to being someone that at least liked their country enough to learn their language. They were very open and I felt, honest with me about their struggles. I learned that the beggars we saw on the street had banded together, pooled their money and rented rooms together so they had somewhere to sleep. I saw grey haired old ladies carrying telephone poles on their shoulders for the US Army and others sitting on the ground using a sledge hammer and chisel to break off chips to create gravel for road construction.
It was a humbling experience for me.
WHAT ACHIEVEMENT(S) ARE YOU MOST PROUD OF FROM YOUR MILITARY CAREER?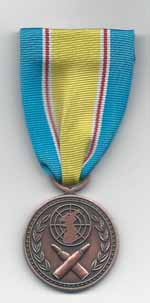 Our Unit was given a Citation for the accounting work that we did of highly classified work. That of course was for the Unit and not individuals, but as someone involved, I felt honored.
Much later, I received a medal from the Korean Government for my service in helping South Korea be free. It was awesome to be among the others receiving this honor. This medal was presented by a member of Washington State legislation. He had been adopted by some GI's and brought back to the United States, where he completed his College education and later was elected to the legislature.
OF ALL THE MEDALS, AWARDS, FORMAL PRESENTATIONS AND QUALIFICATION BADGES YOU RECEIVED, OR ANY OTHER MEMORABILIA, PLEASE DESCRIBE THOSE WHICH ARE THE MOST MEANINGFUL TO YOU AND WHY?
I'm proud of my qualifications on the rifle. My mother was a crack shot and I had learned how to shoot and clean a rifle as a small child of 7 or so in Kansas. I was only sad that I couldn't qualify with the machine gun since it was hooked to a board, which had sunk into the mud so I couldn't change the elevation so it fired into the ground and no one could qualify with it.
My Honorable Discharge was my most cherished possession from the Army.
WHICH INDIVIDUAL(S) FROM YOUR TIME IN THE MILITARY STAND OUT AS HAVING THE MOST POSITIVE IMPACT ON YOU AND WHY?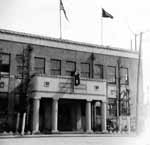 Major Oakley, who was the officer to which I reported for the Accounting Department, taught me how to do my best and encourage those under me to do their best. He went on to teach at the War College I was told. He had a speech impediment so I was encouraged to see that the Army gave him a chance to do his best and serve rather than rejecting him and not allow him to serve his country. Before entering the Army, he had been a tugboat Captain and I learned a lot from him about that kind of work also, something that I never would have learned otherwise.
CAN YOU RECOUNT A PARTICULAR INCIDENT FROM YOUR SERVICE WHICH MAY OR MAY NOT HAVE BEEN FUNNY AT THE TIME, BUT STILL MAKES YOU LAUGH?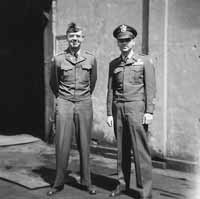 We learned that we had a Criminal Investigations Division person in our midst for a short time. He talked to me about his past and I thought it was strange that he confided that to me. His objective, he said, was to blend in and investigate and keep this a secret from anyone except the Commanding Officer, to my knowledge. He told me stories of his first assignment. He was to go to prison impersonating a criminal in order to befriend a man known to be a Nazi spy. The man had been caught but was imprisoned by the government on a different charge so that they could find out what his mission really was. He didn't share that with me.
WHAT PROFESSION DID YOU FOLLOW AFTER YOUR MILITARY SERVICE AND WHAT ARE YOU DOING NOW? 
I was employed by the Department of the Army as a Civilian employee and started off in charge of coordinating military air traffic movements in Japan. From there I was recruited to supervise the printing section for the Japan Procurement Agency that bought off shore supplies for the Korean war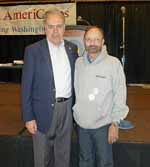 effort. I was recruited from there to work at Eighth Army HQ to supervise classified printing. As part of those duties I supervised the U2 spy photo library as well as worked on second strike information in case of nuclear attack on the US. I also was a part of the War Room in case the Pentagon was destroyed by nuclear attack. This was too stressful for me and I began to have ulcers so I asked for and was later transferred to the Signal Corps where I inventoried all the US telephone stations in Japan and negotiated the return of them to the Japanese government after a base was closed.
I was then recruited to go to Inchon, Korea to establish a supply depot to repair spy boat engines, as that is part of what I did in Yokohama. After it was up and running in 8 months, I resigned from the Department of the Army and returned with my son and wife to the US.
I was trained at the Bank of America to be a Manager and after a few years, left that to become HR Director for a small bank chain for a few years. All this time I was going to school on the GI bill and finally after getting a Master's degree I left banking and became the Director of Employment and Training for Goodwill Industries of Los Angeles, CA. I worked at various Goodwill Industries as Executive Director and then spent the rest of my working life as a Vocational Rehabilitation Counselor serving those with barriers to employment until I retired in 2010.
I also served as an AmeriCorps volunteer in 1999 and again in 2012.
WHAT MILITARY ASSOCIATIONS ARE YOU A MEMBER OF, IF ANY? WHAT SPECIFIC BENEFITS DO YOU DERIVE FROM YOUR MEMBERSHIPS?
I visited the VFW hall but couldn't relate to the members there so never joined any military related organizations Likewise, by the time I visited the American Legion I was way older than most of the members and again, couldn't relate to their lives. I was a member of the Rotary Club and Toastmasters in several cities and usually deeply involved in Community relations where I lived and worked but seldom lived and worked in the same towns. I also served on the Board of the Chamber of Commerce in charge of environmental relations at one time.
IN WHAT WAYS HAS SERVING IN THE MILITARY INFLUENCED THE WAY YOU HAVE APPROACHED YOUR LIFE AND YOUR CAREER?
The military didn't ask me what I could do or was interested in doing. It gave me an assignment and expected me to learn how to do it to the best of my ability. This trust in me helped me to grow and become someone that I might never have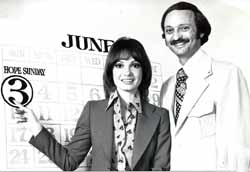 become without that trust. Most employers hire you based on your known and proven ability to do something. That is completely different from my military experience. I don't think I would have accomplished whatever I did in my civilian life if that start in the military hadn't taught me to strive to do my best. I learned to make decisions and how to supervise others in the military. I learned to accept responsibility for my actions: good and bad.
I was taught time and motions studies; work simplification and forms design. I have utilized these skills in many different occupations. I have worked as: College Teacher of ESL, CEO of statewide Vocational Rehabilitation Agency, State Vocational Rehabilitation Supervisor, Certified Vocational Rehabilitation Counselor for Worker's compensation and VA referrals, Purchasing Agent for School District, Commercial Bank Manager, Accounting Supervisor for Savings Bank, Employment and Training Supervisor for Vocational Rehabilitation Agency, President of the Board of Local Vocational Rehabilitation Agencies as well as Merchandise Manager for Hallmark and Glass Artist selling through a gallery.
BASED ON YOUR OWN EXPERIENCES, WHAT ADVICE WOULD YOU GIVE TO THOSE WHO HAVE RECENTLY JOINED THE ARMY?
Follow the motto "be all you can be" and ask for advice even if you feel you don't need it. Seek out responsibility and do more than asked (being careful that what you do has consequences). When in doubt, ask. One solution may create another problem unless you know the whole process involved.
IN WHAT WAYS HAS TOGETHERWESERVED.COM HELPED YOU REMEMBER YOUR MILITARY SERVICE AND THE FRIENDS YOU SERVED WITH.
I haven't ever forgotten the chances to grow that the Army gave me and appreciate that but I was discharged 61 years ago and since there was no reserve, at least at that time in Japan, I didn't continue my service in the Reserves for the last 5 years overseas.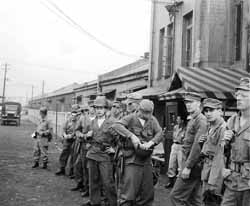 When I returned to the US I had a hard time finding a job since I had in essence, grown up and worked overseas and unless I went to work for the Department of the Army immediately in the US, I had little work experience that anyone would give me credit for having.
The only assignment I was offered by the Department of the Army after I returned was as Supply Officer for a Ammunition Depot out in the desert where my family wouldn't have the conveniences that they would in the city. When I finally looked for those with whom I had served, I have been out of touch for so long that I gave up looking. This is one connection that may help me, if they are still alive. Just recently, a person I served with in the 8001st Transportation Depot in Yokohama contacted me through another military organization and at last I am in touch again with an important part of my life.