TCCM Dennis White U.S. Coast Guard (Ret) (1972-1998)
by dianeshort2014
Read the service reflections of
TCCM Dennis White
U.S. Coast Guard (Ret)
(1972-1998)
Shadow Box: http://coastguard.togetherweserved.com/profile/16048
PLEASE DESCRIBE WHO OR WHAT INFLUENCED YOUR DECISION TO JOIN THE COAST GUARD?
In my late elementary school years I took and interest in aviation. I would check out books from the public library and read the principles of flight and aeronautics. In my junior high years, this developed into a dream of becoming a helicopter pilot in the Coast Guard. Growing up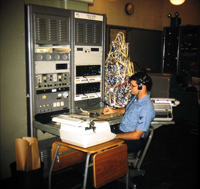 in San Diego, my family spent many afternoons fishing off the rocks in San Diego bay around Shelter Island. We would drive past the Coast Guard Air Station San Diego which had its own traffic light that would stop traffic on Harbor Drive when a C-130 or old Albatross sea plane would taxi from the Coast Guard base to the international airport runways. In my junior year of high school I spoke with the Coast Guard recruiter in San Diego about my plans. But my dream of becoming a pilot was quickly squashed when I learned that my eye sight was not good enough. Undaunted, I simply lowered my sights a bit and looked to another field I was studying, marine biology. I learned of the Marine Science Technician rate in the Coast Guard which caught my attention. I joined up soon after graduating high school, taking the entrance exam in October. The recruiter called me and asked when I wanted to go to boot camp. I told him I would like to spend the holidays at home first. I arrived at the Alameda Training Center on January 2nd! By the end of boot camp, another rate caught my eye, one which was a long time hobby, radio. And there where two opening for Radioman school. One was mine!
WHETHER YOU WERE IN THE SERVICE FOR SEVERAL YEARS OR AS A CAREER, PLEASE DESCRIBE THE DIRECTION OR PATH YOU TOOK. WHAT WAS YOUR REASON FOR LEAVING?
Starting in junior high, I had a hobby of building Heathkit radios. I started with a simple AM/FM set, then an analog FM/VHF radio, and then stepping up to a crystal controlled VHF scanner. I also had a large portable short wave radio that I would tune in the world with at night, our aluminum mobile home awning serving as my antenna. I went into boot camp hoping to become a Marine Science Technician. But when I had an opportunity to look more closely at the MST rate, I saw that I would probably not be that happy just being someone who simply gathered info but didn't really get into any marine research. I graduated boot camp as Hotel-83 Honorman, so I had first pick of the available schools out of my company. When I saw two openings for Radioman school, the proverbial light bulb in my brain came one, and I was off to Petaluma to become a Radioman. I never regretted that decision! My 26.5 year career took me from vacuum tubes and dials to IC chips, computer monitors, and push buttons!
IF YOU PARTICIPATED IN ANY MILITARY OPERATIONS, INCLUDING COMBAT, HUMANITARIAN AND PEACEKEEPING OPERATIONS, PLEASE DESCRIBE THOSE WHICH WERE THE MOST SIGNIFICANT TO YOU AND, IF LIFE-CHANGING, IN WHAT WAY.
The morning of January 28, 1986, the Space Shuttle Challenger sat on a launch pad in freezing temperatures. The USCGC Dallas entered The Tongue of the Ocean off Andros Island, Bahamas for exercise torpedo drills. The Dallas had just come off a long patrol in the Caribbean. We had left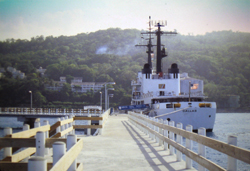 our homeport of New York a little over two months ago, and had been on patrol through Thanksgiving, Christmas and New Years. All we had to do now was work with a navy nuclear submarine, fire off some exercise torpedoes, and then we could head for home and families. It was late morning as we headed for the exercise area, then the ship's loudspeakers came on with "Officers call, officers call. All hands to quarters." Strange; we usually had Officers call right after lunch. Why now? As we a gathered on the flight deck, the two gas turbines could be heard coming on line. This meant something was up! The ship's company was soon informed of the tragic explosion of the Shuttle Challenger, and the CGC Dallas was to "proceed at best possible speed" and assume On-scene Commander for the rescue and recovery operations. The CGC Dallas was soon throwing a ten foot rooster tail of water as we left Andros Island at full speed. What followed was two weeks of long hard days and nights for the Dallas crew members. The area was soon full of Coast Guard, Navy and NASA vessels as part of the recovery operations. Plus, the area was soon further crowded my private vessels carrying news reporters and crews. It was the CGC Dallas' job as On Scene Commander to coordinate all the efforts of not only the surface vessels, but also the numerous aircraft in the area. The bridge crew and Combat Information Center (CIC) handled the voice communications with vessels and aircraft. The radio room was busy sending and receiving long situation reports (SITREPs) every four hours. These administrative and coordinating duties were daunting enough, but the Dallas was also very much into the physical efforts of recovery. During day light hours, both of our small boats were in the water collecting the bits and pieces, both large and small, which were scattered over and ever increasing search area. All this "evidence" from both our own small boats, and other surface vessels was collected onto our flight deck. Each piece had to be tagged for identification purposes with information such as time and location it was found, and a unique number. We collected everything from booster rocket nose cones to small pieces of gold foil, plus dangerous fuel canisters. The small boat operators were "In the saddle" so long, they all soon had painful blisters on their inner thighs. As soon as the sun would go down, the Dallas would head into Port Canaveral, set special sea detail, tie up to the NASA pier, off load our days load of "evidence", set special sea detail, and head back out to the scene to be ready to do it again starting at first light. If you were lucky, you could catch 2 to 4 hours of sleep on the trip back out to the scene. This routine went on for about 2 weeks. But despite the long hours of hard work, the extension of our already long patrol, and the lack of sleep, I never saw the crew of the CGC Dallas with higher morale and dedication to duty. Unit and individual awards from the Coast Guard and from NASA followed. I remember late one night as we were off loading at Port Canaveral, two astronauts came into the radio room as we were preparing the final situation report for the day. I only remember that one of them, Astronaut William Shepherd. They thanked us for the hard work we were doing and told us just how much they appreciated it. It was very touching, knowing that they too must have been going through a lot of emotional stress themselves.
OF ALL YOUR DUTY STATIONS OR ASSIGNMENTS, WHICH ONE DO YOU HAVE FONDEST MEMORIES OF AND WHY? WHICH ONE WAS YOUR LEAST FAVORITE?
The same station was both – Coast Guard Radio Station Honolulu. Fondest memories: This was back in the day of open bay barracks. I was a young, single, and at my first true duty station. You quickly developed a comradery with the other operators in your duty section. We were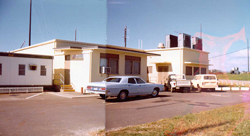 on the front lines in saving lives and property at sea. We received the frantic and scared calls for help from large tankers to the weekend pleasure boater. Calls came in as voice calls over Channel 16, SOS's over CW on 500 KHz. CG Radio Station Honolulu (call sign NMO) prided itself on not missing a call for help. You quickly had to learn to remain calm yourself as you handled distress calls for fires at sea, amputated limbs, sinking vessels, and just plain scared seamen riding out a hurricane. And of course, the fondness for the duty station may also have something to do with the fact that I met my future wife while stationed here!
It was also my least favorite because of the leadership we served under. (I will not mention any names.) Our CO and XO were both warrant officers. The XO was an alcoholic. Many a time, on of the mid-watch duty section men would be called to a local bar to drive the XO home. When he was semi-sober, he a real hard nosed person, handing out extra duty hours for even the simplest infractions of log keeping. The CO either didn't know, or didn't care about the conduct of his XO. Oh well, you do the extra duty, say "Sir yes Sir", and ride out the storm.
FROM YOUR ENTIRE SERVICE, INCLUDING COMBAT, DESCRIBE THE PERSONAL MEMORIES WHICH HAVE IMPACTED YOU MOST?
My most personal impact of life altering events happened there at CG Radio Station Honolulu, my best and worst duty station. In our duty section, there occurred an on-going debate between two in our section who had gotten into Scientology and two of our section chiefs who were Christians. I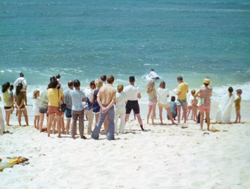 would listen in on these debates, trying not to get involved. But God had other plans! The best meal in the Navy galley was mid-rations, or "midrats". They would serve left overs from dinner, or you could have an omelet made to order by a cook that was a real master of his art! (The Coast Guard Radio Station was co-located on the US Navy Communications Station.) One night after getting off of the eve-watch, I headed to the galley for midrats. I sat down at a table with my food, and this young skinny navy dude sat down across the table from me and ask me "If you died tonight, would you go to heaven or hell?" He didn't wait for an answer, just got up and left. A couple of nights later, this same navy man did the exact same thing. I never saw or heard from him again. Just a few days later, I got an invitation that no single guy living in the barracks could pass up. My section chief invited me to his house for Easter dinner, home cooked by his wife, in a house off the base. All I had to do for this wonderful meal away from the military was to go with his family to Easter services at his church. So on Easter Sunday of 1974 I found myself sitting on a pew in the Wahiawa Christian Church. My section chief, RMC Doug Peterson, and his wife Roberta, didn't put any pressure on me by trying to "convert" me. They invited me into their home and we had an enjoyable and pleasant day. But that day was really a joy to me. I got to met people other than military types, and they were all so warm and pleasant to me. I wanted to come back! I was usually accompanied to church my one of my room mates RM3 Roy Ludwig. (By now we had moved out of the open bay barracks and into three man rooms. Whoopee!) After a couple of months of studying God's Word with my new found friends, I was ready to make a decision which would set my course for the rest of my life. One night, while lying in my bed in our three man room, I decided to give my life to Jesus Christ. I prayed silently that night for forgiveness and acknowledged my complete surrender to Jesus. I drifted off into a pleasant sleep. Around 7 a.m. the three of us got up to get ready for the day watch. The very first words spoken that morning was from the third man in our room, RM3 Larry Dinger. Larry looked at us as we all stood there in our underwear, and said, "What happened to you two?" Roy and I looked at each other, and we both realized we had both accepted the Lord earlier that night, with our the other having known about it! But Larry knew there was now something very different about us!
Wahiawa Christian Church was a small local church. It had no baptistery, so they held their baptisms in the ocean on the north shore of Oahu. Great things were happening at this small church. Sunday filled the small church and overflow was seated outside on the lawn. The south side of the building had sliding walls that could open the whole building up. So many people were coming to the Lord that every two weeks they would have a baptism picnic on the beach, with about a dozen baptisms happening each time. Our pastor was an active duty navy chief yeoman who was soon to retire. I got baptized there in the surf that day. Afterwards everyone had a grand time with a picnic and games. Chief Peterson came up to me during the picnic and asked a favor of me. He told me of a girl who was a radioman in the navy, and she needed someone to show her around the island. As a favor to him, would I give her a call some time and show her around. I reluctantly said yes. A couple weeks later I was playing tour guide to RM3 Mary Kerr, USN. A year later we were married! A couple of months after we were married, we were going through some of Mary's photos from Hawaii. She had taken just one picture of someone getting baptized. That picture was of me! Taken before we had even be introduced! So God took me to Hawaii to meet Him and my wife!
WHAT ACHIEVEMENT(S) ARE YOU MOST PROUD OF FROM YOUR MILITARY CAREER?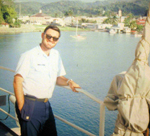 What achievements make me proud? What do I look back on the most? It was accomplishments that I never got medals or awards for. It was the satisfaction and pride I achieved from being able to lead others that were under my watch. Being radioman-in-charge on the CGC Dallas and at CG Group Los Angeles/Long Beach. Being able to work closely with the staff at Pacific Area/Maritime Defense Zone Pacific. My pride comes more from the relationships I made in the service rather than from my own accomplishments. I tried to treat enlisted and officer with equal respect and courtesy. My son is currently serving in the Air Force, and I have many other friends from other services. And I don't know of any better service to have been a part of were you can share such a wonderful sense of serving together. The Coast Guard was truly like a family to me.
OF ALL THE MEDALS, AWARDS, FORMAL PRESENTATIONS AND QUALIFICATION BADGES YOU RECEIVED, OR ANY OTHER MEMORABILIA, PLEASE DESCRIBE THOSE WHICH ARE THE MOST MEANINGFUL TO YOU AND WHY?
You should see my "awards wall" at home! It's full of plaques and memorabilia. A great shadow box presented to me upon retirement from my shipmates and ESU Cleveland. Plaques from PACAREA, CGC Dallas, Group LA/LB, Certificates of appreciation from NASA, North Coast CPOA, our church in Long Beach, and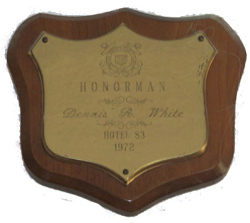 my diploma from the Chief's Academy. But on top of them all, right up near the ceiling, there is mounted one small wooden plaque with a cheap brass colored engraved plate. My Honorman award from my boot camp company, Hotel 83. I received it from the hand of Alex Haley. At the time I had no idea who this man was. It wasn't until years later that I learned of Mr. Haley. But it wasn't who I received it from that makes it meaningful. It's because it was the first real accomplishment I was recognized for. It represented the fact that I could rise above and face all the coming challenges of service with confidence. You just keep your head above water, your eyes and ears open, and do the best you can!
WHICH INDIVIDUAL(S) FROM YOUR TIME IN THE MILITARY STAND OUT AS HAVING THE MOST POSITIVE IMPACT ON YOU AND WHY?
Personally, it would be RMC Douglas Peterson who loved and cared enough about me to draw me away from Scientology into the arms of my Lord Jesus Christ.
Professionally, it was Captain Carl Luck of the CGC Dallas. CAPT Luck was a strong leader, an expert seaman, and was always very fair yet firm in his dealings with those in his command. He was a fine example of true leadership for me.
PLEASE RECOUNT THE NAMES OF FRIENDS YOU SERVED WITH, AT WHICH LOCATION, AND WHAT YOU REMEMBER MOST ABOUT THEM. INDICATE THOSE YOU ARE ALREADY IN TOUCH WITH AND THOSE YOU WOULD LIKE TO MAKE CONTACT WITH.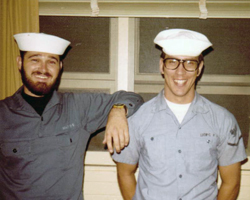 I find it curious that most of the friends I remember by name are from either my first or last duty stations. After my basic and A school training, my first station was Radio Station Honolulu. RMC Douglas Peterson was my watch section chief. Doug was a compassionate leader who was very professional on watch, but also cared enough about the young men he led. He would invite the young single men in his section over the his house on occasion for a home cooked meal and some quality time of really getting to know you. I still communicate with him, especially since he introduced me to my wife! There at RADSTA Honolulu (NMO), I still remember my two room mates, Larry Dinger and Roy Ludwig. I found Roy recently on facebook, but have not heard from Larry since Honolulu. Facebook is great! I also recently reconnected with two shipmates from CCGDNine Cleveland, my last duty station. Debi and Scott Morris worked closely with me in the communications center.
CAN YOU RECOUNT A PARTICULAR INCIDENT FROM YOUR SERVICE WHICH MAY OR MAY NOT HAVE BEEN FUNNY AT THE TIME, BUT STILL MAKES YOU LAUGH?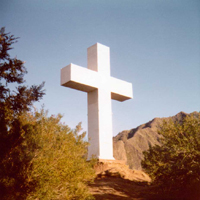 As a new member of the watch section at Radio Station Honolulu, I soon fell in with a group of guys who shared my love of snorkeling and scuba diving. We all decided to do a night dive on the east side of Oahu. The shortest way there was driving through Scofield Barracks and over Lualualei pass which meant driving a small winding road on the base. But this road also had a legend attached to it about a ghostly specter of a female hitch hiker that would appear on the road, and then appear in your car! As we drove this dark lonely road, freaking ourselves out with ghostly stories of spirit hitch hikers and US Marines who had taken their own lives at the guard post atop the pass, we were suddenly met with two glowing eyes in the middle of the road! The horror was quickly replaced with laughter as we got closer and saw it was just a cow! The night dive went off uneventful.
WHAT PROFESSION DID YOU FOLLOW AFTER YOUR MILITARY SERVICE AND WHAT ARE YOU DOING NOW? IF YOU ARE CURRENTLY SERVING, WHAT IS YOUR PRESENT OCCUPATIONAL SPECIALTY?
I retired out of the Ninth Coast Guard District offices in Cleveland Ohio. We moved to Spokane Washington, my wife's home state. We purchased a ten acre parcel of land to build on which was an old alfalfa field. I took on a part time job at the local Radio Shack to help with the expenses and pay for our rental in town while the land was being prepared for our home. I stayed there five years until my wife Mary got a good paying job.
We joined a local Christian congregation at Westgate Christian Church. I have made serving at Westgate my second career. I have served there as a deacon, elder, and member of the school board. I am also the current IT Technology Leader and head sound technician. My training in the Coast Guard, both as Radioman and Leadership training at the Chief's Academy has served me well in these positions. Serving in these areas is a true passion for me.
WHAT MILITARY ASSOCIATIONS ARE YOU A MEMBER OF, IF ANY? WHAT SPECIFIC BENEFITS DO YOU DERIVE FROM YOUR MEMBERSHIPS?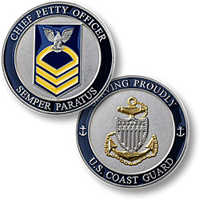 I currently carry memberships in the USCG CPOA and the American Military Society. They serve as my voice in Washington D.C. along with their sister military associations. I am also a member of the National Rifle Association, though not a military association, I feel they also support many of the ideals that veterans hold dear.
IN WHAT WAYS HAS SERVING IN THE MILITARY INFLUENCED THE WAY YOU HAVE APPROACHED YOUR LIFE AND YOUR CAREER?
Whoa! This is a simple question with a not so simple answer! I still remember the first time I went home after boot camp. I left home just a few short months after graduating from high school. When I came home after boot camp, those high school friends of mine acted and seemed like "immature kids". Of course, it wasn't them that changed, it was me. I had broken away from mom's "apron strings" and proved to myself that I could make it on my own. The challenges and hardships of military life will either break you or make you stronger. I saw a few who did get broken and had to be sent home or discharged. I don't think I was that much better than them, but by the grace of God, I was able to change and grow in the new environment of the service life. These lessons of change, growth, and personal strength have become life lessons that have not let me down. I ended up making the Coast Guard my career. A decision I have never once regretted. I can look back at my life and career with pride, dignity, and a true sense of accomplishment.
BASED ON YOUR OWN EXPERIENCES, WHAT ADVICE WOULD YOU GIVE TO THOSE WHO HAVE RECENTLY JOINED THE COAST GUARD?
Get yourself in a job that you have a true passion for and you'll never look back. Believe in yourself and your abilities. Treat others with respect and fairness. And most importantly, anchor yourself in the one true harbor of Jesus Christ.
IN WHAT WAYS HAS TOGETHERWESERVED.COM HELPED YOU REMEMBER YOUR MILITARY SERVICE AND THE FRIENDS YOU SERVED WITH.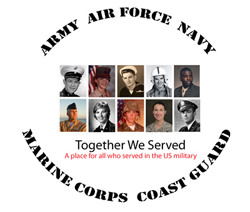 Some of you may be like me, and not very good at remembering names after you leave a duty station. If your lucky, you may remember 2 or 3 out of every 100 you served with. TogetherWeServed puts names together with times and duty stations. When you see those names that you have long forgot, the memories come flooding back! What happened to Petty Officer Jones after you parted? Now you can find out. But first you have to sign up! (But there's no recruiter lies!)