MSgt John Ogden U.S. Air Force (Ret) (1953-1974)
by dianeshort2014
View the service reflections of
MSgt John Ogden
U.S. Air Force (Ret)
(1953-1974)
Shadow Box: http://airforce.togetherweserved.com/profile/114547
PLEASE DESCRIBE WHO OR WHAT INFLUENCED YOUR DECISION TO JOIN THE AIR FORCE?
I lived my entire life in the shadow of my older brother Joe who had served in both the AAF and Navy during WWII, which I avidly followed in my young years. I remember a popular chant of youths my age after the D Day invasion. It went " Step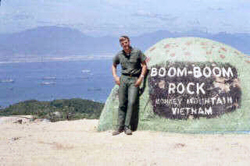 on the starter, step on the gas, here comes Hitler sliding on his ass". Followed by much gleeful laughter.
Brother Joe had just completed serving in his second war as a Marine in Korea. Because of this I had followed this conflict since it's inception and remember reading of the invasion of North Korea into South Korea in early 1950, the fall of Seoul, the surprise US landing at In'chon in late 1950, the recapture of Seoul, the headlong battles up the peninsula to the Chosin Reservoir When the Peoples Volunteer Army of China entered the conflict at the close of 1950 and completely encircled the X Corps. However the X corps fought valiantly, was able to breakout and were successfully evacuated at Hungnam Harbor on Christmas Eve the very date that Supreme Commander, General McArthur felt he would be able to have the troops back home. Unfortunately the war dragged on for another two and a half years. After several see-saw battles over the the 38th Parallel an Armistice was arranged in July 1953, An actual Peace Treaty between The North Korea, China and the United States, or the United Nations, has ever been signed. Legally, I guess you could actually say we are at war in this region until an actual Peace Treaty between the warring nations is signed.
Although we had just missed all the action in Korea, my best buddy Tom Poston and I decided to enlist. His brother was In the Navy, with mine in the Marine Corps we couldn't settle on either of our brothers services so we compromised and joined the young US Air Force which then gained two bright and handsome young men. While attending Basic Training at Lackland AFB, TX Tom was made Squad Leader and got to wear deuce strips, while I being scrawny and 5'1″, was made right guide, marched at the head of the flight and wore three stripes. Later I learned that this dubious honor was always given to the smallest man in the flight so the whole flight would have to guide on and match the stride of all to that of the right guide. At least the stripes kept us both out of pulling KP, barracks and latrine guard. Prior to graduating, we were promoted to A/3C I was sent to Keesler AFB, MS for Basic Electronics Training at Keesler AFB and Tom left to attend Aircraft Mechanics Training at Chanute AFB, where tragically he was killed an an automobile accident while on week-end pass.
I would say that I grew up wanting to be in the military and be trained in some useful skill. I completed both during my first two years of service. After working in the field for two more years, I decided I'd found my home and re-enlisted at Hurlburt Field, FL. I have since traced my ancestry back to 1640 and found that we have had family members that have served in every war from the Revolutionary War through the current wars in the middle east conflict. Perhaps military life is in our blood. I enjoy and am proud and honored to live among Veterans from WW11 through the present here at the Trinka Davi Veterans Village.
WHETHER YOU WERE IN THE SERVICE FOR SEVERAL YEARS OR AS A CAREER, PLEASE DESCRIBE THE DIRECTION OR PATH YOU TOOK. WHAT WAS YOUR REASON FOR LEAVING?
1954: I was assigned to the 3392 Instructor Sqn at Keesler AFB, MS and attended the Technical Instructor Course to enable me to teach the AC&W Radar Apprentice Repairman Course I had just completed. I taught the smaller gap filler radar, range and height finding radars and Identification Friend or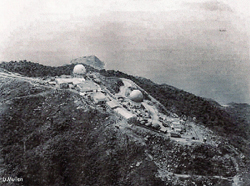 Foe (IFF) Mark 10 System.
1955: I was pulled for training into Course 32170F Bomb Systems Technician consisting of the APS-23 Search Radar and APA-44 Bombing and Navigation Computer. Upon completion I was re- assigned to the 3535 A&E Maintenance Sqn at Mather AFB, CA to maintain the Bomb/Nav Systems installed on T-29 Samaritans, configured to train Bomb/NAV Officer Students. Here I received the AOM Award and was subsequently promoted to A1C.
1956: I was re-assigned to a Tac Recon Sqd at Hurlburt Field, FL to maintain the Bomb/Nav Systems installed on the RB-66 Destroyers there. I was an unhappy camper as the maintenance shop was overstaffed and there wasn't enough work to go around. When someone came around asking for volunteers, I was first in line and wound up being re-assigned to Shaw AFB, SC for cross training into the new TRC-24 Radio Relay Equipment Repairman AFSC 30450. I maintained a TRC-24 Radio System at the Radio Relay Site at Eastover, SC. I met and married my wife Margaret on Dec. 29, 1956.
1957: I was re-assigned to the 585 C&G Sqn at Bitburg, AFB, Germany. I was deployed to Libya where we set up Radio Relay sites from Wheelus AFB, Tripoli to the Radar Guidance site at Garian. where Matador TM-61A missiles were guided to the bomb rage. Upon return, I was promoted to SSgt. My daughter Rhonda was born on Dec. 17, 1957 and shortly thereafter, I was deployed to and assigned NCOIC of of a Radio Relay site at Delmenhorst, Germany in the British Sector, and set up the site on a British Army Base.. After training my team, they improved the site operation to the extent that they were awarded Radio Relay Site of the Year. On several occasions, a black sedan on the Eastern side of the of the border would stop, men in civvies would get out, watch us through binoculars, and take pictures of the site. We felt that they also zeroed in on individual team members. Upon reporting this to our British buddies we were told not to worry as they were probably APN agents and only doing their job.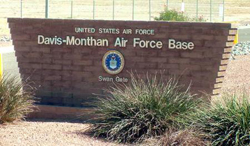 1959: I was re-assigned to a SAC unit at Davis-Monthan AFB, AZ. I cross trained into AFSC 30552 VHF Mobile Radio Equipment Repairman, AFSC 30453 Ground to Air UHF Communication Equipment and 30454 Ground (Heavy) Radio Equipment Repairman. My team and I installed and maintained the SAC Commanders Net and I had the additional duty as NCOIC of the MARS Station. I was authorized to remove electronics equipment from any aircraft in the bone yard scheduled for demolition. I attended an ADT Bomb Storage Alarm System training program and upon completion set up a training program to train other repairmen. It was a busy year and I learned a lot about the entire Ground Radio Communications Equipment Career Field.
1960: I was re-assigned to the 1st RBS Sqn Det 1 ,UT. I supervised 1 repairman and help maintain 1 UHF Ground to Air Radio Set and 1 ground to Air back up. I was not a happy camper and let it be known by requesting re-assignment. Shortly thereafter, I was re-assigned to the 33 Comm Sqn at March AFB, CA. I was immediately a happy camper. Five of us were assigned to assist the Collins Radio Engineers in installing a vast array of High Power HF SSB Transmitters used in the SAC Short Order System which would maintain 24/7/365 Communications between SAC Hq, Looking Glass the Airborne Command Center and all the B52 Bombers en-route to all strategic points of the Soviet Bloc during th Cold War.
1962: I was assigned to NATO 6th ATAF Izmir, Turkey. Here, I worked as Ground HF Radio Repairmen. I made time to study hard and finally obtained my 3047X skill level and was qualified to work on or teach any equipment in the 4 AFSC's Ground Radio Career field held a T30332 primary and a additional 32170F in BOM/NAV Systems which made a total of 6 AFSC's I had acquired and a well rounded knowledge of the electronics career ladder. I was now ready to tackle the Liberal Arts Evening. Courses offered through the University of Maryland European Extension.
1965: I was assigned to the 3413 Instructor Sqn Keesler AFB, MS. I taught the Ground Radio Apprentice Repairman Course in Jones Hall and the Officers Basic Electronics Course at Gulf Park Annex. I attended the Instructor Supervisor Course, was promoted to TSgt and completed the Ground Radio Superintendent Course 30490.
1968: I was assigned to Eglin AFB, FL Air Research and Development Command and managed the daily Inventory and Status Reporting of all Mission Essential Equipment to Dept of the AF. I continued my off duty education at Okaloosa-Walton Community College.
1969: I was re-assigned to the 620 Tac Con Sqn at Son Tra, RVN. I was a refugee from Dong Ha which had been wiped out by a typhoon and was assigned to get the MARS station atop Monkey Mountain up and running again. I spent the entire year in this cushy assignment as Honcho and Chief bottle washer. During the year my team increased the traffic count ten fold. I provided supervision, engineering and operation assistance and training. My team manned the nets 24/7/365 and provided the labor, know how and initiative to build a new radio hooch complete with cooking and sleeping facilities. When Senator Goldwater visited us, He was very impressed with what the team had accomplished.
1970: I was re-assigned to the USAF GEEIA Unit at Keesler AFB and was promoted. I was a very happy camper and hoped to finish my career with this Unit.
1971: I was again assigned to the 3413 Instructor Sqn for an Instructional Systems Development Project. Previously I had a chance meeting in the BX with my former Chief when we were teaching the Officers Electronics Course at the Annex during my previous Instructor tour and this I suspect is how I got pulled back. I was promoted to MSgt and for the next two years and a half years I was the Instructional Systems Development Team monitor. We completed the project on schedule, implemented the new system and completed the validation testing 2 months before my retirement date. I was allowed transitional absence to work at the Litton Industries automated shipyard. I completed the subjects required for a BS of Technical Education at USM and received my sheepskin. I retired on 1 Jul 1974.
IF YOU PARTICIPATED IN ANY MILITARY OPERATIONS, INCLUDING COMBAT, HUMANITARIAN AND PEACEKEEPING OPERATIONS, PLEASE DESCRIBE THOSE WHICH WERE THE MOST SIGNIFICANT TO YOU AND, IF LIFE-CHANGING, IN WHAT WAY.
I saw no combat during my entire career. I enlisted during the Korean War and retired just prior to the end of the Vietnam War. I was boots on ground in Vietnam 1969-1970. I arrived in time to participate in the Summer Fall 9 June 1969 – 31 October 1969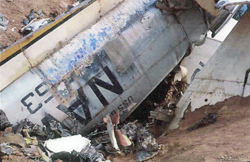 campaign. I was assigned duty as a shift leader and volunteered to be NCOIC,and maintain and operate radios during my off duty hours.
On several occasions I volunteered to accompany the Marine EOD team to downed Aircraft Sites and other sites that had been attacked by enemy forces to salvage electronics equipment that could be used for MARS and other operations. Needless to say I obtained very little sleep during this assignment.
The second campaign I was in occurred during Winter Spring 1 November 1969 – 30 April 1970. One day I was was installing radio antennas at the MARS station and watched several Providers spray all around Monkey Mountain and surrounding areas. My eyes, sinus,trachea, skin and esophagus were all burning before I realized that it was was no smoke screen those babies were laying down for the Marines out in the bush. I grabbed my ditty bag and hiked down the Monkey to our base camp at Son Tra. I took a long hot shower before I got all the grease out of my scalp and off my skin. Then I went over to the club and tossed down a few stiff ones to wash out the internal plumbing. I got to feeling pretty good but that didn't stop the burning inside. By the grace of God I've survived this long and intend to keep kicking for at least 21 more years if I have anything to say about it. So far I have survived Prostate Cancer and I'm working on Diabetes I I with diet and exercise.
My third campaign was the Sanctuary Counter Offensive of 1 May 1970 – 30 Jun 1970. I from AI8AM Monkey Mountain and a buddy from AI8AD Da Nang attended a MARS conference at Ton Son Nhut Air Base. The evening before, we decided to look for entertainment in Saigon. After an evening on the town we decided it would be best to spend the rest of the evening in a hotel near the base. We arose early the next morning and headed for the base. We passed a '59 Chevy with a man in the drivers seat wearing a floppy field hat. He looked like a Latino which shouldn't have caused us any alarm except for the Chevy and the field hat. We continued down the street until we heard him open the door. He proceeded to the rear door and removed a weapon. Luckily we were at the end of a block wall which we both ducked behind as we heard the bolt drawn back Alpha Delta had drawn his four inch pocket knife and I had picked up a broken cinder block. At that time a large group of RVN Airman rounded the corner on motorbikes, the Latino ducked into an apartment building, alpha delta and alpha mike ran the remainder of the way to Ton Son Nhut.
My fourth and last campaign was Southwest Monsoon 1 July 1970 – 30 November 1970. It is called such because of the muggy, rain and drizzle that made land operations difficult.I was preparing and looking forward to returning to my family in the sates.
The photo below is one of two F-8 Crusaders that pranged into the Monkey. The Marine F-8 went in just outside the gate to the Radar Site. I could see it from the MARS station. The one shown below was on the other side of the Monkey.
OF ALL YOUR DUTY STATIONS OR ASSIGNMENTS, WHICH ONE DO YOU HAVE FONDEST MEMORIES OF AND WHY? WHICH ONE WAS YOUR LEAST FAVORITE?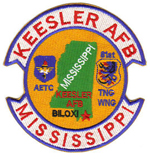 My assignments to Keesler, AFB MS. I served three tours there, I first arrived there in Dec. 1953 where I was to be trained into the Electronics Systems career ladder. I received as a Electronics Systems Helper, AC&W Equipment Apprentice, Technical Instructor, OJT and Bombing/Navigation Systems Technician. I became thoroughly acquainted with the Gulf Coast. I was converted, baptized and ordained an elder in the priesthood of the Church of Jesus Christ of Latter Day Saints which has effected the direction my life has taken over the years. I made many friends while there and regretted leaving in Aug. 1955.
I was again assigned to Keesler in Apr 1965 with duty as instructor in the Ground Radio Maintenance Apprentice Course. I was promoted to TSGT. We built and lived in our first house and enjoyed the good fishing and seafood found along the Gulf Coast. I was selected to attend the 30490 Ground Radio Superintendent Course.
After returning from Vietnam in Sep. 1970 I was assigned to GEEIA and spent several happy months modifying or installing electronics systems at several installations. However I was transferred back to the 3413 Instructor Squadron and promoted to MSgt. For the remaining years of my career I supervised an Instructional Program writing team until my retirement on 1 Jul 1974
My least favorite was my assignment to Hurlburt Field because there was only one B-66 Destroyer for about 20 32150F Bombing/Navigation Maintenance Mechanics. Work was scarce. I volunteered for another assignment and left a few weeks later.
FROM YOUR ENTIRE SERVICE, INCLUDING COMBAT, DESCRIBE THE PERSONAL MEMORIES WHICH HAVE IMPACTED YOU MOST?
The bond that formed between the MARS Men, MARS Volunteers and the Operators of the two radar sites and the Gatr site was outstanding. They were all intent on seeing that the MARS operation was manned 24/7. I am deeply indebted to Gene Dixon from the GATR site who helped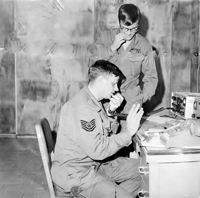 me maintain the radio equipment and antenna farm during his off duty time. It seemed that all those who were assigned to the Monkey were determined to do whatever was required of them and were willing to pitch in where ever needed.
The day Senator Barry Goldwater visited the MARS Men stands out above the rest. He was an avid MARS Man and if I'm not mistaken, he visited with most if not all of the MARS stations in Southeast Asia at one time or another. The day he visited us on the Monkey, you'd never have thought him to be a U.S. Senator, a presidential nominee or a Reserve USAF Major General. He was very congenial, chatted with all and swapped several war stories. He even took his turn at operating on one of the Nets. He had his own MARS station that was staffed by volunteers. A MARS station lucky enough to make contact with his station received phone patches for their clients at no charge. Barry footed the Bell charges from his station to wherever the patch was made.
To the Men of MARS who have never received medals or accolades for their service, I salute you. A lot of you worked 24/7/365 to provide back-up communications, obtained radio contact with AARS, ran phone patch traffic, relayed MARS Grams for the guys in the remote areas and trenches of Vietnam and maintained the equipment required to do so. I doubt if your story will ever be told. But that is neither here nor there. You also served proudly.
WHAT ACHIEVEMENT(S) ARE YOU MOST PROUD OF FROM YOUR MILITARY CAREER? IF YOU RECEIVED ANY MEDALS, AWARDS, FORMAL PRESENTATIONS OR QUALIFICATION BADGES FOR SIGNIFICANT ACHIEVEMENT OR VALOR, PLEASE DESCRIBE HOW THESE WERE EARNED.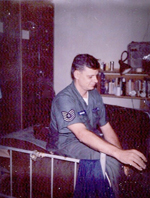 I received no medals for valor. How ever I did receive the Air Force Commendation Medal. The citation that accompanied the award reads:
"Master Sergeant John R. Ogden distinguished himself by meritorious service as Instructor and Instructional Systems Development Monitor, Course 3ABR30434, Ground Radio Branch, Communications Systems Department, Headquarters, United States School of Applied Aerospace Sciences, Keesler Air Force Base, Mississippi, from 15 July 1971 to 30 June 1974, During this period Sergeant Ogden demonstrated superior qualities of leadership,dedication, and technical knowledge which resulted in a significant improvement in our training program. His excellent executive ability, coupled with his management of resources, contributed immeasurably to our training mission. The distinctive accomplishments culminate a distinguished career in the service of his country, and reflect credit upon himself and the United States Air Force."
OF ALL THE MEDALS, AWARDS, FORMAL PRESENTATIONS AND QUALIFICATION BADGES YOU RECEIVED, OR ANY OTHER MEMORABILIA, PLEASE DESCRIBE THOSE WHICH ARE THE MOST MEANINGFUL TO YOU AND WHY?
The Vietnam Service Medal because it represents a brotherhood of warriors who put their lives on the line for their country, many fought bravely many died bravely and gave their lives willingly in the hope that the entire world will one day enjoy peace, justice, liberty and freedom.
Senator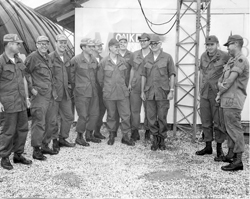 Barry Goldwater championed those who served in Vietnam and Southeast Asia.He made several fact finding tours over there and strongly opposed the rules of engagement set forth by LBJ and his cohorts. He felt that the toll in military lives was deplorable and fought for more drastic measures against the enemy. He was quoted as saying:
"If I had inherited the mess that Johnson got into, I would have said to North Vietnam, by dropping leaflets out of B-52s, 'You quit the war in three days or the next time these babies come over, they're going to drop some big bombs on you. And I'd make a swamp out of North Vietnam. I'd rather kill a hell of a lot of North Vietnamese than one American and we've lost enough of them,".
He favored the use of Nuclear Artillery that was and is part of the U.S. Arsenal. This scared a lot of liberals and needless to say he was never elected president.
The photo seen here was taken during his visit to the Monkey Mountain MARS Station in December 1969. He was an avid MARS Man and ran many a phone patch for those serving in Vietnam and Southeast Asia and picked up the tab from his station to it's final destination. The awe struck Tech Sergeant standing on his left is your own Ogie Doggie. The other three team members are on my left and the rest were volunteer operators. Jack Webb, my wingman, who replaced me as Honcho when my DEROS arrived is looking over my right shoulder.
WHICH INDIVIDUAL(S) FROM YOUR TIME IN THE MILITARY STAND OUT AS HAVING THE MOST POSITIVE IMPACT ON YOU AND WHY?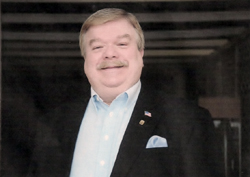 My second Instructor Supervisor 1965-66, Marvin Claytor GS-11 and former AF SSgt who took me under his wing, became my best friend, confidant and fishing buddy. However I fear I've lost him. I tried to call him after Katrina hit and got no answer. I've tried since and have been told that he no longer has that number.
CAN YOU RECOUNT A PARTICULAR INCIDENT FROM YOUR SERVICE WHICH MAY OR MAY NOT HAVE BEEN FUNNY AT THE TIME, BUT STILL MAKES YOU LAUGH?
My wife was still a victim of culture shock when we left Turkey. When ever we went out she was always rubber necking to make sure that no Turk had his eye on Rhonda, our six year old, platinum blond, blue eyed beautiful daughter who would have been a prized possession in any rich Turk's harem irregardless of her tender youth. I have no idea what the Turks fed their horses that they hitched to the Phaetons that constantly roved every street of Izmir picking up passengers at Ecke Pachuk (25 lira or $.25 US) each head not including babes in arms. The horses didn't drop road apples as those here do. They dropped cow dabs but much juicier. With all her rubber necking, Margaret would inevitably step right in the middle of one and start to slip.
Someone had to be there to catch her or she would have done the splits. She would release an epithet like you never heard come from a sweet lady's mouth. She would immediately turn tail and make a bee line for the apartment post haste, grab a jug of Clorox, run water into the tub and soak her foot for an hour or two.before she would sally forth again. The worst of these occasions occurred one evening when we and the neighbors went to the movies. Archie pulled up next to the movie house and parked in the alley. Flo pulled the front seat forward so Margaret could exit. It was a '63 Chevy SS and as with all coupes, it was hard to get out of the rear seat. She managed to get her foot out and when she began to put her weight down she let out the most chilling blood curdling scream I'd ever heard. I ran around the car to see what had happened.
She was up above her ankle in the most ancient watering hole in ancient Smyrna aka Izmir. Jonah had probably used this one when he came forth from the belly of the whale, Alexander the Great probably used it on a foray through Smyrna, after that came the Roman Legions. St. Paul probably used it as boy roaming the streets of Smyrna, after that came the crusaders. Once she begin to stir it up by removing her foot, you wouldn't believe the stench that emanated from it. She pulled her foot out leaving her right shoe buried in the muck. When Margaret got her first whiff, she commenced to upchuck and continued till she got the dry heaves. Finally she sat down in the front seat, poked the putrefied foot out the window and muttered weakly, "Please take me home." I think she meant back to the land of the big BX but I had to complete my tour. When we got her back to the apartment she went through her usual ritual only she used a whole jug of Clorox. Her right shoe is probably still buried in the muck of the ancient watering hole of Izmir.
WHAT PROFESSION DID YOU FOLLOW AFTER YOUR MILITARY SERVICE AND WHAT ARE YOU DOING NOW? IF YOU ARE CURRENTLY SERVING, WHAT IS YOUR PRESENT OCCUPATIONAL SPECIALTY?
In 1978 after teaching Electronics Courses in Higher Education for four years, I was employed as an Electro-Mechanical Process Engineer by the Cooper Group-Weller Plant in the Electrical/Electronics Manufacturing Industry for twelve more years. During this period, two books I read changed my life. The two books were written by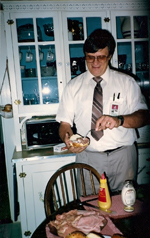 Benjamin Graham and titled "The Intelligent Investor" and "Security Analysis". I read, re-read then diligently studied them. In 1989 I said to myself, "I can do this." So I quit working for the man and using our savings and retirement accounts, I started to work for myself and have done so until the present. Now I work when the need arises or the spirit moves.
I spent much of my time looking after my ailing wife before she passed on 28 Mar 2011, visiting on AFTWS and working with Grass Roots movements that are working to get the nation to return to the tenets established by our founding fathers.
At present I reside at the Trinka Davis Veterans Village in Carrolton GA where we receive outstanding care and treatment. I can't say the same about the County Probate Courts though. I was declared a Ward of the State even though I scored in the 85th percentile on a competency examination, declared competent by four psychologists and two psychiatrists. Now my estate is controlled by a Conservator, Jerry A. Landers Jr., Attorney, Guardian ad Litem, Dawn R. Levine, Attorney and Kelli L. Wolk Probate Judge. Since 09/26/2013, $109,438.37 have been received into my estate. $81,894.17 were dispersed. As of 05/21/15 only $25,214.07 remained in my estate. Mr. Landers claimed disbursements were made to me in the amount of $9,182.81 during this period, I only received a total of $7,896,24. At present I am allowed $500/month of a monthly total income of $3,743/month. The powers that be dispose of the rest in any way they see fit. How many others who have been caught up in the Probate Courts of the nation have their estates wrested from them by the court officers who are supposed to be protecting them? New laws must be passed to protect those who are incapacitated or aged from being exploited at the hands of unscrupulous court officers of the Probate Courts. There are millions upon millions in Federal benefits available to those who are capable of manipulating the present laws.
WHAT MILITARY ASSOCIATIONS ARE YOU A MEMBER OF, IF ANY? WHAT SPECIFIC BENEFITS DO YOU DERIVE FROM YOUR MEMBERSHIPS?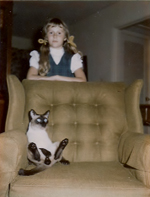 The Disabled American Veterans have always been there to run interference for me when I was processing disability claims through the VA bureaucracy. I would never have made it to first base without them. They also keep me well informed on programs and benefits available to disabled veterans.
The picture you see here reflects how I felt after a day of being hassled at a VA Hospital. All I wanted to do is sit down with my feet up and stare off blankly into space. The DAV helps me survive this. The little blond haired, blue eyed darling is the reason my better half and I, Margaret were so over protective of her during our stay in Turkey. Siamese Sam helped watch over Rhonda too. He was every bit as over protective as Margaret and me.
IN WHAT WAYS HAS SERVING IN THE MILITARY INFLUENCED THE WAY YOU HAVE APPROACHED YOUR LIFE AND YOUR CAREER?
I was a kid who skated through school with a B+ average and never cracked a book other than those pertaining to social studies or history as they were subjects I loved. It was this immature kid who enlisted and wanted to jump right into the middle of the Korean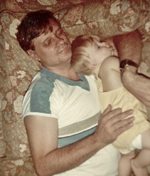 War and single-handedly win it. But my Guidance Counselor was very wise and turned turned down every item on my wish list. I finally gave up and stated that I might like working on rockets, and he informed me that it was a very hard field to get into. He shook his head and told me that I would have to go though several courses of electronics training first. I was tired of batting out on everything I suggested so I reluctantly said " Sign me up". Without realizing it, I had just learned the rules of how to get along in life.
1) Look before you leap.
2) Thoroughly discuss all the ramifications with someone in the know.
3) Always take the path that offers the best opportunities .
I have since followed these these rules and they have served me well in life.
BASED ON YOUR OWN EXPERIENCES, WHAT ADVICE WOULD YOU GIVE TO THOSE WHO HAVE RECENTLY JOINED THE AIR FORCE?
If you don't have a better half, look the field over and choose wisely. If the Air Force is not for you, wait until you have you have completed at least 4 years of college before you tie the knot. Always agree with your better half. Always watch your six. Never leave a buddy behind. Follow the three rules for getting along in life. Take advantage of every available opportunity. Do what's right. Always give God the glory for your accomplishments.
IN WHAT WAYS HAS TOGETHERWESERVED.COM HELPED YOU REMEMBER YOUR MILITARY SERVICE AND THE FRIENDS YOU SERVED WITH.
It has served as a gathering place, town hall, education center and forum, chat room and family reunion. I have been able to contact veterans of all the branches of our Armed Services and learn what their views are on national and world events. I now have contact a vast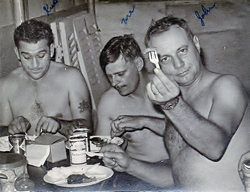 new family that I was unaware of less than a year ago.
I am a lifetime member and have seldom missed a daily visit except when I was on the road or had no access to a computer. It enhances my esprit d' corps. It has provide me with the means of joining with brothers on the the other branches of TWS and I have enlisted their help in seeking information about my Brother Joe's experiences in the three other branches of service prior to getting smart enough to join me in USAF, from which we both finally retired. He started in the Army Air Force and strayed to the Navy and the Marine Corps. He's the only one I know who has served in four of the five branches. I enjoy the camaraderie that I had when I was on active duty.
I love discussing topics of interest on the Forums and swapping e-mails with my Wingmen. I've made more friends than I've ever made in private life. Most of the ones I made there were the ones who like all here have been there and done that. I will love swapping photos of my family with those aboard who engage in such activities. Before starting this project, I had never edited a photo. I have to give myself an" A" for effort.