The Only Thing Worth Dying For: Book Review by Together We Served
'The Only Thing Worth Dying For' is the harrowing true story of eleven Green Berets who fought alongside the future leader of Afghanistan to topple the Taliban in southern Afghanistan and bring hope to a nation during the early days of the Global War on Terror, or Operation Enduring Freedom— when the Soldiers on the ground knew little about the enemy, and their commanders in Washington knew even less.
"BZ to Ltjg Madeline Swegle on completing the Tactical Air (Strike) aviator syllabus," the Twitter account for the chief of naval air training said Thursday, using a Navy abbreviation meaning well done. "Swegle is the US Navy's first known Black female TACAIR pilot and will receive her Wings of Gold later this month. HOOYAH!"
How Eleven Green Berets Fought for a New Afghanistan
On a moonless November night, in the aftermath of 9/11, five Blackhawk helicopters infiltrate southern Afghanistan, dropping Special Forces A-Team-ODA 574-deep behind enemy lines in the mountains of Uruzgan. Hundreds of miles to the north, the U.S. military, aided by the Northern Alliance's armies, is routing Taliban forces. However, here in the Pashtun tribal belt— the Taliban's own backyard— Captain Jason Amerine and his ten Green Berets are on a seemingly impossible mission. They must destroy the Taliban from within and prevent a civil war from consuming the country. Armed only with the equipment they can carry on their backs, shockingly scant intelligence, and their mastery of unconventional warfare, ODA 574 must somehow foment a tribal revolt and force the Taliban to surrender. This lone team of Green Berets has just one ally: a little-known Pashtun statesman named Hamid Karzai, who has returned from exile and is being hunted by the Taliban.
While Karzai attempts to raise a militia, the men of ODA 574 find themselves outnumbered against a ruthless Taliban force. They are in a land where respect is earned at gunpoint, and Karzai's practiced diplomacy needs a warrior's credibility to unite the Pashtun and build his army. That respect will only come from defeating the Taliban in battle. As ODA 574 contends with a patriot's quixotic dream, a CIA case officer's murky agenda, and a higher command that refuses to follow its own rules, Amerine and his men take up a position in a small town that has just hanged its Taliban provincial governor, ready to defend it against a thousand enemy fighters who are on their way to kill them.
With unprecedented access to surviving members of ODA 574, Special Operations Soldiers and Airmen, key commanders and war planners, and Karzai himself, Blehm narrates the muddy-boots effort that helped install Karzai as the leader of Afghanistan's transitional government, the stepping stone from which he became the country's first democratically elected president. This story of bravery and sacrifice continues to shape the future of the region today.
Reader Reviews
The praise for The Only Thing Worth Dying For: How Eleven Green Berets Fought for a New Afghanistan has been both effusive and widespread
"The Only Thing Worth Dying For is not only brilliant, it's the one book you must read if you have any hope of understanding what our fine American Soldiers are up against in Afghanistan." ~Former Congressman Charlie Wilson, of Charlie Wilson's War.
"A skillfully reported and masterfully written account of one of the most crucial moments of the War Against Terror. Blehm reminds us of the perils, the triumphs and the sacrifices made in the name of freedom." ~ Bob Woodruff, ABC News Correspondent.
"Through careful reporting and crisp narrative pacing, Eric Blehm has given us a thrilling, forgotten drama from the opening chapter of the war in Afghanistan. The Only Thing Worth Dying For will become an enduring classic of this extraordinary theater, where so much hangs in the balance." ~ Hampton Sides, bestselling author of Ghost Soldiers and Blood and Thunder.
"Eric Blehm has written a literary masterpiece about modern war. The whole witches' brew is here: valor, honor, heroism, cowardice, incompetence, stupidity, triumph, blood, death and despair. That America has Soldiers like these should fill every American heart with pride. Read this book!" ~ Stephen Coonts, international bestselling author of Flight of the Intruder, and The Disciple.
"The work of elite Special Forces is the subject of endless commentary, usually by those who know nothing about it. Blehm provides powerful and unflinching insight into a real-life mission that ended in tragedy but left an indelible mark on history. From the comic moments to the bleakest hour, it's a testament to how a small team of well-trained men can shape a nation's destiny." ~Stephen Grey, award-winning author of Ghost Plane: The True Story of the CIA's Torture Program and Operation Snakebite: The Story of an Afghan Desert Siege.
"Blehm's heroes, along with three-hundred-odd Afghan fighters, rout the Taliban and befriend the locals. Then the Army's bureaucracy commits a horrific error that destroys the team and almost kills Karzai. Blehm avoids adding to the recent flood of armchair political analysis but uncovers something more true: a parable of the war in the story of one unit." ~Outside Magazine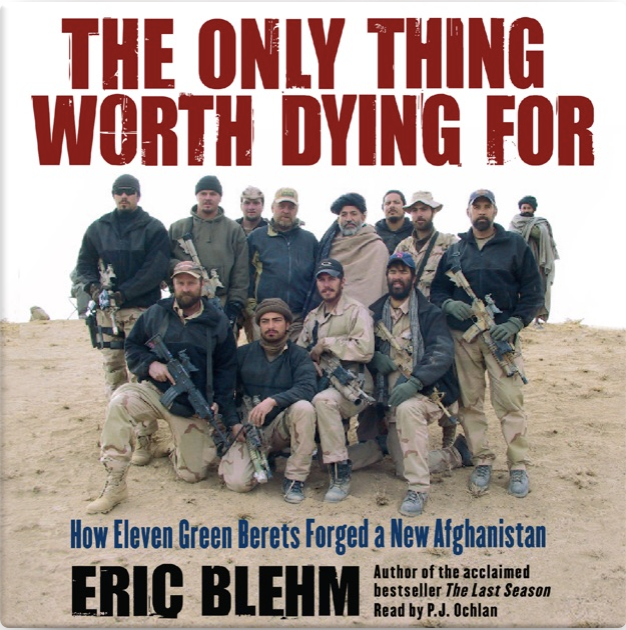 Eric Blehm, Author of The Only Thing Worth Dying For