How to Get the Best Mortgage Rate for Veterans with VA Home Loans
Do you want to know how to get the best mortgage rate for veterans, with VA home loans? VA loans can be a valuable tool for veterans and service members to purchase a home without the need for a sizable down-payment. Typically, lenders ask for a 20% down-payment, but in the case of service-members, it can be difficult to gather that much capital. Luckily, there are alternatives.
What Are VA Home Loans?
VA loans are financial products that are insured by the US Department of Veterans Affairs. They are available to, among others:
The majority of US military veterans
Active-duty military
Reservists
Members of the National Guard
Surviving spouses of deceased veterans (who died in service or of service-connected disabilities)
Surviving spouses receiving Dependency and Indemnity Compensation
Spouses of service members who are MIA or POWs
As well as often requiring lower down-payments, they typically include lower rates and fees than conventional loans. However, this will vary depending on factors such as the lender in question and the financial situation. Since 1944, when the GI Bill was implemented, over 24 million service members have become homeowners thanks to financial backing from VA loan programs. Another option for eligible borrowers is to refinance loans they previously took out in order to secure a more favorable monthly payment.
New Day USA is a company that offers many financing and refinancing options for veterans.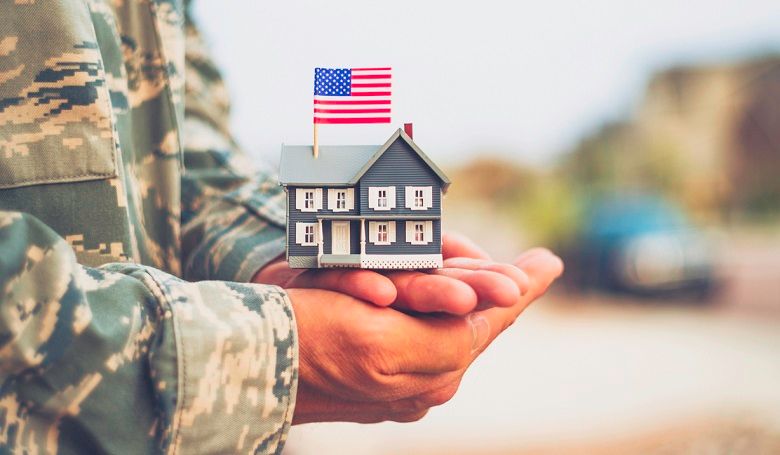 How Veterans Can Take Advantage of Low Mortgage Rates
VA loan lenders are busy compared to other financial institutions. VA loans account for around 10% of new loans, despite veterans comprising 7% of the population (and dropping). Fewer in 2 in 3 American adults are homeowners, but 4 in 5 veterans are. The lack of a need for private mortgage insurance, thanks to the VA's backing, means that veterans are well-situated to choose a loan that is optimal for their situation. VA lenders may advertise rates as low as 2.25%, over .5% better than the average rate for conventional loans. While this benefit typically comes with an upfront charge that gets wrapped up into other closing costs, over time the VA loans easily out-compete most traditional 30-year fixed rate loans. Other options that veterans have include:
VA loans are also more straightforward to refinance than typical home purchase loans, thanks to the IRRRL (the Interest Rate Reduction Refinance Loan).
Veterans who are already homeowners can use the VA cash-out refinance option to replace a conventional mortgage with a VA version. Thanks to the low mortgage rate, this is also a viable option for veterans seeking a viable means of turning home equity into cash for purposes such as starting a business.
Another way that veterans can benefit from the many loan types that the VA offers is if they are able to contribute a down-payment. While many mortgages through the VA do not require any kind of down-payment, providing at least 5% of the loan's value up front can affect the interest rate, as well as the VA's financing fee.
If you can't muster 5% of the home's value, you may have the option of purchasing mortgage points to reduce the rate of your loan. Mortgage points typically cost 1% of the loan, and reduce the interest rate by half a percentage point. This can yield beneficial results in as little as 5 years!
Some states also offer benefits to veterans seeking financial products and services to facilitate purchasing a home. Maryland and Ohio are just two of the states that offer discounts to home loans for veterans with certain products.
Choosing the Best VA Loan Rates of 2021
When deciding on a VA loan for your needs you need to take into account factors both personal and pertaining to the providers in question. A lot of private lenders with more favorable rates have credit score requirements: typically the minimum is 580 (the lower bound of a 'Fair' rating) but some companies are more discerning with minimums closer to the upper bound of 669. Credit scores are determined by a combination of factors. FICO is used by more than 90% of top mortgage providers, and is weighted thus:
35% payment history
30% credit usage
15% age of credit accounts
10% credit mix
10% new credit inquiries
You can boost your credit score by doing things like reducing your credit card balances, diversifying your financial products over time (opening too many products in a short period of time will be a red flag), and building up a reliable history of regular payments.
The key to finding the best rate is to remember that each individual case has its own particular idiosyncrasies that mean there is no blanket 'best VA loan' for everyone. You should look at the lists and reviews to identify well-regarded financial products, pick a few companies that offer products that stand out to you as well-suited for your situation in particular, and then compare them, talk to them to see if there is anything they offer that sets them apart, request rates for your personal case to see how they measure up, and try and secure the best deal for your situation. Consider New Day USA for your home loan needs. It offers a variety of great mortgage and refinance rates to suit many situations.