Friday morning February 2, 2008 was cold in Baghdad but since Friday is a big shopping day, shoppers crowded the markets throughout the city. At one of Baghdad's most popular gathering places, the al-Ghazl animal market, hundreds of closely packed shoppers moved from stall to stall when suddenly and without warning, a huge explosion shattered the silence, killing dozens of Iraq's.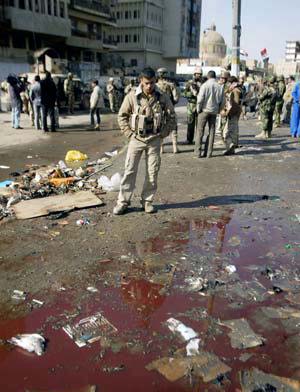 Twenty minutes later, another bomb ripped through an open air market in south eastern Baghdad.
The two suicide bombers who carried out the attacks that ultimately killed 99 people were mentally challenged women with Down's syndrome. The unwitting pawns were apparently fooled into wearing explosive vests which were then detonated remotely by mobile phones as the women mingled with crowds, killing 46 people and injuring 100 in the al-Ghazl explosion. In the second bombing at the smaller bird market in south-eastern Baghdad, 27 people were killed and at least 67 wounded, many dying later.
When it became apparent that Al-Qaeda terrorists had used women with the minds of children to carry out their suicide bombings, Iraqis were horrified and angry. The American commanders were equally upset, taking immediate action by preparing an attack on the Al-Qaeda cell responsible. A few days later, on February 4, 2008, a raid was executed on the terrorists' compound.
Chief Petty Officers Nathan Hardy and Michael Koch. The two Were Close Friends
Among the American Task Force raiders in the nighttime mission were two U.S. Navy SEALs: Chief Petty Officers Nathan "Nate" Hardy and Michael "Mike" Koch. As in any small, elite unit, the two were close friends, counting on one another to watch the other's back.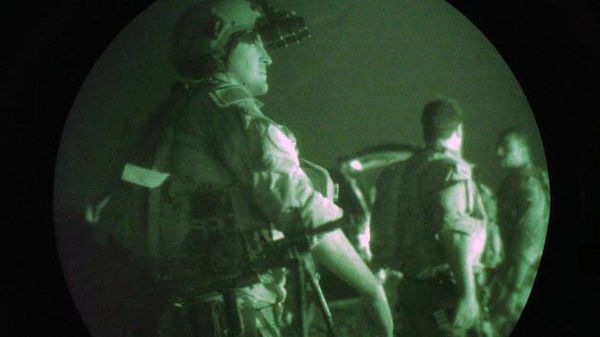 Chief Petty Officers Nathan Hardy and Michael Koch Also Came From Families with a Tradition of Service
Both also came from families with a tradition of service. Hardy's grandfather served with John F. Kennedy on PT-109 during WWII. Koch's dad had a career in the U.S. Air Force and later, he and his wife became civilian contractors in Iraq and Afghanistan.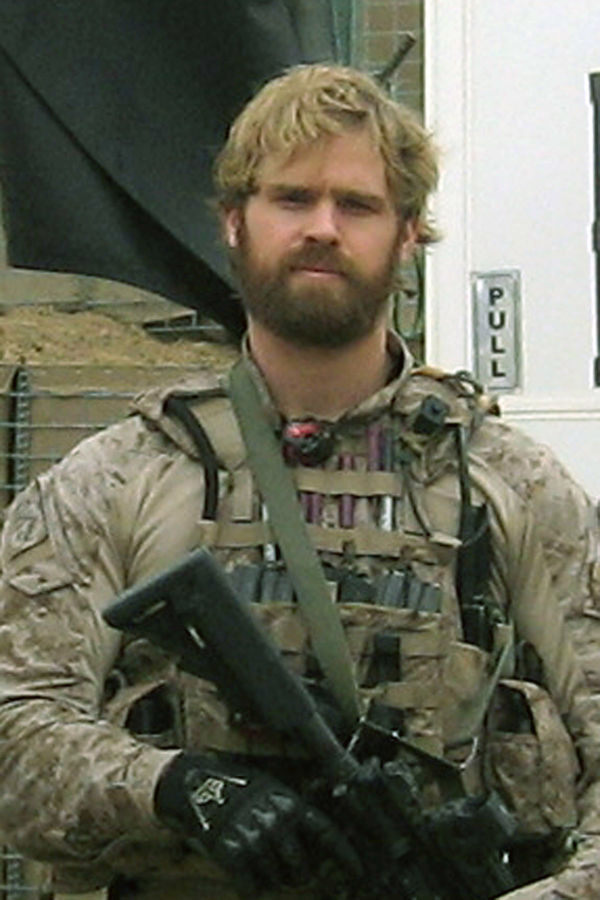 Nate Hardy was born December 28, 1978 in Cape Cod. He grew up in Washington and Pennsylvania and his family settled in New Hampshire in 1988. It was in high school where Nate, a star soccer and lacrosse player, made the decision to join the Navy and become a SEAL immediately after graduation. Nate joined the Navy in 1997, following in the footsteps of his two grandfathers, both Navy veterans. After graduating from BUD/s in May of 1998 with class 221, he was subsequently assigned to SEAL Team 8 out of Virginia Beach where he served from 1998 until attending U.S. Naval Special Warfare Development Group's (DEVGRUs) Green Team selection course in 2007.
Michael E. Koch, born May 12, 1978 in Omaha, Nebraska, enjoyed adventures wherever his father's military career took the family. Growing up, he learned to climb mountains, scuba dive and scale cliffs.
During visits to his grandparents' farm near Jersey Shore, he practiced rappelling by descending the silo. Family outings might include skydiving and snowmobiling.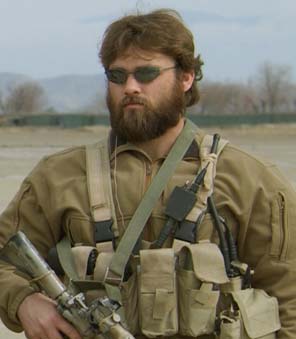 He attended Penn State University, but left to enlist in the Navy in 1998. Joining the elite Special Forces was always his goal. He entered SEAL training in 1999. After graduating from SEAL training, Mike served in Kosovo and Afghanistan.
Each man carrying out the late night mission had specific jobs to do. Nate was the second man on the stack to enter the enemy-held building. Upon breaching, Nate and the lead man, Mike, were ambushed by enemy small arms fire. Mike and Nate were immediately hit. Mortally wounded, Nate engaged and killed the enemy fighters while dragging his wounded teammate to safety. In his final moments in this world, Nate held on to life long enough to pull Koch to safety. He died that night of February 4, 2008 with his dying brother-in-arms Mike at his side. Also killed that night were the terrorists they had targeted.
At the time of his death, Nate was survived by his wife Mindy and his seven month old son Parker, his parents and brother. It was his fourth deployment in Iraq, according to his father, Stephen Hardy, a University of New Hampshire professor of kinesiology. His mother, Donna Hardy, is an administrative assistant in UNH's psychology department.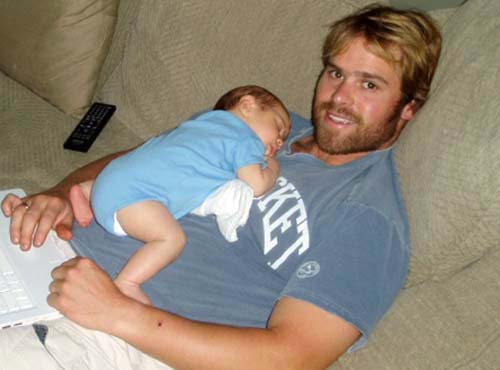 Nate's numerous awards and decorations included two Bronze Stars, a Purple Heart, and a Defense Meritorious Service Medal. In addition to Iraq, he served in Afghanistan and Kosovo.
Mike left behind his parents, Donald Koch, a 20-year U.S. Air Force veteran and Jean Ann Burkholder as well as his brother Matthew, who accompanied his brother's body back to Virginia Beach, also served 6 years in the U.S. Navy and his younger sister, Tiffany.
Mike and his sister were born on an Air Force base in Omaha, Nebraska, and Matthew was born on another base in New Mexico.
He also left behind his fiance, Kathy Howell of Virginia Beach. The couple was engaged for eight years.
During Mike's career, he received the Bronze Star, Purple Heart, Joint Service Commendation Medal and three Navy and Marine Corps Achievement Medals. In addition to fighting in Iraq, he also served in Afghanistan and Kosovo.
Chief Petty Officers Nathan Hardy and Michael Koch are Buried side-by-side Each Other at Arlington National Cemetery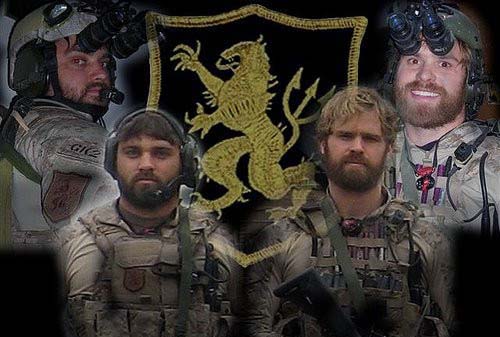 As they fought and died side-by-side, Mike and Nate are buried side-by-side each other at Arlington National Cemetery.