No Ordinary Dog: My Partner from the SEAL Teams to the Bin Laden Raid is the powerful true story of a SEAL Team Operator and military dog handler, and the dog that saved his life.
Two dozen Navy SEALs descended on Osama bin Laden's compound in May 2011. After the mission, only one name was made public: Cairo, a Belgian Malinois and military working dog. This is Cairo's story, and that of his Handler, Will Chesney, a SEAL Team Operator whose life would be irrevocably tied to Cairo's.
The Story of a SEAL Team Operator
Starting in 2008, when Will was introduced to the SEAL canine program, he and Cairo worked side by side, depending on each other for survival on hundreds of critical operations in the war on terrorism. But their bond transcended their service. Then, in 2011, the call came: Pick up your dog and get back to Virginia. Now.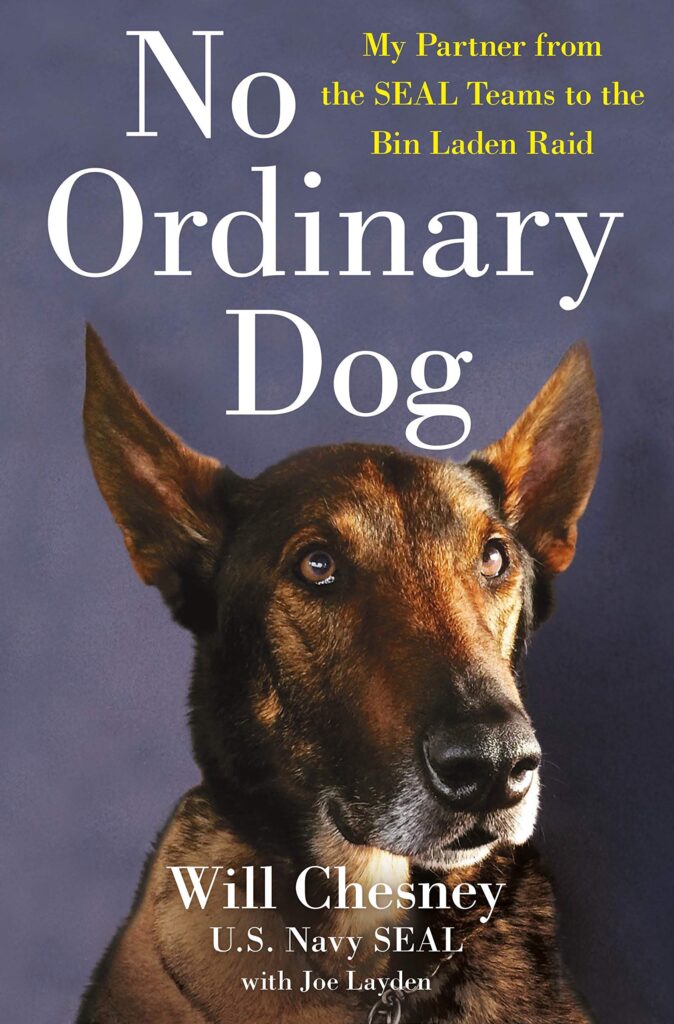 What followed were several weeks of training for a secret mission. It soon became clear that this was no ordinary operation. Cairo was among the first members of the U.S. military on the ground in Pakistan as part of Operation Neptune Spear, which resulted in the successful elimination of bin Laden.
As Cairo settled into a role as a reliable "spare dog," Will went back to his job as a DEVGRU operator until a grenade blast in 2013 left him with a brain injury and PTSD. Unable to participate in further missions, he suffered from crippling migraines, chronic pain, memory issues, and depression. Modern medicine provided only modest relief. Instead, it was up to Cairo to save Will's life once more – and then up to Will to be there when Cairo needed him the most.
Reader Reviews on No Ordinary Dog
I am one of the people fortunate enough to know Will Chesney, and very lucky to have spent a little time with the 'retired' Cairo. I've said many times that I don't really think I KNOW Will, which is kinda sad/unfortunate because I met him 6+ years ago. I'm so grateful for this incredible book as I've gotten to know a wonderful young man, the real man, the man he doesn't talk about, himself!! 
Will doesn't talk about what he's been through, the things he's seen, or the heartache he's endured. I've heard him talk about Cairo on numerous occasions, that's a part of him he's always wanted to share!! You can't keep a lid on that kind of love!! I'm only halfway thru the book, and I've cried (sobbed too), cringed, smiled, and laughed a little! I like that Will has incorporated his early years, BUDS training, his unimaginable trust, bond, love, loyalty, and devotion to Cairo!! So looking forward to reading more, to see where he goes next!!! 
Will, I love you and will be forever grateful for your service, Cairo's service, and the many sacrifices you've both endured for our country!! I pray for your continued good health!! Thank you, Will, for putting your story out there for all of us to share what most of us could never begin to imagine!! Love and many blessings to you always.
~Jean
This book is absolutely outstanding! It's like Marley and me, but with Navy SEALs. I was quite literally laughing while I was crying half the time. It's beautifully written and an amazing story about the friendship between a military working dog and his Handler. Plus, I'm always fascinated with any insight into the Osama bin Laden raid. It's a great departure from all the self-aggrandizing Navy seal books out there. It's obvious Chesney had a special connection with this dog and doesn't want the limelight. This is all about Cairo.
~W.S.
I didn't know what to expect from this book, other than I love dogs, and Cairo's eyes on the front of the book stole my heart. The introduction was the best I have ever read for sincerity and compassion from a dog lover. Navy SEAL training explanation took and kept me right there with them. I loved every minute of it! I am not ashamed that I shed many tears.
I have purchased the book for a fellow dog lover, who now has cancer, for a gift, and know that he will enjoy reading it, having had several really special dogs. I know the book will bring him joy!
I applaud the authors, and "Cheese" is to be rewarded for a job really WELL DONE!
I am a veteran, and my heart goes out to this Handler!
~Rebecca Wolfe
About the Author of No Ordinary Dog
Will Chesney served in the United States Naval Special Warfare Development Group as an operator and dog handler. 
He participated in Operation Neptune Spear, which resulted in the death of Osama bin Laden.
Chesney received a Silver Star and a Purple Heart, and now helps veterans who have suffered a traumatic brain injury.