PRESERVING A MILITARY LEGACY FOR FUTURE GENERATIONS
The following Reflections represents MKCS George III Shoffstall's legacy of his military service from 1973 to 1994. If you are a Veteran, consider preserving a record of your own military service, including your memories and photographs, on Togetherweserved.com (TWS), the leading archive of living military history. The following Service Reflections is an easy-to-complete self-interview, located on your TWS Military Service Page, which enables you to remember key people and events from your military service and the impact they made on your life. Start recording your own Military Memories HERE.
Please describe who or what influenced your decision to join the Coast Guard.

I had every intention of joining the U.S. Navy as an enlisted man after HS graduation. I didn't have the grades to entertain the academy appointment process. My father and his two brothers voluntarily enlisted in the Navy at the outset of the Korean Conflict in 1950. Two served on New Jersey class battleships, and my father trained as an Aviation Electricians mate assigned to a tactical squadron in country.
My aspirations took a slight course change in the spring of my senior year. One day I received a long-distance call from a friend and former classmate. He had been looking into joining the Coast Guard after graduation and mentioned maybe enlisting as teammates in what was called the buddy program. Being a kid from central PA, I hadn't heard or even considered the CG.
I decided to investigate this opportunity further. Drove 90 miles to the state capital to meet with this salty and seasoned Engineman Chief recruiter. His name is Newt Neuciler. I vaguely remember getting the feeling he did his share of time below decks. The number of hash marks on his sleeve was evident he was on his twilight tour. After spending a few hours in his office and hearing all about the mission of this Life-Saving branch of the armed forces, we were hooked. We qualified on the written exam and background checks. I passed the physical exam, unfortunately, he didn't.
With my parents' consent, I delayed enlisted April 1973, graduated HS in June, turned 18 in July, entered basic training in Cape May, NJ, in late August. So my buddy went off to college that fall, and I went off to Engineman class "A" school, Yorktown, VA., directly after basic training. And as they say, the rest is history.
Whether you were in the service for several years or as a career, please describe the direction or path you took. What was your reason for leaving?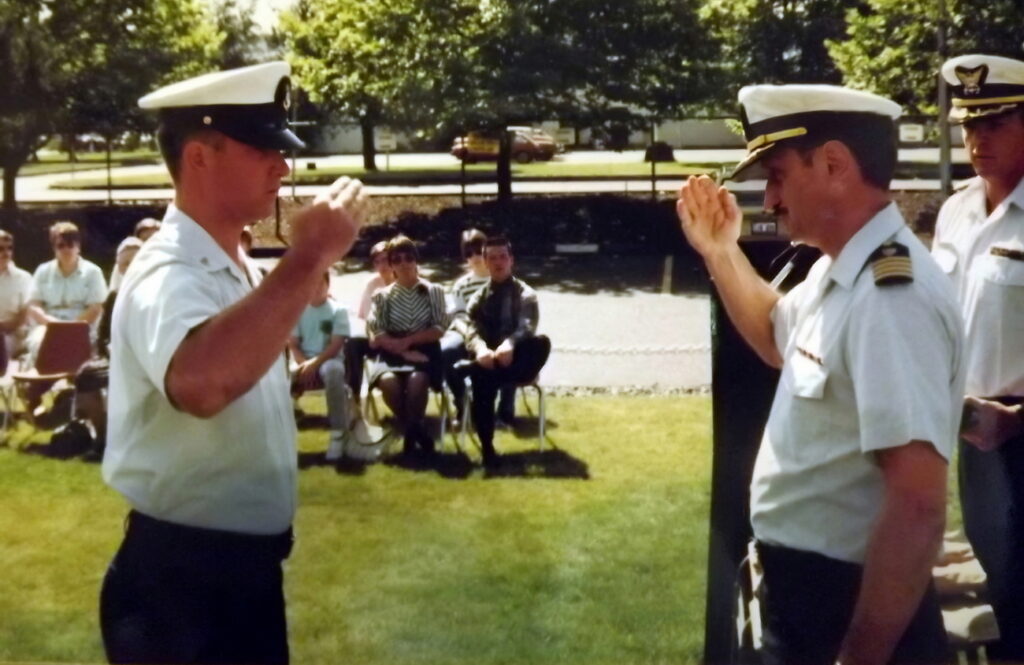 In 1973, the Coast Guard engine room gang still consisted of Enginemen, Machinist Mates, and Boiler Tenders, although this all changed in the 1974/1975 time frame when it was decided to decommission all the tired steam propulsion fleet of cutters. You can't leave out those Electrician Mates, for sure.
This milestone created the new Machinery Technician rating, phased out the crackerjack bell bottom blues uniform, and introduced the new "Bender Blues." A new look but the same mission. Those historical ratings all phased out, although the Engineman "Cog" rating insignia remained. Oddly enough, the Navy had a Machinery Technician rating as well. Same insignia, and they abbreviated it "MT." It then was decided by someone the Coast Guard would use "MK."
I knew from the beginning my career path would lie with the engineers. There is an old saying, "As the engineer goes….so goes the ship".
My decision to submit my retirement letter after 21 years of active service was based on a number of factors. In every career, you know when the time has come to change things up. With some apprehension, I reached a decision to step away.
If you participated in any military operations, including combat, humanitarian and peacekeeping operations, please describe those which made a lasting impact on you and, if life-changing, in what way?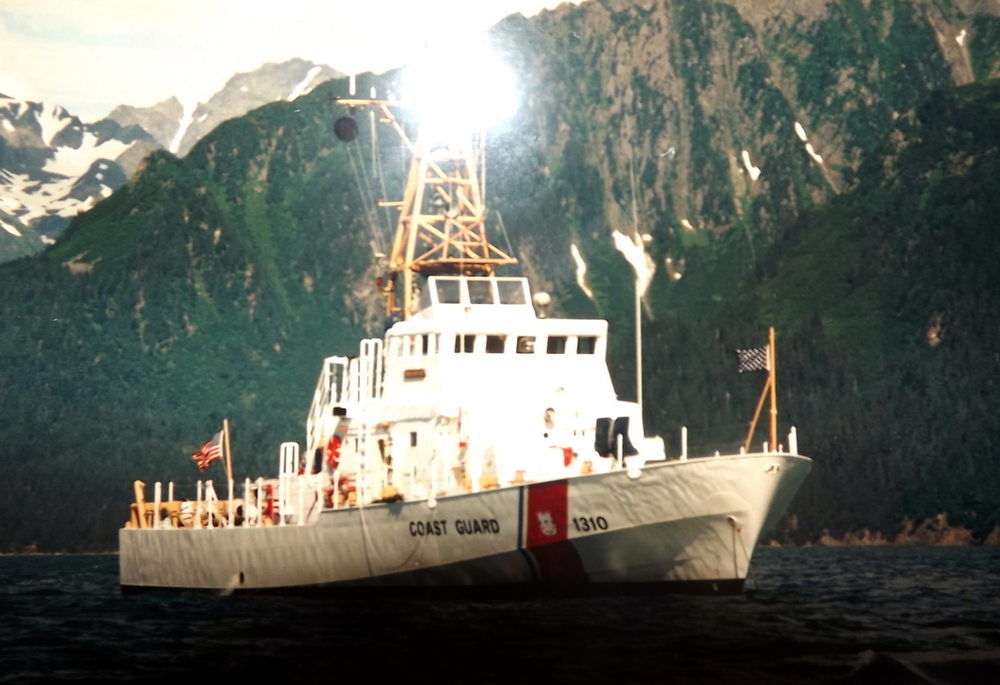 The grounding of the Supertanker Exxon-Valdez on Bligh Reef in March 1989 comes to mind. While aboard the CGC Mustang, we had been directed as one of many on-scene commanders. Our mission included but was not limited to keeping waterborne traffic limited to only emergency response crews and their equipment in the vicinity of the grounding site, delivering teams of first responders deploying containment booms, along with camera crews and news media personnel. This maritime disaster left the region of Prince William sound and the pristine shoreline of SE Alaska polarized for many, many years. Killing aquatic life, mammals, waterfowl, basically upsetting the entire ecosystem.
This environmental disaster impacted the entire shipbuilding industry forever. The newly designed double hull tanker was the new kid in town.
Another military operation was the rescue of a Navy sailor in dire need of medical attention from the nuclear submarine USS Ohio. It was 1984, during a late winter patrol in the Gulf of Alaska when the 17th CG District command center gave the urgent call over the UHF/VHF radio. All that was given to the CGC Cape Hatteras CO were latitude and longitude coordinates, and there was a dire medical emergency. Arrive at a given ETA, period. Well, we were off and running, steaming with everything the twin-screw 95′ patrol boat with GM 16V-149 diesel engines could give. I believe they were standing on the throttles on the bridge. The crew wasn't told anything other than prepare the stokes litter, extend the lifelines, and standby.
We arrived on station, and in a short period of time off in the distance was a hulk of a vessel breaking the surface of the water, first the conning tower then the hull of this huge Naval submarine. This maneuver is extremely rare for a naval war machine. It breaks its code of silence.
We steamed to its location, and minutes later, some crew members appeared to be out of nowhere, using their belted lifelines to traverse the narrow decking safely. As the Cape Hatteras was carefully maneuvered alongside, we had but one chance to get a very sick sailor transferred to the cutter. The air temperature at the time was hovering around the freezing mark. This rescue had to go down as quickly as possible and without incident. High lining a person using a stokes litter that is usually intended for aerial lifts is extremely dangerous. We had no choice. One wrong move and the sailor would have been trapped between the hull of the sub and the cutter. We safely made the transfer. Immediately covered him in wool blankets and carefully taken below deck to a warm galley. The skipper put the hammer down. Medical attention was needed ASAP. He had a nearly ruptured appendix. His face was ashen in color. Time wasn't on his side. We headed to Juneau, AK, where an ambulance and EMT's were standing by. He was safely transferred ashore. If memory serves, it was told later he pulled through.
Did you encounter any situation during your military service when you believed there was a possibility you might not survive? If so, please describe what happened and what was the outcome.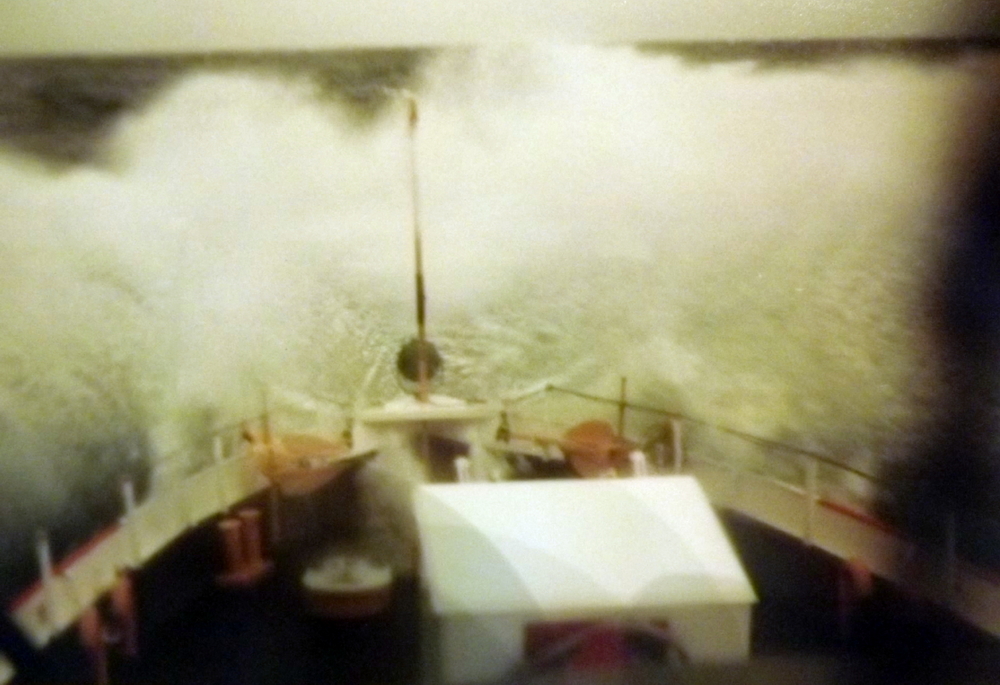 Looking back, I can't recall a time while in the line of duty that I felt my life and or the crews I sailed with were in dire straights. Call it luck; call it fate. Don't misunderstand. There was plenty of green water over the bow and down each side of the main decks. Seas at times 25 – 30 feet, in troughs that towered over the cutter like skyscrapers.
Many times the cutters would heal over and hang there for a split second before righting themselves. Many times there was extreme icing that hindered the center of gravity. Yes, there were many times when your gut felt very uneasy, when you hear the cutter moan and groan struggling through it, you trusted its seaworthiness, and you relied on your shipmates in the wheelhouse to make sound navigational decisions. Fact, you rarely, if ever, slept in heavy weather, especially on patrol boats.
You train, train, and train some more for all types of shipboard emergencies. If the GQ alarm sounds and the captain hails, "This is not a drill, I repeat this is not a drill," the crew automatically springs into Damage Control or Firefighting mode just as if you only have one chance to save the only thing that can bring you home.
I do recount hearing/reading of the CGC Durable engine room fire in 1980. The loss of life of a fellow coastguardsman and a fellow engineer strikes the heart. I walked those deck plates countless times, that could have been one of my shipmates or me.
Of all your duty stations or assignments, which one do you have fondest memories of and why? Which was your least favorite?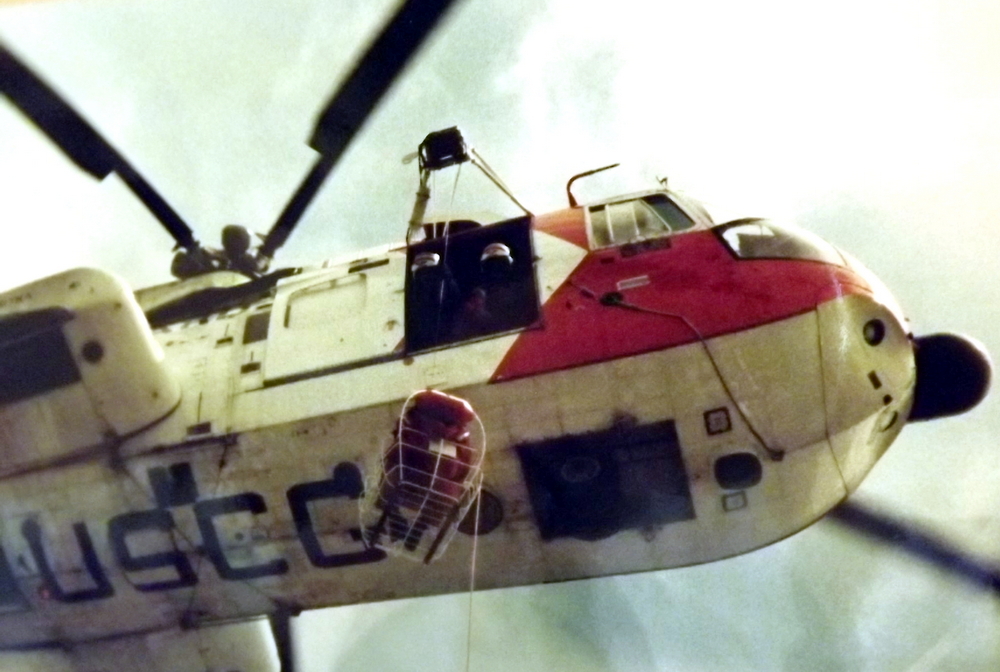 This is a tough question, having one particular station or assignment as being the best. They all left lasting memories. None of my assignments are in the least favorite category.
I was very fortunate to make a billet selection and get penciled in with all assignments except my first, on CGC Durable. That doesn't happen very often. Call it the right timing or just pure luck.
CGC Durable was by far the most significant player that I cut my teeth on. Never having any shipboard experience, it broke me of one of the toughest things imaginable, the dreaded "seasickness." It was a vast cutter experience that every young FNMK needed to either make it or break it.
Looking back, I wouldn't have traded those times for anything. Things might have turned out differently had I not been challenged every day and for all the right reasons.
From your entire military service, describe any memories you still reflect back on to this day.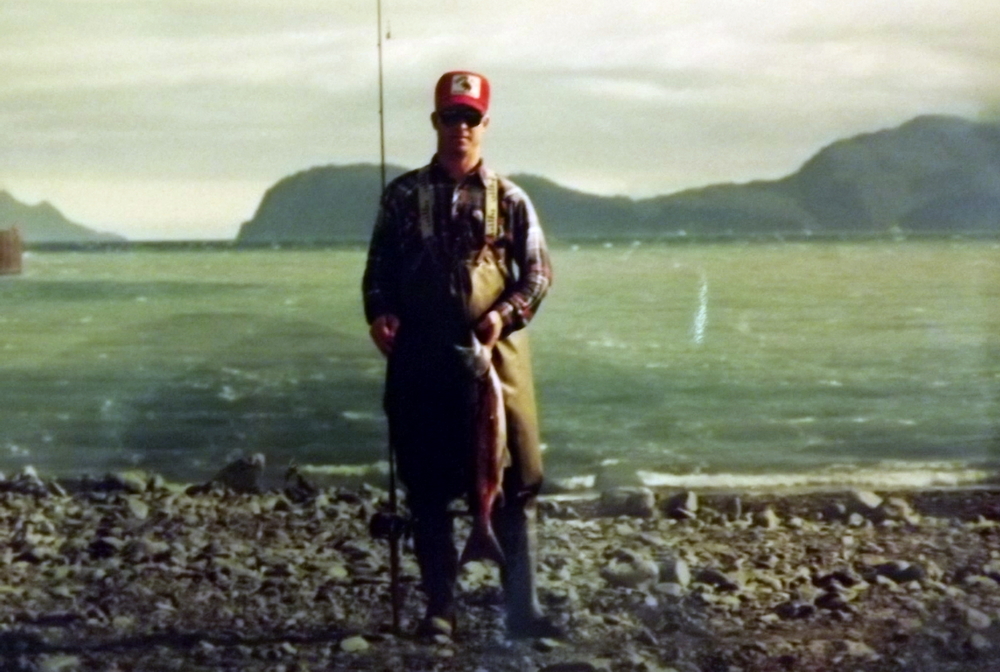 Time has a way of fading away, even the best of memories. Like never forgetting your service number, the memories of proudly serving alongside some of the finest men and women in our country will always be a vivid reminder of a life well spent in the military.
Away from my shipboard duties and responsibilities, recruiting in the late '70s was interesting. Most recruiting offices back then had backlogs. A potential recruit just didn't waltz in expecting to sign up that day. So you had to be very cautious in keeping their focus on the rewards that followed when a slot opened up. We wore out the delayed enlistment program. Didn't lose many, if any, to the other "sharks" patrolling the halls from the other armed service recruiters.
I had the pleasure of recruiting outstanding individuals. The ones that were patient and didn't jump ship ended up serving and a few career individuals to boot.
To be able to promote such a service as the CG with the same opportunities afforded to me just a few years earlier was extremely rewarding.
What professional achievements are you most proud of from your military career?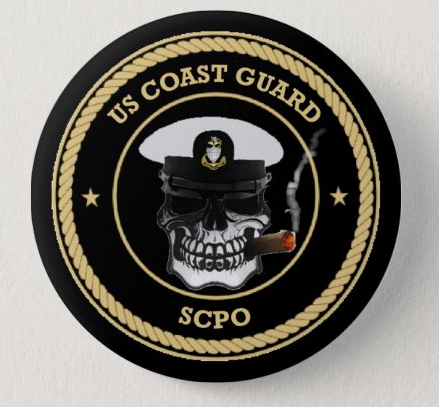 Proud of them all. From one duty station to another throughout my career. Whenever assigned to my next duty station, I always had one goal in mind. "Leave it better than you found it."
That inspired me, and it didn't hurt to have good people in the right places to help reach your goals.
Achieving the rank of E-8.
Of all the medals, awards, formal presentations and qualification badges you received, or other memorabilia, which one is the most meaningful to you and why?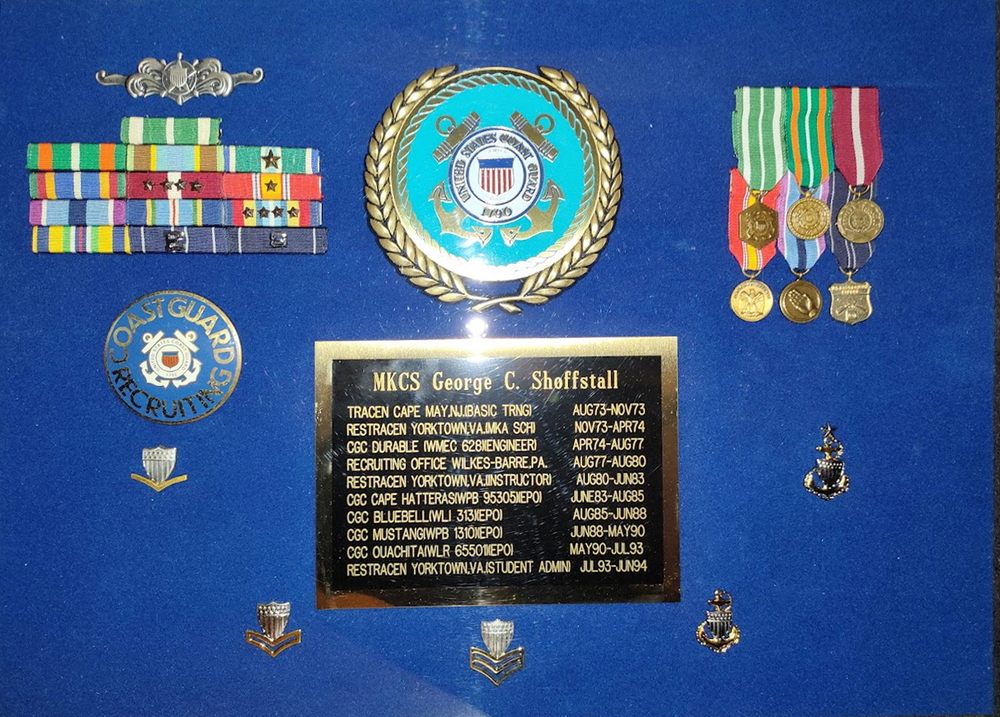 The ribbons and awards are a part of achievements and accomplishments for sure, but they wouldn't be possible without the camaraderie and teamwork of your fellow shipmates.
The day I retired and was presented with my very own shadow box. This extraordinary keepsake summed up an entire 21-year career in one compact box. Priceless.
Which individual(s) from your time in the military stand out as having the most positive impact on you and why?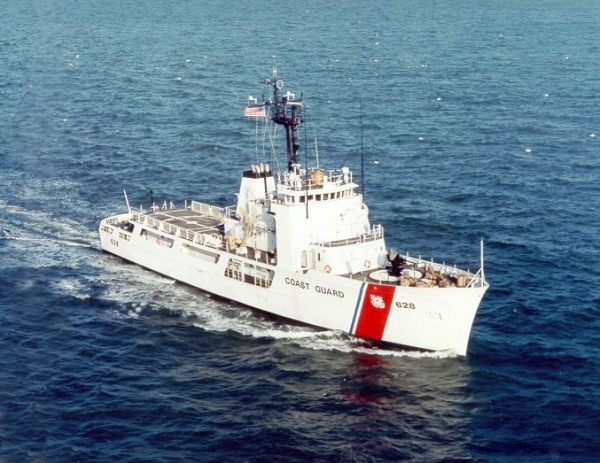 At one time or another, we've all had those individuals we served with that have impacted our decisions and our lives. For the most part, positively.
Although I do have one individual in mind that sat me down after serving 3.5 yrs aboard the CGC Durable. His name is Joseph Strozeski, BTC. He simply wanted to open my eyes to the all-important decision to step out after 4yrs or reenlist. He knew that I was a "Lifer"; that is what they called company people back in 1977.
He knew I had done my job, and he felt it was time to hear the facts. I'll never forget his words. He said the only way to view this is you have 15 years….11 months, and 29 days from this point on to achieve a military career and receive a pension for the rest of your life.
Needless to say, it hit home. It was an easy decision for me, and I reenlisted for a maximum of 6 years each time I was eligible.
List the names of old friends you served with, at which locations, and recount what you remember most about them. Indicate those you are already in touch with and those you would like to make contact with.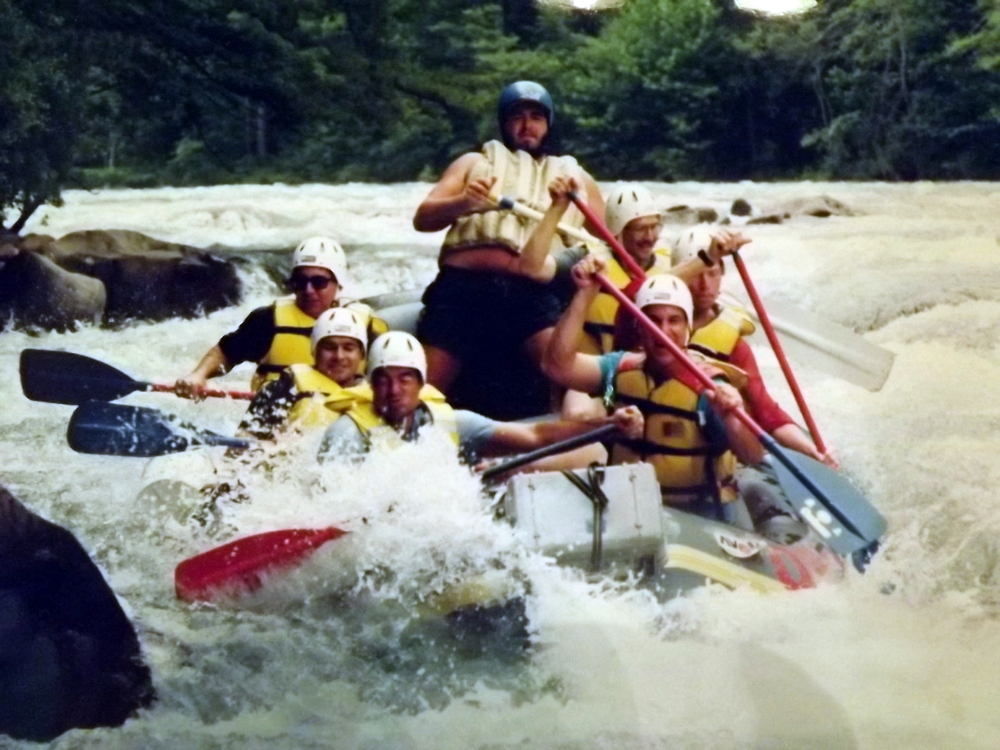 Vice Admiral John L. Linnon – Capt. of the CGC Durable 1976. Outstanding man. He was a sailor's sailor. Crossed the bar 2020. RIP
CWO3 Bill Wall – YNC, OIC Recruiting Office, Wilkes-Barre. PA. in 1979. A great mentor.
EMCS Thomas Devane – EMC CGC Durable 1976. Rediscovered after 44 yrs thanks to this site. A shipmate you would sail with at the drop of a hat.
BMCM Vince Vita – OIC, CGC Ouachita 1993. Without a second thought, the best all-around sailor I ever sailed with. He was a prime candidate for selection to be the next Master Chief Petty Officer of the Coast Guard, IMHO.
Can you recount a particular incident from your service, which may or may not have been funny at the time, but still makes you laugh?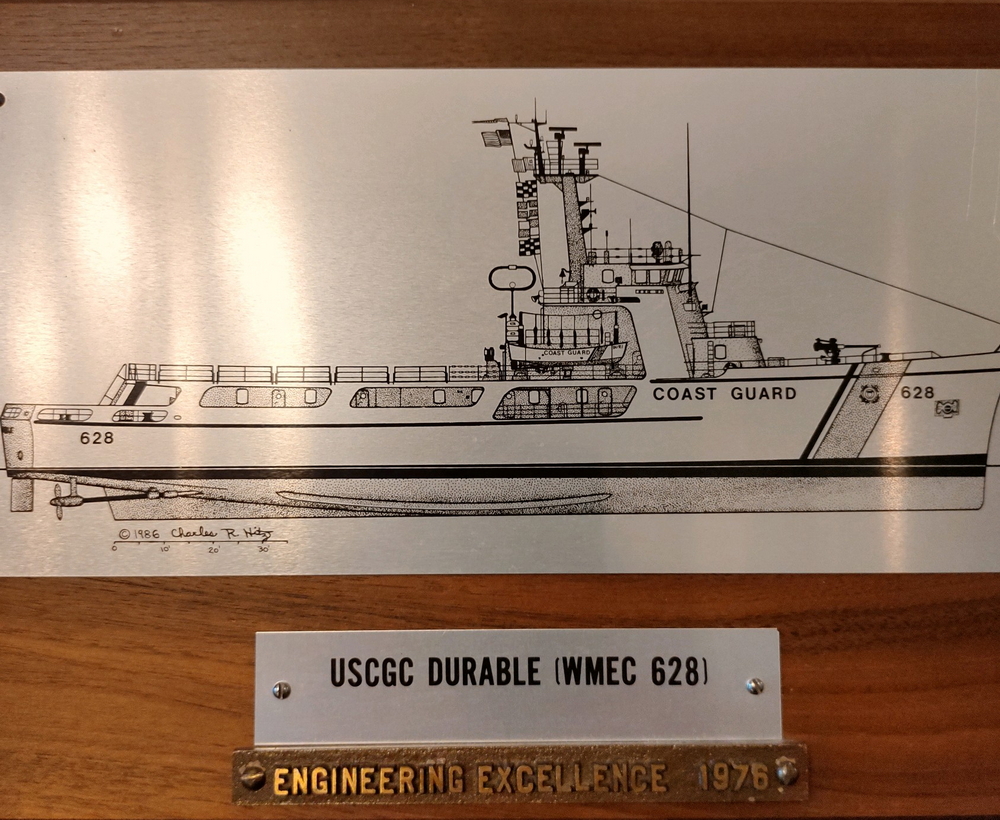 One, in particular, a 30-day patrol onboard CGC Durable in the vicinity of the Yucatan Straits.
On this patrol, we had mechanical issues with our evaporator, and the fresh water supply was at critical levels. So limited, being instructed to remove all shower and sink faucet handles. The laundry was secured as well and not suitable for morale. Thankfully the patrol was winding down.
The scuttlebutt around the crew was there would be a swim call announcement coming. Of course, jumping into the Gulf of Mexico's vast blue water, not having the ability to shower in days, sounded like the perfect way to boost morale.
After securing the main engines and lookouts posted with M-16 rifles, the call came from the bridge, "now hear this, swim call, swim call." The cargo nets were lowered over this starboard side, and about 30 of us took the plunge. It was the coolest feeling to tread water and look back on the cutter adrift with only the faint sound of the generator running.
Well, no sooner than the fun began, it came to a close quickly when someone yelled, "Shark, Shark."
I remember seeing what appeared to be a dorsal fin sticking out of the water not far off. Well, you will never see 30 men swim so fast towards the cargo nets again in your life. Sailors were stepping over each other's heads, shoulders, hands, whatever it took to get our butts clear of the water and back on board.
It turns out it was a mature hammerhead shark.
What profession did you follow after your military service and what are you doing now? if you are currently serving, what is your present occupational specialty?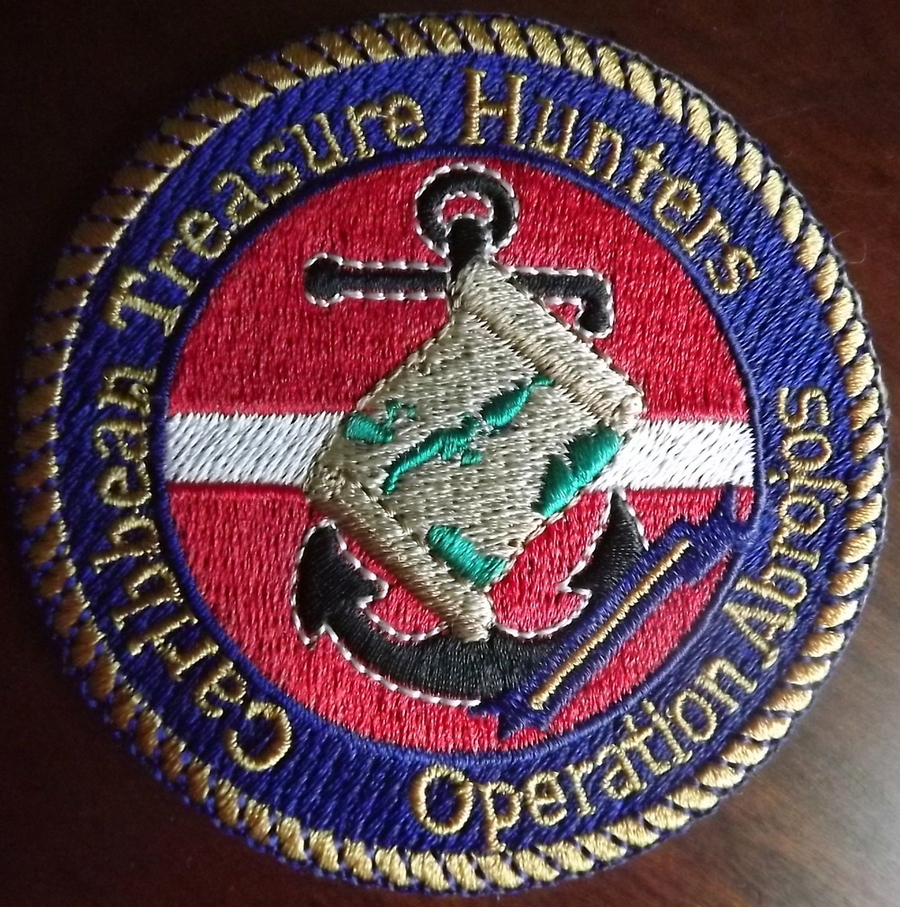 Back in the mid-'90s, when I retired, I sought out and held a mix of employment ventures.
Systems Operator, the Tennessee Aquarium. Veterans Affairs Officer for the state of Tennessee. United States Postal Service clerk. Chief Engineer for a Tug and Barge Co. Finally, a journeyman Pipefitter.
In the fall of 2016, I stopped chasing the money and retired.
In what ways has serving in the military influenced the way you have approached your life and your career? What do you miss most about your time in the service?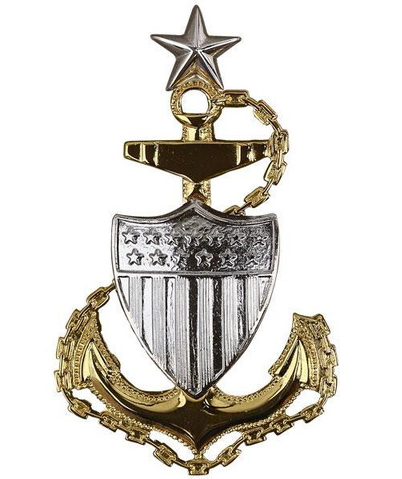 A career in the military shapes your ability to meet life's challenges head-on. You need to be adaptable to an ever-changing world. Being a good communicator is essential. Open yourself up to suggestions or ideas from those around you. Set realistic goals. Work through setbacks. Make every attempt to exceed expectations. Appreciate life's lessons, the good and the bad.
What I miss most, among many things, is the structured lifestyle. The civilian world is all over the place. Uncle Sam has a unique way of taking care of his own family. New adventures are on the horizon with every permanent change of station. New experiences, new challenges, new cultures, new communities, new friends, and new shipmates are all of that.
Based on your own experiences, what advice would you give to those who have recently joined the Coast Guard?

Choose a career path that suits you. Go after it with a vengeance. Stay the course. Make a concerted effort to advance yourself quickly to perhaps have options as to what your next assignment might be. A military career is not for everyone, but it's sure not something to be taken lightly. I can honestly say my second 10 years of active service flew by. The rewards, in the end, are priceless.
Most of all, enjoy the ride, and be an asset, not a liability. Learn all you can from the finest sea-going service in the world.
In what ways has togetherweserved.com helped you remember your military service and the friends you served with.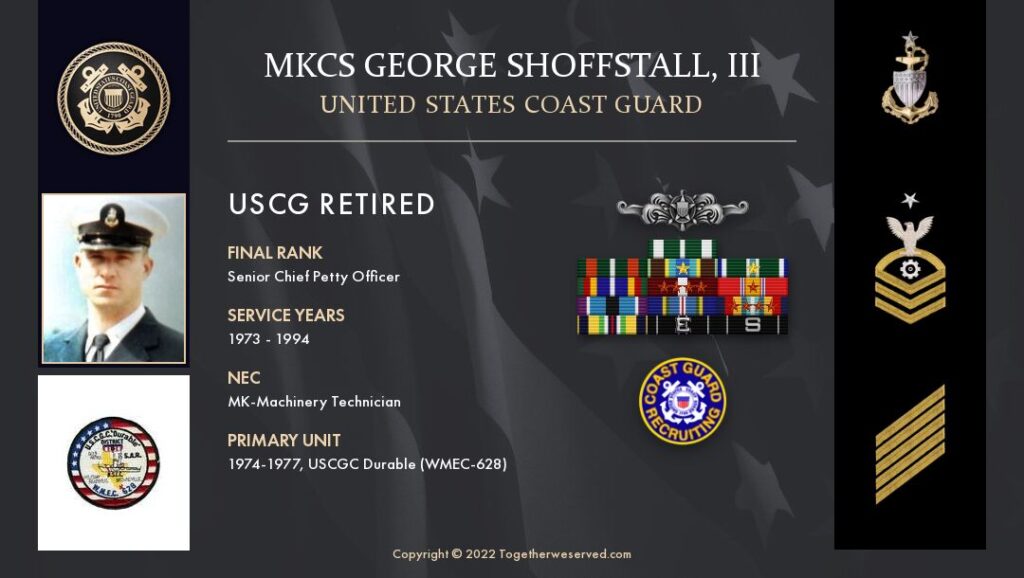 This media has given me the ability to revisit some things in my Military past that I had previously refused to acknowledge or entertain. Refreshing.
PRESERVE YOUR OWN SERVICE MEMORIES!
Boot Camp, Units, Combat Operations
Join Togetherweserved.com to Create a Legacy of Your Service
U.S. Marine Corps, U.S. Navy, U.S. Air Force, U.S. Army, U.S. Coast Guard