James Helms Kasler was born on May 2, 1926, in South Bend, Indiana and following 30-years of distinguished military service, retired as a U.S. Air Force Colonel. Three times James Kasler went off to war and three times returned home. During his career, he is the only person to be awarded three Air Force Crosses. He also was awarded two Silver Stars, Legion of Merit, nine Distinguished Flying Crosses, two Purple Hearts, eleven Air Medals and Bronze Star with V for valor. Setting aside recipients of the Medal of Honor, he is the 10th most decorated serviceman in U.S. history. For some, he is known as Indiana's Sgt. Alvin York, the famous hero of World War II.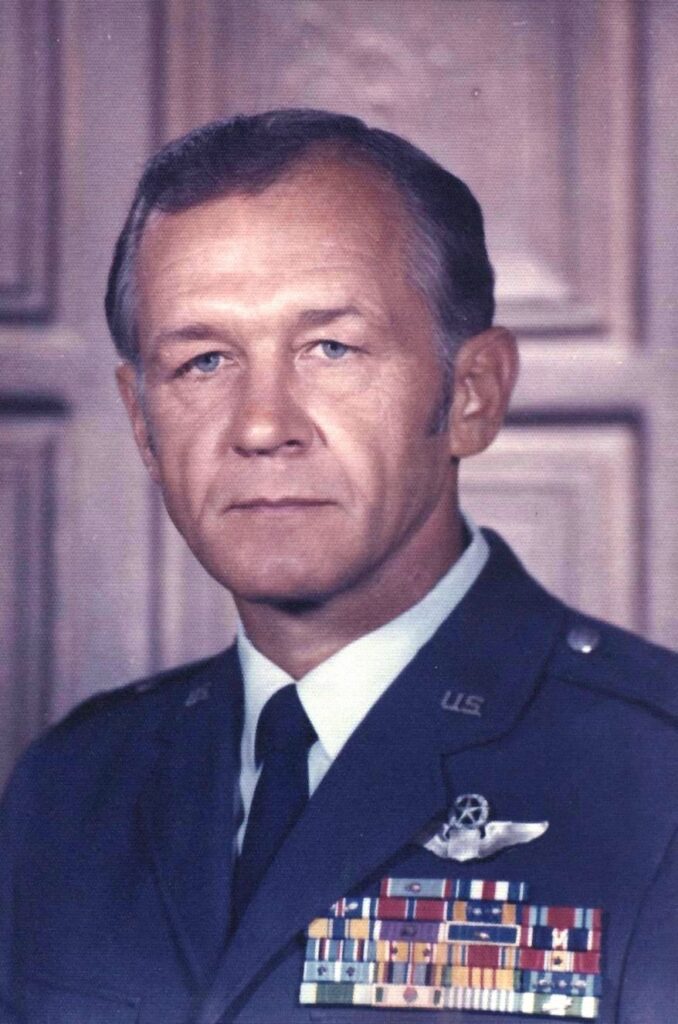 Biography of James Helms Kasler
Shortly after graduating from Shortridge High School, he enlisted in the U.S. Army Air Force in May 1944. James Kasler spent his two-year enlistment flying combat missions over Japan as a B-29 Superfortress tail gunner.
Following the war, Kasler attended Butler University in Indianapolis for three years before entering the U.S. Air Force pilot training program in January 1950 and received his wings on March 24, 1951, at Williams AFB, Arizona. Following a brief assignment to Presque Isle, Maine, in November 1951 he was sent to Korea and assigned to the 335th Fighter-Interceptor Squadron, 4th Fighter-Interceptor Group.
Flying the F-86 Sabrejet, Kasler was credited with his first aerial victory on April 1, 1952, downing one MiG-15 near Wongsong-dong and damaging a second east of Sinuiju. He shot down another MiG near Okkang-dong on April 21. The action picked up in May, and he was credited with four more MiG-15s – one of the 4th, two on the 15th. It was on April 25 when he got his 6th in MiG Alley.
He and his wingman, 1st Lt. Albert Smiley, caught several MiGs just as they were returning to their Communist airbase. Kasler got behind the lead MiG, chasing it for about 50 miles on the deck, refusing flight commander Phil "Casey" Colman's request to call it a day. On the MiGs tail, Kasler opened up, and his gunfire tore it apart. Its canopy gone, its pilot engulfed in fire, the MiG arched down in a flaming trail before it splattered in the mudflats just below. Kasler pulled back on the stick mightily, to avoid sharing his victim's fate. He cleared and called triumphantly to Colman, "Casey, I'm an ace."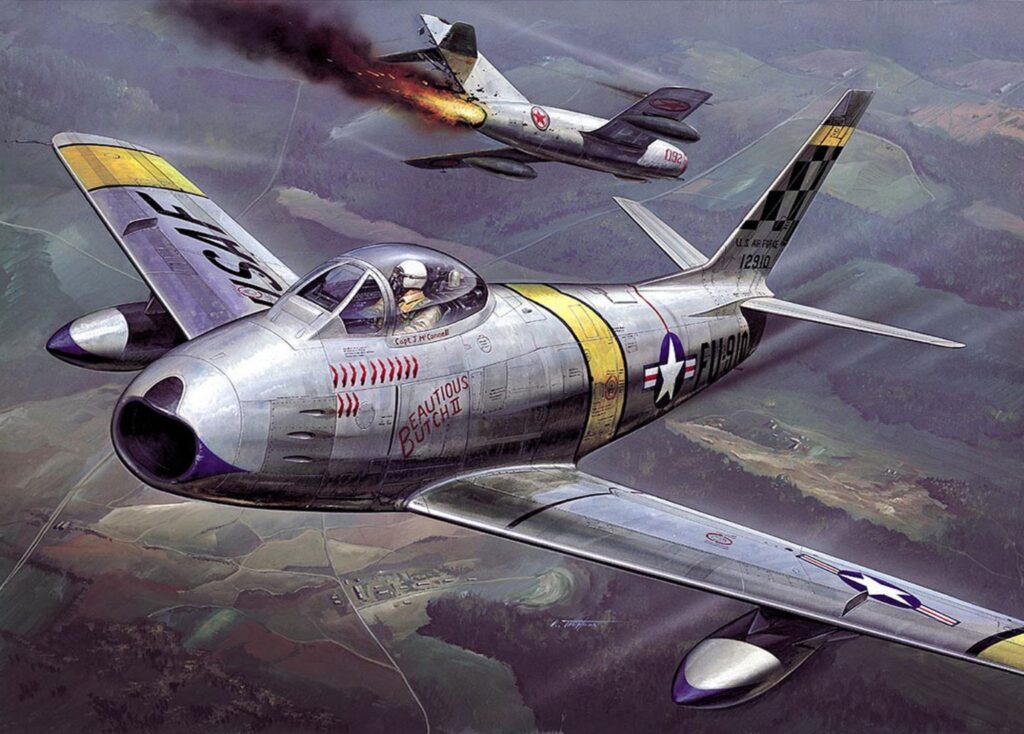 MiGs were routinely piloted by Chinese and Soviet pilots and a U.S. intelligence officer later informed Kasler that the three MiGs he and Smiley killed were the only ones recorded that day.
The officer had another bit of information: One of those three planes had been piloted by the son of Mao Zedong, father of the Chinese revolution and principal founder of the People's Republic of China.
Kasler returned to the United States in July 1952 and during the next 11 years served in Canada, Turner AFB, Georgia, Seymour Johnson AFB, North Carolina, and Breitburg Air Base, Germany, flying a variety of jet fighters. In 1963 he received his Bachelor of Science degree from the University of Nebraska.
In February 1966 he went to Tahkli Air Base, Thailand as the operations officer for the 354th Tactical Fighter Squadron of the 355th Wing. While the mission was flying daily over both South and North Vietnam, Hanoi was at that time off-limits to U.S. warplanes. Fearing a wider conflict, Robert McNamara, secretary of defense during the Kennedy and Johnson presidential administrations, drew a 50-mile circle around it and a 30-mile ring around the principal harbor.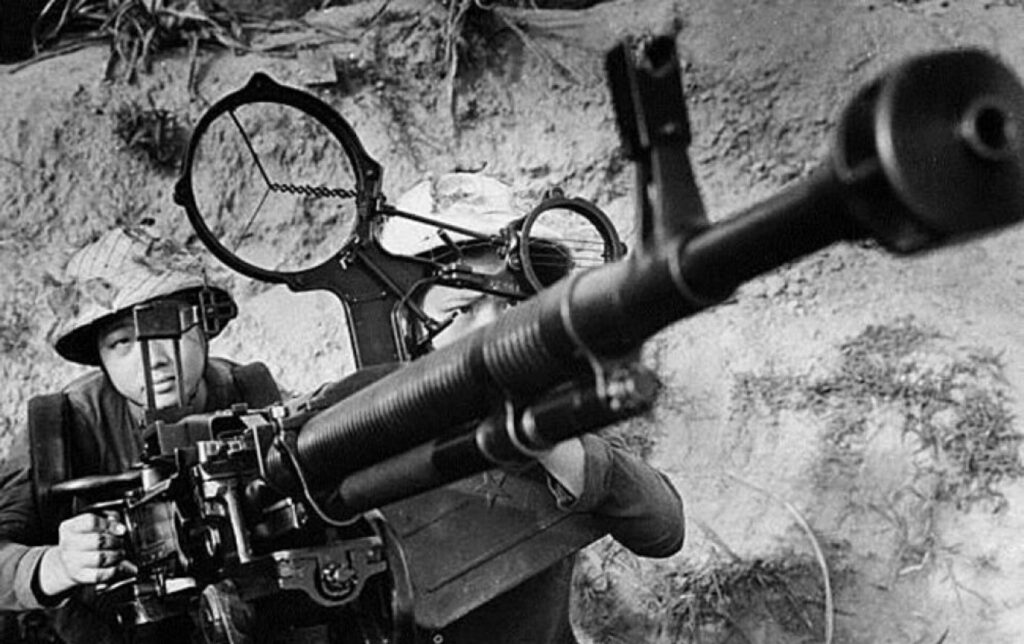 That restriction was eliminated in June 1966 as American defense chiefs were slowly escalating the war, and had recently decided to broaden the bombing of North Vietnam to include industrial targets like the Hanoi POL (petroleum, oil, & lubricant) facility.
On June 21, Kasler learned of the impending strike and began to select pilots, draw up the precise navigation plans, and studying Hanoi's formidable aerial defenses. North Vietnam had the strongest anti-aircraft defenses in history: over 7,000 AA guns of 37mm or larger, and batteries of radar-controlled SAM's ringing Hanoi.
By midnight on the 28th, their plans were complete, down to detailed route charts, folded accordion-style. Minutes before the 0830 mission briefing, Kasler was invited to lead the mission, much to his surprise, and to the discomfort of Col. Holt, who otherwise would have led the large raid. The briefing focused on the weather (clear) and winds (light and variable) – both perfect for fighter operations. Both wings, the 355th, and the 388th would approach the target from the south, to minimize the chances of a bomb ending up in the city of Hanoi. Each Republic F-105 Thunderchief carried eight 750-pound bombs.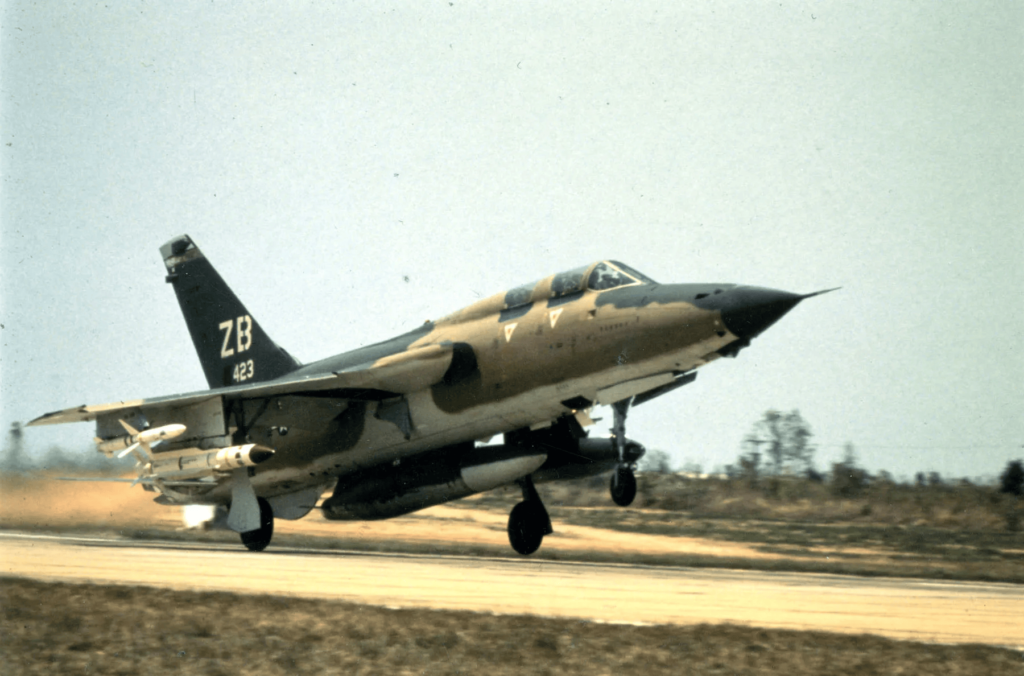 Kasler rolled down the runway and lifted off at 235 knots. Airborne, he headed north for the rendezvous with the aerial tankers. They refueled uneventfully and were three minutes ahead of schedule. Kasler led the Thuds in a circle to kill the 180 seconds. Twenty minutes later, they were over the Red River and Kasler began to lose altitude, until they were 300 feet off the ground, at the base of "Thud Ridge," the landmark mountain range that ran east-west across North Vietnam's mid-section.
As they dropped tanks, they could see smoke rising up from the POL tanks, already hit by Navy jets. Flak blossomed all around them, even at 300 feet. The NVA gunners must have had their 85mm and 100mm pieces at zero elevation. Amidst the smoke from the target and puffs of anti-aircraft fire, Kasler called for afterburners and went into his bomb run. Big fat oil tanks filled his view; he dropped his bombs and rolled away to the right. Turning back, he saw the fuel tanks erupting into huge billowing fireballs, thousands of feet high.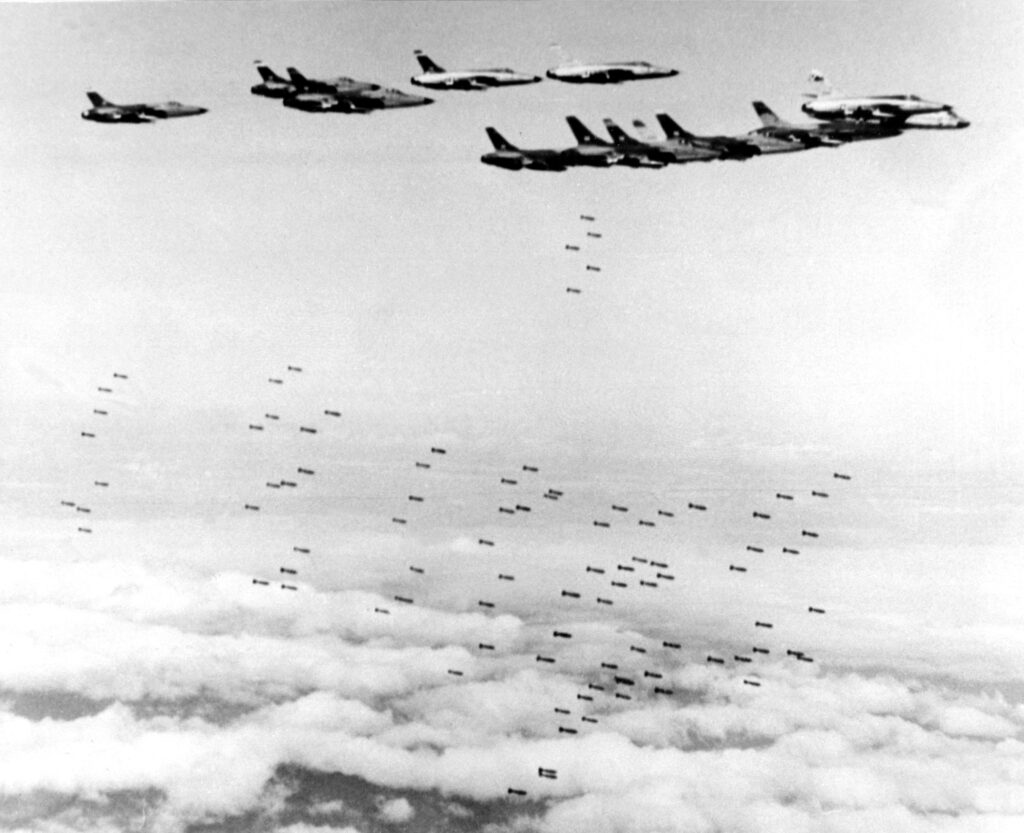 James Kasler Was Captured by the North Vietnamese
His flight crossed the Red River and the flak gunners switched to fighter-bombers behind him. Flying west, looking for targets of opportunity, he found a convoy of twenty-five trucks. The Thuds blasted them with 20mm cannon fire, destroying at least half of them. He glanced back at Hanoi, now 35 miles behind. A pillar of black smoke towered up, over six miles high.
The Hanoi POL strike was very successful. Over 90 percent of the facility was destroyed and the Vietnamese abandoned it altogether.
On August 8, 1966, on his 91st combat mission, he was leading the formation when his wingman, Fred Flom was shot down. Kasler dropped down and flew low-level cover while awaiting the arrival of a combat rescue patrol. Running low on fuel with just enough to return to base, he instead hooked up with a KC-135 midair refueler and return to look for Flom.
Kasler's F-105 was also shot down over North Vietnam that same day and captured by the North Vietnamese. He was a POW until 4 March 1973. So began six years and seven months of imprisonment by an enemy who knew exactly who he was and why to hate him.
Oddly, it was Kasler's notoriety that saved his life, but it also exposed him to unspeakable torture. His captors gloated. They singled him out. They almost immediately put Kasler on television, so they couldn't kill him without losing face, but they were particularly eager to force a confession or any capitulation, so great would have been its propaganda value.
It was testimony to the ferocity of the air war that another of Kasler's closest friends, Lewis Shattuck, was shot down and rescued on Aug 1st and was shot down again, and this time captured, on Aug 11th. And that his friend John Brodak went down Aug 14th.
That's three buddies down within 35 days of one another and serving as POWs from 1966 until 1973.
At one point, during the fall of 1967, Kasler's captors took his clothes and his mosquito net. For three days, they denied him food and water and they beat his back and buttocks with a truck fan belt, every hour on the hour, 6 a.m. until 10 or 11 p.m.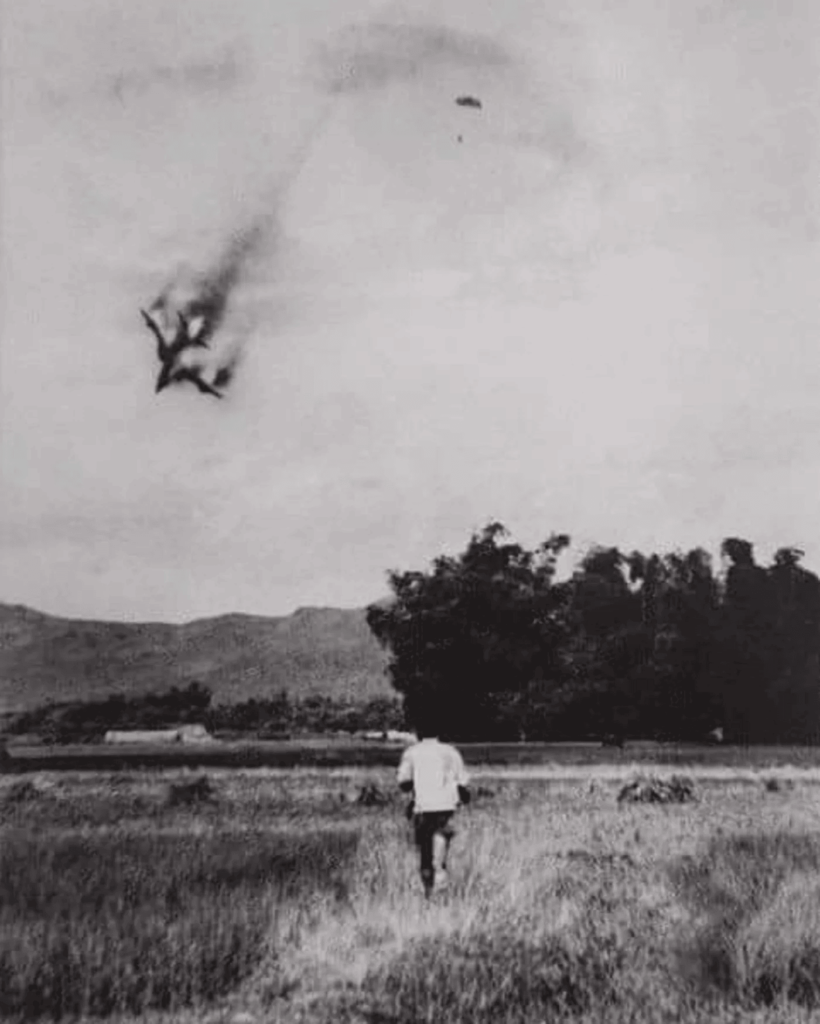 The Vietnamese Tortured James Kasler
He was tortured repeatedly by his Communist captors, in an effort to get him to cooperate with their propaganda claims. In the early years, the prisoners were kept in isolation and rarely let out of their cells. The Vietnamese used isolation, sleep deprivation, starvation, as well as physical pain to try to break Kasler down. His worst session came in June 1968.
---

---
"The Vietnamese were attempting to force me to meet a delegation and appear before TV cameras on the occasion of the supposed 30000th American airplane ever North Vietnam. I couldn't say the things they were trying to force me to say. I was tortured for six weeks. I went through the ropes and irons ten times. I was denied sleep for five days and during three of these was beaten every hour on the hour with a fan belt. During the entire period, I was on a starvation diet. I was very sick during this period. I had contacted osteomyelitis in early 1967 and had a massive bone infection in my right leg."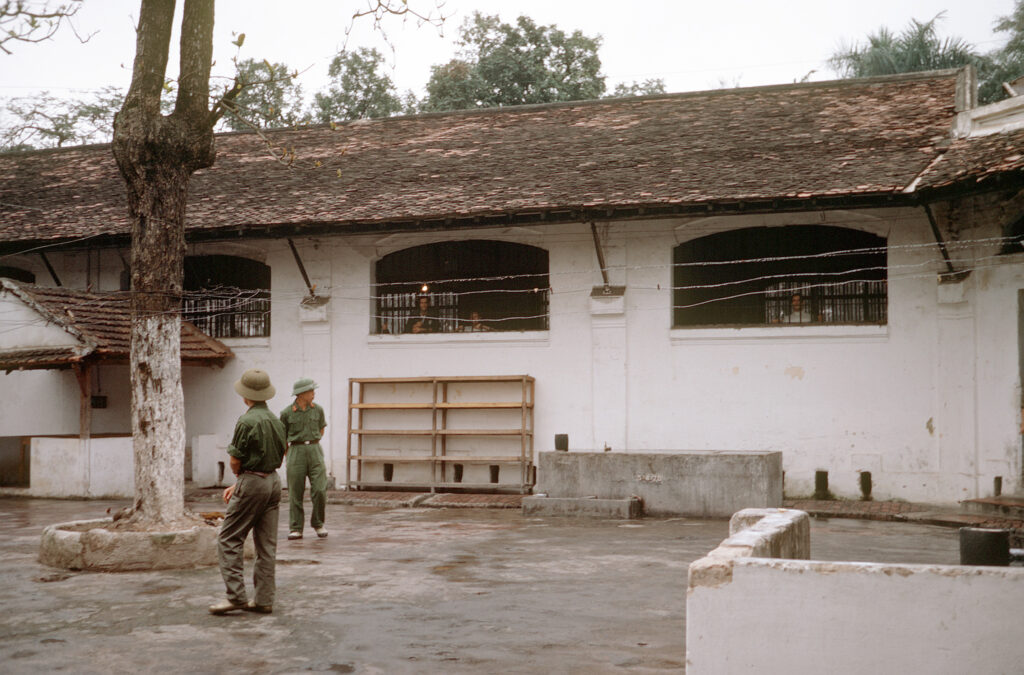 "They would wrap my leg before each torture session so I wouldn't get pus or blood all over the floor of the interrogation room. During this time they beat my face to a pulp. I couldn't get my teeth apart for five days. My eardrum was ruptured, one of my ribs broken and the pin in my right leg was broken loose and driven up into my hip."
"I lay in agony for six months until I was given an operation in January of 1969."
Kasler shared the infamous Room 7 of the "Hanoi Hilton" with other great heroes like Robinson Risner, James Stockdale, Bud Day, John McCain, Larry Guarino, and Jeremiah Denton. He never cooperated with the North Vietnamese and survived to return home in March 1973, after six and one-half years in captivity.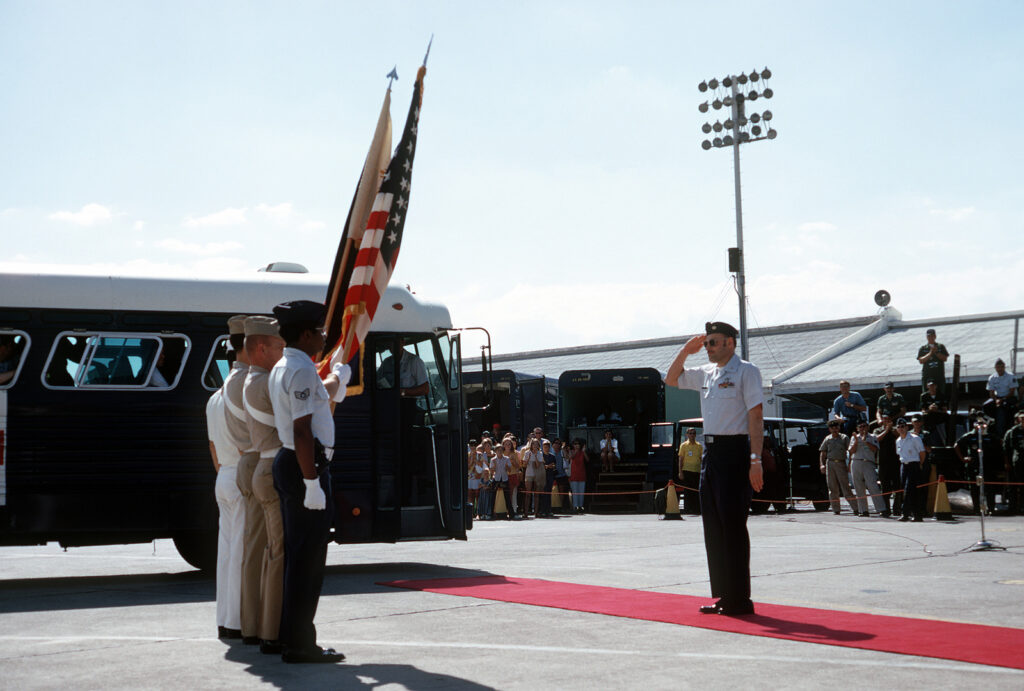 For seven long years, his wife Martha, daughter Suzanne and twins Jim and Nanette awaited Kasler's return from Vietnam. It came, joyfully and tearfully, on March 8, 1973, at Wright-Patterson Air Force Base in Dayton, Ohio.
The twins were 12 when their father left for Vietnam. They were 19 when the family was reunited. Kasler momentarily mistook his son Jim for Suzanne's husband, John Morris.
The confusion was understandable but short-lived. It is testimony to Kasler's enormous strength, and that of Martha and the kids, that normalcy was incredibly, and almost immediately, restored.
In July 1974 Kasler was assigned as vice commander of the 366th Tactical Fighter Wing at Mountain Home AFB, Idaho and remained in that capacity until his retirement as a Colonel on 1 May 1975, in spite of him being in line for an Air Wing command and a brigadier general's star.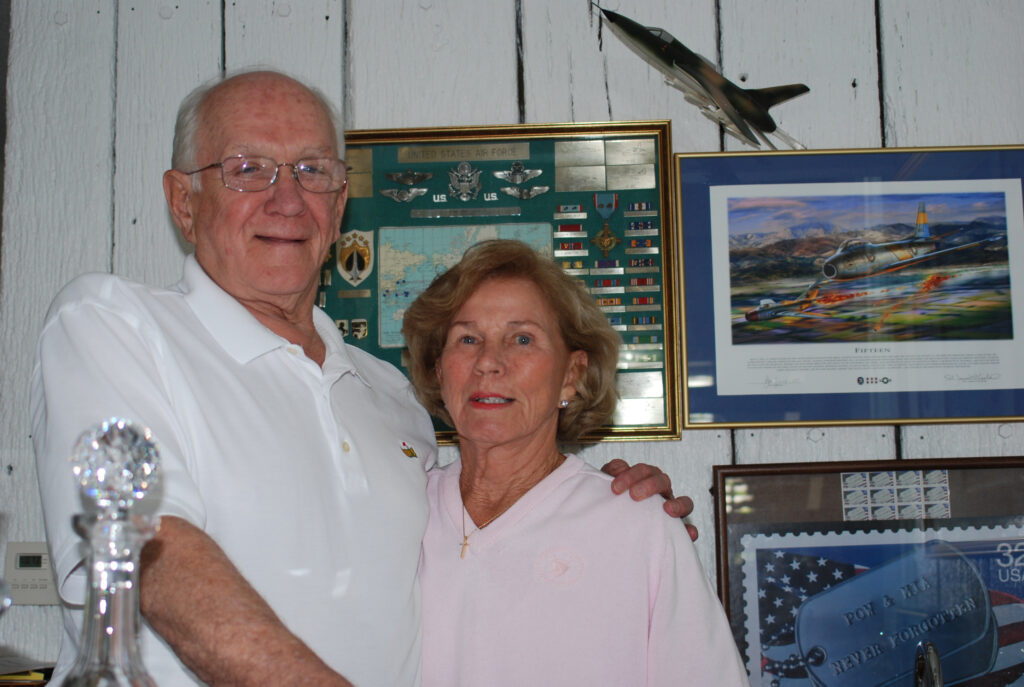 James's Kasler Happiest Occupation was Grandpa
He spent the last 39 years of his life as a resident of Momence, an Illinois-Indiana border town where he owned South Shore Golf Course and had interests in banking and real estate, served on a number of boards and received a variety of civic and service awards.
He died on April 24, 2014, at the age of 87, in West Palm Beach, Florida. One obituary read, he joined what Abraham Lincoln at Gettysburg called 'our honored dead.'
Kasler's former cell-mates at Hanoi Hilton, Lewis Shattuck, and John Brodak, were in Indianapolis for the May 16, 2014, memorial service at Crown Hill Cemetery that saluted Kasler in death. It was a grim, gray day, but the rain eased and the sky brightened a bit for the F-15 Eagle flyover when there was a lump in every throat and a tear in almost every eye. Kasler was more than a hero. He was a husband to Martha for 65 years, a father and grandfather.
At his funeral, John Brodak, his voice flush with feeling, said, 'The colonel was my mentor and my hero, the most courageous man I've ever known. He was a fierce warrior and a patriot and I'm proud he called me his friend.'
Brodak is a retired Air Force colonel who flew with Kasler. And for 15 months of the six and a half years, both were North Vietnamese prisoners of war, he was Kasler's cellmate at 'The Zoo' and the infamous 'Hanoi Hilton.'
Kasler's happiest occupation was Grandpa. His six grandchildren served as greeters at his Crown Hill memorial celebration. Each spoke.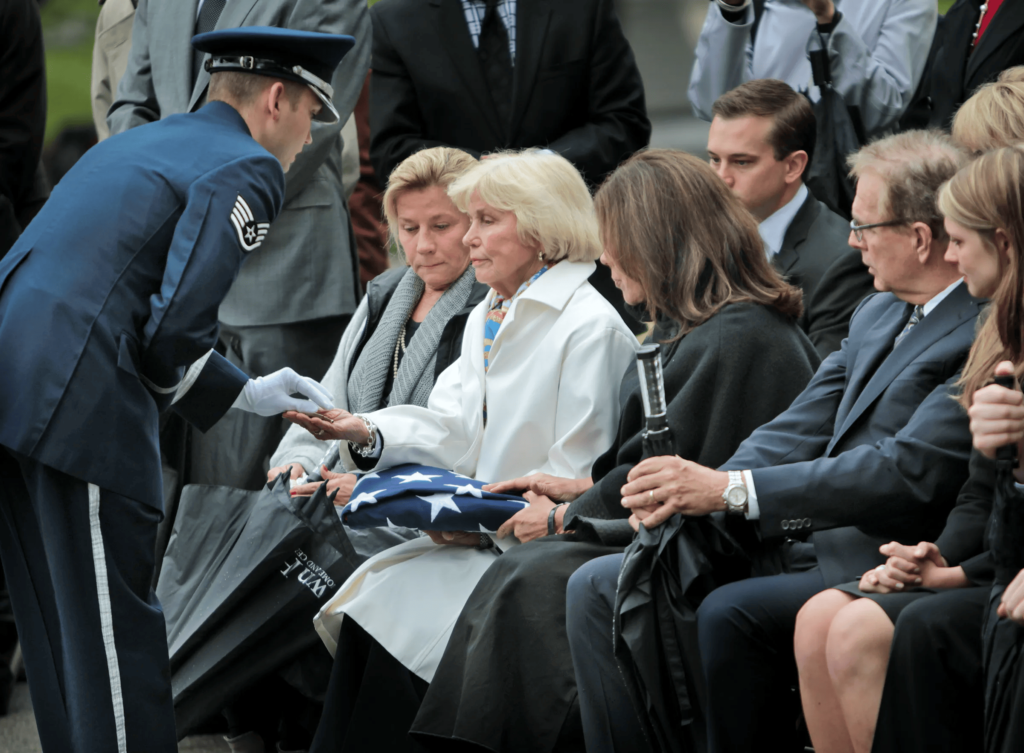 One, Ashley Hurley, recalled grandpa's infectious sense of humor and how, when she was little, he would get down on the floor with her and laugh and laugh.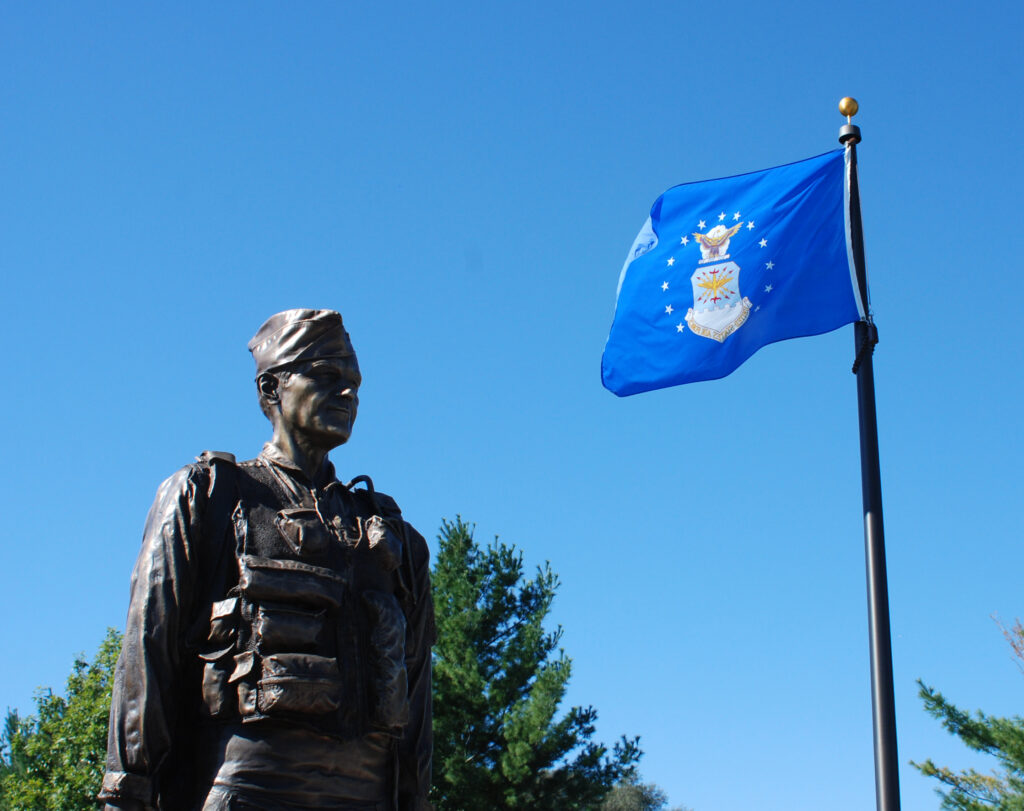 James Kasler was nicknamed "Stoneface" by his Air Force peers, testimony to his toughness, his seriousness of purpose and his mission commitment. But men like Brodak and Shattuck, his wife Martha, kids and grandkids