Read the service reflections of US Marine:
Maj Dale T. Armstrong
U.S. Marine Corps
(Served 1983-1995)
Shadow Box: http://marines.togetherweserved.com/profile/112052
PLEASE DESCRIBE WHO OR WHAT INFLUENCED YOUR DECISION TO JOIN THE MARINE CORPS?
Several things really. I grew up on our family farm outside a tiny hamlet in central Pennsylvania (Lockport, near Lewistown, PA). My brothers and I played "soldier" all the time, and "cowboys & Indians" of course; and we had toy guns. Later we had the real thing; went hunting on our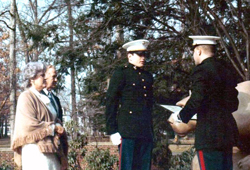 413 acres. Then I heard all the stories growing up, essentially all of my uncles served in the military during WWII: Army, Marines, Navy, Air Force, and my mother's oldest brother, John Hite, was killed in Aachen, Germany by a sniper, on the tail end of the Battle of the Bulge. My dad's younger brother was in Korea for two years during that War; my father himself was in Army Air Corps ROTC at Penn State during WWII, and desperately wanted to be a pilot, until an accident on his summer construction job almost severed his left arm completely, and they 4F'd him out of the ROTC.
Later, when my father worked for USAID, and we spent six years in Nigeria in the 1960's and 4 years in Cairo, Egypt during the late 1970's, I got to meet and hang out with the Marines in the Embassies. Of course I was impressed with the uniforms! I was hanging out at the Marine House in the AmEmb Cairo, telling the Marines I was friends with that I was going to finish up college and "enlist" in the Corps to be just like them. They just all laughed at me and told me I was crazy, that I was going to college and that I could be an "Officer", and that I should not "enlist". I was that naive about the Corps/Military at the time, and I didn't know that.
I returned back to the family farm, and went to Penn State as my father had before me, to finish my degree. I was walking home one day to my apartment from class, and got lost in State College, and walked by the Recruiting Office by mistake. There was this Gunny on the front steps in his Blue "D's" I think. He saw me, and said "Hey, do you like to climb?" That was a weird "sales" line; but I said "Yes", and he said "Can I have 30 minutes of your time? I just smiled to myself and said "Sure". I smiled because I was thinking, there's no way this guy can get me to sign up. Thirty minutes later, I was signed up for OCS, and never looked back!
When I got home to my apartment, I called my parents on the phone, and I told my Mom, "Hey Mom, I think I just signed up for the Marine Corps!", and she started crying! All she could think of was her brother!
WHETHER YOU WERE IN THE SERVICE FOR SEVERAL YEARS OR AS A CAREER, PLEASE DESCRIBE THE DIRECTION OR PATH YOU TOOK. WHAT WAS YOUR REASON FOR LEAVING?
I went to OCS at Quantico; the combined 10 week course called PLC, in June – August 1982. I had officially signed up with a PEB of 21st of October, 1981. Two weeks after I started OCS, my OSO from Penn State came down to visit me and one other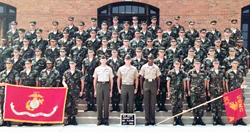 Penn State guy in the same Platoon as me, and he said "What do you think?" I said without hesitation "I love it Sir, sign me up for TBS, I'm ready now!"
After OCS, I went back and finished up my degree at Penn State, and then it was off to F Co.at TBS, in May '83. I chose Infantry, and after TBS, I went right into IOC at Quantico, from Dec '83 until Apr '84, I think.
I received orders to 2nd MarDiv, 8th Marines. I was to go to 2/8, but they were still out in Beirut after the Grenada Op; so I hung out at 8th Marines as the S-2 "Zulu" for awhile; got TAD'd over to 2nd Marines for a month as a fill-in Plt Cmdr, did an exercise/deployment to Guantanamo Bay with them; then back to 8th Marines when 2/8 came back from Beirut, commanded by then LtCol Ray Smith, and picked up 3rd Plt in G Co., 2/8. We did a Med Deployment, during the TWA hijacking into Beirut in '85, and we did a number of weeks in MODLOC off Beirut, thinking we were going in, but it never materialized, and we went back to CLNC. I had been promoted to1stLt on the "pump", and when we got back to CLNC, I transferred over to E. Co., and became the Weapons Plt Cmdr.
A short while later, word circulated that they were forming up a LAV Battalion over at French Creek, and they asked for "volunteers". I thought about it for awhile, and decided to volunteer. I was transferred over to 2nd LAV Bn, and picked up 1st Plt, C Co. After a deployment to Fort McCoy, WI for cold weather training with them. I was chosen to be the Bn S3-A. Then, our Battalion Commander, an amazing Officer named (then) LtCol Andrew Finlayson showed extreme special trust & confidence in me, and picked me to become the CO of A Co, 2nd LAV Bn, while passing over a handful of more senior Lt's & even a couple of Capt's on the Bn Staff. I took A Co back to Fort McCoy, and then over to Norway for the Cold Winter/Alpine Warrior exercises, and when I got back, LtCol Finlayson helped me get augmented into the Regular Marine Corps. But, I was no longer "Infantry/LAV", I was now an "Intelligence" Officer…so, I became the S-2 of 2nd LAV Bn, the 4th different type of billet I held in the Bn in 3 years! Plt Cmdr, S-3A, Co Cmdr & Bn S-2!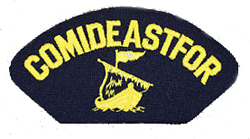 Shortly after that, 2nd Mar Div said they needed an Intel Officer out in the Arabian Gulf to augment COMIDEASTFOR during the "Earnest Will" tanker war ongoing with the Iranians. I was initially attached to the then-standing up SPMATF 2-88 as the S-2A, but when the total end strength was arbitrarily cut because someone in DC told President Reagan that a SPMAGTF had no more that 300 Marines in it, they cut all the "extraneous" personnel, sent me back to Division, and they turned around and sent me out to the same place anyhow. This time, as a member of the J-2 staff on board the USS Coronado/COMIDEASTFOR. I was there six months.
My parents at this time were in AmEmb Khartoum, Sudan; so I flew down and spent a week with them. Then later, my older brother got killed in a car accident back in Pennsylvania, so I flew home for a week for the funeral. When I got back to COMIDEASTFOR, I finished up my six months, and returned to 2nd MarDiv just long enough to pick up my orders to FOSIF, Rota, Spain. I arrived in Rota in September 1988.I spent three years there. During that time I was augmented to the CJTFME Provide Comfort in Incirlik, Turkey, handling the Kurdish situation in Northern Iraq. I went down to Zakho, Iraq, to visit the 24th MEU, then commanded by Col Jim Jones, and was briefly asked to augment them as the 24th MEU S-2A. I returned back to Rota, Spain, just in time to pick up my new orders to AWS in Quantico, VA. I finished AWS in May '92, and was ordered to 9th Marines at Camp Hansen, Okinawa. After six months as the S2-A & then the S-2 of 9th Marines, I was transferred to 12th Marines down at Camp Foster, and served there until August '94, also as the Regimental S-2. I left active duty in August, '94, and returned home to the US just in time for HQMC to ask me to come back on active duty as a Reservist, and work in the J-2, DIA as a Intel Doctrine writer for six months of ADSW. I was promoted to Major in the Reserves at the very end of that six months, left active duty again, and that was the end.
They sent me my Major's Commission in the mail! I never had a promotion ceremony; never "pinned" it on; never bought a pair of gold oak leaves to wear on a uniform, and never wore a Major/Field Grade Officer Uniform or owned one of any type. So technically, somewhere I'm listed as a "Major", but psychologically, I still consider myself a Captain, and I'm happy with that. I got to do things in my brief career that will always stay with me.
Most Lt's were lucky to get one Platoon to lead. I had four! Two Infantry Platoons, a Weapons Platoon, and a LAV Platoon. Again, Company grade Officers back then, were lucky to get a Company, and then, only when they made Captain! I got a Company to command while only a mid-level 1st Lt, and I took them on a major overseas exercise. I then became an Intel Officer, and was awarded the LOM as a Captain. Finally, I was the S-2 of two separate Regiments as a Captain, which is normally a Major's billet, so I can be proud of those highlights in my career.
IF YOU PARTICIPATED IN ANY MILITARY OPERATIONS, INCLUDING COMBAT, HUMANITARIAN AND PEACEKEEPING OPERATIONS, PLEASE DESCRIBE THOSE WHICH WERE THE MOST SIGNIFICANT TO YOU AND, IF LIFE-CHANGING, IN WHAT WAY.
The "short answer" is no, I did not participate in any "Combat Operations"; but several of the others. Technically, somewhere in the bowels of HQMC or Kansas City, it might say I participated in "combat operations", as I received "Combat Pay" twice in my career, and one of my FITREP's

even says "This is a Combat Fitness Report". But to tell the truth, to claim "combat experience" for myself is an insult to all those fine Marines who have faithfully served their Country & Corps in REAL Combat; especially over the past 12 years+ since 9/11 in Iraq & Afghanistan & elsewhere. My respect and admiration for all those fine young Marines, and all our fine Men & Women in uniform, who've put up with family separations, deprivations, hardship, deployments, combat, wounds & worse; knows no bounds.
I cried for days watching the march to Baghdad back in 2003 on TV, wishing I could be there to share that hardship with them. I've read other "Reflections" pages, and I see these young Marines now, who've done 3, 4, 5 tours in Iraq, and maybe that many in Afghanistan! They have 2, 3 Purple Hearts, and I've even read about one Marine who has 8 or 9 Purple Hearts! That's just crazy! Because even though I never had a similar experience, I do have a small hint of what it took to earn that. My respect, admiration, and pride in these outstanding individuals is just boundless. I make sure any time I see a young Marine, Soldier, Sailor, Airman anywhere in uniform, that I walk up to them and shake their hands and thank them for their service!
When I was at COMIDEASTFOR, we had the "USS Vincennes"/Iranian Airbus/Praying Mantis Operation, and that's where the "combat" FITREP came in; but the truth is, I was aboard the Flagship, the USS Coronado 200+ miles from any real combat, and the ship actually never even left the port of Manama during the whole event! So, the only danger I was in, was of over-eating. When I went into Zakho, Iraq, with first the CJTFME, and then 24th MEU at the tail end of the Gulf War, it was technically a "permissive" environment, and we had more Marines/Soldiers hurt in accidents than anything. We were not awarded a CAR (and correctly so), and got the HSM instead, so I think that pretty well sums up my Non-combat "combat" experience.
Basically, I got into the Fleet right after Grenada/Beirut, so I missed that, I was stymied in FOSIF, Rota during the Gulf War, despite my wishes otherwise, and I was out before the whole cycle of Somalia, Kosovo, Bosnia, Iraq, Afghanistan, etc., even began!
My experiences in Northern Iraq/Zakho were the most significant to me and life-alerting in a way, even though it was a "permissive environment"; I got to see what Saddam had done to the Kurds! It was Genocide; pure and simple; and though it's not a popular thing to say these days, I will always support the Invasion of Iraq to remove Saddam in 2003 as the correct thing to have been done!
OF ALL YOUR DUTY STATIONS OR ASSIGNMENTS, WHICH ONE DO YOU HAVE FONDEST MEMORIES OF AND WHY? WHICH ONE WAS YOUR LEAST FAVORITE?
I consider myself extremely lucky to have had two absolutely amazing overseas tours. My three years at the FOSIF in Rota, Spain, was not only an amazing professional experience, but a tremendous personal/cultural experience as well. Spain is just a crazily amazing country. I remember one of my fellow Intel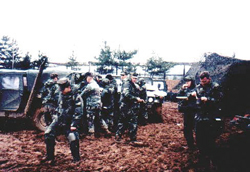 Officers, then Major Ric Raftery came out to visit us in Rota in early '91. He had been the senior Marine Intel Officer at FOSIF Rota a few years before, and was now the 24th MEU S-2.
Anyway, we went out to lunch with some of the Navy Officers, and we were sitting on top of this small mesa in one of the small Andalusian "Los Pueblos Blancos" (White Towns) named Vejer de la Frontera, chilling out, drinking sangria and eating the amazing Spanish food. About six weeks or so later, we were sitting on opposite cots in an old Iraqi Army base in Zakho, Iraq, eating MRE's, looking at each other and just laughing going "Man, how long ago was it we were just eating Garlic Chicken in Verjer. Ric was also the S-2 for the 24th MEU in Zakho.
Then, later on, I was in Okinawa for two years, and that again, was just an amazing experience. Okinawa will always be special to me for another reason as well; its where I met my future wife, and the mother of my three amazing girls, and our "late life" special blessing, our son! As a "2a" -type experience, I will say that my six weeks or so in Zakho was also amazing. Since we were not getting shot at by the Iraqis, I had time to roam around and gather Intel, and I can say, without trying to rub it in on all the fine Marines who had to fight in the "sandbox" down south, that northern Iraq is truly beautiful; stark mountain peaks, waterfalls, wheat fields, and picturesque Kurdish towns and villages hanging on cliff edges over vast valleys below. Well, at least the few Kurdish villages & towns that Saddam had not bulldozed to the ground and wiped out all the inhabitants!
I enjoyed them all in some manner; can't really say I have a "least favorite"! I didn't enjoy Korea that much; but was only there for three weeks; it sure was freaking cold though, no doubt about it!
FROM YOUR ENTIRE SERVICE, INCLUDING COMBAT, DESCRIBE THE PERSONAL MEMORIES WHICH HAVE IMPACTED YOU MOST?
I don't want to sound cliche, but frankly I enjoyed almost the whole thing, start to finish, from my first day in OCS, to almost my last day in Okinawa! I loved the Marine Corps. I still do, even though I haven't worn a uniform in almost 20+ years.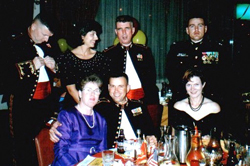 I always will.
A Major I knew in Okinawa explained it to me one day, in a way that I'll never forget: "Dale, remember we love the Corps, but she doesn't love you back!" I found out the hard way that was true! Doesn't matter though, I still love the Corps; still love the time I spent in the Corps (most of it!), and will always do so They can't take that away from me, no matter what.
And it is the personal memories that make it live on; the bad/hard times fade with age, and you remember & smile when you think about the good times and the good things you accomplished.
The camaraderie is the hardest to replace, and it's what everyone recalls fondly, years later.
My Platoon in OCS; 2nd Plt, A Co; PLC Combined Course the summer of 1982, won the Drill Competition. I think there were 52 or 53 of us in the end; we were locked and cocked and tight! We moved and reacted as a single unit, and we won that competition going away! I don't think anything will ever replace that feeling! Our amazing Platoon Sergeant, SSgt Thomas Frush, set that as our goal from day one, his previous Platoons had won a couple of other times, and he was amazing; he put us on a ten week course that took us to that plateau, and we got there; he was a maestro!
WHAT ACHIEVEMENT(S) ARE YOU MOST PROUD OF FROM YOUR MILITARY CAREER? IF YOU RECEIVED ANY MEDALS, AWARDS, FORMAL PRESENTATIONS OR QUALIFICATION BADGES FOR SIGNIFICANT ACHIEVEMENT OR VALOR, PLEASE DESCRIBE HOW THESE WERE EARNED.
No, I did not receive any awards for Valor, and I never had the opportunity to find out. But one cannot second guess that aspect of your career; one never knows or can predict how they'd react under fire. You can think you're the bravest person in the world, but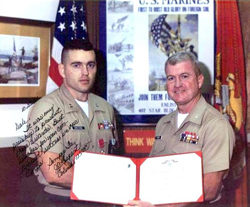 the minute that first round zinged by your ear, you may just not be all that brave after all!
MajGen Wayne Rollins said something to my TBS class once, when he was still a LtCol and head of Tactics Instruction at TBS. He was watching us LT's do an exercise out in the field at Quantico, and afterwards, the junior instructors were yelling at us for not having been crawling low enough when the "enemy" was firing at us. He said: "Don't worry about telling them to get low, when they're in combat and the first real rounds zip over their head, they'll get so low the buttons on their utility blouse will get in the way!" That was from an Officer who had been there, and been in it, Vietnam; where he earned a Navy Cross, two Silver Stars, a Bronze Star & two Purple Hearts! He knew the deal!
OF ALL THE MEDALS, AWARDS, FORMAL PRESENTATIONS AND QUALIFICATION BADGES YOU RECEIVED, OR ANY OTHER MEMORABILIA, PLEASE DESCRIBE THOSE WHICH ARE THE MOST MEANINGFUL TO YOU AND WHY?
I guess if someone were to look at my record, they'd think that I'd reply that I was most proud of my Legion of Merit Medal, which I received in 1992, as a Captain; which you have to admit, is kind of unusual. I was involved in a "CI Op"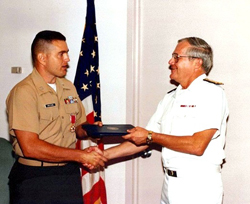 while in the FOSIF, that was tailored to support CENTCOM during the Gulf War. Someone, somewhere, decided that it was successful, and purportedly contributed to CENTCOM's success in the Gulf War in some extremely miniscule way, and I was awarded the LOM later on while I was back at AWS after my FOSIF tour.
But frankly, I'm most proud of the three medals I didn't receive! When I went to leave 2nd LAV Bn, the Bn CO recommended me for a Navy Achievement Medal, because I had been there for 3+ years, and as mentioned before, I had been a Plt Cmdr, the S-3A, a Co.CO as a 1stLt, and then the Bn S-2. Company Grade Officers back then just didn't get "End of Tour Awards"; so I was honored. As I was checking out, the Major XO, who was a very strange individual anyway, casually said to me: "Hey Armstrong, the Colonel said you deserve a NAM for what you did here, but since you're headed out to COMIDEASTFOR and will probably get a bunch of Joint Medals out there, I'm going to make sure you never get your NAM, regardless of what the Colonel says!" I was shocked, and couldn't believe that anyone would actually do that, and be so petty. It was the first of my extremely painful experiences dealing with medals in the rest of my career. But the XO was right, I never got the NAM, he back-doored the Colonel, and cashiered it! I stopped by the LAV S-1 section a year or so later, when I was in CLNC on a TAD/visit, and mentioned to the S-1, "Hey, where's my NAM", and he just said, "Dale, I tried to let the Colonel know what the XO did to you, but he threatened to give me a bad FITREP if I told, so I had to let it go!". In what I can only describe as "karma", a short while later, that particular Major/XO was forced out of the Corps for being involved in a Jeep/LAV stolen parts trafficking ring on/off the Base! That one still burns, to tell the truth, because of that as a result, I never did end up getting an Award from the Marine Corps.
Later, when I was in the FOSIF, and during the Gulf War, we were providing Intel support to SIXTHFLT. Me and the other Marines in FOSIF tried to get reassigned to CENTCOM, to get in on the action, but HQMC said we were in "critical" Intel billets in support of SIXTHFLT & theater Marines, and we couldn't leave. So, I busted my butt, 24/7, for months, handling probably 95% of the Intel support to the deployed forces in the AOR concerning the Geopolitical NorthAfrican/Levant Intel support by myself. One day, my boss, a Navy Officer, came to me and said "Dale, you've done just an incredible job with this, and the CO asked for Award submissions, and I nominated you for a NAM; and you'll get it because you deserve it!". Additionally, the year prior, I had been nominated and won the Command "Intel Analyst of the Year" award, and was awarded a NAM for that, so this was my second NAM nomination within a year in that command. Regardless, about a week later, I was called into the FOSIF CO's office, and he proceeded to tell me that "you do deserve the NAM, you've done about 95% of the Intel support by yourself, and done a great job of it, but, you have TOO many medals now, and we need to give one to someone else!" He also added: "I can't have one Officer looking like a Christmas Tree!" I found out later that the CO was put up to this by the XO, a Navy Officer also, who did not "like" me. They gave the NAM to a Navy Officer, a great guy, an outstanding Intel Officer and a close friend of mine as well, who bewilderingly came back after they basically snagged him one day, and pinned the NAM on him, and asked me: "Why did they just give me your NAM?" The exact same question that my Intel Marines came and asked me after they saw that Officer receive the NAM. I could only say "The CO made a decision". In another, in this case sadly unfortunate example of "karma" that I took no delight in, for despite what the XO manipulated him into doing, that CO was a kind, decent man; he committed suicide some years later.
Months later, I was sent out to Zakho, Iraq as mentioned above, and spent six weeks wandering around the place with a GySgt for a driver, collection Intel, meeting with the Peshmerga, documenting Saddam's campaign of extermination against the Kurds, and collecting over 2 tons of Iraqi Military documents to ship back to Washington DC/the DIA.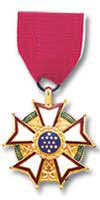 I was told later on that I was nominated for a JSAM, but when it got up to CINCUSNAVEUR from the CJTFME, as FOSIF Rota fell under CINCUSNAVEUR in London, someone up there heard about my pending LOM due to the completely unrelated "CI Op" that I had done the previous year, got mad that an "O-3" Marine was getting a LOM, and they cashiered that JSAM medal as well!
So, in reality, I'm proudest of the three medals that I never received and will never wear; I earned them, or so a lot of people thought, but "politics" killed them all! They were not awarded to me because it was determined I didn't merit them, they were not awarded because someone in a position of power, each time, decided that they were jealous of me! That's something that should not happen in our Corps, and our Military! Which was really a shock to me, because I still was naive enough to believe that if you did well, you'd be rewarded for it. And, I was happy for people that received medals, because I didn't know that sometimes the system was unjust. And since I was happy and proud of other people when they were rewarded, I foolishly assumed they'd be happy for me!
I've read in other Marine's "Reflections" pages, that the whole issue "medals" is still controversial, and I'm not the only person who was ever caught up in all this nonsense, as that is exactly what it is. Because our Corps should be better than this, our Corps should not be unjust, and petty, and punish people that did something for the benefit of our Country & Corps, and yet, end up being treated as one of the "enemy". I knew people when I was in, who literally, begged the people senior to them to give them an award for something, anything, especially the dreaded "end of tour award". I knew many, many instances of Officers senior to me, writing or submitting their own awards! And, I knew people, peers of mine, who talked endlessly of getting an award, and that they'd do anything to stand out, get noticed, and get nominated for an award. I can state unequivocally that I never did any of those things, and I professionally despised those that did.
My LOM, I have mixed feelings about. I thought I did a "good" thing! I mean, how many Marine Corps Captains have ever gotten an LOM? But, less than six months after I received it, I went to Okinawa, and ran into a Colonel who didn't have one, and he was my boss! He let everyone know that he'd show me, the Capt with the LOM, and he sure did! He "fired" me from my job, transferred me to another Regiment, and gave me a career-ending FITREP. Even the Regt SgtMaj came up to me as I was leaving and said "Sir, you're one of the finest young officers I've ever known, and you are highly respected by the Regt SNCO's, I have no idea why the CO is doing this to you, but it makes me glad I'm an enlisted man and not an officer, and I don't have to put up with this political bullshit!" He shook my hand and turned around and walked away. When I went in to see the S-1, to check out, a 1stLt, he was handing me my transfer orders, and he looked at me and just shook his head. I said what's wrong, and he said to me "I've never seen this Colonel treat anyone like he's treating you, I don't understand it, you are a good guy!" All I could say was "I'm getting that a lot right now!" As for the CO, he later made LtGen, so I guess he was "right" and I was wrong! I left the Corps 18 months later, because that's what he wanted, and that's what he engineered. Truthfully, as crazy as it sounds, my career in the Marine Corps came to an end, because the very man that was supposed to be my boss, my leader, my CO, my "mentor", was jealous of my medal! Sounds ridiculous, doesn't it?
I confess, I was bitter about the way it ended for a long time (but not about the rest, the good times, the Marines, etc.), but hindsight has brought some small modicum of wisdom over the issue. It wasn't the "Corps" that did it to me, it wasn't that honorable "institution";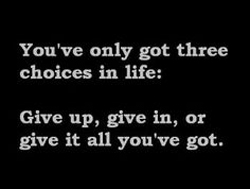 it was one or two petty individuals in certain places in certain times, that intersected with me, and allowed that most base aspect of human nature, jealousy, drive their actions. I can put my head down on my pillow at night, knowing that I never did that to another fellow Marine; but I do wonder how they sleep at night?
My father taught me never to toot my own horn; so when all this crap was happening to me, I never stood up for myself, I kept foolishly believing that if I just worked harder, and did the right thing, that the "system" would take care of me! That didn't work out that way.
A few years ago, I decided I was going to finally stick up for myself, and even though I had been awarded a LOM, that I was going to go back and get those medals that had been taken away from me! I mean, just like my career, I had a crazy run; between '86 – '92, a span of 6 years, I was awarded 4 personal awards, including a LOM as an 0-3, I was written up for 3 others, that jealous XO's mainly, cashiered, and I was strongly considered for 2 others, that I was told in each case I probably should've gotten, and there was the probability of a 10th one as well. 3 were Marine, 3 were Navy & 4 Joint…..in baseball, .400 is pretty good.
So I decided a few years ago, that despite the LOM, and despite the wars and all the people who've served & sacrificed for real and never even gotten any medals; I was going to go back, and file petitions for as many of them as I could. The CO of 2nd LAV Bn at that time, Col L.C Gound, USMC (Ret), was a good and honorable man, who I knew didn't know what the XO had done, and probably would've rectified it if I had looked him up, and told him. But, as with everything, I procrastinated out of guilt, and finally when I got the courage to Google his name a few months ago, and begin the process, I found out that Col L. C. Gound, a Marine Corps Hero from Vietnam, had passed away last year at the young age of 73; that kind of took the wind out of my sails; because the disgraced XO would never admit to having done what he did; and there is no one else that knew about it, except maybe the Adjutant. I've kind of given up on the Navy & Joint ones; no one involved from those days/times has enough integrity or honor to admit what they did, and rectify it; especially the former XO of the FOSIF!
I'll also add this: IF I had it to do all over again; I'd turn down EVERY single medal I was ever nominated/written up for! I sincerely would! If I had been smart enough to do that in the beginning, I'd probably be a retired Colonel right now. The grief I had to bear, for a bit of colored ribbon, has not been worth it; not one iota!
As a postscript, I'd like to say I'm also very proud of the fact that while in Zakho, Iraq, the Recon Plt Cmdr & his Marines inducted me "honorarily" into the Recon Marines for something I did; hazing me, soaking me with water, then duck-taping me to a pole and giving me a nail file to free myself with. They also made me up a "Honorary" Recon Marine Plaque on an MRE case sleeve; which I still have & cherish. One of my prouder Marine Corps moments, and no one tried to take that one away from me!
WHICH INDIVIDUAL(S) FROM YOUR TIME IN THE MILITARY STAND OUT AS HAVING THE MOST POSITIVE IMPACT ON YOU AND WHY?
I served with, and for, many outstanding Marines. MajGen Ray Smith; MajGen Wayne Rollins; Col J.J. Kispert; General Johnston; Col Tony Gain; Col Andrew Finlayson; General Jim Jones; Lt Gen Mike Byron; MGen David Bice; Col Joe Streitz; Col Chris Gunther; Col Tommy Tyrrell; Col Phil Smith; Col Walt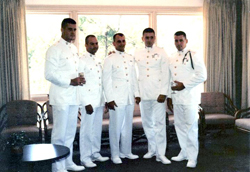 Ford; Col George Bristol (he's the Marine who instituted the Marine Corps Martial Arts program! George and I were in the same TBS Plt, and then in the same Basic Intel Officer's Course) Capt Marc Luoma (USN); Capt Eileen Mackrell (USN); LtCol Ric Raftery; Capt Ray Cross (USN); Admiral Tony Less; Col L.C. Gound; Col Steve Hanson; Col Kyle Watrous; Col Eric Walters; LtCol Ray Leach; Major Mike Camstra; Major Mike Ettore; Major Terry Slatic; Sgt. Maj Len Koontz; etc.; and the many fine Marines that served me: Sgt Delgado; Sgt Martin; SgtMaj Jackson; Sgt John "Bo"; Sgt Nelson Torres; Sgt Watson; Sgt Boyce to name but a few. And, seven of my peers have made General, I found out some time ago (doesn't say much about me, does it?) I was in OCS with MajGen Lew Craparotta; and I was in AWS with MajGen Mike Dana & BGen Dan Yoo. TBS & AWS MGen Richard Simcock; TBS with MGen Robert Hedelund. There's two more, but I can't remember their names right now!
But there are two Marines who stand out to me, for different reasons. One that will always epitomized the "Corps" to me, from the first time I saw him, to the last time I saw him, was SSGT, and later WO, Thomas Frush, who was my PltSgt in 2nd Plt, A Co., when I was at OCS! What an amazing, all around, squared away Marine.! And because of him, our Plt won the Drill Competition in OCS that year! Solely because of him. Don't get me wrong, he WAS an "ass" a lot of the time, because he was doing his job! But he was ALL "Marine"! I only saw him once, after OCS; when I was at TBS, I was out running a trail one late Friday night by myself, and he comes jogging by! I stopped and said "SSGT Frush?" He stopped running, turned around, looked at me and said "It's Warrant Officer now, Sir!", and kept on running! Last I ever saw of him was his back! He was a hell of a Marine!
The second is Major Terry Slatic. Terry and I were LT's together in 2/8, then l moved to 2nd LAV Bn and he came over there as well. When I became the CO of A Co, he was one of my Plt Cmdrs, and he did a great job. But Terry got a little disillusioned with the Corps, and got out as a Lt. Eighteen years later! During the height of the Iraq War, Terry, this time disillusioned with the way the Iraq War was being portrayed in the press, and the way the Marine Corps was also getting bad publicity, knocked himself in shape, and re-applied for his Commission! He got thru all the hurdles, paperwork, red tape, as well as physical requirements, and was re-commissioned a Captain in the United States Marine Corps after an 18 year gap! He was told by HQMC that he was the oldest Captain in the Corps, and he also set the record for "broken service"! After that, Terry deployed to Fallujah, Iraq for a tour, and the next year did a tour in Afghanistan. It's an amazing story, and he has my complete, utmost & total respect & admiration for it.
PLEASE RECOUNT THE NAMES OF FRIENDS YOU SERVED WITH, AT WHICH LOCATION, AND WHAT YOU REMEMBER MOST ABOUT THEM. INDICATE THOSE YOU ARE ALREADY IN TOUCH WITH AND THOSE YOU WOULD LIKE TO MAKE CONTACT WITH.
Col Phil Smith, USMC (Ret); will always stand out to me. When I went into 2/8 in '84 after they got back from Granada/Beirut, Phil was a Plt Co in G Co. Phil had been a GySgt (Sel) when he graduated from Texas A&M, and he was like a grandpa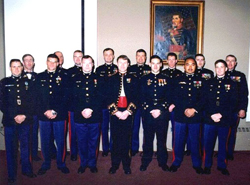 when all of us new, hot-shot LTs got into the Bn. We were room-mates on the 85 float to the Med, and later on, it seemed that wherever I went in the Corps, there was always someone who knew Phil! Phil should've been a General, but retired a few years ago as a Colonel. Sometimes the Corps misses one I guess. I learned from Phil; the most important thing (not surprising, considering his background!): The MOST important thing you can do as an Officer, is take care of your MARINES! That's it, that's what it's all about. Other than your primary mission as a Marine: "Close with and Destroy the Enemy" or "Accomplish the Mission"; there is no other single more important duty of a Marine Officer. Phil lived and breathed it, every single second he was an Officer. I'm not saying I was anywhere as good as him at it; but I did learn that from him, and I did try to emulate him after I learned it. I can say with humility, I had some small success with it though.
A couple of other good friends stand out too; Col Kyle Watrous, who was a peer & friend from my days in 2nd LAV's; Maj Mike Camstra, from AWS & Okinawa, who became one of my best friends from all of my Corps days; Capt Paul Tiede, from 9th Marines in Okinawa; and Col Stephen McNulty, from my days in G/2/8; are all good people, Good Officers, Good Marines, one and all; and it was an honor to have them as Brothers-in-Arms! I'm a better person for having known them, and they made me a better Marine.
I could list many more, and may update this space later, but that's the main one now; and via Together We Served, LinkedIn & Facebook; I'm now connected to dozens of my former Marines and peers & even seniors, that I want to be in contact with.
CAN YOU RECOUNT A PARTICULAR INCIDENT FROM YOUR SERVICE WHICH MAY OR MAY NOT HAVE BEEN FUNNY AT THE TIME, BUT STILL MAKES YOU LAUGH?
Most former Marines I talk to always say "It was the funny, or good times, that made it all worthwhile". I second that emotion! The one story that always makes me laugh, at myself actually, happened when I was in TBS during the Fall of '83. We were doing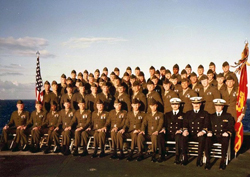 our Long-Range Patrolling Tactics Package, and we were being instructed by a Captain Anderson, one of the few black Officers on the TBS staff at the time. Really good Officer, great Marine, and he knew his stuff, and was very impressive in his uniform and everything.
Anyway, I was out "patrolling" with my fellow LTs in our "Squad". I was in the Recon element in the front of the main body, and there was about 3 other LTs who were in the recon fire team ahead of me, then me, then the main body behind me. We were out in those infernal Quantico woods, it was a sunny day, around noon, and it was very cool. I was coming down a steep slope, staying in contact with the LT in front of me, and I saw there was a good sized stream up ahead. As I got closer, I saw the LT ahead of me was crossing the stream, but he was very clever! He had found a tree which had fallen across the stream, and he just walked across it, staying completely dry of course! I got down to the stream, and I just knew it was cold, and I didn't feel like getting wet or getting my M-16 wet, so I decided to follow suit, and I started across the log; which was only about 8 inches in diameter, and as soon as I started across, it started shaking like crazy, and I was wondering how my buddy had actually crossed the darn thing without falling off! I was about half way across, concentrating like crazy, trying not to fall in, and not drop my rifle when I heard this stentorian voice right behind me, to my right, shout "FREEZE Lieutenant!".
I know, I was in TBS, and not in OCS, I was a commissioned 2nd Lt, not a "candidate", but there was still enough of the "Candidate" in me that I immediately tried to come to the position of Attention, as I recognized Captain Anderson's voice! I stayed upright on the log, at some semblance of "attention" for about 3 seconds, and then slowly tiled to my left, and started to fall into the stream! First though in my brain: DON'T GET YOUR RIFLE WET!" So, I opened my legs, and tried to drop down onto the log into a sitting position. I had been a wrestler in high school, and it flashed through my mind that I could actually drop down onto the log this way, straddle it, figure-4 it, and lock my legs underneath, and avoid falling into the stream, stay dry, and also keep my M-16 in hand! As soon as I started to fall towards the log,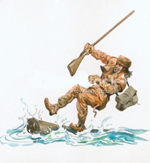 I had another flash thought go thru my brain: if I did this, I would land squarely on the log on my "family jewels", and crush them to smithereens! So, halfway down, I kind of threw myself to the left, and still tied to wrap my legs around the log, but this time, with my right thigh as the center of gravity!. I actually accomplished it somehow, and grabbed onto the log, and wrapped my legs around it tight, and sat there for about 2 seconds. And because I was now about six inches out of the vertical, and leaning to the left, I, in slow motion, rotated to the left, and turned upside down, still gripping the log between my thighs. Only now, my head, shoulders, and upper torso were under water, as the stream level was only about 18 inches below the log! So here I am, hanging upside down under this darn log, head, upper body & my M-16 now in the water, and I'm trying not to panic, and decide what to do next, because everything had gone wrong.
My M-16 was wet, I KNEW Captain Anderson was watching, and I figured by now, probably most of my Plt! So, I did the only thing I could do, I let go of the log with my legs, and sank head first to the bottom of the stream! And my helmet, with my head in it, wedged in between two rocks on the bottom of the stream, and my feet were sticking up out of the water! Now I was in real trouble, because I could not free myself, without letting go of my rifle in the stream, and using my hands! I'm gulping water too by this point, and I opened my eyes, watched where I dropped my rifle, pushed up from the bottom of the stream/rocks with my hands, fortunately got my helmet (with my head still in it!) out of the rocks, reached down and grabbed my rifle, and started to surface! It then flashed through my mind, that I had to be "tactical" as I came out of the water, so I s…l…o….w…l…y let my helmet break the water, then my eyes, then I looked around s…l…o…w…l…y…stood up, and exited the stream on the far side, trying desperately to act "tactical", also act as if nothing out of the ordinary had occurred, and also desperately trying to retain even a minuscule shred of my dignity & professional reputation in front of my peers, but ultimately knowing I was failing! My fellow LTs in the Advance Recon element on the far side of the stream, were literally rolling on the bank laughing; I think one guy even peed himself. Back on the other bank Captain Anderson was just standing there, hands on his hips, staring at me! He finally said something to the effect of "I've never seen anything like that in my life."; turned around and walked away shaking his head, and I never saw him again; ever!
Wish it was the cellphone-with-camera-age back then, I bet a video of that would go viral on the Internet within hours!
WHAT PROFESSION DID YOU FOLLOW AFTER YOUR MILITARY SERVICE AND WHAT ARE YOU DOING NOW? IF YOU ARE CURRENTLY SERVING, WHAT IS YOUR PRESENT OCCUPATIONAL SPECIALTY?
Well, I gravitated naturally to the Intel field; though I took a few detours. I tried private business for awhile, as a small business owner, and that didn't work out. I then got into the Technology Recruiting field for about ten years. I did it, had some small success at

it, but didn't really enjoy it. My first love has always been Intel Analysis, and with my background, over 35 years of experience now in the Middle East; I have worked for most of the past seven years doing North African/Middle Eastern/Levant/SE Asian OSINT analysis; with an emphasis on Islamic Fundamentalism, Jihadism, the Qutbiyyah, Salafiyyah, Sufism, etc. I've written a ton of Theological research papers on what drives the Salafi-Jihadis, something I've been research/writing on for more than 35 years; most of which I was able to get to a limited audience inside the Beltway over the past 20+ years; I even had a contract up until 7 years ago, to provide this type of insight to this "audience". But we had a change in the Oval Office 7 years ago, and shortly afterwards, I was informed that my "opinions" were no longer needed, and since that time, I've gone to the Internet with a few articles; at americanthinker.com; but my stuff is more in-depth, detailed, and exhaustive than they want to put up there on a daily basis, so right now, I just keep up with my research, and write for my own edification. Maybe another change in Administration, and we can get back to focusing on the real threat; I'm ready if called! That was the second time in 13 years that I was told that my "opinions" on the Salafi-Jihadis were not wanted in the Oval Office/IC; the first was in June '95, when I told a gathering of the IC down at FBI School in Quantico, what was coming with the Salafis! I was told my opinions were not valued in the Oval Office! I left the IC shortly afterwards! That attitude worked out real well for us, didn't it?
In fact, as this section is being updated, the horrific attacks on Paris are unfolding, it's just painful to watch, and humiliating to know that I I can add so much to this fight, but that we lack even the courage to admit that we are in a fight. We are NOT in a fight with a "group" or "terrorists" or an acronym (ISIS, IS, ISIL, AQ, or whatever!); we are in a much more difficult fight with a THEOLOGY! Until we admit THAT, we're just pissing up a waterfall! It's called Category Error: when you cannot even correctly define the problem, you cannot come up with correct solution! Political Correctness has now migrated down from the Oval Office to infect our very own Chain-of-Command from the DOD/Pentagon/Senior Officer Corps. When you have 0-6's and above, saying that non-existent Climate Change is our single greatest National Security Threat, I know that we're in severe trouble! I always end that discussion with: "Do you know they have found Dinosaur Fossils down in Antarctica" (A Fact, by the way, they even evolved HUGE eyes due to the low light levels, which proves they lived there for millions of years!) "So what Humans caused the Climate Change that turned Antarctica into a Hothouse for Dinosaur evolution for tens of millions of years! That ends the discussion every single time!
WHAT MILITARY ASSOCIATIONS ARE YOU A MEMBER OF, IF ANY? WHAT SPECIFIC BENEFITS DO YOU DERIVE FROM YOUR MEMBERSHIPS?
You know, basically none. I was in MCROA for awhile, but let that lapse. I haven't joined the Legion, the VFW, or anything like that. So, no basic benefits for me! Right now, I think TWS is the only thing I belong to as of right now. Maybe I'll join some later. I live in an isolated little rural town now, and we don't have much of a veteran's infrastructure around here, to tell the truth.
IN WHAT WAYS HAS SERVING IN THE MILITARY INFLUENCED THE WAY YOU HAVE APPROACHED YOUR LIFE AND YOUR CAREER?
Well of course it has in some ways, impacted every single day of my life since I left for OCS back in June of 1982. When I look back on my career, and the way it ended, and why it ended, I think of my father. He passed away six
years ago at the age of almost 89, thinking I was a failure. A failure because I got passed over for Major in the Regular Corps, because of the imbroglio over my LOM. He couldn't understand how I had been awarded so many medals for doing such a good job in such a short time, and still get passed over and have to get out.
But actually I attribute all that success, as shortlived as it was to him! Because he taught me one simple thing in life I always remembered, and which I always tried to live up to: "Do the best job you can, all the time, regardless of the job, and you'll be successful". He was right; that's how I approached my time in the Corps, and that's how I approach life nowadays if I can. In fact, my father's approach, without him having ever served in the Corps, was a "Corps-like" approach, if you think about it., and that has always influenced me.
I've been out of the Corps, effectively since April 1995. That's 20+ years! I only served a bit less than 12 years; so I've been out way longer than I actually served; and in fact; it still impacts my life on a daily basis; unfortunately, most of it negative. I never recovered personally or professionally from the whole LOM-fiasco; and the negative ramifications of it impact me to even this day; some seriously. I've lost family, friends, peers & even jobs over it; heck, a whole career, because of it.
Hence, it wouldn't be complete without thanking the two women in my life; my mother Lois Armstrong, and my wife Marlyn; without whose unwavering support from both, I would've never made it through the past difficult 20+ years!
BASED ON YOUR OWN EXPERIENCES, WHAT ADVICE WOULD YOU GIVE TO THOSE WHO HAVE RECENTLY JOINED THE MARINE CORPS?
I'm not egotistical enough to assume that I can give any Marines currently serving cogent, relevant advice! In the 20 years that I've been out, the whole landscape has changed; what with the two wars, the sequestration issue, changes in policy, tactics, promotions, etc. I guess I just basically can

say only things that sound kinda trite, but nonetheless are true: "Do your best; have fun; love your country & love your Corps"; but…and most important, because I did not do this: Have a plan B, just in case!!
That said, I will relate one thing that a wise General said to me once. It was then MGen Ray Smith. We were at a Mess Night in Okinawa, in 1994; it was several months before I got out of the Corps. After the meal, we were all sitting around the long table in the O'Club at Camp Foster, and MGen Smith was talking informally to a bunch of us Junior Officers. He said one thing that up until then, I had never heard anyone say before, when he was addressing a question someone asked him about what, in his experience was the difference between the Marine Corps and the other services. He said simply: "The Marine Corps is an Institution! We don't run the Corps as a business, or a corporation, or a company; we are an institution. And, you do you know what an institution is, verses a business, or a corporation, or a company? An institution has history, and traditions, and rules, and values, and honor, and integrity, and culture!"
That was the most impressive thing I ever heard anyone say about the special, unique nature of the Marine Corps, and I've never forgotten it.
IN WHAT WAYS HAS TOGETHERWESERVED.COM HELPED YOU REMEMBER YOUR MILITARY SERVICE AND THE FRIENDS YOU SERVED WITH.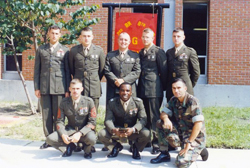 Love it, ever since a friend of mine invited me to join. It's the "Facebook" of the Corps; and it's a great tool. I appreciate it being there, and I've managed to connect with a few old Devil Dogs I served with. It's also made me reflect back on everything; good & bad; motivated me to write my Reflections, and tell my story.
We used to say in TBS/IOC, when things were getting tough; "They can kill us, but they can't eat us!" Just one of those ironic, nonsensical humor things to break the tension; of course, sometimes, we also reversed the saying a bit too, if we were really in a bad mood, but you get the idea.
Anyway, TWS has challenged me to confront my demons, and hopefully, it will be a positive experience going forward.