Since 1790, the brave men and women of the United States Coast Guard have been standing the watch for you. Night and day, in good weather and bad, its devoted members have been the first responders when disaster strikes at sea. For 226 years, the Coast Guard has tirelessly answered the call for our Nation, saving lives, enforcing maritime law, combating terrorism, and protecting the environment from oil spills and pollution.
As the oldest continuous seagoing service within the five branches of the U.S. Armed Forces, the U.S. Coast Guard is responsible for the day-to-day protection of the United States and waterways around the globe. Some of the most impactful moments of our Nation's history would not have been as successful were it not for the Coast Guard.
Remarkably, the Coast Guard is the only armed service branch without a national museum. When opportunities arose to receive Federal funding, this traditionally underfunded agency has consistently prioritized operations over building a museum. It will take all of our efforts to bring a museum to life.
We will add a National Coast Guard Museum to our Nation's most sacred military heritage sites. The first of its kind museum will give the U.S. Coast Guard the venue it deserves to showcase its rich and important history, while educating current and future generations about the value of this military branch. The museum will provide the Coast Guard with a national
platform to share its crucial role in saving and protecting lives and commerce along America's waterways.
The National Coast Guard Museum will be constructed on the historic waterfront of downtown New London, Connecticut. The Coast Guard has celebrated a presence in New London since 1791 and will incorporate the nearby Coast Guard Academy and USCG Research and Development Center in the Museum;s story. Additionally,: America's Tall Ship", the Coast Guard Barque EAGLE will adorn the waterfront while home ported at the New London City Pier adjacent to the Museum.
Once built, museum patrons will have a place to witness the founding of the U.S. Coast Guard, participate in some of the service's most dramatic rescues, explore longtime industry and civic partnerships, and see firsthand what it is to be Semper Paratus: Always Ready.
The museum will provide an immersive educational experience for visitors of all ages. In particular, the museum's STEM Learning Center will be a physical hub inside the museum with a global reach via its on-site, outreach, and virtual programs, that will engage and support today's youth inspiring them to become tomorrow's critical thinkers, problem solvers, and innovators.
We envision the STEM Learning Center's programs will complement school curriculum to inspire student's early interest in STEM fields and will provide support in cultivating that interest as teenagers. Additionally, displays will connect museum patrons with real-time missions via streaming video. This virtual element will allow visitors to see servicemen and women conduct marine environmental inspections in Long Beach, California, rescue missions off the coast of New England, drug interventions along the Gulf Coast, and tug boat regulations on the Mississippi River. Interactive exhibits will engage the public in science and engineering challenges, using principles of aeronautics, propulsion, informatics, meteorology, navigation, and other Coast Guard-related sciences.
Under the direction of a distinguished Board of Directors and Honorary Board, the National Coast Guard Museum Association, Inc. launched a national fundraising campaign in June 2013 to build this museum. With a ceremonial groundbreaking in May 2014, the effort got underway with noteworthy gifts from J.D. Power III, founder of J.D. Power & Associates and Coast Guard veteran; Boysie Bollinger, founder of Bollinger Shipyards; and support from major American Waterway Operator companies. Augmented by a commitment of $20 million in funding from the State of Connecticut and recent changes in our Federal Authorization, we have embarked on a $100 million capital campaign as the project moves from the design to construction phase. We are taking great strides to generate the capital necessary to design and build a museum worthy of our Coast Guard and your philanthropy.  Discover more by visiting us at www.CoastGuardMuseum.org
Read the service reflections of U.S. Coast Guardman
MK2 Bill Cote
U.S. Coast Guard
(1979-1988)
Shadow Box: http://coastguard.togetherweserved.com/profile/41
PLEASE DESCRIBE WHO OR WHAT INFLUENCED YOUR DECISION TO JOIN THE COAST GUARD?
My dad and step-dad were both WWII vets. My dad joined the Army Air Corps in 1941 for service in the Philippines and Guadalcanal. My step-dad was in the US Army with the 964th Field Artillery. He was in the Battle of the Bulge, Omaha Beach, and 3 other major

1978 battles. I had 3 uncles and an older brother in the US Navy.
I joined the Maine Army National Guard in 1978 my junior year in high school. I went to Army Basic Training in August 1978 at Fort Dix NJ. Then I graduated from high school 5 months early in Jan. of 1979. I went back to Ft. Dix for my AIT Power Generator and Wheel Vehicle Mechanic school in Jan of 1979. Then back to my Guard unit in Belfast, Me. I became an M-60 Machine Gunner at 17.
My assistant Gunner was a Nam vet Marine who taught me very well in the use of the 60. We had our summer training in North Dakota in June of 1979. I asked a friend when he thought they would put me in the motor pool and he said probably when my 6 years were up.
I was offered OCS school, but I gave it some thought and decided I wanted a change. Since I grew up on the coast of Maine and most of my friends and their dads were fishermen, I decided that I would join the US Coast Guard.
WHETHER YOU WERE IN THE SERVICE FOR SEVERAL YEARS OR AS A CAREER, PLEASE DESCRIBE THE DIRECTION OR PATH YOU TOOK. WHAT WAS YOUR REASON FOR LEAVING?
After attending prior service Boot Camp at Cape May NJ. I was assigned as an SA, aboard the CGC Gallatin from August of 1979- December of 1980. I worked in the engine room for MK1 Steve Brown, Mk1 Clark and MKCS Defrancisco. I switched to FA, made FN, then off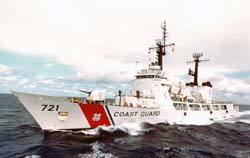 to MK-A school in lovely Yorktown Virginia. I graduated as an MKFN.
I was then stationed at the 378 MAT in Boston, MA from 1980-1983. I worked for MKCS Calvin Smith. He was awesome to work with, he taught me alot about rebuilding Fairbanks Morse engines, and Gas turbines.
Our shop was next door to the assist team so I got to work with some great folks there also. Two of my favorites were MKCM Stanley Hiller, and MKCM Gerry Poliskey.
left the Mat team as an MK3, to serve aboard the CGC Duane WHEC 33. I worked in the engine room for MKCM Duke (Gary) Snyder. I worked my way from Oiler up to Second Throttles. I loved working on that ship, I was always proud every time I walked down the pier to get aboard her.
I received the Commandants Letter of Commendation while on board the Duane. Probably one of my biggest achievements, beside's jumping on a forklift and putting boulders on the base of the LORAN tower in Lampedusa Italy during a 60+ mph wind storm and helped keep her from blowing over!! That was from 1984-1985. I worked with a great crew there also. From the Skipper Dave Mogan on down!!!
I made MK2 and after a year in Italy I was told I would get choice of duty, I wanted Alaska, but that never happened. I was stationed back in Boston at the 270′ Mat. I then transferred to the CGC Spar WLB 403 which I enjoyed. I was in A gang.
In 1986 I transferred to Rockland station which was in my home turf. I love working SAR. Anytime I heard the alarm go off I was running for the boats.
While in Boston I had dislocated my right shoulder twice. I had surgery and they gave me 45 days to heal up then I was back turning wrenches. It eventually got bad enough that I sadly had to get out in Jan of 1988.
It definitely was an adventure I wouldn't trade for anything. My only regret is not staying in long enough to retire!!!
IF YOU PARTICIPATED IN ANY MILITARY OPERATIONS, INCLUDING COMBAT, HUMANITARIAN AND PEACEKEEPING OPERATIONS, PLEASE DESCRIBE THOSE WHICH WERE THE MOST SIGNIFICANT TO YOU AND, IF LIFE-CHANGING, IN WHAT WAY.
While on board CGC Gallatin, we were at GQ for 3 days straight chasing a submarine off of Cuba keeping her from surfacing, while waiting for the USN for an assist!! That was pretty awesome.
I also remember doing Haitians ops while on board the CGC Duane. All those poor women and children. Pretty sad duty.
OF ALL YOUR DUTY STATIONS OR ASSIGNMENTS, WHICH ONE DO YOU HAVE FONDEST MEMORIES OF AND WHY? WHICH ONE WAS YOUR LEAST FAVORITE?
I loved all my duty stations.
FROM YOUR ENTIRE SERVICE, INCLUDING COMBAT, DESCRIBE THE PERSONAL MEMORIES WHICH HAVE IMPACTED YOU MOST?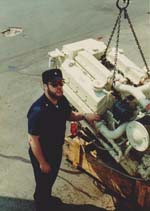 I remember how proud I was every time I went aboard a ship.
Seeing floaters in NYC, and Boston is something that's kinda hard to forget.
While living in Hyde Park just outside of Boston, my friend and shipmate Bob Wilson and I saw an accident where a drunk driver t-boned a 16 year old boy and his girlfriend. She got out okay but he was trapped. We got there the same time as the 1st responders. We helped rip the door off, then got him out and we started performing CPR. He was vomiting up blood and I knew it wasn't good. The ambulance got there and took over. I read in the paper a few days later that he had died!!!
OF ALL THE MEDALS, AWARDS, FORMAL PRESENTATIONS AND QUALIFICATION BADGES YOU RECEIVED, OR ANY OTHER MEMORABILIA, PLEASE DESCRIBE THOSE WHICH ARE THE MOST MEANINGFUL TO YOU AND WHY?
Commandants letter of Commendation!!! I helped save the USCG alot of money by just doing what I had been trained to do!!!!
WHICH INDIVIDUAL(S) FROM YOUR TIME IN THE MILITARY STAND OUT AS HAVING THE MOST POSITIVE IMPACT ON YOU AND WHY?
In August of 1979 MK1 Steve Brown handed me Louis L'amours "Fair Blow's the Wind" and I've been reading and collecting Louis' books ever since. I even have an autographed one. I worked for some great people and with some great people. They all had an impact on me. MKCM Calvin Smith had an positive impact on me. Captain Arthur Solvang, CO of Base Boston, MKCM Gerry Poliskey, MKCM Stan Hiller, MKCM Harvey Fenton, MKCM Duke Snyder, Lt. Commander Lawrence Murphy, my last CO on the CGC Duane, CWO4 Nim Gray. I could go on for days!!!
I only met a few Coasties I didn't like!
PLEASE RECOUNT THE NAMES OF FRIENDS YOU SERVED WITH, AT WHICH LOCATION, AND WHAT YOU REMEMBER MOST ABOUT THEM. INDICATE THOSE YOU ARE ALREADY IN TOUCH WITH AND THOSE YOU WOULD LIKE TO MAKE CONTACT WITH.
USCGC Gallatin. I'm in touch with several shipmates from my days aboard the old gal.
Fran Dietrich my engine room soogie partner getting her cleaned up for New Yorker magazine to come take pics lol.
EM3 Bob Howe Bob signed a lot of my engine room quals.,
EM3 Peggy O'Neill, I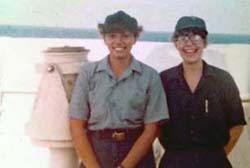 remember breaking in on 4-8 oiler rounds with Peggy she was an awesome shipmate.
Just got in touch with MK3 Mark Sullivan from my Gallatin days!!!!!
378′ Mat I stayed in touch with quite a few folks from my days in Boston, many have crossed the bar, fair winds to them. I stay in touch with Gerry Poliskey, Mark Powell, Paul Holmes.
I would like to get in touch with MKCM Calvin Smith, I've tried getting a hold of him. Last I knew he retired and was living in Plymouth, MA.!!!
CGC Duane, CWO4 Nim Gray was our Main Prop advisor and I still call him Mr Gray. He's a great person.
Duke crossed over.
I still hunt with MK1 Charles Dean.
The Hamilton twins crossed the bar.
Chris Mcgilvery and his Coastie wife Jeannie are still in touch.
Paul Ludden, Pat Mccauley, Thomas Porter, XO Chuck Hill, Doug Harvey, Dave Hutchinson, Mike Snopko, Marvin Dunmeyer, Wayne Jarvis just to name a few!
WHAT PROFESSION DID YOU FOLLOW AFTER YOUR MILITARY SERVICE AND WHAT ARE YOU DOING NOW?
I worked in the ship yards and construction after I got out. I have asbestosis and several other service connected disabilities. My wife is an artist, author, and illustrator of a children's books. I have 2 beautiful daughters, Lauren age 11 and Hannah age 8. They are both very artistic
I cut gemstones, make jewelry, and Native American flutes for fun.
WHAT MILITARY ASSOCIATIONS ARE YOU A MEMBER OF, IF ANY? WHAT SPECIFIC BENEFITS DO YOU DERIVE FROM YOUR MEMBERSHIPS?
American Legion, and lifetime member DAV. they have helped with my VA claims! I was doing some service officer work with the Legion for a few years.
IN WHAT WAYS HAS SERVING IN THE MILITARY INFLUENCED THE WAY YOU HAVE APPROACHED YOUR LIFE AND YOUR CAREER?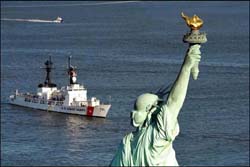 I still like to help people in trouble. I always kept good work ethics and a positive attitude, I worked on quite a few Coast Guard Cutters even after I got out.
BASED ON YOUR OWN EXPERIENCES, WHAT ADVICE WOULD YOU GIVE TO THOSE WHO HAVE RECENTLY JOINED THE COAST GUARD?
Hang in there, and thanks for your service. Don't ask people to do anything your not willing to do yourself!
IN WHAT WAYS HAS TOGETHERWESERVED.COM HELPED YOU REMEMBER YOUR MILITARY SERVICE AND THE FRIENDS YOU SERVED WITH.
I've gotten in touch with some of my old shipmates. Thanks to TWS, Fred's Place and Facebook.