Read the service reflections of U.S. Air Force Airman:
CMSgt Gilberto Flores
U.S. Air Force (Ret)
(Served 1961-1987)
Shadow Box: http://airforce.togetherweserved.com/bio/Gilberto.Flores
If you are a veteran or a family member of a veteran, join us TogetherWeServed.com
PLEASE DESCRIBE WHO OR WHAT INFLUENCED YOUR DECISION TO JOIN THE AIR FORCE?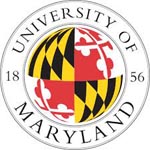 Having little or no money to attend college after high school, I decided to join the Air Force, learn a skill and obtain a degree. I'm pleased to say that the Air Force was very supportive of higher education, and I managed to obtain a BS degree from Embry-Riddle Aeronautical University, an Associates degree from the Community College of the Air Force, and another Associates degree from the University of Maryland. This education helped me gain employment in Aerospace when I retired from the Air Force.
WHETHER YOU WERE IN THE SERVICE FOR SEVERAL YEARS OR AS A CAREER, PLEASE DESCRIBE THE DIRECTION OR PATH YOU TOOK.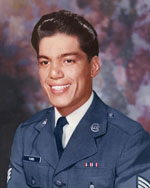 I was in the Administrative/Information Management career field in my early years as an Airman. When I enlisted in 1961, there were not many available or open career fields other than support type jobs such as Supply, Food Service, Personnel, and so on. Because I did not have 20/20 vision without glasses, I was unable to enter combat related fields such as Combat Control teams, Weather, Rescue, etc. which I really wanted. However, I managed to attain the grade of Staff Sgt. before I retrained in the Aircraft Maintenance career field which enabled me to be promoted all the way to Chief Master Sergeant.
IF YOU PARTICIPATED IN COMBAT, PEACEKEEPING OR HUMANITARIAN OPERATIONS, PLEASE DESCRIBE THOSE WHICH WERE THE MOST SIGNIFICANT TO YOU AND, IF LIFE-CHANGING, IN WHAT WAY.
While assigned to the 315th Air Commander Group (TC) at Tan Son Nut AB, Republic of Vietnam and working in the Airlift Control Center by day, I volunteered to fly aboard C-123 aircraft as an Illuminator Operator (commonly called "flare kickers"). We flew an average of 8-10 hours at night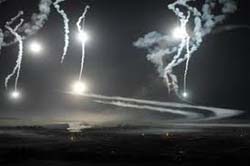 supporting ground forces under attack by enemy combatants. Because we flew at low altitudes while dropping our flares, we were always subject to enemy ground fire. In fact, several of our assigned aircraft came back from the missions with bullet holes and other damage. During my 14 months in country we lost two C-123 aircraft due to enemy action.
I flew a total of 42 combat missions and was awarded the Air Medal, of which I am very proud. I was 8 combat missions short of an additional medal. At the time the criteria for the Air Medal was 25 combat missions.
It should be noted that my Air Commando Group consisted of four airlift squadrons, including the Ranch Hand squadron which was responsible for defoliant operations. Little did we know how "Agent Orange" would affect us later!
OF ALL YOUR DUTY STATIONS OR ASSIGNMENTS, WHICH ONE DO YOU HAVE FONDEST MEMORIES OF AND WHY? WHICH ONE WAS YOUR LEAST FAVORITE?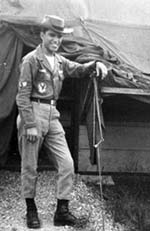 My favorite assignment was in Vietnam with the 315th Air Commando Group. It was an honor to serve with outstanding Airman (Air Commandos) whom I greatly admired and who had a great history and tradition going all the way back to WWII. This is the group I have the fondest memories of due to the fact that we were in a war. In fact , I always make it a point to tell people that I was surrounded by heroes every day while I was in Vietnam.
My least favorite assignment was serving 6 months in Guam. Other than work, there was not much else to do and the time went slowly before we returned to our home base in California. Those 189 days in Guam seemed like the longest in my 26 year career. We were in Guam in support of B-52/KC-135 operations during Operation Arc Light missions in Vietnam. During that period, several SAC combat wings deployed to Guam and Thailand for six month periods on a rotational basis.
FROM YOUR ENTIRE SERVICE, INCLUDING COMBAT, DESCRIBE THE PERSONAL MEMORIES WHICH HAVE IMPACTED YOU MOST?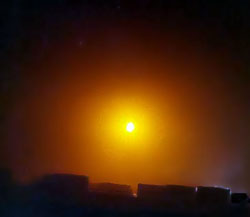 Throwing out a "hot flare" while on a combat mission in early 1965. Flying through turbulence and ground fire, one of our flares did not clear the open ramp and came back in to the floor of our aircraft–hot. Being closest to the ramp at the time, I somehow managed to grab a hold of the flare and threw it out of the aircraft before it ignited. As soon as it cleared the aircraft it did ignite turning night into daylight.
I think the Good Lord was on our side that night, and I thank him frequently for saving our aircraft and my 10 fellow Airmen on board. Each flare has a million candle power when fully ignited, and we carried several hundred of them on each flight. The aircraft commander told me after the mission that we would have surely lost the aircraft had it ignited inside the aircraft.
IF YOU RECEIVED ANY MEDALS FOR VALOR OR AWARDS FOR SIGNIFICANT ACHIEVEMENT, PLEASE DESCRIBE HOW THESE WERE EARNED.
Proud of my Air Medal and aircrew wings which I earned in Vietnam while flying as an additional crew member on C-123, C-130 and C-7 aircraft supporting our ground troops with flare drop missions.
OF ALL THE MEDALS, AWARDS, QUALIFICATION BADGES OR DEVICE YOU RECEIVED, PLEASE DESCRIBE THE ONE(S) MOST MEANINGFUL TO YOU AND WHY?
The Air Medal for combat service in Vietnam and my four Meritorious Service Medals (MSM) and Commendation Medals in recognition of my service. Award of these prestigious medals showed me that my Air Force appreciated my contributions to the mission.
WHICH INDIVIDUAL(S) FROM YOUR TIME IN THE MILITARY STAND OUT AS HAVING THE MOST POSITIVE IMPACT ON YOU AND WHY?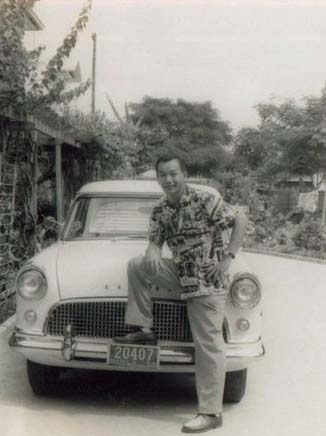 Master Sgt. Gilbert Ching, my Administration supervisor and role model at the 3595th Aerospace Test Wing at Vandenberg AFB. He always told me to be the best I can be in everything I do as an Airman, NCO or Civilian.
His leadership style and professionalism left an enduring, positive impact on me and stayed with me throughout my career and into my current life. I unfortunately lost contact with him, but I often think of him.
CAN YOU RECOUNT A PARTICULAR INCIDENT FROM YOUR SERVICE WHICH MAY OR MAY NOT HAVE BEEN FUNNY AT THE TIME, BUT STILL MAKES YOU LAUGH?
My NCOIC and I were traveling through the flight line at March AFB in the fall of 1968 when we inadvertently entered a highly restricted area. Needless to say, after being laid out on the hot runway by a dozen Security Policemen and two guard dogs, and having to face the old man afterward, this was not funny at the time. It was downright embarrassing.However, throughout the years, I laugh when I think about the incident and have fond memories of my NCOIC who took responsibility, since he was driving the maintenance truck when the incident (a 7-High) occurred.
WHAT PROFESSION DID YOU FOLLOW AFTER YOUR MILITARY SERVICE AND WHAT ARE YOU DOING NOW? IF YOU ARE CURRENTLY SERVING, WHAT IS YOUR PRESENT OCCUPATIONAL SPECIALTY?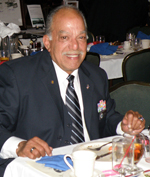 Due to my experience in the Air Force, I went in to the Aerospace profession with McDonnell Douglas and the Boeing Company. I worked a total of 15 years in aerospace, mainly on transport aircraft, including the C-17 program.
Presently, I am happily retired and working with Veteran service organizations such as the American Legion, the Disabled American Veterans and the Vietnam Veterans of America. I hold an officer position in each one of these organization. This keeps me busy and I enjoy helping my fellow Veterans and their families.
WHAT MILITARY ASSOCIATIONS ARE YOU A MEMBER OF, IF ANY? WHAT SPECIFIC BENEFITS DO YOU DERIVE FROM YOUR MEMBERSHIPS?
As listed in my profile, I belong to several military associations such as the Air Force Association, the Air Commando Association and TREA.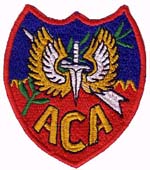 They each offer their own specific benefits, but the most important thing that do is working with, and on behalf, of Veterans both active duty and retired. Additionally, my membership allows me to keep a connection to the U.S. Air Force, although I no longer serve in the military.
IN WHAT WAYS HAS SERVING IN THE MILITARY INFLUENCED THE WAY YOU HAVE APPROACHED YOUR LIFE AND YOUR CAREER?
It thought me management, leadership and personal skills which has served me well throughout my life and made me the person that I am.
Because of my many years serving in the U.S. Air Force, I strongly believe in and try to live my life in accordance with our Air Force creed of: "Integrity First, Service before Self and Excellence in All We Do."
BASED ON YOUR OWN EXPERIENCES, WHAT ADVICE WOULD YOU GIVE TO THOSE WHO HAVE RECENTLY JOINED THE AIR FORCE?
Always aim high (it's more than a slogan), get educated, do your job to the best of our ability, and love your country. Best of luck to those of you who have recently joined the Air Force. You are now part of a great heritage, a proud history and a member of the world's finest Air Force.
IN WHAT WAYS HAS TOGETHERWESERVED.COM HELPED YOU REMEMBER YOUR MILITARY SERVICE AND THE FRIENDS YOU SERVED WITH.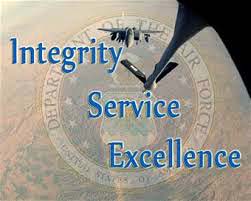 TogetherWeServed.com has allowed me to keep in contact with my fellow Airmen, whom I consider to be my brothers and sisters. Further, it has encouraged me to put together my military service and contributions in a well laid out personal profile for others to see if they wish. In short, I am proud to be a member of this great organization. Thank you for all you do on behalf of our Air Force.
Lastly, it has showed me those former members of the various units I served with, and who are no longer with us. Let us never forget them, and may they continue to rest in peace at Post Everlasting.
Read the service reflections of
MSgt David M Cummings
U.S. Air Force (Ret)
(1962-1983)
Shadow Box: http://airforce.togetherweserved.com/rsbv/MSgt.D.Cummings
If you served in any branch of the U.S. Military, record your own military service story you can share with your family on TogetherWeServed.com.
PLEASE DESCRIBE WHO OR WHAT INFLUENCED YOUR DECISION TO JOIN THE AIR FORCE?
When I was young I was making aircraft from wood I found on our farm in Vermont. As far back as I can remember I have always been interested in aircraft so it stands to reason that the Air Force would be my choice. The Navy was also a
choice but I don't swim well. So the Air Force won out.
My Dad was the reason that I decided to make the Air Force a career choice. The year was about 1964 and I was very interested in my Dad's occupation with J&L located in Springfield VT. He showed me his pay stub and I was amazed as to the monthly dollar amount. He followed up by saying that he had been on strike and out of work about 3 months every 1 to 2 years and explained that if staying in the Air Force was up to him, and if he had that choice, he would stayed in for 20 years.
June 1966 I went from the 18th TFW, Kadena Okinawa to the 388 TFW, Korat, Thailand where I decided to re-enlist. This decision was based on the conversation I had with my Dad back in the early years of my first enlistment.
WHETHER YOU WERE IN THE SERVICE FOR SEVERAL YEARS OR AS A CAREER, PLEASE DESCRIBE THE DIRECTION OR PATH YOU TOOK. WHAT WAS YOUR REASON FOR LEAVING?
When I re-enlisted in 1966, I made the determination at that point to stay for the full 20 years. I was given the chance to receive my variable re-enlistment bonus tax free by flying in a C-130A aircraft over South Vietnam to Misawa AB, Japan delivering communications equipment.
I have never been sorry for the decision I made based on my Dad's input. My career spanned 20+ years with the shortest assignment of a year while at Osan AB, Korea and the longest of 3.5 years while assigned to FTD 908, Lakenheath AB, England. I averaged a move about every two years.
IF YOU PARTICIPATED IN COMBAT, PEACEKEEPING OR HUMANITARIAN OPERATIONS, PLEASE DESCRIBE THOSE WHICH WERE THE MOST SIGNIFICANT TO YOU AND, IF LIFE-CHANGING, IN WHAT WAY.
Yes, if this question also includes combat support while I was stationed with the 388 TFW, Korat Thailand from June 1966 to June 1967.
For humanitarian operations I was involved in the clean up of the Gulf Coast after it was decimated by Hurricane Camille.
OF ALL YOUR DUTY STATIONS OR ASSIGNMENTS, WHICH ONE DO YOU HAVE FONDEST MEMORIES OF AND WHY? WHICH ONE WAS YOUR LEAST FAVORITE?
Some of my finest memories are of the six years as a Nav-Aides System Instructor which started in 1969 and lasted until 1975. That teaching path continued after retiring while I was employed by Telemedia in support of technical training of the TNI-Au, Indonesian Air Force from October 1983 to
October 1986. On return from Indonesia in August of the following year I was employed by Raytheon Marine Company as Senior Instructor for Shipboard Surface Search Radar and Automatic Radar Plotting Aides (ARPA).
Of all 15 assignments, probably my best memories are while stationed at FTD 908, RAF Lakenheath, England (longest assignment) as the Navigation Aids Instructor. This detachment comprised a very close knit group of professionals that while on duty performed the training requirement for the 48th Tactical Fighter Wing and when tasked, the training requirement of United States Air force Europe (USAFE).
My least favorite and also my first and shortest assignment was of Lackland AFB, TX. I grew up on a farm in Vermont and this was my first time to be away from home and my family. Needless to say this was a culture shock plus an eye opener as to what the military was all about: discipline, following orders without question, discipline, discipline and even more discipline.
FROM YOUR ENTIRE SERVICE, INCLUDING COMBAT, DESCRIBE THE PERSONAL MEMORIES WHICH HAVE IMPACTED YOU MOST?
In August 1969, Hurricane Camille, the third and strongest tropical cyclone and second hurricane during the 1969 Atlantic hurricane season, made landfall at Waveland, Mississippi, causing massive damage and destruction across much of the Gulf Coast of the United States. There was additional flooding and deaths inland while crossing
the Appalachian Mountains of Virginia. It was the second of three catastrophic Category 5 hurricanes to make landfall in the United States during the 20th century.
The Coast Guard, Air Force, Army, Army Corps of Engineers, Navy, and Marine Corps all helped with evacuations, search and rescue, clearing debris, and distribution of food. I was stationed at Kessler AFB, Mississippi at the time and we were sent in to help clear fallen trees in the Biloxi, Mississippi area. I was in charge of one of the many chainsaw details charged with this mission. This was a very demanding as well as rewarding detail and I still remember as if it was yesterday.
In total, Camille killed 259 people and caused $1.42 billion (equivalent to $9.13 billion in 2014 dollars) in damages.
In August 2005, thirty six years after Camille, Hurricane Katrina's winds and storm surge reached the Mississippi coastline killing 234 people.
WHAT ACHIEVEMENT(S) ARE YOU MOST PROUD OF FROM YOUR MILITARY CAREER? IF YOU RECEIVED ANY MEDALS FOR VALOR OR OTHER SIGNIFICANT AWARDS, PLEASE DESCRIBE HOW THESE WERE EARNED.
Air Force Commendation Medal (1st Award). Order G333, 14 July 1967 – By direction of the Secretary of the Air Force, the AF Commendation Medal was awarded for meritorious service during 15 June 1966 to 11 June 1967 while assigned to Korat Royal Thai Air Force Base Thailand.
Air Force Commendation
Medal (2nd Award) Order G56, 23 Oct 1969 – By direction of the Secretary of the Air Force, the AF Commendation Medal was awarded for outstanding achievement during 17 Aug 1969 to 1 Sept 1969 while assigned to Keesler A FB MS for exemplary ability, diligence and devotion duty during the clean-up after Hurricane Camille.
Air Force Commendation Medal (3rd Award) Order GA-0112, 15 Sep 1978 – By direction of the Secretary of the Air Force, the AF Commendation Medal was awarded for outstanding achievement during 23 Mar 1977 to 21 Sept 1978 while assigned to 6100 LSS, Kadena AB Japan.
Meritorious Service Medal for outstanding service as NCOIC, Navigation Section and Communication-Navigation Branch NCOIC, 62d Avionics Maintenance Squadron, McChord AFB, Washington from 2 August 1982 to 30 June 1983.
Read more

Read the service reflections of US Airman:
CMSgt William Hamilton
U.S. Air Force
(1977-Present)
WHAT INFLUENCED YOUR DECISION TO JOIN THE MILITARY?
I was born in the Air Force. My father was stationed in Waco, Texas when I was born in an Air Force hospital. I grew up moving every year to a new assignment with my father, mom and sister. I loved living near the airplanes and the annual
airshows was one of the best days of the year. By the time I started high school other things had peaked my interest, mainly sports and girls and not necessarily in that order. This was the late 60's and Vietnam was in the headlines every night. My older classmates were joining up or getting drafted and it was a noble and honorable thing. By my graduation year in 1970, the war had turned ugly and the media and public were protesting it nightly. My father had retired from the Air Force and we lived miles from any air bases. I had a fairly high draft number and sat out my "draftable" year in college without any concerns about military service. Within a couple of years, I got married, got a job and started my adulthood. By 1975 I really started thinking about the military again. I'd watch aircraft contrails fly high overhead and wonder where they were headed. I started reading aviation books and magazines again. I went to the Air Force recruiters and took the AFQT to see what I was qualified to do. I did well but recruiters have a job and that is to put people in career fields that have shortages. I held out for a while as I learned more about jobs which would allow me to fly initially.
WHAT WAS YOUR SERVICE CAREER PATH?
I wanted to fly. As an enlisted person, my options were limited. Aircraft loadmaster was one of the few jobs that allowed me to fly so that's what I signed up for. I became a C-141A loadmaster and enjoyed it greatly. After about 8 years and 5000 flying hours I became a MAC ALCE loadmaster for about 10 years and got a much better view of the big picture through the Wing, numbered AF and HQ deployments. I then became an Air Reserve Technician and returned to the flying squadrons as a Scheduler/Training NCO and Flight Examiner. I later became the squadron loadmaster supervisor and then squadron superintendent before moving to the group retiring as a group enlisted superintendent for six squadrons.
DID YOU PARTICIPATE IN COMBAT OPERATIONS? IF SO, COULD YOU DESCRIBE THOSE WHICH WERE SIGNIFICANT TO YOU?
In 1979 and early 1980 I flew several support missions which were part of the Iranian Rescue mission attempt. It was all very secretive and since it was not successfully executed, not much ever came out publicly. I flew several support missions into Grenada after the invasion in 1983.
One of them was dragging back several Army helicopters shot up in the operation. Also flew several missions into Panama after the successful invasion there in 1989. In August of 1990 when Saddam Hussein invaded Kuwait, I deployed as an ALCE Loadmaster for nearly three months. We got the 24th Infantry Division (Mechanized) from Fort Stewart, GA shipped out of town and over to the desert. I then deployed forward for nearly nine months as the ALCE Superintendent in the 1610 Airlift Division in Riyadh, Saudi Arabia. By 1993 I returned to flying full time as a C-141 loadmaster and flew combat support missions into Bosnia in the mid-90's. I flew into the Kosovo Theater in 1999 during NATO operations following my transition to a new C-17 squadron. Following the 9/11 Terrorist's attacks, I flew many missions supporting combat operations into Afghanistan and later Iraq when we went into there in 2003. All my wartime service was significant to me.
WHICH, OF THE DUTY STATIONS OR LOCATIONS YOU WERE ASSIGNED OR DEPLOYED TO, DO YOU HAVE THE FONDEST MEMORIES OF AND WHY?
Being assigned to the 1610th Airlift Division during the first Gulf War in 1990-91. I really had a great sense of accomplishment with what we had done when it was all over.
FROM YOUR ENTIRE SERVICE CAREER WHAT PARTICULAR MEMORY STANDS OUT?
Going to Saudi Arabia in 1990 was probably the most rewarding assignment of my career. Throughout the late 70's and 80's we built up our military and trained as though WWIII with the Russians could start at any moment. By 1990 we were be best trained and equipped military the world has ever seen. All that training paid off and we continued to train in that desert environment until we picked the time and place we wanted to start the operation. I worked over 120 days in a row at one point with no time off. We worked 12-hour shifts but with travel time it became 14 to16 hour days. When I returned home in June of 1991, I was very proud of what we had accomplished and that all my training had finally been utilized.
WERE ANY OF THE MEDALS OR AWARDS YOU RECEIVED FOR VALOR? IF YES, COULD YOU DESCRIBE HOW THIS WAS EARNED?
I received a Bronze Star for my service during Operation DESERT STORM in 1991. I was awarded the Aerial Achievement Medal for flying combat missions during the NATO Operation in Kosovo in 1999. During Operation's ENDURING FREEDOM and IRAQI FREEDOM I received several Air Medals. Like everybody else, I was just doing my job.
OF THE MEDALS, AWARDS AND QUALIFICATION BADGES OR DEVICES YOU RECEIVED, WHAT IS THE MOST MEANINGFUL TO YOU AND WHY?
The Bronze Star Medal in 1991 for Operation DESERT STORM since it was my highest. I deployed to Saudi, Kuwait, and Iraq and saw much of the carnage the Iraqis had inflected on Kuwait as well as the aftermath of our bombing operations on the Iraqi's. The medal was totally unexpected but helped open many opportunities for me later in my career. However the Air Medal was the one I always coveted as a flyer. I didn't get those till late in my career but the wait was worth it.
WHICH INDIVIDUAL PERSON FROM YOUR SERVICE STANDS OUT AS THE ONE WHO HAD THE BIGGEST IMPACT ON YOU AND WHY?
No doubt that would have to be my first boss SMSgt Art Dodgins. He was a rough gruff WWII vet who I thought was a hundred years old at the time. He smoke unfiltered Pell Mell Red cigarettes and drank Scotch with just a splash of water. He mentored me without me having a clue what he was doing. He watched after me early in my career and told me when it was time for me to be an instructor and flight examiner and later leaving the unit and becoming an ALCE Loadmaster. It wasn't until I became a SNCO that I realized what he was doing and I've tried to lead other young airman down that path. He knew what it took to get promoted and he made sure I was ready when the time came.
Read more