RECORD YOUR OWN SERVICE MEMORIES

By Completing Your Reflections!

 Service Reflections is an easy-to-complete self-interview, located on your TWS Profile Page, which enables you to remember key people and events from your military service and the impact they made on your life.

Please describe who or what influenced your decision to join the Marine Corps?

Actually, it was sort of a joke that backfired. After high school, my two best friends and I all got jobs in the New York Engineering Department at the AC&F Plant in Berwick. We started out in the Mail Room and after several months there, we were assigned to Drafting Boards as Apprentice Draftsman. It was a pretty interesting job; it was great to go out in the Plant and see the cars being built and be able to spot a piece for which you had done the drawing. We were in the Passenger Car Division and, at that time, they were building some beautiful cars. But the three of us were restless; we were always plotting something different to do. At one time we discussed going to California to see what we could do there. Another time we were going to buy a cement mixer and start laying sidewalks. We came up with all kind of hare-brained ideas, none of which we ever followed through. Everybody would just laugh when we came up with a new scheme, knowing it would probably end like all the others. And then we decided to join the Marine Corps.

This time we actually resigned from our jobs, but we decided up front that it would be all or none. We felt pretty good with that because we were pretty sure at least one of us wouldn't pass the physical. One had some bad teeth, one had bad feet, and I thought I was too short. We resigned effective the end of August, and originally, were scheduled to go to Philadelphia the 22nd of September, 1948 for our physicals. At that time the Marine Corps was quite small, the slogan was, "Only 100,000 may serve". It turned out the quota for September had been filled and we were rescheduled for October 20. Things were getting pretty tight; we had no money coming in and all of us were getting close to the end of our savings, but we hung in there. October 20 finally arrived and we were off to Philly. The Marine Corps played a nasty trick on us; they accepted all three of us. We were sworn into the Marine Corps on October 21 and that afternoon, we left Philly by train for Parris Island, S. C. Things would never be the same again. We graduated from Boot Camp on January 12, 1949.

Whether you were in the service for several years or as a career, please describe the direction or path you took. What was your reason for leaving?

After Boot Camp, I was assigned to the Reproduction Section, Marine Corps Schools, Quantico, VA. I was originally supposed to be assigned to the Drafting Section, but when I arrived, there were no openings in that Section so I was "temporarily" assigned to the Photo Section. Twenty years later, when I retired, I was still in the OF 1500 field, Printing and Reproduction, not the OF 1400 field, Drafting, Mapping and Surveying. With the exception of the two and a half years assigned to the Marine Security Guard Program as an MSG at the American Consulate General, Madras (Chennai), India, my entire time was in the Reproduction Field.

If you participated in any military operations, including combat, humanitarian and peacekeeping operations, please describe those which were the most significant to you and, if life-changing, in what way.

Surprisingly, in a twenty year career, I never served in any combat operations. I came close one time; in November of 1951, I received orders to report to Camp Pendleton for assignment to a replacement draft and duty beyond the seas. Several weeks later, orders came from HQMC assigning me to the MSG Program. Since these orders were by name and the earlier orders were on the basis of MOS, the latter orders had precedence. This is one of the big "what ifs" in my career. Had I not gone to India, I would never have met my future wife or had the family I did. It would have changed my entire life. One can only wonder.

Of all your duty stations or assignments, which one do you have fondest memories of and why? Which one was your least favorite?

I enjoyed all my duty stations, but I must say, my tour In India has to be the most memorable. As I mentioned earlier, I met my future wife while on this tour and the duty itself was completely different from any other I experienced. Where else would a young enlisted Marine meet Ambassadors and other diplomatic notables, both American and foreign? The fact that I was one of the original Marines assigned as an MSG to the Consulate General in Madras contributed to it being a memorable experience. The MSGs hosted the first Marine Corps Birthday Party in Madras in November of 1953. It was quite a success. MSG duty is unique and only a relatively few are fortunate enough to experience it.

From your entire service, including combat, describe the personal memories which have impacted you most?

I would guess the thing that stands out the most is that as a result of being assigned to the MSG Program, I got to circumnavigate the Globe. I went to India by way of the Pacific and, two years later, returned to CONUS by way of the Atlantic. As we flew MATS at that time, this resulted in a number of touchdowns and layovers in many countries. I spent a week in Toyko, Japan, living aboard APL 46 in the Harbor. As we were only authorized civilian clothes on this assignment, this was a story by itself. Also, we had a layover in Bangkok, Thailand. We also touched down in Saigon when it was the capital of Indo-China. On the return trip, I had a 4-day layover in Dhahran, Saudi Arabia. We also touched down at Wheelus AFB in Tripoli, Libya. So, although I have not been to the Halls Of Montezuma, I have been to the Shores of Tripoli. Our itinerary is listed:

Departed Washington — 8 February 1952 (By rail from Union Station), Chicago, Ill. 9 February 1952, San Francisco, Ca1. —11 – 15 February 1952, Departed Travis AFB, Ca1. -~- 15 February (By Military Air Transport Service (MATS)), Hickam AFB, (Honolulu) Hawaii — 15 – 19 February 1952, Departed Hickam AFB — 19 February 1952 (MATS), Johnson Island — 19 February 1952, Wake Island — 20 February 1952, Iwo Jima — 21 February 1952, Tokyo, Japan — 21-28 February (Quartered aboard APL-46 in harbor), Departed Tokyo, Japan — 28 February 1952 (MATS), Okinawa — 28 February 1952, Manila, Philippine Islands — 28 – 29 February 1952, Saigon, Indochina — 29 February 1952, Bangkok, Thailand — 29 February – 1 March 1952, Calcutta, India — 1 – 5 March, 1952, Departed Calcutta, India — 5 March 1952 (Commercial Indian Air), Arrived Madras, India — 5 March, 1952.

RETURN ITINERARY: Departed Madras 23 April 1954 (Commercial Indian Air), Calcutta, India 23-25 April, Departed Calcutta 25 April (MATS), New Delhi 25-26 April, Karachi, Pakistan 26 April, Dhahran, Saudi Arabia 26-30 April, Cairo, Egypt 30 April, Wheelus AFB, Tripoli, Libya 30 April, Lajas Field, Azores 30 April-i May, Newfoundland, Canada 2 May, Westover AFB, Mass 2 May, U. S. Naval Base, Boston, Mass 3 May 1954.

Of all the medals, awards, formal presentations and qualification badges you received, or any other memorabilia, please describe those which are the most meaningful to you and why?

The Marine Security Guard Ribbon is the most meaningful to me. As I mentioned earlier, being an MSG is a unique experience and one experienced by a limited number of Marines. Supposedly, only the best are selected, and while that may be true now, I am not so sure it was in the early days of the Program. After all, they took me.

The Expert Badges are also meaningful to me. I was not a "natural" shooter. My exposure to firearms was very limited prior to entering the Corps. I did not shoot Expert until after I became a Staff NCO and then I shot Expert with the rifle four of my last five requalifications.

Which individual(s) from your time in the military stand out as having the most positive impact on you and why?

I can't single out one individual I would say had the biggest impact on me. I will say that my final senior DI, our Platoon had several over the course of Boot Camp, SSgt. W. R Stephenson, showed me you can enforce good discipline without resorting to "Chicken S–t" methods. That definitely impacted me when I became an NCO. One of the most colorful Marines I knew, and one for whom I had great respect, was Captain Marc A. Moore, S-3 Officer, H & S Bn, Hqs, FMFPAC. Capt Moore had been an aide to General "Chesty" Puller and some of that "Chesty" aura had rubbed off. I know that Capt. Moore could "chew you out" with the best of them. He retired as a Major General.

Can you recount a particular incident from your service which may or may not have been funny at the time, but still makes you laugh?

Two of my best friends enlisted with me. One was 18 at the time, The other and I were 19. At that time, the Marine Corps had a program whereby 18 year-olds could enlist for one year active duty followed by a number of years in the Reserves. Our friend really wanted to take advantage of that program, but my other friend and I convinced him to sign up for three. We had been in Boot Camp about a month and the younger of the three really hated Boot Camp, when my other friend and I were called up to Battalion Headquarters. Needless to say, we were apprehensive. Now this friend and I had enlisted in the Marine Reserve several months before we joined the regular USMC and all they wanted us for at Hqs. was to give us our discharges from the Reserves. The discharges were the regular discharge certificate with the word RESERVE typed under the large UNITED STATES MARINE CORPS across the top. On the way back to the Barracks, we concocted a plan to tell our other friend we were being discharged. We showed him the discharges, from a distance, and told him we were going home. I learned some new curse words that day. "You SOBs, I could have joined for one year, you talked me into three. Now you are going home and I'm stuck" and on and on. We were able to maintain this charade for several days before he realized if we were leaving, we would be gone. We got a good laugh then and still do when the three of us get together, except the younger one; he still fails to see the humor in the situation.

What profession did you follow after your military service and what are you doing now? 

I continued on in the Printing industry. After a couple of years in the private sector, I obtained a position at the U. S. Government Printing Office, Washington, D.C. The Division I worked in was responsible for 6 small Government Plants around the country. Now the Marine Corps, in addition to mobile Reproduction Sections at the FMF Headquarters level and the various Divisions, had two fixed Printing Plants, one at Camp Lejuene and one at Quantico. I had served at both and the equipment we had was very similar to what the GPO had in their Field Plants. My experience in the Marine Corps coupled nicely with my job at GPO.

What military associations are you a member of, if any? What specific benefits do you derive from your memberships?

I belong to a number of Military Organizations. To name a couple, the Marine Embassy Guard Association and the Marine Corps Engineer Association. Belonging enables me to stay abreast of what is happening in these fields now.

In what ways has serving in the military influenced the way you have approached your life and your career?

The Marine Corps instilled discipline into my life and caused me to stick with something, even when the going got tough. It also prepared me for employment after leaving the Marine Corps.

Based on your own experiences, what advice would you give to those who have recently joined the Marine Corps?

Things have changed so much since I was on active duty, I'm not sure I am in a position to give advice. All I would say is "Hang Tough"; most of you are facing situations I was never asked to face. Just know, your service is respected and appreciated.

In what ways has TogetherWeServed.com helped you remember your military service and the friends you served with.
 I have hooked up with some old friends who I hadn't heard from or about for years. In addition, I have become brothers to a number of Marines with whom I never served, but with whom I share common experiences and interests. Also, it is great to read the Forums and get a feel for what other Marines are thinking and doing.
Read the service reflections of
Sgt Don McKeefery
U.S. Marine Corps
(1979-1983)
Shadow Box: http://marines.togetherweserved.com/profile/222662
PLEASE DESCRIBE WHO OR WHAT INFLUENCED YOUR DECISION TO JOIN THE MARINE CORPS?
Three things:
First, the company where my Dad worked closed their doors during my senior year in high school, so I didn't want to be a further burden on my family with college tuition. And, unfortunately, coming from a small town and thus small school system, our guidance counselors weren't the
best at providing guidance.
Second, I scored very high on the ASVAB test and all the services were recruiting me (lots of calls and visits). I recall the Navy recruiters coming after me to be in their nuclear programs, but the Marine Corps was talking to me about aviation electronics and that interested me the most.
Third, my brother went into the Corps a year before me. I figured if he could do it, so could I. After boot camp I had a new respect for my brother. As he was going through, and I had decided to join, we never talked about the challenges of boot camp. What an eye-opening experience, starting with getting off the bus and onto the yellow footprints.
Oh, and the Dress Blues uniform is the best!
WHETHER YOU WERE IN THE SERVICE FOR SEVERAL YEARS OR AS A CAREER, PLEASE DESCRIBE THE DIRECTION OR PATH YOU TOOK. WHAT WAS YOUR REASON FOR LEAVING?
At the time I went in, I had 3 goals:
1) Make Sergeant.
2) Never get busted.
3) Don't go to Okinawa.
I satisfied all 3, though now I regret #3. I made E-5 within 3 years and feel that the lessons I learned from boot camp helped me to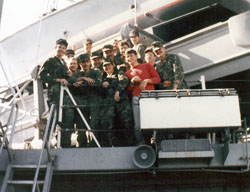 accomplish that goal. Work hard and go above and beyond and you will be rewarded.
I came close to not accomplishing #2. At one point my roommate had taken a bunch of us out into town to meet with a bunch of college girls who were visiting with his girlfriend and her family. They were in town for about a week, so we spent quite a bit of time with them. They were interested in seeing what our rooms were like so we decided it would be a good idea to sneak them in the back way. Since we lived on the second floor of the barracks, there was quite a long ladder (stairs for the civilian crowd). We thought we had it all covered since the Duty Sgt. sat near the entry at the front of the building. What we hadn't counted on was an MP on patrol in the area. He apparently saw our actions and brought the Duty Sgt. up to our wing and went door-to-door until they found the room with the girls…our room.
Fortunately, our Sgt. Maj. seemed to have a soft spot for us. Instead of formal charges and a trip to see the "Old Man", he decided an appropriate punishment would be for us to clean up the squadron area. Man, I'm thinking NJP (office hours) would have been an easier thing to go through. Needless to say, we learned our lesson…and the squadron are was spotless. Oh, and several of us continued to date the girls for years to come.
Regarding my decision to get out of the Marine Corps, I was notified by my monitor a few weeks before I was due to sign my re-enlistment papers that the school I was going to re-enlist for had just cancelled and would not be offered for another year. I had no guarantee it would run the following year so I decided to take my chances in the civilian world. To this day I wonder if that was the right decision. I've had a great career, but…
IF YOU PARTICIPATED IN ANY MILITARY OPERATIONS, INCLUDING COMBAT, HUMANITARIAN AND PEACEKEEPING OPERATIONS, PLEASE DESCRIBE THOSE WHICH WERE THE MOST SIGNIFICANT TO YOU AND, IF LIFE-CHANGING, IN WHAT WAY.
I am a Cold War Era Vet. I was proud to have served no matter the time in our history. The Marine Corps makes and needs Marines who are ready at a moment's notice. I, and my fellow Cold War Marine Veterans stood ready to carry on the traditions of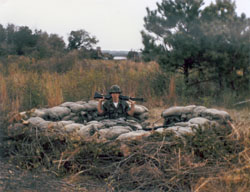 those who went before us and were tested in battle.
The closest I got to action was when we went on a heightened state of alert when a Russian submarine and Russian aircraft were spotted off the coast of North Carolina. We, and the Air Force, scrambled some planes to go take a look. We stood down shortly thereafter, but it was exciting while it lasted.
The next most exciting thing happened during a NATO exercise in Denmark. On our last night in country we had moved most of the squadron to a staging base for their flight home. Since I was with the advance party and the return party, I and several others were left at our field location to guard the equipment prior to its removal. A few of the locals had caught wind of the fact we were leaving the next day and thought they would travel out from town to our base.
I was on duty while the others slept, awaiting their turn. A car passed the gate but stopped just beyond. Two guys got out and staggered over to the gate and wanted to come in and party with us. I explained the situation to them and kindly asked them to return to their car and go back to town. The driver insisted they be allowed to come in and continued to move forward.
During this time we were not allowed to have loaded weapons on guard duty, so I was playing through my mind my options, and how, if possible and necessary I was going to get a shell in the shotgun for use.
My first thought was to cycle the pump and scare them, which is precisely what I did, but it only had an impact on the passenger. He ran to the car rather quickly. I also think I smelled an odor as he did so. Unfortunately, the driver was not fazed by this action. So, I asked him to follow the actions of his passenger and kindly return to the car before this escalated and something happened that we both didn't want.
He once again advanced, and it was at this instant I raised my weapon to let him know I was not going to allow him in or take one more step towards me. Upon seeing the working end of the shotgun he decided his passenger was not so dumb after all. He returned to the vehicle and they turned around and headed for town.
At least that's what I thought until I saw brake lights about a half mile down the road.
Next I heard a sound of something rustling off to my right (from the direction they would have come back). I shouted out, "Halt, who goes there?" Nothing in response. I woke up the next guard and instructed him to watch the gate while I investigated. As I got nearer, I could see someone stumbling in my direction. Again, "Halt, who goes there?" Again, no answer.
I advanced once more and instructed the person to immediately halt, place their ID on the ground and back up 10 steps and get face down in the dirt. This time they complied. Once I arrived at the ID I picked it up and shined a light on it. It turned out it was one of our officers returning to base after being out in town. False alarm. He and I never spoke of the event again.
OF ALL YOUR DUTY STATIONS OR ASSIGNMENTS, WHICH ONE DO YOU HAVE FONDEST MEMORIES OF AND WHY? WHICH ONE WAS YOUR LEAST FAVORITE?
It's a toss-up between 29 Palms, CA and Cherry Point, NC, for my fondest.
29 Palms is special because I was stationed there with my brother for a year. He was with 3rd Tank Bn, and I was going through MCCES. We spent a lot of time together when he was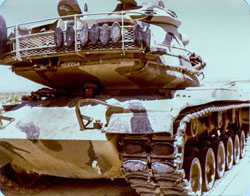 not out in the field for training maneuvers. I'll never forget the weekend he and another Marine from 3rd Tanks were working on a tank and were just wrapping up putting "the pack" (engine and transmission) in, and were going to take it for a test run. They invited me to come along for the ride. What an experience it was. They even gave me an opportunity to drive the tank once we were out in the open. I recall them telling me that if I threw the track, I got to put it back on. Needless to say, I drove it with caution, but still put it through some paces.
A fun fact about while we were out testing the tank out was that while on our way out towards Camp Wilson, my brother saw a car driving along the road parallel to us. It turned out to be their XO. My brother and his buddy hopped out of the tank and did everything they could to keep him from coming over to the tank, because if he saw me, they would be in deep trouble. He did come over and was getting close to getting in when all of a sudden he decided he needed to get on his way. Phew! Three Marines were finally able to exhale and start breathing easy again!!
Cherry Point was a great duty station for me. I had a car by then and enjoyed the fact it was only a half hour drive to the Atlantic Ocean. My buddies and I spent countless hours there when we were off duty. I also made a number of life-long friends at Cherry Point. We have stayed in touch all these years and enjoy looking back on our times together when we talk. I'm sure there is some exaggeration in our stories, but not a lot!
FROM YOUR ENTIRE SERVICE, INCLUDING COMBAT, DESCRIBE THE PERSONAL MEMORIES WHICH HAVE IMPACTED YOU MOST?
A joint services op we did at Holloman AFB. We were stationed atop North Oscura Peak. The last day the fly boys put on a show for us. They flew low to the ground across the White Sands Missile Range, then at the last moment went vertical up the face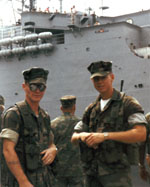 of the mountain we were atop. As they cleared the top, one seemed to go 90 degrees horizontal just clearing our radar antennas and the others peeled away like a banana. Awesome display!
I also never forget an event I saw take place in our tent. One of the Corporals in our unit decided to mess around with one of the Sergeants who was sleeping (he was on night shift). The Corporal, Sammy, decided to use a feather to tickle the Sergeant's (Andy) nose. It was all fun and games for Sammy until Andy came up out of the rack with his Ka-Bar on Sammy's neck. Sammy forgot Andy had served time in Recon and was not one to mess with, especially while he was trying to sleep.
Another exercise we were on took us on a float. I was one of the lucky ones from our squadron who managed to make the trip to Denmark on board a ship, the USS Raleigh (LPD-1). Much of the rest of the squadron traveled via airplane and arrived well after we arrived and set up camp.
The trip was quite the experience, from the rough seas to one of the guys in our unit being seasick the entire way there (and the rough seas didn't help him one bit). As a consequence of the rough seas we were able to "Shoot the Channel" and got certificates from the Navy for such. Our original travels were to take us over the North of the British Isles.
There were some good days, however, and we were able to spend a fair amount of time above decks. As for the stormy days, well, we managed to find a hatch that contained a small-ish room with nothing in it. It was in this area that we disappeared and played tons of pinochle. Our game was quite polished by the time we arrived after a 2 week journey.
WHAT ACHIEVEMENT(S) ARE YOU MOST PROUD OF FROM YOUR MILITARY CAREER? 
I'm most proud of my Rifle Expert qualification badge. I don't know if it was because I served in the air wing, or if it was normal, however, I only qualified with the rifle twice while I was in the Marine Corps. Once was in boot camp, where I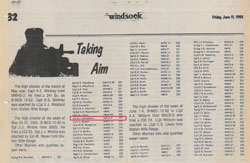 was lucky to shoot Marksman and earn the coveted toilet seat. Not a badge you wanted to wear on your uniform for inspections, but it was what I earned.
Fast forward nearly 3 years and it was time to qualify again. This time I shot and qualified as a Rifle Expert, and quite timely since I needed the score to put me above the line for the cutting score for Sergeant.
To this day I continue to enjoy shooting and have been able to maintain my expert shooting. On a fairly recent hog hunting trip a group of hogs were running by at full speed. I put my scope on my first target and fired, I saw it drop as I was cycling the bolt and acquiring my next target. Target acquired, I fired the next shot and saw it drop, too. Total time to take out two rapidly moving targets…1 second! My hunting buddies commented that they were never going to f*** with me again!
OF ALL THE MEDALS, AWARDS, FORMAL PRESENTATIONS AND QUALIFICATION BADGES YOU RECEIVED, OR ANY OTHER MEMORABILIA, PLEASE DESCRIBE THOSE WHICH ARE THE MOST MEANINGFUL TO YOU AND WHY?
I received a Meritorious Mast for work I had done with organizing and identifying all the manuals which made up the entirety of the documentation for the system I worked on, the  AN/TYQ-23 (TAOC). For those who have seen the library of manuals for this system, you'll understand what an undertaking this was. It was a bookcase that was 5 rows high on a wall that was at least 12 feet long. For those in my unit who used the manuals, my efforts were greatly appreciated. I was honored to have been recognized.
WHICH INDIVIDUAL(S) FROM YOUR TIME IN THE MILITARY STAND OUT AS HAVING THE MOST POSITIVE IMPACT ON YOU AND WHY?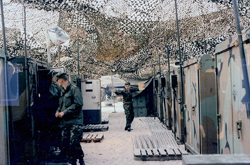 My SDI, SSgt Ahnen. He was firm but fair. Had a fatherly and grand-fatherly quality to him that cut down on the stress levels of boot camp at just the right times and in the right amounts. He was able to keep you right on the edge.
I try to model my actions with my direct reports after his. I have high expectations for them, but none higher than those I have for myself. I spend the time to impart knowledge on why we are taking particular action, and how things are done in order to achieve the maximum operational efficiency. I want them to take over my job some day (so I can move on to my boss' job!).
PLEASE RECOUNT THE NAMES OF FRIENDS YOU SERVED WITH, AT WHICH LOCATION, AND WHAT YOU REMEMBER MOST ABOUT THEM. INDICATE THOSE YOU ARE ALREADY IN TOUCH WITH AND THOSE YOU WOULD LIKE TO MAKE CONTACT WITH.
The list is long and distinguished. Here are the ones I can recall:
Jim Van Dam – Cherry Point – in touch ever since the I got out
Carl Weber – spent every day of our enlistments together, both from Ohio
Alan Mauer – 29 Palms & Cherry Point – recently re-connected,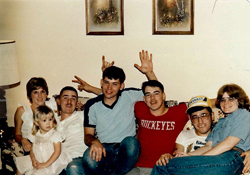 and planning to see at a reunion in 2017
Wayne (Stanley) Newman – Cherry Point – passed away in 2016
Sammy Helton – Cherry Point – recently re-connected
Dawn Carter – Cherry Point – recently re-connected
Warren Gilsdorf – Cherry Point – recently re-connected
Cornell Russell – Cherry Point – recently re-connected
Guy (Fish, Opie) Fisher – Cherry Point – in touch over the years
Don (Gunny) Webster – 29 Palms – instructor in TAOC schools – recently re-connected
Jim Mysliwiec – Cherry Point – recently re-connected
Kim Crawford – 29 Palms – re-connected years ago
Lowell (Lou, Swanny) Swanson – Cherry Point – lost contact
Mike (Stick) Rushkowski – Cherry Point – lost contact
Mike (Ski) Krawczyk – Cherry Point – lost contact
Dave (Nick) Nichols – Cherry Point – re-connected years ago
Myron (Gunny) Burrows – Cherry Point – lost contact
CAN YOU RECOUNT A PARTICULAR INCIDENT FROM YOUR SERVICE WHICH MAY OR MAY NOT HAVE BEEN FUNNY AT THE TIME, BUT STILL MAKES YOU LAUGH?
In boot camp our light A DI had the darnedest time saying "Shoe Trees" as he was demonstrating how to spit polish our dress shoes. He kept saying, "True She's". As you can imagine, we tried our best to not laugh, but after the 3rd or 4th time we all let loose, especially when he finally gave up and said, "these damned things here".
Our gift for the outburst, some time in the Rose Garden! Well worth it.
WHAT PROFESSION DID YOU FOLLOW AFTER YOUR MILITARY SERVICE AND WHAT ARE YOU DOING NOW? IF YOU ARE CURRENTLY SERVING, WHAT IS YOUR PRESENT OCCUPATIONAL SPECIALTY?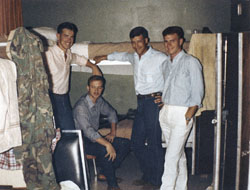 I stayed working in the electronics field for quite a while as a field service engineer. I started out working on main frame computer peripheral devices, then moved into the bio-medical field working on equipment that was used for the Human Genome project.
I followed that up with moving into the male urological field, specifically working on equipment to treat enlarged prostates. Eventually my career took me into Program Management, again, in the bio-medical field followed by working for a major hard drive manufacturer. From there I wound along the path until I worked my way up to Chief Operating Officer of our company.
Now I am working on starting my practice for CEO peer-to-peer advisory boards, enabling CEOs to come together and work on issues they are facing, but with the input and advice of other CEOs who may have had similar issues in their careers.
WHAT MILITARY ASSOCIATIONS ARE YOU A MEMBER OF, IF ANY? WHAT SPECIFIC BENEFITS DO YOU DERIVE FROM YOUR MEMBERSHIPS?
I belong to the American Legion. I've been a member for many years now, but still have not committed to a single post.
I've attended a few Marine Corps League meetings, but have not decided if they are for me.
IN WHAT WAYS HAS SERVING IN THE MILITARY INFLUENCED THE WAY YOU HAVE APPROACHED YOUR LIFE AND YOUR CAREER?
Adapt, Improvise, Overcome. What more is there to say? These 3 words and the discipline that boot camp instills in every Marine are all that are needed to be a success. I carry a challenge coin in my pocket every day, which contains these words, to remind me that everything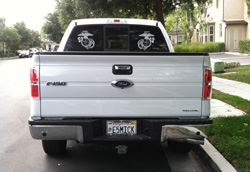 is possible.
Honor, Courage, Commitment. These are another 3 very powerful words. All put together, it seems that 6 words are an easy way to live your life and make your way through your career. However, it takes a daily reflection on what these words mean, along with a renewed dedication to upholding the true meaning of each word individually and together in order to really do them justice.
Every day I start my day thinking of how far my career has advanced, and know that it is a direct result of my time in the Marine Corps. I was formed and molded by three very powerful individuals, who had help from many of their colleagues. I do my best every day as a tribute to their efforts.
BASED ON YOUR OWN EXPERIENCES, WHAT ADVICE WOULD YOU GIVE TO THOSE WHO HAVE RECENTLY JOINED THE MARINE CORPS?
First, I want to say thank you for your loyalty, dedication, and service. You are carrying on a fine tradition of protecting the freedoms upon which this country was founded.
Second, I always make the time to thank all service members personally when I see them, and I see many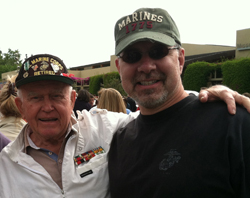 in my travels. I spend a little extra time with my Marine brothers. I don't think they expect it, but I know they appreciate it.
I also make it a point to attend a Memorial Day ceremony every year. I have met and enjoyed the conversations of many veterans as we celebrate those who made the ultimate sacrifice for our freedoms. Their stories are priceless, but I fear we are losing the opportunity to capture them with each passing year and the losses of these men and women.
As for advice, my advice is to remain proud of what you do. No other service has the bond or brotherhood we have, and there is a reason for it. We are Marines. Once a Marine, Always a Marine!
IN WHAT WAYS HAS TOGETHERWESERVED.COM HELPED YOU REMEMBER YOUR MILITARY SERVICE AND THE FRIENDS YOU SERVED WITH.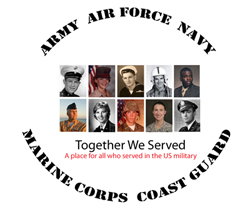 I have been able to connect with many of my lost brothers, folks I thought I would never be able to find again. It has also given me the opportunity to expand my brotherhood and meet new Marine buddies. I find that I participate more and more every day on the forums. There are a lot of interesting Marines, with plenty to say.
I also like the way we can share our memories and the history of our Marine Corps through the various vehicles made available by the site. Reading the Reflections of others, especially those from eras that predate mine, gives more flavor to the history of the Marines. Thanks!
Read the service reflections of TogetherWeServed.com member:
Sgt Doug Woods
U.S. Marine Corps
(1968-1971)
Shadow Box: http://marines.togetherweserved.com/profile/313295
PLEASE DESCRIBE WHO OR WHAT INFLUENCED YOUR DECISION TO JOIN THE MARINE CORPS?
In high school I was rated 1-A by the Selective Service. My folks couldn't afford to pay for college and I wanted a break from school, so even before graduating in 1968 I talked with the USN recruiter. With Vietnam in full swing I figured the Navy was the safest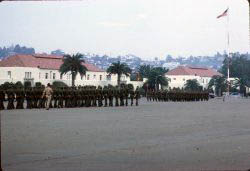 bet. When my AFEES test scores weren't high enough for the USN, he had me talk with the USMC recruiter across the street since I made clear I didn't want to be drafted into the Army. Sgt Greene was a pretty straight-shouter. I could enlist for two years, which likely meant being a grunt in VN. I could sign-up for four years for a USMC tech school, but there was no guarantee I could quality for it. Or I could opt for three years which made everything 50/50. I enlisted for three years.
In boot camp I took the standard USMC tests, plus an optional journalism test to basically avoid extra time standing in formation in the hot San Diego July sun. The night before graduation I learned I'd been selected to be a USMC military journalist. After ITR at Camp Pendleton I attended the Defense Information School at Ft. Benjamin Harrison in Indianapolis IN. I was then assigned to MCB Quantico VA, where I wrote for the Quantico Sentry.
After six months at Quantico I applied for orders to WestPac. My orders came through in late August 1969. I was to report to the 9th MAB on Okinawa. Going through processing on Okinawa my original orders were cancelled and I was assigned to 1st MAW Vietnam. Reporting to 1st MAW ISO/PAO HQ in Danang, I was given the options of staying at HQ, going south to the Marine jet base at Chu Lai, or reporting to the large USMC helicopter base at Marble Mountain Air Facility four miles SE of Danang. I chose the choppers of MAG-16.
WHETHER YOU WERE IN THE SERVICE FOR SEVERAL YEARS OR AS A CAREER, PLEASE DESCRIBE THE DIRECTION OR PATH YOU TOOK. WHAT WAS YOUR REASON FOR LEAVING?
I never considered making the Marine Corps a career. I did endeavor to be the best Marine I could be and do the best job I could while I served my country.
Like the other USMC writers and photographers at MAG-16, I reported on and photographed, the men, their choppers and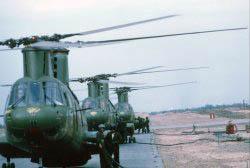 the missions they flew. I also wrote feature stories on various Marines at MMAF who worked on the ground to keep the aircraft flying. Most prized was to get temporary flight orders. Those orders allowed me to approach pilots and crew chiefs and request to fly with them on their mission(s) scheduled that day. I was never refused. I flew medevac, troop insert/extract, recon insert/extract and outpost resupply missions as well as a napalm drum bombing mission on an NVA HQ complex. Besides experiencing and reporting on the missions I flew, I took hundreds of photos of the people and events.
Before my VN tour was completed I was pulled-out as part of one of Nixon's "Phased Withdrawals" and sent by ship (USS Denver LPD-9) to Iwakuni, Japan, a USMC jet fighter base SW of Hiroshima on the Inland Sea. Iwakuni was the HQ of 1st MAW REAR and they weren't expecting me and several dozen other Marines. After sitting on the dock for several hours, we were finally trucked to a Transit Barracks. At Iwakuni I was a reporter for the base newspaper, the Torii Teller.
At Iwakuni I was able to journey to Hiroshima, where in September 1970 I visited the Peace Park and Museum. The central city was rebuilt. The A-Bomb park areas and museum were very somber.
My final duty station was with the 12th Marine Corps District Public Affairs Office in downtown San Francisco. There I participated in various honor guards (including the Miss California pageant), sent supplies to recruiters and was flown to Billings MT to do a story for Leatherneck Magazine on a Marine Corps Reserve unit's winter training in Yellowstone National Park.
My 4312 MOS was judged 'critical' in 1970′ and I was offered a $7,000 reenlistment bonus and promotion to Staff Sergeant if I'd stay in. I declined the offer. I chose a different career and life path.
IF YOU PARTICIPATED IN ANY MILITARY OPERATIONS, INCLUDING COMBAT, HUMANITARIAN AND PEACEKEEPING OPERATIONS, PLEASE DESCRIBE THOSE WHICH WERE THE MOST SIGNIFICANT TO YOU AND, IF LIFE-CHANGING, IN WHAT WAY.
As a combat correspondent with a Marine helicopter group my combat experience was limited to having helicopters I was flying in being shot at by the NVA and VC during medevac and Marine recon extract missions. I was very lucky; neither myself nor anyone in any of the choppers I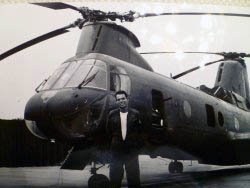 flew in was ever injured despite several aircraft taking numerous hits during missions.
The most dangerous mission was an emergency extract of a recon team surrounded by the NVA in the Au Shau Valley NW of Danang. Despite USMC jets and chopper gunships providing suppressing fire around the zone, the chopper's first attempt to land in the small jungle zone failed because of intense enemy fire. With the recon team's survival at stake, the HMM-262 pilot of the CH-46 said he was going in again. With the jets swirling above us dropping bombs and strafing the zone's perimeter, we came in straight and fast. While the port and starboard 50- cals. spit bullets, I stood in the large port side window and photographed the sequence of the recon team scrambling from the jungle and racing to the rear ramp. Our pilot gunned the turbines and the Frog screamed up and out of the zone to safety.
Because of their bravery, the pilots and crew of the chopper on that mission all got medals. I didn't get a medal, but that was all right because I got the pictures! I've always been appreciative of the pilots and crew chief for letting me fly that mission with them. The photos and negs eventually found their way to HQMC's Historical Division, where they where chosen by a publisher for use in a 1980's Vietnam War coffee table book.
OF ALL YOUR DUTY STATIONS OR ASSIGNMENTS, WHICH ONE DO YOU HAVE FONDEST MEMORIES OF AND WHY? WHICH ONE WAS YOUR LEAST FAVORITE?
I was very fortunate in that I had great duty and worked for and with wonderful people in several places. The highlight was being a writer/photographer at Marble Mountain Air Facility just outside Danang in South Vietnam. Following that I enjoyed my time at MCAS Iwakuni, Japan. My final posting was to 12th MCD in San Francisco, there's no way SF couldn't be great.
FROM YOUR ENTIRE SERVICE, INCLUDING COMBAT, DESCRIBE THE PERSONAL MEMORIES WHICH HAVE IMPACTED YOU MOST?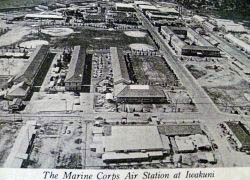 Going undercover to investigate the training and operations of the Military Police/Shore Patrol unit at MCAS Iwakuni, Japan. A month before my arrival a Marine had died in a riot at the base brig. The unit was accused of institutional racism and brutality. Because I was unknown when I arrived on base from Vietnam, the Public Affairs Officer and Commanding General asked me to accept a short assignment to the MPs and then report on what I saw and experienced. I lived, ate and drank with men of the unit. I did road patrols, stood entry gate watch, walked a beat in Iwakuni city and stood Sergeant of the Guard on a Saturday night at the brig.
My story was totally complimentary of the professionalism I saw the MPs/SPs operate under doing a hard, under-appreciated and thankless job. I saw no overt racism or brutality. Instead I saw and personally experienced the horrid effect alcohol has on people. As an MP I was kicked, spit on, pushed, punched and threatened with being killed.
OF ALL THE MEDALS, AWARDS, FORMAL PRESENTATIONS AND QUALIFICATION BADGES YOU RECEIVED, OR ANY OTHER MEMORABILIA, PLEASE DESCRIBE THOSE WHICH ARE THE MOST MEANINGFUL TO YOU AND WHY?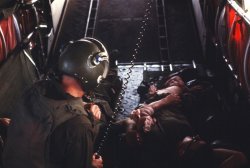 I'm most proud of the Air Medal and Combat Air Crew wings I earned recording, both in print and in photos, the exploits of the brave men flying helicopter missions in support of allied ground forces in Vietnam.
WHICH INDIVIDUAL(S) FROM YOUR TIME IN THE MILITARY STAND OUT AS HAVING THE MOST POSITIVE IMPACT ON YOU AND WHY?
There's actually two and both are from boot camp. The first is Daniel Minor, my best buddy in the platoon whose maturity and understanding helped me deal with the brutal and confusing early stresses of the training cycle.
The second is the Platoon Commander, GySgt Roy Gallihugh, who kept me in the platoon when I warranted being dropped for being weak and overweight. The Gunny had to promise higher-ups I'd steadily improve by being on a stringent diet and by doing extra daily workouts after lights out. I proved his trust by losing 50 lbs in less than 10 weeks and graduating on schedule with the platoon, but there was a 'bump' along the way as I cheated on my diet. At lunch one day I ate an ice cream treat. Nothing was done right away, but in formation I was told to report to the Duty Hut that night after lights out. GySgt Gallihugh was there and he was none too pleased with what I'd done. He verbally lit into me as a liar, cheat and Em-Effer among other choice epithets, who'd stabbed him the back! Urged on by other DI's in the hut, he then expressed his disappointment more 'forcefully.'
Needless to say, I didn't cheat on my diet again and nothing was ever said of the incident.
CAN YOU RECOUNT A PARTICULAR INCIDENT FROM YOUR SERVICE WHICH MAY OR MAY NOT HAVE BEEN FUNNY AT THE TIME, BUT STILL MAKES YOU LAUGH?
The day before I got out of the Marines in mid-July 1971, Top Arnold, the Press Chief in the office had me sign a reimbursement form for mileage for use of my personal car on official business. No big deal. A few minutes later he and the other staffers in our Public Affairs Office ominously surrounded my desk. Top then handed me a fully completed USMC Reenlistment Contract for six years and at the bottom was my signature! They all clapped and congratulated me on my decision to become a Lifer. Then I noticed that my signature wasn't a legally binding true original, it was a carbon facsimile. Top had slipped the contract's last page beneath the mileage reimbursement form I'd signed earlier.
WHAT PROFESSION DID YOU FOLLOW AFTER YOUR MILITARY SERVICE AND WHAT ARE YOU DOING NOW? 
As I'd enjoyed being a military journalist during my three years in the Marine Corps, I got a Journalism degree in college. When I graduated in 1975, however, there was another bad economic recession in the country and there were very few newspaper or other media jobs available.
To pay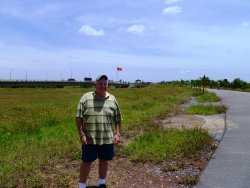 the bills I got a temp job with the federal government in San Francisco that eventually led to being a loan closer with the Small Business Administration. I enjoyed that work which entailed a lot of people contact, detailed research and paperwork. Over the next few years I applied for several media jobs, but was never hired.
I ended up spending 33 years in the residential mortgage business, where my journalism training and skills came in handy. For various companies I wrote and edited lending manuals and put together training programs.
Now I am retired. I was fortunate to be able to retire in early 2008 when my last residential mortgage employer closed down. I am currently doing much travel. The attached photo was taken June 2011 during a return trip to Vietnam (the location is on the south side of the Peace Bridge over the Song Ben Hai in the former DMZ).
WHAT MILITARY ASSOCIATIONS ARE YOU A MEMBER OF, IF ANY? WHAT SPECIFIC BENEFITS DO YOU DERIVE FROM YOUR MEMBERSHIPS?
* U.S. Marine Corps Combat Helicopter Association (has large reunions every 2 years of Korea, Vietnam, Persian Gulf, Iraq, Afghanistan chopper veterans and active duty Marines.
* MCRD San Diego Museum Historical Society.
* Vietnam Veterans of America.
* Vietnam Veterans Memorial Fund-dues help to maintain The Wall and build a visitors' center.
* Marine Corps Heritage Foundation-dues help maintain the National Museum of the Marine Corps.
IN WHAT WAYS HAS SERVING IN THE MILITARY INFLUENCED THE WAY YOU HAVE APPROACHED YOUR LIFE AND YOUR CAREER?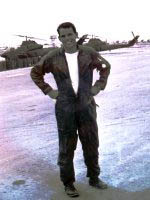 I cannot imagine being the man I am today and have been for some 44 years if not for having enlisted in the United States Marine Corps. As a teen I was a stuttering, shy and overweight "momma's boy". When I came home after boot camp, no one recognized who I was. My Mom said, "What have the Marines done to my little boy?"
Military service taught me self-reliance, discipline, organization and the courage to face obstacles unafraid, as well as to not be intimidated by anyone or anything. It further taught me to more truly appreciate the courage and sacrifice of everyone who has ever served our country and to value the kinship and friendships of others who have served.
The values and mental toughness I learned in the service have served me well in my personal life, professional career and when I officiated high school and small college sports.
BASED ON YOUR OWN EXPERIENCES, WHAT ADVICE WOULD YOU GIVE TO THOSE WHO HAVE RECENTLY JOINED THE MARINE CORPS?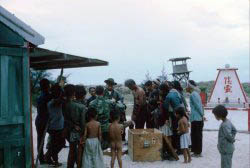 Do the best you can do at whatever task you are assigned. Regardless of how the big picture military events turn out when they recede into history, i.e. Korea, Vietnam and the wars in Iraq and Afghanistan, be able to look back with pride in the knowledge that you and your comrades did what your country asked you to do. Let others debate whether policies and results are right or wrong. Always know that you did your country's bidding and served it honorably.
Also that time goes by so fast! Memories quickly fade except for truly exceptional events. So although it may seem dumb and senseless at the time, make notes and take pictures/videos of the people and places you are stationed at and the events whether training or in combat you experience. They become a record as you proceed through life.
IN WHAT WAYS HAS TOGETHERWESERVED.COM HELPED YOU REMEMBER YOUR MILITARY SERVICE AND THE FRIENDS YOU SERVED WITH.
Together We Served is a great place to not only find those you have served with, but also to honor those who have paid the ultimate price.
Read the service reflections of US Marine:
MSgt Barry W Parker
U.S. Marine Corps (Ret)
(1977-2008)
Shadow Box: http://marines.togetherweserved.com/bio/Barry.Parker
PLEASE DESCRIBE WHO OR WHAT INFLUENCED YOUR DECISION TO JOIN THE MARINE CORPS?
I'm one of seven Children and my parents believed it was a good idea to have each of us tested, in our pre-teen years, to find our path in life based on our interests. This was back in the early 70's and to my knowledge, testing your children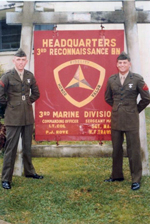 to see what job in life best suited them, was never heard of. My parent were way ahead of their time in a lot of aspects and have aways been a great influence in our lives. The results of my tests came back and stated, I would be highly succeed in the military. With that, I picked the Marine Corps of course, because I believed then and still do today that we are the finest fight force ever. I'd gone to College for a bit before I joined the Corps and got an AA on my own dime. Then a friend, who I worked with at the time, told me he was going in the Corps and asked if I'd like to go in with him on the Buddy Program. It seemed as good time as any, so I informed my parent that it I was joining the Corps. They of course were very happy and supportive of my decision. About a week later I was on a Plane to MCRD San Diego.
WHETHER YOU WERE IN THE SERVICE FOR SEVERAL YEARS OR AS A CAREER, PLEASE DESCRIBE THE DIRECTION OR PATH YOU TOOK. WHAT WAS YOUR REASON FOR LEAVING?
I started out in RECON in 1978 in Okinawa Japan, which was awesome. The NCO's and Officers I served with as a young Marine, I believe, were the basis of my success. They gave me a good foundation to work on, so I spent the first couple of years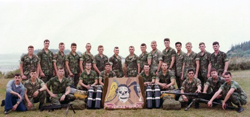 jumping out of perfectly good aircraft, scuba diving, swimming out of subs, shooting and blowing stuff up. It was great training. The picture is of our platoon in 1978. Ona Point, Okinawa Japan. Later in my career, (SGT) I decided to re-up because of an opportunity to join Marine Corps Aviation. So I went from Hopping and Popping, Snooping and Pooping, Looting and Shoot to Swinging with the Wing. I was sent to ADJ school in Millington TN for my new A school, then got orders to New River, NC and worked as a T-58GE-16 (CH-46E) Engine Mechanic. Back then it was H&MS-26 (Headquarter and Maintenance Squadron) which later became MAL-26 (Marine Aviation and Logistical Squadron) which is Intermediate level Maintenance. From there I went to the Organizational Level Squadrons, as a Senior Sgt, and the real fun began.
IF YOU PARTICIPATED IN COMBAT, PEACEKEEPING OR HUMANITARIAN OPERATIONS, PLEASE DESCRIBE THOSE WHICH WERE THE MOST SIGNIFICANT TO YOU AND, IF LIFE-CHANGING, IN WHAT WAY.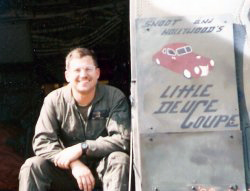 Beirut 4 times with HMM-261 Raging Bulls. We were there so many times we thought about renaming ourselves "The Beirut Bulls", Then 1st Gulf War, then Operation Restore Hope Somalia, Iraqi Freedom, Operation Enduring Freedom. Mostly sitting off the Coast of one Country or another waiting for the word to go in and pick up or drop off the Marine Landing/Assault Element. "We're have fun now bro's!" Going 120 Knotts, tree top high with 50 Cals out each side of the Aircraft, ready to rock! Hitting the LZ hard and fast. We also did a lot of aid work in poor 3rd world countries that needed basic necessities like food, water and medical supplies. I remember flying lots of hours over the years providing medical support and care workers into Impoverished country.
OF ALL YOUR DUTY STATIONS OR ASSIGNMENTS, WHICH ONE DO YOU HAVE FONDEST MEMORIES OF AND WHY? WHICH ONE WAS YOUR LEAST FAVORITE?
East Coast, HMM-261, Raging Bulls was my first Squadron where I got my Aircrew Training. Deployed to Beirut several time and did a lot of Mediterranean cruises. The crew pictured below were all senior NCO's and Staff NCO's. Best and Tightest crew I've ever served with. Over the years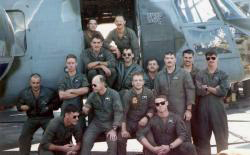 I've spent sometime looking for these Marines pictured and catching up on how there lives turned out. Marriage, Kids, Jobs and such. I found most of them on Together We Served or Facebook. Most of them, I'm happy to say, have had great and happy lives. Whenever I tracked down one of the crew that had been missing, I reach out to the others and let them know how they are doing and how to look them up. It's been great. After several Med. Cruises, I was sent to the West Coast, to HMM-268, Red Dragons. Great team of Marines there as well. Deployed to the First Gulf War and then the ongoing peace keeping forces in Somalia, back to Kuwait on the 5 year Anniversary.
FROM YOUR ENTIRE SERVICE, INCLUDING COMBAT, DESCRIBE THE PERSONAL MEMORIES WHICH HAVE IMPACTED YOU MOST?
Surviving some pretty hairy situations. Mostly support the ground element ashore with P.M.C. (Packs, Mail and Cargo) and Medivac missions. While doing so, getting shot at from below. Lost some great Bro's but felt proud as hell to have serve with them. Always in my thoughts and prayers.
WHAT ACHIEVEMENT(S) ARE YOU MOST PROUD OF FROM YOUR MILITARY CAREER? IF YOU RECEIVED ANY MEDALS FOR VALOR OR OTHER SIGNIFICANT AWARDS, PLEASE DESCRIBE HOW THESE WERE EARNED.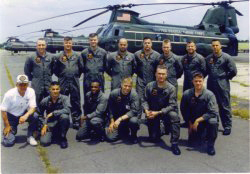 3 Combat Action and 3 Air Medals from Beirut. 1st Gulf War, Operation Restore Hope/Battle of Mogadishu and Iraqi Freedom. Meritorious Service Medal for the Presidential Helicopter Squadron HMX-1. All in all it was a great ride and great memories. "That which does not kill us, makes us stronger" I was selected to server as the Quality Assurance Chief at Presidential Helicopter Squadron HMX-1. Pictured is myself and the Flight Crew, supporting the President on one of his trips.
OF ALL THE MEDALS, AWARDS, QUALIFICATION BADGES OR DEVICES YOU RECEIVED, PLEASE DESCRIBE THE ONE(S) MOST MEANINGFUL TO YOU AND WHY?
Scuba Dive Badge: Naval Dive School back in the 70's was one of the toughest I've been through. Army Airborne School, known as Jump School was a piece of cake. I got tired of jumping out of perfectly good Aircraft, had a wife and baby on the way so I joined the Air Wing. Can't say it was any safer but I believed and was correct in thinking, that this move would give me some great opportunities when I retired. So I joined the Air Wing, went to Aircrew school and got my second set of Gold Wings (Aircrew Wings).
WHICH INDIVIDUAL(S) FROM YOUR TIME IN THE MILITARY STAND OUT AS HAVING THE MOST POSITIVE IMPACT ON YOU AND WHY?
First I'd say it was my NCO's, Staff NCO's and Officers, when I was a young Marine in Okinawa. They gave me a good base of knowledge to start with. You have to remember it was Post Vietnam then and a lot of the Senior Staff NCO's were combat vets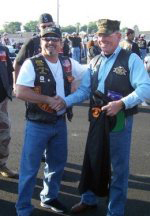 of which you could learn a lot from. Later on in my Career I had the pleasure of meeting and working with General Al Gray, Twenty-ninth Commandant of the Marine Corps and Sergeant Major Harold G. Overstreet,12th Sergeant Major of the Marine Corps. Other than that, I could spend all day telling you of all the great people I met, worked with and who influenced me to be the best Jar Head I could be. Sergeant Major Overstreet is a big supporter of our annual Rolling Thunder ride to DC in support of our POW/MIA's. Sergeant Major Overstreet would ride his Motorcycle from Texas, some 18 hundred miles to support and ride with us to the Wall. The Picture is of me shaking hands with the SgtMaj. at the Pentagon parking lot waiting to roll out 750 thousand motorcycles into downtown DC.
CAN YOU RECOUNT A PARTICULAR INCIDENT FROM YOUR SERVICE WHICH MAY OR MAY NOT HAVE BEEN FUNNY AT THE TIME, BUT STILL MAKES YOU LAUGH?
The Navy Shellback Initiation and Certificate. It was some silly stuff but a lot of fun to go threw and help pass the time and built moral. Flying with the Presidential Clinton's Staff, the Secret Service and the Press that covered his movement was something else. Met some awesome people and have some great stories to tell. Not sure if I can tell them all here because they maybe classified 🙂
WHAT PROFESSION DID YOU FOLLOW AFTER YOUR MILITARY SERVICE AND WHAT ARE YOU DOING NOW? IF YOU ARE CURRENTLY SERVING, WHAT IS YOUR PRESENT OCCUPATIONAL SPECIALTY?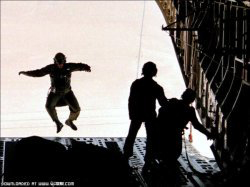 After I retired and I then got a job supporting the Army PEO Soldier at Fort Belvoir. I did that for several years, supporting their Weapons Systems programs. Then an opportunity opened up, of which I'm now back with the Marine Corps at Marine Corps Base Quantico G-4. Back with my Bro's! I'm working for the G-4 Operations and Logistics Branch now. I retired in this area and think it is the best place, for a veteran, to get a job or maintain a job. I also can help out our troops and our Vets in the area.
WHAT MILITARY ASSOCIATIONS ARE YOU A MEMBER OF, IF ANY? WHAT SPECIFIC BENEFITS DO YOU DERIVE FROM YOUR MEMBERSHIPS?
NRA Life Member, Pop a Smoke Association, Force Recon Association, Marine Corps League life member at Mickey Finns detachment Veteran of Foreign War life member and Band of Brothers Motorcycle Riding Club. The picture is of the Band of Brothers Motorcycle Riding Club on our annual Toys 4 Toys run. We do this every year along with Rolling Thunder, IWO Jima Wreath laying ceremony, Walter Reed wounded veteran, Children's Hospital fund raiser and poker runs supporting our Wounded Warriors.
IN WHAT WAYS HAS SERVING IN THE MILITARY INFLUENCED THE WAY YOU HAVE APPROACHED YOUR LIFE AND YOUR CAREER?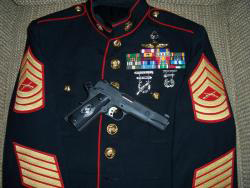 Always Faithful to my family: The importance of my family and family values was taught to me by my Parents. Married over 60 years, my parents were a great role model for me growing up and it was reinforced in the Marine Corps values. Keep the faith with my Marine Corps Brothers and Sisters: This was always stressed to me as a young Marine and I always passed it on to the younger Marines I taught and served with. The Mission comes first: This was always stressed to me in my younger days but I always believed if you didn't take care of your Marine and train them properly the Mission would not succeed. God, Country, Corps. and helping out your Veteran and Wounded Warriors is also a must and something I taught and believe in.
BASED ON YOUR OWN EXPERIENCES, WHAT ADVICE WOULD YOU GIVE TO THOSE WHO HAVE RECENTLY JOINED THE MARINE CORPS?
Take advise from your senior enlisted. Keep on training. Keep the Faith. Know thyself and seek improvement. Don't be afraid to ask for help. The only dumb question is the one not asked. Call your Mom and Pop once in a while, for goodness sake, you don't know how long you might have left with them. Semper Fi, Snoot out!!
IN WHAT WAYS HAS TOGETHERWESERVED.COM HELPED YOU REMEMBER YOUR MILITARY SERVICE AND THE FRIENDS YOU SERVED WITH.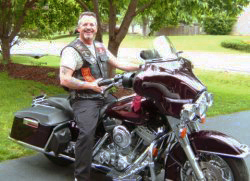 Long story, short. I came out of a 3 month coma from a motorcycle accident. Had some memory loss of my past. So my Doc. says, try reaching out to people who might remember you and ask them about your past to jog your memory. I signed up on Together We Served, dug through all my photo albums, reached out to my family and friends, to ask about things I've done, places I've been. When I joined Together We Served I got all kinds of hits and calls from Marines I knew from my past. I used T.W.S. to rebuild the memory of my past experiences and people I knew. What a trip. "I did what!" 🙂 It's been great therapy.
Read the service reflections of U.S Marine:
LtCol James L. Volkmar
U.S. Marine Corps (Ret)
(1963-1984)
Shadow Box: http://marines.togetherweserved.com/profile/36338
If you served, join us today at http://togetherweserved.com to tell your story.
WHAT INFLUENCED YOUR DECISION TO JOIN THE MILITARY?
I was in college and was dumped by this little blond cheerleader. Crushed me. Caused me to drink heavily one night and break out the literature that I had pilfered from the post office. Suddenly, I could see myself returning from Marine boot camp in dress blues and profiling for
the benefit of the cheerleader, causing her heart to throb at the possibility I would give her as second chance. In addition I saw the last guy I had a fight with cowering at the thought I would seek vengeance and thrash him within an inch of his life.
This Walter Mitty episode was compounded by my picture appearing in the paper as I proved to the policeman that I was of legal age following a recent raid at a nearby night spot. I knew this would probably cause me trouble at the small religious college I attended. Like all students attending, I had signed a pledge that I would not drink, dance or smoke while in attendance. I would like to say that my moral conscience came into play and I wanted to do the right thing but as a pre-med student I had discovered I was far better at playing Doctor than studying to become one.
Truth be told I was really bummed about the little blond cheerleader. Filled with new resolve from the alcohol and my mind's eye picture of the steely eyed sartorially splendid killer Marine I was to become. I called the recruiter listed on the brochure the very next day. Alas as I went to search for a picture of the little blonde cheerleader my tears over the years had washed away the image. But to give you some idea, I have posted here a picture of my lifelong heart throb that could have been her twin had Ann-Margret's hair been a bit more blonde!
WHAT WAS YOUR SERVICE CAREER PATH?
Boot camp in San Diego! A Hollywood Marine, fitting given my predilection for the drama of my planned triumphant return to woo the little blond cheerleader and crush my high school nemesis. It should be noted that half way through boot camp, I received a letter from the little blond
cheerleader indicating that she was getting married to a friend of mine and wanted me to know she was proud I was serving my country. I was crushed. There was no real reason for me to be in boot camp any longer since my triumphant return was in ashes.
I tried to explain the mistake that had been made to my Drill Instructors. Candidly, they were less than sympathetic.
While in boot camp I went to an interview for Marines who would volunteer for Sea Duty. This time and without the benefit of alcohol, I saw myself in Dress Blues (all sea going Marines were issued them), cutlass in hand up in the riggings of an American ship of war. After all my life I had envisioned for myself was over. I think the Marine Staff Sergeant conducting the interview liked the fact I had some college and I had the presence of mind not to relate my real reasons for volunteering. I was accepted and after Sea School at MCRD San Diego I was assigned to be an Admiral's Orderly in Commander Carrier Division One stationed at Coronado. Out of boot camp I carried an 03 MOS.
DID YOU PARTICIPATE IN COMBAT OPERATIONS? IF SO, COULD YOU DESCRIBE THOSE WHICH WERE SIGNIFICANT TO YOU?
As an enlisted Marine I did a WestPac tour on the staff of Rear Admiral E.C. Outlaw or as those of us serving as his orderlies referred to him "the bandit of the South China Sea." Admiral Outlaw earned a Navy Cross for his actions as a pilot in World War
II.
His Chief of Staff was a Captain Swanson who I spent most of the time serving as I was the junior Marine of the six of us in the detachment. Captain Swanson had the voice of God and a real sense of humor. One day he sent me to the ships store to get him a bottle of Vitalis hair oil. The ships store was out and when I returned and informed him of same he said he didn't care he wanted it so find him a bottle. After an extensive search I finally resorted to paging on the 1MC anyone aboard who had a bottle of Vitalis hair oil to report to the Admiral's bridge immediately. A sailor showed up with three quarters of a bottle that I gave him two bucks for. Captain Swanson accepted it as being the only bottle on board and I was out two bucks.Â
As to Combat operation the pilots flew out daily bombing North Vietnam. I quickly became convinced that if you wanted to return you flew the propeller driven SPADS as I watched them come back with six of their twelve cylinders blown apart, gushing oil but still flying. The A4 and Phantoms could take a round in the wing somewhere and not return. As you can see by my citation from the Admiral that I was a major factor in winning the air war. LOL!
Years later as a 2ndLt., I would take part in combat operations of a much more personal nature. The most memorable was when the company Hotel 2/26 was set in along the river at Ga Noi
Island when we were attacked by NVA in a battle that raged for several hours. We had Spooky (Douglas AC-47D,) often referred to as "Puff the Magic Dragon," sending down from the sky a wall of solid red tracers blowing the hell out of banana trees. As Spooky finished firing in front of my platoon's perimeter, Lt. Tom Turner came up on the net requesting that he do the same for his platoon's perimeter. I can remember that when the first round in front of Tom's position hit, I said to my radio operator, "that was close". Just then Turner came up in highly emotional tones shouting "Check Fire", "Check Fire." Seems Spooky had shot right down the line of Tom's platoon, but the "Gods of War" were watching out for those Marines as there was only one Marine with what amounted to a flesh wound. Turner was really miffed though cause two bullets had gone through his pack and blew apart his last can of Turkey Loaf. He also had a round go through his last clean skivvy shirt. One bullet but when you unfolded it you had six holes in the shirt. I think he still tells the story that he was wearing the shirt at the time.
WHICH, OF THE DUTY STATIONS OR LOCATIONS YOU WERE ASSIGNED OR DEPLOYED TO, DO YOU HAVE THE FONDEST MEMORIES OF AND WHY?
As the Commanding Officer of Marine Security Guard Detachment Company "A" -Europe, I had the responsibility to travel to every country in Europe at least once every six months. I had one of my watch standers, who had come from an African Embassy, tell me late one night that I didn't have to worry about him as he would never do anything to get in trouble. I was struck by his sincerity. He was assigned to Helsinki, Finland, which as any Marine will tell you who has been there it is about as close to Heaven as mortal man can get. Anyway as I questioned him further he said that after his last tour this was Heaven and to emphasize his belief he shared these immortal words with me. "Sir, I got to tell you some of the girls here are not just beautiful but they would suck the chrome off a trailer hitch just to practice their English."
However, my fondest memories of a duty station are reserved for my stint as the OIC of the Northern Training area on Okinawa. I spent a year living in a tar paper shack surround by thousands of acres of jungle and roads so bad that it took 2.5 hours to get to Camp Hansen where I would occasionally go so that I could flush a commode and watch water swirl. It was here that I had to tell Sgt. Jones he could not bite the heads off of snakes during his class on Jungle survival after his third bout with some strange illness.
We had a Marine from one of the infantry companies collapse while out on patrol and we had to swim a river to get to him. He was unconscious so we put him on a stretcher and raced him to an LZ before the bad weather closed in and so the Medevac bird would not tarry. The LZ was about three miles from where we started and I swear it was uphill the entire way. Well that is not exactly true as once I was headed down this very steep incline only to hear Jones shout, "Captain, get off the trail". As I made a prodigious leap to the side the unconscious Marine on his stretcher went hurtling past me bouncing to the bottom. A rather chagrined Sgt. Jones explained how the stretcher bearers in front had tripped. We did get him to the helicopter in time and they got him to the hospital with only minor cuts and bruises, not related to the strangulated hernia he received when he was dropped on the trail.
Then there is the time one of the Marines on patrol was bitten by a poisonous snake and after five or six really terrible painful days the snake died. I have attached this picture of where my little Floyd called home prior to his untimely demise.
FROM YOUR ENTIRE SERVICE CAREER WHAT PARTICULAR MEMORY STANDS OUT?
The day I checked into Second Recon Battalion, coming from my stint as the XO of the Marine Detachment on the USS Hornet. An assignment I got due to a profile from wounds suffered in Vietnam. Anyway I was there for the Apollo Twelve pick up and stayed until they decommissioned
the Hornet. As I was walking to the Battalion HQTRS, as a really squared away 1stLt, I saw this elderly gentleman coming toward me whom I assumed to be the Battalion Commander based on the ribbons on his blouse but as the sun was in my eyes I couldn't really see his rank. So I saluted and in my best parade ground voice rendered a "Good Morning, Sir"! As he returned my salute and passed me I recognized the 2ndLt bars on Howard V. Lovingood. A true recon legend, Howard was to become my best friend and my mentor for everything leadership and recon related.
I was the Casualty Assistance Officer for the Beirut bombing and called on a Marine I called that was in pretty sad shape from parts of a building falling on him. He was in and out (mostly out) of lucidity. I saw on his record that he had been in 2nd Recon and I asked if he knew a Captain Lovingood? It was like a window opened in his mind and the nurses said that he continued to improve from that point. I was at Howard retirement after spending 45 years in the Marine Corps.
WERE ANY OF THE MEDALS OR AWARDS YOU RECEIVED FOR VALOR? IF YES, COULD YOU DESCRIBE HOW THIS WAS EARNED?
Most of my time in combat was spent trying to get the buttons on my utility's replaced with velcro so that I could get lower to the ground. Despite my best efforts I was awarded one, not for valor but I guess slow reflexes.
OF THE MEDALS, AWARDS AND QUALIFICATION BADGES OR DEVICES YOU RECEIVED, WHAT IS THE MOST MEANINGFUL TO YOU AND WHY?
My Scuba and Marine Gold Jump wings. I was fortunate that while a Lt and in Second Recon Battalion, I spend six month going through some tough training. It began in the Army Ranger School. Then to Scuba School or more precisely Navy Underwater Swimmer School in Key West, Florida. Having lost 30 pounds in Ranger School, I would lay in my rack at night and whimper until the Seals and UDT guys got a hold of me the next morning to further torture me, then back my battalion for two weeks and was sent to Army Airborne School.
I can remember years later when in Second Force Recon and pinning on my Gold Jump Wings thinking, "If only that little blond cheerleader could see me now!"
WHICH INDIVIDUAL PERSON FROM YOUR SERVICE STANDS OUT AS THE ONE WHO HAD THE BIGGEST IMPACT ON YOU AND WHY?
Col Howard V. Lovingood for the reasons previously cited.
CAN YOU RECOUNT A PARTICULAR INCIDENT FROM YOUR SERVICE THAT WAS FUNNY AT THE TIME AND STILL MAKES YOU LAUGH?
I came back from Vietnam the Medevac route. It isn't that path that I recommend. I was tripping along on Ga Noi Island when some fool tried to kill me. Ruined my day. Actually, I and my radio operator, were felled by some explosive device that picked me up and
launched me nearly ten feet in the air giving me a chance to perfect my one and a half gainer diving form. I like to think back and reflect on my panther like reflexes that let me shield my radio operator with my body as I bore the brunt of damage from the shrapnel but as the Corpsman pointed out it could have been that I was just closer to the explosion.
In any case the left side of my body got a healthy peppering of shrapnel and my face might have escaped but when the blast went off I turned to see what it was. A mistake, as a piece of shrapnel slid up my cheek into my left eyelid and a piece transited up the very center of my nose splitting it roughly in half. I submit it is to my credit that after hitting the ground I told the others not to come to my aid for fear there were other such devices around and I struggled up and limped back to my radio man who was standing rather rigidly upright but clutching his neck with blood streaming between his fingers. I laid him down and by then the corpsman was there and took over the triage.
I sat down and called the knucklehead who got himself and three others pinned down by a thirty caliber machine gun, that we were delayed. About five or ten minutes later, as the corpsman finished with my radioman and turned his attention to me, the four pinned down individuals came wandering into our position. Seems their desperate requests for help and their certainty of near death may have been a bit over dramatized. Our rescue was complete! Of course the circumstance was such that I would never receive my Navy Cross for heroism as I had earlier envisioned. In any case the Corpsman was on me about a Medevac for my radio operator, I started that process.
I had thought that my left eye was gone from the shrapnel but the Corpsman assured me that it was there just swollen shut from shrapnel in my eyelid and eyebrow. As I was in the process of calling for the Medevac every time I would bend forward to read the map for coordinates, I bled profusely on it. Mostly I had just a red smear covering the spot where we were located. Like all good grunts I had my towel around my neck and I could see what appeared to be mud on both sides of my nose and I kept scrubbing and trying to wipe the mud off my nose. As the Corpsman caught sight of my efforts he shouted at me as to what I was doing and I responded that I was getting the mud off my nose. He grabbed my hand and said for me to stop "that's not mud, that is your nose!? "
Above is the photo of what it looked like prior to the BOOM!
WHAT PROFESSION DID YOU FOLLOW AFTER THE SERVICE AND WHAT ARE YOU DOING NOW? IF CURRENTLY SERVING, WHAT IS YOUR CURRENT JOB?
I retired from the Marine Corps while serving as the Executive Assistant to the Vice Admiral who headed the Logistic Directorate of the Joint Chiefs of Staff. While in that job I was requested by the Commandant of the Marine Corps to be the Casualty Assistance Officer for the Beirut Bombing.
Shortly before my assignment to the Joint Chiefs of Staff I had been the Regional Marine Officer for Europe and it was felt my familiarity with the area would be of benefit. The Admiral agreed to my temporary assignment and I went off to Europe to deal with the all aspects of the casualties from that incident.
Dealing with the return of the remains of 241 Marines and the wounded set me on a path of questioning my humanity. So when I returned as my younger brother worked for Apple Computer he asked if I wanted to interview for a job at Apple. I agreed simply because I thought the experience would be good for me sometime in the future. Apple, for a corporation, was a wild and wooly place at that time and if they liked you they wanted to hire you. They liked me! Apple offered me a job at what at the time I thought was an obscene amount of money, my standards have since changed. I took the job and that led to a second career in technology. Pictured is the North American Sales Group at Apple in 1985. My hair is longer!
WHAT MILITARY ASSOCIATIONS ARE YOU A MEMBER OF, IF ANY? WHAT SPECIFIC BENEFITS DO YOU DERIVE FROM YOUR MEMBERSHIPS?
Marine Corps League
Together We Served
Force Recon Association
I enjoy the camaraderie!
HOW HAS MILITARY SERVICE INFLUENCED THE WAY YOU HAVE APPROACHED YOUR LIFE AND CAREER?
Challenge and more importantly "meeting the challenge" is the key.
WHAT ADVICE WOULD YOU HAVE FOR THOSE THAT ARE STILL SERVING?
Fully enjoy the military opportunity but plan for what follows. For as one of my Commanding Officers once told me "it is not a life's work" eventually they ask you to leave. Plan for that day.
IN WHAT WAYS HAS TOGETHERWESERVED.COM HELPED YOU MAINTAIN A BOND WITH YOUR SERVICE AND THOSE YOU SERVED WITH?
I have located two individual that were in the same boot camp platoon with me way, way back when. The years fall away when something like that happens and as fate would have it the best thing that ever happened was that little blond cheerleader dumping me because it was a catalyst to my life's best experiences.
As you can see from the attached picture the good times were just beginning.
Read the service reflections of US Marine:
Capt William M Pierce
U.S. Marine Corps
(1985-1992)
Shadow Box: http://marines.togetherweserved.com/profile/396503
PLEASE DESCRIBE WHO OR WHAT INFLUENCED YOUR DECISION TO JOIN THE MARINE CORPS?
I suppose my decision to join the Marine Corps was due to many reasons. First, my family has served in the military since at least the Civil War. My great grandfather served with the Union from Maine. My grandfather served in the Army and fought in Belgium, participated in D-Day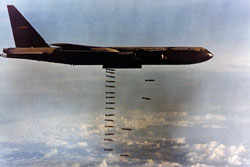 and, later Korea. My brother was a Naval Officer submariner. I still have several relatives who have served or currently serve in other branches of the US Armed Forces.
My father also served and was a USAF Aviator (Captain-then Major during Vietnam) flying B52's in Vietnam 1968, 1969 and 1970. He served 3 tours. He was later involved in "Rolling Thunder" among other USAF ops. He retired a Colonel.
He was very pissed when I graduated from Florida State University as he wanted me to either become a USAF Aviator like him or enter the MLB draft. I played baseball for Florida State University and was courted by the Baltimore Orioles, Cleveland Indians and Chicago White Sox. I'll never forget the things he said and the look on his face when I told him that I wasn't going to declare for the MLB draft because, at best, if I entered the MLB draft, I'd go to AA. I was already 22 and would be too old to enlist in less than 4 years. I could languish in the Minors or "Do something with my life." He just mumbled something and walked away.
I always had a desire to be a Marine, so that's what I did. My father just couldn't understand how being a Marine Infantry Officer would help me find a job when I separated. "Shooting rifles, throwing grenades, etc.- "What kind of job skill is that?" he said. He told me that if I became an Aviator like him, after I left the USAF, I could get a job flying for a civvy airline. A "real" career in his opinion.
I joined the Marines because I wanted the brotherhood and camaraderie of being a part of the world's finest military organization.
Also, I remember during Boot Camp at Parris Island screaming ,"Sir, yes/no, Sir" or "Sir, aye, aye, Sir" until it hurt was a real reality check for me. I remember the squad bay deck swabbing parties at the Island. With rolled up towels and "turtle" crawling" during the floor squaring away and weekly waxing parties done the same way. My final rating at the end of Boot Camp was in the top 10% so I got me a PFC stripe!
But, in the end, I did it for me.
WHETHER YOU WERE IN THE SERVICE FOR SEVERAL YEARS OR AS A CAREER, PLEASE DESCRIBE THE DIRECTION OR PATH YOU TOOK. WHAT WAS YOUR REASON FOR LEAVING?
Initially, I wanted to make a career commitment to the Corps and serve until retirement, but my family was also important to me. My wife, son and daughter rarely saw me. They did go to California and MCBH with me at the end of my days as a Marine Officer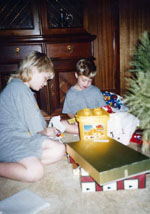 though. I always felt it best if they stayed in Tampa to have a more "Normal" life staying in one place. I would report for duty stations alone.
After 7 1/2 years of this, I decided to separate and go to Graduate School back at Florida State University. I got my Ph.D. in Mental Health Counseling and worked for the VA for many years. I counseled mostly (about 50%) Marine 03s and Army 11Bravo- combat vets with PTSD. But, many had other issues as well.
I decided to leave spend more time with my family.
As it turned out (and I couldn't know this) I'm glad I did spend more time with my family. In 2012, our beloved daughter, Michelle, who was my "Daddy's Girl" was killed by a drunk driver. She was a perfect child and so is our son, Alex, who is currently a Navy Lt. Physician.
Michelle was very, very bright and so is Alex. We sent her to a private Prep School where she graduated at 16 while taking college credit courses. She got her B.A. at barely 20, her M.A. at 22 and was beginning to pursue her desire to become a Professor of English Literature. She was just starting Doctoral School at the University of Florida when the drunk driver killed her. I recall as she became an older teenager, then young adult, her brother, Alex, was always her "protector." I worried, but he always watched out for her. If some guy ever, ever did ANYTHING untoward to her, he'd thump their ass and that would be the end of it. I'm glad I wasn't continually gone as I would have missed the years we had before her death.
IF YOU PARTICIPATED IN ANY MILITARY OPERATIONS, INCLUDING COMBAT, HUMANITARIAN AND PEACEKEEPING OPERATIONS, PLEASE DESCRIBE THOSE WHICH WERE THE MOST SIGNIFICANT TO YOU AND, IF LIFE-CHANGING, IN WHAT WAY.
I participated in Desert Shield/Desert Storm in 1991. My Unit was one of the first into Kuwait- Golf 2/3, along with Hotel 2/3. We were attached to the 1st Marines . Our units were heloed to about 3 klicks from the airfield and dismounted around 0530. We humped to the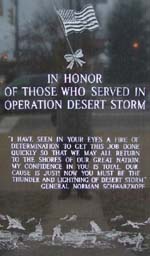 airfield and Captain Soon-Ye and myself set our lines and got ready for the STHTF.
The most life changing event I'd say I had was killing the first Iraqi regular. I still remember what his face looked like, what his uniform looked like and how he moved before I dropped him. I had an odd feeling for a few minutes that I had legally murdered another human being- enemy or not.
I will always remember LCpl Billings. A Marine from Hotel 2/3 was moving to a less cluttered position for a better field of fire and was hit twice with AK rounds. He wasn't KIA just WIA. LCpl Billings from my Company, 1st Squad, 2nd Platoon, ran from his safely covered position and, under fire, recovered the wounded and down Marine and carried him back to safety.
I found out later that since LCpl Billings had no real medical supplies, he cut the sleeve off his ute and cut it into pieces plugging the WIA wounds with pressure. The WIA Marine's name was PFC Rodriquez and he was CASEVAC and lived. I put Billings in for a commendation.
OF ALL YOUR DUTY STATIONS OR ASSIGNMENTS, WHICH ONE DO YOU HAVE FONDEST MEMORIES OF AND WHY? WHICH ONE WAS YOUR LEAST FAVORITE?
I'd say MCBH. I was with Golf 2/3. The Islands were nice and gave my family a lot to do while I was at work or observing training. The weather was nice, the sea was so clean and it was just a "different" type place to be stationed. I usually got the gaff because I was a brown bagger!
I can't really say I have a least favorite as they were all pretty much the same.
MCBH- Home of the "Island Warriors." OOH Rah.
FROM YOUR ENTIRE SERVICE, INCLUDING COMBAT, DESCRIBE THE PERSONAL MEMORIES WHICH HAVE IMPACTED YOU MOST?
I'd say the camaraderie of the Marine Corps mostly. Building relationships with other Officers, including Capt. Soon-Ye and my best Marine buddy Capt. John Raymond. He stayed the course and retired in 2010 as 07.
During the dance in the desert with Iraqi regulars and conscripts (most of which surrendered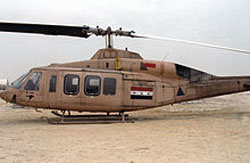 as soon as they saw us coming) I remember the sights, sounds and smell of war. Top Tyler was one great SNCO who I admired very much and always entertained any advice he rendered. Top just had a "sense" when something wasn't right. He was a highly decorated Vietnam vet who knew the ropes. I remember engaging the enemy who were dumb and didn't realize that the airfield Al Jabar was ours and we were going to kick their asses out of Kuwait.
Once other Units of the 1/1 arrived and could take over the security of the airfield, we moved out to protect the oil fields. It was eerie with all the oil wells blazing and even during mid-day, the smoke made it seem like near twilight in places. Replacing gas mask filters very often. I always gave orders to my Platoon Leaders to get a hole dug, let the Marine down in the hole to change filters, do whatever needed to be done and to always cover the hole with ponchos while the Marine was down in the hole. I suspected that inhaling burning oil smoke just couldn't be a "healthy" thing to do.
WHAT ACHIEVEMENT(S) ARE YOU MOST PROUD OF FROM YOUR MILITARY CAREER?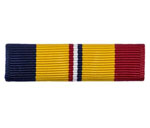 I don't really believe medals and awards make Marines. Marines are an elite fighting force. Marines fight for the Marine to the right and left of them and work as a team at all times. Medals and awards are just self-fulfilling by any Marine doing their duty. I'm not saying they aren't significant because they are. Marine 03 are the only military MOS whose primary purpose is to get the job done by killing, repelling or capturing the enemy. Marine 03 are the only ones whose primary function is to advance and take care of business. I'm in no way dissing any other Marine MOS. All are important. I received the CAR for Desert Storm.
OF ALL THE MEDALS, AWARDS, FORMAL PRESENTATIONS AND QUALIFICATION BADGES YOU RECEIVED, OR ANY OTHER MEMORABILIA, PLEASE DESCRIBE THOSE WHICH ARE THE MOST MEANINGFUL TO YOU AND WHY?
I would say the CAR. But, again, medals/ribbons were never a priority for me. They were presented for doing my duty as a Marine Corps Officer.
WHICH INDIVIDUAL(S) FROM YOUR TIME IN THE MILITARY STAND OUT AS HAVING THE MOST POSITIVE IMPACT ON YOU AND WHY?
There were many. One was MSgt. Wayne Tyler. He was a highly decorated Vietnam vet and now reminds me of the relationship between Sgt Major Basil Plumley and Lt Gen. Hal Moore in the movie, "We Were Soldiers" that we had in Desert Storm. Top and I were always together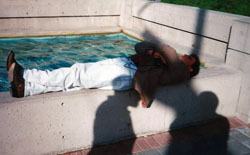 and he just had a sense whenever something wasn't right during Desert Storm. MSgt. Tyler would say things like, "Skipper, something just ain't right here" or "Maybe those bas…..ds are up to something." Things like that. He passed away in 2009. We stayed in touch regularly until his death. I miss him very much. Semper Fi MSgt. Wayne Tyler.
Another was Lt Col Blose our Battalion CO during Desert Storm.
Capt. Soon-Ye- he taught me karate in the lot by his BOQ like nobody's business.
BGen John Raymond was and still is my best Marine buddy. We spend holidays together and go on vacations with our families to this day. I always BS him by calling him,"Sir" a lot. We often go to Saints or Cubs games together and leave our "bosses" (the wives) at home. He is also one of the finest Marines I ever served with.
Capt. Leon White- he taught me a lot while I was still a gung-ho 1Lt all the ropes and how to get my job done quickly and efficiently. He was kinda old for a Capt. He became an Officer through the "Gifted Marine" program the Corps had going at the time to retain good and experienced enlisted Marines by making them Officers. Capt. White served 3 tours in Vietnam and was very good at Infantry teaching.
Another was Corpsman HM2, Carlton Pine-one brave guy who was there if we needed him.
Too many others to list actually.
PLEASE RECOUNT THE NAMES OF FRIENDS YOU SERVED WITH, AT WHICH LOCATION, AND WHAT YOU REMEMBER MOST ABOUT THEM. INDICATE THOSE YOU ARE ALREADY IN TOUCH WITH AND THOSE YOU WOULD LIKE TO MAKE CONTACT WITH.
Lt Col Blose-MCBH 2/3 Battalion CO during Desert Storm.
MSgt. Wayne Tyler-Camp Pendleton- One of the best Marines I ever served with.
GySgt Raul Rodriquez- Camp Pendleton-One hard core SOB. He was a hat for years at MCRD-PI and brought it with him every day.
Major Troy Bessemer- Camp Legune-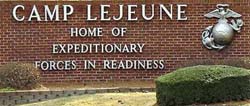 Went through OCS together. A great guy and Marine.
BGen John Raymond- my best Marine buddy. We went through nearly all the exact same training together for 7 years.-OCS, TBS, Camp Legune, Camp Pendelton
Major John (?) Anderson-OCS Instructor-He gave us a break during his classes and we got at least 45 minutes a day to relax. He was an excellent classroom instructor. We all learned a lot about Leadership, spotting a Marine who may be in distress, how to counsel subordinate Marines, leading by example, etc.
Lt Col Kelly-Once our Battalion CO- MCBH. He was a very unique Officer who would often lighten stressful situations with a joke or say something to make us laugh to reduce the stress.
I would like to find HM2 Carlton "Evergreen" Pine from Vermont.
CAN YOU RECOUNT A PARTICULAR INCIDENT FROM YOUR SERVICE WHICH MAY OR MAY NOT HAVE BEEN FUNNY AT THE TIME, BUT STILL MAKES YOU LAUGH?
These are two of many. One occurred during Phase 2 at MCRD/PI. One of our Drill Instructors had rather large lips which was the butt of many inside, quiet jokes among us recruits. One cold December day as we were forming for chow, a recruit in the rear is sneaking chap stick on his lips. The DI mentioned noticed the infraction and runs to the rear and ear blasts the recruit saying, "So, we're just gonna put on some f…ing lipstick, huh?" Almost immediately, another Recruit says, "DI needs to use Speed Stick on those lips!" All hell broke loose and we paid the price, but it was funny.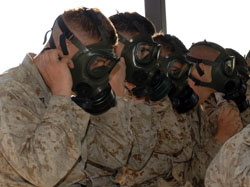 The other occurred during OCS. I'd like to add that, for me at least, OCS was challenging, but I had a BIG advantage over the other Candidates' because I was already a Marine and used to all the ear blasting, how to drill, the PT, how to fire and clean my weapon, how to sound-off, how to correctly don my ute, mask, etc. Many Candidates couldn't hack it and were sent packing.
Anyway, while in Combat Training, there was a Candidate that wasn't very good at the "Slide for Life" rope crawl. He gets about a 1/4 of the way and stops. Hat's are yelling at him to "continue, what's his problem, hurry up, etc" He yells, "This Candidate can't go anymore because I'm raw and don't want to fall in the water, SSgt." Boy, that set them off big time. Ends up, he falls into the cold water anyway. When he gets out, DI Moore is all over him. The Candidate says, "This Candidate is raw SSgt." DI Moore screams "Explain yourself Candidate." The Candidate screams "This Candidates (male genitalia) are raw from PT and sliding the rope is killing me, SSgt!"
Nearly everyone wanted to laugh I think, including the DI, but no one did.
WHAT PROFESSION DID YOU FOLLOW AFTER YOUR MILITARY SERVICE AND WHAT ARE YOU DOING NOW? IF YOU ARE CURRENTLY SERVING, WHAT IS YOUR PRESENT OCCUPATIONAL SPECIALTY?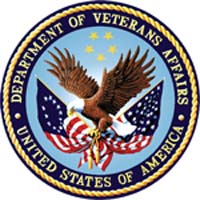 I went to graduate school at Florida State University in Tallahassee. I got my Doctorate in Mental Health Counseling. I worked for the VA many years counseling vets from all branches. I found that most were either Marine 03 or Army 11 Bravo- combat vets with PTSD.
I'm retired now.
WHAT MILITARY ASSOCIATIONS ARE YOU A MEMBER OF, IF ANY? WHAT SPECIFIC BENEFITS DO YOU DERIVE FROM YOUR MEMBERSHIPS?
I just go every so often to my local VFW for a few beers and cook-offs. It's sad, but the Korea and Vietnam era vets show up less and less as age and death takes its toll.
IN WHAT WAYS HAS SERVING IN THE MILITARY INFLUENCED THE WAY YOU HAVE APPROACHED YOUR LIFE AND YOUR CAREER?
Becoming a Marine made me more focused, driven and able to cope with stressful situations. Being a VA Mental Health Counselor was good for my caseload patients I think. But, it was somewhat difficult for me. This is because I had to absorb, like a sponge, all my caseload patients issues. I had to develop the best course of action for each patient. They only had to work through their individual issues. I loved doing it nonetheless and I am proud I was able to help so many vets. Some I couldn't help as they weren't receptive or just stopped coming to see me.
BASED ON YOUR OWN EXPERIENCES, WHAT ADVICE WOULD YOU GIVE TO THOSE WHO HAVE RECENTLY JOINED THE MARINE CORPS?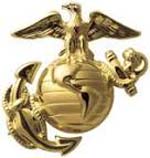 I would tell the Marine Recruit that they better lose any sense of being an individual. They will always be a "team." I'd tell them that they are attempting to become a part of a 240 year old brotherhood of tradition, honor, courage and commitment. I'd also tell them that whether they are going to MCRD/PI or MCRD/SD, they better represent all of us who came before and stood on those yellow foot prints. They should represent us all 110% and no less.
The Eagle, Globe and Anchor MUST be earned as it will only be given to a selected few.
IN WHAT WAYS HAS TOGETHERWESERVED.COM HELPED YOU REMEMBER YOUR MILITARY SERVICE AND THE FRIENDS YOU SERVED WITH.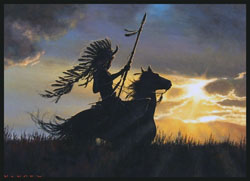 It has helped me connect with new Marine Brothers/Sisters. I've been privileged to have become acquainted with many, many good Marines. I have been able to share stories with other Marine 03 and other MOS'. It's a good site that I'd recommend to any Marine. Thanks for letting me participate and communicate, not only with Marines, but also military personnel from other branches as well in Forums and such. TWS is good. I've also been able to connect with other Native Americans such as myself.
Note from Admin: Sadly, as we were working with Mike to tell his story, he passed away. At least his story is here forever for his family, friends and his Brother and Sister Marines.
Semper Fi Marine.
Read the service story of U.S. Marine
Cpl Stephen Robey
U.S. Marine Corps
(1986-1990)
Shadow Box: http://marines.togetherweserved.com/bio/Stephen.Robey
PLEASE DESCRIBE WHO OR WHAT INFLUENCED YOUR DECISION TO JOIN THE MARINE CORPS?
A very good friend of mine during my sophomore year at West High School in Rockford, IL decided to go into the Marine Corps as a way to better his life and "get out of this town and do something." We were both in ROTC while in high school, and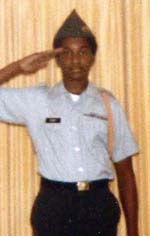 both of us were on the Rifle Team and Drill Team together. I was the Drill Team Commander and he and I were Co-Captains of the Rifle Team!
One day, when the Marine recruiter came by the school to meet with my friend, I was coming down the hallway when I start to see kids move to the side like Moses was parting the Red Sea, but it wasn't Moses. It was the recruiter in full Dress Blues, and that scene is what made me decide I wanted to be a Marine!
As he passed, all the kids were looking, pointing, saying stuff…you could see the look of "awe" they had. As he walked by me, I admit I was a little in awe too. I had never seen a "real" Marine before. He looked at me, asked me if I knew where the ROTC classroom was and I just said, "Yes sir, it's that way" as I pointed down the hall.
The level of respect he commanded just walking down the hallway stuck with me for a long time, and let's face it, NO ONE has a better uniform than the Marines and Dress Blues! I wanted it!
WHETHER YOU WERE IN THE SERVICE FOR SEVERAL YEARS OR AS A CAREER, PLEASE DESCRIBE THE DIRECTION OR PATH YOU TOOK.
I chose Avionics because I loved jets…who knew I'd get helos at Camp Pendleton?
I remember on graduation day in Memphis, when I was handed my orders by the Maintenance/Avionics Chief for the school. I looked down and saw "H-1 Huey/ OV-10" and I asked Top, "What the hell is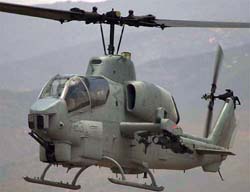 an OV dash 1 Zero?"
He said, "Those are reconnaissance planes."
I said, "Planes? With propellers?"
He said "Yep!"
Inside I said, "What the hell?"
I got to Pendleton, saw the OV-10's on the flight-line, and immediately thought "HELL NO! Those are NOT F-18's!" But then, I saw the AH-1W's, LIVE, flying around the flight-line, and that changed it up for me. I fell in love with them immediately. I know… they're skinny, not very sexy…but you know what? I think they're badasses!
My goal shortly after getting settled in at Camp Pendleton was to become a Drill Instructor. I didn't always stay "hardcore," but that goal remained, so in 1988 I went to NCO School at MCAS El Toro with the intention of going to D.I. School after I graduated.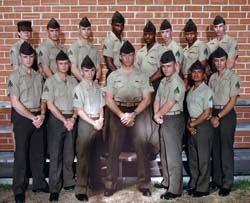 So, the plan was D.I. school right after NCO School, but unfortunately it was during NCO School that I twisted two discs in my back and what I didn't know then, that was the beginning of the end for my active duty time as a Marine.
So to this day, I still have that as unfinished business so to speak…and there's still this tiny hole in me for not being able to do that, and not accomplishing my self-made goal of "being a Marine until I make Gunny or hit 20 years…whichever comes first."
Truthfully, being on TWS has somewhat helped fill in that void. I'm not gonna lie, it still hurts me that I did not get the chance to finish the way I wanted to, but it hurts less today than it did in the past. Maybe one day I'll go back to USMCRD, stand on those beloved Yellow Footprints one more time, and maybe going full circle will do it for me. We'll see!
IF YOU PARTICIPATED IN COMBAT, PEACEKEEPING OR HUMANITARIAN OPERATIONS, PLEASE DESCRIBE THOSE WHICH WERE THE MOST SIGNIFICANT TO YOU AND, IF LIFE-CHANGING, IN WHAT WAY.
I saw no combat action. The closest I got was when all of our birds on the flight-line would leave green and come back tan!
I was still at Pendleton during Desert Shield and had to watch a lot of my friends and shop mates head out overseas for what became Desert Storm. Our shop got thinner and thinner, the flight-line slowly became a ghost-town, and it was pretty unsettling for me. I kinda felt helpless.
That slowly became a regret of mine, that I did NOT go, and I have a lot of respect for my brothers that did. However, I did somehow get a "little"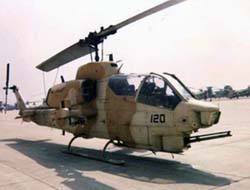 pride over watching the CNN footage of the AH-1W's "getting' some" in Iraq! I was watching news footage looking for Squadron insignia's on the tails and fuselage yelling, "That one was mine, that one too!" But to this day, it's still a little bitter-sweet. I don't know how else to explain it.
Just last week, I was explaining this to a Vietnam combat Veteran that I met at a seminar, and he told me these great words: "Those that did not go, feel guilty. Those that were in the rear, feel guilty. Those that went, survived, and made it back home, feel guilty. That's not on you. You served honorably didn't you? You did your job didn't you? Then it's not your fault and you shouldn't carry that."
Those were the best words EVER told to me about this "ache" that I've been carrying around for over 20 years, and having heard it from someone who's been there done that, made it even more powerful for me, and he was right.
I did my part while at Pendleton: I still humped gear, I still fixed stuff for our birds, and you're damn right I did my job. It was still "different," but now it doesn't sting as much, thanks to him.
OF ALL YOUR DUTY STATIONS OR ASSIGNMENTS, WHICH ONE DO YOU HAVE FONDEST MEMORIES OF AND WHY? WHICH ONE WAS YOUR LEAST FAVORITE?
Least favorite? Well gee, should I go with USMCRD San Diego you think? Boot Camp was as billed, HELL! I know there are some Marines who say it was easy, there are those that say it was hell. I'm the guy that votes for "it was hell!" I guess my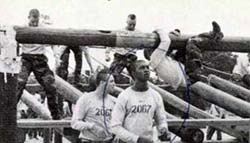 D.I.'s did their job!
Worse moment ever in boot camp was when I nearly drowned during Swim-Qual. Let's see, take a guy who barely knew how to swim in the first place, now put him in full cammies, complete with ALICE pack and a weapon, and say jump in off the high dive board. Yeah, this is gonna work out just fine. WRONG!
I dropped to the bottom, kicked up to the top, then…DOWN LIKE A STONE! I struggled until a hook came from the Heavens to pull me out of the pool. But wait, it couldn't have been from the Heavens because wouldn't you know it, there was one of Satan's Minions standing there, yelling at me, making me get back in line. Repeat earlier steps, same result. Bottom line, it took me almost all week to pass Swim-Qual! I have always hated water, the Marine Corps just helped solidify that for me!
Fondest memories? Had to be NAS Millington and all the time I spent hanging with one new friend after another! We had a lot of fun in Memphis, sometimes too much fun. The pool halls with my best friend Rick Gillian while listening to George Thorogood's 'Bad To The Bone' on the jukebox, going to the E-Club on Tuesday nights for ladies night, then on Friday cause it was Friday, and again on Saturday, well, cause it was Saturday!
I tell a lot of civilian friends that Memphis was 'my college' and I had a good time. Now, throw in the fact that we also had an official Marine Corps Mascot Bulldog named 'Bones' in our barracks that hated squid-lids? Ooh-Rah!
FROM YOUR ENTIRE SERVICE, INCLUDING COMBAT, DESCRIBE THE PERSONAL MEMORIES WHICH HAVE IMPACTED YOU MOST?
My best friend from NAS Millington was Richard D. Gillian! Good 'ol Rick! That guy and I were like the odd-couple, but I'd step in front of a train for him. Not only did he have my back in Millington, but he later came out to Pendleton in 1987 for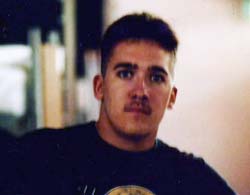 TAD, and we hung out again even though it was only for a little while.
Picture a 6'3 "dark green" Marine (remember that?) from the city of Rockford, Ill and a 5'7'ish light green Marine from Flatwoods, KY blasting down the highway in an old Chevy Cavalier with the windows down, screaming the words to "White Wedding" by Billy Idol at the top of their lungs! And if that wasn't enough, we also "rocked out" to some Whitesnake! Now THAT ladies and gentlemen is the definition of pals! Who knew?
We headed down to Coronado (San Diego) from Camp Pendleton, and decided to go see if we could watch the Navy SEAL's training. Well, we found a spot on a hill somewhere, and not only did we see them, but for some (stupid) reason, we decided to

make fun of them…and yes, they could hear us!
Now, I have no idea why Rick decided to taunt them by yelling, "Ring the bell, you know you want to, ring the bell!" But I maintain that I was the voice of reason throughout this entire ordeal, at least in my mind (LOL).
To this day, over 25 years later, I still tell stories about my man Rick! He was one of the most American Made, down to earth, as real as it gets kind of guys you will ever meet. And thanks to TWS, I finally reconnected with him!
Thank You!!!
WHAT ACHIEVEMENT(S) ARE YOU MOST PROUD OF FROM YOUR MILITARY CAREER? 
The Meritorious Unit Citation. MALS-39 was awarded this due to the work we did in improving AH-1W Super Cobra implementation into service. I know my shop (Work Center 620) did a lot on the "Whiskeys" for the batteries, voltage regulators, and generators!
I personally tested and repaired a LOT of Whiskey-Gens (as we called them), and had fun doing it. L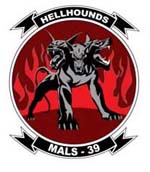 istening to those things get up to speed on the Vari-Drive test bench was a trip! There were times where I thought "Man, if that thing breaks loose, there's no question it's going through that door, FAST!"
I can't speak for the other shops, but I know 620 put in work, and I had a lot of pride in working on the AH-1W Super Cobra gear, then seeing and hearing them flying around Camp Pendleton afterwards, watching them do touch and go's with the skids dragging on the flight deck, and knowing that I had a MAJOR part in that? OOH-RAH big time!
OF ALL THE MEDALS, AWARDS, QUALIFICATION BADGES OR DEVICES YOU RECEIVED, PLEASE DESCRIBE THE ONE(S) MOST MEANINGFUL TO YOU AND WHY?
I didn't get a lot of fruit salad while I was enlisted, so I have nothing to really point out. My guess is the MUC probably means more to me than most Marines that get it, because I know what my contribution was in our unit getting it, but, overall, I guess I'd have to go with my

Expert Rifle badge (I know…that's it?).
Like I said, not a lot of fruit salad, but I was kind of proud of going from firing .22 cal. bolt action rifles in High School JROTC (competitively I might add, and damn good at it) to an actual M-16A2 Service Rifle! And not only did I qualify Expert, but I did it twice!
WHICH INDIVIDUAL(S) FROM YOUR TIME IN THE MILITARY STAND OUT AS HAVING THE MOST POSITIVE IMPACT ON YOU AND WHY?
That would be my Senior Drill Instructor (then) SSGT Feriss, but the best way to show my respect for him is through the Tribute I posted on his profile! Semper Fi!
Then, it would be my shop NCOIC, GySgt David Clayton! I thought Gunny was the man, and I know a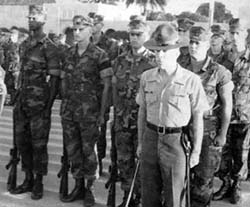 lot of people didn't agree with me, but so what.
It really hit home when he had my back one day as a 2nd Lt. was riding me about getting his battery back for his bird, and I was trying (very hard) to explain to him (very professionally) that he couldn't have it. Well, the 2nd Lt. kept pushing and I lost my bearing a little bit, called him out, and then he went yelling for my Gunny.
Turns out, Gunny took my side, put the 2nd Lt. in his place (professionally of course), and had my back the whole time! Now, to be fair…Gunny then pulled me aside and told me the better way to handle that in the future because I was a bit of pit-bull with 2nd Lt's, couldn't help it sometimes, and that was when I started to respect him the most. He took the time to help me "mature" and teach me some things while he was our NCOIC. He was a good man and a good boss.
CAN YOU RECOUNT A PARTICULAR INCIDENT FROM YOUR SERVICE WHICH MAY OR MAY NOT HAVE BEEN FUNNY AT THE TIME, BUT STILL MAKES YOU LAUGH?
Of course the time I went out with my NAS Millington classmates for Happy Hour on Friday… and woke up on Sunday!
We leave class after deciding to go to Dirty Dan's (I think that was the name). Almost our whole class went, then others showed up, and well, now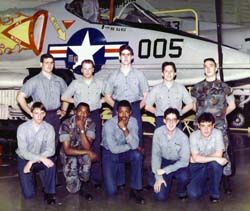 you've got a party.
First came the BIG margaritas, one after another. Then came the beer pitcher specials. When the beer pitchers showed up, I handed Rick my car keys!!!
Next thing I know, I wake up in my rack. I hear what sounds like a football game coming from the common area, I struggle through the bright light and the obscenely loud noise to find a few Marines watching a football game. "Hey, he's awake!" I hear through the haze.
"Which schools are playing?" I ask.
"Schools? Man it's Sunday!"
Yeah, it was funny, except for those Marines who carried me up four flights of stairs Friday night after I got completely tore-up (which I of course have no recollection of). And to (then) Lance Cpl. Green from New York, where ever you are, I'm sorry for calling you names while you guys were carrying me up the stairs. It was told to me later I was pretty hard on you bro. I have no recollection!
WHAT PROFESSION DID YOU FOLLOW AFTER YOUR MILITARY SERVICE AND WHAT ARE YOU DOING NOW? IF YOU ARE CURRENTLY SERVING, WHAT IS YOUR PRESENT OCCUPATIONAL SPECIALTY?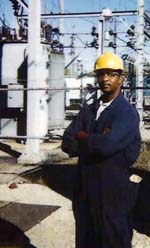 I'm in the critical power industry, which really came about because of all my DC Voltage/Battery experience in the Marine Corps. I am one of those guys who "being in the Marine Corps opened doors for me"… ya know?
Throughout my career, I've gone from working on Forklift batteries, to working on emergency standby battery applications, to cellular tower buildings, to emergency critical power equipment in facilities such as Yahoo, SUN Microsystems, and Microsoft!
I've traveled more throughout this country since being OUT of the Marine Corps then I did when I was in! Of all the 50 states, my list is down to 6 states that I haven't been to at one point or another! I have the Marine Corps to thank for kicking down that door for me! Ooh-Rah!
WHAT MILITARY ASSOCIATIONS ARE YOU A MEMBER OF, IF ANY? WHAT SPECIFIC BENEFITS DO YOU DERIVE FROM YOUR MEMBERSHIPS?
Marine Corps Heritage Foundation. It's nice to stay in touch with the history of the Marine Corps, and this helps meet that need. I admit that since joining TWS, I've slowly become more and more of a historian when it comes to being a Marine. It almost makes me wish they would have taught us more while we were enlisted, but that's okay, because I still get a tremendous amount of pride out of almost everything I discover.

National Association of Uniformed Services. This association helps connect me more from a "political" perspective. It helps maintain the visibility of our veterans' involvement with the government, the struggles we have with legislation, etc.
IN WHAT WAYS HAS SERVING IN THE MILITARY INFLUENCED THE WAY YOU HAVE APPROACHED YOUR LIFE AND YOUR CAREER?
Determination, facing adversity (boot camp still kicks in once in a while), and pride!
Pride and respect are the biggest things I got from being in the Marine Corps, so mission accomplished, because that was the main reason I went in, for the PRIDE & RESPECT! It also doesn't hurt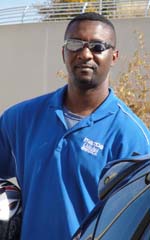 that when you walk into a room, people just sometimes 'know', and I swear I can see on their faces "that guy looks like he was a Marine or something." Yeah, I've seen it… or maybe it was because I was wearing my Marine Veteran hat (LOL).
I enjoy having the confidence and swagger that I get from being a Marine. It helps avert situations before they even arise, and I think only another Marine can understand what that means, but it's true. I don't flaunt it, I don't brag about it; it's just there. I earned it, and I use it so much that sometimes it's hard to say "how has it influenced me" when in reality, sometimes it's never off, it's always in use!
Once a Marine, Always a Marine!
BASED ON YOUR OWN EXPERIENCES, WHAT ADVICE WOULD YOU GIVE TO THOSE WHO HAVE RECENTLY JOINED THE MARINE CORPS?
The advice I would give ANYONE wanting to join the Marine Corps would be very important, not just for them knowing exactly what it means (to me) to be a Marine, but what it will mean to them later, and the Marines before and after them!
1. You need to WANT
to be a Marine! We are not like any other branch, and you don't just join the Marine Corps on a whim! You don't just get to be a Marine some of the time. You either are or you're not! PERIOD!
2. You have to WANT what the Marine Corps gives you in return, because it sure as hell won't be given to you for free! It is earned, no question about it, and in my opinion, once you earn it, you will cherish it for the rest of your life. No hand-outs in my beloved Marine Corps, and I pray it never gets to the point where it differs from that.
3. Learn from it and carry your pride with you wherever you go! The Scarlet and Gold is like a worldwide accepted business card when shown properly! And if that doesn't work, PUT 'EM IN THE PIT because they probably deserved it anyway!
4. If you DO become a Marine, don't EVER…EVER…EVER disrespect the colors, the uniform, your brothers and sisters, or my beloved Eagle Globe & Anchor! I readily admit that if I ever saw someone disrespect my EGA, the gloves come off, and the best part is, Marines have a tendency to just show up out of thin air as air support! Ooh-Rah!
IN WHAT WAYS HAS TOGETHERWESERVED.COM HELPED YOU REMEMBER YOUR MILITARY SERVICE AND THE FRIENDS YOU SERVED WITH.
The thing I am the most impressed with is how it actually "displays" what I've done! I love the Shadow Box, the patches are awesome, and painting a picture of my accomplishments is, to be frank, badass! After two days of "trying it out," I went full membership, and have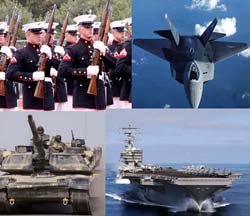 loved it ever since!
The camaraderie is outstanding! It's sometimes hard to explain what it's like to know you can log on to TWS and instantly be surrounded by not just your "brothers and sister," but like-minded individuals, that for the most part…see things a certain way, from a certain perspective, that is unique to just us Marines! We get each other, we have our own language and own way of communicating, and it's nice to have that place!
I've told virtually all of my former military associates about the site, and have sent out a ton of referrals! It doesn't matter what branch they were in, they have gotten invites from me!
September 2013 UPDATE: I got 3 Marines and 2 Sailors to join TWS within the first few weeks of being a member, and TWS has helped me find Rick! This has become a life-line to my Marine Corps pride, and I can't thank TWS enough.
October 2013 UPDATE: I am proud to say that I am now a member of the TWS Volunteer Profile Assistance (VPA) Team! I have only been a member of TWS for a month and a half, but have had such a good time with my profile, the forums, and helping out other Marines, to be a member of this team is an honor! Every time I think I can't thank TWS enough, I get another reason too!
October 28th 2013 UPDATE: I spoke to one of my DI's last night for the first time in 27 years! It's all because of TWS that this was possible! Special thanks to Cpl. George Reilly, again!
Read the service history of US Marine Corps veteran:
LtCol Scott Yost
U.S. Marine Corps (Ret)
(1980-2007)
View his shadow box on togetherweserved.com
PLEASE DESCRIBE WHO OR WHAT INFLUENCED YOUR DECISION TO JOIN THE MARINE CORPS?
As with any good high school senior, I was planning on going to college, getting an education, coming back to my home area, getting a good job and eventually working until retirement age. Well, sometime before Christmas 1979, I had just come home from school when I heard the mail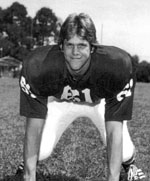 drop into the house (yes, we actually had a mail slot in the door and the postman would walk up and slide the letters in). I saw that there were letters from the two colleges I really wanted to attend: Penn State and University of Ohio. Opened up the Penn State letter and it said, "Sorry, not this time." The Ohio State letter said the same thing. I was devastated!
Within an hour or so, the phone rang and I picked it up (this was before cell phones and caller ID). The voice on the other end of the line said, "Hello, Scott Yost, this is Gunnery Sergeant Rodney Glover, United States Marine Corps. How would you like to join the Marines?" I said, "Sure, why not. I'm not going to college anyway." I think he was stunned. It took him a few moments before he gathered his composure and asked me to come down to the recruiting office in Mechanicsburg, PA.
WHETHER YOU WERE IN THE SERVICE FOR SEVERAL YEARS OR AS A CAREER, PLEASE DESCRIBE THE DIRECTION OR PATH YOU TOOK.
I enlisted on the delayed entry program in January 1980 and went to Parris Island for boot camp in September of that year. I was assigned the MOS of 4421, legal services specialist. After training at Camp Pendleton, CA, I was sent to the 1st Marine Brigade at Kaneohe Bay,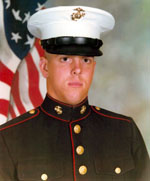 HI. While there I made a WestPac deployment aboard the USS Tripoli (LPH-10). After Hawaii, I went back to Parris Island and was only there for six months before I was selected for the MECEP enlisted commissioning program.
During the summer of 1985, I went to the MECEP prep school in San Diego, followed by college at Auburn University in Alabama. I went to OCS in the summer of 1986 and returned to finish up my degree (BA in History) by June of 1988. Next were TBS and a year at Pensacola for NFO training, before I found out that I have no tolerance for high G maneuvering. Off to logistics officer school in Little Creek, VA in January of 1990 followed by MOS designation of 0402, logistics officer and assignment to 2nd Landing Support Bn at Camp Lejeune, NC.
Deployed to Desert Shield/Desert Storm and upon return was immediately deployed to the Mediterranean as the S-4 with MSSG-24 aboard the USS Fairfax County (LST-1193) and later to CENTCOM/Somalia aboard the USS El Paso (LKA-117).
Next duty station was Quantico, VA as a Joint Doctrine Officer from 1994-1997. I then attended the Army's Combined Logistics Officer Advance Course at Ft Lee, VA, followed by a return trip to Hawaii as the S-4 for 3d Marine Regiment.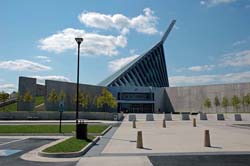 In 2000 I returned to CONUS with an assignment to HQMC, Installations & Logistics which was interrupted by the 9/11 attack and a selection to deploy to Camp Arifjan, Kuwait as an Individual Augment to the Coalition HQ staff. When I got home, I went to Marine Corps University, Quantico VA as the G-4 and was again sent overseas as an Individual Augment, this time to the 2nd Marine Logistics Group. After six months, I returned home and was reassigned to the Marine Corps Museum with the instructions to "get the construction finished on time, open the Museum and help run it until your time is up", which I did until I retired on Sept. 1, 2007.
IF YOU PARTICIPATED IN COMBAT, PEACEKEEPING OR HUMANITARIAN OPERATIONS, PLEASE DESCRIBE THOSE WHICH WERE THE MOST SIGNIFICANT TO YOU AND, IF LIFE-CHANGING, IN WHAT WAY.
Desert Shield/Desert Storm: I was a Platoon Commander for 2nd Landing Support Battalion. We started by unloading MPF ships in Al Jubayl, Saudi Arabia in December 1990. We then moved to Ras Al Mishab, just south of Kuwait, where my platoon and I did helicopter support team (HST) operations, hooking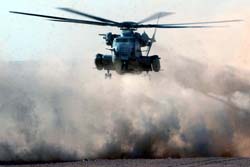 up 8 pallets of MREs under hovering CH-53E helicopters all day, every day. Just prior to the start of the ground war, we moved up to Kibrit, where we moved supplies around for units passing through on the way to Al Kanjar and helped operate the expeditionary airstrip.
After the 5-day war, we moved back to Al Jubayl and loaded some I MEF equipment onto ships for them, then back to Ras Al Mishab where we spent the last couple of months backloading ammo for transport back to the states.
Restore Hope/UNOSOM II (Somalia): As the S-4 for MSSG-24, I went ashore with a small liaison party to find supplies and lay the groundwork for the rest of the MEU to land in Mogidishu. After a couple of days, the entire MEU (-) bugged out in the middle of the night for Kismayu and left me and my team high and dry. So we tried to help out BSSG-7, because we had nothing else to do.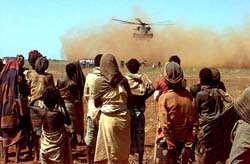 We pulled duty on convoys and helped out with the washdown at the "old port". We were there about a month before we were able to hitch a ride on an Australian C-123 Caribou down to Kismayu and join up with the rest of the MEU. We went to Kuwait for a training exercise and as soon as we got everything off of the ships, we were told to get back to Somalia. We never made it to Mogadishu, but we did do some humanitarian assistance projects in the north of the country.
Operation Iraqi Freedom: December 2002, I got snagged out of my cushy office job at HQMC to be an Individual Augment (i.e., the hired help) to the Coalition HQ in Camp Arifjan, Kuwait. I was the ground transportation chief. As soon as the war kicked off, and our forces made it to Baghdad, the lines of communication became fairly well stretched to the limits. An Army major, Troy Kok,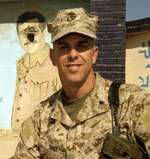 and I had the idea to work with the Brits in Um Qasr, Iraq to use the Iraqi railroad to move containers full of water up to the forces west and north of Baghdad. It took a couple of days of coordination and meetings, but we got the water containers to the port and got the trains set up and ready to roll. But since there was no way to tie the containers to the cars, they would have to be held in place by what I referred to as "gravity, friction, and wishful thinking." By mid-afternoon, we had a full train ready to go. That's when the trouble started.
First, the engineer came to us and said, "The men, they are hungry. So we will go to Um Qasr and get some food and we will drive the train tomorrow." Troy and I then tracked down a couple of cases of MREs and handed them out. A little while later, the engineer came to us and said, "The men, they are thirsty. So we will go to Um Qasr and get water and we will drive the train tomorrow." So Troy and I got two cases of bottled water and handed them out. About 5:00, the engineer came to us and said, "The men, they are out of cigarettes, so we will go to Um Qasr and get some and we will drive the train tomorrow."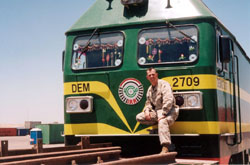 So Troy and I went to the British PX and bought a couple cartons of Marlboro cigarettes and handed them out. The engineer realized that for every excuse, we had an answer and resigned himself to the fact that he WAS going to drive the train today. We got the train crew loaded and then someone started taking pictures. Every time there was a camera flash, the train crew stopped what they were doing and got out and smiled for the pictures. This went on for about half an hour. Then around sunset, after MREs, water, cigarettes, photos and everything else, the train blew its whistle and departed the port.
The delivery went off without a hitch.
But other than the few of us who were at the Port of Um Qasr, nobody else knew that the first northbound run of the Iraqi Republican Railroad in support of the coalition was paid for with bribes of food, water, and cigarettes.
OIF II: In September 2005, the Individual Augment Fairy came to visit me again. At least this time I got to go with the Marines. I was assigned as the Deputy G-3 for the 2nd FSSG, which was re-designated as 2nd Marine Logistics Group (MLG) halfway through the deployment. I was pretty much stuck at Camp Taqaddum (TQ), Iraq for the whole six months. It's not that I was trying to be a "fobbit", but rather that the G-3 wanted me to stay there to take care of details. We needed to make sure that all the infantry units in Ramadi and Fallujah had everything they needed, so details were very important. Other than supporting the combat ops for the MEF, one of our big events was helping to coordinate the constitutional referrendum for the Iraqis in October '05. Only once was I able to get off TQ and was to go on a site survey to most of the camps in western Al Anbar.
FROM YOUR ENTIRE SERVICE, INCLUDING COMBAT, DESCRIBE THE PERSONAL MEMORIES WHICH HAVE IMPACTED YOU MOST?
My twilight tour is one that most Marines could only dream about. I was the Operations Officer and Deputy Director of the National Museum of the Marine Corps. I got to do and see some things that I still have a hard time believing. I helped organize the opening ceremony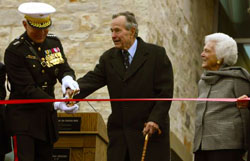 where President Bush "cut the ribbon" for our Museum. I got to lead dignitaries from all over the world through the Museum and share the Marine Corps' story with them. Some of the visitors were President Bush's adviser, Karl Rove, John McCain's mother (99 years old at the time) the Commandant of the Korean Marine Corps, actor Kevin Bacon, Ollie North, Leopold d'Arenberg – Prince of Belgium, the Director of Scotland Yard, several groups of WWII veterans, including Raiders, Para-marines, and Iwo Jima survivors, just to name a few. I didn't get to take him on a tour, but I did get to meet one of my childhood heroes – Astronaut John Glenn.
I helped hang the Iwo Jima flag when it was first installed in the Museum and I got to handle all four of Dan Daly and Smedley Butler's Medals of Honor. I was present when the niece of Pvt John J. Kelly donated her "Uncle Johnny's" medals from WWI, including an Army Medal of Honor, a Navy "Tiffany Cross" Medal of Honor, six Silver Stars and four Purple Hearts.
Prior to the Museum opening, I spent 4 hours covered in plaster and rubber while they made a full-body life-cast of me to use as a cast figure (mannequin) in the HO3-S helicopter in the Korean War display area. One of the last things I did was help out artist James Dietz by posing in my Dress Blue "A" for use in his painting, "You Will Not Fail Us" that shows Marines in various uniforms from the 1950s through 2007.
IF YOU RECEIVED ANY MEDALS FOR VALOR OR AWARDS FOR SIGNIFICANT ACHIEVEMENT, PLEASE DESCRIBE HOW THESE WERE EARNED.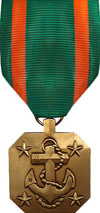 No awards for valor in combat, although my first Navy Achievement medal was for helping to stop an armed robbery in Hawaii. I was never in a position to earn a combat award for valor, even though I was deployed to combat zones four separate times. The billets to which I was assigned and the areas I worked out of never afforded me the opportunity to display the level of performance required for an award for valor.
OF ALL THE MEDALS, AWARDS, QUALIFICATION BADGES OR DEVICE YOU RECEIVED, PLEASE DESCRIBE THE ONE(S) MOST MEANINGFUL TO YOU AND WHY?
Well, all the awards I have earned have meaning to me. However, there are a couple that I have a special fondness for. First would be my Good Conduct Medal w/bronze star. I spent most of my Marine Corps career as an officer, so having the credibility shown by the nearly 6+ years of enlisted service was a big help. Also, my Sea Service Deployment Ribbon w/silver star means quite a bit. The Marine Corps is a service that prides itself on going wherever the action is. I was fortunate enough to deploy six separate times – three aboard ship (WestPac, Med, & Somalia), once to Desert Storm, once to Kuwait, and once to Iraq.
My first Navy Achievement Medal was awarded to me as a Cpl for helping to stop an armed robbery in Honolulu in 1983, so obviously that's another one with meaning. One award that I never received, even though I met all the criteria for was the Outstanding Volunteer Medal – I just have a real heartburn with putting myself in for a medal.
WHICH INDIVIDUAL(S) FROM YOUR TIME IN THE MILITARY STAND OUT AS HAVING THE MOST POSITIVE IMPACT ON YOU AND WHY?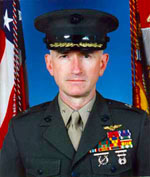 That's a fairly easy question. The most impact on me (other than my Drill Instructors) was my first boss, LtCol (later BGen) Gerald Miller. He was the Staff Judge Advocate at the Brigade Legal Center at MCB Kaneohe Bay, Hawaii. He saw something in me that led him to recommend that I apply for a commission via the MECEP program. Although I didn't make it my first time around, I was successful on the second attempt. It made all the difference in my life, because it put me on the path to where I am now.
CAN YOU RECOUNT A PARTICULAR INCIDENT FROM YOUR SERVICE WHICH MAY OR MAY NOT HAVE BEEN FUNNY AT THE TIME, BUT STILL MAKES YOU LAUGH?
When I was a corporal at HQCo, 1st Marine Brigade, Kaneohe Bay, Hawaii, we went to Bellows Air Force Base on a field exercise. One of my buddies, Cpl Bill Webb, was the M151 jeep driver. The Company Gunny told him to camouflage his vehicle, so he cut a few branches and threw them over the jeep. Gunny told him that it wasn't good enough, so Bill got into the jeep, put it into 4-wheel drive and rammed it full speed into the bushes until it was completely covered. The gunny didn't think it was funny but we all did.
WHAT PROFESSION DID YOU FOLLOW AFTER YOUR MILITARY SERVICE AND WHAT ARE YOU DOING NOW? IF YOU ARE CURRENTLY SERVING, WHAT IS YOUR PRESENT OCCUPATIONAL SPECIALTY?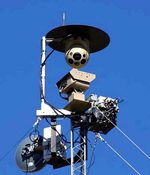 Right after retirement, I went to work as a logistics analyst for one of the many defense consulting firms in the northern Virginia area. Fortunately, I immediately started working on a project to develop the logistics concept for a piece of equipment, called G-BOSS, that provided 24/7 observation in and around Marine outposts in Iraq and Afghanistan. So, even though I was no longer on active duty, I was still serving the Marine Corps and protecting Marines.
Since then, I've worked with HQMC, I&L, Logistics Vision & Strategy and Maintenance Policy sections, III MEF for an analysis of the procedures units are using in GCSS-MC and now I'm working on Maritime Prepositioning Program policy.
WHAT MILITARY ASSOCIATIONS ARE YOU A MEMBER OF, IF ANY? WHAT SPECIFIC BENEFITS DO YOU DERIVE FROM YOUR MEMBERSHIPS?
Life member of the VFW, member of Military Officers Association of America (MOAA) and Marine Corps Association (MCA).
With MCA, I get a subscription to Marine Corps Gazette, which is edited by my old 3d Marine Regiment CO, Col John Keenan. I got job hunting advice from MOAA and the VFW membership gets me into their bi-monthly gun shows for free.
IN WHAT WAYS HAS SERVING IN THE MILITARY INFLUENCED THE WAY YOU HAVE APPROACHED YOUR LIFE AND YOUR CAREER?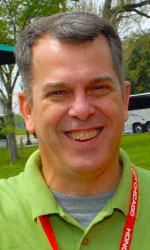 I would not be where I am today if not for the Marine Corps. It taught me discipline and self reliance. I have learned how to be a leader and how to be a follower and how to know the difference between the two. Several times I was tested to levels beyond what I thought I was capable of, but I was always able to make it through.
I have been provided with a wealth of experiences to draw upon to help me make better decisions. I have seen different cultures in 30 foreign countries that helps me to make sense of other points of view.
BASED ON YOUR OWN EXPERIENCES, WHAT ADVICE WOULD YOU GIVE TO THOSE WHO HAVE RECENTLY JOINED THE MARINE CORPS?
Always do your best and always to what you know to be right. The 14 Leadership Traits are a good place to start – live by them and make them an integral part of your life. Work hard, play hard, follow orders and realize that you DON'T know everything. Everyone can learn something new – if you don't learn something new every day, you've wasted that day.
Most of all, have fun and enjoy your time in the Corps – it ends before you realize it.
IN WHAT WAYS HAS TOGETHERWESERVED.COM HELPED YOU REMEMBER YOUR MILITARY SERVICE AND THE FRIENDS YOU SERVED WITH.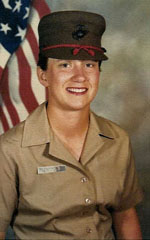 One of the first people who contacted me after joining was Tina Adams. We were stationed together in HQCo, 1st Marine Brigade at Kaneohe Bay, Hawaii. Tina actually beat me in a meritorious corporal selection board while we were there.
There are several Marines I served with that I've been able to contact through the member search feature. I've also found out via the remembrance profiles that sadly, some others have passed on.
I enjoy reading the good natured banter on the forums – it sounds just like the stuff that used to go in in the squadbay. Mostly I just read other people's posts, and very rarely do I post anything – usually just one liners or some smart-assed comment.
The only reason I'm doing this is because Kim Crawford guilted me into it.
Read the Service Reflections of US Marine:
Cpl Edgar Harrell
US Marine Corps
(Served 1943-1946)
Shadow Box: http://marines.togetherweserved.com/bio/Edgar.Harrell
WHAT PERSUADED YOU TO JOIN THE SERVICE?
I am sure that in many ways my background is no different than hundreds of thousands of other folks who grew up in our great country during the years of the depression and survived the horrors of World War II. I suppose we all developed a survivor mindset in those days of adversity. As I reflect upon those bittersweet years of blood, sweat and tears mingled with the joys of family, friends and faith, I must confess that I wish our country could go back to those times and recapture the core values upon which our nation was founded. Obviously that will never happen, but perhaps my humble story will remind readers of the eternal truths found in the Bible that once shaped our nation.
I was born in a small house near the banks of the Tennessee River on October 10, 1924 in a little western Kentucky community called Turkey Creek. I was the oldest son of a family of two sisters and six younger brothers. Life was simple back then, you either work or you starved and we had faith deeply rooted in the God of the Bible. My mom and dad did all they knew to raise their children for the glory of God.
Prior to the Japanese attack on Pearl Harbor, my family and thousands of others across our great nation had no way of knowing that wicked men across the sea had our great country in their crosshairs.
We never thought that they even considered our safe little Kentucky farm a spoil of war. I'm sure we took our freedom for granted in many ways; after all, freedom was all we had ever known. But by the time I was a junior in high school the war in the Pacific was in full swing. With the decisive battle at Midway proving to be a turning point for the Allied Forces in the Pacific, and with the full realization that my home and family were in imminent danger, I felt compelled to do my part by volunteering for the Marine Corps.
I remember well those days of duty and honor and I felt proud to be able to serve my country. As I listened to our old Silvertone radio, it sounded as though the Japanese were ready to storm the beaches of California. All of those Pacific islands seemed much closer in my limited and naive comprehension and I told myself "the Japanese must be stopped" and I was eager to volunteer for the task. This was a fight for freedom and for survival; it was a war where evil must be vanquished so justice and freedom could prevail. So with the soul of a patriot and the heart of a warrior, I committed myself to the Marines. Joining the service, or even being drafted, was an honorable undertaking. We never heard of protesters, draft dodgers, or flag burners. When the war broke out, patriotism swelled in America.
BRIEFLY, WHAT WAS YOUR CAREER PATH?
In the fall of 1943 I found myself enduring the rigors of boot camp in San Diego, California. Boot camp was tough and demanding, but I knew that if I kept my nose clean I would come out with flying colors. When I completed boot camp, I was sent to Sea School where I was later told that I would soon be assigned to a large combat ship. Somehow I knew then in my heart that God was up to something in my life far beyond my understanding. Far from the safety of my beloved Kentucky, I found myself alone in a world filled with dangerous unknowns, relieved only by the comforting truth of God's promise, "I will never leave thee, nor forsake thee."
In March of 1944 I was assigned to the USS Indianapolis, and this was to be my home until her sinking on July 30, 1945. I still remember my first impressions when I boarded the Indy. My initial thought was, "This thing is big, real big!" It was like a floating city. It was an absolutely overwhelming experience for a country boy from Kentucky. My first sight of the massive guns gave me goose bumps. Having never seen guns larger than a double-barreled shotgun, I remember laughing to myself thinking, "My, my, my. We can win the war just by ourselves with these monsters!" I later learned to operate both the 40 mm and the 5 inch guns. Since we had no foxholes in which to hide I soon realized that our training and our ability were our only protection.
DID YOU PARTICIPATE IN COMBAT OPERATIONS?
My first combat experience was at Kwajalein and Eniwetok in the Marshall Island chain. Our ultimate sights, however, were on Guam, Saipan and Tinian, crucial islands for providing a staging area for our new Boeing B-29 Super-fortress bombers to be able to attack the mainland of Japan.
From the Marshalls we moved on to attack the Western Caroline's. There our carrier planes struck the enemy at the Palau Islands where they bombed enemy airfields, sank 3 destroyers, 17 freighters, 5 oilers and damaged another 17 enemy ships. The Japanese lost 160 planes during these battles, with another 46 destroyed on the ground.


On the 13th of June 1944 we moved on to the Marianas where the Indianapolis joined the pre-invasion bombardment group off Saipan. The Japanese were dug in deep on Saipan with their massive gun installations camouflaged and concealed behind trap doors on concrete bunkers. With the landing attack scheduled for June 15, Admiral Spruance maneuvered the Indianapolis in close enough to effectively superintend the attack. We were so close, in fact, that we experienced many near misses from the Japanese batteries. Fortunately, we were hit only one time by a defective shell that did not explode and caused only minor damage.
Under the cover of ferocious American bombardment, the 2nd and 3rd Marine Divisions launched their amphibious assault and met with stiff resistance when they came ashore. The well fortified Japanese bunkers were high above the beaches, capable of suddenly opening their massive trap doors, blasting our vulnerable boys below, and quickly concealing themselves again. Upon hearing the reports we knew the casualties of our Marines were high. However we dared not let our emotions rule us and the crew of the Indy fought on with great discipline, doing all we could do to support our vulnerable troops storming the beaches.
Desperate to relieve their beleaguered forces to the south in the Marianas, the Japanese launched a large fleet of battleships, carriers, cruisers and destroyers. Contrary to the "Tokyo Rose" propaganda that the Americans were running away from the massive flotilla of the Japanese Navy, Admiral Spruance ordered a fast carrier force to make haste to meet them head-on.
Admiral Spruance was confident of victory knowing that the U.S. had 104 ships of various kinds and 819 carrier-based planes available in the theater of operation. On the other hand, estimates indicated that the Japanese had met with serious losses in the Pacific leaving them with only 55 ships and 430 planes. By then, the U.S. fleet had twice as many destroyers as the Japanese.
Our fleet met the enemy on June 19 in what was called the 'Battle of the Philippine Sea.' The Navy Department Naval History Division described it as follows:
"Enemy carrier planes, which hoped to use the airfields of Guam and Tinian to refuel and rearm and attack our off-shore shipping, were met by carrier planes and the guns of the escorting ships. That day the Navy destroyed 402 enemy planes while losing only 17 of her own. (The) Indianapolis, which had operated with the force which struck Iwo Jima and Chichi Jima, shot down one torpedo plane. This famous day's work became known throughout the fleet as the Marianas Turkey Shoot. With enemy air opposition wiped out, the U.S. carrier planes pursued and sank two enemy carriers, two destroyers, and one tanker and inflicted severe damage on other ships."
After the Marianas Turkey Shoot, the Indianapolis returned to Saipan in June to resume fire support for six days, we then moved on to Tinian to blast shore installations. Meanwhile, Guam had been taken, and the Indianapolis was the first ship to enter Apra Harbor since that American base had fallen early in the war.
For the next few weeks we operated in the Marianas area and then proceeded to the Western Caroline's where further landing assaults were planned.
From September 12 through 29, both before and after our landings, we bombarded the Island of Peleliu in the Palau Group. We then went on to operate for 10 days around the island of Manus in the Admiralty Islands before returning back to San Francisco to the Mare Island Navy Yard for repairs and maintenance.
In Dec. 1944 we welcomed our new Skipper, Capt. Charles B. McVay III. Unlike Captain Johnson who was all business in his military demeanor, Capt. McVay was more personable and enjoyed interacting with the men on a relational level. Johnson ran a very tight ship requiring many drills and General Quarters early in the morning. McVay, on the other hand, ran a looser ship, not requiring us to be "battle ready" all the time nor did he expect us to keep watertight doors closed and dogged when we were in forward areas. However, I never thought of him as being lax in any way. I served as a marine orderly for both of these fine captains and had a bit of firsthand experience with them.
With Capt. McVay now at the helm of the Indy, and our overhaul at Mare Island complete, we joined Vice Adm. Marc Mitscher's carrier task force on the 14th of February 1945. There we played a vital support role as our forces attacked the installations in the "Home Islands" of Japan itself. The Indy gave support to the first air strikes on Tokyo since General Doolittle's invasion in April of 1942 preparing the way for the bloody struggles at the landings on Iwo Jima.
The campaign around the Home Islands stands out in my mind. It was crucial for us to gain tactical surprise and we did so by traversing the Aleutian Island chains in terrible weather. I remember several occasions where I was at watch on the bridge during high seas. As the ship forged ahead, the bow would descend into the great valleys of water then plow into the banks of the frigid waves causing sleet-like sea spray to strike me with stinging force. Our mission was successful in the Home Islands campaign. Between February 14 and 17, the
Navy lost 49 carrier planes while shooting down or destroying 499 enemy planes. Our task force sank one Japanese carrier, nine coastal ships, two Destroyer Escorts and a cargo ship. While this was going on, Japan was being systematically devastated every day by our Air Force.
With their homeland under attack and their war machine gradually being diminished, desperation fueled the beleaguered Japanese. They fiercely defended Iwo Jima, proving to be one of the toughest of all the islands for the United States to secure. It was estimated that approximately 21,000 Japanese troops inhabited the labyrinth of coral tunnels on the volcanic island. The Indy's mission was simple – bombard them. We had the ability to fire over 500 rounds of 5-inch gun ammunition in less than six minutes, sending massive amounts of destructive flak as far as eight miles. The big 8-inch guns could lob 250-pound shells up to eighteen miles. The concussion from the 8-inchers was staggering. In fact, their enormous recoil would actually move the massive ship sideways in the water. We were also well equipped for close range warfare, such as kamikaze planes, with the firepower of our 40 mm and 20 mm deck guns.
Torpedo suicide planes were always a threat to our ships. I will never forget the day when one of these planes flew in low and horizontal trying to make its way across our bow. Like always, our mission was to shoot him before he could get to us. That particular day I was a fuse box loader on one of the 5-inch guns. I would place a 75-pound shell into a fuse box hitched up to what was called "sky aft radar." This radar system would then relay the actual coordinates of the incoming enemy plane to the shell itself, instructing it to explode its flak precisely in front of the plane.
As the plane came roaring by from left to right, the 5-inch gun immediately to the left of my gun continued firing in its left to right range of motion until its rotation was complete. With its muzzle now approximately sixteen feet from where I stood, pointed as far forward as possible towards the bow of the ship, it fired again. The concussion of the blast was so powerful that it knocked me to the deck while I was still holding the 75-pound shell. It also dislodged my cotton earplugs causing them to fall out and quickly blow away in the Pacific wind. Though dazed by the explosion,
God enabled me to get to my feet and load the shell. As it fired, the percussion of the blasts further damaged my unprotected ears causing temporary deafness and blood to run out of my left ear. While our efforts averted the enemy plane and our lives were spared, I permanently suffered a fifty percent loss of hearing in that ear which has advanced to nearly 90%.
By March 4 we joined the pre-invasion bombardment of Okinawa where we fired 8-inch shells into the Japanese beach defenses. We soon discovered that our 8-inch projectiles were glancing off the concrete pill-boxes like ricocheting bullets requiring us to move out further and thus lob the shells over and down on our targets – a strategy that proved most successful. In the seven days of fighting at Okinawa, the crew of the Indy shot down six planes and assisted in splashing two others.
One of those mornings in particular stands out to me. The ship's lookouts spotted a single-engine Japanese kamikaze fighter plane diving vertically directly at the ship's bridge. We immediately opened fire with our 20-millimeter guns. Although we hit the plane and caused it to swerve, the pilot was still able to release his bomb at the last second and crash his plane on the port side of the after main deck. The plane toppled off the ship and fell into the sea causing little damage to the surface of the ship. The bomb, on the other hand, tore through the deck armor, the mess hall, the berthing compartment below and the fuel tanks in the lowest chambers before crashing through the bottom of the ship and exploding in the water underneath us. It was a miracle that we only suffered moderate damage. The official Naval report indicated "the concussion blew two gaping holes in the ship bottom and flooded compartments in the area, killing nine crewmen." Although the Indianapolis settled slightly by the stern and listed to port, there was no progressive flooding; and the plucky cruiser steamed to a salvage ship for emergency repairs. There, inspection revealed that her propeller shafts were damaged, her fuel tanks ruptured and her water-distilling equipment ruined; nevertheless, the battle-proud cruiser made the long trip across the Pacific to the Mare Island Navy Yard under her own power.
It was a relief to come back to Mare Island and leave the Pacific front. The break from combat was welcomed but short-lived. Suddenly, while at Hunters Point in San Francisco, we received word that all leaves were cancelled. Despite the fact that the Indy was not fully repaired and tested, we were ordered to get underway immediately. Not knowing what was going on, we boarded and quickly followed orders as we loaded last-minute provisions. My curiosity was fueled even more when my Marine Captain Parks ordered me to station guards around the mysterious cargo that had been brought aboard. A large crate, measuring
about five feet high, five feet wide, and perhaps fifteen feet in length was hoisted onto the port hangar off the quarter deck. After stationing guards around the mysterious container, I immediately proceeded to obey my orders and do the same for another curious piece of cargo brought aboard and placed in a compartment on the upper deck reserved strictly for Officers. Inside the room was an ominous-looking black metal canister that a couple of sailors had brought on board dangling from a metal pole hoisted upon their shoulders. The cylinder was about two feet long and maybe eighteen inches wide and was padlocked in a steel cage that had been welded securely to the deck floor. I later discovered that when the black canister was aboard the transport plane, it had its own parachute. We also later learned that our cargo consisted of the integral components of the atomic bombs that would be dropped twenty-one days later on Hiroshima and Nagasaki, code named, "Little Boy" and "Fat Man." After delivering our secret cargo to its destination at Tinian Island, we picked up our sailing orders at CINPAC in Guam, which were to take us from Guam to the Philippine Islands in preparation for the main invasion of Japan that was to have been in November 1945.
Three days out of Guam we encountered a Japanese submarine by the name of I-58. LT Commander Hashimoto fired a spread of 6 torpedoes, hitting us with two. The ship went down in 12 minutes resulting in only about 900 of the 1197 crew managing to abandon ship, leaving some 300 to go down with the ship. After 5 days only 317 would be found alive. This would be the largest casualty at sea in the history of the U S Navy.
[Editors note: Additional information on the history of the USS Indianapolis disaster and the court-martial/exoneration of Captain McVay is available at this link; http://www.ussindianapolis.org]
FROM YOUR ENTIRE SERVICE CAREER WHAT PARTICULAR MEMORY STANDS OUT?
As I abandoned ship that night I joined a group of about 80 men to experience a hellish nightmare of swimming for 4-1/2 days in a kapok life jacket with the sharks. By the third day at noon there were only 17 still alive. Knowing the horrors of being plagued by sharks, hypothermia, fatigue and salt-water hallucination, and the crew's heart wrenching struggle to survive the greatest catastrophe at sea in the history of the U S Navy, plus the loss of 880 of my shipmates, leaves me with lasting, horrible memories.
WHICH INDIVIDUAL PERSON FROM YOUR SERVICE STANDS OUT AS THE ONE WHO HAD THE BIGGEST IMPACT ON YOU…AND WHY?
I knew Captain McVay only as any non-com might know his superior officer. Even so, I saw him up close as his orderly and thus saw a man that was in command yet kind, down to earth, humble and very patient. To then see the gross miscarriage of justice and the cover-up that led to the bizarre court-martial and the eventual exoneration of a distinguished Navy Officer leaves me with sadness but still so respectful of the man.
WHAT PROFESSION DID YOU FOLLOW AFTER THE SERVICE AND WHAT ARE YOU DOING NOW?
For 35 years I was a Distributor for the Pella Window Co. in Rock Island Illinois covering Eastern Iowa, Southwestern Wisconsin and Western Illinois. I sold the business in 1985 and retired somewhat until my book "Out of the Depths" came out in 2005. Since then I have been in some 26 states telling the USS Indianapolis story, proving the miscarriage of justice on the part of the Navy, plus telling of the Providence of God that brought me through those terrible days. I thank the Lord each and every day for that experience and for these extended 85 years to tell of His Providence in my life.
[Editors note; Information about Cpl Harrell's book "Out of the Depths" is available at this link:http://www.indysurvivor.com]
HOW HAS SERVING THE ARMED FORCES INFLUENCED THE WAY YOU HAVE APPROACHED YOUR LIFE AND CAREER?
The one thing that was confirmed and made a part and parcel of my life was the love of my Country and my fellow man. Today I recognize the futility and the necessity of war, yet I have a strong desire for peace. However I dare not be complacent and let my guard down because there are those who do not sympathize with my views so I stand ready to defend them.
HOW HAS TOGETHERWESERVED.COM HELPED YOU TO MAINTAIN A BOND WITH THE SERVICE AND THOSE YOU SERVED WITH?
Through TWS I have made many friends of both WWII and the much younger generation that have so faithfully followed. It's sad to say however, that my generation is just about gone so I can only pay my respect and praise to the present torchbearers.
Hear Edgar's story in his own words here: TWS Member LCpl Edgar Harrell Video
Read the service reflections of US Marine
1stSgt Barbara S. Wamsley
U.S. Marine Corps (Ret)
(1976-1996)
Shadow Box: http://marines.togetherweserved.com/bio/Barbara.Wamsley
PLEASE DESCRIBE WHO OR WHAT INFLUENCED YOUR DECISION TO JOIN THE MARINE CORPS?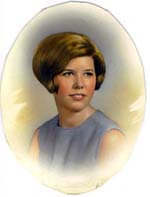 The desire to give back and travel. I couldn't see myself continuing my life in Norfolk and my aunt, Connie Stokley Shortt, proposed the idea. I visited all the recruiters, except for the Navy, because I wanted to see another part of the country along with the fact that my experience as a civilian in a Navy town wasn't the most flattering. The Army showed very little interest in me and the Air Force struck me as too easy for what I was looking for. I was surprised that there were women in the Marine Corps, and I wanted to see California before an earthquake leveled it. Additionally, having spent 12 years in Catholic school uniforms, I preferred the Marine Corps uniform over the others.
The other driving factor for me was I would be assured of equal pay for equal work no matter what branch I entered and I could learn new skills not offered in the private sector.
WHETHER YOU WERE IN THE SERVICE FOR SEVERAL YEARS OR AS A CAREER, PLEASE DESCRIBE THE DIRECTION OR PATH YOU TOOK.
With California as my original goal, I enlisted under an open contract taking the chance that I would get a MOS that was a good fit for me and the Corps. It worked and I was fortunate to be one of the first 10 Women Marines in 1976 to go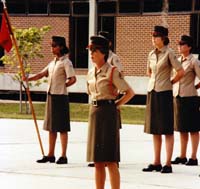 into Avionics. It still amazes me that women weren't in that field until that time. I met my future husband, Don, during MOS schooling at NAS Millington, TN and then left for the west coast at MCAS El Toro. We married in December, 1976 so we would be stationed together in El Toro. In 1981, Don got orders to DI school in SC and I went to MCAS Beaufort. Once his DI tour was complete he was also stationed at MCAS Beaufort with VMFA-333.
I got out of the Marine Corps in 1980 for the birth of our second child, but came back eight months later. I really agonized over both the decision to leave and then the decision to re-enlist. Eventually we both went into Career Planning, working together at H&MS-31. In 1984 I went to the drill field. After my tour at Parris Island as a DI, SDI, CDI and with the Depot Inspector's Office, I used my DI option for an accompanied tour overseas because Don was due for orders there. I never was due for overseas orders then, another surprise
We served three years in Okinawa as Career Planners, thoroughly enjoyed the experience with our family, but very glad to return stateside. We went back to our MOSs at MALS-32 (Don) and MALS-14 (me, obviously) at MCAS Cherry Point. In August,1990, Cherry Point was gearing up for Desert Shield and sending women Marines was on and off, finally resulting in WMs going due to the billets required. Additionally, Don was being told he was going and then he wasn't. It worked out for us that Don stayed and I went.
When I returned, I was selected for First Sergeant and wasn't too thrilled with my choices for duty stations, so I applied for the Army's Sergeants Major Academy. I was one of only two Marines in an international class of over 400 students. It was a fantastic experience to be part of Class 39 of USASMA. With Don recently retired, I accepted the billet of I&I 1st Sgt. for Ammo company, Greenville, SC for the last four years of my Marine Corps career.
IF YOU PARTICIPATED IN COMBAT, PEACEKEEPING OR HUMANITARIAN OPERATIONS, PLEASE DESCRIBE THOSE WHICH WERE THE MOST SIGNIFICANT TO YOU AND, IF LIFE-CHANGING, IN WHAT WAY.
I was involved in Desert Shield/Desert Storm with Avionics at King Abdul Aziz. It was inspiring to see all of the pieces of training and squadrons coming together in such an awesome way. To meet and interact with troops from all over the country, not to mention Scots and Brits,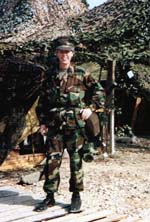 was so educational and cemented the philosophy of everyone having their place for the greater good.
The Seabees were way beyond expectations. We had drawers made from MRE cases and they were anxious to keep improving our lives in the desert. Our CO organized night RECON appropriation missions which was spectacular, especially since the green camo netting didn't especially blend well with the sand terrain, but we had such an awesome feeling of safety there. Didn't have email or Skype then, and I was lucky to be able to talk to Don a couple of times on WATS line and went to the AT&T phone tents to talk with the kids.
Many funny stories, most not appropriate for public dissemination, but the camaraderie was phenomenal. I remember opening my Sunday missal, wondering when we would be home. It opened on the First Sunday before Easter and, by the Grace of God, I was at Mass that Sunday at home. Homecoming was wonderful. It was so good to smell the pine trees! We learned a lot of lessons and hopefully didn't repeat too many mistakes on how to go to war.
OF ALL YOUR DUTY STATIONS OR ASSIGNMENTS, WHICH ONE DO YOU HAVE FONDEST MEMORIES OF AND WHY? WHICH ONE WAS YOUR LEAST FAVORITE?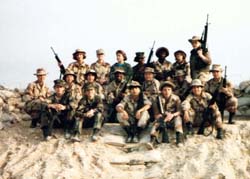 It is a toss-up. Parris Island will always hold a special place for me, but so will MALS-14. I thoroughly enjoyed time with my Marine Corps brothers and sisters, especially since we supported Desert Shield/Desert Storm. This was a wonderful, tight unit of Marines. This picture is of the Women Marines of MALS-14 (I am far left). To be the senior WM from that unit was a true honor. I believe the leadership learned that we are all Marines who take our responsibilities seriously.
My least favorite was my final assignment, I&I Staff, Ammo Company. Working with reservists is a completely different experience and going from "Swinging with the Wing" to the ground side was also a new ball of wax. I was the first WM 1stSgt this group had experienced and both sides had some adjusting involved.
FROM YOUR ENTIRE SERVICE, INCLUDING COMBAT, DESCRIBE THE PERSONAL MEMORIES WHICH HAVE IMPACTED YOU MOST?
Don and I remain grateful that the Corps kept us together throughout our careers. We were both career planners at the same unit and that worked out better than the CO thought it would. So, for a short time, we only needed one car. We then both served in separate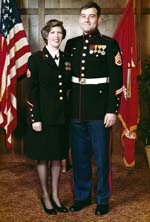 units as career planners in Okinawa.
Service on the drill field was outstanding. Personally, I preferred to work platoons back-to-back or overlap, mostly because I really enjoyed watching the transformation of women into Marines. I was on the street when women were finally allowed to qualify with the rifle. We DIs had a great time in the hot summer going through the PMI course. There was a Native American recruit who beat the range record in our first series to go through marksmanship-her name was Pvt. Killsplenty. Watching hundreds of women being fitted for their uniforms made me realize that God gave us all the same body parts, but we sure are arranged differently!
My most brutal discovery was the large percentage of women who are sexually and emotionally abused in their young lives. We desperately tried to keep and graduate these women, but some were just too fragile to complete training and had to return home. This still haunts me. Our daughter was in preschool and the teacher was alarmed that her favorite color was black until she heard the reason: "Because of Mom's shiny shoes." To be a part of making Marines from across the entire country and the bonds between Drill Instructors that remain so strong today are some of my most cherished memories.
Before deploying to Desert Shield, there was a woman Corporal in my unit who had remarried and was raising 6 children. She was giving her SNCO all kinds of grief, so I asked her if she signed the same contract that he and I did. I didn't remember anything in my contract about disobeying orders due to the size of my family.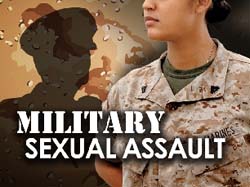 I then went to my Major and asked him to make sure she didn't deploy.
While in Saudi Arabia, I think the hardest conversation I had was when we had been issued vials of Valium. Most Marines were making jokes and excited until I explained that these were lethal and to be used only when all other methods of saving someone failed. Once we got passed that and the decontamination process should we be gassed, we had some great times watching all of our training kick into gear and getting to know each other and understanding how united we always were.
IF YOU RECEIVED ANY MEDALS FOR VALOR OR AWARDS FOR SIGNIFICANT ACHIEVEMENT, PLEASE DESCRIBE HOW THESE WERE EARNED.
No, even though my Sergeant Major gave me a combat action ribbon when we returned from Desert Storm. It was a nice gesture.
OF ALL THE MEDALS, AWARDS, QUALIFICATION BADGES OR DEVICE YOU RECEIVED, PLEASE DESCRIBE THE ONE(S) MOST MEANINGFUL TO YOU AND WHY?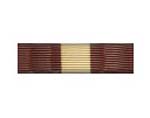 They are all good, but I never got into all of the medal counting and impression stuff. If I had to name one it would be the DI ribbon, even though that came after I retired.
I am very proud to have worn the scarlet DI cord from the first time it was awarded and to see it retired.
WHICH INDIVIDUAL(S) FROM YOUR TIME IN THE MILITARY STAND OUT AS HAVING THE MOST POSITIVE IMPACT ON YOU AND WHY?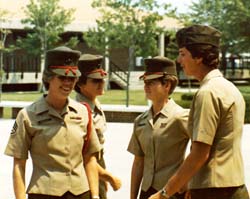 There are three – first, my husband, for obvious reasons. He is my rock.
Second, Lt.Col. Shelley B. Mayer, CO of WRTC and an incredible leader. I had to report to her once because she had received a call from the Depot about her DIs playing grab-ass with film crews in the area. Another DI was laughing at the fact that I had left my girdle on under our camo PT gear and as we exited the van she decided to make sure. So I apologized to the Colonel and she just threatened to take my first born. She is so missed.
Third and by far not least – Captain Barbara Purvis, my series Commander for many recruit platoons and my dear friend who has always kept me going in the right direction. She not only gave us great professional guidance but phenomenal comfort and laughter for the past two decades.
CAN YOU RECOUNT A PARTICULAR INCIDENT FROM YOUR SERVICE WHICH MAY OR MAY NOT HAVE BEEN FUNNY AT THE TIME, BUT STILL MAKES YOU LAUGH?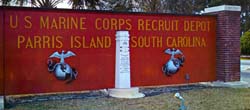 There are so many! I guess it's when I was with the Depot Inspector's office and walking through Parris Island one morning between battalions when I saw one of our white trucks and thought it was a fellow Inspector, so I did the "Funky Chicken" in the road only to find out it was the Drill Master from DI School.
WHAT PROFESSION DID YOU FOLLOW AFTER YOUR MILITARY SERVICE AND WHAT ARE YOU DOING NOW? IF YOU ARE CURRENTLY SERVING, WHAT IS YOUR PRESENT OCCUPATIONAL SPECIALTY?
I am the office manager for Premier Physical Therapy and Premier Personal Training. I love this job and all the great people we meet every day. The work atmosphere is beyond motivating.
WHAT MILITARY ASSOCIATIONS ARE YOU A MEMBER OF, IF ANY? WHAT SPECIFIC BENEFITS DO YOU DERIVE FROM YOUR MEMBERSHIPS?
We are not currently involved in any military associations due to the polarizing political atmosphere and in one case, inappropriate dealings with women members.
IN WHAT WAYS HAS SERVING IN THE MILITARY INFLUENCED THE WAY YOU HAVE APPROACHED YOUR LIFE AND YOUR CAREER?
By knowing who to surround ourselves with, to treat everyone with fairness and integrity. Through service in the Marine Corps we know who we really are as people and our love for this great country is beyond measure.
BASED ON YOUR OWN EXPERIENCES, WHAT ADVICE WOULD YOU GIVE TO THOSE WHO HAVE RECENTLY JOINED THE MARINE CORPS?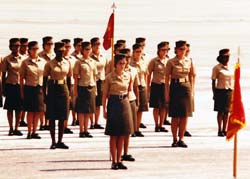 Thank you for choosing the military. Please know that your journey has a tremendous impact around the world. No matter how unpleasant your past or current billet, it will change a lot sooner than in the private sector. Your home is where you are and make the most of all you can. Your friends and family applaud ALL that you do and represent.
IN WHAT WAYS HAS TOGETHERWESERVED.COM HELPED YOU REMEMBER YOUR MILITARY SERVICE AND THE FRIENDS YOU SERVED WITH.
TWS has connected us with many past friends from all of our duty stations and we are thankful.
Recent Posts

Recent Comments

Archives

Categories

Meta

TWS Admin Help Desk
Recent Posts

Recent Comments

Archives

Categories

Meta
Search