Read the service story of US Army Soldier:
Sgt Richard B Martin
U.S. Army
(1940-1944)
Shadow Box: http://army.togetherweserved.com/profile/375009
TO THE BEST OF YOUR KNOWLEDGE WHAT INFLUENCED YOUR REMEMBERED PERSON'S DECISION TO SIGN UP FOR MILITARY SERVICE?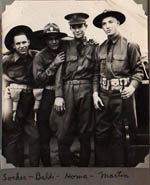 In 1940 the Depression was still adversely affecting the American economy. Employment was hard to find and pay was low, especially for a teenager who had not yet completed high school. So at the age of 16 years and 4 months our father managed to enlist in the 51st Pioneer Infantry, a non-divisional regiment of the New York National Guard. He obfuscated about his age so that he could join the military and begin his transition to adulthood.
TO THE BEST OF YOUR KNOWLEDGE PLEASE DESCRIBE THE DIRECTION OR PATH THEY TOOK.
On Feb 16, 1940 our father enlisted as a Private in Company "E" of the 51st Pioneer Infantry. The personnel of Company "E" were recruited almost exclusively from our father's hometown of Binghamton, NY. Since he was only 16 years-old at the time, our father wasn't completely forthcoming about his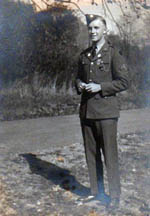 age, because he didn't want to have to wait another 8 months for his 17th birthday. On Oct 15, 1940, one day before he turned 17 years-old, the 51st was mobilized for federal service and by Oct 23rd the entire unit had been relocated to Fort McClellan, AL. During the following month the 51st was re-designated as the 106th Infantry Regiment, 27th Infantry Division in which our father was still assigned to Company "E" as a rifleman (MOS 745). On Jun 3, 1941, he was promoted to Cpl, and later that year on Dec 9th, two days after the Japanese attack on Pearl harbor, he was honorably discharged from 106th so that he could join the Regular Army.
On Dec 10, 1941, our father reenlisted for a period of three years in the Regular Army and was assigned to "F" Company, 2d Battalion, 16th Infantry Regiment, 1st Division. The 1st Division was nicknamed the "Big Red One" because its distinctive unit insignia has a large red numeral "1" on a forest green background. At the time of his reenlistment, the 1st Division was in the process of relocating from Fort Devens, MA to Camp Blanding, FL. His new unit completed its move to Camp Blanding on Feb 21, 1942 and underwent a program of reorganization and refurbishment with new equipment. On May 15th, the division's reconfiguration was completed and it was immediately re-designated as the 1st Infantry Division (1ID). By the following week the 1ID was temporarily moved to Fort Benning, GA for one month and then relocated again on Jun 21st to Fort Indiantown Gap Military Reservation, PA where it underwent final preparations for overseas deployment. On Jul 1, 1942, "F" Company boarded the SS Duchess of Bedford for transport to southern England. Our father's unit was part of the Advance Party for 1ID and it disembarked in Liverpool on Jul 12th. One month later on Aug 1st, the entire Division boarded the HMS Queen Mary at the New York Port of Embarkation and after a week of transiting the Atlantic Ocean, it disembarked on Aug 8th in southern England. Regiments were billeted at various staging camps located in the vicinity of Beaminster, Dorset County. The 16th Infantry Regiment HQ was assigned to Camp Parnham while "F" Company was billeted at Tidworth Barracks located about 15 miles northeast of Salisbury in Wiltshire County. For three months the Division remained in southern England to conduct unit training and staging preparations for Operation Torch, the invasion of north Africa.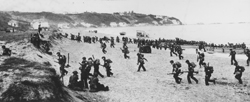 For Operation Torch, the 1ID was assigned to Center Task Force (CTF) which also included the 1st Armored Division (1AD) and the 509th Parachute Infantry Regiment. CTF had the mission of conducting an amphibious and airborne assault of Oran, Algeria to seize its port facilities and airfields. The commander of CTF was MGen Lloyd Ralston Fredendall. This operation began on Nov 9, 1942 and "F" Co landed unopposed on "White Beach" near the town of Arzew which is approximately 25 miles northeast of Oran. It wasn't until the second and third day of the operation that "F" Co encountered stiff resistance from the Vichy French forces before the defenders stood down and CTF was able to occupy Oran without further delay.
Soon after Operation Torch was concluded, CTF was re-designated as II Corps and it consisted of 1ID, 1AD, and the 34th Infantry Division. Our father participated in the American Army's first battle against Rommel's Afrika Corps at the Battle of Sidi Bou Zid, Tunisia which began on Feb 14, 1943. This encounter with Axis forces was an embarrassment for the US Army since several of II Corps' forward units were overrun and dispersed. A few days later, the Battle of Kasserine Pass turned into an even greater disaster for the Americans because elements of II Corps were forced to withdraw 50 miles west into the Pass with a significant loss of armor, artillery, and transport vehicles. Despite the chaos of being overrun by German panzers, our father managed to avoid capture, although he became separated from his unit for about 1 1/2 months. He apparently took shelter with a friendly Algerian family until he was able to rejoin "F" Co on Apr 5th. Following this humiliation of US forces by Rommel's Afrika Korps, MGen Fredendall was relieved of duty as II Corps commander and replaced with MGen George S. Patton.
Subsequently, our father participated in the Allies' more successful third engagement with the Germans on Apr 21, 1943 at the Battle of Mateur, Tunisia which significantly contributed to the eventual defeat of the Afrika Korps and the expulsion of all German and Italian forces from north Africa.
After the Battle of Mateur our father was promoted to Sgt on Jun 6, 1943 and assumed the duties of an infantry squad leader (MOS 653). Notably, our father turned-in his M1 Garand rifle for a Thompson submachine gun which was the standard issued weapon for a squad leader. Soon after he saw more combat with the 1ID when Operation Husky, the invasion of Sicily, began on July 10, 1943. US forces in this operation consisted of VII Army which was designated Western Task Force (WTF) and its commander was newly promoted LtGen Patton while II Corps was now commanded by MGen Omar Bradley.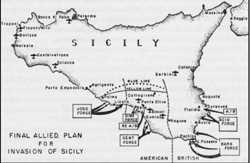 The operation began at approximately 0200 with an amphibious and airborne assault to seize the port facilities and airfields of Gela, Sicily. The amphibious phase of Husky was soon followed by a slugfest with German and Italian troops across Sicily's interior mountainous region. It was at the town of Nicosia where our father was wounded in the right hip by German machinegun fire on Aug 3, 1943. This leg wound probably classified our father as an Echelon IV casualty which entailed initial treatment at a Field Hospital in the battle zone followed by evacuation by ship to a Station Hospital in north Africa, possibly in Oran or Algiers.
Recovering in a Station Hospital in north Africa apparently didn't appeal to our father because while there he went AWOL on two occasions. The first unauthorized absence was Sep 11 to Oct 1, 1943. It's unknown if he incurred any punishment for taking off for those three weeks, but nevertheless, he went AWOL again for 74 days on Oct 11 to Dec 23, 1943. After he came back the second time he found out that he had been demoted to the rank of Private effective Oct 28th. Where he went and what he did during these periods of AWOL are unknown, but presumably he got tired of laying on a hospital bed in a recovery ward surrounded by other wounded Soldiers. So once he was able to walk on his wounded leg, he probably went to stay with some buddies in a rear echelon unit, or else he was the house guest of some Algerian friends again.
By Nov 5, 1943, the campaign in Sicily had ended and 1ID was redeployed to England to begin training for the invasion of Normandy, France while our father was still hospitalized in north Africa to continue recovering from his leg wound, battle fatigue, and trench foot. He was finally evacuated to England on Feb 8, 1944 whereupon he was apparently assigned to another Station Hospital. By this time his leg wound had probably healed sufficiently so that he could be returned to duty with his unit, but it appears he was reclassified as an Echelon V casualty because he was eventually evacuated to the US on Apr 27th for treatment of his "battle fatigue." His enlisted record shows that he arrived in the US on May 9, 1944 and was assigned to the Detachment of Patients, 1263rd SCSU, Mason General Hospital, Brentwood, NY. During WWII, this hospital was primarily dedicated for the rehabilitation of Soldiers who were suffering from "battle fatigue" and our father recalled that part of his "state-of-the-art" recovery process included sessions of electric shock. After almost three months of treatment at this hospital he was deemed sufficiently recovered, both physically and mentally, that he could be released from active duty with the annotation of "CDD" on his discharge certificate which was the WWII acronym for "Certificate of Disability for Discharge." This innocuous term entitled him to long-term medical treatment at VA hospitals for his service related injuries. Subsequently, our father was honorably discharged on Aug 5, 1944 with the rank of Private, approximately four months before the end of his reenlistment contract in the Regular Army.
Our father was 20 years-old at the time of his discharge, and despite his young age, he had accumulated 4 1/2 years of military service which included 4 years of active duty. Even more impressive is the fact that he was only 19 years-old during the year he served in a war zone and the combat he participated in consisted of two full-scale amphibious assaults against an entrenched enemy; three major land campaigns; service as an infantry squad leader; and injuries including a gunshot wound to the right hip; debilitating battle fatigue; trench foot; and undocumented shrapnel wounds. At such a young age, he had done more than his fair share for his country.
IF HE PARTICIPATED IN ANY MILITARY OPERATIONS, INCLUDING COMBAT, HUMANITARIAN AND PEACEKEEPING OPERATIONS, PLEASE DESCRIBE TO THE BEST OF YOUR KNOWLEDGE THOSE YOU FEEL WERE THE MOST SIGNIFICANT TO HIM AND, IF LIFE-CHANGING, IN WHAT WAY.
On Jul 1, 1942 our father embarked on the troopship, SS Duchess of Bedford, with the advance elements of the 1st Infantry Division (1ID) for transport by convoy to the European Theater of Operations (ETO). On Jul 12th he arrived at their point of debarkation which was Liverpool, England.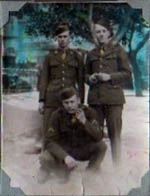 From there they were transferred to Tidworth Barracks near the small town of Salisbury, Wiltshire County which is close to England's southern coast. This part of southern England had been reserved as a training and staging area for US forces as they prepared for Operation Torch, the invasion of North Africa. 1ID was assigned to Center Task Force (CTF) with Major General Fredenhall as CTF Commander. CTF was given the mission of conducting amphibious and airborne landings to seize the port facilities and airfields at Oran, Algeria. The landings at Oran began on Nov 9, 1942, and our father said they had been hoping that the Vichy French forces would not resist, but unfortunately, the French put up a stiff defense on the 2nd and 3rd day of the operation and inflicted several US casualties before they stood down.
Our father's next combat operation was during Feb 1943 at the Battles of Sidi Bou Zid and Kasserine Pass, Tunisia. 1ID was now assigned to the newly created II Corps with Major General Fredenhall in command again. These two battles were the US Army's first ground engagements with Axis forces and the over the period of a week it resulted in a disastrous route of the Americans by Rommel's Afrika Korps. The poor performance of II Corps resulted in the replacement of Major General Fredenhall on Mar 6th with Major General George S. Patton as the Commander of II Corps. Our father's unit was apparently overrun by the Germans during the early stages of these battles, and he recounted how he had climbed a tall hill overlooking Kasserine Pass as the day was approaching sunset. He said he could see for miles toward the horizon, and below him in the Pass were dozens of burning tanks, trucks, and jeeps, and hundreds of American Soldiers in retreat. From his vantage point it probably looked like the US Army had been decisively defeated by the Germans and that he was in danger of being captured by the enemy. What he couldn't know at the time was that the remaining elements of II Corps would eventually regroup 50 miles to the west at the exits of Kasserine Pass and receive British reinforcements to reestablish the Allied line of defense. By the end of Feb this new defensive line would halt the German advance and force the enemy to retreat eastward. While our father was separated from his unit a friendly Algerian family helped hide him, and there is evidence that he also had contact with a unit of the French Foreign Legion before he was able to make his way back to friendly lines.
Our father's service record shows that he rejoined "F" Co on Apr 5, 1943 which was just in time for him to participate in II Corps' more successful combat action against the Afrika Korps at the Battle of Mateur, Tunisia on Apr 21st. This battle was one of the final combat actions in Tunisia which led to the decisive defeat of all German and Italian forces in north Africa. Soon after this victory over the Axis, our father was promoted to Sgt on Jun 6, 1943 and made an infantry squad leader which put him in a demanding leadership position for a person who was only 19 years-old and in a unit that was about to undertake another major combat operation.
The next combat action our father participated in was Operation Husky, the invasion of Sicily. 1ID was still assigned to II Corps, but Patton was now promoted to Lieutenant General and given command of 7th Army while Major General Omar Bradley became the II Corps Commander. During Operation Husky the American forces were designated Western Task Force which included all of 7th Army as the landing force. Their mission was to conduct a nighttime amphibious and airborne assault of the southern coastal town of Gela,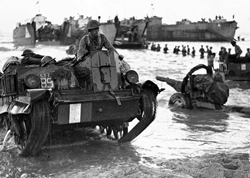 Sicily to seize its port facility and airfield. Our father's regiment, the 16th Infantry, was in the first wave of this nighttime assault which landed at 0200 hours on Jul 10, 1943. Despite stiff resistance by the Italian defenders and frequent air raids by Axis aircraft, the town of Gela fell to Allied control by 0800, although the Italians had managed to destroy Gela's pier facilities before being overwhelmed by the American landing force. Without pausing, the 16th Infantry began moving inland to seize the high ground which surrounded Gela and the nearby airfield.For this outstanding performance of duty during the first few days of Operation Husky, the our father's Battalion was awarded the Distinguished Unit Citation a year later. During the following 3 weeks the 16th Infantry Regiment continued to battle German and Italian forces across the difficult terrain of Sicily's mountainous interior, until on Aug 3, 1943 our father was wounded in the right hip by German machinegun fire near the town of Nicosia. At this point in the Sicilian campaign, our father was also suffering from battle fatigue, trench foot and some undocumented shrapnel wounds. Subsequently, he was evacuated to a Station Hospital in northern Africa which was most likely located in Oran, Algeria.
While recuperating in north Africa, our father went AWOL from the hospital on two occasions and was eventually demoted to the rank of Private on Oct 28, 1943. He was then transferred to England on Jan 30, 1944 and arrived there on Feb 8th for more medical treatment.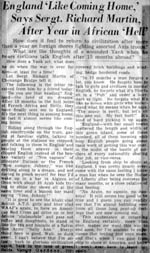 He stayed in England until Apr 27th when he embarked on a troop ship for transport back to the US whereupon he debarked at the port of NYC on May 9,1944. He was assigned to a detachment of patients at Mason General Hospital in Brentwood, NY until his medical rehabilitation was completed upon which he was honorably discharged from the Army as a Private on Aug 5, 1944.
OF ALL THEIR DUTY STATIONS OR ASSIGNMENTS, ARE YOU AWARE OF ANY HE OR SHE HAD FONDEST MEMORIES OF AND WHY? WHICH ONE WAS THEIR LEAST FAVORITE?
Our father never spoke of a favorite duty station, but upon his return to England from north Africa, an English newspaper published the gist of one of his letters to a friend which extolled the virtues of returning to England after spending 15 months in north Africa.
FROM THEIR ENTIRE MILITARY SERVICE, INCLUDING COMBAT OPERATIONS, PLEASE RECOUNT ANY PERSONAL MEMORIES YOU MAY BE AWARE OF WHICH HAD IMPACTED HIM OR HER THE MOST.
Our father related that during the rainy season of one operation he had to spend days at a time in a foxhole that was full of water and mud. No one could safely leave their fighting position to dry their feet because the Germans would immediately start shelling their location.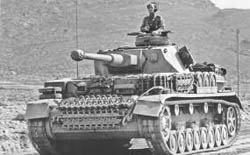 Consequently, our father developed a severe case of trench foot that plagued him for the rest of his life. He only wore white socks because the dye in dress socks would irritate his feet. It was very common to see him suffer sudden and extreme bouts of itching feet which he relieved by vigorously scratching and then doused with hefty amounts of foot powder.
During one operation our father's squad was moving down a road when they heard a tank approaching from their front. They quickly hid in the bushes by the roadside and watched as a single German Panzer passed by. One of the squad members had a rifle grenade attached to his M1 Garand rifle and after the tank went by the Soldier fired the grenade into the tank's engine compartment which immediately disabled it. The German crew promptly bailed out of their tank and were taken prisoner by my father's squad.
On another occasion our father recounted one instance when his squad was on patrol and they came upon a lone German soldier taking a bath in a pond. Before they could take him prisoner, one of the Soldiers in our father's squad threw a grenade in the pond that landed right next to the German. The resultant explosion literally blew the German to pieces, and his flesh and blood was splattered all over the bushes and trees that surrounded the pond. I don't recall in what country this happened or if my father was the squad leader at the time, but I'm sure it was one of many horrific encounters he witnessed during the war. I believe this was the last story he told of his combat in WWII.
When our father finally had orders to return to the US, he turned in his duffel bag for storage in the troop ship's hold. This duffel bag contained two German Lugers which he had captured as war trophies. Unfortunately, that was the last time he saw his duffel. He figured it was either stolen or lost sometime during the transit of the Atlantic or debarkation at NYC.
IF HE RECEIVED ANY MEDALS, AWARDS, FORMAL PRESENTATIONS OR QUALIFICATION BADGES FOR SIGNIFICANT ACHIEVEMENT OR VALOR, PLEASE DESCRIBE WHAT THESE ARE AND, IF KNOWN, HOW THESE WERE EARNED.
On Aug 3, 1943 our father earned the Purple Heart after getting shot in the right hip by a German machine gun at Nicosia, Sicily during Operation Husky. He had other wounds from shrapnel and a severe case of trench foot, plus he was suffering from "battle fatigue." These injuries occurred during the heaviest fighting that the Big Red One experienced as it progressed up the mountainous interior of Sicily. At this stage of the battle some American units had lost more than half of their personnel strength.
OF ALL THE MEDALS, AWARDS, FORMAL PRESENTATIONS AND QUALIFICATION BADGES HE RECEIVED, OR ANY OTHER MEMORABILIA, PLEASE DESCRIBE THOSE WHICH ARE THE MOST MEANINGFUL TO YOU AND WHY?


In 1944 the 2d Battalion, 16th Infantry received the Distinguished Unit Citation for its "outstanding performance of duty in action" during Operation Husky, the invasion of Sicily. This was in recognition of the valiant effort put forth by the 2d Battalion during the period of Jul 10 to Jul 12, 1943 when it successfully conducted a nighttime amphibious assault against entrenched Italian forces; repulsed numerous German counterattacks; and broke through encirclement by enemy tank forces, despite suffering heavy casualties including the wounding of the Battalion Commander. By the late morning of Jul 13th, the 2d Battalion secured the town of Niscemi which was the 16th Infantry's primary objective for that stage of the operation. Our father served as an infantry squad leader during this battle, and undoubtedly, he and his men were in the thick of the fighting.
IF YOU ARE AWARE, PLEASE DESCRIBE ANY INDIVIDUAL(S) FROM HIS TIME IN THE MILITARY WHO WERE CLOSE FRIENDS OR STOOD OUT AS HAVING THE MOST POSITIVE IMPACT ON THEM AND WHY?


Our father never spoke of any specific individual in his unit that he was close to. However, he did have a low regard for General Patton who he thought was too eager to put them in hazardous situations. In contrast, our father had a very high regard for General Douglas MacArthur who he thought was a "great man," and consequently, our youngest brother was named after him.
ARE YOU AWARE OF ANY PARTICULAR INCIDENT FROM HIS OR HER SERVICE WHICH MAY OR MAY NOT HAVE BEEN FUNNY AT THE TIME BUT STILL MADE THEM LAUGH LATER ON?
Our father never recounted any particular moment of his Army service that he found to be especially humorous. However, he must have had some fun times, because many of the pictures we have of him posing with his buddies invariably show them as young men having a grand time.
IF HE OR SHE SURVIVED MILITARY SERVICE, WHAT PROFESSION(S) DID HE OR SHE FOLLOW AFTER DISCHARGE?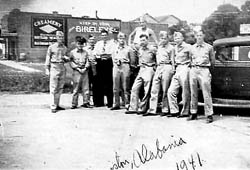 Following his discharge in 1944, our father eventually found employment for several years as an analytical reporter for Dun & Bradstreet in Arkansas. During the mid 1950s, he went to work for the US Postal Service as a mail carrier in El Dorado, AR and later as a front desk mail clerk in Shreveport, LA until his retirement from the Post Office in the 1980s.
IF KNOWN, WHAT MILITARY ASSOCIATIONS WAS HE OR SHE A MEMBER OF, IF ANY? ARE YOU AWARE OF ANY SPECIFIC BENEFITS THEY DERIVED FROM THEIR MEMBERSHIPS?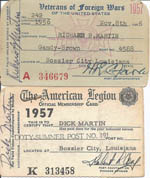 In 1952 our father joined the Veterans of Foreign Wars, Post 2413 in El Dorado, AR.. After moving to Louisiana he joined VFW, Post 4588 in Bossier City, LA during Nov 1956. The following year he joined the American Legion, Post 191 in the same town. He was apparently a regular member of both organizations, and besides enjoying the company of other veterans,
IF HE SURVIVED MILITARY SERVICE, IN WHAT WAYS DO YOU BELIEVE HIS OR HER SERVING IN THE MILITARY INFLUENCED THE WAY THEY APPROACHED THEIR PERSONAL LIFE, FAMILY LIFE AND CAREER?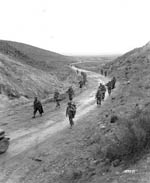 Our father frequently stated that he had given the best years of his life to the Army. He entered military service as a young, healthy 16 year-old and left active service as a 20 year-old man who needed a full year of medical treatment and rehabilitation before being able to return to civilian life. Despite the hardships, battle scars, and lingering physical ailments, our father was very proud of his military service and even somewhat amazed that at the age of 19 years-old he had successfully led men in some of the worst combat that WWII could inflict on a Soldier. The only time he talked about his wartime experiences was when he was asked, and even then he didn't elaborate beyond a short story unless he was prodded for more information. He was probably more forthcoming about his Army service with other WWII veterans, but that is to be expected. Only his fellow veterans could truly appreciate what he had endured as a young Soldier.
IF THEY WERE HERE TODAY, WHAT ADVICE DO YOU THINK HE OR SHE WOULD GIVE TO THOSE WHO FOLLOWED IN THEIR FOOTSTEPS AND RECENTLY ENTERED MILITARY SERVICE?
Our father never encouraged anyone to enter military service because of the horrors he witnessed on 
the front lines as an infantryman. He also refused to have anything to do with firearms in his post-war years, despite his familiarity with all of the infantry weaponry of WWII.
HOW EFFECTIVE HAS TOGETHERWESERVED.COM BEEN IN HELPING YOU RECORD YOUR REMEMBERED PERSONS MILITARY SERVICE? DO YOU HAVE ANY ADDITIONAL COMMENTS OR SUGGESTIONS YOU WOULD LIKE TO MAKE?
It has provided a very organized structure for my family to piece together our father's service during WWII. Instead of a bunch of miscellaneous pictures and documents of his time in the Army, we now have a coherent record of his military service and how it fit within the historical context of the war.