Please describe who or what influenced your decision to join the Army.
Like most others, there were several reasons for enlisting. One of the first reasons was my brother (really my cousin but he was my brother for all intents and purposes) was a Marine from 57-59 serving in a ship's detachment and as a 10-year-old the picture of him in his Dress Blues just stuck in my mind; I just had to follow in his footsteps.
Now not wanting to appear to be looking for sympathy, probably the biggest reason was "floundering." My Mom died when I was 10 – the same time, my brother went into the Corps. After graduating from HS, I tried college, that didn't work, so I tried to work. I worked on Wall St. and my boss was an Iwo Marine, so that just added to my reasons. So, with the image of my brother in my head, I decided I would enlist in the Corps. I had some medical issues and had to get special approval to be able to enlist. I passed so as they say the rest is history – the best decision I ever made.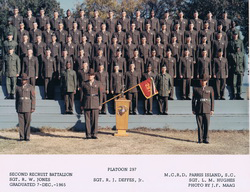 Whether you were in the service for several years or as a career, please describe the direction or path you took. What was your reason for leaving?
We all went through testing and screening to determine what we may be good at or at least could do the job. As a result of that testing, I was assigned a communications' MOS-2533, as an RTO, radiotelegraph operator (Morse code). During comm school, we had to learn to type to be able to record the messages. Well, that didn't go so well for me. No matter how hard I tried, I just couldn't get it, but at least I passed typing enough to get by, so they thought. No matter how hard I tried, I just had to write the messages and got pretty good at copying a sentence or two behind.
After I finished school, I was assigned to the 2nd Engineer Bn. At Camp Lejeune. Eventually transferred to the 11th Engineer Bn, which was stood up under the 5th MARDIV, transitioning to the 3rd MARDIV after arriving in Nam. We took the Battalion over by ship, and I was put on the USS Cabildo, LSD 16. Getting from Pendleton to Long Beach was a trip. One other guy and I got to drive up the coast in my radio jeep. We had our rifles with us, stuck on the sides, and that didn't go over two well with the CHP's who stopped us thinking we were booking!!
While aboard the ship going to Nam, I got to listen to the Navy guys sending and receiving on a "speed keys," and I have no idea how they got anything right. Unbelievable speed sounded just like one long blur! Didn't really hurt as basically I functioned as a 2531, voice operator 99% of the time. I mention going over by ship as it was one heck of a ride. We hit some pretty rough water, even able to see the props and rudder of the ships next to us. Funny because I used to get seasick on a rowboat with my Dad but never got sick going over. We had one guy that was stupid enough to want to walk across the rear gate from one side of the ship to another. We had one guy that complained about everything and had some wild "illnesses" so they told him they couldn't treat him on the Cabildo so they high-lined him across to one of the other ships, which couldn't treat him either but he had a miraculous recovery after a few short dips!!!
When we were coming into Pearl Harbor (Nov 9, 1966), the Captain would not let the Marines above deck because we didn't have dress uniforms. As I recall the reason? DA! Then after we were able to go on liberty, they moved the ship to another birth. When a couple of us got back to the original birth (slightly hungover), we could have s**t our skivvies as the ship was gone, and we thought we must have missed the movement, not good.
Fortunately, they had someone there to tell us where it was, but not before they let us sweat a bit!! Ok, so we leave Pearl on Nov 9 and finally arrive off the coast of Vietnam on Nov 30. It was at the mouth of the Cua Viet River just below the DMZ. The original intent was to offload the entire Battalion. However, as we started offloading some of the APA's, they brought some LCU's out to offload some of our small equipment, including my radio jeep. It began to get rough, and I had to go down Jacob's ladder to get to the LC U.
Well, the two ships only stayed even for a short time, and while I was going down the ladder, a rung broke, and I hung on for dear life, literally. The Navy guy yelled to me that when he told me (while the ships were level) to jump and don't hesitate, I indeed followed those orders, but when I hit the deck, I thought my knees would bust. So, the other guy with me in the jeep (sorry, can't remember his or many names now), and I landed and unloaded.
We would spend a couple of nights in an old French bunker by an ARVN unit. Didn't get much sleep then as we had no idea what was going on until finally someone called us and told us where to go, that was the beginning of building the Dong Ha combat base.
After leaving Nam and returning to the states, I was stationed at Quantico. I had eight months left on my active duty and determined that I was not going to extend, given the situation, as I left just as Tet was starting and after hearing reports from Nam that answered any question I may have had about going back.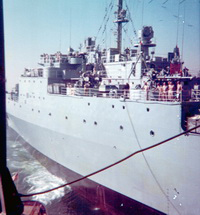 If you participated in any military operations, including combat, humanitarian and peacekeeping operations, please describe those which made a lasting impact on you. Were they life-changing? In what way?
As I said, I was with 11th Engineers, and as an Engineer Unit, we were tasked with fixing and building the roads in the area. Much of the initial time was used to develop our site, included filling a LOT of sandbags, and yes, like others, had to "burn the sh*tters." I learned early on that when it was my turn to get to them before the liquid got to the cutouts holes for handles.
This is a part of my story I have not made public before this time. Not long after we arrived, one of our teams was sent out to near the Rockpile, and one of the drivers for one of the staff officers came to our comm tent and asked for radio to take with them. I handed him the radio and said, "here, take 13, it's MY lucky number," It wasn't his. He hit a mine out by the Rockpile, was medevac'd to a hospital ship, but unfortunately, LCPL Ronald Kissinger didn't survive. I will never forget this event as long as I live.
As a radio operator, we got bounced from detail to detail as needed, so I really never had time to "get tight" with many of the other comm guys.
In early February 1967, I was assigned to the detail sent to Ca Lu to work on opening Rt 9 to Khe Sahn. Our initial task was to build a command area so back to sandbags. We also had a unit of Army Twin '40s with us, and being we were in front of their position, they had to fire over our heads along with the Ontos's that were with us. I remember one day I was supposed to go out with the detail, but one of the other radio operators (little "Ski") jumped up early and went with them. While en route to the work area, they were ambushed, and several were wounded and killed. I remember calling in medevacs as the RTO in the work detail was also injured. On Mar 19, we finally finished opening Rt. 9 to Khe Sahn. I had the pleasure of riding back to Ca Lu on a barrel on the Ontos as there was no room on the trucks. At that time, we placed the sign showing 11th Engineers Co had opened it. That sign was changed in 1968 about a year later by D Co/3rd Bridge (sign shown in Time Magazine 1968.)
During the time at Ca Lu, 3/3 was providing security for us, and an incident occurred, which was hard to believe one night while they were out on an LP. I heard on the radio net some bizarre transmissions and eventually found out it was a tiger that had grabbed one of the guys by the arm and was dragging him away. The tiger was shot, and the LP returned to Ca Lu coming through our (Engineers') area. I suggest going to the internet and Googling "Tiger Bite Tale." The URL is http://www.3rdmarines.net/Vietnam_tiger_bite_tale.htm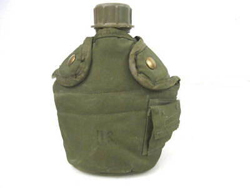 At any rate, I think sometime in early April, I was detailed back to Dong Ha. While back there, we would receive 120 rocket fire fairly frequently, and as one of the RTO's, I had to get to the command bunker. No fun running to it, but I guess I was lucky as one of the bunkers at the end of our tents took a direct hit. Not much else occurred at that time until I was then detailed to the unit going to Con Thien a short time later. We were tasked with clearing the "Trace," a wide strip from Con Thien to Gio Lin. I made one of the biggest mistakes I could have, and that was drinking my water too fast; obviously, no one wanted to give up theirs, and I don't blame them.
On May 6, while out in front of our wire, clearing fields of fire, we took some incoming mortar fire, as usual, and while not badly hit, I was hit with shrapnel under my arms. I had my handset clipped on my helmet and radio laying on the ground propped on a rock, and when I moved, it pulled me off balance and away from where the round landed so my arms were out trying to break the fall. I realized why they taught in training to face away from a blast. Like I said, fortunately, I only had to have some pieces pulled out, cleaned up, and back out.
However, the most significant single day of my life was two days later, May 8, at Con Thien. That night will never leave my memory and dare say anyone else that was there. I can never thank my brothers in 1/4 enough and have since "attached" myself to the 1/4 association. They accepted me into the group even though I was with Engineers, and I can never thank them enough. Semper Fi! to all my brothers from Delta 1/4. The following write-up says it all.
ATTACK ON CON THIEN
On May 8, 1967, the 13th anniversary of the fall of Dien Bien Phu, the NVA tried to overrun the Marine position at Con Thien. The outpost, less than two miles from the southern boundary of the DMZ, was on a hill only 158 meters high in the middle of the red mud plain. It afforded the best observation in the area, overlooking the DMZ to the north and west, as well as the Marine base Dong Ha to the southeast. As a strategic terrain feature, Con Thien was important to the Communists: before the summer was over, it achieved additional symbolic importance.
At the time of the attack, the outpost contained a small command group of the 1st Battalion, 4th Marines, reinforced companies Alpha and Delta of the Battalion, and a civilian irregular defense group (CIDG) unit. The Marines were there to provide security for the engineers, who, having completed the trace on May 1, were busy clearing a 500-meter-wide strip around the perimeter of the outpost. At 0255, the morning of May 8, a green flare lit the sky south of the hill, followed immediately by a savage 300-round mortar and artillery attack. Concurrently, Camp Carroll, Gio Linh, and Dong Ha also came under fire.
At Con Thien, enemy units maneuvering under cover of the barrage breached the defensive wire with Bangalore torpedoes, and small elements moved inside. At approximately 0400, two NVA battalions armed with flamethrowers, RPGs, and automatic weapons, attacked through the breach in the wire. The brunt of this assault fell on the right flank of Delta Company. The Marines engaged the enemy force in bitter hand-to-hand fighting. An engineer platoon moved to reinforce Delta Company. The situation became serious when the Marines ran out of 81mm mortar illumination rounds; artillery illumination from the nearest artillery at Gio Linh could not reach Con Thien. (There is no illumination round for the 175mm gun). A flare plane finally arrived and provided much-needed illumination until daylight.
Meanwhile, Alpha Company sent a platoon to help Delta Company, as well as to protect an ammunition resupply convoy composed of an attached Army M42 Duster, and two LVTHs, and two 1/2 ton trucks. As these elements moved up to support the hard-pressed Marines of Delta Company, the relief vehicles came under fire. The Army M-42, which was the lead vehicle, stopped and burst into flames after being hit by an enemy RPG antitank projectile. A satchel charge exploded under the following LVTH. It began to burn, but its crew managed to get out. The trailing LVTH, trying to get around the burning vehicles, which now included the 2 1/2 ton trucks, became entangled by barbed wire around its left rear sprocket. The tractor was stuck. Despite their losses, the reinforced Marines continued to Delta Company position. With these reinforcements, Delta Company halted the enemy penetration and sealed off the break in the wire just before daylight. By 0900, the enemy soldiers still within the perimeter were either dead or captured.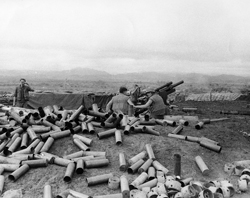 The recently completed brush clearance around the perimeter paid early dividends. It permitted the Marines to catch the retreating North Vietnamese in the open as they crossed the cleared strip. Tanks and LVTHs, firing both conventional and beehive antipersonnel ammunition, were particularly effective. Supporting fires of the Composite Artillery Battalion at Gio Linh ripped into the enemy as it withdrew north into the DMZ.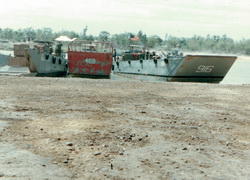 The defending Marines lost 44 killed and 110 wounded, as well as two LVTHs and one 2 1/2 ton truck destroyed, but the hard and bloody battle cost the enemy 197 killed and eight captured. The Communists left behind 72 weapons, including 19 antitank weapons, three light machine guns, and three flamethrowers. (This was the first instance of NVA use of flamethrowers against Marines).
The May 8 attack on Con Thien had been carefully rehearsed, but the enemy displayed an inherent inability to alter plans. The NVA attacked the most vital point of the perimeter and continued to press the attack at this point, even when it was clear that it had encountered heavier resistance than anticipated. The enemy planners were not aware of the arrival of the two Marine companies. Delta Company had replaced an ARVN unit only a few days before the attack.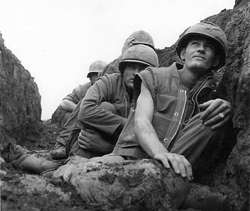 Following the battle, enemy activity intensified throughout the Leatherneck Square area (a quadrilateral between Con Thien, Gio Linh, Dong Ha, and Cam Lo). The number and volume of artillery attacks increased significantly. More than 4,200 mortar, rocket, and artillery rounds were fired at Marine positions during the month. The enemy revealed the degree and sophistication of its buildup in the area on May 10 by the destruction of a Douglas A-4E Skyhawk flying a radar-controlled mission near the southern boundary of the DMZ. As the plane approached its target, Marines on the ground witnessed the firing of three surface-to-air missiles (SAM) from positions north of the Ben Hai River. One of the missiles hit the A-4E; This was the first reported use of Communist Sam over South Vietnam.
I was brought back to Dong Ha a few days later until I was transferred to 3rd Motor T in the late fall of 67 until I rotated back just before Christmas.
Of all your duty stations or assignments, which one do you have fondest memories of and why? Which was your least favorite?
Given the fact that I really didn't spend too much time in any one place other than when I came back from Nam, I would have to say MCB Quantico. Assigned to STD…that is Schools Demonstration Troops. This was the only duty station that I spent enough time to get tight with my unit. While we were temporarily assigned to the Washington Navy Yard during the "civil disturbances" in DC, I met my wife of now 43 years.
We couldn't go anywhere at the time except for the evening ceremony at 8th & I, and I will always remember that ceremony with an incredible sense of pride. We also spent many evenings walking along the docks where the Presidential Yacht Sequoia was docked. Good memories, and honestly, the opportunity of my lifetime presented HERSELF!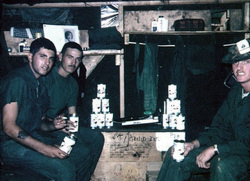 From your entire military service, describe any memories you still reflect back on to this day.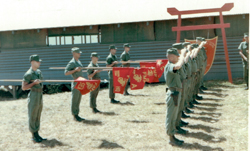 That's a hard question to answer particularly for those of us who have experienced combat, no matter how much or how little.
I have searched my memory bank and have finally decided that I can't pick just one, so I'm going to include two that stand out the most. First is during the attack on Con Thien on May 8, 1967. I had gotten out of the trench to cover some of the other guys trying to clear the trench and saw someone running toward me from an area I thought only had NVA. I aimed and pulled the trigger and the M-16 jammed (I had picked it up from one of the Delta, 1/4 guys who had been hit as I ran out of ammo for my M-14, Engineers hadn't been issued M-16's) It turned out to be another one of the guys from Delta who had got caught up in that area. I'm not sure who was most surprised or relieved, him that it jammed, and me that it wasn't an NVA, but I am sure thankful it did because I'm not sure how I could take the alternative.
The second is something I have never said to anyone else. One of our motor T drivers, Ron Kissinger, was taking one of the officers out to check on some of our guys working near the Rockpile. Ron came to me to check out a radio; I gave him # 13 and said that was MY lucky number…it wasn't his. He hit a mine that day and finally died on the hospital ship a day or so later. He was the first one in our unit that was killed. That statement has haunted me ever since, and to my 11th Engineer brothers, I sincerely apologize forever saying that to Ron.
The irony of my story about the number 13 and Ron Kissinger is that the attack on Con Thien was the 13th anniversary of the attack on Dien Bien Phu against the French. Needless to say, I try to avoid anything using the #13!!
What professional achievements are you most proud of from your military career?
Given the fact that my time on active duty was short, and I bounced around with not too much time in any one place, I don't think I had time to build professional achievements during my time in the Corps.
Of all the medals, awards, formal presentations, and qualification badges you received, or other memorabilia, which one is the most meaningful to you and why?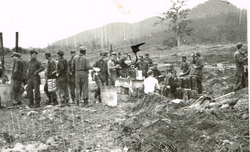 I would not be truthful if I did not say the Purple Heart. The why is harder to answer, but I was awarded a Purple Heart and the Vietnamese Cross of Gallantry after the battle at Con Thien. Also, I believe I should have had the Combat Action Ribbon awarded, but it wasn't on my DD 214, and I am still trying to get that to happen.
I would not be truthful if I did not say the Purple Heart, although it is harder to say because of the company that it puts me into, with others who suffered so much more and deserve it far more than I.
Which individual(s) from your time in the military stand out as having the most positive impact on you and why?
I am no different than many others on TWS who have put their drill instructors into that category. I can genuinely say they caused me to do and accomplish far more than I ever thought I could or would. So, my hat is off to Sgt. Deffes, Sgt. Hughes and Sgt. Jones.
However, Major Raymond Shortt with the 11th Engineers showed he had a lot of confidence in my abilities and made that known to my superiors at the time.
Which individual(s) from your time in the military stand out as having the most positive impact on you and why?
I am no different than many others on TWS who have put their drill instructors into that category. I can genuinely say they caused me to do and accomplish far more than I ever thought I could or would. So, my hat is off to Sgt. Deffes, Sgt. Hughes and Sgt. Jones.
However, Major Raymond Shortt with the 11th Engineers showed he had a lot of confidence in my abilities and made that known to my superiors at the time.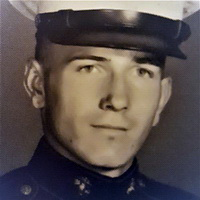 What profession did you follow after your military service, and what are you doing now?
I did some odd jobs after I got out. I finally settled down and became a police officer in Fairfax County, Virginia, just outside DC I retired in 1989. I have followed the path of security management, first at a museum and art school in Washington, DC, and then into security in private industry in the transportation/logistics business.
I am currently the Chief of Security for the Port Authority of San Antonio (the "no water" port!).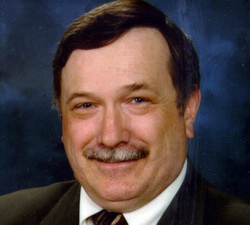 What military associations are you a member of, if any? What specific benefits do you derive from your memberships?
I am a member of the Vietnam Vets of America and the Marine Corps Association. I now belong to the Grand Prairie Chapter VVA after moving from San Antonio. At this time, the primary benefit is getting to help other vets in the area as well as supporting the community. Grand Prairie is exceptionally veteran-focused, as San Antonio is known as military city USA. I enjoy Leatherneck magazine every month and read it from cover to cover; I enjoy the new "sea story" section.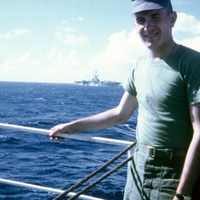 In what ways has serving in the military influenced the way you have approached your life and your career? What do you miss most about your time in the service?
Well, I apparently rubbed off on my daughter who enlisted in the Navy but unfortunately was injured pretty bad in her preliminary training after boot camp and missed a chance to join the Seabees as an underwater electronic tech; that bummed her out but think her potential had something to do with having my Marine Corps time rub off on her. I, like most other Marines, have learned to work with focus, determination, and the ability to adapt and improvise!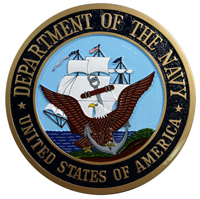 Based on your own experiences, what advice would you give to those who have recently joined the Marine Corps?
Be proud and show it, you have earned it as the Sgt. Major of the Marine Corps commented while at an event at the Marine Corps Museum in Quantico if you are asked to undertake another function, accept it and do the best you can. Never pass up a chance to move ahead.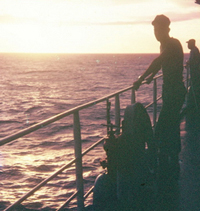 On a more functional aspect, do not get tunnel vision and learn everything you can to do the best job you can. Be flexible. Read, read, read.
As someone told me years ago, "Good listeners are silent flatterers," your boss will never mind being flattered, so listen first and listen well, although I still have a hard time following it.
In what ways has TogetherWeServed.com helped you remember your military service and the friends you served with?
Because I was a communicator in an Engineer battalion, I was always being farmed out to operations and never really had the opportunity to get close to many guys in my platoon. We always seemed to be going in different directions, but I have never forgotten any of those different units. TWS has given me the chance to become part of a unit of all Marines, and I hope to be a brother to many of them. I do believe TWS has allowed me to remember the most significant time in my life.