Please describe who or what influenced your decision to join the Army.
Two uncles who served during WWII influenced me to join the Army. They were both younger brothers to my dad:
(1) PFC Donald E. Loftis was killed in eastern France on 4 Jan 1945 while serving with Co. E, 114th Infantry Regiment, 44th Division, 7th Army. He earned the Bronze Star Medal, Combat Infantry Badge and Purple Heart. He was lead man of a two-man team laying commo wire from field to HQ when he was hit by a sniper. His body was re-interred on 19 Apr 1948 to Old Matt Loftis Cemetery, Morrison Creek, Jackson County, TN.
(2) Technician Fifth Grade Doliver Brinton Loftis served with A Btry., 29th Bn., 4th Inf. Div. and was awarded the Silver Star Medal on 31 Oct 1944 based upon heroic action as a radio operator on 4 Jun 1944 at Normandy, D-Day, H-Hour, while wounded by fragments of enemy shells hit an overhead tree. His captain was KIA from the attack. He stayed at his post, and his transmission of messages was continuous throughout the artillery barrages on both sides of the battle until the enemy positions were destroyed. He was buried on 15 Mar 2006 at Woodlawn Memorial Park, Nashville, TN.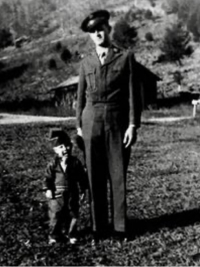 Whether you were in the service for several years or as a career, please describe the direction or path you took. What was your reason for leaving?
After being commissioned in June 1966 at Tennessee Tech University as a 2LT in Armor Branch, US Army, I was granted a deferment to active duty to pursue my MS degree in agronomy at Auburn University in AL. Meanwhile, I requested a branch transfer to the Corps of Engineers, which was approved. I graduated from Auburn in August 1968 and entered in September the Engineer Officer Basic Course at Ft. Belvoir, VA.
Next, I went to the Kansas City District Engineer Office, located in the Federal Building in downtown KC. I worked in the Operations Division with the mission to evaluate, document and make recommendations regarding the contracts between the federal government and state forestry departments (Missouri, Kansas, and Arkansas) to improve the grass, forest and other vegetation in the public use areas of the reservoirs in the Missouri River area.
I wrote another thesis with photos, data, and recommendations during my nine months assigned to KC. I was promoted to 1LT, and I also got married on 14 Jun 1969 to my home town girl, Linda Johnson, in Cookeville, TN. We moved to an apartment complex in North Kansas City for only two months. I received orders to Vietnam, and my wife returned to an apartment in Cookeville, TN.
I arrived in Vietnam at II Field Force HQ, Long Binh, on 6 Sep 1969. I was assigned to 2nd Civil Affairs Company and sent to IV Corps in the Mekong Delta at Ben Tre, Kien Hoa Province, and attached to MACV Advisory Team 88. The 9th Infantry Division was the first unit ordered back to the USA and, consequently, withdrew from the Delta, including Kien Hoa Province. While boarding the ferry at My Tho, I met many of their convoy going home.
My primary reason for leaving the military was to spend more time with my wife and create a family. The second, to utilize my agricultural background and educational training in a real-world work career. I had several job offers in the Agri-business field when I returned to the USA after 367 days in Vietnam.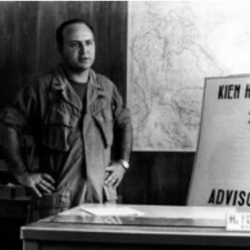 If you participated in any military operations, including combat, humanitarian and peacekeeping operations, please describe those which made a lasting impact on you. Were they life-changing? In what way?
I conducted 64 civic action projects in 9 districts of Kien Hoa Province from Sept 1969-Sept 1970. Our projects ranged from school construction, pagoda repair, bridge reconstruction, river dock repair, orphanage medical assistance and electrification, soccer field retrofit, youth sports support, footbridge construction, school supplies, hospital assistance, police training, etc. My duties included Province Youth and Sports Advisor, Education Advisor, Public Works Advisor, and Assistant Agriculture Advisor, along with a team of 2-5 enlisted men.
A Vietnamese interpreter was also assigned to us from USAID / CORDS. Province Senior Advisor A. L. Kotzebue stated in my letter of performance evaluation that "While serving as platoon commander of the 8th Platoon, 2nd Civil Affairs Company, 1LT Loftis has turned in an outstanding performance, and have made his team a valuable asset in MACV Advisory Team 88's pacification efforts."
During a period of a potential stand-down of our unit and to cope with a threatened enemy TET offensive, most of the officers of 2nd Civil Affairs were reassigned by II Field Force. I was sent to Bien Hoa Tactical Area Command as TOC Operations Duty Officer and Night TOC Duty Team Chief during the period 31 Jan to 22 Feb 1970. I remained an additional two weeks at the request of the commanding officer, LTC Julius Frenier. I received a Letter of Appreciation from him commending my performance "in this capacity was outstanding in every respect, and a position of great responsibility, normally filled by an Infantry or Armor Officer in the grade of Major."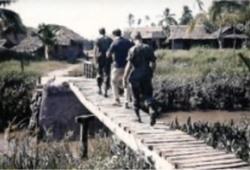 Did you encounter any situation during your military service when you believed there was a possibility you might not survive? If so, please describe what happened and what was the outcome.
After traveling about one mile from disembarking the ferry across the Mekong River from My Tho to Ben Tre, our Jeep encountered automatic weapons fire about 100 yards from the tree line on our left flank. The cowboys on their motorbikes in front of us hit the ditches on both sides of the road. I was driving and told the three passengers from my team to duck down as we were going through the rapid-fire. I floored the pedal and could clearly hear the rounds of an AK-47 going just overhead. We made it safely through that episode and reported it to the TOC in Ben Tre.
Upon a road trip in my Jeep from Ben Tre to the Ham Long District early one morning, the MACV District Advisor (a Major) challenged me about coming down that road before they did their usual sweep for mines. While we were talking, his radio rattled with news of a Lambretta with several Vietnamese aboard had just hit a land mine in the roadway we had just traversed. Lucky us!
Upon several occasions, our US Army Advisory Team 88 compound was mortared at night by the VC from across the River. Sometimes it was close enough to rain dirt and debris upon my rooftop. It made sleeping a little difficult. They also used sappers to plant charges on a bridge being rebuilt across the River from the market area of the city of Ben Tre to that VC area. It was a loud boom during the night-time and halted that project.
While flying in a helicopter with several ARVN and US Army soldiers from Thanh Phu District to Ben Tre, the pilot spotted a red flag near Mo Cay. He decided that he wanted it as a souvenir. He spiraled down and hovered over the rice paddy as he approached the tree line and near the VC flag. The door gunner cut loose with his 50-caliber until the flagpole collapsed in the water and he strafed the tree line and area around. We sat there in the chopper in disbelief of this action. Finally, a young ARVN soldier jumped out and retrieved the bright red flag with a yellow star in the middle. He quickly climbed back aboard and gave the flag to the pilot. We left in a hurry over the vast paddies and upward to a safer altitude. I was glad to get back on the ground.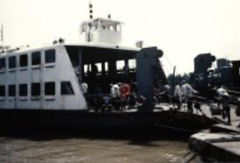 Of all your duty stations or assignments, which one do you have fondest memories of and why? Which was your least favorite?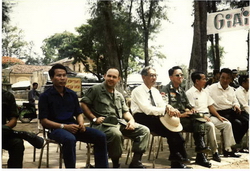 The Vietnam experience was enriching, and lots of good memories for me. I felt a sense of real accomplishment and a successful achievement toward our goal of pacification and "winning the hearts and minds of the Vietnamese." My Team incurred no injuries and enjoyed comfortable living conditions. My Vietnamese counterparts were cooperative, friendly, and appreciative of our efforts. The Catholic nuns and priests, Buddhist monks, school teachers, village and hamlet officials, and the Vietnamese civilians that we worked with and for became our beneficiaries and protected us from harm. They often fed us, advised us, and celebrated our joint successes.
It is so sad to think about their ultimate fate under Communist rule.
From your entire military service, describe any memories you still reflect back on to this day.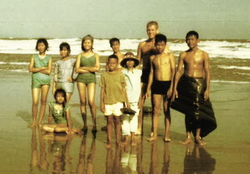 Helping the Vietnamese orphans which included many Amerasians in a War-torn Country is probably some of the most memorable actions of my experiences in Vietnam. We provided clothing, medical care, building materials, and food rations. Of course, mutual love, attention, and compassion were probably the most rewarding. I drove out to visit the children on many Sunday afternoons. We had one Catholic orphanage and one Buddhist orphanage in Ben Tre and one Catholic orphanage in Mo Cay (only visited this one on one occasion to distribute clothing from New York Catholic Relief Services).
Capt. Meirowitz before his departure arranged with the US Air Force to fly 50 orphans and their chaperones to Vung Tau on the coast of the South China Sea. We sat in the cargo hold of a C-130, but could not get priority for our return flight. Consequently, we hired a bus to transport all of the kids and adults through the rubber plantations to Saigon and then southward to Ben Tre. We followed in our Jeep which had been driven by a couple of our team members to provide transportation while we were in Vung Tau. It was a little bit of a hairy trip, but without any incidents and took an entire day. The kids had a blast over the entire week. They stayed in a youth hostel while our entire team of 5 stayed in a French hotel on the beach.
What professional achievements are you most proud of from your military career?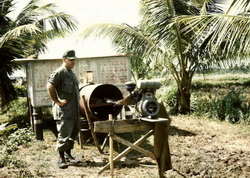 The Bronze Star Medal was given for meritorious achievement in connection with military operations against a hostile force in the Republic of Vietnam during the period of September 1969 to August 1970. Earned for civic action projects in Kien Hoa Province.
The Army Commendation Medal for exceptionally meritorious achievement in support of military operations against Communist aggression in the Republic of Vietnam during the period of 31 Aug 1969 to 21 Jan 1970. Earned for civic action projects in Kien Hoa Province.
Other decorations include the Republic of Vietnam Campaign Medal w/device, Vietnam Service Medal w/4 service stars, National Defense Service Medal, and Expert Marksman Badge (rifle). Also authorized the Meritorious Unit Emblem w /Oak Leaf Cluster and the Vietnam Gallantry Cross w/Palm Unit Citation Award.
Of all the medals, awards, formal presentations and qualification badges you received, or other memorabilia, which one is the most meaningful to you and why?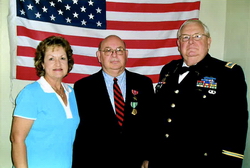 To receive both the Bronze Star and Army Commendation Medals is the most meaningful to me. However, I was unaware of any awards until 23 Jun 1978 when I requested a copy of my DD-214 and made a home loan application.
Finally, I requested the medals to be shipped to me from Kansas City Records Center. In June 2006, we had a pinning ceremony in Cookeville, TN, conducted by my son's father-in-law, Col. Ed Radford, Chief of Staff, GA ANG, Atlanta, GA. and fellow Vietnam veteran. The local newspaper ran an article and photo of the event.
Which individual(s) from your time in the military stand out as having the most positive impact on you and why?
Capt. Richard Meirowitz, whom I replaced as 8th Platoon Commander, 2nd Civil Affairs Company, had established several civic action projects which I continued. He remained in place for about two months to train and orient me to the people, places, and activities of the unit. That time together was invaluable to my safety, coordination, and overall success.
We have recently reunited and he is a retired attorney in New York City.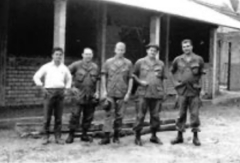 List the names of old friends you served with, at which locations, and recount what you remember most about them. Indicate those you are already in touch with and those you would like to make contact with.
Capt. Richard Meirowitz, 8th Platoon Commander, 2nd Civil Affairs Company
Kien Hoa Province
Spec. 4 John E. Flanagan, Vietnamese Interpreter
Spec. 4 Paul Zawadski, Vietnamese Interpreter
Spec. 5 John O'Neill, Medic, and French Interpreter
Spec. 5 Eugene Cobb, Medic
Sgt. Ronald Thompson, Military Police
PFC Richard Coulson, Admin. and Driver
1LT Joseph Siwy, Previous 8th Platoon Leader, 2nd Civil Affairs Company
1LT Brian Murphy, My Replacement, 8th Platoon Leader, 2nd Civil Affairs Company
1LT Parry Sparr, Engineer Advisor, MACV Advisory Team 88, and Room-mate
LT(jg) Jim McDaniel, Phoenix Program, MACV Advisory Team 88, and Room-mate
Mr. A. L. Kotzebue (Retired LTC), Kien Hoa Province Senior Advisor. (Deceased)
MAJ Charles O'Dell, Thanh Phu District Senior Advisor, MACV Advisory Team 88
1LT John J. O'Malia, DIOCC, Thanh Phu District, MACV Advisory Team 88
Mr. Nguyen Van Sich, Vietnamese Interpreter, USAID / CORDS, Kien Hoa Province
1LT Delbert Shelton, Supply Officer, 2nd Civil Affairs Company, Long Binh
LTC Julius A. Frenier, Commanding, Bien Hoa Tactical Area Command
COL. John Anderson, District Engineer, Kansas City District, Corps of Engineers
LTC Don Blichman, Deputy District Engineer, Kansas City District, Corps of Engineers
1LT Winston Naylor, Kansas City District, Corps of Engineers, and room-mate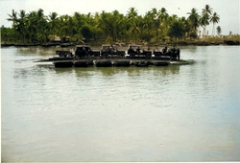 Can you recount a particular incident from your service, which may or may not have been funny at the time, but still makes you laugh?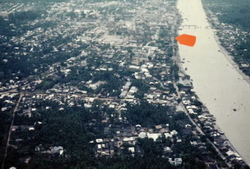 During my first week after arrival at the MACV Compound in Ben Tre, I awoke in the middle of the night to a ground-shaking loud noise and immediately thought we were under attack by the VC. I reached for my helmet and flak jacket and grabbed my .45 caliber pistol and rolled under my bunk. My room-mates began laughing at me and informed me that all the racket was due to a B-52 strike several kilometers away. I meekly crawled back into my bed and fell asleep again.
Note on the aerial photo the section of the bridge destroyed by VC sapper.
A funny story happened with a local Baptist minister who is Vietnamese and requested our assistance with his building program when he showed up at my office after a few weeks of absence. After questioning him about his delay with the project, he said that he had been held captive by the Viet Cong and they had confiscated some of his materials. But the reason for his being held was the claim that he was a spy. The proof lay in the back of his Bible with all of the worn-ragged pages of maps. Of course, they were of the holy lands and not Vietnam. We got a real chuckle out of that.
What profession did you follow after your military service and what are you doing now? If you are currently serving, what is your present occupational specialty?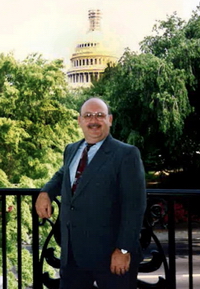 To utilize my ag education, I entered the real world as Director, Cotton, and Soybean Divisions, Alabama Farm Bureau Federation in Montgomery (1970-1974). Later joined Gold Kist Inc. as Field Supervisor of 12-grain elevators in SC and after six years was promoted to HQ in Atlanta as Member Relations Manager and later as Director, Public Affairs for a total of almost 25 years (1974-1998) with the diversified agricultural cooperative.
I moved to Richmond, VA, with Southern States Cooperative as Director, Public Affairs for four years (1998-2002), continuing to lobby state and federal officials on business and agricultural issues impacting our operations. We achieved significant revision to Agricultural Cooperative Law in VA, thus saving SSC several million. Took early retirement in 2002 and moved back home to Cookeville, TN, to care for elderly widowed mother and mother-in-law.
---
What military associations are you a member of, if any? What specific benefits do you derive from your memberships?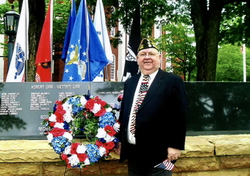 Joined VFW Post 6296 (life-member) in Cookeville, TN in 2004 and was elected Post Commander (2007-present). Enjoy paying back to serve fellow vets. Consequently, I also represent VFW on the Putnam County Veterans Organization Board of Directors which includes oversight of our Veterans building. Also, represent Putnam County on Upper Cumberland State Veterans Cemetery Association Board of Directors to create a State Veterans Cemetery within our 14-County area of Middle Tennessee. The state finally approved in July 2020 a 112 A. site in Sparta, White County, TN and we now await federal VA approval. Hope to get our first burial by 2023.
Life Member of Vietnam Veterans Of America, Chapter 741, in Cookeville since 2014. Enjoy the meals, comradeship, fellowship, and story-telling. We have lots in common to share, yet such diversified military records representing all different branches of service.
In what ways has serving in the military influenced the way you have approached your life and your career? What do you miss most about your time in the service?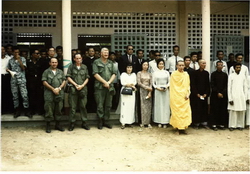 I sincerely appreciate the service of all of those who gave the ultimate sacrifice for our great country and their families. It has made me respect and honor all branches of the military. The leadership skills, personal development, and educational opportunities that I attained while serving in the military have been beneficial throughout my civilian career. The military molded, shaped, and influenced my entire life. The assignments and duties both stateside and overseas that I received were very rewarding, challenging, and exciting.
I miss the people, places, discipline, and challenges provided by military life. However, I do not miss the frequent moves and family separations.
Based on your own experiences, what advice would you give to those who have recently joined the Army?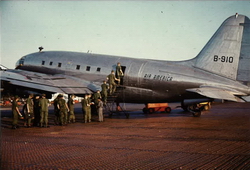 Be patient, open-minded, team-oriented, and respect your superiors. Treat others as you want to be treated. Accept all training opportunities and make an application to serve others.
---
In what ways has TogetherWeServed.com helped you remember your military service and the friends you served with?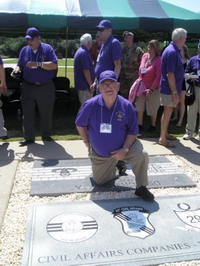 It has made me recall my time and experiences in Vietnam regarding duty assignments, team members, and Vietnamese people during my tour from 4 Sept 1969 – 6 Sept 1970 in the Mekong Delta, Kien Hoa Province with 8th Platoon, 2nd Civil Affairs Company and attached to MACV Advisory Team 88. I remember the good, bad, and ugly in vivid details just like it was yesterday and caused me to uncover my scrapbook from my storage closet and search the internet website of my unit. There is much information, photos, and history recorded there.
We had a reunion of the 2nd, 29th, and 41st Civil Affairs Companies who served in Vietnam held at Ft. Bragg, NC, on 2-4 June 2016. A few of the friends that I served with attended. A Vietnam Memorial Stone Dedication Ceremony was held in our honor at the US Army Special Operations Command Memorial Plaza. We stayed at the Hyatt Place Raleigh West and had great fellowship.
I also retrieved my copy of the 165-page paperback book entitled "Tears of the Dragon" by Larry Siegel, published in 2009 that describes his tours in Vietnam with Civil Affairs assignments, including 2nd Civil Affairs Company. It is available on Amazon.com. Our paths crossed on a few occasions, and we have communicated by email. I have several autographs at the reunion in his book.
KC 8.28.20