Since 1790, the brave men and women of the United States Coast Guard have been standing the watch for you. Night and day, in good weather and bad, its devoted members have been the first responders when disaster strikes at sea. For 226 years, the Coast Guard has tirelessly answered the call for our Nation, saving lives, enforcing maritime law, combating terrorism, and protecting the environment from oil spills and pollution.
As the oldest continuous seagoing service within the five branches of the U.S. Armed Forces, the U.S. Coast Guard is responsible for the day-to-day protection of the United States and waterways around the globe. Some of the most impactful moments of our Nation's history would not have been as successful were it not for the Coast Guard.
Remarkably, the Coast Guard is the only armed service branch without a national museum. When opportunities arose to receive Federal funding, this traditionally underfunded agency has consistently prioritized operations over building a museum. It will take all of our efforts to bring a museum to life.
We will add a National Coast Guard Museum to our Nation's most sacred military heritage sites. The first of its kind museum will give the U.S. Coast Guard the venue it deserves to showcase its rich and important history, while educating current and future generations about the value of this military branch. The museum will provide the Coast Guard with a national
platform to share its crucial role in saving and protecting lives and commerce along America's waterways.
The National Coast Guard Museum will be constructed on the historic waterfront of downtown New London, Connecticut. The Coast Guard has celebrated a presence in New London since 1791 and will incorporate the nearby Coast Guard Academy and USCG Research and Development Center in the Museum;s story. Additionally,: America's Tall Ship", the Coast Guard Barque EAGLE will adorn the waterfront while home ported at the New London City Pier adjacent to the Museum.
Once built, museum patrons will have a place to witness the founding of the U.S. Coast Guard, participate in some of the service's most dramatic rescues, explore longtime industry and civic partnerships, and see firsthand what it is to be Semper Paratus: Always Ready.
The museum will provide an immersive educational experience for visitors of all ages. In particular, the museum's STEM Learning Center will be a physical hub inside the museum with a global reach via its on-site, outreach, and virtual programs, that will engage and support today's youth inspiring them to become tomorrow's critical thinkers, problem solvers, and innovators.
We envision the STEM Learning Center's programs will complement school curriculum to inspire student's early interest in STEM fields and will provide support in cultivating that interest as teenagers. Additionally, displays will connect museum patrons with real-time missions via streaming video. This virtual element will allow visitors to see servicemen and women conduct marine environmental inspections in Long Beach, California, rescue missions off the coast of New England, drug interventions along the Gulf Coast, and tug boat regulations on the Mississippi River. Interactive exhibits will engage the public in science and engineering challenges, using principles of aeronautics, propulsion, informatics, meteorology, navigation, and other Coast Guard-related sciences.
Under the direction of a distinguished Board of Directors and Honorary Board, the National Coast Guard Museum Association, Inc. launched a national fundraising campaign in June 2013 to build this museum. With a ceremonial groundbreaking in May 2014, the effort got underway with noteworthy gifts from J.D. Power III, founder of J.D. Power & Associates and Coast Guard veteran; Boysie Bollinger, founder of Bollinger Shipyards; and support from major American Waterway Operator companies. Augmented by a commitment of $20 million in funding from the State of Connecticut and recent changes in our Federal Authorization, we have embarked on a $100 million capital campaign as the project moves from the design to construction phase. We are taking great strides to generate the capital necessary to design and build a museum worthy of our Coast Guard and your philanthropy.  Discover more by visiting us at www.CoastGuardMuseum.org
Read the service reflections of U.S. Coast Guardman
MK2 Bill Cote
U.S. Coast Guard
(1979-1988)
Shadow Box: http://coastguard.togetherweserved.com/profile/41
PLEASE DESCRIBE WHO OR WHAT INFLUENCED YOUR DECISION TO JOIN THE COAST GUARD?
My dad and step-dad were both WWII vets. My dad joined the Army Air Corps in 1941 for service in the Philippines and Guadalcanal. My step-dad was in the US Army with the 964th Field Artillery. He was in the Battle of the Bulge, Omaha Beach, and 3 other major

1978 battles. I had 3 uncles and an older brother in the US Navy.
I joined the Maine Army National Guard in 1978 my junior year in high school. I went to Army Basic Training in August 1978 at Fort Dix NJ. Then I graduated from high school 5 months early in Jan. of 1979. I went back to Ft. Dix for my AIT Power Generator and Wheel Vehicle Mechanic school in Jan of 1979. Then back to my Guard unit in Belfast, Me. I became an M-60 Machine Gunner at 17.
My assistant Gunner was a Nam vet Marine who taught me very well in the use of the 60. We had our summer training in North Dakota in June of 1979. I asked a friend when he thought they would put me in the motor pool and he said probably when my 6 years were up.
I was offered OCS school, but I gave it some thought and decided I wanted a change. Since I grew up on the coast of Maine and most of my friends and their dads were fishermen, I decided that I would join the US Coast Guard.
WHETHER YOU WERE IN THE SERVICE FOR SEVERAL YEARS OR AS A CAREER, PLEASE DESCRIBE THE DIRECTION OR PATH YOU TOOK. WHAT WAS YOUR REASON FOR LEAVING?
After attending prior service Boot Camp at Cape May NJ. I was assigned as an SA, aboard the CGC Gallatin from August of 1979- December of 1980. I worked in the engine room for MK1 Steve Brown, Mk1 Clark and MKCS Defrancisco. I switched to FA, made FN, then off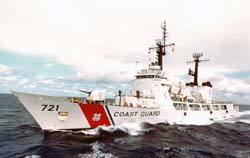 to MK-A school in lovely Yorktown Virginia. I graduated as an MKFN.
I was then stationed at the 378 MAT in Boston, MA from 1980-1983. I worked for MKCS Calvin Smith. He was awesome to work with, he taught me alot about rebuilding Fairbanks Morse engines, and Gas turbines.
Our shop was next door to the assist team so I got to work with some great folks there also. Two of my favorites were MKCM Stanley Hiller, and MKCM Gerry Poliskey.
left the Mat team as an MK3, to serve aboard the CGC Duane WHEC 33. I worked in the engine room for MKCM Duke (Gary) Snyder. I worked my way from Oiler up to Second Throttles. I loved working on that ship, I was always proud every time I walked down the pier to get aboard her.
I received the Commandants Letter of Commendation while on board the Duane. Probably one of my biggest achievements, beside's jumping on a forklift and putting boulders on the base of the LORAN tower in Lampedusa Italy during a 60+ mph wind storm and helped keep her from blowing over!! That was from 1984-1985. I worked with a great crew there also. From the Skipper Dave Mogan on down!!!
I made MK2 and after a year in Italy I was told I would get choice of duty, I wanted Alaska, but that never happened. I was stationed back in Boston at the 270′ Mat. I then transferred to the CGC Spar WLB 403 which I enjoyed. I was in A gang.
In 1986 I transferred to Rockland station which was in my home turf. I love working SAR. Anytime I heard the alarm go off I was running for the boats.
While in Boston I had dislocated my right shoulder twice. I had surgery and they gave me 45 days to heal up then I was back turning wrenches. It eventually got bad enough that I sadly had to get out in Jan of 1988.
It definitely was an adventure I wouldn't trade for anything. My only regret is not staying in long enough to retire!!!
IF YOU PARTICIPATED IN ANY MILITARY OPERATIONS, INCLUDING COMBAT, HUMANITARIAN AND PEACEKEEPING OPERATIONS, PLEASE DESCRIBE THOSE WHICH WERE THE MOST SIGNIFICANT TO YOU AND, IF LIFE-CHANGING, IN WHAT WAY.
While on board CGC Gallatin, we were at GQ for 3 days straight chasing a submarine off of Cuba keeping her from surfacing, while waiting for the USN for an assist!! That was pretty awesome.
I also remember doing Haitians ops while on board the CGC Duane. All those poor women and children. Pretty sad duty.
OF ALL YOUR DUTY STATIONS OR ASSIGNMENTS, WHICH ONE DO YOU HAVE FONDEST MEMORIES OF AND WHY? WHICH ONE WAS YOUR LEAST FAVORITE?
I loved all my duty stations.
FROM YOUR ENTIRE SERVICE, INCLUDING COMBAT, DESCRIBE THE PERSONAL MEMORIES WHICH HAVE IMPACTED YOU MOST?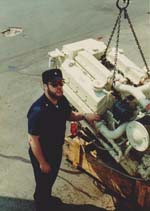 I remember how proud I was every time I went aboard a ship.
Seeing floaters in NYC, and Boston is something that's kinda hard to forget.
While living in Hyde Park just outside of Boston, my friend and shipmate Bob Wilson and I saw an accident where a drunk driver t-boned a 16 year old boy and his girlfriend. She got out okay but he was trapped. We got there the same time as the 1st responders. We helped rip the door off, then got him out and we started performing CPR. He was vomiting up blood and I knew it wasn't good. The ambulance got there and took over. I read in the paper a few days later that he had died!!!
OF ALL THE MEDALS, AWARDS, FORMAL PRESENTATIONS AND QUALIFICATION BADGES YOU RECEIVED, OR ANY OTHER MEMORABILIA, PLEASE DESCRIBE THOSE WHICH ARE THE MOST MEANINGFUL TO YOU AND WHY?
Commandants letter of Commendation!!! I helped save the USCG alot of money by just doing what I had been trained to do!!!!
WHICH INDIVIDUAL(S) FROM YOUR TIME IN THE MILITARY STAND OUT AS HAVING THE MOST POSITIVE IMPACT ON YOU AND WHY?
In August of 1979 MK1 Steve Brown handed me Louis L'amours "Fair Blow's the Wind" and I've been reading and collecting Louis' books ever since. I even have an autographed one. I worked for some great people and with some great people. They all had an impact on me. MKCM Calvin Smith had an positive impact on me. Captain Arthur Solvang, CO of Base Boston, MKCM Gerry Poliskey, MKCM Stan Hiller, MKCM Harvey Fenton, MKCM Duke Snyder, Lt. Commander Lawrence Murphy, my last CO on the CGC Duane, CWO4 Nim Gray. I could go on for days!!!
I only met a few Coasties I didn't like!
PLEASE RECOUNT THE NAMES OF FRIENDS YOU SERVED WITH, AT WHICH LOCATION, AND WHAT YOU REMEMBER MOST ABOUT THEM. INDICATE THOSE YOU ARE ALREADY IN TOUCH WITH AND THOSE YOU WOULD LIKE TO MAKE CONTACT WITH.
USCGC Gallatin. I'm in touch with several shipmates from my days aboard the old gal.
Fran Dietrich my engine room soogie partner getting her cleaned up for New Yorker magazine to come take pics lol.
EM3 Bob Howe Bob signed a lot of my engine room quals.,
EM3 Peggy O'Neill, I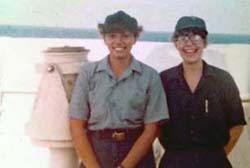 remember breaking in on 4-8 oiler rounds with Peggy she was an awesome shipmate.
Just got in touch with MK3 Mark Sullivan from my Gallatin days!!!!!
378′ Mat I stayed in touch with quite a few folks from my days in Boston, many have crossed the bar, fair winds to them. I stay in touch with Gerry Poliskey, Mark Powell, Paul Holmes.
I would like to get in touch with MKCM Calvin Smith, I've tried getting a hold of him. Last I knew he retired and was living in Plymouth, MA.!!!
CGC Duane, CWO4 Nim Gray was our Main Prop advisor and I still call him Mr Gray. He's a great person.
Duke crossed over.
I still hunt with MK1 Charles Dean.
The Hamilton twins crossed the bar.
Chris Mcgilvery and his Coastie wife Jeannie are still in touch.
Paul Ludden, Pat Mccauley, Thomas Porter, XO Chuck Hill, Doug Harvey, Dave Hutchinson, Mike Snopko, Marvin Dunmeyer, Wayne Jarvis just to name a few!
WHAT PROFESSION DID YOU FOLLOW AFTER YOUR MILITARY SERVICE AND WHAT ARE YOU DOING NOW?
I worked in the ship yards and construction after I got out. I have asbestosis and several other service connected disabilities. My wife is an artist, author, and illustrator of a children's books. I have 2 beautiful daughters, Lauren age 11 and Hannah age 8. They are both very artistic
I cut gemstones, make jewelry, and Native American flutes for fun.
WHAT MILITARY ASSOCIATIONS ARE YOU A MEMBER OF, IF ANY? WHAT SPECIFIC BENEFITS DO YOU DERIVE FROM YOUR MEMBERSHIPS?
American Legion, and lifetime member DAV. they have helped with my VA claims! I was doing some service officer work with the Legion for a few years.
IN WHAT WAYS HAS SERVING IN THE MILITARY INFLUENCED THE WAY YOU HAVE APPROACHED YOUR LIFE AND YOUR CAREER?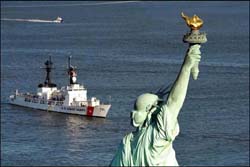 I still like to help people in trouble. I always kept good work ethics and a positive attitude, I worked on quite a few Coast Guard Cutters even after I got out.
BASED ON YOUR OWN EXPERIENCES, WHAT ADVICE WOULD YOU GIVE TO THOSE WHO HAVE RECENTLY JOINED THE COAST GUARD?
Hang in there, and thanks for your service. Don't ask people to do anything your not willing to do yourself!
IN WHAT WAYS HAS TOGETHERWESERVED.COM HELPED YOU REMEMBER YOUR MILITARY SERVICE AND THE FRIENDS YOU SERVED WITH.
I've gotten in touch with some of my old shipmates. Thanks to TWS, Fred's Place and Facebook.
Within days of their Dec. 7, 1941 surprise attack on Pearl Harbor, the Japanese Imperial Navy occupied scores of islands throughout the western Pacific Ocean. Japan's goal was to create a defensive buffer against attack from the United States and its Allies – one that would ensure
their mastery over East Asia and the Pacific. It wasn't until the United States' strategic victories at the Battles of the Coral Sea (May 4-8, 1942) and Midway (June 4-7, 1942) finally halted the Japanese Empire's expansion that the Allies were free to unleash an offensive.
The strategically-located Solomon Island chain, lying to the east of Papua New Guinea and critical to protecting the supply lines between the U.S. and Australia, was selected as the place to begin the island-hopping offensive campaign to take the Pacific back from the Japanese. The Solomon Island operation, America's first amphibious operation since 1898, lasted six months and consisted of a number of major battles – on land, at sea and in the air.
American forces first landed on the Solomon Islands of Guadalcanal, Tulagi and Florida on the morning of August 7, 1942. It took some very fierce fighting, but the Marines cleared Tulagi and Florida in two days. The main American forces on Guadalcanal met little resistance on their way inland to secure the airfield at Lunga Point (later renamed Henderson Field). Almost immediately, Japanese naval aircraft attacked transport and escort ships, and Japanese reinforcements were sent to the area. The fight for control of Guadalcanal and the surrounding seas continued for months with no clear winner, while both sides continued to lose men, ships and aircraft.
It seemed that every time the U.S. achieved a hard-fought victory, the Japanese would resupply Guadalcanal by night via the infamous
"Tokyo Express" fast destroyer resupply chain and be ready for more fighting the next day. But eventually, U.S. forces gained the upper hand, and by February 1943, after six months of deadly and costly combat, the Japanese withdrew the last of their men and conceded the island to the Allies.
Guadalcanal was also the Coast Guard's first major participation in the Pacific Campaign. These men were assigned a vital role in the landings – the operation of amphibious-type assault craft. Many of the Coast Guard Coxswains (who are in charge of the navigation and steering of a boat) came from Life-Saving Stations, and their training and experience with small boats in treacherous waters close to shore made them the most-qualified small-boat handlers for the crucial task of landing fighting men on the beaches. One such boat handler was Douglas Munro.
Douglas Albert Munro was born on October 11, 1919, in Vancouver, British Columbia, Canada. His father, James Munro, who originally hailed from California, and his mother, Edith Thrower Fairey from Liverpool, England, settled their small family of four in South Cle Elum, Washington, just outside of Seattle, where they raised young Douglas and his elder sister Pat. Douglas remained in South Cle Elum, from grade school through high school graduation in 1937, and then attended the Central Washington College of Education in nearby Ellensburg, Washington.
Munro and his friend from Seattle, Raymond Evans, eventually enlisted in the Coast Guard in Sept. 1939, the same month that Britain and France declared war on Nazi Germany. They served together on a Higgins boat landing craft off Guadalcanal during the Second Battle of the Matanikau, where both gained national acclaim for their heroic rescue operation that saved a Marine Corps unit trapped behind enemy lines.
Munro initially volunteered for duty on board the USCG Cutter Spencer, where he served until 1941 and earned his Signalman 3rd Class rating. In June 1941, President Roosevelt directed the Coast Guard to man four large transports and serve in mixed crews on board twenty-two naval ships. When word arrived that these ships needed Signalmen, Munro repeatedly requested and was finally granted permission to transfer to the USS Hunter Liggett (APA-14).
The "Lucky" Liggett was a 535 foot, 13,712 ton ship and was one of the largest attack transports in the Pacific. She carried nearly 700 Officers and men and thirty-five landing boats, including thirty-three LCVPs (Landing Craft, Vehicle, Personnel, or Higgin's boats) and two LCMs (Landing Craft Mechanized). In April 1942, the Liggett sailed to Wellington, New Zealand, to prepare for a major campaign in the south Pacific.
As the task force gathered, Munro, now a Signalman First Class, was assigned to temporary duty on the staff of Commander, Transport Division Seventeen. During the preparations for the invasion,
he was transferred from ship to ship, as his talents were needed. The task force rendezvoused at sea near the end of July, and on August 7, the Liggett led the other transports to their anchorage off Guadalcanal, serving as the amphibious task force command post until the Marines secured the beaches.
At the time of the invasion, Munro was attached to the staff of Rear Admiral Richmond Kelly Turner on board the smaller 9,600-ton attack transport USS McCawley (APA-4). He made the landing on Tulagi Island where fierce fighting lasted for several days. About two weeks later, Munro was sent twenty miles across the channel to Guadalcanal where the Marines had landed and had driven inland. One of the bloodiest and most decisive battles ensued, and the Americans quickly seized the island's airfield.
After the initial landings at Guadalcanal, Munro and twenty-four other Coast Guard and Navy personnel were assigned to the newly-established base at Lunga Point. The base was commanded by CDR Dwight H. Dexter, USCG, who was in charge of all the small boat operations on Guadalcanal. Situated on the Lever Brothers coconut plantation, the base consisted of a small house with a newly constructed coconut tree signal tower, and
Munro was assigned there because of his Signalman rating. The base served as the staging area for troop movements along the coast. To facilitate this movement, a pool of landing craft from the numerous transports lay there to expedite the transportation of supplies and men.
A month into the campaign, the Marines on the island were reinforced and decided to push beyond their defensive perimeter. They planned to advance west across the Matanikau River to prevent smaller Japanese units from combining and striking American positions in overwhelming numbers. For several days near the end of September, the Marines tried to cross the Matanikau River from the east and each time met tremendous resistance. On Sunday, Sept. 27, Marine LtCol Lewis B. "Chesty" Puller, commander of 1st Battalion, 7th Marines, 1st Marine Division, embarked three companies of his 7th Marines in landing craft to land west of the river, drive out the Japanese and establish a patrol base on the west side of the Matanikau.
Just two weeks short of his twenty-third birthday, Munro took charge of ten LCPs (Landing Craft Personnel) and LCTs (Landing Craft Tank, or tank lighters) from the landing craft contingent at the Lunga Point base that were dispatched to transport Puller's men to
a small cove west of Point Cruz. The destroyer USS Monssen initiated the assault shortly after noon with a covering barrage from her five-inch guns. 500 Marines, led by Maj. Ortho L. Rodgers, landed unopposed in two waves at 1 PM, then pushed inland and reorganized on a ridge about 500 yards from the beach.
Unbeknownst to Maj. Rodgers' Marines, a high level Japanese air raid of 17 bombers struck Henderson Field as they were disembarking on the beach, interrupting the Marine's communication net and preventing word of unexpectedly strong Japanese forces from being relayed to Puller from a party of Marine Raiders probing further up the west side of the Matanikau River. The air raid also forced the support ships, including the Monssen and its supporting firepower, to temporarily get under way and withdraw from the vicinity of the island, denying the crucial fire support the Marines would immediately need.
At approximately 1:50 PM, as they reached the ridge, an overwhelming Japanese force struck Puller's Marines from west of the river. This catastrophic situation deteriorated even further when Maj. Rodgers was killed and one of the Company Commanders was wounded. The Marines were stranded with no fire support or communications, facing superior enemy numbers, and in imminent danger of being surrounded and annihilated.
After landing the Marines, Munro returned to Lunga Point with his landing craft. A single LCP manned by Coast Guard Petty Officer Ray Evans and Navy Coxswain Samuel B. Roberts remained behind to take off the immediate wounded, staying extremely close to the beach to expedite the process. Meanwhile, Japanese forces that had worked their way behind the Marine landing party suddenly fired a machine gun burst that hit the LCP, severing the rudder cable and disabling the boat's steering controls.
After jury-rigging the rudder, Roberts was struck by enemy fire and Evans managed to jam the controls to full ahead and sped back to Lunga Point Base. Unable to stop, the LCP ran onto the beach at 20 mph. Roberts later died but was posthumously awarded the Navy Cross.
As the shot-up boat piloted by Evans arrived back at the Lunga Point base, the plight of the Marines was not known, since they had failed to take a radio and were unable to communicate their predicament, and the bombing raid had driven the destroyer Monssen out of visual range with the Marines. However, the enterprising Marines used their under-shirts to spell out the word "HELP" on a ridge not far from the beach, and "Cactus Air Force" pilot Second Lieutenant Dale Leslie, flying out of Henderson Field in a Douglas SBD "Dauntless" naval scout plane/dive bomber, spotted the message and passed it by radio to another Marine unit. Word quickly arrived that the Marines were in trouble and were being driven back toward the beach.
At 4 P.M., Lt. Col. Puller, realizing that his men were isolated and endangered, embarked on Monssen to personally direct the covering fire for the Marines who were desperately trying to reach the beach for extraction. Puller re-established communications with his surrounded Marines via visual signals and directed the Monssen to blast a path through the Japanese to provide a route for his surrounded Marines to return back to the beach.
The landing crafts had meanwhile been readied at Lunga Point. Again, virtually the same boats that had put the Marines on the beach were assembled to extract them. Douglas Munro,
who had taken charge of the original landing, volunteered to lead the boats back to the beach. None of these boats were heavily armed or well protected. For example, Munro's Higgins boat had a plywood hull, it was slow, vulnerable to small arms fire, and was armed only with two air-cooled .30 caliber Lewis machine guns.
As Munro led the boats ashore, the Japanese fired on the small craft from Point Cruz, the ridges abandoned by the Marines, and from positions east of the beach. This intense fire from three strong interlocking positions disrupted the landing and caused a number of casualties among the virtually defenseless crews in the boats. Despite the intense fire, Munro led the boats ashore in waves of two or three at a time to pick up the Marines. Munro and Evans provided covering fire from their exposed position on the beach as the Japanese pressed ever closer to the beach, making the withdrawal increasingly dangerous with each passing second.
The returning Monssen, along with Leslie's "Dauntless" dive bomber, provided additional cover fire for the withdrawing Marines. As the Marines arrived on the beach to embark on the landing craft, the Japanese maintained a murderous and withering fire from the ridges abandoned by the Marines, just 500 yards away, and the last group with their twenty-five wounded were in danger of being cut down. Munro quickly identified the deadly situation and unhesitatingly maneuvered his boat between the enemy and the final group of withdrawing Marines to protect the remnants of the battalion. With no regard to his own personal safety and exposed to the enemy's deadly fire, Munro successfully provided cover and enabled the last remaining Marines to escape the deadly trap.
With all the Marines safely in the dangerously-overloaded small craft, Munro and Evans steered their LCP off shore. As they passed towards Point Cruz they noticed an LCT full of Marines grounded on the beach. Munro steered his landing craft to assist the disabled LCT and directed another tank lighter to pull it off.
Twenty minutes later, the craft was free and heading out to sea. Before they could get very far from shore, the Japanese had set up a machine gun and began firing at the boats. Evans saw the incoming fire and shouted a warning to Munro, but the roar of the boat's engine prevented Munro from hearing him, and a single bullet hit him in the base of the skull. Munro remained conscious long enough to say only four words, "Did they get off?" before dying.
Due to his extraordinary heroism, outstanding leadership and gallantry, Signalman First Class Douglas Munro was posthumously awarded the Medal of Honor, the only coast guardsman to receive such an honor. The U.S. Coast Guard has named two of their cutters in his honor, the high-endurance cutter USCGC Munro (WHEC-724), and the National Security Legend-class cutter USCGC Munro (WMSL-755), while the Navy has named a destroyer escort in his honor, the USS Douglas A. Munro (DE-422). The Douglas A. Munro Inspirational Leadership Award is annually awarded to the Coast Guard enlisted member who has demonstrated outstanding leadership and professional competence to the extent of their rank and rate.
Raymond Evans, who remained in the Coast Guard, retired as a Commander. He was awarded the Navy Cross for his actions on Guadalcanal. He died on June 7, 2013 at the age of 92. The USCGC Raymond Evans (WPC-1110) is named in his honor. The CDR Ray Evans Outstanding Coxswain Trophy is a prestigious annual award that recognizes a Coast Guard coxswain who demonstrates exceptional boat handling skills and leadership.
In honor of Samuel B. Roberts, the US Navy named three ships after him. The destroyer escort USS Samuel B. Roberts (DE-413), commissioned in April 1944, fought in the Battle of Leyte Gulf of October 1944 and was sunk by the Imperial Japanese Navy in the Battle off Samar on October 25, 1944. The USS Samuel B. Roberts (DD-823), a Gearing-class destroyer, was the second ship of the United States Navy to be named for
Samuel B. Roberts. In August 1970, the ship was ruled unfit for further service and was sunk as a target in the Atlantic Ocean 195 nautical miles north of Puerto Rico on November 14, 1971. The third USS Samuel B. Roberts (FFG-58), is an Oliver Hazard Perry-class guided missile frigate, commissioned in 1986 and decommissioned on May 22, 2015. When it struck an Iranian mine in the Persian Gulf in 1988 and was in danger of sinking, its crewmen who were engaged in damage control passed around and touched a plaque commemorating the first ship.
The Solomon Islands Campaign cost the Allies approximately 7,100 men, 29 ships and 615 aircraft. The Japanese lost 31,000 men, 38 ships and 683 aircraft. Over the next two and a half years, U.S. forces captured the Gilbert Islands (Tarawa and Makin), the Marshall Islands (Kwajalein and Eniwetok), the Mariana Islands (Saipan, Guam, and Tinian), Iwo Jima and Okinawa. With each island reclaimed from the Japanese, the U.S. moved closer to Japan. Growing superiority at sea and in the air, as well as in the number of fighting men, gave the U.S. increasing advantages. Nonetheless, wherever U.S. forces met Japanese defenders, the enemy fought long and hard before being defeated.