United States Army Basic Combat Training, also referred to as Initial Entry Training, is the recruit training program of the United States Army, for service in the Regular Army, United States Army Reserve, or the Army National Guard. Army basic training is how raw recruits are sculpted into members of the most powerful military force in the history of mankind.
United States Army Basic Training
Passing basic training is necessary to join the Regular Army, US Army Reserve, or the Army National Guard. While less intense than the Marine Corps, it is one of the world's most complex military boot camps in the world. It can vary greatly, depending on a recruit's chosen military occupation. Infantry recruits attend Fort Benning, Georgia, the most intense and physically demanding basic training program. Non-combat occupations still undergo combat training but are more rounded in their approach. They attend boot camp at Fort Jackson, South Carolina, Fort Sill, Oklahoma, or Fort Leonard Wood, Missouri. All recruits must undergo Basic Combat Training, which combines academic, moral, skill, and fitness training.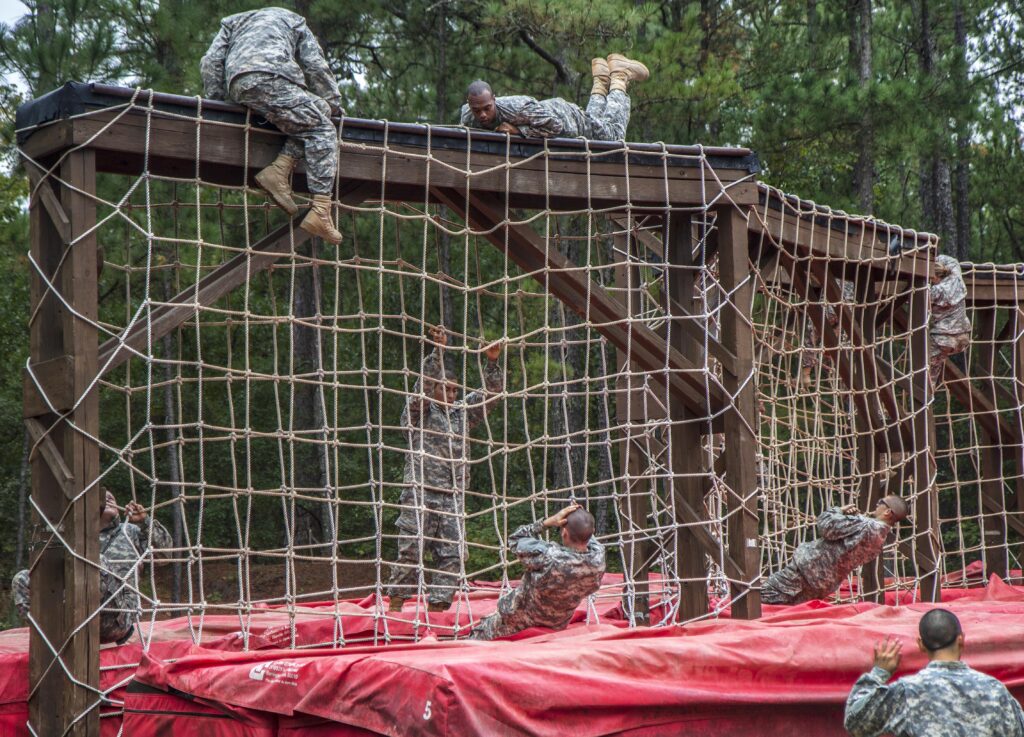 Basic Combat Training
This is a ten-week training cycle instructing all Army recruits on working together and defending their fellow soldiers and themselves, if necessary. BCT has three color-coded phases: red, white, and blue. Recruits gain more autonomy as they progress through the stages.
Phase I (Red): During Phase I, recruits meet their drill sergeants and are taken to their company area and barracks. They receive drill and ceremony training, maybe issued their rifle (or a fake, for basic handling training), and get instructions in the seven 'Army Core Values': Loyalty, Duty, Respect, Selfless Service, Honor, Integrity, and Personal Courage (spelling out LDRSHIP). Recruits also receive lessons on sexual harassment and race relations. Hand-to-hand combat training commences, as well as basic navigation skills. Recruits must complete an obstacle course at height and another course that requires teamwork to succeed. Combat Life Saver (CLS) training, or first aid, is also taught at this time. Often, this time is used to teach gas mask protocol. Recruits are exposed to the effects of CS gas. They undergo basic rifle marksmanship training and maintenance tasks. They also receive training in carrying unconscious/immobile people and physical problem-solving.
Phase II (White): In the White Phase, live firearm training is undergone. Recruits also train with hand grenades, grenade launchers, and machine guns. Recruits are also familiarized with anti-tank weaponry and other heavy weapons. They complete an obstacle course with a battle buddy known as the 'confidence course.' Intense physical training accompanies drill and ceremony training. They must demonstrate weapon proficiency before being allowed to progress to Phase III.
Phase III (Blue): The final Army Physical Fitness Test is taken in this phase to determine if a recruit is physically up to the standard for graduation. Field training exercises (FTX) begin, including nighttime combat operations and urban terrain operations. Drill sergeants will act as adversaries in these scenarios, and other BCT companies may do the same. Some recruits are given a chance to show leadership in the field. Those who exhibit extreme aggression, fearlessness, intelligence, and common sense combined can move on to Advanced Individual Training (AIT). After FTX, recovery week happens. Soldiers repair barracks and equipment, ensuring good condition for the next platoon. Recruits are fitted for dress uniforms and practice their graduation ceremony.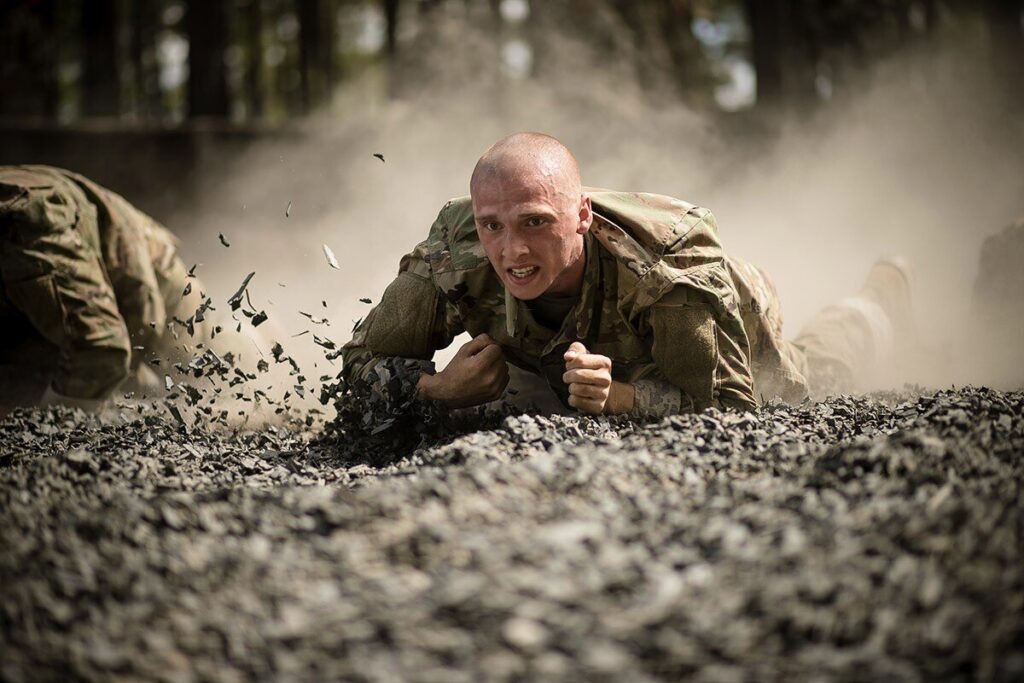 The full list of requirements to pass BCT includes:
Completing an Army Physical Fitness Test (AFPT) with at least 50 points in each event.
Safely handle and maintain your primary assigned weapon.
Demonstrate you can use your protective mask in chemical training confidence exercises.
Prove proficiency in all Warrior Tasks and Battle Drills.
Prove proficiency in First Aid.
Complete hand-to-hand training.
Complete a 16K tactical foot march.
Pass a small-team land navigation course.
Pass the hand grenade qualification course.
Complete any other tactical field training or situation training exercises.
What is Advanced Individual Training?
After graduating from Basic Training, new soldiers receive specific training in their MOS. These AIT schools are dispersed around the country. Combat engineers undertake BCT and AIT at Fort Leonard Wood, Missouri, as Military Police and Chemical Corps. However, those going into the US Army Intelligence Center attend AIT at Fort Huachuca, Arizona, while Air Defense Artillery School is at Fort Sill, Oklahoma. AIT varies in length depending on the discipline. Armor and Infantry recently saw their OSUT (One Station Unit Training) go from 14 to 22 weeks, replacing a model more than 40 years old.
How Has Army Basic Training Changed?
The history of formalized Army basic training is not as long as you'd think. It evolved out of the necessity for mass training in World War I when millions of soldiers were required to be trained to send to Europe. Green troops were trained by the French and British in technical skills, both in the States and overseas. This meant that Army leadership during World War II was better prepared for mass mobilization and needed to support those troops through their training and deployment. However, once this 8 million strong Army was demobbed, training tailed off until the Korean War necessitated more rigorous training standards once more. This set the tone for much of the next half-century: war meant that basic training focus had to be extended and more concentrated on combat readiness. Peace meant a relaxing of those standards until another war caused them to be raised again. In 1964, more than 40 percent of a new recruit's training consisted of inspections, drills, ceremonies, and administrative requirements. Less time was afforded to combat training as a result. The first conventional US forces that landed in Vietnam did not live up to the standards expected by some US commanders.
By contrast, after nearly twenty years of constant war in the Middle East, standards have become more refined, emphasizing combat effectiveness. The Army has established a training environment that emphasizes the quality of training hours and quantity. Instead of training 'citizen soldiers' as they did in 1918, the modern Army produces 'soldier citizens,' trained in lethal and cultural skills.
Find Your Bootcamp Buddies with Together We Served
When you sign up for an account with Together We Served, as well as detailing your insignia, badges, medal ribbons, and the like, you can enter your boot camp, units, and duty stations. Our system will match you with others who share the same boot camp and timeframe as you. Thousands and thousands of veterans have used our service to rekindle the bonds of friendship formed during boot camp, be it 10, 20, or 50 years ago.