If you were a sailor in the US Navy, you went through the Navy training program. Basic training (or boot camp) is how raw recruits are shaped into the foundation of the world's most powerful navy. The Navy hasn't always had a formalized training program, but things began to change after modernization began in the 1880s. Naval Station Great Lakes was built in Lake County, Illinois, between 1905 and 1911, the first (and since 1996, only) basic training facility for the US Navy. This proud naval history is instilled in Navy basic training in the very fabric: each building in which a barracks is contained is named after a famous US ship.
How Long is Basic Training for the Navy?
Navy boot camp consists of eight weeks of physical fitness training, new skills and knowledge, and moral rectitude. Being a sailor isn't just about being fit enough or knowing the ropes. A sailor must be uncompromising in integrity, respectful in service, and loyal in adversity. As honest and respectful with junior personnel as they are with their commanding officer. Being a sailor in the US Navy isn't about passing a test and resting on your laurels; it's a commitment to constantly work for positive change and personal improvement. A recruit can be taught to run and swim faster, put out a ship fire, or perform first aid. But a recruit must observe and learn for themself what it means to be a sailor. Around 40,000 recruits go through basic training every year. The majority successfully complete their training and become sailors.
Week 1: During in-processing week, recruits get their clothing and are told how to fold and store it and make their bunks. They get dental and medical exams (and haircuts, if necessary). There will be Navy classes establishing the Navy values of Honor, Courage, and Commitment. Training in conditioning, swimming, marching, and drilling will commence. Recently, a physical fitness test was introduced to Day 5 of boot camp to weed out physically unprepared recruits quickly, hence sharpening focus on recruits who will actually become trained sailors.
Week 2: During this week, recruits face the confidence course, which simulates emergency situations onboard a ship. The focus is on building teamwork and confidence.
Week 3: This week's theme is 'hands-on.' Recruits board a landbound training ship and learn first aid, semaphore, and ship nomenclature. Classes get them up to speed on basic seamanship, Navy customs, shipboard communication, laws of armed conflict, and other essentials. This is when recruits face their first physical training test.
Week 4: Recruits have the opportunity to train with both the M-16 and a 12-gauge shotgun. Demonstrating knowledge of proper usage with both will mean moving on to the live-fire range. This week also features an academic test on recruits' learning to date.
Week 5: The focus of this week is on individual sailors and their direction. Whatever specialism or direction the sailor wants to proceed in,
Week 6: Vital skills are taught this week: firefighting and shipboard damage control. Recruits learn how to operate breathing apparatus, carry fire hoses, extinguish fires, escape smoky compartments, and open and close watertight doors. Recruits must also learn how to use a gas mask to endure tear gas in a special gas chamber and then experience tear gas without protection for themselves. There is another academic test, and the confidence course, which must be completed in teams. The final physical fitness test is undertaken at this time.
Week 7: Things come to a head this week. Recruits face 12 different scenarios incorporating all of the skills and knowledge they have acquired previously. If a recruit and their team can execute the required tasks to standard, they receive a US Navy ball cap and are full-fledged Navy sailors.
Week 8: Graduation is the main event of this week. Those who made it this far will don dress uniform and formally join the US Navy as sailors.
While Naval Service Training Command has been revising the bootcamp to be more physically rigorous, Navy basic training is still widely seen as less physically grueling than that of the Marine Corps. The camp is shorter by a month, and the physical test less taxing. However, the training exercises Navy recruits are put through for Battle Stations can be as stressful if not more so than those that Marine recruits undertake in the Crucible.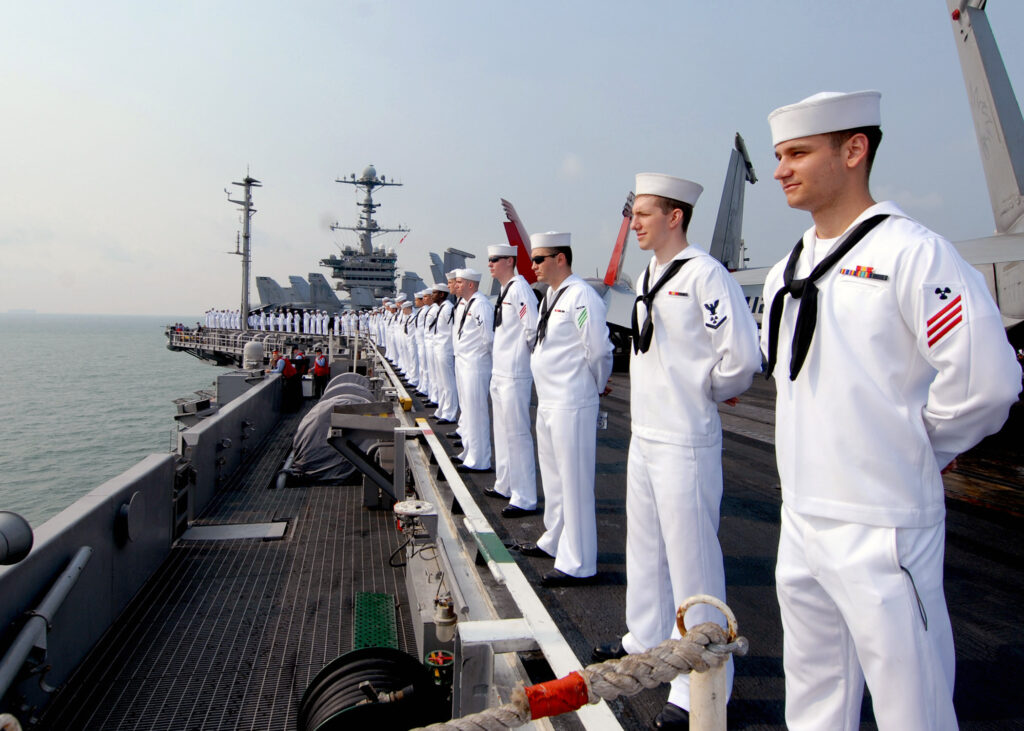 What Happens After Navy Boot Camp?
This is a ten-week training cycle instructing all Army recruits on working together and defending their fellow soldiers and themselves, if necessary. BCT has three color-coded phases: red, white, and blue. Recruits gain more autonomy as they progress through the stages. After successfully completing basic training and graduating from Navy Recruit Training Command, basically trained sailors' Navy training continues at A School. Sailors receive technical training in their chosen MOS field. Unlike at RTC Great Lakes, A School can occur at many different locations, depending on the rating. Many are actually located at TSC Great Lakes: Operations Specialist, Quartermaster, Electronics Technician, and many more. Schools are currently undergoing restructuring to get sailors' practical on-ship experience sooner and strike the right balance between essential training and keeping sailors on tour apprised of advances in technology and how to use them. The way these skills are disseminated is being worked on by Navy officials. Traditional book studies may be augmented by technologies such as virtual reality. One that is already in use by the submarine community and is being considered for expansion is the Multi-Purpose Reconfigurable Training System: a room full of touchscreen displays that can operate as a stationary schoolhouse or as a mobile training platform in a trailer or truck. In one lesson, the displays can simulate a submarine's torpedo room. During lunch, the displays can be reconfigured to display a radio room for the afternoon lesson. This modularity could be of great educational value to the wider organization, offering greater fidelity in simulated environments.
Discover More Articles About The U.S. Navy On The Together We Served Blog
If you are interested in learning about the history of U.S. Navy, stories of Navy veterans, book reviews related to the Navy, and more, we invite you to peruse our collections of articles about the Navy.