Herb Heilbrun and John Leahr were twenty-one when the United States entered WWII. Herb became an Army Air Forces B-17 bomber pilot. John flew P-51 fighters. Both were thrown into the brutal high-altitude bomber war against Nazi Germany. However, they never met because the Army was rigidly segregated – only in the air were black and white American fliers allowed to mix.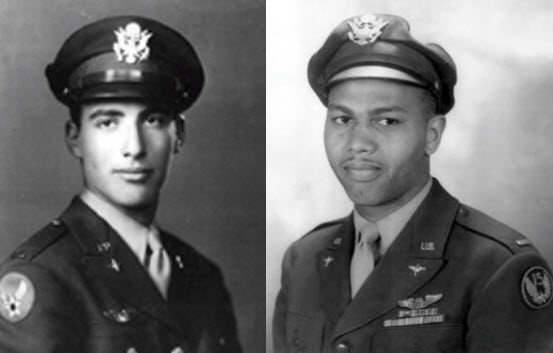 Both came safely home, but it took a chance meeting 20 years ago when the two retired salesmen met at a reunion of the Tuskegee Airmen in Cincinnati. That meeting led them to review their parallel lives and discover their shared history.
It began in 1995 when Herb read in the newspaper that the city was honoring the local chapter of the Tuskegee Airmen, the all-black 332nd Fighter Group. They flew "Red-Tail" P-51s on missions escorting bomber squadrons from Italy into Germany and German-held territories. Herb could still remember hearing, amid the radio chatter over the target, the distinctive voices of the Tuskegee Airmen. He felt that his thanks were overdue.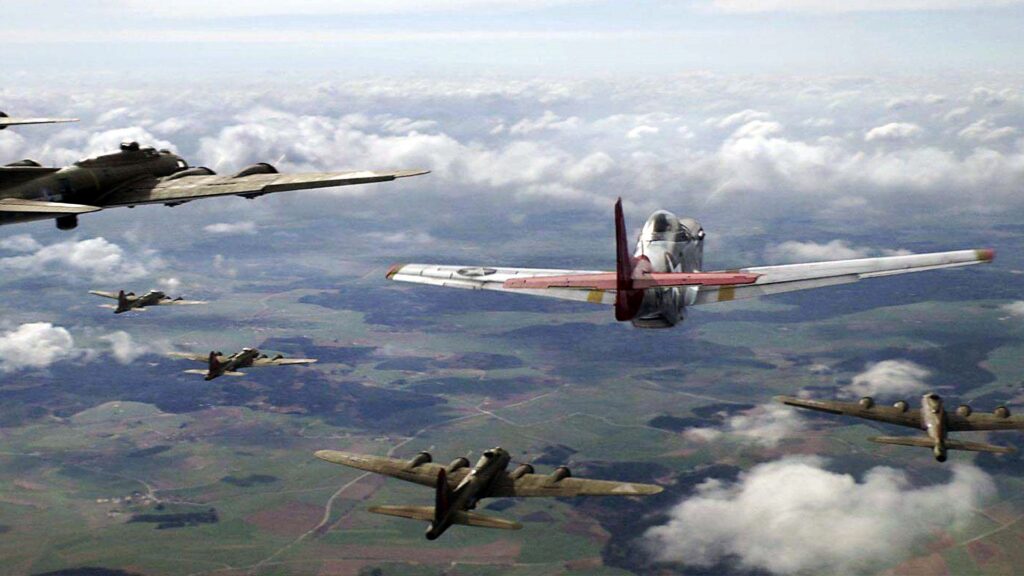 So Herb went down to the hotel where they were having a reception and told somebody he flew B-17s in Europe during WWII and that the Tuskegee Airmen escorted him. He then asked if there was a fighter pilot around that was over there and that he'd like to give him a hug for saving his behind. One guy pointed, telling him a fellow was standing across the room that he thinks flew fighters.
It did not Take Long for the Herb Heilbrun and the John Leahr to Become Friends
The man was John Leahr. When the two were introduced, Herb hugged John and said, "I've been waiting 50 years to meet one of you guys. You saved my tail on many a day." John, who felt for many years that the nation he had served had paid him back with prejudice and discrimination, had been waiting just as long for one of those white bomber pilots to come along and say thanks. That was all he ever wanted.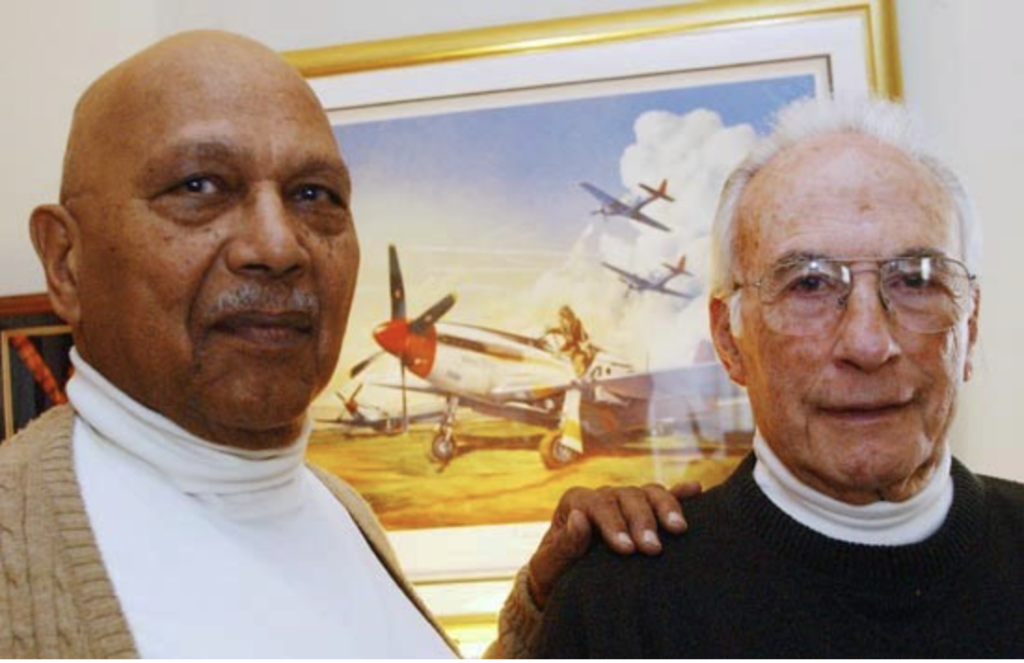 It did not take long for the black ex-fighter pilot and the white ex-bomber pilot to become friends. They went out for lunch. They visited each other's homes for dinner. Both men had their old mission logs, and Herb also kept a diary. They began matching up dates and other details of combat missions they'd flown. It turns out John had flown cover on at least two of Herb's 35 missions: once on Dec. 16, 1944, on a bombing raid on an oil refinery on Brux Czechoslovakia and the next day a strike on an oil refinery in Blechemmer Germany. Flying through a wall of flak in Brux on Christmas Day 1944, Herb's fuel tanks were hit, his high-altitude oxygen system was smashed, and his armor gunner ended up getting wounded in the foot. Herb left John sitting and returned moments later with one of the 89 chunks of shrapnel that ventilated his bomber on that mission.
As the two got to know each other even better, they discovered other things in common. The men had been born within a mile of each other, and only seven months apart. Both had come up through Cincinnati public schools, and both had managed to scrape together two years of college during the Depression. Both had enlisted in the Air Corps within weeks of Pearl Harbor. Both had to wait months to be called for flying school, so both took jobs at the same airplane engine factory: Wright Aeronautical in Lockland, Ohio. Herb tested engines, firing up Cyclone Engines on test stands. John worked in the plant foundry. The work was filthy, hot, and done exclusively by blacks.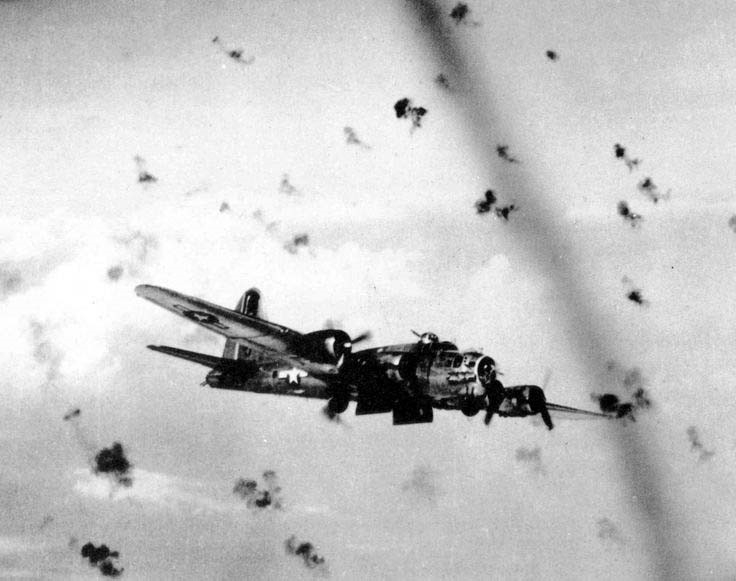 Following flight training, Herb got assigned to Italy as part of the 32nd Squadron of the 301st Bomb Group. He arrived well-schooled in the elaborate squadron takeoff ritual that quickly launched and stacked dozens of bombers into box formations. Rising from the field all around Foggia, Italy, the bomber echelons assembled themselves until hundreds of aircraft were swarming up the Adriatic.
Like Herb, John, too, had always wanted to fly and volunteered for flight school, ending up at Tuskegee Institute in Alabama for primary pilot training. Traveling to the deep-south in that era scared him to death. There were so many stories. At that time, there was no federal anti-lynch law, and black people were beaten up and killed, and nothing was being done about it.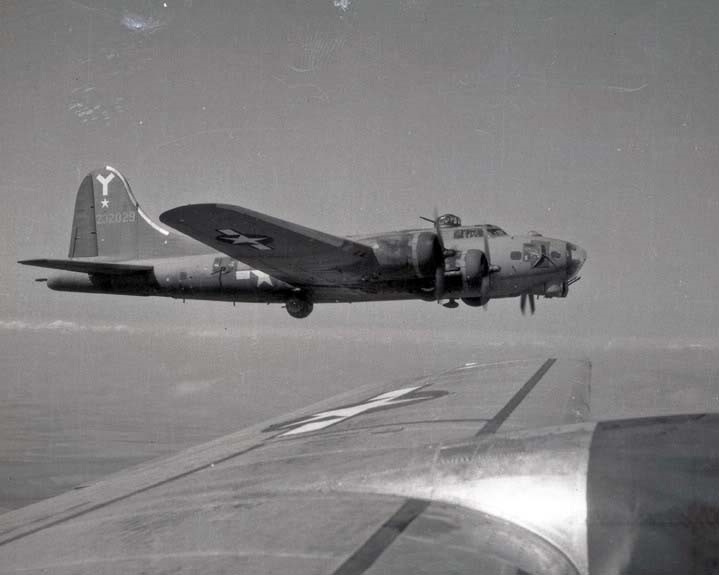 John earned his wings in February 1944 and was assigned to the all-Black 332nd "Red Tail" Squadron located at Ramiltelli Airfield on the Adriatic Coast in Italy. The black airmen completely segregated from the white Air Corps. The pilots also flew hand-me-down aircraft. When John's squadron first went into combat with the 12th Tactical Air Force, they were the only Americans in Europe flying the cranky and obsolete P-39 Airacobra. That July, the squadron was given weary P-51Bs, and Cs Mustang fighter planes left them by white squadrons trading up to the more advanced P-51Ds.
Initially, they were little used and looked down on by the military establishment. Still, eventually they were given brand-new P-51Ds and, at the insistence of their commander Col. Benjamin O. Davis (retired as a Brigadier General), given the mission of dive-bombing and strafing missions. They were so successful that they were assigned to one of the most important tasks in the Army Air Force: escorting bombers deep into Europe on strategic bombing missions.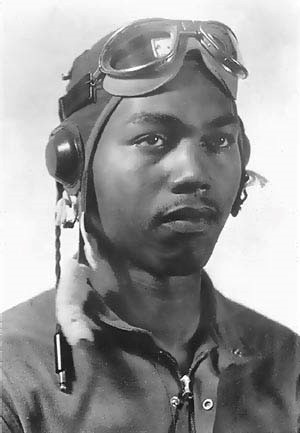 On missions, the bombers would be about two hours out when the fighter escorts caught up with them. The escorts were supposed to handle enemy interceptors, but nothing seemed to lessen the flak. The Germans moved mobile flak units around to surprise the Allies while they were crossing the Po Valley or near the mountain passes that they followed into Austria and Germany. And once the bombers reached their target, all the anti-aircraft guns on earth seemed to be waiting for them, altitude fuses set.
John recalled seeing those poor bomber boys line up and go straight into that flak. "Those bombers would fly right through it," he said. "We watched those guys go through hell. We're sitting out on the side waiting for them to come out, and we could see them getting hit. If they got hit in the bomb bay, the plane just exploded into a great big ball of fire. The whole plane blew up, and then it was nothing." None of the B-17s that survived the missions were lost with the Tuskegee squadron escorting them home.
Once he was out of the military, John discovered that he was a pretty good salesman. He sold securities and managed a brokerage office before retiring as an office administrator from Cincinnati Gas & Electric. Herb became a salesman too, selling radio ads and then commercial real estate. Today, John is a widower with children and grandchildren. Herb is remarried and busy with his own children and grandchildren, as well as his step-children and step-grandchildren, plus the kids who attend his wife Carol's in-home daycare center. When their paths crossed at the Tuskegee Airmen's reception, the men were living 10 minutes apart.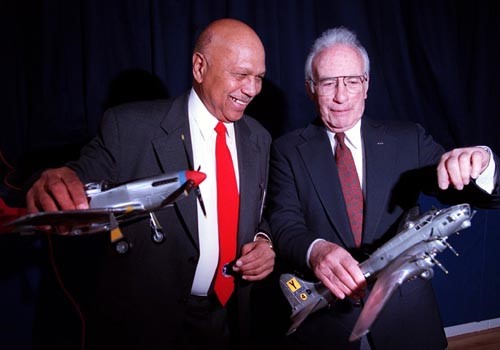 Joint Photograph of Herb Heilbrunn and John Liar 1928
One night, Herb was having dinner when John said he had grown up in Avondale. Herb said he also had. John reminded Herb there were only five black families in Avondale and that he went to a school on Clinton Springs
Avenue, which had at one time been an old mansion. Surprised, Herb reported he too had gone to that school.
Both claimed they did not remember the other, but that wasn't surprising. When it came to racial matters, Cincinnati had Southern ways. During World War II, Cincinnati's railroad station had the distinction of being the southbound point where passenger segregation began. Most of Cincinnati's hotels, restaurants, and even hamburger stands were for whites only.
After Herb learned that he and John had gone to the same school, he wondered if they had ever crossed paths. When he got home, he went through his photo album looking for his second-grade picture taken more than 75 years ago in front of North Avondale School. After a short search, he found the 1928 photograph.
In it are 40 kids; 38 are white, and two – a boy and a girl – are black. Herb sent the photograph to John with a note that read, 'John, this thing is getting crazier and crazier by the minute. If that little black guy in this picture is you, well, that kid behind him who is almost touching him is me.'
The two men now in their early 90s have been speaking publicly for years, telling their stories in words and pictures, putting on record not just their valor at war but the ugliness they confronted at home. An underlying theme is about the segregation that kept them apart.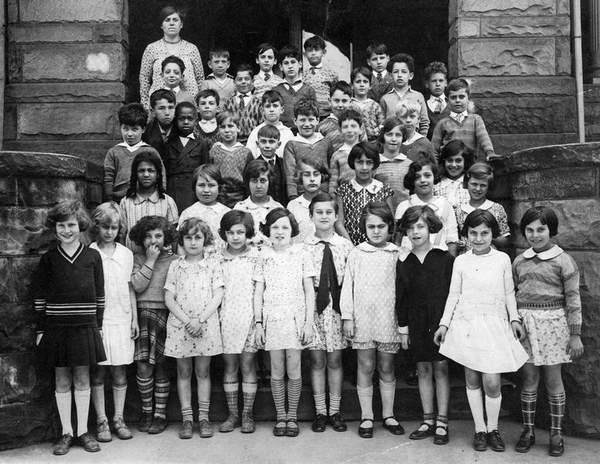 John begins by showing a video – a segment from a TV documentary on the Tuskegee's. He talks about his training, about shipping out, and about getting jumped over Linz, Austria, by 40 German Bf 109s.
Two of his wing mates were shot down at once; his flight leader was driven off, and, surrounded by enemy aircraft, he discovered that his machine guns had frozen at the high altitude and were unable to fire. He tells the audience that he owed his escape to a mixture of aerial acrobatics and applied religion. He then introduced Herb, gives him a hug to the wide applause from the audience.
When it's Herb's turn, he tells the audience about the bomber war. He tells them about the wooden boards in the briefing room where each crew member's last name was posted on a metal strip; one morning, Herb watched the operations officer take down a stack of strips and toss them in the trash. They were shot down, the officer explained. They're not coming back. Herb reaches into his pocket and, with a grin, hold up a battered metal strip with "Heilbrun" written in white. The audience claps.
He talks about his homecoming in 1945, about meeting John all those years later, and about piecing together their past.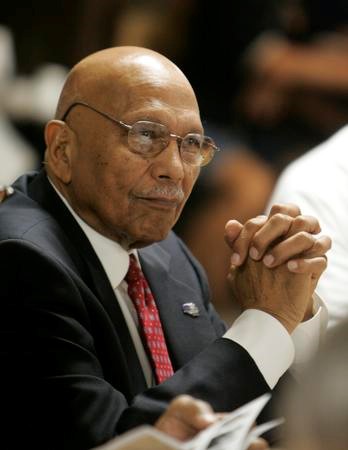 Herb hits the button of the projector, and up comes the black and white photo of the second-grade kids standing in front of North Avondale School. When he points out the two 8-year-old boys squeezed together shoulder-to-shoulder, the audience cheers wildly.
At the end of their presentation, John wraps his arm around Herb and says the two have one request: "Don't forget us," he says.
Herb Heilbrunn and John Liar Were guests of Honor at the Harvard Foundation for Intercultural Communication in 2003

In 2003, the men were honored guests of The Harvard Foundation for Intercultural and Race Relations for their mission of telling young people why race once made all the difference and why it shouldn't anymore.
In January 2012, they were both honored in a private screening ceremony in Cincinnati for the George Lucas film "Red Tails." The movie tells the story of a fictional squadron of the 332nd Fighter Group who fought discrimination and prejudice to become one of the most decorated fighting units of World War II earning 1,000 awards and decorations, and the respect of the white bombers pilots whose tails they protected on thousands of mission.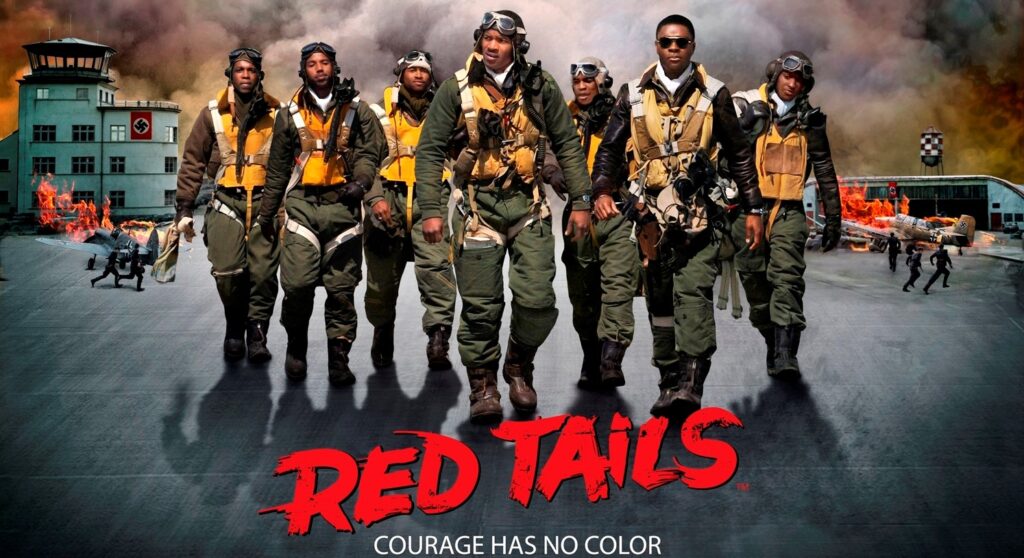 Herb Heilbrunn and John Liar were Featured on NBC and The History Channel.
As the movie ended, John and Herb, trim and erect and dressed in his Army Air Force uniform, slowly made their way up the stairs out of the theater, surrounded by fellow movie-goers who wanted to shake their hands and thank them for their service.
"It was real," John said, leaning on his cane at the top of the steps. "That was pretty much the way it was."John and Herb were featured on NBC and The History Channel. Please go to the URLs below and check it out.