At the age of 19, William E. Peterson embarked upon a life mission which many would gladly have missed. He went to war in Vietnam! In this 302 page book he brings to life his journey from his decision to enlist in the Army, through twelve months of helicopter combat, to his return home. It takes the reader on a wild ride with a helicopter crew chief and door gunner with the First Air Cavalry, C/227th Assault Helicopter Battalion.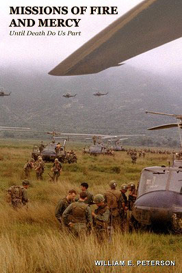 The typical memoir written by a Vietnam veteran begins with a short accounting of his youth and ends with his homecoming. Sandwich between is a detailed rendering of the serious, heartbreaking nature of war: fear, tragedy, loss, sorrow, growth, and relief interlaced with nature's emotional shutoff valve, humor.
While Peterson's Mission of Fire and Percy does much of the same things, his writing has much greater clarity since it is drawn from scores of letters he send home to his family, friends and girlfriend Cindi. He adds anecdotal recollections to what he left out in the letters that describe his daily routine and often, expresses how he feels about the fighting, calling it an "ugly, nonsensical war." But he always reminds us how a strong faith in God got him through many of the struggles of combat and the terrible loss of friends.
Reading the book takes the reader into the thick of battle as experienced by Peterson and his comrades. One feels the rush of adrenaline as they ride into battle with their machine guns blazing, enemy bullets ripping through the skin of the helicopters, the smell of cordite from all the gunfire, the fear of the troops they shuttle into a hot LZ and the horror of taking out dead Americans or unable to stop the bleeding of a badly wounded soldier who dies before reaching a hospital. These were the missions of fire and mercy so vividly written by Peterson allowing the reader to realize his true purpose was always about protecting his comrades on the ground.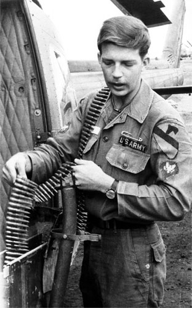 But this compelling and riveting book doesn't end in his homecoming from Vietnam.
In the next to last chapter, Peterson writes about a Vietnam waitress, Ms. Amy Trinh, he met in the Marriot Hotel in 1999. Following her shift, she sat with Peterson and his co-pilot, Steve Lay and when asked what it was like when the Communist took over she hesitated, then spoke quietly about how her father was killed by the Communist for fighting in the war and her brother Robert arrested for war crimes and put in prison. Worried about their own safety, Amy and her mother fled the country.
When they departed, Peterson writes, "…we hugged and cried healing tears together. I felt I had finally 'come home'"
In Peterson's down to earth writing style the book is an easy read and once you start reading this classic about the helicopter war during the Vietnam War you will not want to put it down until you reach the end.
Readers' Responses to the Book "Missions of Fire and Mercy"
The door gunner has no equal when it comes to gallantry and just plain grit. Every grunt who it has flown into a hot LZ, has watched the door gunner at work, laying down blazing fire on the enemy, keeping his head down, while offloading and prepping for the next assault. After the war, the UH-1 Helicopter and actions of the door gunner were just fleeting memories. The author has brought them back to life.
-J.N. McFadden, CWO Aviation (Retired)
This is a well-written story about a crew member on a Huey helicopter, standing in the doorway, shooting it out with a skillful and determined enemy hidden in the jungles of Vietnam.
-Gunnar F. Wilster, Capt., USN (Retired)
Get ready to climb into a Huey and ride the skies with the Ghost Riders, a place where very few have gone. Missions of Fire and Mercy is more than a war story; it is the true experience of a warrior recounted in a tasteful manner that everyone can appreciate. You won't want to miss this tour of duty.
-SP5 Eddie G. Hoklotubbe, Ghost Riders Door gunner, '67-'68
About the Author of the Book "Missions of Fire and Mercy"
William "Bill" Peterson was raised in Carney, a small rural town in Upper Michigan, where he learned how to hunt and was taught by his father to make every shot count. Little did he know at the time that this training would be extremely useful within a few years!
He was a flight instructor for both airplanes and helicopters, and worked as a corporate pilot for 18 years. Log home builder, taxidermist, and owner and operator of a trucking company are just a few of his former professions.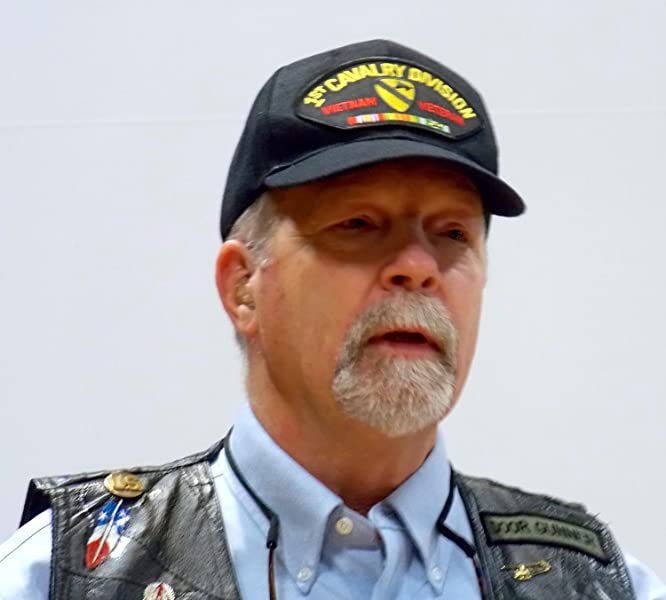 Peterson had written a couple of magazine articles prior to writing about his '67-'68 tour in Vietnam. After 15 years of passionate writing, the author released his first book: 'Missions of Fire and Mercy: Until Death Do Us Part.' In 2011, Peterson won the Silver Medal Award for memoirs from the Military Writer's Society of America Awards Program. After his well-received first book, he felt something was missing. He decided that even though he didn't know most grunts personally, it was his duty to honor them by writing 'Chopper Warriors: Kicking the Hornet's Nest.'
When he's not writing, Peterson works as a home inspector and resides in Piney Flats, Tennessee with his wonderful wife, Cindi.
He is a member of The National Purple Heart Hall of Fame.