Remembering R. Lee Ermey
Together We Served is among those remembering R. Lee Ermey, aka 'Gunny', famous Marine Corps Gunnery Sergeant-turned-Hollywood star. Ermey passed away on April 15 2018, at the age of 74, as a result of complications that arose from pneumonia.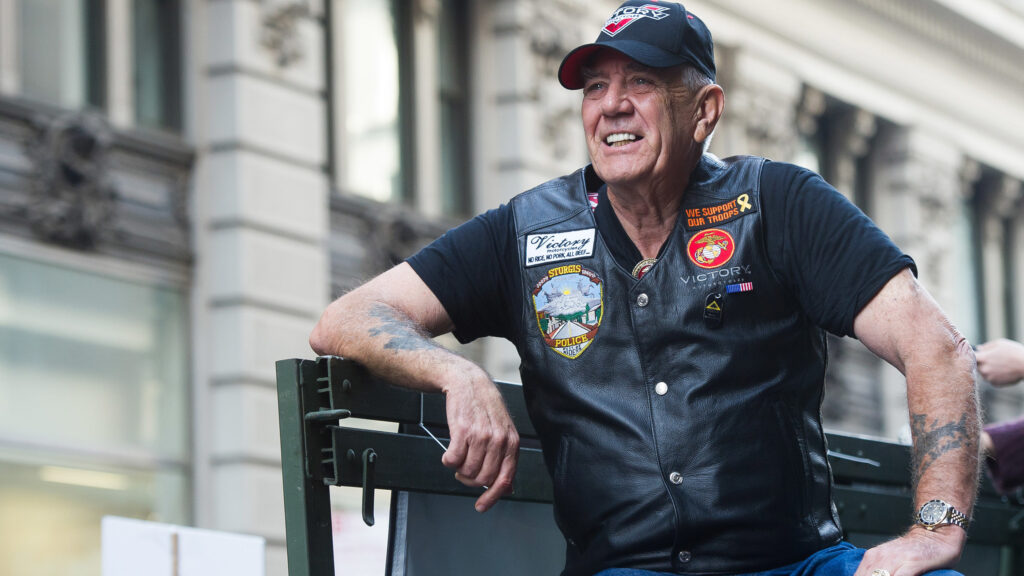 The Early Life of Ronald Lee Ermey
Ermey developed a reputation for being a strict authoritarian and was eventually typecast as the stern authority figure, but as a youth he was anything but. Born in 1944 in Kansas, Ermey and his family moved to Zillah in central Washington. Ermey was actually arrested twice for criminal mischief. The second time, the judge gave 17-year old Ermey the option of jail or joining the military. Ermey joined the Marine Corps in 1961, serving in aviation support before eventually becoming a drill instructor at the Recruit Depot in San Diego between 1965 and 1967. After this, he served in Okinawa, Japan, at Air Station Futenma.
Did R. Lee Ermey Serve in Vietnam?
In 1968, Ermey was ordered to South Vietnam with MWSG-17. He spent 14 months in Vietnam before returning to Okinawa, where he advanced to the rank of Staff Sergeant. Sadly, a number of injuries meant that it was necessary for him to medically retire from service in 1972. While using his GI Bill benefits at the University of Manila, Ermey was cast in his first film, The Boys in Company C (1978). He served as a technical advisor to Francis Ford Coppola in Apocalypse Now (1979) and had a small, uncredited role as a helicopter pilot. The same year, he also had a supporting role in the Philippines-based Jaws-inspired horror film Up From The Depths. Ermey did not work in showbusiness again until 1984, when he was cast as 'Gunny' the Gunnery Sergeant in Purple Hearts. This role was not a breakout success, but did give him the nickname he proudly carried for the rest of his life.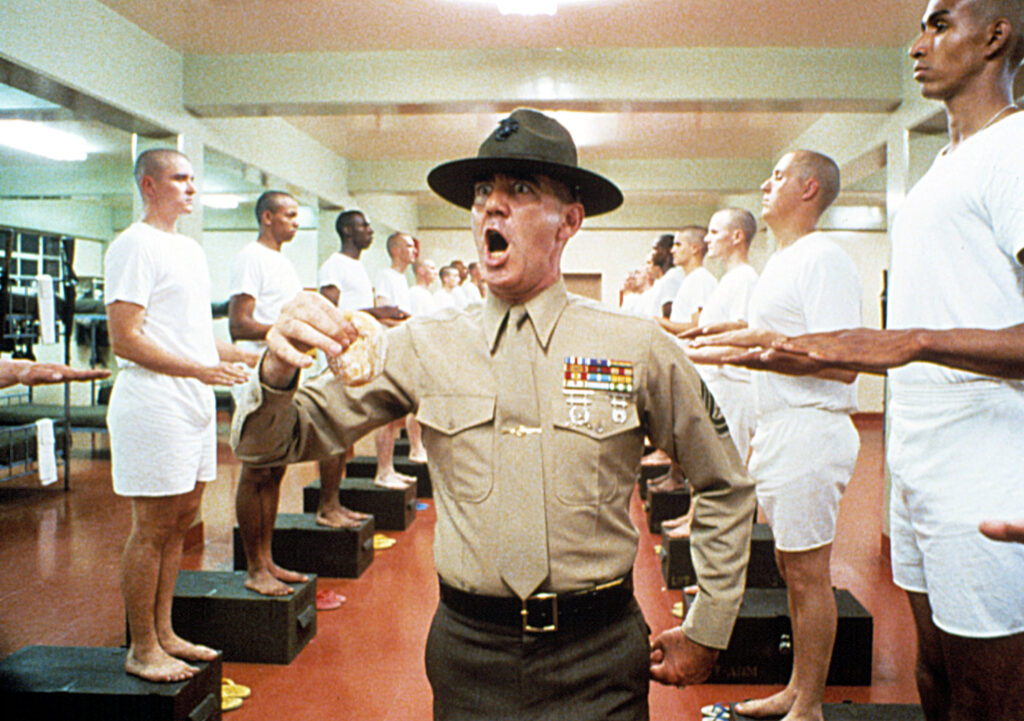 How Did Ermey Get the Role of Drill Instructor in Full Metal Jacket (1987)?
In the mid-1980s, Stanley Kubrick's ambition of creating a Vietnam War film (filmed entirely in the UK) was reaching fruition. Ermey was hired on as a technical advisor. A wide net was cast to find the right actors for the roles, and the famously perfectionist Kubrick had a very particular vision of the character that would define the movie's first half: Gunnery Sergeant Hartman, the boot camp drill sergeant that would viscerally break down the individuality of his hapless recruits. Ermey asked to audition, but was told by Kubrick who had seen his performance in a similar role in The Boys in Company C that he was insufficiently vicious. In response, Ermey improvised insulting dialogue, chastising a group of Royal Marines being considered for background Marine work in the film, showing both his experience and understanding of the role. After reviewing Ermey's videotape of this improvisation, Kubrick handed him the role of Hartman without further quibbles. The director incorporated much of Ermey's rants into the script, and estimated that as much as 50% of the Gunnery Sgt's dialogue was written by Ermey— mainly the insults. He further distinguished himself by needing only two or three takes to satisfy the famously picky director.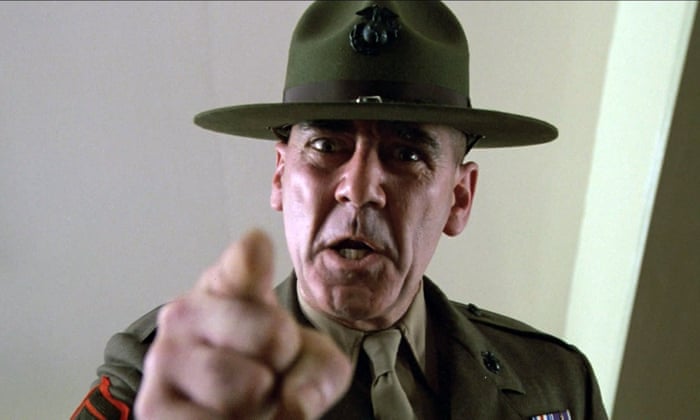 The role was a breakout success, and earned him a Golden Globe nomination as Best Supporting Actor, as well as leading to a string of lucrative film and television gigs, including two History Channel shows as host, and a further host role on an Outdoor Channel show:
Hexed (1993)
Body Snatchers (1993)
Seven (1995)
Toy Story (1995) and its sequels Toy Story 2 (1999) and Toy Story 3 (2010)
The 17-episode series Cracker (1997-1998)
The 72-episode series Mail Call (2002-2007)
The Texas Chainsaw Massacre: The Beginning (2006)
The 13-episode series Lock n' Load with R. Lee Ermey (2009)
The 31-episode series GunnyTime (2015-2017)
Guest spots on The Simpsons, Family Guy, Spongebob Squarepants, and many other popular shows.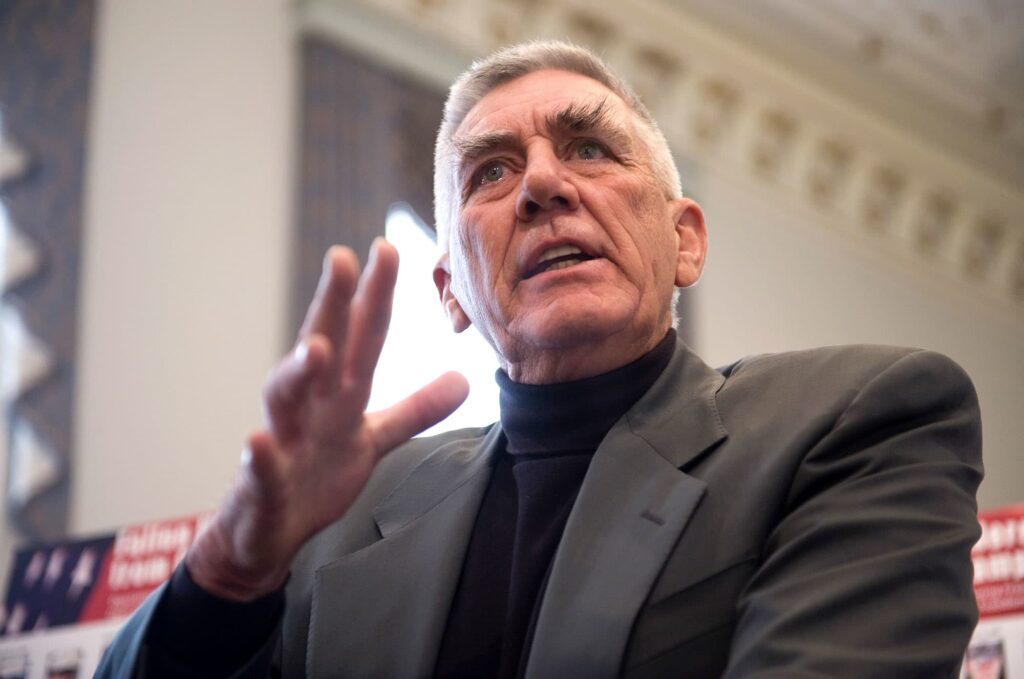 R. Lee Ermey defined a trope for generations to come with his iconic performance in Full Metal Jacket, and his contributions to film, television, and even video games constitute a fine legacy. His efforts were also recognized by the US Marine Corps. In 2002, 30 years after his retirement from service, he was given the honorary rank of Gunnery Sergeant, in recognition of the continued support he had given to the USMC. This promotion at last legitimized the nickname he had earned during his Hollywood career.