Following the December 1941 Japanese attacks on Pearl Harbor, the Philippines, Wake Island, and other Pacific islands, the U.S. began to halt Japan's aggression expansion with important battle victories at Midway Island in June 1942 and Guadalcanal from Aug. 1942 to Feb. 1943. To continue the progress against the Japanese occupying scattered island chains, Allied commanders launched counter-offensive strikes known as "island-hopping." The idea was to capture certain key islands, one after another until Japan came within range of American bombers. Rather than engage sizable Japanese garrisons, these operations were designed to cut them off and let them "whither on the vine."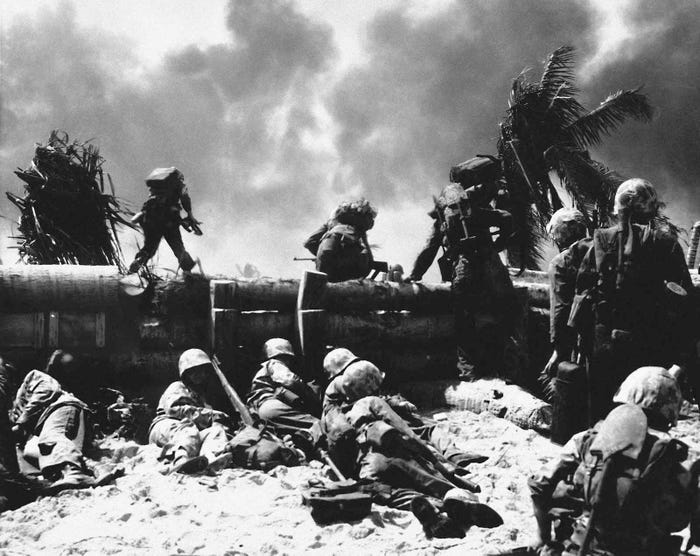 By themselves, the islands held little value to the Japanese or the Americans. They were situated about halfway between Pearl Harbor and the Philippines and were barely large enough to hold an airfield. But they served as an essential steppingstone across the Pacific: If American bombers wanted to reach Japan, they would need an air base in the Mariana Islands; to capture the Marianas, they would first need the Marshall Islands; and for the Marshalls, they needed Tarawa Atoll, a series of small islands in the Gilberts. The major Japanese outposts were on Betio, a bird-shaped island in the southern part of the chain; and Makin, which was raided early in 1942 by U.S. Marines.
The U.S. "Couldn't take Tarawa With a Million Men in 100 Years.
Tarawa turned out to be the most fortified atoll America would invade during the Pacific Campaign. The leader of the Japanese garrison, Rear Adm. Keiji Shibazaki, and 2,500 Imperial Naval Marines with 2,300 Korean and Japanese laborers transformed Betio into a fortress of unparalleled intricacy, with coconut log bunkers cemented with crushed coral and intersecting zones of fire supported by coastal guns, antiaircraft guns, heavy and light machine guns, and light tanks. Betio's beaches were naturally ringed with shallow reefs, which were covered with barbed wire and mines. Shibazaki reportedly bragged that the U.S. "couldn't take Tarawa with a million men in 100 years." American forces proved him wrong.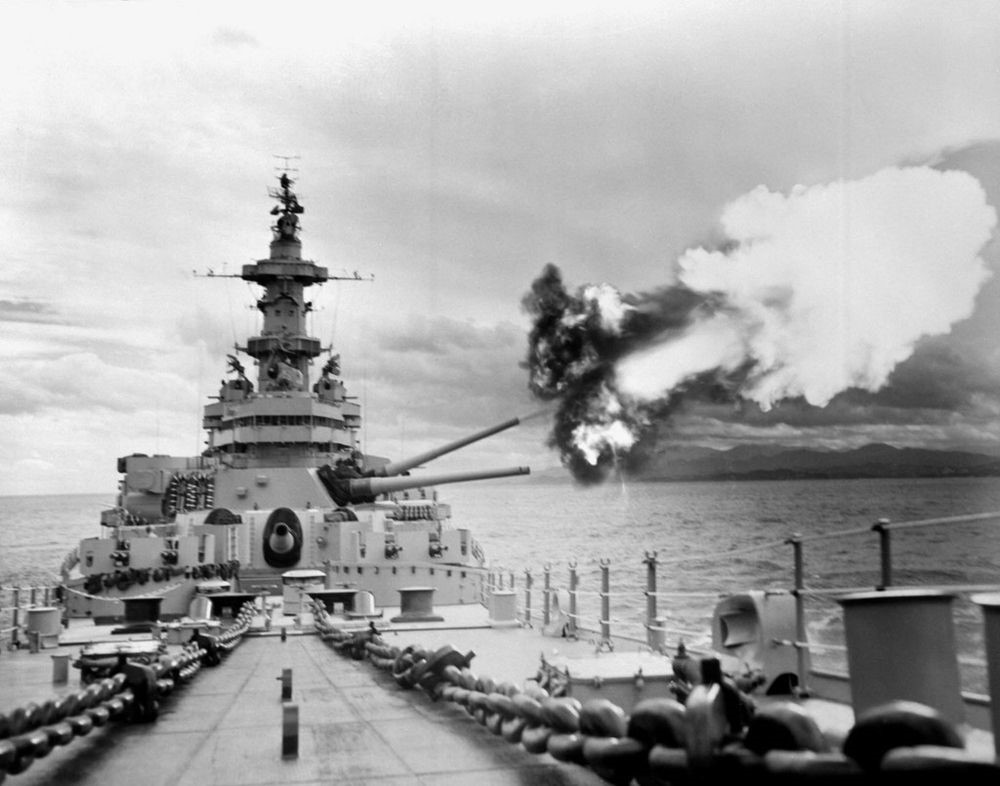 At the End of the Battle of Tarawa, Neither Side Would Look at the War the Same Way
On Nov. 20, 1943, after a three-hour bombardment by naval gunfire and bombing runs by carrier-based aircraft, the 2nd Marine Division landed on Betio. It would take 35,000 men three days to conquer Tarawa. At the end of the battle, neither side would look at the war the same way.
The attack was a monumental effort of combined arms coordination in a new war tactic that relied upon heavy pre-invasion bombardment by battleships and carrier planes. Marines were to approach the shore in new amphibious tractor vehicles dubbed amphtracs. These landing crafts, armed with machine guns and carrying 20 troops each, were able to crawl over shallow reefs and other barriers.
The highly coordinated U.S. battle plan at Betio relied on the precise timing of several key elements to succeed, but almost from the beginning, there were problems. Heavy sea turbulence slowed transfer operations of the U.S. Marines to the ship-side landing crafts. A pre-invasion air raid was delayed, upsetting the timetable for other parts of the assault. Holding for the air raids, support ships ready to launch massive pre-invasion bombardments lingered in position longer than expected. They were forced to dodge increasingly accurate fire from the island where Japanese defenders were dug in.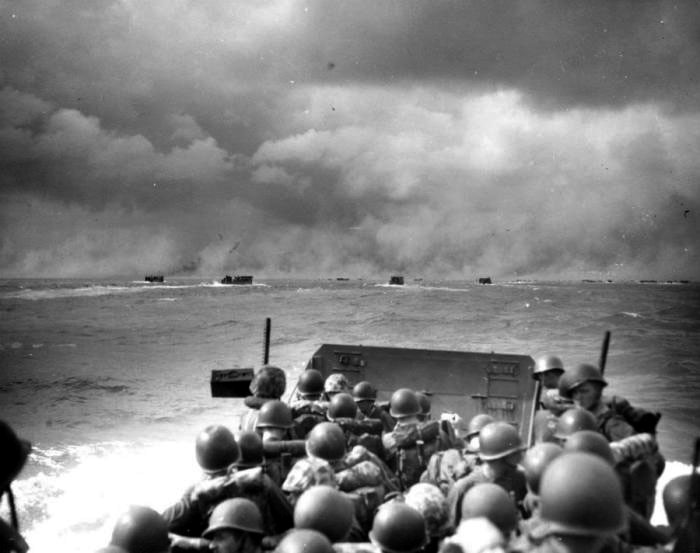 Compounding these problems was a lower-than-anticipated tide level around the island that morning. Most amphtracs in the first assault wave were able to reach the beach as planned, but nearly all the larger, heavier landing crafts behind them jammed into coral reefs exposed by the shallow tide. Japanese coastal guns pounded the snagged vessels and desperate Marines gave up on freeing the boats and instead waded toward shore "hundreds of yards away" through chest-deep water under intense enemy fire, and within the first hour, the first wave had suffered almost total casualties.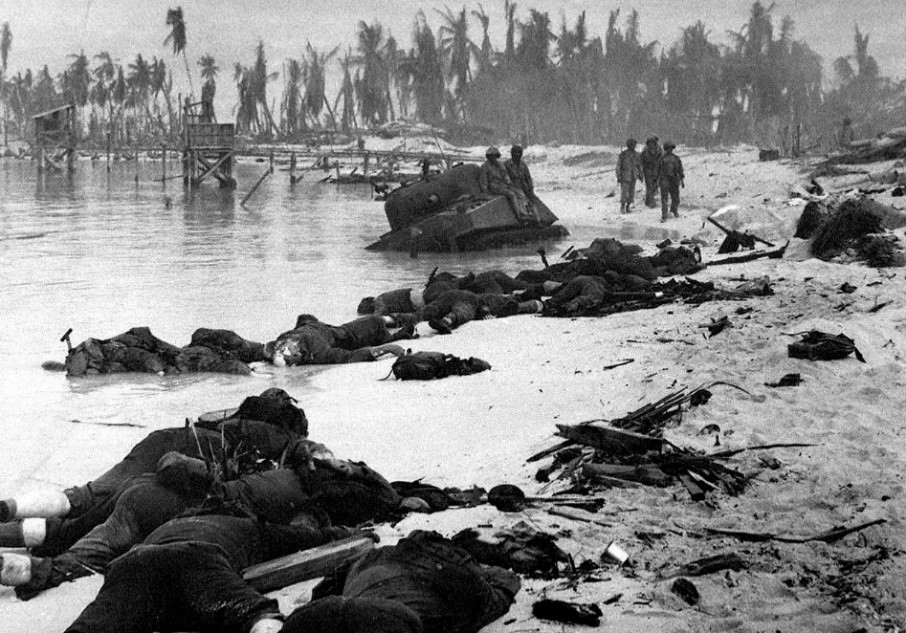 Precious gear, especially radios, became soaked and useless. Many Marines were hit in the open water, and those who made it to shore arrived exhausted or wounded, ill-equipped and unable to communicate with supporting forces.

Making matters worse, the assault path through the lagoon to the shore became congested with disabled landing crafts and bloodied corpses, which hindered the dispatching of reinforcements. Marines on the beach crawled forward, inch by inch, knowing that to stand or even rise slightly made them easy targets. By the end of the first day, 5,000 Marines had landed at Betio; 500 had perished in the process. By the end of the first night, it was not definite that the Americans were here to stay.
Like the Japanese Navy in the Solomon's, Americans were losing their junior officers and noncommissioned officers rapidly. The advance was only due to a Sergeant or a Lieutenant leading their squad or platoon over the seawall and moving inland. The Japanese would not give up. They would fire until they had one bullet and kill themselves with their big toe in the trigger of their rifle.
On the morning of November 21, the second day of fighting, unexpectedly low tides continued to plague the U.S. assault. Again, assault troops had to leave their crafts short of the shore and wade in through enemy fire. In addition to being fired upon from shore, Marines were also assaulted from their sides and rear by enemy snipers who had entered the lagoon under the cover of night to position themselves on crafts that had been wrecked and abandoned the day before.
By noon, however, the tide finally began to rise, and U.S. destroyers were able to maneuver closer to shore to lend accurate supporting fire. Reserve combat teams and support craft transporting tanks and weapons raced to shore, and the ground assault finally took orderly form. The Marines moved inland, blasting surviving enemy emplacements with grenades, demolition packs, and flamethrowers.
On day three of the battle, November 22, the Marines fought on, destroying several Japanese pillboxes and fortifications. Dead and wounded were mounted on both sides and even the division reserve could not turn the tide. At dusk the Americans had occupied enough ground to ensure that Tarawa would be taken; the only question was the amount of blood. Shibasaki and his entire command staff died sometime on the third day, committing suicide rather than face capture.
That night, the remaining 300 Japanese and Korean laborers came out of their last positions and attacked in a desperate attempt to inflict as many casualties as possible. If these men had died in their pillboxes, certainly more Americans would have died.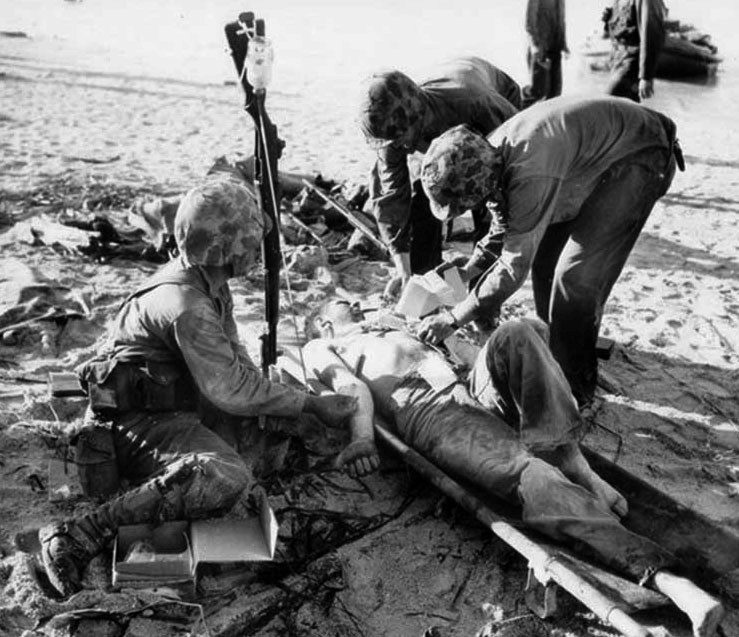 U.S. Commanders Learned Important lessons From the Battle of Tarawa
At morning light on November 23, the island defenders lay in tangled heaps: All but 17 Japanese soldiers had died defending Betio. Seventy-six hours after the invasion began, Betio was finally declared secure.
It was a fight that lasted only three days, but it was among the bloodiest in 20th-century American history. By the time the battle ended, 1,084 U.S. Marines lay dead on the sandy earth and churning water. Some 2,101 were wounded. In the 76-hour Battle of Tarawa, U.S. Marines suffered almost as many killed-in-action casualties as U.S. troops suffered in the six-month campaign at Guadalcanal Island.
Legendary war correspondent Robert Sherrod wrote, "No one who has not been there, can imagine the overwhelming, inhuman smell of 5,000 dead who are piled and scattered in an area of less than one square mile."
Offices of government and military offices were flooded with angry letters over the number of Americans dead on Tarawa. The number of dead and wounded on both sides would only get larger as the war in the Pacific progressed. However, according to "The Pacific War" by John Costello, U.S. commanders learned important lessons from the Battle of Tarawa that would be applied to future island wars, including the need for better reconnaissance, more precise and sustained pre-landing bombardments, additional amphibious landing vehicle and improved equipment.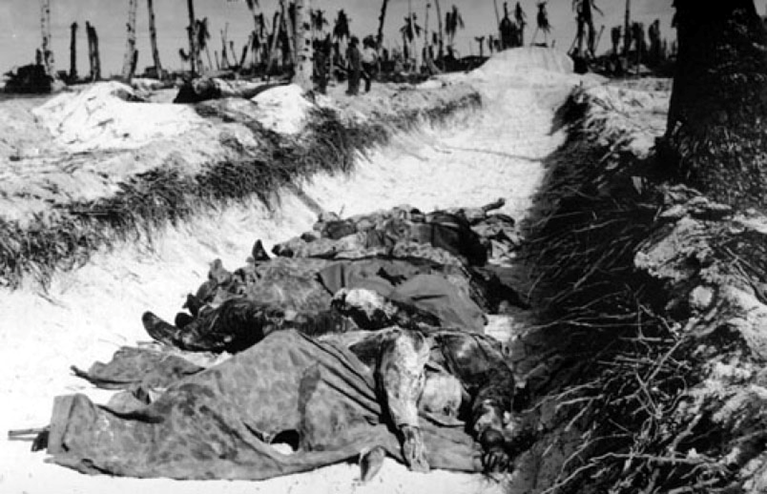 After the battle, Marines who died were wrapped in ponchos and folded into shallow graves in several areas around Tarawa. But there were so many bodies, including the thousands of Japanese soldiers, that the U.S. Navy eventually bulldozed the site and expanded the airfield and built a network of roads and offices. By the time an excavation team arrived in 1946 to exhume and identify the dead, no one could remember where they were. Investigators spent three months searching, but they found only half the Marines in five of eight known impromptu burial sites.
One of the unfound sites was Cemetery 27, presumed to contain the bodies of 33-year-old Medal of Honor recipient 1st Lt. Alexander "Sandy" Bonnyman, Jr. and approximately 40 other Marines killed in action. Its occupants were officially declared "unrecoverable" by the U.S. government which issued a letter stating that most of the Tarawa war dead were presumed lost at sea near the island.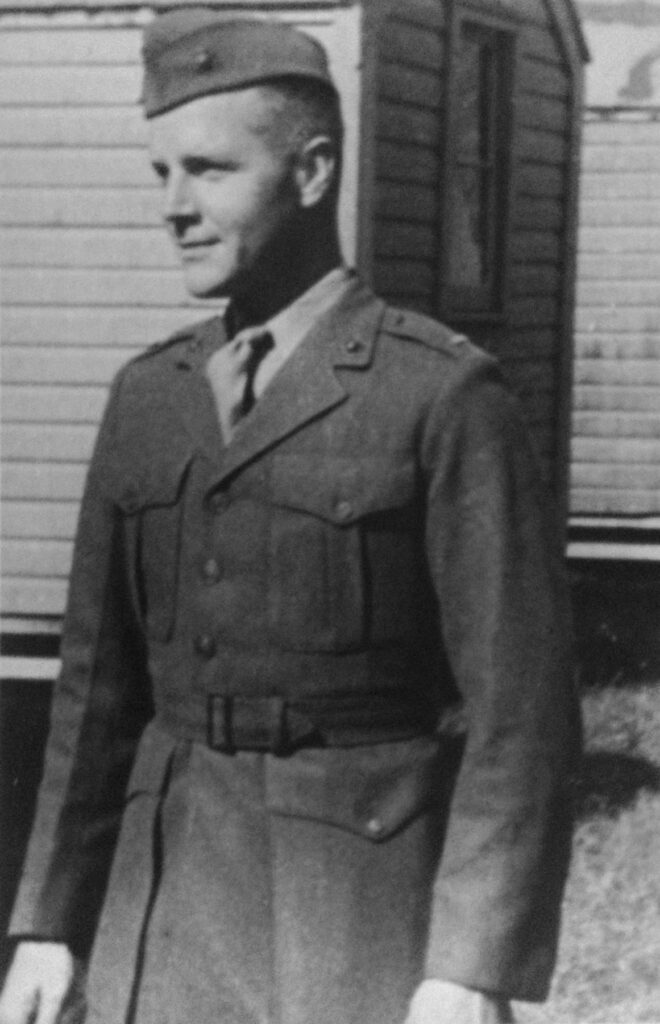 But without conclusive proof that Bonnyman was among them, his family began a decades-long campaign to procure information about their beloved soldier's final resting place.
In 2008, working with the Defense POW/MIA Accounting Agency, Mark Noah's History Flight funded and conducted two six-week-long searches in the Marshall, Caroline and Gilbert Islands hunting for remains previously believed to be unrecoverable. History Flight also hired a geophysical inspection firm and brought a geophysicist to the island of Tarawa to search for "lost" Marine graves with a ground penetrating radar. In the six weeks the team spent on Tarawa – interviewing local residents who had accidentally unearthed 20 American skeletons during construction activity on the island – they were able to locate, identify and survey five large American burial sites and three individual sites that contained over 200 U.S. Marines left behind after WWII. Cemetery 27 was not among the burial sites found.
Over the years, letters and calls went unanswered as Bonnyman's family sought answers, and the details of the soldier's death and burial became even further muddied in the memories of his loved ones.
A glimmer of hope came in 2010 when a joint team from the Defense POW and MIA Accounting Agency began a recovery mission on the Gilbert Islands in hopes of locating the mass graves in which U.S. and Japanese soldiers were said to have been buried.
That was the first time members of Bonnyman's family – some of whom were unaware the remains were still missing – heard that there might be a chance of recovery.
In 2011, JPAC discovered Cemetery 27, the site where Bonnyman and 35 others were buried underneath a parking lot. Excavation began in March 2015 and continued through the end of June.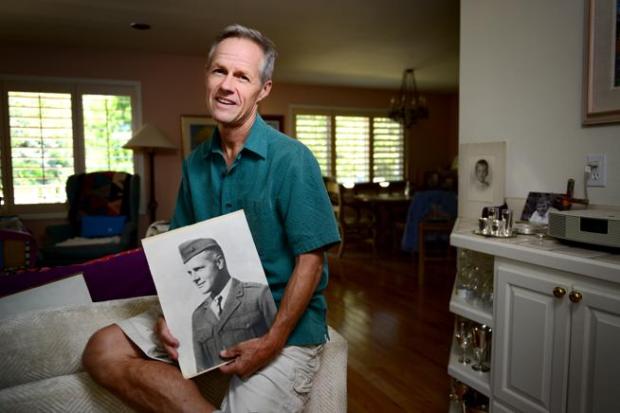 When History Flight began calling families to obtain DNA samples of the Marines unaccounted for at Tarawa, Bonnyman's grandson Clay Bonnyman Evans jumped at the opportunity to volunteer with the group and flew to Betio to assist in excavations.
"I spent my childhood idolizing him, even though he died 18 years before I was born," said Evans, who made the long trip from his home in Boulder, Colorado, to Tarawa to be here while JPAC is digging for remains. Evans traveled on his own to observe the team's work, hoping they might find his grandfather's remains.
"I have felt a very strong connection to this man that I never knew. He loomed large for me as a kid …," Evans said. "I have wanted to come here for a long time."
He retraced his grandfather's steps at Tarawa, wading through the water onshore, then climbing to the top of a bunker referred to as "Bonnyman's Bunker." Now overgrown and filled with trash, the bunker was a Japanese stronghold during the battle.
It was at this bunker that assault troops were pinned down by heavy enemy artillery fire at the seaward end of the long Betio Pier, on his own initiative Bonnyman organized and led five men over the open pier to the beach. There he voluntarily obtained flame throwers and demolitions and directed the blowing up of several hostile installations.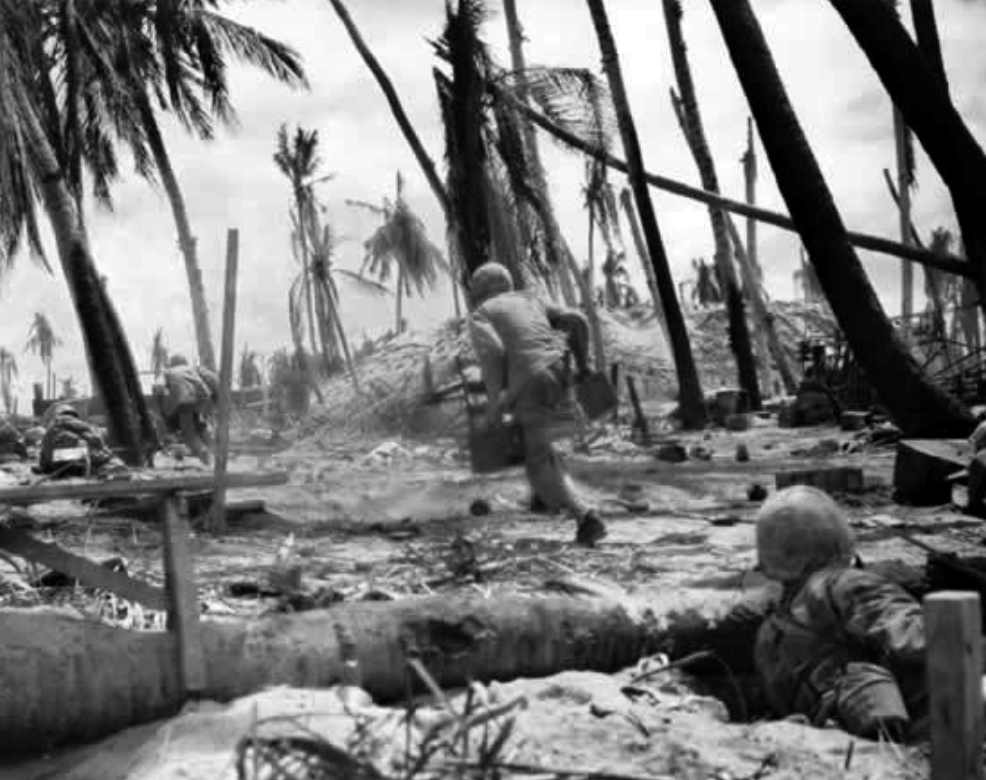 On the second day of the struggle, Bonnyman, determined to breach the enemy's strong defensive line, led his demolitions teams in an assault on the entrance to a huge bombproof shelter which contained approximately 150 Japanese soldiers. The enemy position was about forty yards forward of the Marine lines. Bonnyman advanced his team to the mouth of the position and killed many of the defenders. His team was forced to withdraw to replenish its supply of ammunition and grenades. Bonnyman again pressed his attack and gained the top of the structure, thereby flushing more than one hundred of its occupants into the open where they were shot down. When the Japanese fought back, the Lieutenant stood at the forward edge of the position and killed several attackers before he fell mortally wounded.
For his actions during the battle, Bonnyman was posthumously awarded the Medal of Honor. The medal was formally presented to his family by Secretary of the Navy James Forrestal in 1947. His 12-year-old daughter, Frances, accepted the medal on behalf of the Bonnyman family.
Evans knew that his grandfather had distinctive dental work, including gold teeth. He said he was breathless when Kristin Baker, the History Flight Recovery Team leader, called him over to examine the teeth on an exposed cranium.
"It is gold," Baker told him. Evans said it's very likely that the remains are those of the Medal of Honor recipient, but legal verification was still required.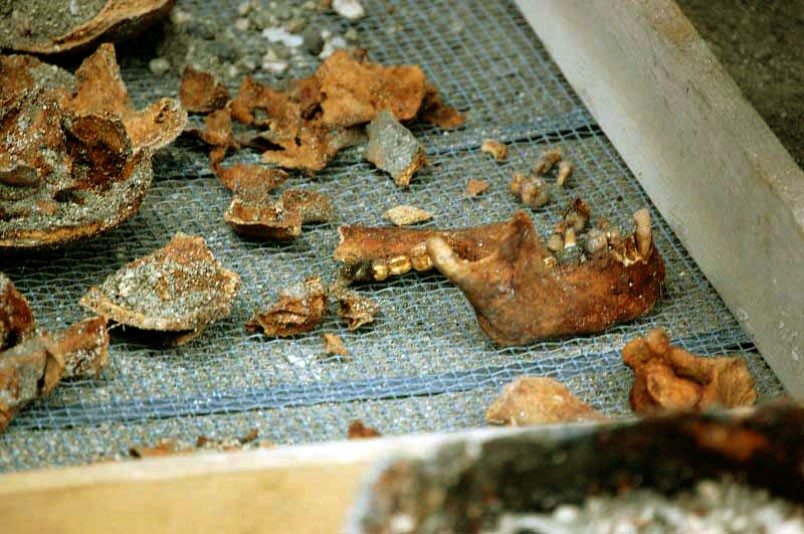 Bonnyman was the Last of Four Medal of Honor Recipients From the Battle of Tarawa
On July 26, 2015, the remains of the three dozen Marines arrived at the Defense POW/MIA Accounting Agency's laboratory at Joint Base Pearl Harbor-Hickam in Honolulu Hawaii where a team of specially trained dentists and other experts work to authenticate their identities.
On August 27, 2015 Bonnyman's remains were identified and on September 28, 2015, he was returned to his childhood home town of Knoxville, Tennessee and interred with his family, with full military honors at West Knoxville's Berry Highland Memorial Cemetery.
For nearly 73 years, Bonnyman's family – members of which now live in Boulder County – remembered the handsome, adventurous man they had lost with what few artifacts they had left: his Medal of Honor, awarded posthumously for his efforts to hold back a Japanese counterattack; a large portrait, commissioned from an Italian oil painter; and a few black-and-white photographs taken during the assault on Betio.
"It feels great," Clay Evans said of the culmination of his family's generation-spanning quest. "My great-grandparents really worked hard to get his remains back. They wrote letters, and they just sort of got every story in the book from the military; they thought they would never have his remains."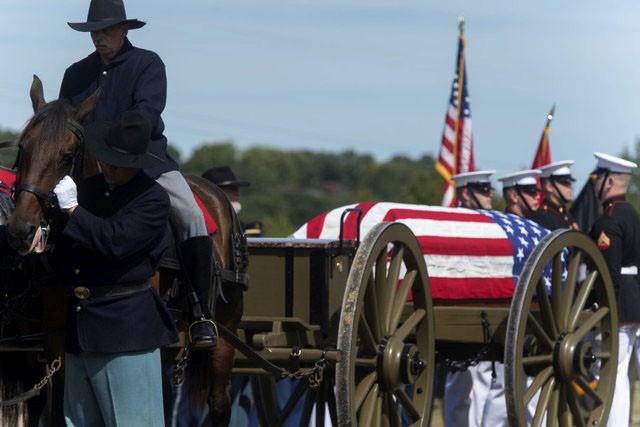 "I actually grabbed my stomach and thought, 'Good grief. Is it really going to happen?' I never thought it would," said Bonnyman's oldest daughter, Frances Evans, now 83.
Bonnyman was the last of four Medal of Honor recipients from the Battle of Tarawa to be located.
With the discovery of Bonnyman's remains, there are only 30 Medal of Honor recipients killed in World War II whose final resting places are still unknown, according to Laura Joyey of the Congressional Medal of Honor Society.