By their very nature, books on war deal with death, near-death experiences, injuries and all the unpleasant but inevitable aspects of war, like homesickness, bad food, substandard leadership, impossible missions and seeing friends die but above all, is the fear; fear of being killed, fear of losing body parts, fear of not living up to the challenge, fear of fear itself. Just Dust: An Improbable Marine's Vietnam Story has all of that but focuses more on the author's contemplation of the experience.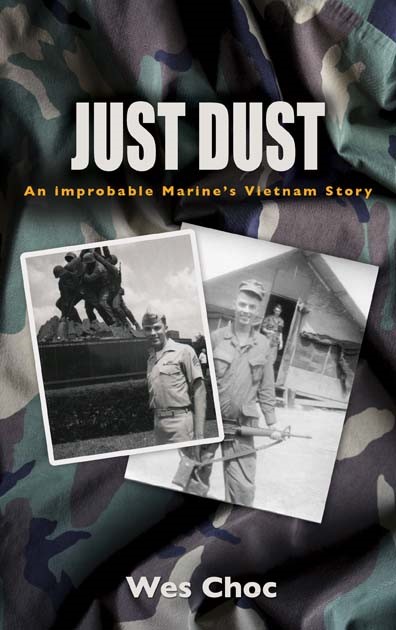 Like any good book – and this one is brilliant – Choc follows a logical progression beginning with his dissatisfaction with college; his inability to feel important; his decision to join the Marines and his difficulty in boot camp; the challenges of Vietnam and his ultimate and surprising dissatisfaction of Marine life that did not include combat. But what makes this book stand out is how he processed all this and how he closely analyzed his actions and thoughts. Most importantly are his introspections and philosophical conclusions. A clue to this amazing sense of self-examination can be found in the prologue. He wrote, "I am forever reminded of a special place called Honalee," a reference to the Peter, Paul and Mary song about the ageless Puff the Magic Dragon who frolicked in a land called Honalee with his playmate Jackie Paper, a little boy who grows up and loses interest in the imaginary adventures of childhood as he grows into a man. So it is with "Just Dust"- the author's coming-of-age recollection and the demise of his "little boyhood-ness."
Assigned to Hill 55 and Khe Sanh, Choc details his time in Vietnam, including his job of examining the personal effects of those killed and the difficulty of writing letters home to next of kin for his captain to sign. While he never saw or fired on the enemy, he saw plenty of their bodies. There was one instance when he was shot at by an enemy sniper while alone on a jungle path. His reaction to that encounter was a serene trance-like calm, a form of blind tranquility broken up when the rest of the patrol laid down fire, allowing him to get out of the kill zone.
Throughout the book, Choc poses questions that many readers who experienced combat may well have asked themselves: Do military core values offer important life lessons? What was gained from the Vietnam experience that mattered the most?
For any combat veterans, regardless of which war, this outstanding tome will reach deep into your inner self, offering a glimpse into how war made you the person you are today. It might surprise most readers.
About the Authors of the Book Just Dust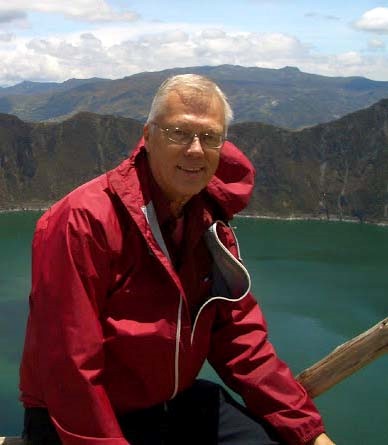 Wes Choc grew up in Albuquerque, New Mexico, living there until 1965 when he joined the US Marine Corps during the Vietnam era.
Since the end of his military service in 1969, he has lived in a dozen states across the country throughout his forty years in business working for the American Automobile Association. In 1992 he was appointed president and CEO of AAA Mountain West, overseeing all business and club operations in Montana, Wyoming, and Alaska.
After retiring in 2008, he and his wife, Carol, moved to Arizona; they now live in Tucson. This is his first book.
Readers' Responses to the Book Just Dust
Reading this story about the author, I am struck by his excellent writing ability. The story is very different, and the descriptions of combat are terrific. Khe Sanh, where he served, will be a familiar name to those of us with knowledge of the Vietnam Conflict. Now, one can understand the meaning of the title, JUST DUST. A very interesting read, well worth your time.
– Richard W. Newman
Co-author of MY CHINA, MY WORLD
This coming of age story provides an insight into the Vietnam era, unlike anything else I've read. Wes Choc's writing style paints a vivid picture for the reader as you walk through the story in his shoes. A great read all around!
– Jared

I just finished Just Dust by Wes Choc. I lived during the Vietnam War and had many of my friends fighting. Wes made me cry and laugh as I read his stories. These are the kind of "War" stories we need to read and learn about the thoughts of people. He didn't make it sound like a picnic in the park, but he didn't go into all of the gore of war either. I have known many veterans from WWII, and I never heard any of them tell me what was on their minds as they were enlisted. I feel that everyone should read this book. If not just for fun but to give it to you kids and grandkids that want to go to war.
– Martha Walker

I loved this book! It provides a vivid, personal journey of one soldier's Vietnam odyssey. It doesn't get into the politics of the time; it shows what it was really like to be a new recruit and be sent overseas during this challenging time in our nation's history.
– Angela Albers