Lt. Henry Fonda, of the US Navy between 1942 and 1946, interrupted a prominent career as a film actor in order to serve his country when it needed him most. Fonda's commanding screen presence made him a favorite of theatergoers for five decades, culminating in an Oscar for his final performance.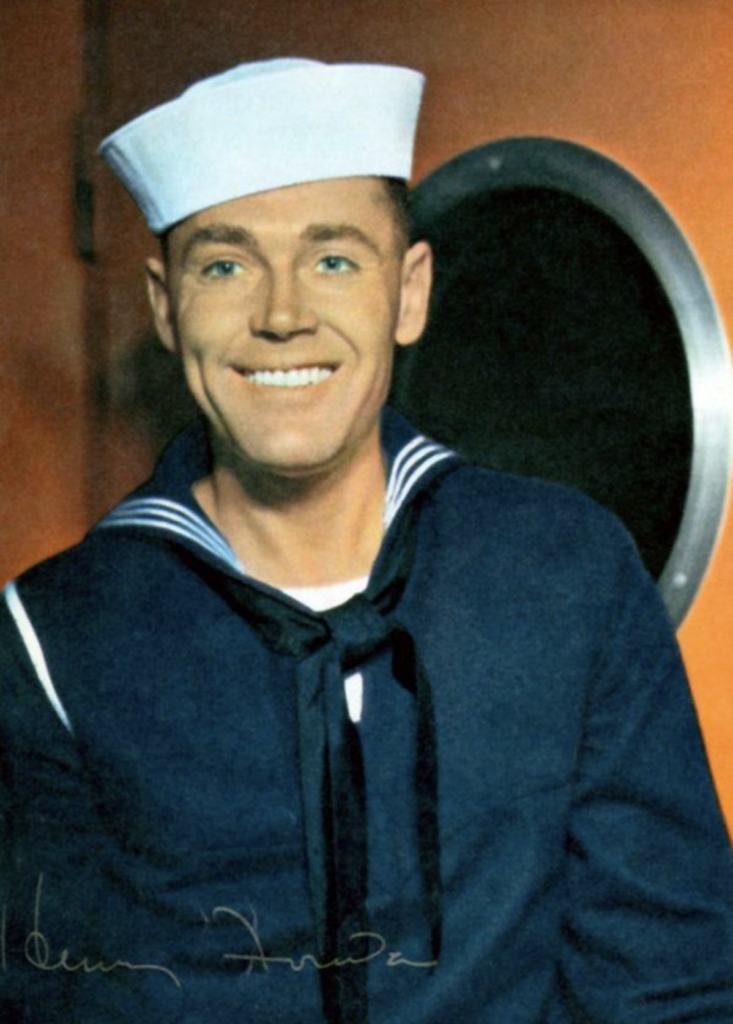 Henry Fonda's Stage Beginnings
Born in Grand Island, Nebraska, in 1905, Fonda was the son of a printer. Raised in Omaha, he witnessed and was profoundly affected by the horrors of the Omaha race riot of 1919. After high school he attended the University of Minnesota, but did not graduate. At the age of 20 he joined the Omaha Community Playhouse. He grew to be fascinated by the stage and learned many aspects of stagecraft, eventually growing to enjoy acting as taking on a role and speaking someone else's words gave him respite from his shy personality.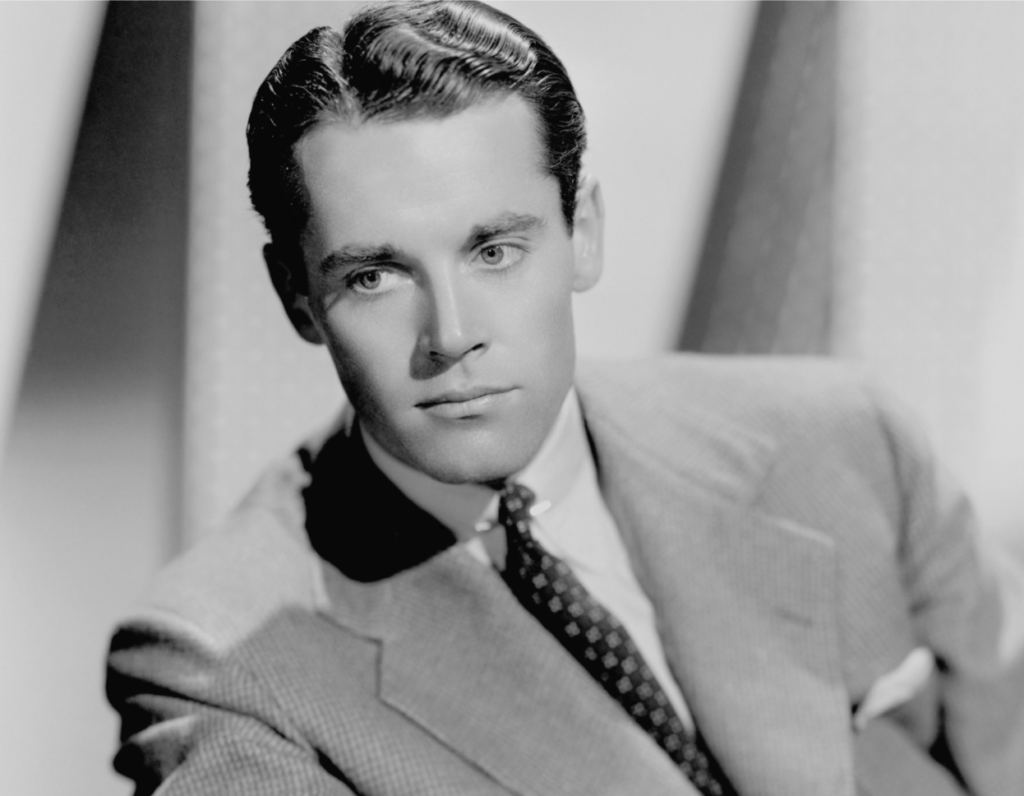 In 1928 he moved to Massachusetts and met his future wife Margaret Sullavan while working for the University Players, a theater troupe. They married in 1931 and moved to New York City, Though the marriage only lasted two years, it was here that Fonda would meet and become lifelong friends with James Stewart. They lived together and honed their dramatic skills on Broadway, barely keeping the wolf from the door. In 1934, his acting career took a turn for the better, when he was the leading man in the Broadway production of The Farmer Takes A Wife. The next year, he was tapped to star in the Hollywood adaptation opposite Academy Award-winning actress Janet Gaynor.
From the Golden Age of Hollywood to the Bronze Star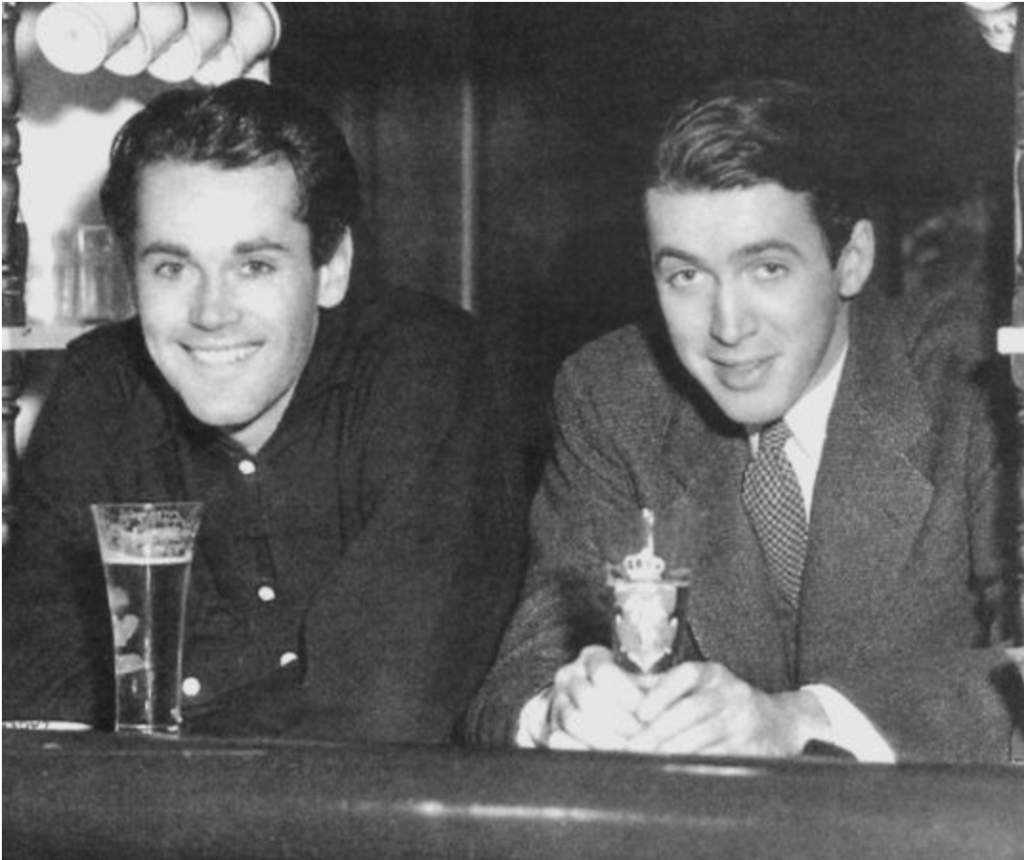 Stewart moved with him to Hollywood, where they found money much easier to come by. He landed one lead role after another, I Dream Too Much (1935), The Trail of the Lonesome Pine (1936), The Moon's Our Home (1936, in which he starred with his ex-wife Margaret), and You Only Live Once (1937). These and other successes led to his casting in what many consider his finest work, The Grapes of Wrath (1940), based on John Steinbeck's work from the previous year. For his depiction of Tom Joad, Fonda was Academy Award nominated. Fonda also remarried in 1936, to the socialite Frances Ford Seymour. They had two children, Jane (born in 1937) and Peter (1940), to go with Frances de Villers, Frances' daughter with her deceased first husband.
The WWII Service of Henry Fonda
Fonda's career was going from strength to strength. He had worked with James Stewart to fundraise for Britain's defense. Yet, he was dissatisfied with the idea of acting while America went to war. He enlisted in the Navy during World War II, initially serving as a Quartermaster 3rd Class on the destroyer USS Satterlee. However, he later applied to become an officer and, thanks to his age, was commissioned as a Lieutenant Junior Grade in Air Combat Intelligence. Fonda proved worthy of his commission, and was awarded the Bronze Star Medal in 1945 for his untiring energy in repelling Japanese forces, helping to plan and execute air operations to neutralize hostile installations on nearby atolls and islands. Fonda contributed to the conditions which made possible the strategic bombings of the Japanese mainland by B-29 bombers, including the nuclear strikes on Hiroshima and Nagasaki which ended the war. After being discharged from active duty, Fonda served in the Naval Reserve.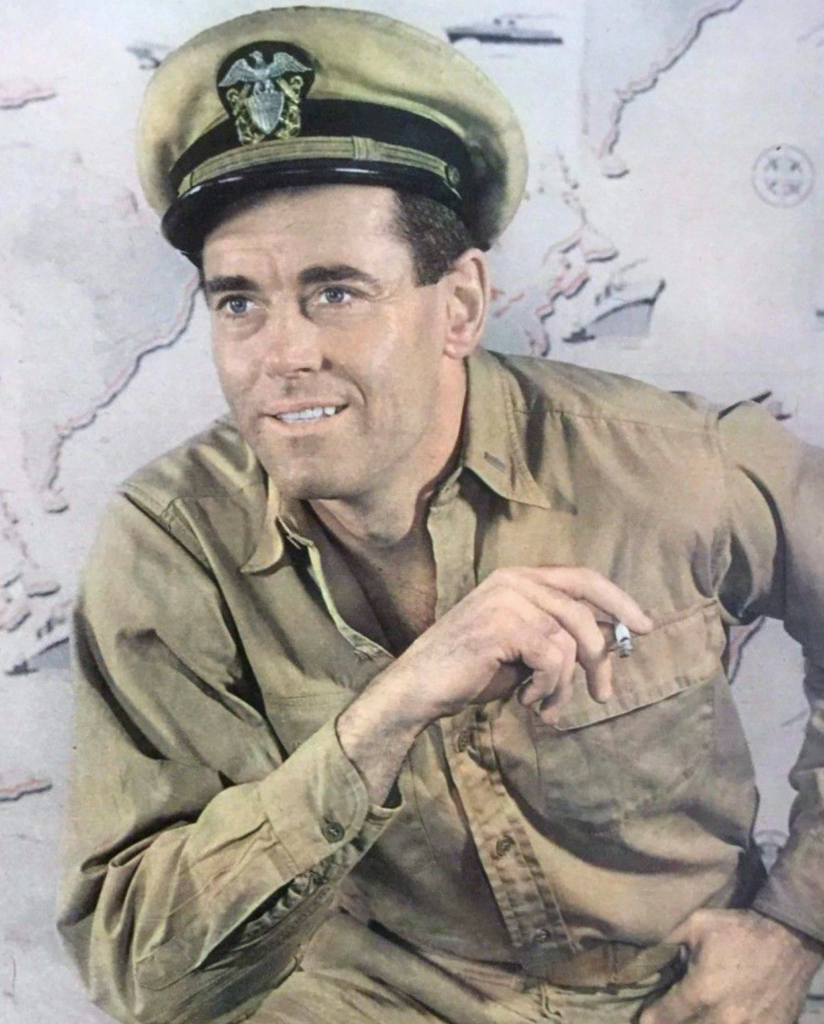 After Henry Fonda's Military Career
Fonda was not terribly keen on acclimatizing to Hollywood after his service. He fulfilled his contractual obligations to Twentieth Century Fox from before the war, then returned to Broadway. There he won a Tony Award for his depiction of the title role in Mister Roberts, a play about a junior officer of an American ship in the South West Pacific Theater. Fonda revived his theatrical career, and requested a divorce from Frances, who committed herself to a sanitarium in 1950 and killed herself shortly after. Fonda married his young mistress Susan Blanchard that same year, with whom he would later adopt a daughter, Amy. He would not return to the silver screen until 1955, when John Ford revived his film career by casting him in the Hollywood adaptation of the play. After starring opposite Audrey Hepburn in War and Peace (1956) and working with Alfred Hitchcock on The Wrong Man (1956), Fonda divorced Susan and turned to producing and starring in the adaptation of the teleplay 12 Angry Men, which was released in 1957. The film is on many critics' greatest hits lists and has been preserved in the Library of Congress for being 'culturally, historically, or aesthetically significant'. While working on War and Peace, Hepburn introduced Fonda to the woman who would become his fourth wife, the 25-year old Italian baroness Afdera Franchetti, in 1957. They would divorce four years later.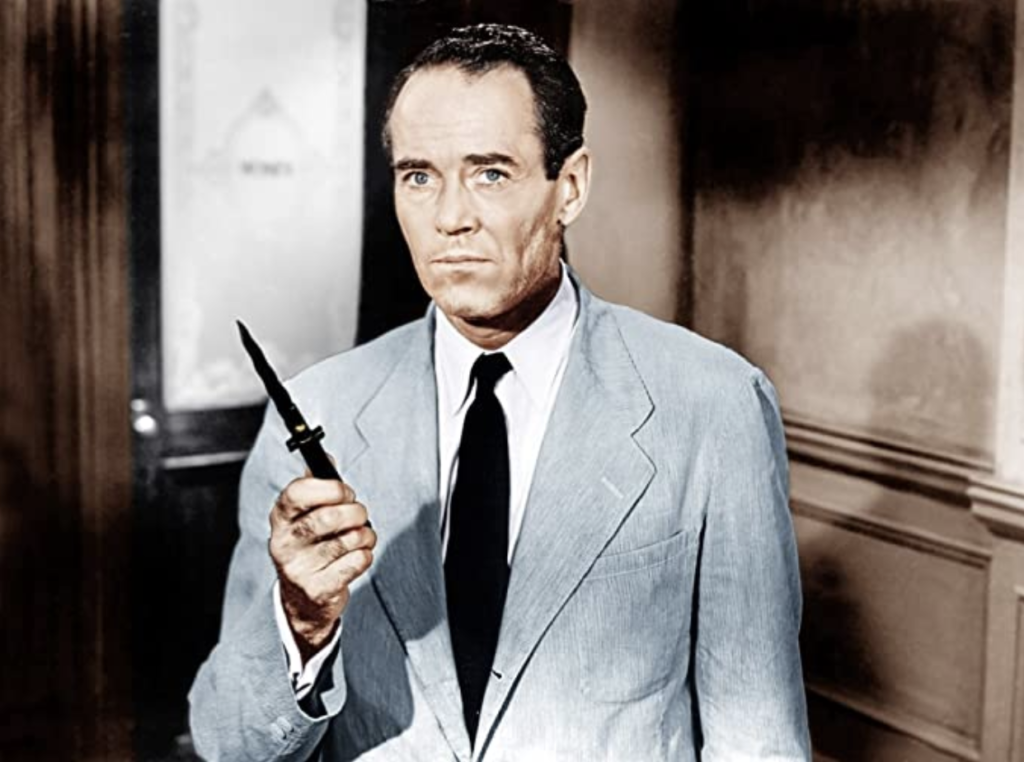 Henry Fonda's Silver Years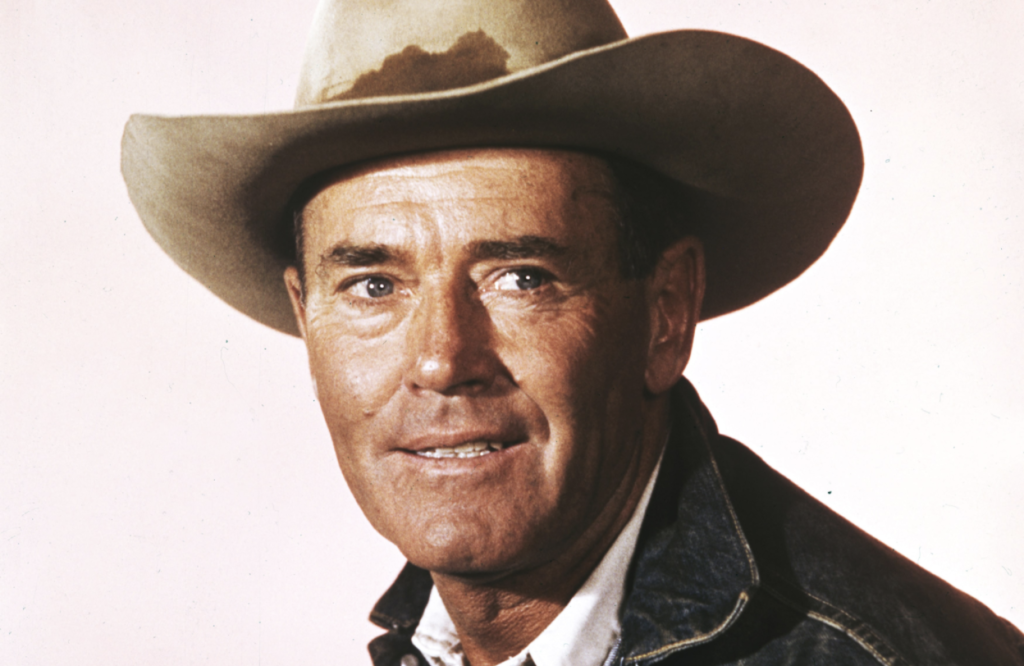 In the 1960s, Fonda played a number of roles in Westerns and war epics. The Longest Day (1962), Battle of the Bulge (1965), and In Harm's Way (1965) among them. He also married for the final time, tying the knot with Shirlee Mae Adams in 1965. He appeared against type as the villain in Once Upon a Time in the West (1968). Fonda was slowing down at this point, and was also taking more of an interest in television roles. During the 70s, Fonda took an interest in stage work, but was advised by his doctors to wind down his theater career due to his failing health. Fonda was battling prostate cancer at the time. However, he still found time for roles in features such as The Cheyenne Social Club (1970), and the made-for-TV historical drama Collision Course: Truman vs. MacArthur (1976), in which he depicted General Douglas MacArthur. Though he was taking longer breaks between filming, Fonda found time to appear alongside his son Peter, who was starring in Wanda Nevada (1979).
Fonda's final film role was On Golden Pond (1981), an adaptation of an Ernest Thompson play. The rights were purchased by his daughter Jane, so that they could work on the film together. They played father and daughter in a strained relationship that closely mirrored their real life situation. The film was an unexpected blockbuster, making $120 million dollars and earning 10 Academy Award nominations. Fonda won his first Oscar, also receiving a Lifetime Achievement Award that year. Sadly, Henry was too ill to attend the ceremony, and the award was accepted by Jane.
In August 1982, Fonda died in his LA home from heart disease. He is remembered as a screen legend and an award-winning actor, but Together We Served also seeks to recognize his service to his country during the Second World War.