Sixto Escobar, of the United States Army between 1941 and 1945, was Puerto Rico's first world boxing champion, and International Boxing Hall of Fame member. Remembered today with the Estadio Sixto Escobar, the San Juan home of River Plate Puerto Rico, as well as many buildings, roads, and statues, he is a favored son of the island territory. Not as many people know, though, that he served in the military during the Second World War as an Army PFC.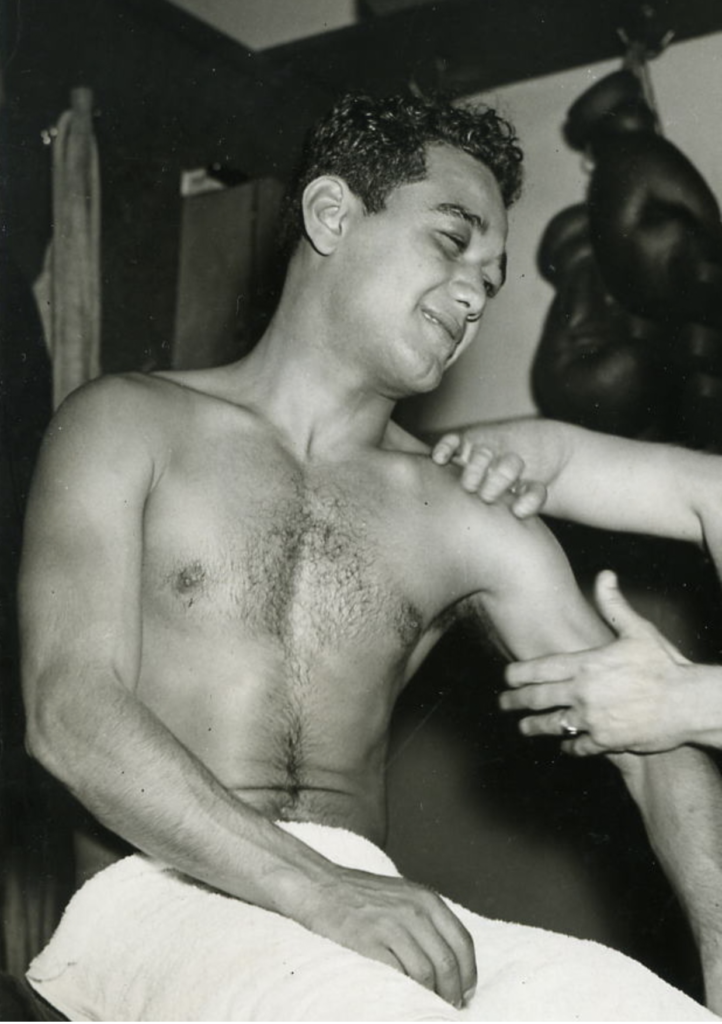 Remembering Sixto Escobar
Escobar was born in the town of Barceloneta, in March 1913. Early in his childhood, his family moved to San Juan, where he was schooled until the seventh grade. At this point, he left school to focus on his athletic career. Boxing was illegal in Puerto Rico while he was growing up, though this restriction was lifted in 1927. In '28, Angel 'Sotito' Soto moved from New York to Escobar's area of San Juan, and established a boxing gym in his backyard, giving boxing classes to Escobar and other young athletes. Despite his small frame (5'4" as an adult), Escobar showed promise as a fighter. After several months of instruction, he defeated his first opponent: by knockout in the first round. He continued fighting in clandestine gyms, receiving his boxing license and fighting in 23 amateur bouts, with a record of 21-1-1.
Professional Boxing Career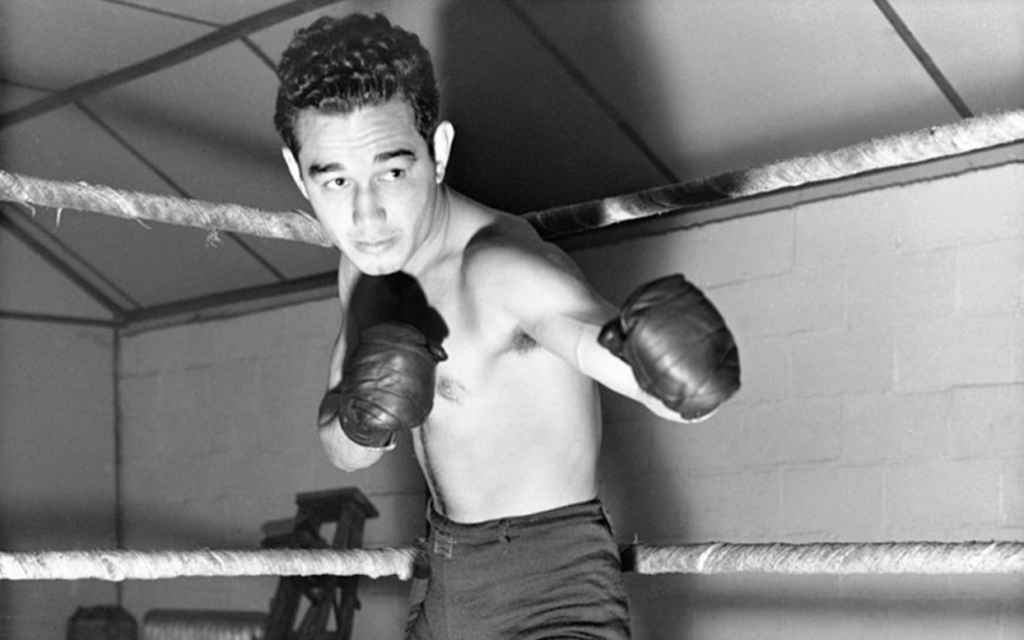 Escobar went professional in July 1930 at the age of 17, defeating the champion of the Dominican Republic, Luis 'Kid Dominican' Perez, by TKO. He only remained in Puerto Rico for a few months, though, before relocating to Venezuela for his career. There he amassed a string of wins that earned him his first attempt at gold, fighting Enrique Chaffardet for the Venezuelan featherweight title. However, he lost on points. He fought Chaffardet another two times over the next two years, earning a draw and another loss, all decided on points. Eventually, in early 1934, Escobar moved out to New York City, the better to "obtain fame and honor" for Puerto Ricans as a boxing champion. They did not have to wait long. A series of victories in the US and Canada set him up for a bout for the vacant Montreal Athletic Commission bantamweight title versus Mexican Rodolfo Casanova, winning via knockout and sparking the Mexico-Puerto Rico boxing rivalry that continues to this day. Though Puerto Rico was immensely proud of their first ever boxing champ, this victory was not recognized by the New York State Athletic Commission, nor the International Boxing Union. Nevertheless, on returning to Puerto Rico and his hometown of Barceloneta while recovering from a non-boxing injury, he was honored with a week of festivities.
Chasing Championships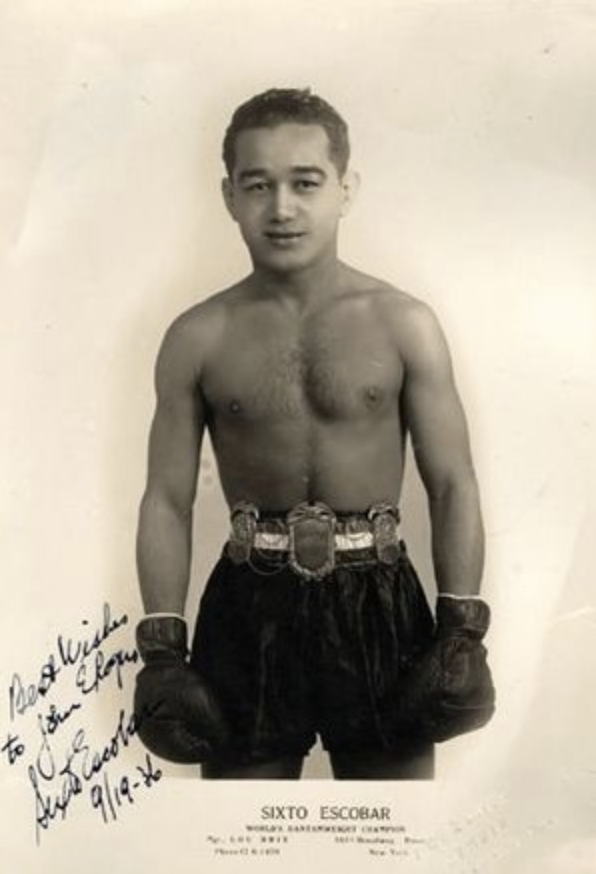 Escobar would have to wait over a year for a chance to win another belt, and won the vacant NBA bantamweight title in a bout versus Norwegian Pete Sanstol in a unanimous decision. Attempting to unify the titles, he next challenged fellow American Lou Salica for the vacant NYSAC bantamweight title, but lost in a majority decision. He lost his NBA title but in the rematch on November 15, 1935, at Madison Square Garden in New York City, he gained both the NYSAC and NBA bantamweight titles in a unanimous decision. These titles he successfully defended on three occasions in 1936 and 1937. During his first defense, he succeeded in unifying the titles, claiming the world bantamweight championship, by defeating Tony Marino via TKO on August 31, 1936, taking Marino's The Ring bantamweight title. At the age of just 23, Escobar had achieved his greatest ambition. However, on September 23, 1937, Escobar lost his titles in a unanimous decision in a bout with American Harry Jeffra (a boxer he had lost to twice previously in non-title fights). He had to get back in the ring a fourth time with Jeffra in order to regain his honors, this time on his home turf of San Juan, Puerto Rico, in February 1938.
Despite regaining the world championship belts, Escobar's career never truly recovered. Of the 13 fights in the remainder of his career, Escobar won only 4, successfully defending his titles once before needing to vacate them due to failing to make weight. His final fight, a fifth bout with Harry Jeffra, he lost by points on December 2, 1940. Despite his 39-23-4 record, Escobar took pride in never losing a fight by knockout.
Sixto Escobar's Military Career
Escobar had been ordered by the United States Army to submit to a physical exam for possible military service in 1939. In April 1941, five months after retiring from professional boxing, with Europe at war and Japan invading the West Pacific, Escobar was drafted into the United States Armed Forces, as an Army Pvt. He served four years in the US Army and was a Private First Class at the time of his discharge.
After Boxing and the War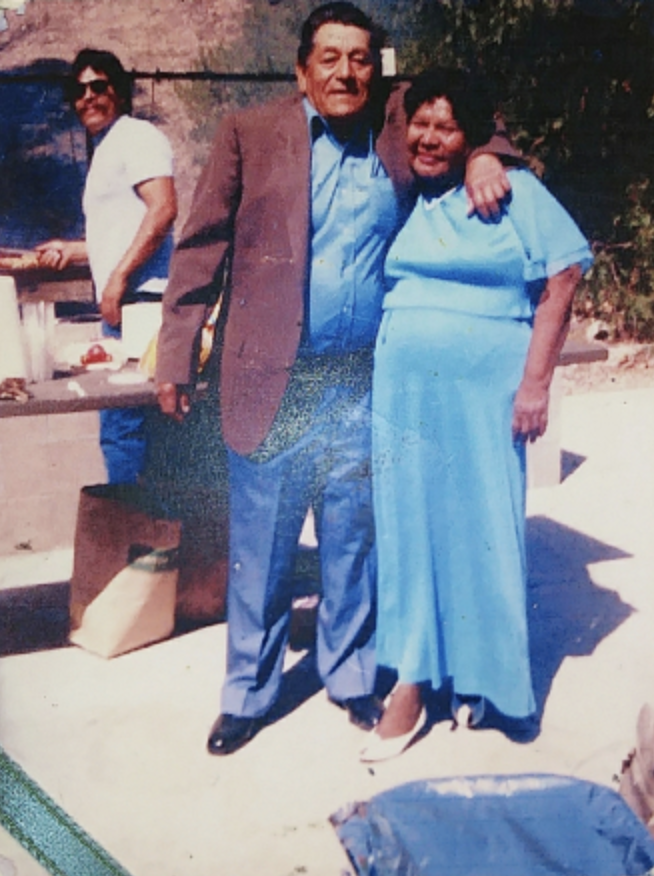 Escobar was unable to meet weight requirements for the bantamweight division after the war, and never returned to boxing. He entered the liquor industry as a spokesman and salesman. He also promoted boxing events from time to time. Madison Square Garden's Boxing Hall of Fame inducted him in 1950. In part because of the requirements of his job, Escobar developed alcoholism. This combined with his diabetes and led to his death at the age of 66, in November 1979. Escobar died and was interred in his hometown of Barceloneta. He was honored by the town with a statue, the first boxing champion to receive this honor. He was later inducted into the International Boxing Hall of Fame in 2002, and a second statue was erected in remembrance of him in 2005: this one at the Estadio Sixto Escobar named for him in San Juan. The house in which he lived has been converted into a library and museum bearing his name.
Together We Served recognizes the great achievements of one of Puerto Rico's first sporting heroes, and his service to his country during its time of need. Never losing by knockout, he was stalwart in sport as well as in war.