Clark Gable, of the U.S. Army Air Forces between 1942 and 1947, is best known as the 'King of Hollywood', the womanizing man's man with a filmography of over 60 productions. However, he had a passion for flying combat missions and defied death in World War II. Born William Clark Gable in 1901, his father Will was an oil-well driller living in Cadiz, Ohio. Baptized Catholic, his mother Adeline died when he was just ten months old, and his father refused to raise him in the faith. Gable's father remarried in 1903, and he was raised by his stepmother Jennie. She taught him the piano, and Will taught him to repair automobiles and hunt. Young Clark also developed a taste for literature, and would recite Shakespeare.

Gable's Childhood and First Marriage
Gable was inspired to become an actor at 17 after seeing the play The Bird of Paradise. However, he worked with his father in Oklahoma in the oil industry, his stepmother had passed away. At the age of 21, Gable received an inheritance from his mother's family of $300, and he used this money to travel to the Pacific Northwest, where he toured with stock companies, did odd jobs, and eventually arrived in Portland, Oregon, where he sold ties in a department store.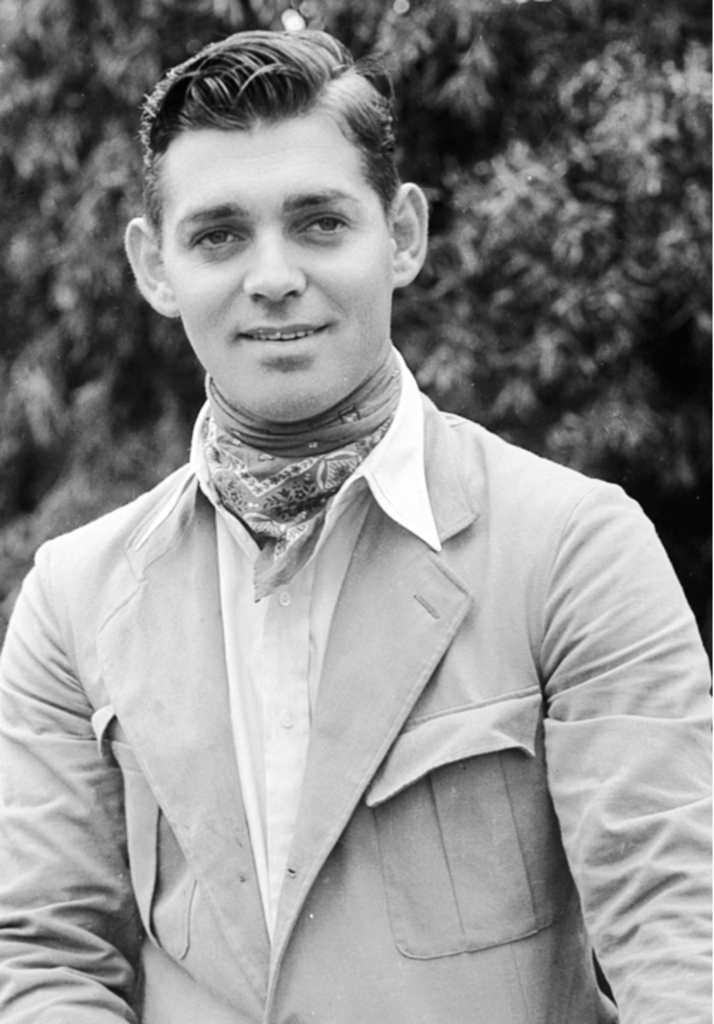 After a stint with the Astoria Players, a theater troupe based out of nearby Astoria, Gable received drama lessons and styling from theater manager Josephine Dillon. In 1924, the two of them married and moved to Hollywood, California. Gable was 23 years old; Dillon, 40. He began appearing in silent films. His first credit was White Man (1924), though he only had extra roles initially. Taking up stage acting again, he became friends with Lionel Barrymore, who encouraged him to improve his acting skills. He gained success as a stage actor in Houston, Texas, with the Laskin Bros Stock Company, and later moved to New York City, where Dillon was able to get him work on Broadway. He got good reviews for his part in Machinal in 1928. Sadly, he and Dillon divorced in 1930, and days later Gable married the Texas socialite Maria Franklin Prentiss Lucas Langham, also known as 'Ria'.
Gable's Big Break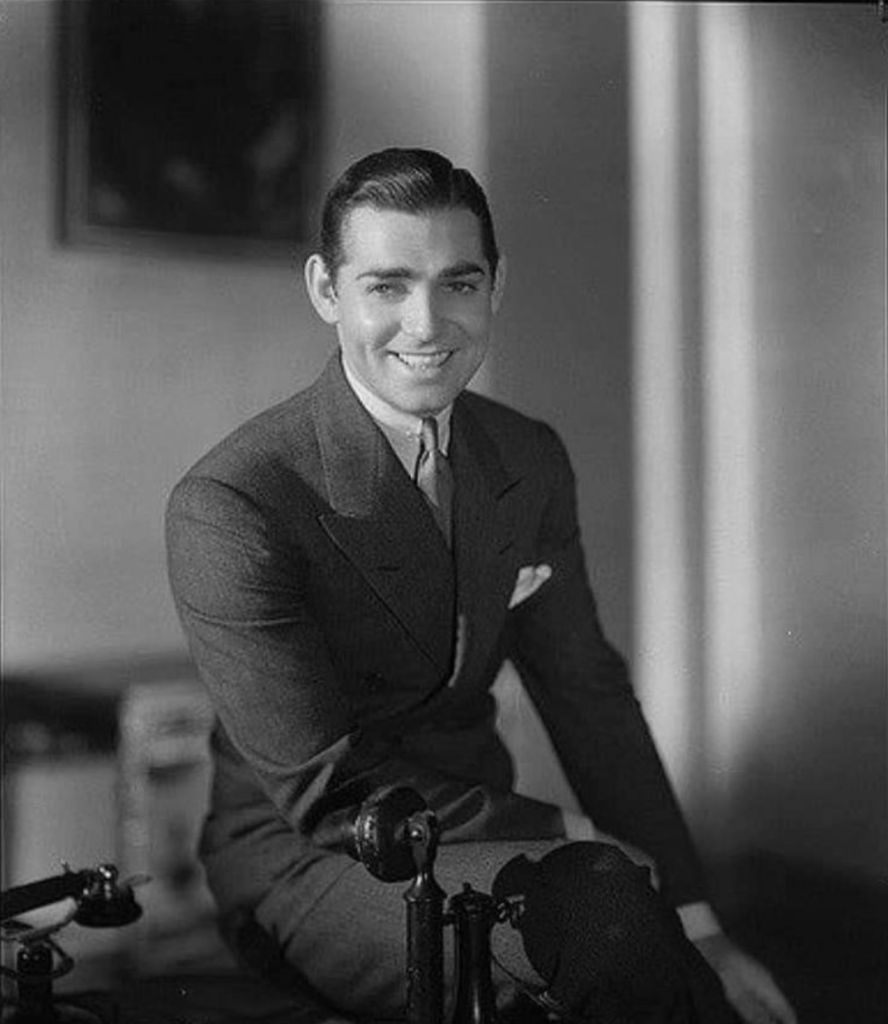 Returning to Los Angeles as a theater actor in The Last Mile, Gable landed a contract with Pathe Pictures, playing the villain in The Painted Desert (1931). The same year he worked for Warner Bros, eventually getting signed by MGM. In 1931 he started receiving billing for his roles, notably getting second billing in Hell Divers (1932). Perhaps a portent of things to come, the film was about aviation officers. Joan Crawford asked for Gable by name to be her co-star in Dance, Fools, Dance (1931). This may have been due to their previous work together as extras on the silent film The Merry Widow (1925). They subsequently played opposite each other in seven more films:
Possessed (1931)
Laughing Sinners (1931)
Dancing Lady (1933)
Chained (1934)
Forsaking All Others (1934)
Love On The Run (1936)
Strange Cargo (1940)
Gable also starred opposite Myrna Loy in seven motion pictures, Jean Harlow in six, and Lana Turner in four. This period was Gable's most successful, and the zenith of his career is thought to be either when he won the Academy Award for Best Actor in It Happened One Night (1934), or when he played Rhett Butler in Gone With The Wind (1939), a film nominated for 12 Academy Awards, including his own nomination for Best Actor. Though he did not personally win an award, the film set a record for Academy Award wins.
Clark Gable's Military Career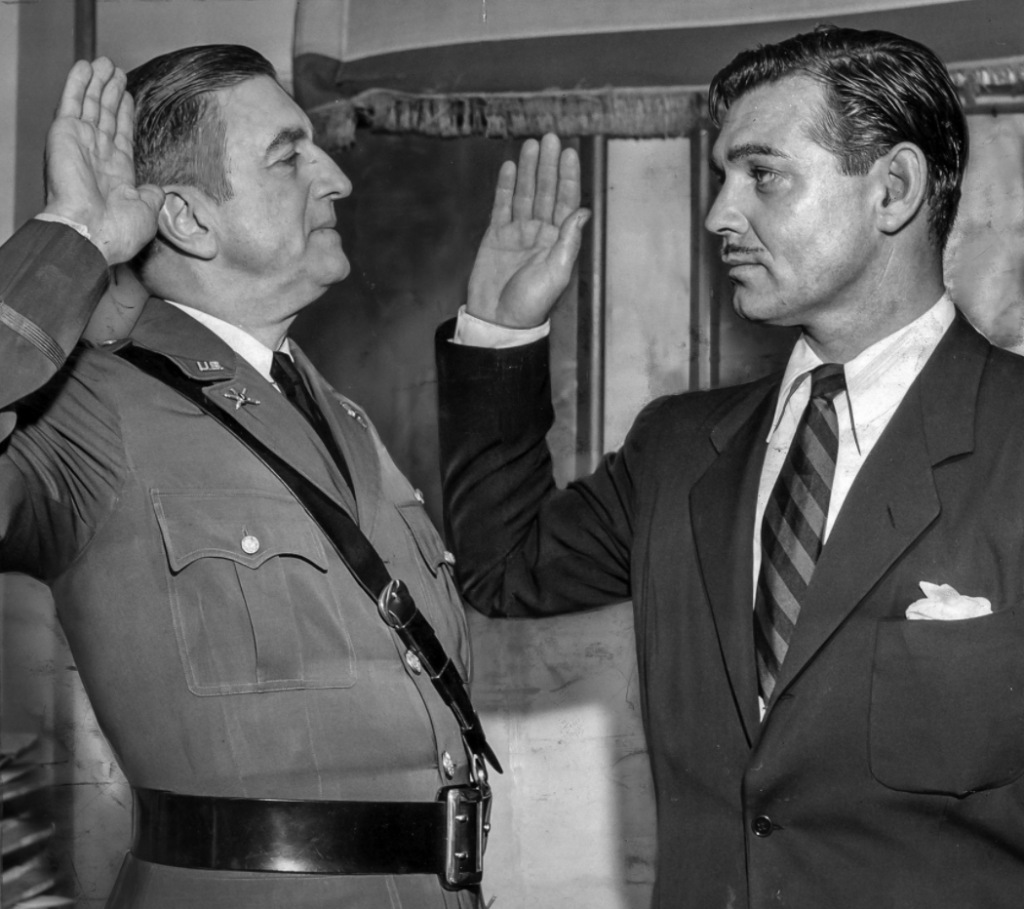 With his sizable payday from the most successful motion picture of the year, Gable was able to finalize his second divorce in 1939 and marry his third wife, Carol Lombard. They met during filming of the 1932 film No Man Of Her Own, though a romance did not begin until 1936, when they were reacquainted at a party. Gable was extremely happy, but the marriage was cut tragically short as war broke out. In December 1941, after Pearl Harbor was bombed, many Hollywood stars signed up to serve in the United States military or otherwise support the war effort. Lombard began promoting war bonds around the country. However, in January 1942 the plane she was a passenger on crashed near Las Vegas, Nevada, killing all aboard. Gable recovered the bodies of his wife, best man, and mother-in-law. Grieving, Gable ceased work on the war film Somewhere I'll Find You (1942) for a month, and lost 20 pounds. Once the film wrapped, Gable signed up for the US Army Air Force, following fellow screen star Jimmy Stewart.
In August 1942 Gable and his friend and colleague, cinematographer Andrew McIntyre, entered officer candidate school. Both received commissions as second lieutenants when they completed training in October of that year. Despite only ranking around 700th in a class of over 2,600, Gable was selected to be graduation speaker. General Arnold gave him a special mission to create a recruitment film in combat with the Eighth Air Force, for aerial gunners. They underwent gunnery training and photography courses, and were promoted to first lieutenants on completion. In January 1943, Gable reported to Biggs Army Airfield, Texas, to train with and accompany the 351st Bomb Group to the UK. After recruiting his six-man motion picture unit, he was promoted to Captain.
In the UK, Gable flew five combat missions, earning the Air Medal and the Distinguished Flying Cross. Members of his crew were killed and wounded, and Gable took flak to his boot, narrowly missing his head. This would certainly have angered the enemy leader, who was ironically a big fan of the movie star's work, in particular Gone With The Wind. Gable was called out by name in at least one Nazi radio propaganda broadcast, letting the Allies know Germany was aware of his arrival in the UK. Adolf Hitler allegedly offered a huge bounty for anyone who brought Clark Gable to him unharmed. Gable returned to the States to work on the film in November 1943, and in June 1944 was promoted again, this time to Major.
Clark Gable and His WW2 Death Wish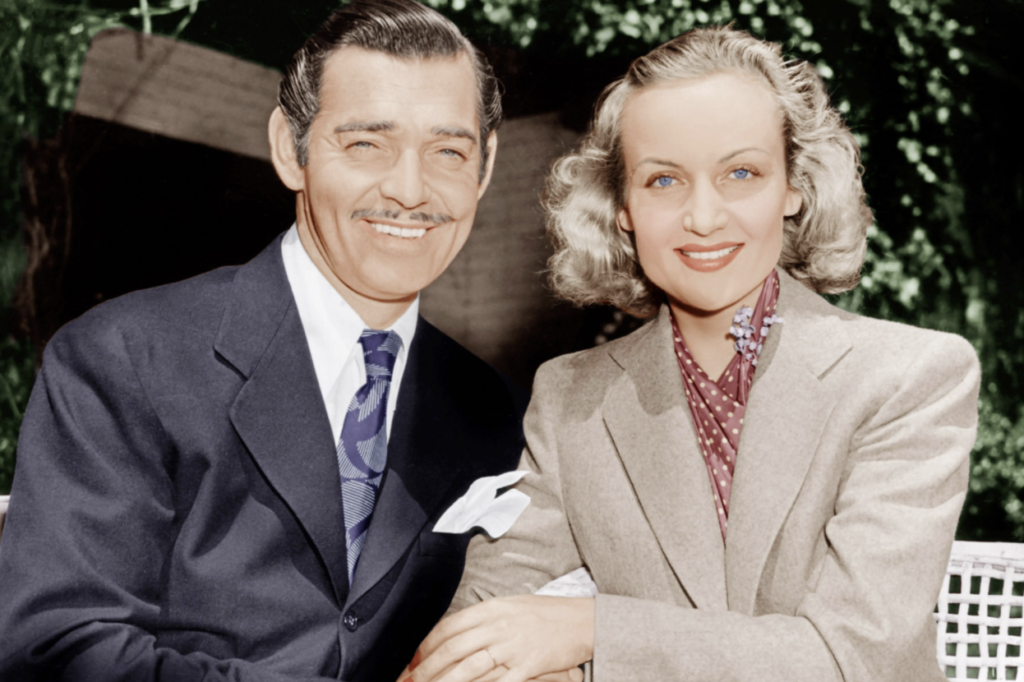 Gable was still struggling with the grief of losing his wife Carol. The two had fought over a possible infidelity (one of his many infidelities) around the time she left to promote war bonds, and though they had made up through communications afterward, her death haunted him. He wore a locket containing what were thought to be shards of her jewelry and strands of her hair recovered from the crash site. Knowing of Hitler's desire to capture him, he confided in friends that if a plane he was in was shot down over Germany, he would prefer to die than bail out.
After coming back to the US to work on recruitment videos, he was informed that since recruitment was up for aerial gunners, his footage was surplus to requirements. Gable used the footage to make several short training videos for B-17 personnel, though they were mired in Pentagon bureaucracy and did not make it into regular rotation before the war's end. Gable hoped to be assigned to the Pacific theater in order to get back into combat (and away from the European theater where he might prove a liability), but was passed over. It is thought that studio pressure to keep one of Hollywood's most bankable assets out of jeopardy was at play. In June 1944, shortly after D-Day, Gable resigned his commission. Captain Ronald Reagan was the officer to discharge him. Gable received the following medals for his service:
The Famous Veteran Clark Gable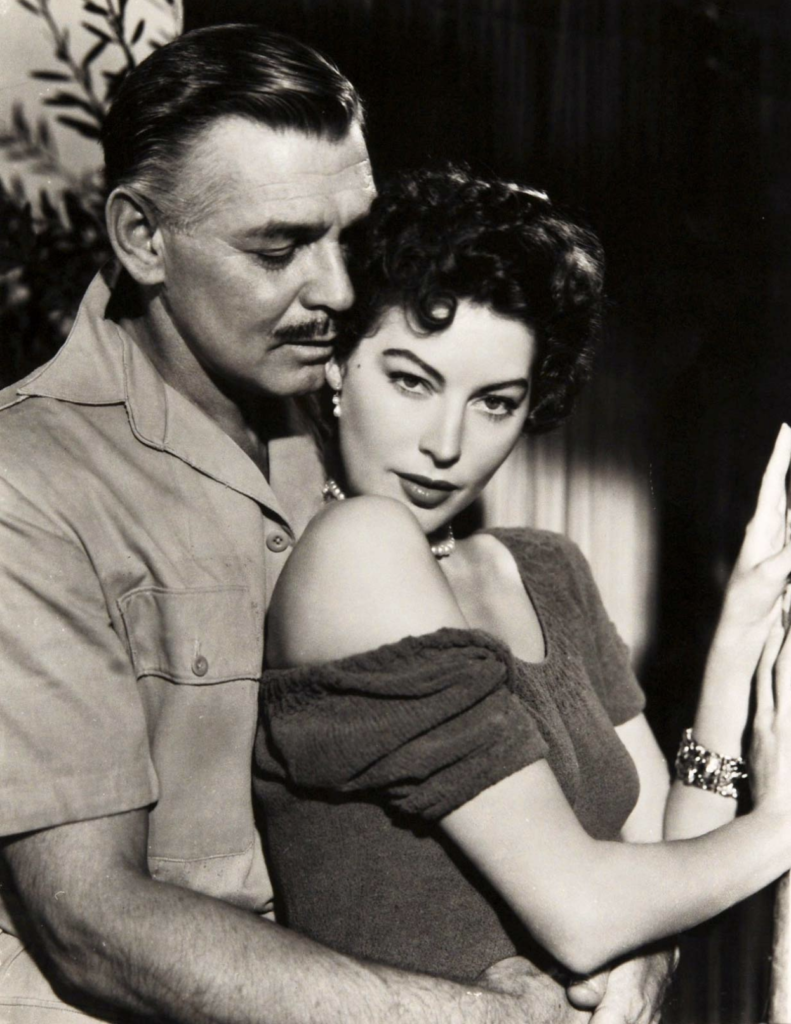 Gable returned to Hollywood to resume his acting career, but between his personal losses and the horrors of war, he was not able to rekindle the same caliber of box office magic that lit up the '30s. The first film he made on returning was Adventure (1945), a crowdpleaser but a critical failure. A series of films followed, many of which were successful but with caveats: a very expensive cast that lost money for the studio, popular with audiences but not critics, or vice versa. In 1949, Gable married a fourth time, his latest wife Sylvia Ashley the model and actress. Gable had previously confided that he felt there was little he had left to offer a spouse, and he was right: the marriage fell apart and they divorced three years later. He grew unhappy with the environment at MGM, and jumped ship to 20th Century Fox after his biggest hit since the war, Mogambo (1953) and critically panned Betrayed (1954). In '55 Gable made two modestly successful films: Soldier of Fortune and The Tall Men, and married for the final time. Kay Spreckels, herself on her fourth marriage, brought a son with her: Bunker, a budding surfer. At 55, Gable tried producing and acting, forming a production company to make The King and Four Queens (1956), but felt it was too exhausting. His next project, Band of Angels (1957), featuring a young Sidney Poitier, was critically panned. Gable's contracts began stipulating that his work day ended at 5pm, citing his age. Working with Paramount for a spell, Gable went to Italy to film It Started In Naples (1960), and his weight ballooned to 230lbs. He also received a star on the Hollywood Walk of Fame the same year.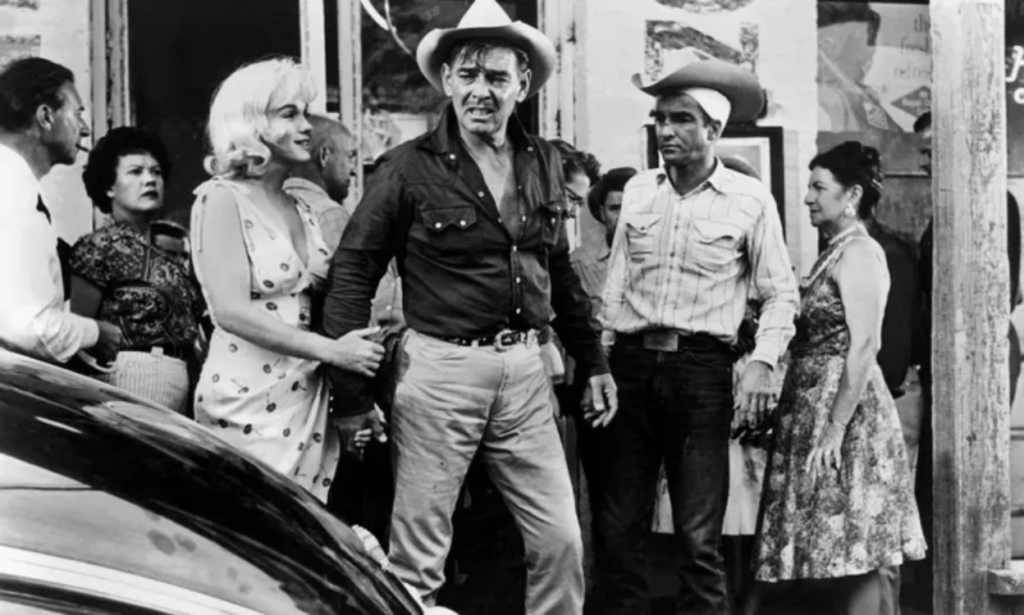 Despite concerns about his fitness, Gable starred in The Misfits (1961), alongside Marilyn Monroe. It was to be the last film both of them completed. In November 1960, Gable suffered a heart attack and was hospitalized. He died ten days after from a second heart attack, at the age of 59. His son, John Clark Gable, was born four months after his death: his only legitimate child. It later came out that Gable had fathered another child, Judy Lewis, with co-star Loretta Young. The infidelity occurred during the filming of Call of the Wild (1935) while Gable was married to Ria Langham. Sadly, evidence has come to light that Gable actually date-raped Young.
Gable left behind a complicated legacy. While he is undoubtedly one of the most famous film stars of the 20th century, and made some very high-profile contributions to the war effort during World War II, it is also true that his womanizing ways and multiple documented incidents of sexual harassment mean that it is vital to consider his alleged misdeeds soberly. Together We Served thanks Clark Gable for his service.
Interested in other celebrities who served? Together We Served has profiles of numerous other famous veterans.