Mel Brooks's Military Service
"Springtime for Hitler" is one of the songs that made Mel Brooks famous. But did you know that this prolific actor, comedian, composer, and filmmaker served in World War II as a young man?
Mel Brooks's Early Life
Mel Brooks was born Melvin James Kaminsky in 1926, the youngest of four boys. He grew up in Brooklyn, New York, in a Jewish family of modest means. When Brooks was two years old, his father passed away from kidney disease. Mel was raised by his mother and three older brothers: Irving, Lennie, and Bernie. It is often said that his father's untimely death fueled Brooks's comedy career.
Later in life, Brooks reflected on his father's death with these words: "there's an outrage there. I may be angry at God, or at the world, for that. And I'm sure a lot of my comedy is based on anger and hostility. Growing up in Williamsburg, I learned to clothe it in comedy to spare myself problems – like a punch in the face."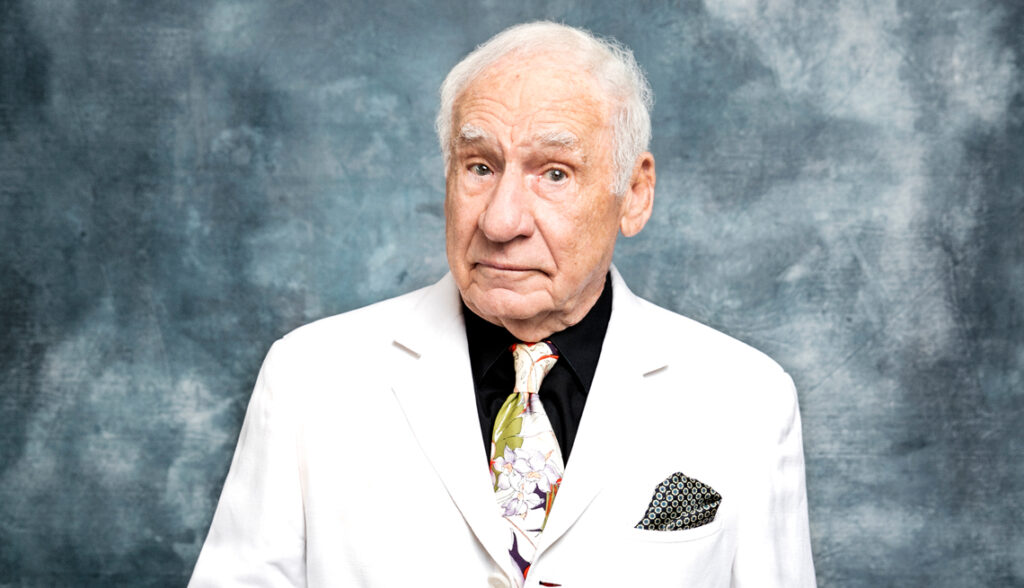 Brooks was a small, sickly boy, often teased by his classmates. A pivotal event of his childhood was going to see his first Broadway show with his uncle Joe. Young Mel saw Anything Goes with William Gaxton, Ethel Merman and Victor Moore at the Alvin Theater. After the show, Mel told his uncle that he was not going to work in the garment district – the typical path for his family's station in life – but "was absolutely going into show business."
His show business career started at age 14, with regular gigs as a pool tummler, or entertainer with silly and outlandish antics. In a Playboy interview, Brooks shared that one day he stood at the edge of a diving board wearing a large overcoat and two suitcases full of rocks and then announced: "Business is terrible! I can't go on!" before jumping, fully clothed into the pool. Mel also picked up employment as a drummer after Buddy Rich taught him how to play the drums. During his time as a drummer, Mel was given his first opportunity as a comedian at the age of 16, filling in for an ill MC.
During his teens, after being confused with trumpeter Max Kaminsky, Mel Kaminsky legally changed his name to Mel Brooks. The new last name was influenced by his mother's maiden name Brookman.
After graduating from Abraham Lincoln High School in Brooklyn, Brooks spent a year studying psychology at Brooklyn College before being drafted by the army.
Draft and Service in World War II
In 1944, Mel Brooks, along with thousands of other young men of his age, was drafted into the Army. Due to his high scores on his military entrance exam, Brooks was placed in the Army Specialized Training Program at Virginia Military Institute, where he learned combat engineering. Twelve weeks later, he was sent to basic training at Fort Sill, Oklahoma. In November 1944, Brooks was sent to France and then Belgium, serving as a forward artillery observer with the 78th Infantry Division. A short time later, he was transferred to the 1104th Engineer Combat Group, participating in the Battle of the Bulge, which lasted from December 16, 1944 to January 25, 1945. This was a major counteroffensive battle against Germany on the Western Front which cost thousands of lives on all sides. As a forward artillery observer, Brooks served at the forward edge of the battle areas, helping to clear German land mines. On five occasions, Brooks's unit had to fight as infantry and suffered casualties doing so. As the Allies advanced into Germany, Brooks's unit was the first to construct a bridge over the Roer River, and later over the Rhine River.
By April 1945, Brooks's unit was conducting reconnaissance missions in the Harz Mountains of northern Germany. Days later, the war ended. In May 1945, Brooks recalled seeing starving Jewish refugees who had escaped the concentration camps. Brooks said this left an indelible impression on him, particularly as he is Jewish. He said he felt lucky to be an American. A short time later, Brooks was honorably discharged from the Army as a corporal.
The Comedy of War: Mel Brooks's Quotes About His Military Service
Always a comedian and performer, Brooks's memories of the war are laced with his unmistakable brand of humor.
Regarding his training, he quipped: "I was a Combat Engineer. Isn't that ridiculous? The two things I hate most in the world are combat and engineering."

Though the possibility of death was ever-present during his military service, Brooks would later say that he was as concerned about losing his hearing as he was about dying. "Too noisy. Could not take the noise. All through the war, two cigarette butts stuck in my ears. Couldn't read, couldn't think, couldn't even make a phone call," he told Playboy in an interview.

Of his experience at the Battle of the Bulge, Brooks said: "Suddenly, all around us, Waauhwaauhwaauh! Sirens! Tiger tanks! We're surrounded by Germans. It's the Battle of the Bulge!"

One day, he recalled for PBS documentary Mel Brooks: Make a Noise, Nazi troops were close enough that he could hear soldiers singing a song in German. Brooks found a large bullhorn and decided to sing to them. "So I sang 'Toot-toot-tootsie, goodbye,'" he bellowed, imitating the voice of singer Al Jolson. When he finished his impromptu performance, Brooks heard applause coming from the German encampment. "They really liked it," he said. "I think I could have ended the war right then and there, but General Patton or somebody kept going."

"My liveliness is based on an incredible fear of death. In order to keep death at bay, I do a lot of 'Yah! Yah! Yah!' And death says, 'All right. He's too noisy and busy. I'll wait for someone who's sitting quietly, half asleep.'
Brooks's Career Takes Off After World War II
After the war ended in 1945, Brooks worked in a series of nightclubs until his friend, Sid Caesar gave him his first break in 1949. Caesar had initially hired Mel to write jokes for the NBC series The Admiral Broadway Review. Brooks's big break came to fruition when he teamed up with the late Carl Reiner, a famous film director, writer, actor, comedian, to create the 2000 Year Old Man. This famous act, along with Mel Brooks creating the famous James Bond – spoofing comedy series, Get Smart (1965-1970), solidified his name in the 1960s comedy circuit.
In middle age, Brooks became one of the most successful film directors of the 1970s, with many of his films being among the top 10 moneymakers of the year they were released. His best-known films include The Producers (1967), The Twelve Chairs (1970), Blazing Saddles (1974), Young Frankenstein (1974), Silent Movie (1976), High Anxiety (1977), History of the World, Part I (1981), Spaceballs (1987), and Robin Hood: Men in Tights (1993). A musical adaptation of his first film, The Producers, ran on Broadway from 2001 to 2007 and was remade into a musical film in 2005.
Brooks's Family Life
Brooks was married to Florence Baum, a Broadway dancer, from 1953 until their divorce in 1962. They had three children: Stephanie, Nicky, and Eddie. Brooks later married actress Anne Bancroft in 1964, and they remained together until her death in 2005. They met at a rehearsal for the Perry Como Variety Show in 1961 and were married three years later on August 5, 1964. Their son, Max Brooks, was born in 1972.
In 2010, Brooks credited Bancroft as "the guiding force" behind his involvement in developing The Producers and Young Frankenstein for the musical theater, saying of an early meeting with her: "From that day, until her death … we were glued together."
Fighting Hitler With Humor
Long after his military service ended, Brooks got one last "shot" at Hitler when he directed the 1968 film The Producers, which had a satirical take on Adolph Hitler. While The Producers earned him an Academy Award for best original screenplay, the film also generated some backlash. Brooks's critics saw it as a glorification of Hitler. The humor in seeing one of this history's most cruel dictators prance around stage was not appreciated by all audiences. "Every rabbi in the world sent me a letter," Brooks recalls. He famously answered: "Listen, get on a soapbox with Hitler, you're gonna lose — he was a great orator. But if you can make fun of him, if you can have people laugh at him, you win."
When the screenplay was adapted for the stage in 2001, it became an instant Broadway hit Starring Nathan Lane and Matthew Broderick. The Producers won 12 out of its 15 Tony Awards nominations. And again, the question of how much and what kind of fun it's permissible to have with Nazis came up. In light of a fresh wave of neo-nazism, some critics were concerned about "celebrating" Hiler with one of the show's hit songs, Springtime for Hitler, and some groups even boycotted the show.
Brooks' position on poking fun at Hitler on stage in the 2000s is no different than it was on screen in the 1960s. "If you stand on a soapbox and trade rhetoric with a dictator, you never win." In an NPR interview, Brooks discussed that his job is to "make terrible things entertaining.' Indeed, Brooks has made a career of poking fun at horrible things: Hitler, racial prejudice, anti-Semitism.
Today, as an active 95-year old, Mel Brooks continues to work, lending his voice to animated movies such as Hotel Transylvania 2, Hotel Transylvania 3: Summer Vacation, and Toy Story 4. His voice also appears in the upcoming animated movie Blazing Samurai, which is loosely based on his classic movie from 1974, Blazing Saddles.
Over his 70 year career in film, theatre, and television Brooks has won an Academy Award, four Emmys, three Tony Awards, three Grammys, and has been nominated for six Golden Globes and one BAFTA Award. Mel Brooks is one of only sixteen people who have won an Emmy, Grammy, Oscar and Tony Award. That makes him a member of the exclusive EGOT " club."
TogetherWeServed salutes Mel Brooks's illustrious entertainment career and his service in the U.S. Army.
Famous Veterans and Celebrities Who Served In The Military
If you enjoyed reading this article about Mel Brooks's military service, we invite you to read about other celebrities who served on the TogetherWeServed blog. Our blog features great military stories, battlefield chronicles, military book reviews, and first-hand accounts of service as shared by U.S. veterans. TogetherWeServed is the largest online community of Veterans existing today and is a powerful Veteran locator. Find your military buddies, view historic boot camp photos, read service histories of veterans, build a printable military service plaque, or honor a veteran on TogetherWeServed.com today.