Elvis Presley: King of Rock-N-Roll, Army Veteran
American singer and actor Elvis Aaron Presley (January 8, 1935 – August 16, 1977), widely recognized as The King of Rock-N-Roll, is the celebrity whose military service is probably best known. He enlisted in the US army at the peak of his career, in 1958, when he was already world-famous and had wide success as a rockabilly and rock-n-roll singer also encompassing other genres, including gospel, blues, ballads, and pop music.
Elvis's Early Years and Birth of the Star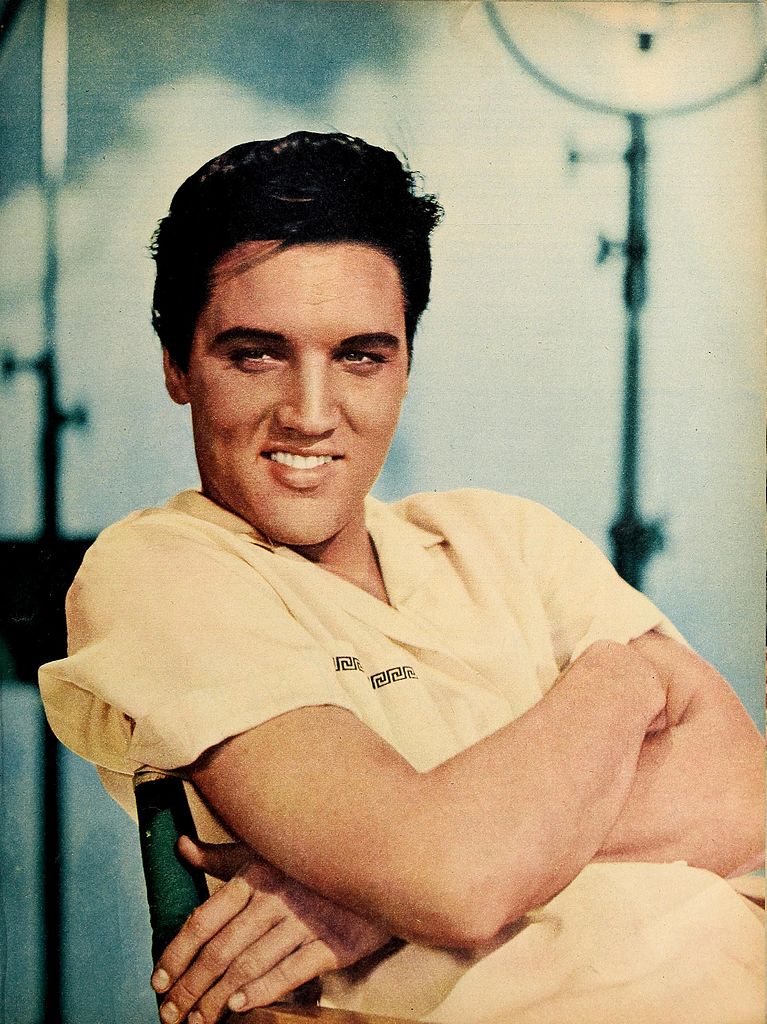 Elvis Aaron Presley was born on January 8, 1935, in Tupelo, Mississippi. He was a twin, but his brother was stillborn. Elvis had a strong bond with his parents, especially with his mother Gladys. His father Vernon was doing odd jobs, and the family often depended on the goodwill of neighbors or government food support. Elvis was an average student at best, but impressed the teachers with his singing. One of the teachers encouraged him to enter a singing contest, which turned out to be Elvis's first public appearance at the age of 10. He sang Old Shep, a country song, and placed fifth. A few months later Gladys bought Elvis his first guitar and by the time Elvis entered the seventh grade, he was bringing that guitar to school with him most every day.
The family relocated to Memphis, Tennessee in 1948, when Elvis was 13 years old. Elvis never received formal music training, he couldn't read or write music, and he studied and played by ear. While at school, Elvis and four other friends formed a loose musical collective and played frequently at their public housing complex. Presley's earliest musical influence came from gospel, and later from country, blues and rhythm and blues. He loved and was inspired by many of the local African-American musicians. However, he was quite shy and didn't perform outside of his housing complex. It all changed when he overcame his fear and competed in the annual Minstrel show in April 1953. "It was amazing how popular he became at school after that", the singer recalled later. When he graduated in June of the same year, he knew he wanted to make music his future.
After graduating from high school, Elvis took odd jobs working as a movie theater usher and a truck driver. At the same time he began singing locally as "The Hillbilly Cat", and his music career began there in 1954, with the recording at Sun Records with producer Sam Phillips, who wanted to bring the sound of African-American music to a wider audience.
In 1955, Presley began to develop a following with fans who were drawn by his unusual musical style, provocative hips, and good looks.
A year later RCA Victor acquired his contract. It was a deal arranged by Colonel Tom Parker, who would manage Elvis Presley for more than two decades. Presley's single "Heartbreak Hotel" was released in 1956 and became a number-one hit in the United States. Within a year, RCA would sell ten million Presley singles. He also signed a movie contract with Paramount Pictures, and became a popular guest on a number of television variety shows.
And then, to the huge surprise of his fans, in 1958 at the peak of his career, Elvis Presley enlisted in the army. Couldn't he get away from the military service?
Elvis Presley Enlists in the Army
It is often said that Elvis Presley was never planning to dodge his military duty. Under the draft system of that time, all young American men of good health were required to register for the U.S. Selective Service System at 18. They were expected to be available to serve in the military for two years of active duty and then four years in the reserves. Just 11 days after his 18th birthday, Elvis Presley fulfilled his patriotic responsibility and filed his draft card on January 19, 1953. He subsequently went for a pre-induction physical on January 4, 1957, to determine his status. "I'm kind of proud of it," Presley said when asked about his decision, according to The Arizona Daily Star. "It's a duty I've got to fill and I'm going to do it."
Elvis was quite worried that the two-year break could negatively influence his career, but his manager Colonel Tom Parker had a different view. Elvis's rock-n-roll music outraged a lot of Americans and created a lot of negative publicity. Military service was an opportunity to shine a spotlight on Elvis's "All-American values," in contrast to the "vulgarity" and "animalism" ascribed to his music by the Catholic Church and many other critics.
On the other hand, National Archives Prologue Magazine states that Elvis's induction created a public relations headache. Bereft fans wrote to the President, the draft board, and anyone else who they thought could bring their idol back home. The following letter to First Lady Mamie Eisenhower was forwarded to the Army:
Dear Mamie,
Will you please please be so sweet and kind as to ask Ike to please bring Elvis Presley back to us from the Army. We need him in our entertainment world to make us all laugh. The theatres need him to help fill their many empty seats. . . . Also did you know Elvis has been paying $500,000 in income taxes. We feel the huge taxes he has been paying could help our defense effort far more than his stay in the Army. Please ask Ike to bring Elvis back to us soon.
Various branches of the armed services offered Elvis appealing jobs. The Navy suggested creating an "Elvis Presley company" composed of his friends from Memphis; the Air Force wanted to use him as a recruiting model, and the Army offered to have him only play concerts for the troops.
Elvis Presley had a chance to enlist in Special Services to entertain the troops and live in priority housing, but his manager Colonel Tom Parker didn't enjoy the idea of Presley entertaining "uncle Sam" for free. He persuaded Elvis that serving as a regular soldier would change the view of Americans of him for the better and that he would return a bigger star. Indeed, many parents, teachers, and religious leaders welcomed his draft. His service earned him the respect of many of his fellow soldiers and people back home who previously had viewed him in a negative light.
At the press conference organized by the army before he left West Germany, Presley was asked about his decision to serve as a regular soldier instead of as part of the service club. He said, "I was in a funny position. Actually, that's the only way it could be. People were expecting me to mess up, to goof up in one way or another. They thought I couldn't take it and so forth, and I was determined to go to any limits to prove otherwise, not only to the people who were wondering, but to myself".
Elvis at Fort Hood
Presley was originally scheduled to be inducted on January 20, 1958. However, due to commitments at Paramount and the filming schedule of his latest film, King Creole, Presley had to personally write to the Memphis Draft Board to request a deferment.
According to the Graceland, Museum of Elvis Presley in Memphis, TN, Elvis was inducted into the United States Army at the Memphis Draft Board on March 24, 1958. The next day, at Fort Chaffee, Arkansas, he received his indoctrination exam and traditional, military, G.I. haircut in front of 55 media photographers.
Elvis received basic training at Fort Hood, Texas, and was stationed there for six months. He was assigned to Company A of the Third Armored Division's 1st Medium Tank Battalion. Publicly he enjoyed the training, but his friends reported that he didn't like it at all, was very homesick, and was very worried that his career would come to an end.
On his first leave in summer, he had his recording session, the last one before his discharge in 1960. His second leave was an emergency one – his mother Gladys died of cirrhosis in August. It hit him hard, as he was very close to his mother.
Private Presley in West Germany
From October 1 Elvis Presley was stationed in Friedberg, West Germany, for 18 months, being assigned to the 1st Medium Tank Battalion, 32nd Armor, 3rd Armored Division.
In his post-service press-conference, Elvis said about his time in West Germany, "I had quite a few interesting experiences: Slept out in the snow, ate through rations. I suppose the biggest thing is that I did make it. I tried to play it straight like everybody else. I made a lot of friends that I wouldn't have made otherwise. All in all, it's been a pretty good experience."
A May 1959 memorandum from the assistant deputy chief of staff for personnel puts a positive spin on Presley's presence in the military, suggesting that the Army's impartial treatment and Presley's dutiful service would help to inspire other young men: "Many teenagers who look up to and emulate Private First Class Presley will, to a varied degree, follow his example in the performance of their military service."
Serving as an Ordinary GI?
A lot of official sources say that Elvis Presley served as an ordinary G.I., but in reality, his life in West Germany was far from the ordinary. He was already an international star and could afford much more than other privates with their small salaries. First, Elvis lived off-base in Bad Nauheim with his father, his grandmother, and some friends from Memphis. Then, he hired a car and driver to chauffeur him back and forth between his home and the base each day – at least until he got his own Mercedes and a sporty BMW 507.
He still gave interviews, held press-conferences, took karate lessons in Paris, and enjoyed the attention of his European fans. The German Way & More says that his army assignments were often influenced by his fame. The one time Elvis was put on guard duty at Ray Barracks, he was so mobbed by fans, the "guard" had to be rescued! That was the end of his guard duty.
When he was not away on maneuvers, very often he would come home for lunch. Sometimes he would sign autographs in front of the house before coming in. In the evening, at 7:30 p.m. he would go out and sign autographs for fans until 8:00 p.m.
One hundred members of his division also got a taste of Elvis-mania when they participated as extras in the film G.I. Blues, made during his stay in Germany.
It was in West Germany, where he met his future wife, Priscilla Ann Beaulieu at his home party. He was 24, and she was 14, still at school. After an eight-year courtship he married her, and by who later had his only child, Lisa Marie Presley.
On January 20, 1960, Elvis Presly was promoted to Sergeant, received his sergeant's stripes on February 11, and less than a month later, on March 5, 1960, was officially discharged from active duty.
In his biography, Graceland Museum emphasizes that Elvis served his country just like any other G.I., with none of the special privileges his celebrity status might have afforded him; he was a model soldier, earning the lasting respect of his fellow soldiers and the public at large.
In 2018, Graceland celebrated the 60th anniversary of Elvis Presley's service with the exhibition of Private Presley.
Elvis's Career Soars After the Army
Not only did Presley's military service NOT put his career on hold, but on the contrary, it gave Elvis's stardom a new impetus. During his time in the army, his manager carefully planned the regular feeding of the public with material so that they didn't forget him. In fact, his popularity only rose, and he acquired new fans within the older generations who respected him for his military service. Colonel Tom Parker's plan proved smart and boosted Presley's fame.
After his return from military service in 1960, Presley continued to perform rock and roll. Most of the 1960s, Elvis devoted to making Hollywood films and soundtrack albums. He didn't perform live for seven years at all, but in 1968 he returned to the stage, had a series of very successful concerts in Las Vegas and then very profitable tours.
The United States Junior Chamber of Commerce (the Jaycees) named Elvis One of the Ten Outstanding Young Men of the Nation for 1970. This award has been given since 1938 and has honored men of achievement in all areas of endeavor – sports, government, science, medicine, entertainment, etc. The award ceremony on January 16, 1971, was one of Elvis' proudest moments.
Elvis Presley Notable Achievements
Released 24 studio albums
Recorded 17 soundtrack albums (original material)
Starred in 33 films
The total number of his original master recordings has been variously calculated as 665[457] and 711.[382]
During his "concert years" from 1969 to 1977, Elvis gave nearly 1,100 concert performances.
Sold over 500 million records worldwide
Holds the records for most songs charting in Billboard's top 40: 115
Holds the record for the most albums charting in the Billboard 200: 129
He holds the records for most gold albums: 10
Holds the record for most time spent at number one on the Billboard 200: 67 weeks
Received 14 Grammy nominations and won 3
Tragically, years of prescription drug abuse and unhealthy eating habits severely compromised Elvis's health, and he died in 1977 at his Graceland estate at the age of 42.
While Elvis had a short life, his legacy continues to live on. Not only did Elvis completely turn the music world upside down with his unique sound and high-energy performances, his music had an immense influence on other musicians, who would go on to further shape the sound of rock-n-roll. TogetherWeServed celebrates Elvis's musical journey and everlasting cultural legacy, as well as his military service.

Want to Learn About Famous Military Veterans?
If you enjoyed reading this article about Elvis Presley's military service, we invite you read our articles about other celebrities who served. Additionally, you will find battlefield chronicles, great military stories, military book reviews, and profiles in courage. If you are veteran, find your military buddies, view historic boot camp photos, read service histories of veterans, build a printable military service plaque, and more on TogetherWeServed.com today.