John Plaster (The Ultimate Sniper), a retired Army major, served three tours with the secretive "Studies and Observation Group," aka SOG, during the Vietnam War-a background he has put to good use in this authoritative and insightful look at the now-defunct commando unit. Plaster does much to illuminate both this frequently misunderstood group and its extraordinary participants. Made up entirely of volunteers, SOG tackled a wide range of vital and dangerous duties, including missions deep into enemy territory and rescues of downed American pilots.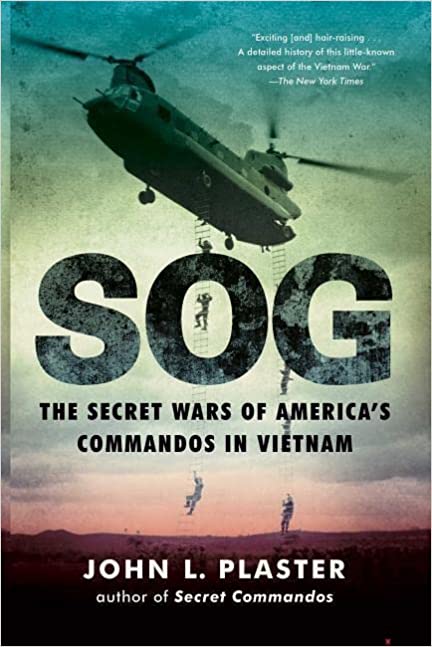 Special Forces veterans, in particular, will delight in the descriptions of America's old tribal allies, the Montagnards of Vietnam. Specialists in poison-arrow warfare, the primitive "'Yards," Plaster explains, were both fierce fighters and a constant source of wonderment to the Americans. Plaster reveals the core of the relationship between 'Yards and Yanks in a telling anecdote in which two Green Berets win over a village chieftain with the help of some pipes and two cans of Prince Albert tobacco.
Elsewhere, on a more somber note, Plaster sheds light on part of the ongoing mystery of POWs and MIAs in Southeast Asia. The secretive nature of SOG, he writes, was such that its members were accounted for via a "double bookkeeping" system. The method "proved so confounding that the Pentagon had understated casualties, a fact that became evident when families of MIAs demanded more information." A true insider's account, this eye-opening report will leave readers feeling as if they have been given a hot scoop on a highly classified project.
Readers Reviews on SOG
I've always enjoyed Plaster's work, but this is his best yet. I have read a lot about SOG simply because the stories of what they did are so mind-boggling. There are many good accounts of their missions by various authors, many of whom were participants like Plaster, but Plaster is the go-to guy for well-documented histories of SOG. This edition tops them all and contains a bunch of excellent information I've never seen elsewhere. It is hard to write an exhaustive history without being boring, but Plaster pulls it off in grand style. It pretty much covers SOG from start to finish yet reads like an action novel instead of a history.
I am sure all wars have their extraordinary heroes, but for my money, the heroes of SOG in all their forms and missions are the most insanely courageous bunch of warriors the U.S. fielded in Vietnam. Hats off to Major Plaster for first having the courage and skill and luck to run recon across the fences for two years and survive, and second for writing what I think is absolutely the best book ever on the subject.
~Border Corsair
I was a team leader with 1st Force Reconnaissance Company, USMC, in Vietnam (1968-69). Our long-range reconnaissance missions and operational methods were very akin to what SOG was then doing, although our patrols were conducted in areas that were within the geographic borders of South Vietnam. This book profiles the incredible courage, tenacity, and effectiveness of the warriors within one of the top fighting units in American military history. Force Recon Marines of my era have admiration and respect for the men of SOG, to include their Montagnard brothers.
~Recon Marine
I bought this book to read as I have taken an interest in other 20th century conflicts in addition to the two world wars.
Well, what an eye-opener. Major (Ret) Plaster is an incredible man who documents the experiences of daring special operations within Vietnam in a way that only a veteran could.
He takes you through the entire involvement in the war, from prior to major US involvement, throughout the main years of the US-led war effort and in the aftermath and the wind-down, in which SOG was still very active throughout.
He documents how this extraordinary band of men was the true meaning of "economy of force" by punching well above their weight and providing a return of losses in the region of NVA 250:1 SOG Trooper. He documents their incredible missions with tremendous detail to keep the reader interested and recounts how SOG pioneered many innovative and now regular special forces techniques such as HALO jumping insertion, Bright Light patrols, and certain psychological warfare deception techniques, etc.
He also portrayed to me, the fickle nature of the politicians, regularly downgrading or even failing to recognize the tremendous contribution of the average SOG soldier in this bitter campaign they waged simply because the missions were secret, not 100% by the book or similar poor excuses. It is similar to the constant failure of recognition of British troops in small cold war conflicts such as Oman in the '70s.
This book gives a good insight into special forces operations and the dark arts of cold war operations and how truly path-forging these operatives were with their unique ability to push boundaries and pioneer new techniques. It is noteworthy that some of the missions in this book were used as the basis for the Vietnam missions in the Call of Duty Black Ops game, a true testament to their daring nature!!
I highly recommend this book to anyone with even a casual interest in the Vietnam War, special forces development, or just military history – it has earned a rightful place on my shelf!!!
~A. R. Krantz
About the Author
John Plaster served three combat tours in the Vietnam War as a member of MACVSOG beginning in October 1968, leading intelligence – gathering and recon teams in North Vietnamese Army-controlled areas of Laos and Cambodia and along the Ho Chi Minh Trail. He was wounded once, and decorated four times, eventually receiving a field commission in recognition of his combat experience. Plaster's final tour with MACVSOG ended in November 1971. He retired from the military at the rank of Major.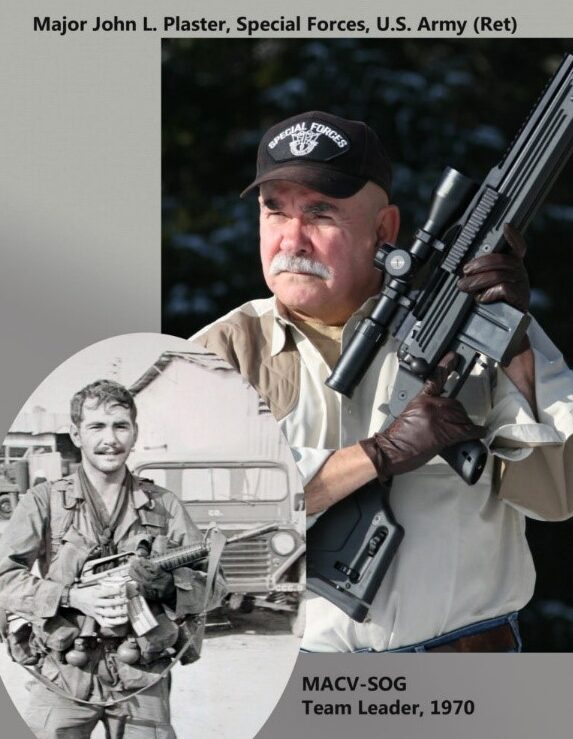 Plaster parlayed his military experience into becoming a sniping instructor to members of many U.S. government agencies such as the Federal Bureau of Investigation, the United States Customs Service, the United States Marshals, Navy SEALs, and the United States Marine Corps. Foreign units that have attended the school include the Royal Canadian Mounted Police and the Spanish Foreign Legion.
Since 1993, Plaster has been a precision rifle instructor at the Gun Site Training Center in Paulden, Arizona. He was recently Chief of Competition for Autauga Arms' U.S. and European sniping championships.