The Naval Mobile Construction Battalions are perhaps one of the most misunderstood military units across the armed forces. More commonly known as Seabees, these units are a reasonably new phenomenon with only eighty years of shared history. And surprisingly, this force has been redesignated multiple times to embrace the spirit of their mission and contend with political maneuvering among US Naval and Marine infrastructure. Moreover, as a support organization, the Seabees are typically not front-page news despite a multi-faceted mission commitment, including clandestine assignments and ongoing combat readiness, the very underpinning of their existence. Before WWII, civilian contractors were used for construction purposes in the Pacific, but under international law, civilians were prohibited from defending themselves in the event of hostile action. To resolve this, Rear Admiral Ben Moreell pursued authorization in December 1941 to create a specialized support unit for US Navy and Marine forces in remote and punishing environments. Initially titled United States Naval Construction Battalions (USNCB), these engineers seized on the abbreviation CB to create the Seabee moniker and official motto "Construimus Batuimus"- We Build, We Fight. And for Seabee Battalion 11 fight, they have performed with distinction from WWII through Iraq and Afghanistan.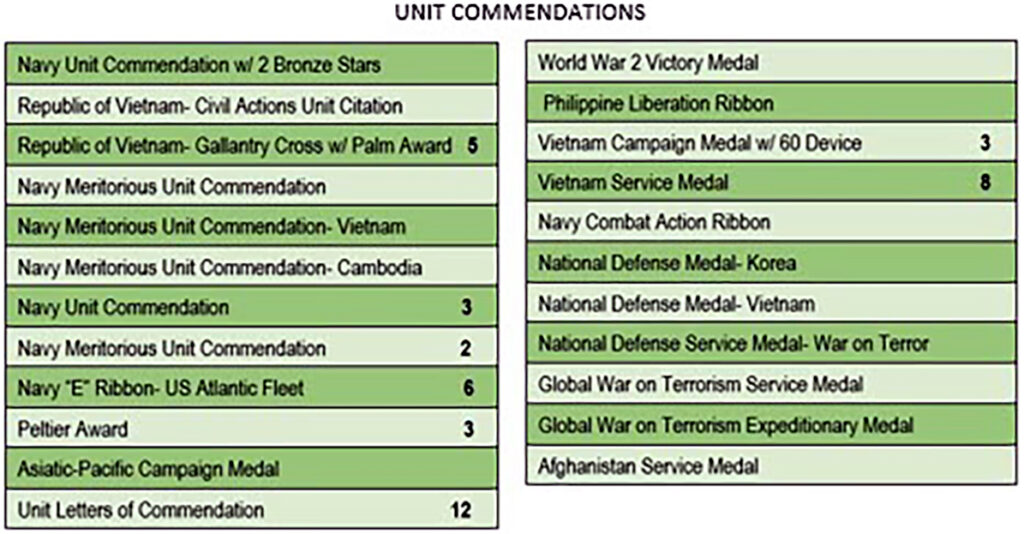 History of Naval Mobile Construction Battalion 11
From their inception, Seabee Battalions were activated in numerical succession, giving rise to Naval Construction Battalion 11 at Camp Allen, a Marine Corps Training Base in Norfolk, Virginia, on June 28, 1942. During WWII, the unit deployed to more than seven duty stations, including Samoa (10 months), New Caledonia (5 months), New Zealand (1 month), Banika (2.5 months), Los Negros (6 months), Port Hueneme (6 months), and Philippines (5 months). Across these venues, the 11th Battalion completed various construction projects, including Amphibious Training Center, Marine Railway, airfield, hospital, dam and reservoir, and three repair bases for landing craft, seaplanes, and fleet ships.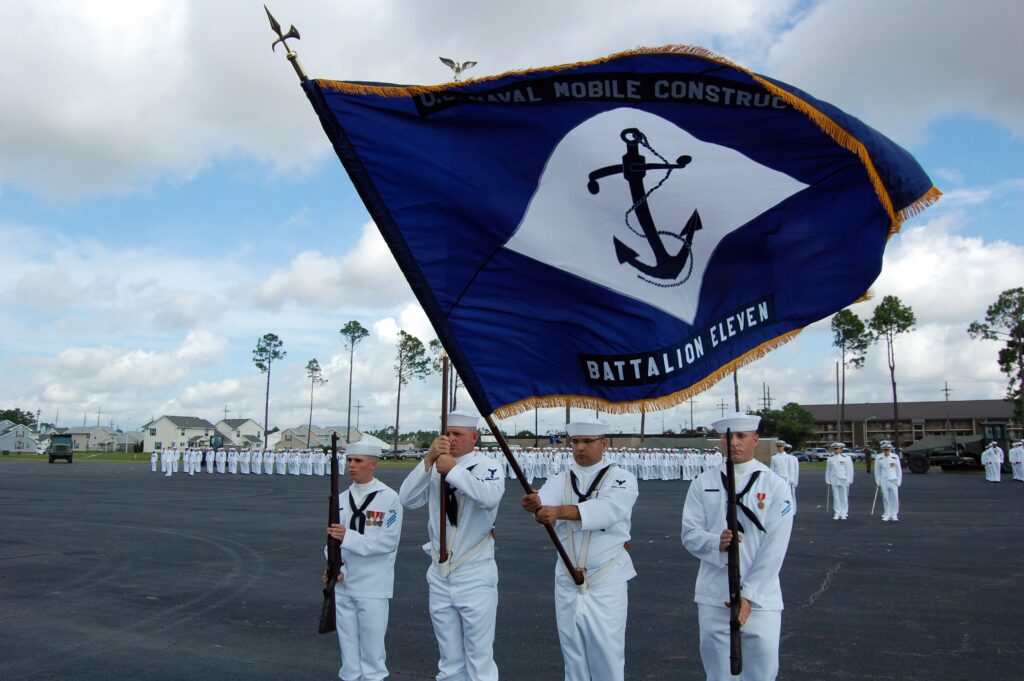 Actively supporting actions to retake Japanese-held islands, the Seabees periodically worked in combat conditions to complete their mission. The Admiralty Islands Campaign (Operation Brewer) was one such case, a series of battles in the broader New Guinea Campaign beginning with Los Negros, the third largest island in the chain. Reconnaissance advised McArthur the Japanese had evacuated the island, accelerating invasion timetables but staggering US forces to find quite the opposite when landings commenced. Following eighty days of vicious fighting, the US was able to declare victory.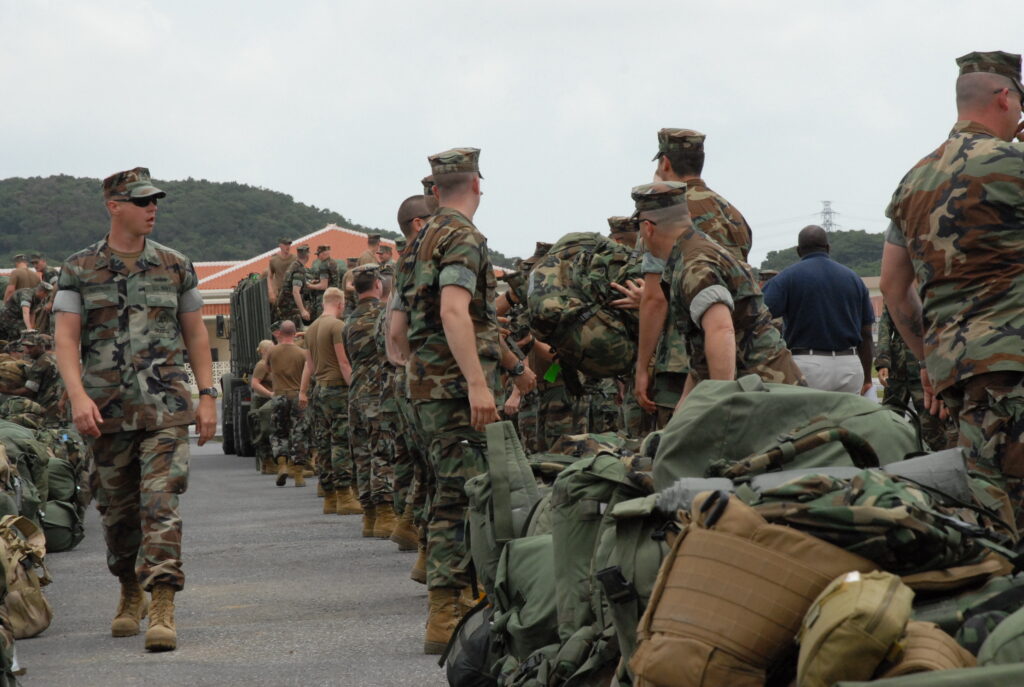 With the war over in 1945, Construction Battalion 11 was inactivated on December 1, 1945, at Subic Bay, Philippines. For their contributions to the war effort, the unit earned seven Unit Letters of Commendation, including Fleet Admiral William Halsey, a Brigadier General, Rear Admiral, Major General, and Navy Commodore. But, despite their accomplishments, for Mobile Construction Battalion 11, the greatest challenges were still ahead.
---

---
The 1950s presented new and novel issues raised by the Cold War and an eagerness for confrontation by the Superpowers. Manifesting as the Korean War from June 1950 to July 1953, UN forces then readied themselves for what would prove to be the longest and third most deadly war in US history- Vietnam. As a practical matter, the Vietnam War began a full ten years earlier than the political agenda acknowledged and commensurated with US troops placed in harm's way. Seabees were among the first Americans to deploy to Vietnam, with their first mission happening as early as 1955. They built refugee camps in the 1950s and sent Seabee Teams to work alongside the Green Berets and other advisors. But some of their most heroic exploits wouldn't come until they started building clandestine Special Forces camps deep in the jungles of Vietnam.

With the advancing need for experienced construction forces in Southeast Asia, Naval Mobile Construction Battalion 11 was reactivated in August 1953 at Port Hueneme, CA. However, the Battalion did not deploy to Korea and Instead returned to its last WWII duty station, Subic Bay, followed by other principle US interests (Midway, Guam, Okinawa, and Kwajalein). In the Philippines, the unit completed the removal of a mountain dubbed "the rock," expending some two million manhours to finish the project and enable the building of a 10,000-foot runway on the base. In doing so, NMCB 11 set a record for the number of piles driven in a single day. Then unexpectedly, in 1957, Seabee 11 was deployed to Adak, Alaska, to lead relief and recovery efforts from devastation created by a 9.1 magnitude earthquake and three days of 7.0+ aftershocks. Requiring six months duration, the Battalion then moved to Okinawa and other assignments. In late January 1965, the unit again made history when it redeployed to Okinawa, the first Mobile Construction Battalion to deploy by air. For its accomplishments, Seabee 11 earned the Battle Efficiency Award ("Battle E") for four out of five years.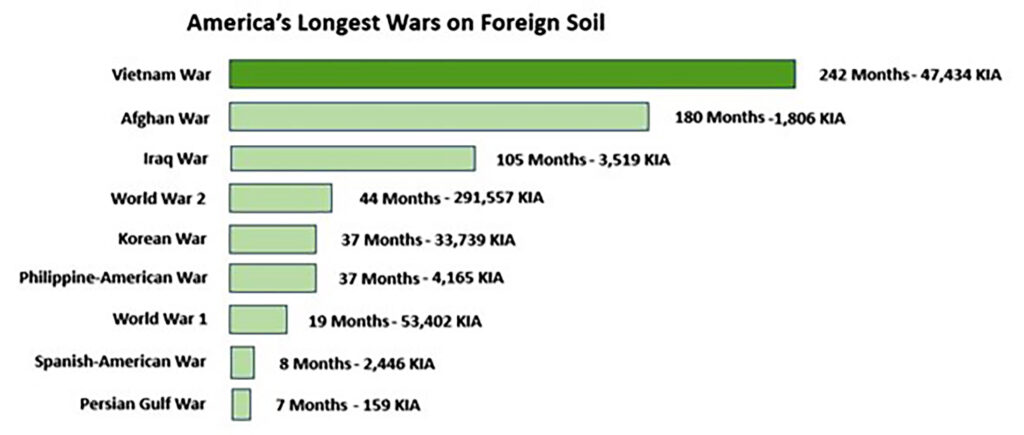 The Unit Was Reactivated as Mobile Construction Battalion 11
Seabee Technical Assistance Teams (STAT) with Secret Clearances were sent to Vietnam to assist the US Army's Special Forces in the CIA-funded Civilian Irregular Defense Group program (CIDG), including three teams from CB 11; 1103, 1104, and 1105. In February 1965, STAT 1104 was sent to Ben Soi, Vietnam, where they built a camp for US Special Forces. On the heels of this project, in June, Team 1104 was assigned the construction of another new camp at Dong Xoài, an assignment that would become military history. So, nine members of STAT 1104 departed Ben-Soi to join eleven men of the 5th Special Forces Group, A Team 342 at Đồng Xoài.

The camp at Đồng Xoài had two adjoining compounds; Green Berets, Seabees, and over two hundred Montagnards in one, and more than two hundred RVN Army in the other. Unforeseen, on the night of June 9, over two thousand Viet Cong attacked. During the ensuing battle, the combined Green Beret-Seabee force suffered three KIA and sixteen wounded, with nearly all RVN Army and Montagnards becoming casualties. In the melee Steelworker, 2nd Class William C. Hoover became the first Seabee to lose his life in Vietnam. Though already wounded twice, CM3 Marvin Glenn Shields carried a critically wounded soldier, Captain William N. Stokes III, to safety and then volunteered to carry ammo for 1st Lt Charles Q. Williams to assault a machine-gun position. Taking the position with deadly mortar fire, both men were wounded again while returning to their lines, proving fatal for Shields. The next day, nearly out of ammunition and under heavy fire, the survivors were extracted by three Hueys and a gunship from the 118th Aviation Company. In the confusion, LTJG Peterlin and EOC McCully were separated and left behind but survived the night and were awarded Silver Stars. For their actions, both Shields and Williams were awarded the Medal of Honor, while other team members all received Bronze Stars with V device for valor, and Seabee Team 1104 received the Navy Unit Commendation. The only Seabee to ever be awarded the Medal of Honor, Marvin Shields was posthumously awarded the Republic of Vietnam Gallantry Cross with Palm and the Military Merit Medal. For their part, the Seabees named their bases at Chu Lai, Vietnam, and Okinawa "Camp Shields" and their base in Da Nang for SW2 William Hoover.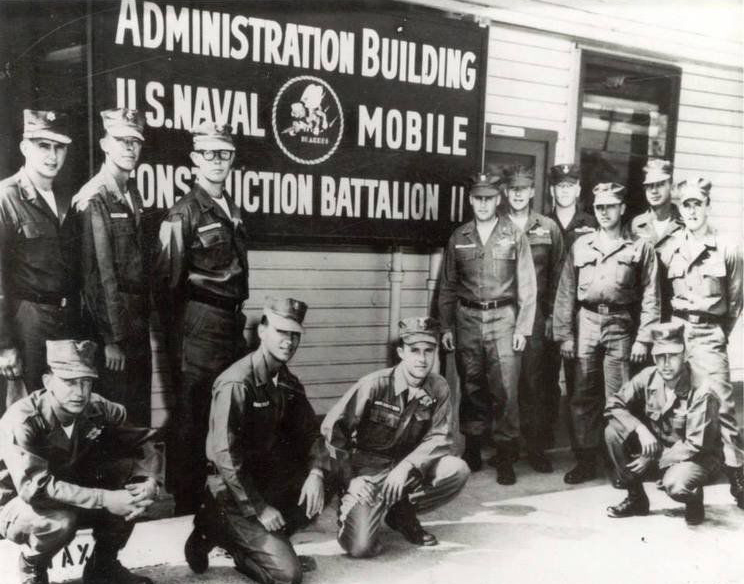 NMCB 11 Became the First Battalion Deployed into a Vietnam
In February 1966, NMCB 11 became the first Battalion deployed into a Vietnam combat zone on a C-141, arriving at Camp Adenir, Danang East. After landing, they undertook expansion of the Naval Hospital by constructing an x-ray building, fire station, generator building, Quonset-type wards, and roads. While under enemy sniper fire, CB 11's Seabees also built a Marine containment camp deep in hostile territory but would prove only the beginning of their commitment. Between 1967 and 1969, the "Lucky Eleventh" was deployed to Vietnam for four consecutive tours. During deployment in early summer 1967, the Battalion was exposed to the most severe combat since WWII, receiving 138 attacks involving rockets, ambushes, snipers, and mines, sustaining 64 WIA and 5 KIA. During this same deployment, an airfield was urgently needed at Quảng Trị. The project was designated top secret, Site "X," and was needed in under 45 days. To meet this timing, MCBs 1, 3, 4, 7, 11, 74, 121, and 133 all sent detachments of men and equipment. This provisional unit adopted the name "Ghost Battalion" and chose the Jolly Roger for the Battalion's colors. The project, first believed to be no problem, quickly presented an unexpected hurdle – half of the airfield contained 11,000 unmarked graves. With one week left to complete the assignment, the Seabees enlisted Vietnamese civilians to assist in removing the burials.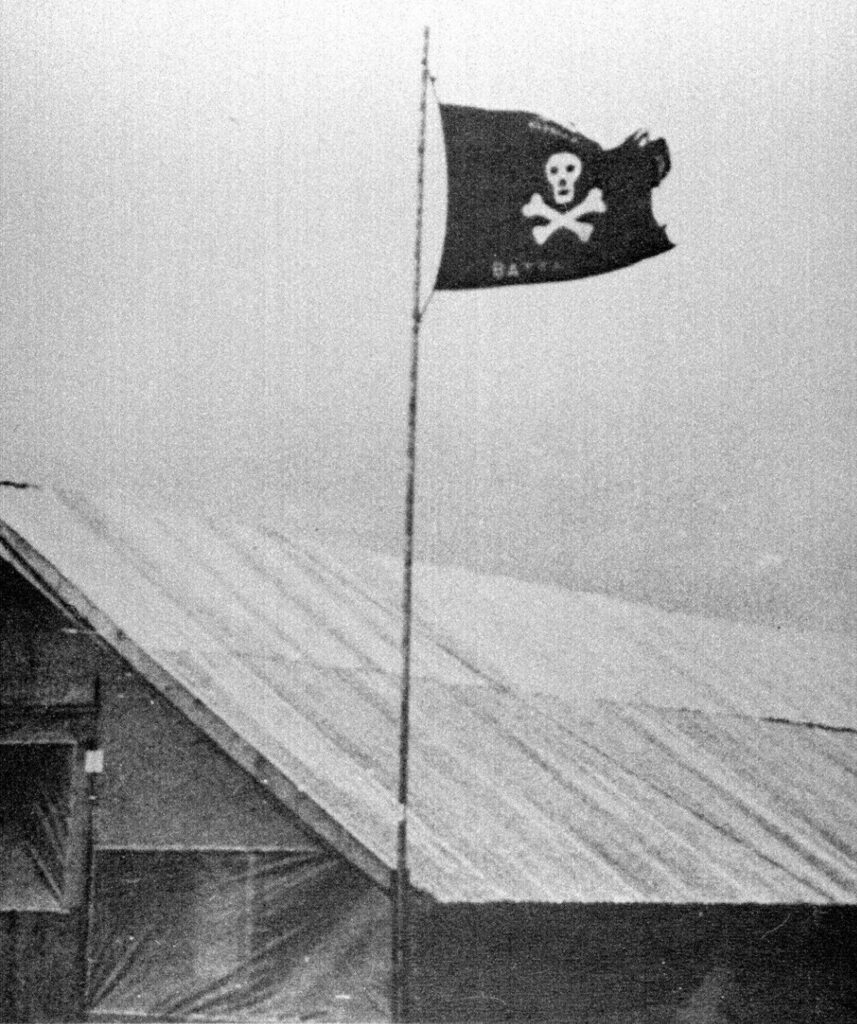 The second tour presented an opportunity for the 11th to have a meaningful impact on the quality of life in combat zones. Alongside new construction and repair of National Routes 1 and 9, the Battalion constructed 7.5 miles of new road and built four bridges spanning up to 392 feet in length. However, the unit's largest task was a Minimum Essential Requirements (MER) project geared to improving living conditions for combat units. Over a six-month period, CB 11 built over two thousand structures, reaching a total present-day cost of $90 million.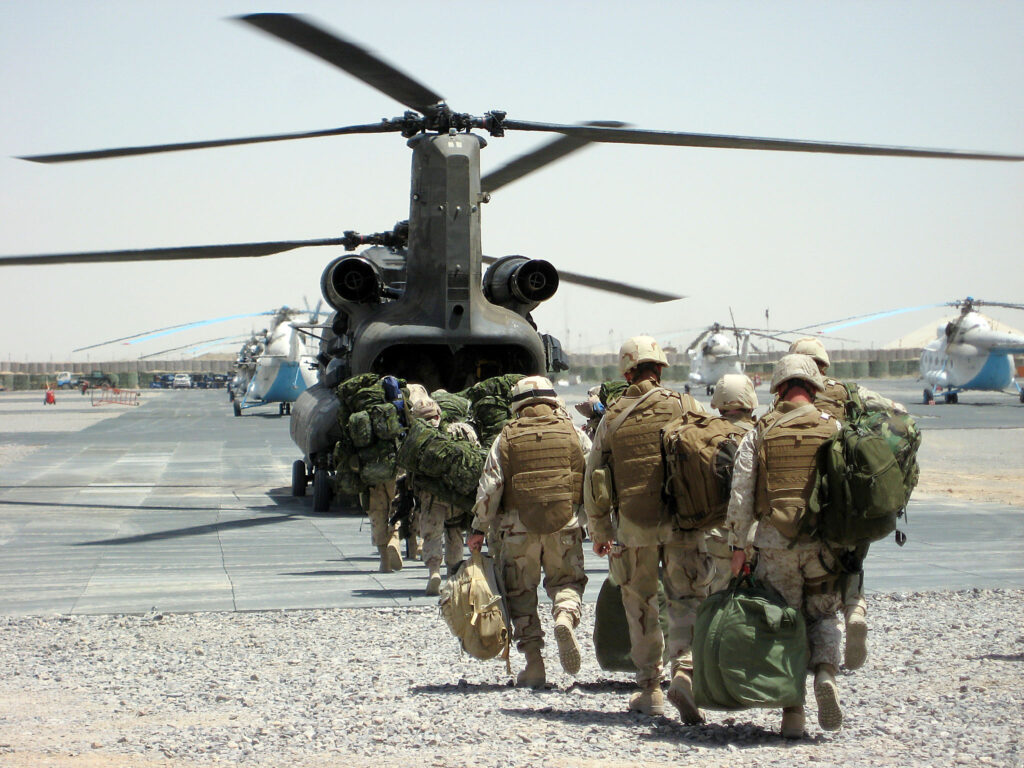 In 1969 and completing their fourth tour, the Naval Mobile Construction Battalion 11 had three main deployment sites: Vietnam, Okinawa, and Guam. With two-thirds of the force sent to Vietnam, the main projects were roads and bridges, one of which was a destroyed railway bridge built by the French at Song Bo. There, crews came under enemy fire in the attempt to stop the repairs, earning these engineers the Navy Combat Action Ribbon. In Okinawa, Typhoon Cora hit in August 1969, damaging much of its infrastructure. Seabee 11 acted immediately to restore utilities and repair damaged buildings and roads.
Reactivated in 2007, NMCB 11 Has Since Deployed to Both Iraq and Afghanistan
Shortly after the Battalion pulled out of Vietnam and Guam, NMCB 11 was decommissioned in Port Hueneme on December 15, 1969, having earned an additional five Unit Letters of Commendation and leaving behind a legacy of distinguished performance, selfless commitment to purpose, and valor. But for CB 11, the story continues. In 2007, Naval Mobile Construction Battalion 11 was reactivated for deployment to Iraq and Afghanistan, in addition to humanitarian and relief efforts. Home ported at the Naval Construction Battalion Center in Gulfport, Mississippi, Lucky Eleven continues the unit's heritage of firsts as the first US SMART Battalion, leading the way with many new initiatives and changes being implemented to improve Naval Construction Force operations.