During the long war in Iraq and Afghanistan, coalition forces relied on thousands of military working dogs to help keep them safe by detecting explosives, finding illegal drugs, searching for missing comrades, or targeting enemy combatants. Dozen died in the line of duty. Others struggle with wounds and post-traumatic stress. Many have earned recognition for heroism. Among the heroes is Lucca, a highly skilled German Shepherd/Belgian Malinois mix trained to sniff out explosives and protect the combat Marines and Special Forces she served.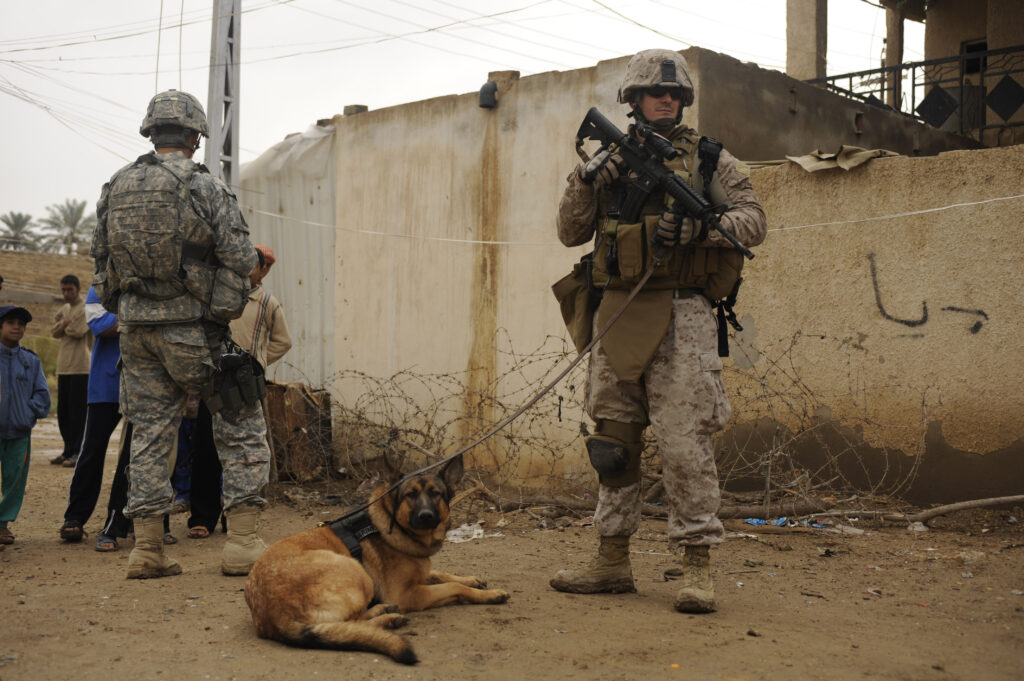 Lucca is the Most Legendary Military Working Dogs
Lucca and her military dog handler Marine Staff Sgt. Chris Willingham were together on two combat tours in Iraq. Later Lucca would have an Afghanistan tour with her new dog handler, Marine Corporal Juan Rodriguez.
According to the Military Working Dog Team Support Association, Inc. Lucca is among the most legendary military working dogs. Through almost six years of military service, Lucca went on more than 400 missions and has 40 confirmed finds of explosives, saving countless lives. Her list of accomplishments is long: two IEDs, one car bomb, countless caches of homemade explosives, concealed AK-47s with magazines. She has also found Dsh-Ks, which are vehicle mounted .50 caliber Soviet guns. These were hidden along the Tigris River. She also found deadly Dsh-K rounds buried in a cemetery tomb. Her finds led to the arrest of numerous insurgents.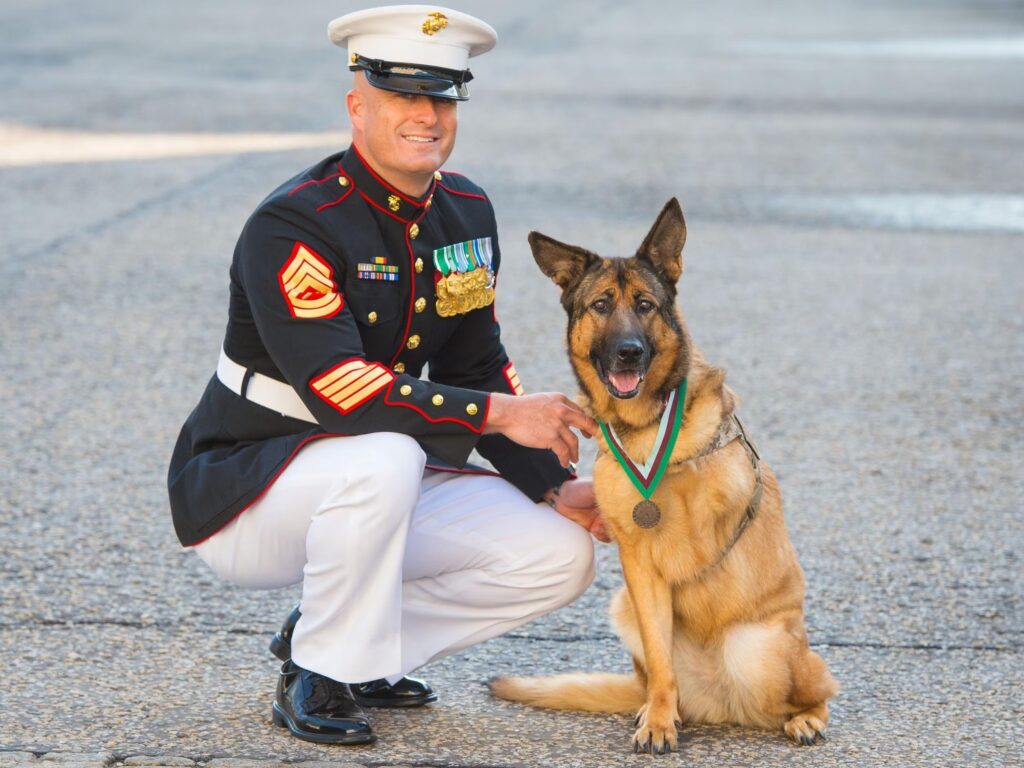 Beginning in 2006, Willingham trained and handled Lucca and in 2008 the pair deployed on their first Iraqi tour. For that tour and another one in Iraq, they spend countless hours searching for IEDs or improvised explosive devices considered the top killers of coalition forces in Iraq and Afghanistan.
On missions where Lucca sniffed out explosives, she worked off-leash at long distances from Willingham. Her job was to alert on the explosives beforehand and have them rendered harmless so the troops could move on.
Once she finds the smell she is looking for she will lie down, stare at the scent and communicate the find to Willingham. This action was repeated dozens of time and saved the lives of service members and civilians. As Willingham put it, "Your lives are literally in each other's hands."
With Lucca's training and instincts combined with Willingham's knowledge on how best to employ her, they were highly successful and became so sought-after that platoons frequently requested the team by name.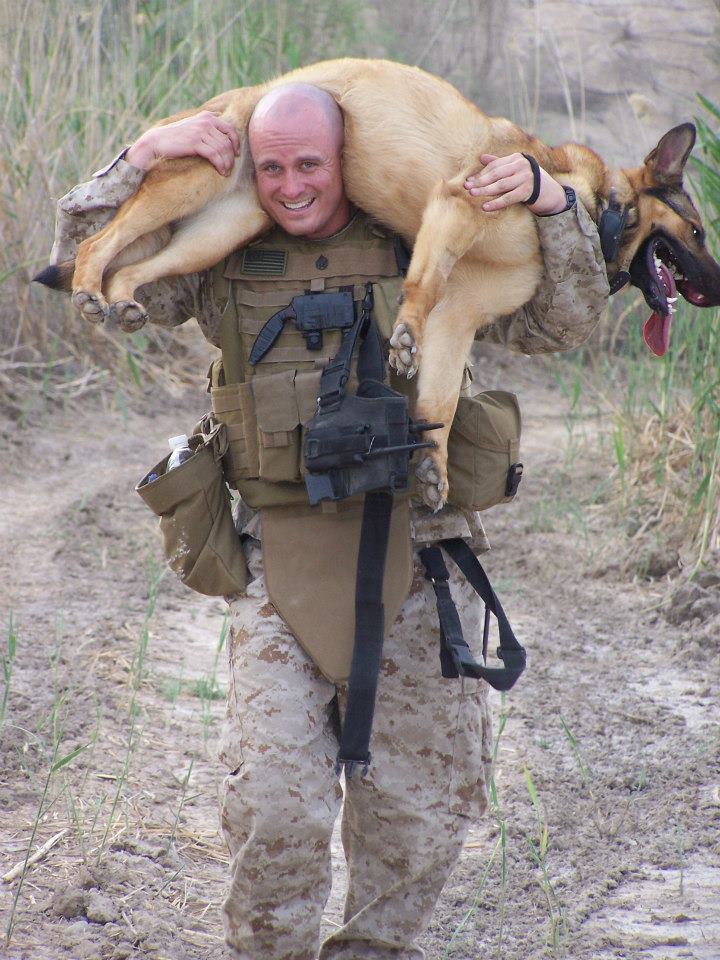 Upon returning from his second tour in Iraq in December 2010, Willingham received orders to Marine Security Guard School. Before he left, he was able to select the handler to take over as Lucca's handler. Willingham selected Cpl. Juan Rodriguez – a Marine he sensed had the right personality and skills to make a great team with Lucca.
Lucca Needs Leg Amputation After Injury in Battle
In March 2012, close to Luca's six-year anniversary as a Marine, she and Rodriguez were walking point in direct support of a Special Operations unit in Nahri Saraj District, in southern Afghanistan They were about four hours into the patrol when Lucca located an IED, her second of the day. When she moved closer to the secondary device it exploded. Rodriguez, hearing Lucca squealing and screaming in pain, ran forward to give her first aid and a tourniquet, which saved her life. He then called in a Medevac and continually petted and spoke quietly and reassuringly in an attempt to keep her calm.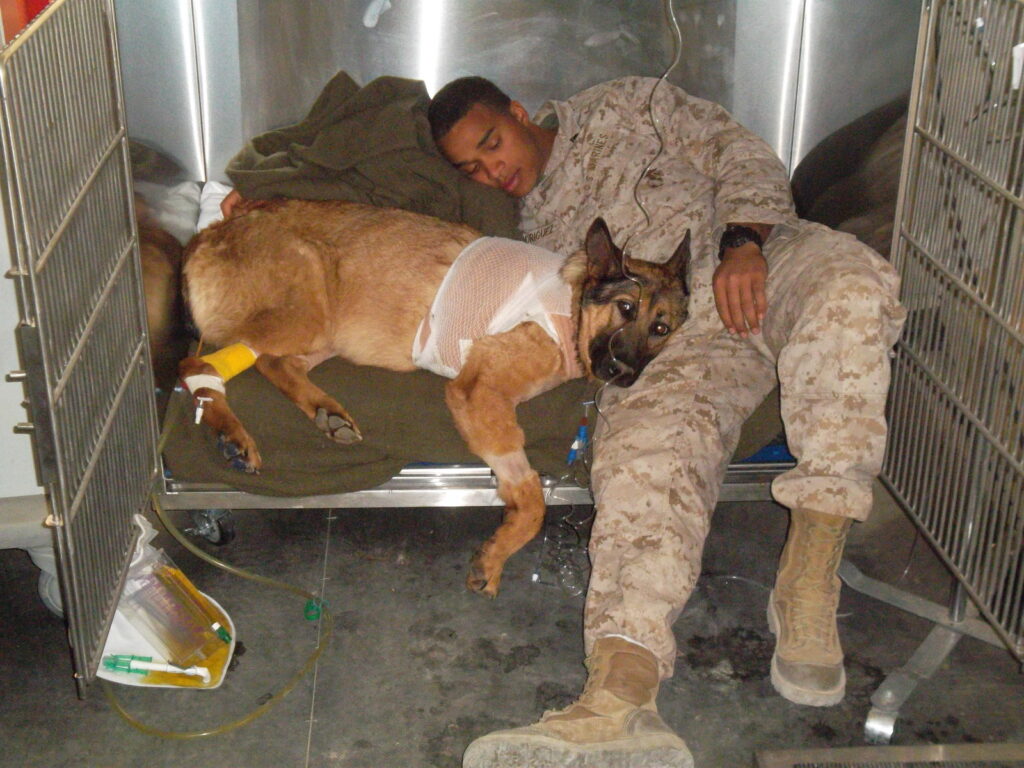 Waiting for the Medevac was agonizing for both Rodriguez and Lucca. She had suffered burns to her neck and torso and her front left paw was blown off making it necessary for her leg to be amputated. Fortunately, no member of the patrol was hurt.
After her injury, Lucca returned to Camp Pendleton where she was rehabilitated and in just 10 days, was back up and walking and in less than a month, she was running around on her three legs just as she had done when she had all four legs. It was obvious she had the same spirit, same personality as before the injury.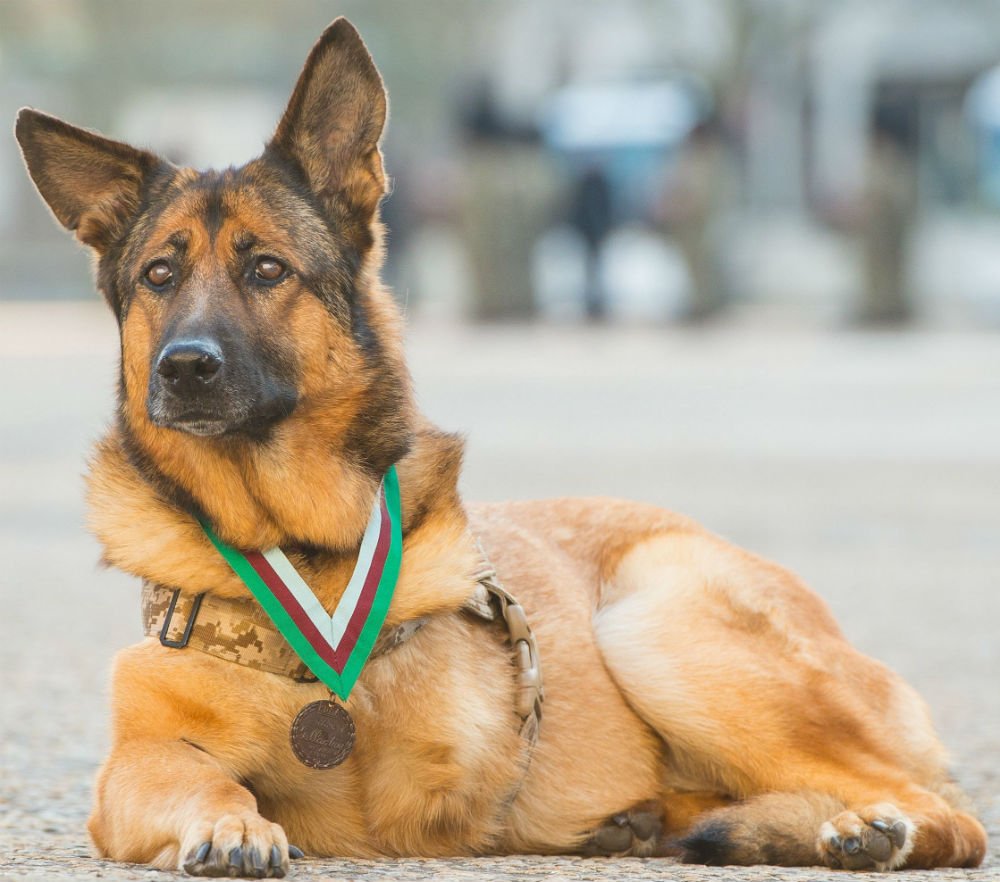 Once she was cleared to retire from the Marine Corps, Lucca was flown from San Diego to Chicago and then to Helsinki to be reunited with Willingham who was serving at the U.S. Embassy. Her flight was paid by the carrier, American Airlines, which also bumped her up to business class. When asked by a reporter at Chicago's O'Hare Airport, Rodriguez – ever the Marine – did not elaborate on what saying goodbye will be like. "It will be hard," he acknowledged. "But seeing Lucca bounce off to a safe home will ease the farewell."
Lucca is Back to Normal
Nonplused by all the strangers petting her at O'Hare's Terminal 3, Lucca worked away at a treat inside the treasured red toy she carried and kept close to her trainer. Rodriguez looked at his partner with love.
"She's back to normal," he said. "She hasn't skipped a beat."
Lucca now lives in southern California with Gunny Sgt. Willingham and his family and in a recent interview, Willingham credits Lucca with saving his life twice on deployments. "We've got a lot of loyalty between us. We've been together for two deployments now and she saved my life a couple of times, so I've definitely got a tight bond with this dog," he said while affectionately, scratching and petting Lucca who was enjoying every second of the loving attention. She also enjoys the occasional visits by Juan Rodriguez.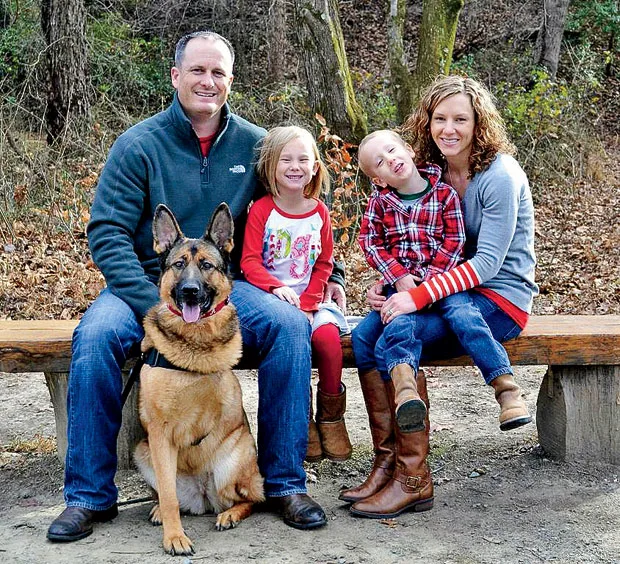 And she even has her own Facebook page.