By the summer of 1944, continuous successes against the Japanese placed Allied forces on the doorsteps of its mainland. Convinced an invasion of Japan was necessary for a final victory, military commanders began planning for an amphibious landing on the strategically located Iwo Jima, roughly 575 miles from the Japanese coast. Once in the hands of the Allies, Iwo Jima would be a perfect place where B-29 bombers, damaged over Japan, could land without returning all the way to the Mariana Islands retaken from the Japanese after brutal fighting on Guam, Saipan, and Tinian. It would also serve as a base for escort fighters that would assist in the bombing campaign.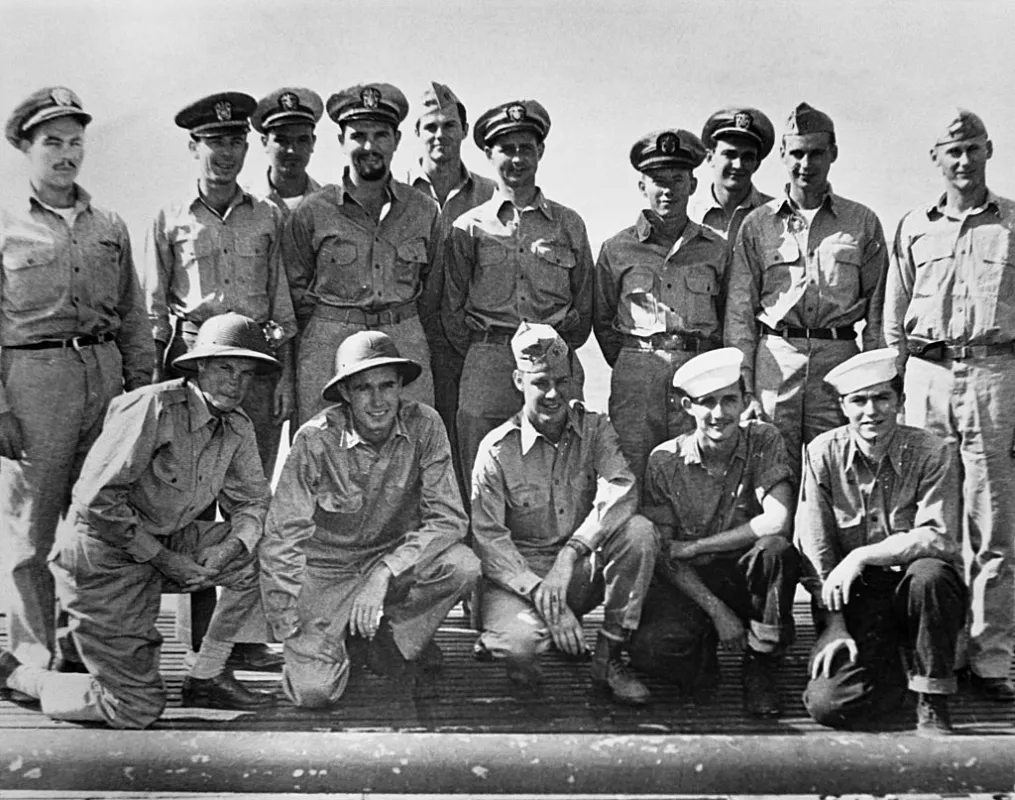 In June 1944, Vice Admiral Marc Mitscher's Task Force began naval ship bombardments and air raids against Iwo Jima in preparation for an amphibious assault.
One hundred and fifty miles north of Iwo Jima was Chichi Jima, another target of multiple bombings beginning in June 1944 and ending September 1944. These earlier raids and those prior to the landing on Iwo Jima on February 3, 1945, the total number of ship barrages and air raids were among the longest and most intense of the Pacific theater.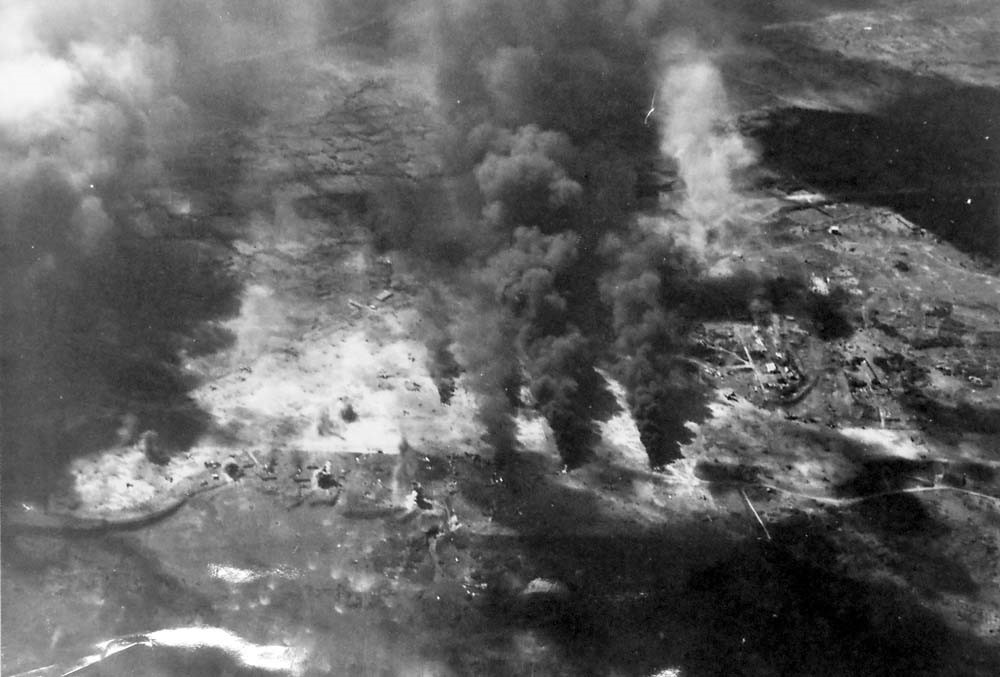 Lieutenant Junior Grade George H. W. Bush Was One of the Avenger Pilots
On Chichi Jima, the 25,000 Japanese operated a Naval Base, a small seaplane base, a weather station, and various gunboats, sub-chaser, and minesweeping units, as well as relay communications and surveillance operations from two radio relay stations atop its two mountains. While destroying the supply and repair operations were key, one of the primary targets was the destruction of the radio relay transmitter. At 7:15 am, on September 3, 1944, four Avengers were launched from the USS San Jacinto, to join four Hellcats from the USS Enterprise. Each of the fighters carried four 500 pound bombs. Twenty-year-old Lieutenant Junior Grade George H. W. Bush was one of the Avenger pilots.
When the aircraft arrived over Chichi Jima shortly after 8 am, they began attacking designated targets. Bush was the third pilot to dive on the radio tower transmitter. After nosing over into a 30-degree dive, Bush lined up on the target when his Avenger plane was hit by antiaircraft fire, engulfing it in flames.
He continued unto the target and, with his visibility blinded by the smoke, released his bombs. All four made direct hits on the radio tower. Flying away from the island, his burning plane lost power. He radioed his crew, Radioman Second Class John Delaney and gunner Lieutenant Junior Grade William White, to "Hit the silk!"
Wanting to get a few more miles away from the island, Bush stayed at the controls as long as he could allowing Radioman John Delaney to bail out only to die when his parachute failed to open. Ltjg William White went down with the aircraft.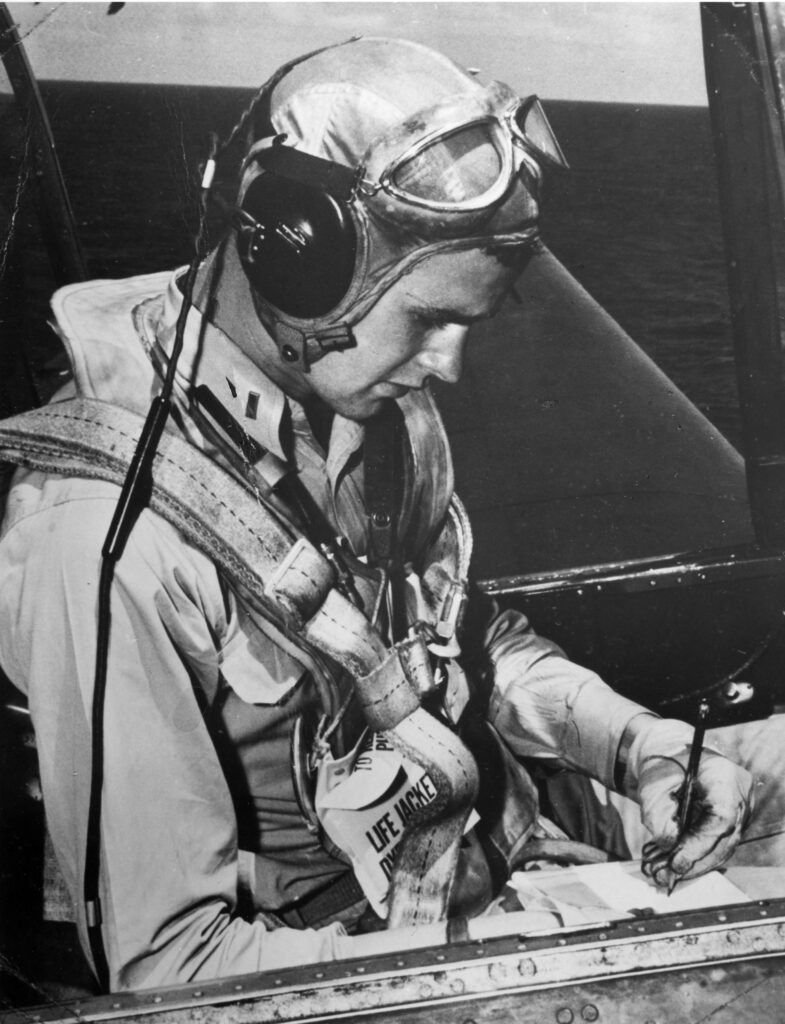 Bush's Rescue by the Crew of a Submarine
When Bush jumped over the side of his aircraft, the slipstream caught his lanky frame and sent it crashing into the tail of the Avenger. His head grazed the starboard elevator, and his parachute snagged on the tail and ripped. With a few torn panels, the chute plummeted too fast, dropping Bush hard into the ocean. Only slightly bruised from the fall, he waited for four hours in an inflated raft, while several fighters circled protectively overhead until he was rescued by the lifeguard submarine USS Finback. For the next month, he remained on the Finback and participated in the rescue of other pilots.
Several other American flyers on the same bombing mission were also shot down, and those few who survived were captured by Japanese soldiers and held prisoners on Chichi Jima Island.
As the date for the February 3, 1945, amphibious invasion on Iwo Jima grew closer, bombing intensified over Iwo Jima and nearby Chichi Jima. During these bombing operations, more than one hundred American airmen were shot down over and around the Bonin Islands. Still, American submarines were able to rescue only three of them, including future U.S. President George H. W. Bush. Most of the others died with their aircraft or succumbed to the cold waters off Iwo Jima and Chichi Jima. Only a few were captured and taken to Chichi Jima as Prisoners of War. That brought a total of nine American airmen known to have been captured. Then they seemed to disappear from the face of the earth.
When the war was over, records from a top-secret military tribunal were sealed, the lives of eight of the nine aviators were erased, and the parents, brothers, sisters, and sweethearts they left behind were left to wonder. James Bradley – author of "Flags of our Fathers" – set out to solve the almost sixty-year mystery on what happened to the aviators (Photo of Admiral Kunzio Mori during his war crimes trial in Guam).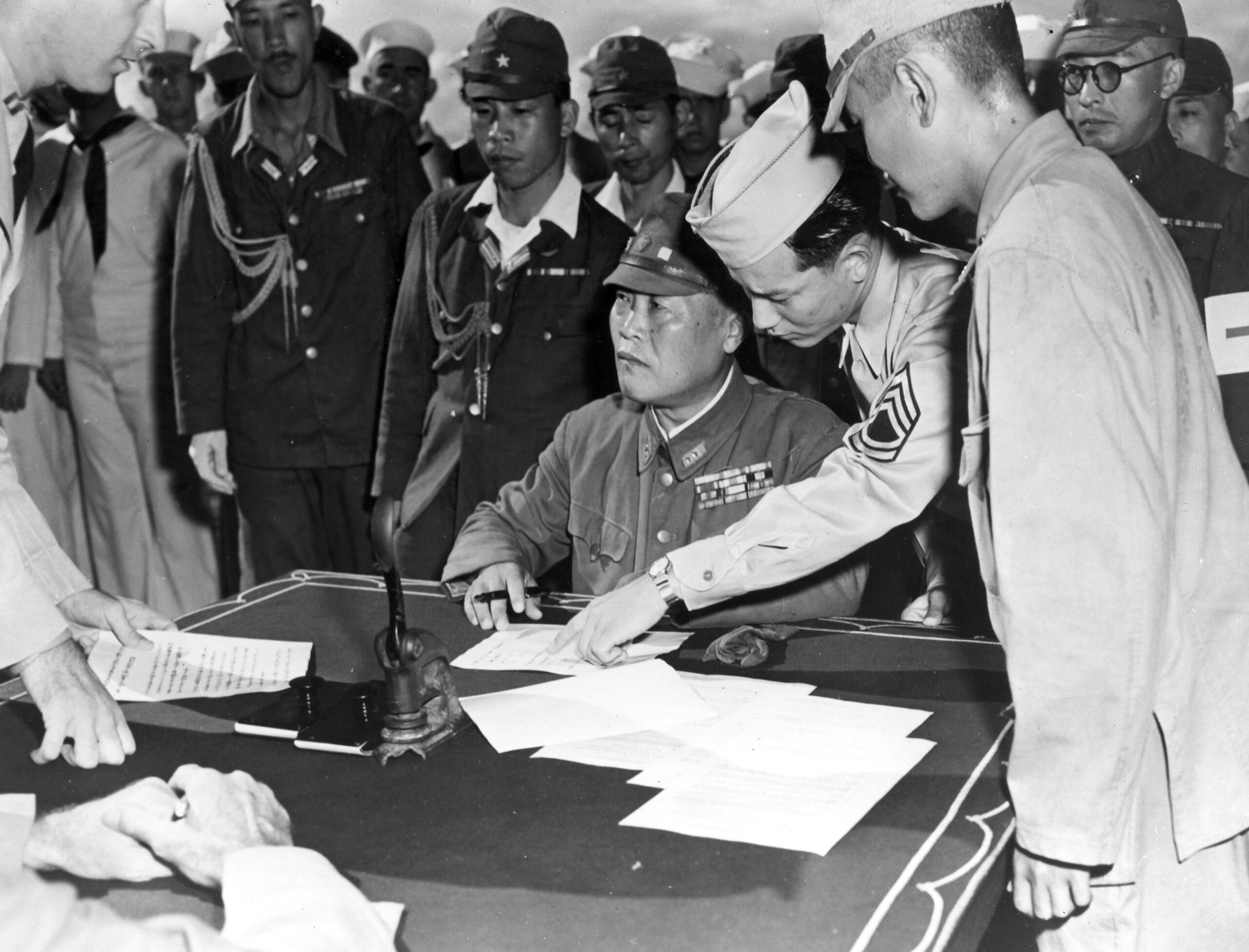 In his pursuit to find the answers, Bradley conducted a massive search of eye-witnesses in American and Japan, combed through untapped government archives containing classified documents, and finally a trip to Chichi Jima itself to try to find out what really happened to the eight missing POWs. The ninth aviator was released at the war's end in 1945.
His primary source for the truth kept secret until little over a decade ago were the records of the war-crimes trial of Gen. Yoshio Tachibana and Japanese officers in his command at Chichi Jima. The fascinating, unbelievable findings uncovered from his search are contained in his 2006 book, "Flyboys: A True Story of Courage." 

In late 1945, as part of Japanese war crime trials, a 20-man Marine Police Force, led by Col. Presley M. Rexes, was specifically detailed to probe the whereabouts of American pilots that bailed out over the Islands after their aircraft were disabled during bombing missions. He discovered what he was looking for in the records of General Yoshio Tachibana war crime trial in 1947. International Journal of Naval History also helped complete the details on what happened to the eight missing aviators.
According to the investigation, by mid-1945, due to the Allied naval blockade, Japanese troops on Chichi Jima ran low on supplies and were starving, so Tachibana's senior staff turned to cannibalism. In August 1944 and February/March 1945, in what came to be known later as the "Ogasawara Incident," Tachibana – a notorious sadistic, alcoholic commander – issued an order that all American prisoners of war (downed aviators) be killed. Lt. Col. Kikujima and Capt. Noboru Nakajima clubbed, bayoneted, beheaded and mutilated the eight American airmen. Not only the ones who bailed out over the island but those who landed offshore and were picked up by Japanese patrol boats. (Photo is the beheading of a captured Australian commando operating behind enemy lines).
Per an account in Time Magazine, two of the prisoners were beheaded in a public ceremony, and their livers immediately cut from their bodies, roasted and served as an appetizer to visiting Senior Japanese Navy Officer during a Sukiyaki party. The Japanese Navy officers subsequently reciprocated by hosting a party where they butchered and served their own American POW's. Other parts of the airmen's bodies were boiled as meat for stew.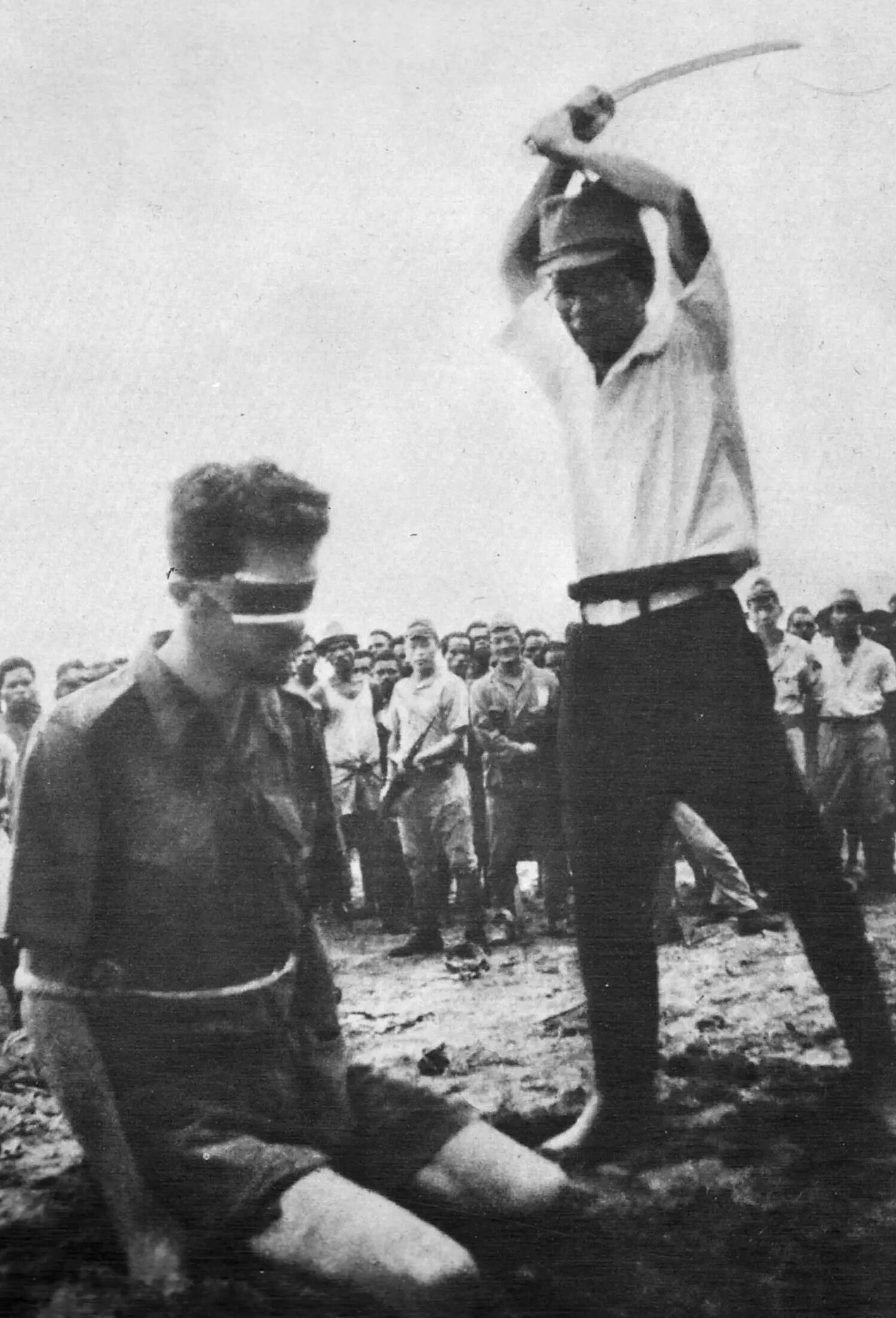 The names of the eight aviators executed are:
Navy Aviation Radioman Jimmy Dye, from Mount Ephraim, New Jersey
Navy Pilot Floyd Hall from Sedalia, Missouri
Navy Aviation Radioman Marve Mershon from Los Angeles, California
Marine Pilot Warren Earl Vaughn from Childress, Texas
Navy Aviation Radioman Dick Woellhof from Clay Center, Kansas
Aviation Gunners Grady York from Jacksonville, Florida
Navy Aviation Gunner Glenn Frazier from Athol, Kansas
Navy Pilot Warren Hindenlang of Foxboro, Massachusetts.
The ninth aviator, Navy Pilot William L. Connell from Seattle, Washington, was held as a Prisoner of War until the end of hostilities in September 1945.
This photo taken of then 88-year-old Connell in 2012 was the day he jumped out of an airplane for the first time since he was shot down at age 20 and parachuted into the hands of the Japanese.
In 1946, 30 Japanese soldiers were court-martialed on Guam on charges of executing prisoners. However, as cannibalism was not covered under international law at the time, Gen. Tachibana, Major Sueo Matoba, Admiral Kunzio Mori, and Capt. Yoshii were charged with "prevention of honorable burial." The four, plus a fifth officer, were found guilty and sentenced to death by hanging. All of the enlisted men were released within eight years.
The execution and cannibalism of American POWs at Chichi Jima was not an isolated incident. Many written reports and testimonies collected by tribunals indicate that Japanese personnel in many parts of Asia and the Pacific committed acts of cannibalism against Allied prisoners of war. In many cases, this was inspired by ever-increasing Allied attacks on Japanese supply lines, and the death and illness of Japanese as a result of hunger. According to historian Yuki Tanaka, "Cannibalism was often a systematic activity conducted by whole squads and under the command of officers."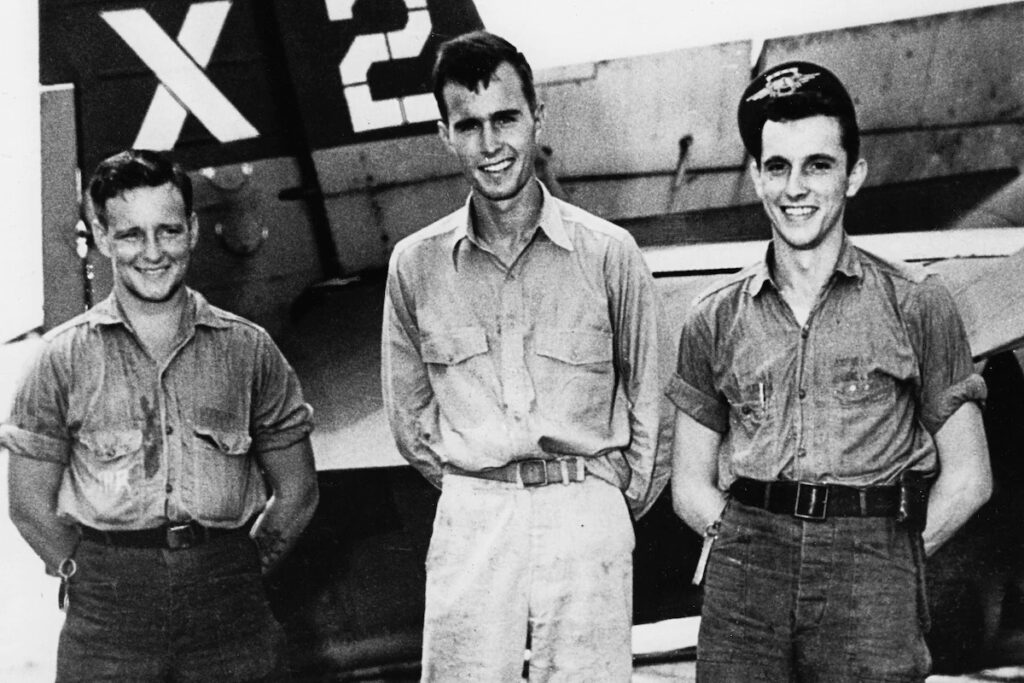 George H.W. Bush Narrowly Escaped Execution
Perhaps the most interesting detail about the execution and cannibalization of the eight aviators was the fact that George H.W. Bush narrowly escaped the same destiny. But what if he hadn't? Inexorably, the history of America's presidential and foreign policy would have been dramatically different.