Honoring Famous Veterans Who Passed Away In 2022
As 2022 draws to a close, we have a lot of memorable losses to reflect on. When a celebrity dies, we go through the cycle of public mourning. Experts say that the loss of a celebrity is personal and undeniably real. It is a sadness that transcends missing their acting, their voice, or comedic timing. At TogetherWeServed, we would like to take a few minutes to remember three famous veterans whose passing was a loss to the entertainment community and their U.S. Military family.
Vin Scully: Beloved Dodgers Icon and Navy Veteran
Vin Scully, a sportscaster best known for his 67 seasons calling games for Major League Baseball's Los Angeles Dodgers, served in the Navy after graduating high school prior to attending Fordham University. He grew up in the Washington Heights section of Manhattan and fell in love with the game of baseball at the age of eight, becoming a fan of the New York Giants.
Scully began his career as a student broadcaster and journalist at Fordham University, where he majored in English. He joined the Brooklyn Dodgers radio broadcast team in 1950 when he was 22 years old and followed the team to the West Coast when the team moved to Los Angeles in 1958. Scully's career in Southern California began with calling Dodgers games at the L.A. Memorial Coliseum from 1958-62, before the opening of Dodger Stadium. By the time he retired after the 2016 season, he had been the announcer for the Dodgers for sixty-seven seasons. He is considered one of the great voices in sports, always able to call games with natural ease and tell stories from past decades that relate to what is happening on the field.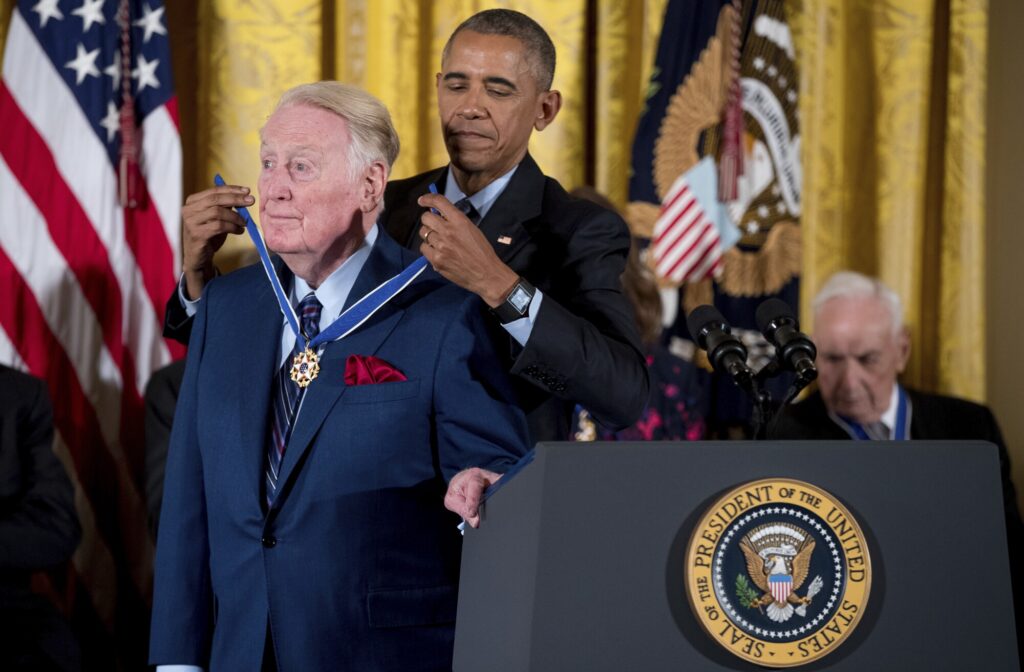 Scully was inducted into the Baseball Hall of Fame in 1982, received a star on the Hollywood Walk of Fame that year, and also had the stadium's press box named for him in 2001. The street leading to Dodger Stadium's main gate was named in his honor in 2016.
Scully died in Hidden Hills, California, on Aug. 2, 2022, at age 94. The most iconic announcer in Major League Baseball history, Vin Scully will forever be a beloved figure with Dodgers fans, and his service in the U.S. Navy will also be remembered.
Fred Ward, U.S. Air Force Veteran and Moviegoers' Favorite "Tough Guy"
Actor Fred Ward was born on December 30, 1942, in San Diego. His father was in jail the day he was born. Ward moved around frequently as a child, including to Louisiana and Texas. Ward enlisted in the Air Force upon graduation from high school and served as an airman first class at Lackland Air Force Base in San Antonio and as a radar technician in Labrador, Canada. 
---

---
After he completed his Air Force career, Ward worked a series of blue-collar jobs. He was also a boxer (breaking his nose three times) and worked as a lumberjack in Alaska, a janitor, and a short-order cook. Ward then went to Europe, where he dubbed many Italian movies, and first appeared on-screen in two films by Roberto Rossellini. He then returned to the United States and got his first role alongside Clint Eastwood in the nail-biting prison film Escape from Alcatraz.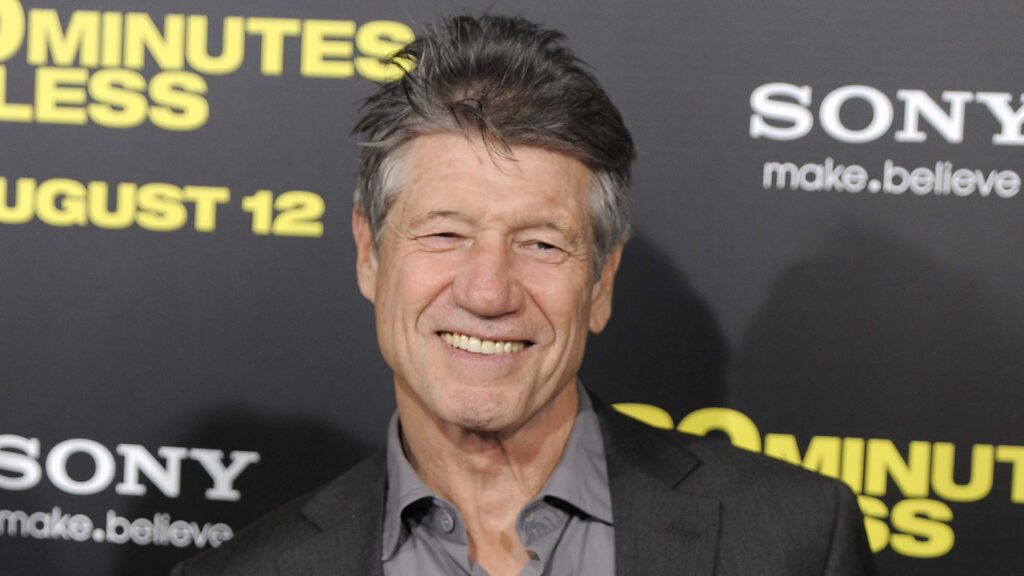 Although Ward's acting career did not take off until after he turned 40, he made an impression in movies like "The Right Stuff," "Southern Comfort," "Tremors," "Uncommon Valor" and "Sweet Home Alabama." In total, Fred Ward appeared in nearly 70 films. He was nominated for many awards, including The Golden Globes. Ward most recently appeared in the second season of HBO's "True Detective" as Eddie Velcoro, the retired cop father of Colin Farrell's Det. Ray Velcoro.
Ward died on May 8, 2022, in Los Angeles at age 79. More than just a talented character actor, he will be remembered for his prolific acting career as well as his service in the Air Force.
Sidney Poitier, Army Famous Veteran and First Black Oscar Winner for Best Actor
Born in 1927 in Miami, Florida, Sidney Poitier grew up in the small village of Cat Island, Bahamas. His father, a poor tomato farmer, moved the family to their nation's capital, Nassau, when Poitier was 11. At age 15, Sidney left for the United States without any money and soon encountered his first challenges from racism, after spending his childhood in his predominantly Black island nation.
He was so overwhelmed by life in the big city that he lied about his age to join the Army and served as an orderly in a military hospital on Long Island. According to some sources, after less than a year of service, he chose to act his way out of his circumstances by pretending to be mentally unfit. One may say acting turned out to be Mr. Poitier's winning ticket.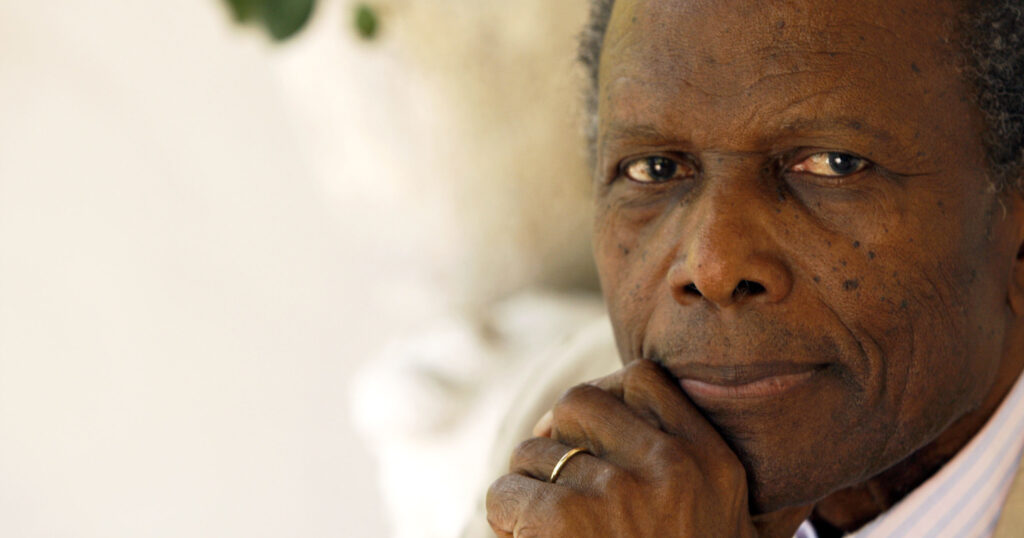 After embarking on a career as an actor, Poitier started a long climb to the top after a breakout role in "Blackboard Jungle" in 1955 that culminated in a Best Actor Oscar for "Lilies of the Field" in 1964. He went on to make such classics as "In the Heat of the Night" which won a Best Picture Oscar in 1968, "Guess Who's Coming to Dinner," "Uptown Saturday Night" and "Sneakers." He remained active on stage and screen as well as in the burgeoning Civil Rights movement.
Sidney Poitier received many professional accolades during his long career. He became the first Black actor to win the Academy Award for Best Actor for Lilies of the Field. He also received a Grammy Award, two Golden Globe Awards and a British Academy Film Award. Poitier received numerous honoraries during his lifetime including the Academy Honorary Award for his lifetime achievement in film in 2001. In 1992, he received the AFI Life Achievement Award. In 1994, he received a star on the Hollywood Walk of Fame. In 1981, he received the Golden Globe Cecil B. DeMille Award and in 2016 he received the BAFTA Fellowship.
In 1995, Poitier received the Kennedy Center Honor and in 2009, he was awarded the Presidential Medal of Freedom from Barack Obama. He was also awarded as Knight Commander of the Order of the British Empire by Queen Elizabeth II in 1974.
After a struggle with Alzheimer's disease in his later years, Poitier died in Los Angeles on Jan. 6, 2022, at age 94. Poitier led a full life and TogetherWeServed salutes his achievements on screen as well as his military service.
Read About Other Famous Veterans and Celebrities Who Served
If you are interested in discovering more famous veterans, we invite you to read about other celebrities who served on our blog. Additionally, you will find military book reviews, veterans' service reflections, famous military units and more on the TogetherWeServed.com blog. If you are a veteran, find your military buddies, view historic boot camp photos, build a printable military service plaque, and more on TogetherWeServed.com today.