PRESERVING A MILITARY LEGACY FOR FUTURE GENERATIONS
The following Reflections represents SGT Timothy Meltabarger's legacy of his military service from 1981 to 1990. If you are a Veteran, consider preserving a record of your own military service, including your memories and photographs, on Togetherweserved.com (TWS), the leading archive of living military history. The following Service Reflections is an easy-to-complete self-interview, located on your TWS Military Service Page, which enables you to remember key people and events from your military service and the impact they made on your life. Start recording your own Military Memories HERE.
Please describe who or what influenced your decision to join the Marine Corps.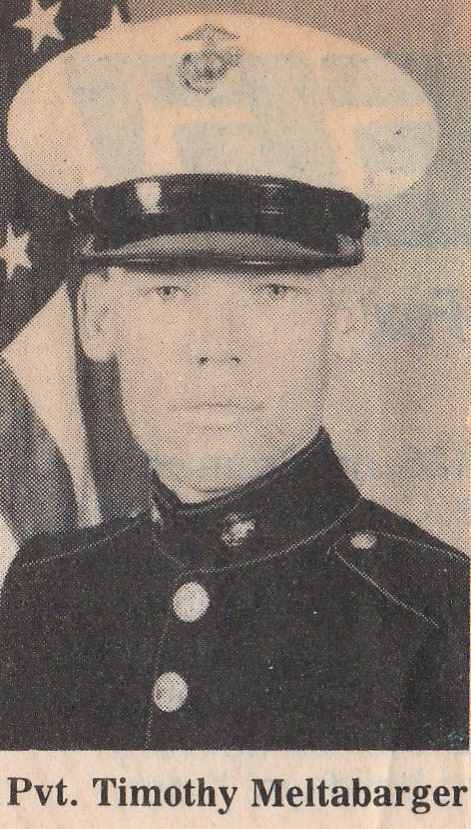 When I graduated from High School in 1980, I was about four months away from turning 18. I worked in the Oil Field with my brother through the Summer and decided that I needed to get an education, so I enrolled in a Technical College in Okmulgee, Oklahoma. I entered college as the hostages in Iran were being released. I was in a drafting program and sat at a table in a classroom with about 40 people. About 25 percent were veterans, and none were Marines. We had a radio that played in the classroom, and on March 30, 1981, I listened to the news of Reagan being shot. When the semester was over, I decided to quit college and go back home and do something greater. Exactly what, I had not decided.
In September 1981, after another Oil Field Summer, I enlisted in the Air Force. No recruiter in the office, but the Marine Recruiter asked me why I wanted to join the Air Force. About twenty minutes later, I was signing several papers, and Master Sgt Hightower had a new recruit. There are many reasons we enlist, a sense of national service, educational benefits, trigger time, or a personal challenge. I was looking for a challenge. I joined, being 6′ 2″ tall and 150 pounds. I never ran for time, did a pull-up, did sit-ups, and most importantly, I had never climbed a rope. I was a band geek; we didn't do PT. This was going to be one hell of a challenge.
Whether you were in the service for several years or as a career, please describe the direction or path you took. What was your reason for leaving?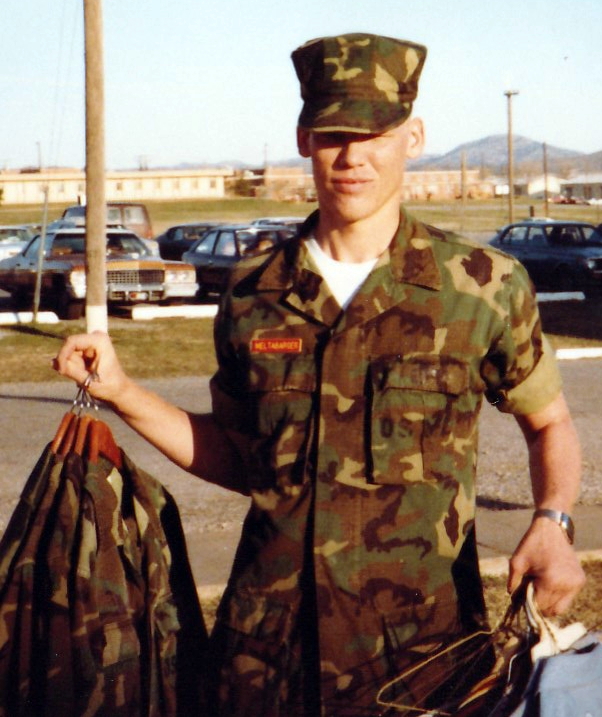 I was an average student in high school. When I started college, I found that I understood mathematics better for some reason. After taking the ASVAB test, I found I did better than I thought. My GT was pretty high, and I was placed in Artillery, Fire Direction Control. I did okay in the school, but no honor graduate for sure. I still didn't quite get it. I figured the Marine Corps made a mistake putting me in that MOS. My first three years were in 29 Palms, CA, with Golf Battery 3/12 attached to 4/11. We were a training battery and in the field constantly firing 105 mm howitzers…a lot. We participated in a Blue/Green water workup on the USS Belleau Wood and Mountain Warfare training in Pickle Meadows in the Sierra Nevada Mountains, as well as being on constant stand-by while we had Marines in Beirut. In 1983, I had a CO who played rugby. My op chief also played rugby, So I started playing rugby. At first, I was still in the firing battery and playing on the weekends, but later, I was FAP'd to special services working at the base gym and traveling all over California on weekends. I was on my 8th month of a 6-month TAD to special services when my EAS date came around. I had not been with my unit in almost a year and didn't know who was still there. My best friend from FDC school and roommate at Golf Btry had been discharged early, so I didn't have any of my buddies there. I checked out of the Marine Corps while my battery climbed Mt Whitney. Never saw a soul from the unit except for my First Sgt. I got home and regretted leaving, so I re-enlisted after three months and was sent to Camp LeJeune. I found out that I also rated a re-enlistment bonus.

I was assigned to the 2nd Battalion 10th Marines in January 1985. At first, to HQ Battery, one of my classmates from FDC school at Ft. Sill, Oklahoma, had been at 2/10 since March of 1982 and was the motivating Corporal itching to get into a firing battery. So, shortly after I got used to HQ, I was back in a firing battery, Fox Btry. My original FDC Chief from At this time, the 10th Marines were in the process of implementing a new SOP, Split Battery; instead of one FDC for two gun platoons, we had a split FDC that was assigned to each platoon. Two four-gun batteries. We shot, moved, and communicated more than 29 Palms. I spent nearly three years doing that. I was a meritorious Corporal from my first enlistment, and I was now looking at six years and still a Corporal. Every Marine in my FDC picked up Corporal meritoriously, and I went up for every promotion board but "due to keen competition," I never got that third stripe. My only option was to go to a B-billet duty.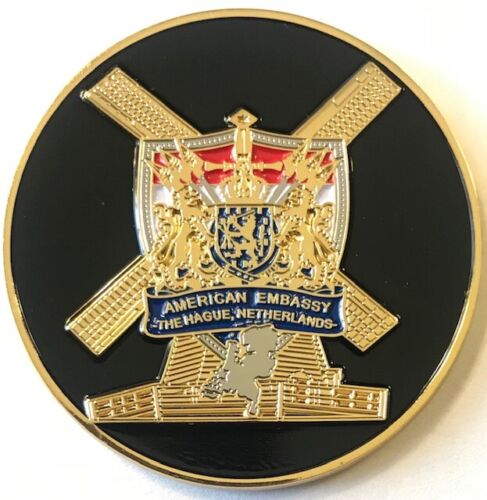 I volunteered for Embassy Duty…three times. I couldn't figure out why I never heard back from the Administrative Action forms I submitted. I later learned I was being denied for the good of the unit. I had become too valuable to the unit to further my career. Once my CO left and I got a new Captain, I once again applied and more and finally convinced by my CO to give me a chance on the screening board for MSG Duty. I did pretty well and was offered a spot in the very next class, 5-87. It started in two weeks, so I would have to forego the 30 days' leave and have to drive my truck to Quantico. After six weeks, I was assigned to The Hague, Netherlands' first post. My mother and sister came to see me graduate and drive my truck home. It turns out my mother did not know what I would be doing. She visited The Hague with some of my cousins on a European Tour and was shocked that I was wearing a gun in my Dress Blues.

I completed my tour with 22 months in The Hague, a month in Moscow for the final Reagan/Gorbachev Summit in June of 88, and a year in Djibouti. I was heading back to FMF to make a career in the Marine Corps. I had 8 1/2 years in at this point. When I got to Quantico, I was in limbo. I had applied for a lateral move to Counter-Intelligence. I thought that the paperwork that I personally submitted as the acting Detachment Commander in Djibouti had been received and processed. I was going to re-enlist in Quantico and everything. However, the career planner at MSGBN could not locate my record book or any of my files. Two weeks later, they found them, and I was told basically that the Marine Corps did not have a place for me anymore. My MOS was full, and they were not doing lateral moves at the moment. So as many of the MSGs did at the time walked out the door alone and went home.
If you participated in any military operations, including combat, humanitarian and peacekeeping operations, please describe those which made a lasting impact on you and, if life-changing, in what way?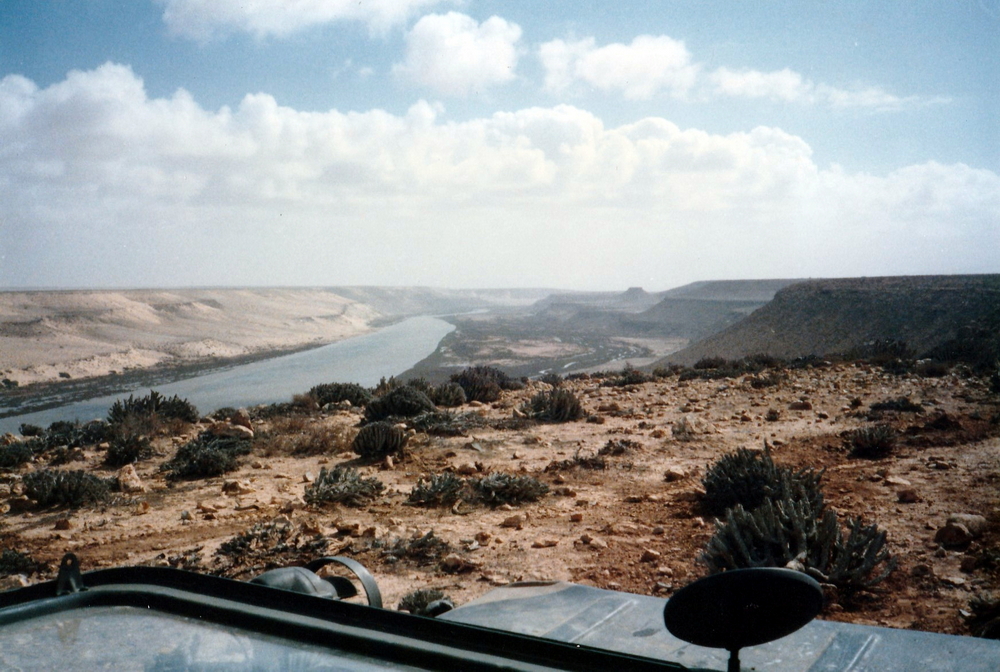 While I was in Fox Battery, 2/10, I was deployed with 22nd MAU, BLT 1/6, from August 1986 to March 1987. During the very first month of that float, we had a helicopter transferring Marines from the Saipan, LHA 2 to the Raleigh, Sumter, or whichever that was late in crossing the Atlantic. The CH-46 had some problems and tried to return to the LHA flight deck. One of the rotors hit a CH 53 on deck, twisted in half, and crashed into the Fjord in Southern Norway; 6 Marines from 1/6 and HMA 264 died upon impact with the ship's side. There was a memorial on board afterward, and our moods changed as we realized anything could happen.
As one of the senior NCOs in my FDC, I was the designated advanced party man. At the time, we were training to drive off the helicopters in jeeps to do a rapid assault on an airfield or other landing zone. I believe it was part of the Fast Team. I was always in the last jeep off the helo, and we flew over water or desert or where ever we were. With the memory of that helo transfer in Norway, I thought it best to keep it to myself, so this was one of the things I did that my family never knew about.
Did you encounter any situation during your military service when you believed there was a possibility you might not survive? If so, please describe what happened and what was the outcome.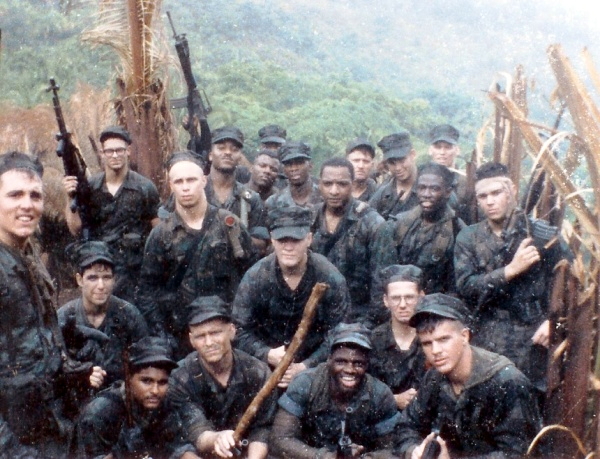 Most of what we did in my deployment was being done for the first time. 22 MAU was changed to MEU during the trip. We were one of the first SOC deployments, and things were different. It was my first float, so I didn't know any better. Later, when redeployed for Operation Solid Shield 1987, we were involved in actions that normally would be unusual, but by that time, we just conducted our mission.
Of all your duty stations or assignments, which one do you have fondest memories of and why? Which was your least favorite?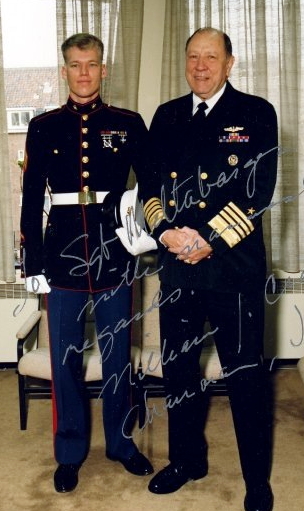 I was assigned to The Hague, Netherlands, from September 1987 to March 1989. We lived in a village called Scheveningen in a large Dutch duplex near the North Sea. It was a small detachment and was usually one man short. The Embassy staff was great and took good care of the Marines. When we had a large protest outside the British Embassy because of Salman Rushdie's Satanic Verses book, we were in the building during working hours milling around looking out windows in full combat gear, when most of the locals had never seen us in Utilities before. The older Foreign Service people were aware of what we were doing, but the younger ones seemed a little shaken. Nothing happened, but It did seem to make an impression on them. Each post has a contingent of experienced Foreign Service professionals that knew how to appreciate the Marines. We got a message that the State Department was looking for volunteers to assist the Moscow Detachment for an upcoming Presidential Visit in May and June of 1988. At the time, we had a full complement of 5, so I volunteered. I arrived in Moscow in early May and stood at several posts while the President's conference room was being built, and as equipment arrived, we guarded cars. I think there were nine extra Marines from all over Europe that showed up. We lived in the Marine House Bar. I mean, we had beds in the bar. In the mornings, I was assigned to the President's Conference room and met President Reagan for the daily security briefing all four days of the Summit. As Agents and VIPs arrived in the country, each had to be briefed in the conference room, mostly when I was on duty. It was an extensive list of top government personnel.
Djibouti would have to be considered the least favorite of my posts, despite it being on MSG duty. It was just hot, humid, and uncomfortable. There was also the fact that we had a civil war going on next door in Ethiopia and Somalia. Yemen was right across the Gulf of Aden, and, as usual, we were usually short-handed at this post. I did meet General Schwarzkopf about three times while I was there.
From your entire military service, describe any memories you still reflect back on to this day.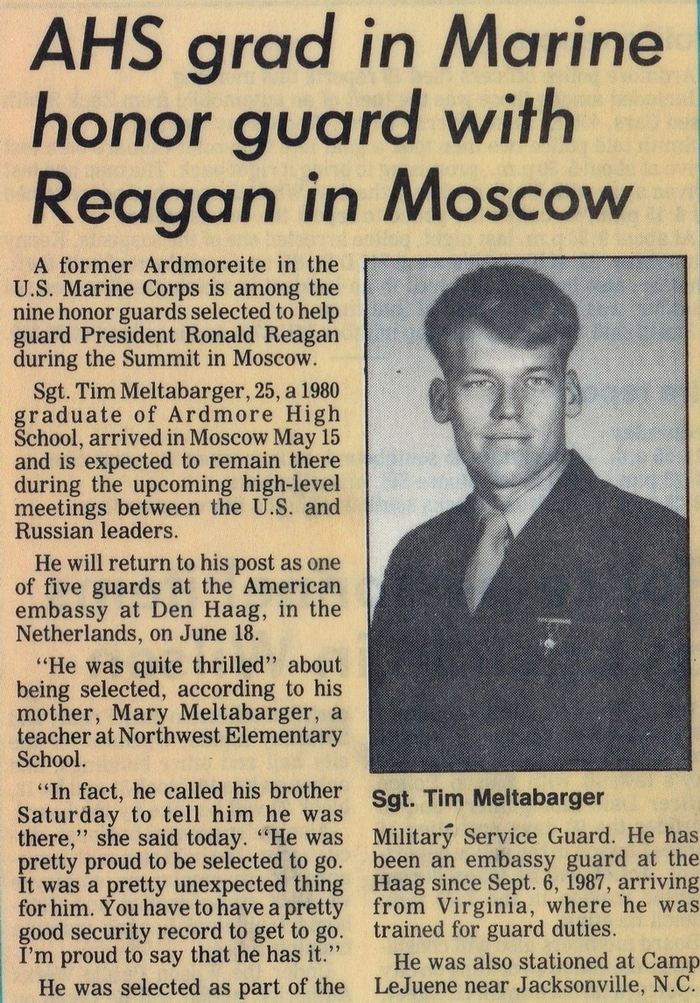 I was selected to supplement the Moscow Detachment for the 1988 Moscow Summit with Reagan and Gorbachev. I got to Moscow in May and left a few days after the President left about June 4 (we were short two men at the time). My post was on the classified conference room the President used each morning. I saw every VIP that was in the country at least twice a day. I have to say I thought George Schultz was the most professional-looking Secretary of State I had ever seen, and he looked the part. The first day I met President Reagan, I saluted him, and he saluted back and then shook my hand. That took me by surprise, but that seemed to be his thing.
What professional achievements are you most proud of from your military career?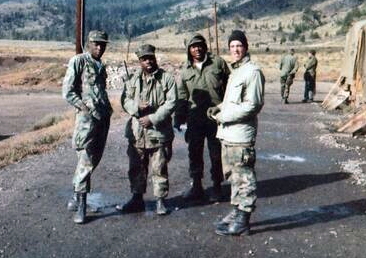 I remember many instances that I felt deserved recognition for what I was doing in the 1980s in artillery. As a Corporal, I was the Acting FDC Chief; all of us were corporals and doing the job of a Staff Sgt. We tested and were certified by the 10th Regiment, but nothing was ever put in our records. Not until I was on MSG Duty did I receive a commendation from the Commandant of the Marine Corps, General Al Gray. There was a medical emergency one night that I had to take control of.
Of all the medals, awards, formal presentations and qualification badges you received, or other memorabilia, which one is the most meaningful to you and why?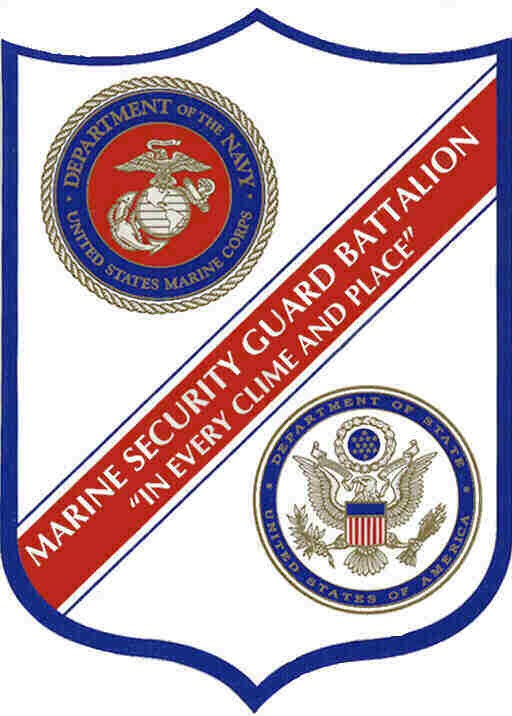 I am very proud of the MSG ribbon that came to be well after I was out. It stands out on the ribbon rack. Sure, it is the last one on the bottom, but getting it was very difficult, and I had to sacrifice a lot to get it. I am pretty proud of my expert rifle badge too.
Which individual(s) from your time in the military stand out as having the most positive impact on you and why?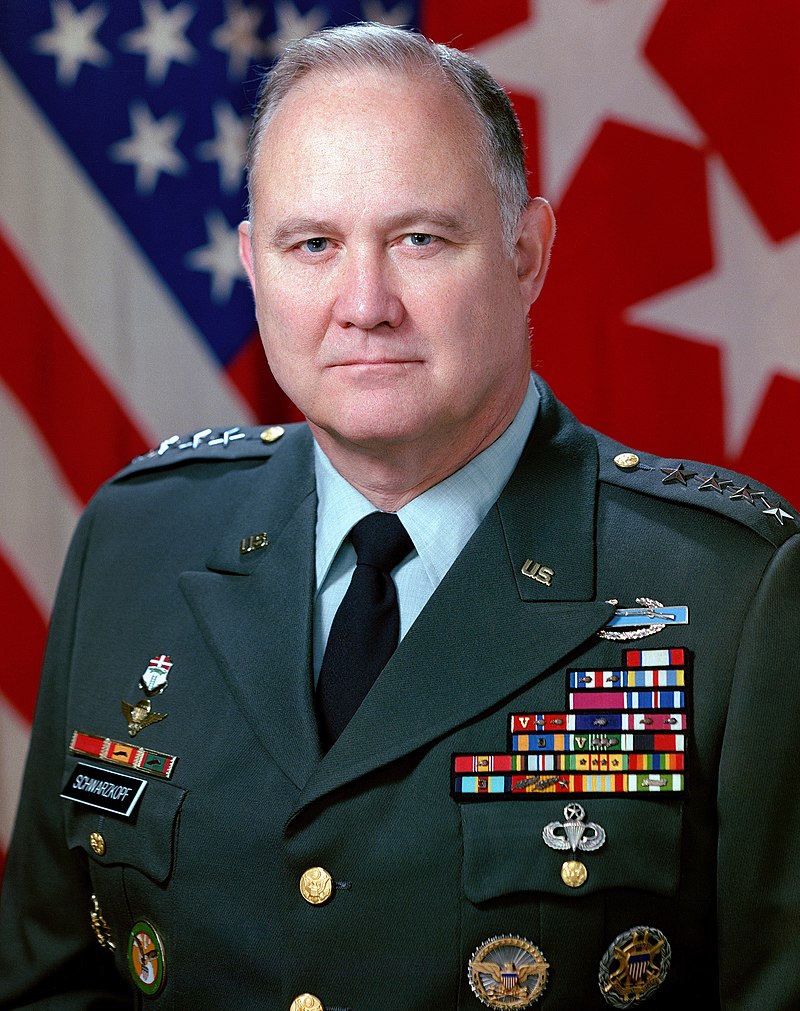 I met General Schwartzkopff in Djibouti a few times, and though he wasn't famous then, this was from 1989 to 1990; he always remembered my name and how much longer I was going to be in country. He and the Deputy Commander of USCENTCOM offered me any help I needed to further my career when I left Africa. I didn't use their help, but at the time, I think they had their hands full in the Persian Gulf.
List the names of old friends you served with, at which locations, and recount what you remember most about them. Indicate those you are already in touch with and those you would like to make contact with.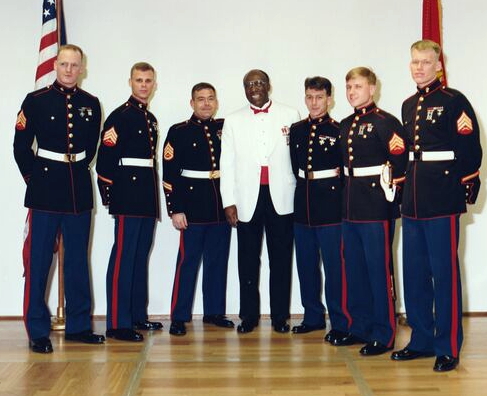 I always felt I was silently and anonymously serving, and no one would remember me at all. I just went to work, made sure I was squared away, and didn't shoot anybody. Over the years, I have heard from and met guys that were with me at different locations, and we shared memories of that time. One day they will be gone, and so will I.
Can you recount a particular incident from your service, which may or may not have been funny at the time, but still makes you laugh?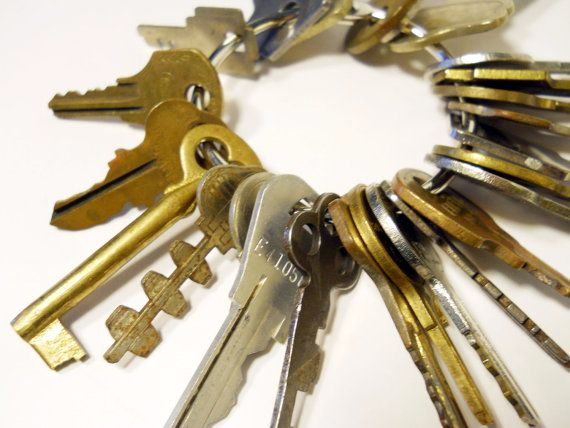 Each Embassy or Post had its ghosts and legends. The Hague was built in the 1950s. It was a severe stone-looking building with keystone-looking windows. It had a basement in a country that had a water table just a few feet below the street. We had keys to every door in that building except one, and it was a door in the basement under the stairs. It became a goal to find that key.
So every night, I would go through the massive rack of keys in the maintenance room to find that key. At this same time, another Marine and I were reading a book the Navy sent us called IT. It dealt with underground stuff, unlike Holland's canals and sewers. That room in the basement would be below the canal water level. At last, the key was found. It was an empty storage room that had a roll of Christmas wrapping paper. A little disappointed but at least no balloons.
What profession did you follow after your military service, and what are you doing now? If you are currently serving, what is your present occupational specialty?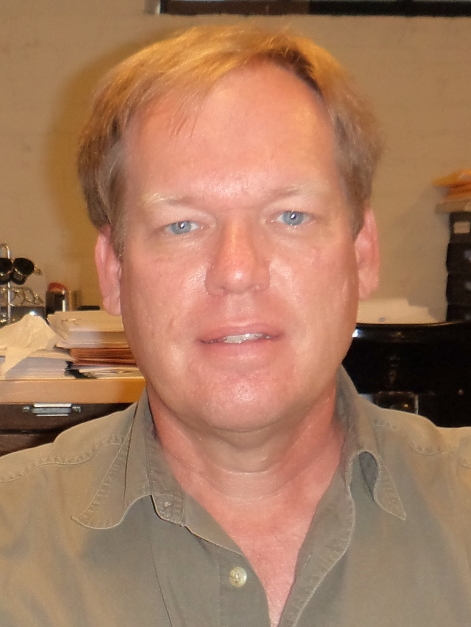 After seeing great European architecture, I decided I would be a builder. I took a little pause before starting that, though. I signed on with Philip Morris Companies to protect Virginia's copy of the Bill of Rights document during the National Tour of the 200th anniversary of the ratification of the first 10 Amendments to the Constitution from 1990 to December 1991. There were 26 former MSGs on that tour, and it was a great way to unwind after getting back to the States from posts literally all over the world. During that tour, we showed in 52 cities in all 50 States. During the tour, I saw relatively new buildings that were falling apart and functionally obsolete in less than 50 years. In Europe, I saw houses that were 300 or 400 years old that were still being lived in. Churches that took 400 years to build, and they all withstood two world wars. I knew we could do better, so I became a Construction Inspector. I am in my 26th year in that profession this year.
What military associations are you a member of, if any? What specific benefits do you derive from your memberships?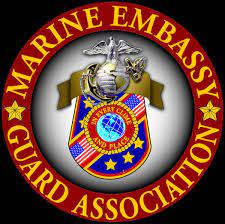 I am with Marine Embassy Guard Association. We used to meet up each year and talk about the program from the 1950s to the present. The Marine Corps did not seem to value us much after we finished our tours, but things have been changing, and they are realizing what we accomplished back in the day.
In what ways has serving in the military influenced the way you have approached your life and your career? What do you miss most about your time in the service?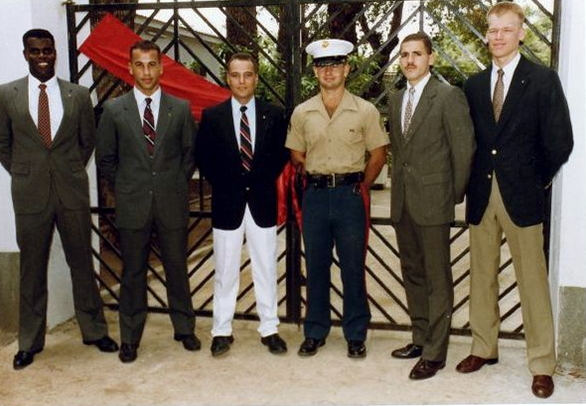 The most valuable habit I acquired was always to have a backup plan. I have researched every place I have traveled to so that I am prepared for whatever might happen. I was an Adjunct at a local University in Oklahoma City for 13 years, and I always had veterans in class. One of my Marines was going to Nigeria to visit his girlfriend's family, and I made him check in with the Embassy so that they would know he was there. I followed up on him to make sure he got back, which he did.
Based on your own experiences, what advice would you give to those who have recently joined the Marine Corps?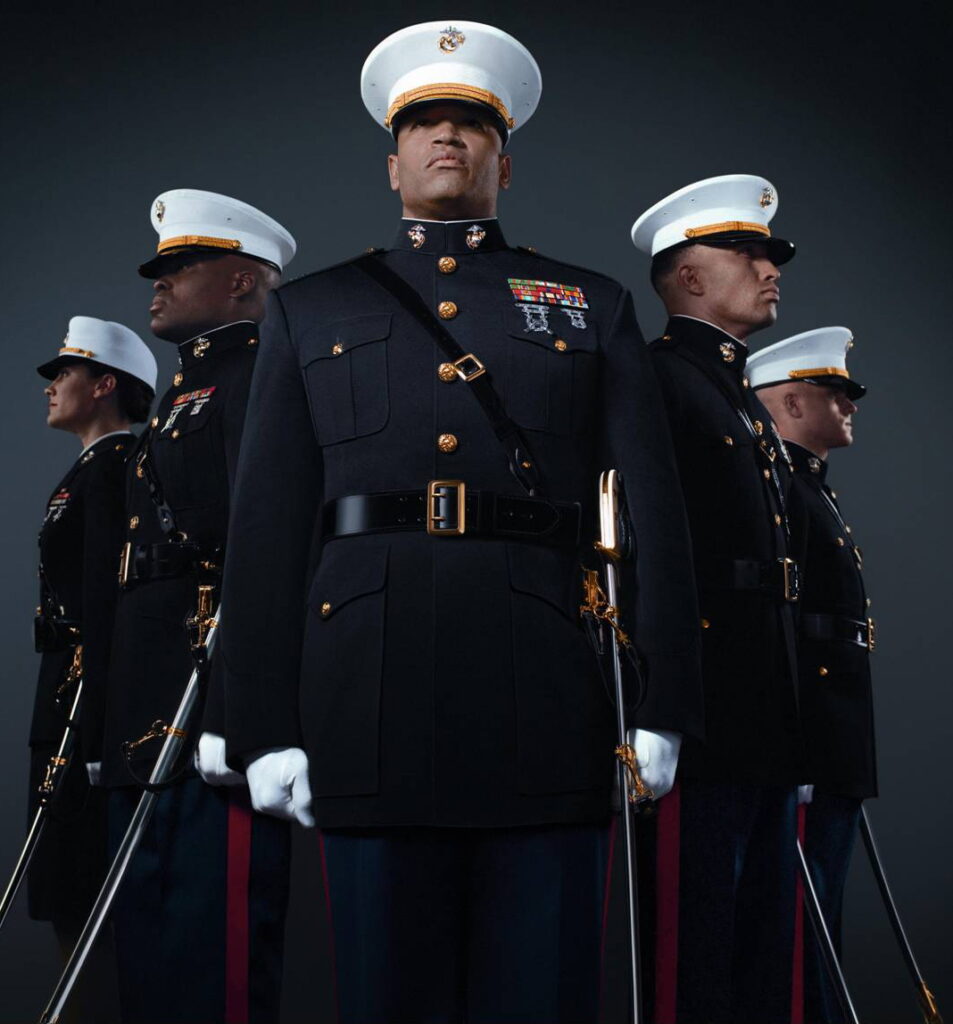 The Marine Corps is special, and we stand out amongst the services. But within the Marine Corps, you are as special as the next Marine. Be the best Marine you can be but don't tread on the next guy who is also trying to be the best he can be.
In what ways has togetherweserved.com helped you remember your military service and the friends you served with.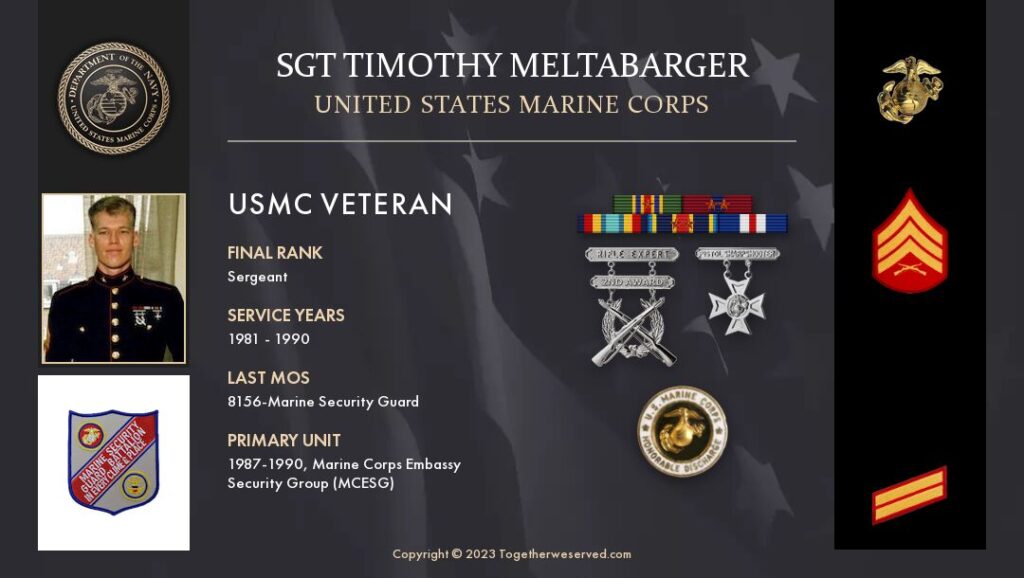 Being able to search and, in many cases, find people I served with has been fun. I wish more of my friends from my units were easier to find.
PRESERVE YOUR OWN SERVICE MEMORIES!
Boot Camp, Units, Combat Operations
Join Togetherweserved.com to Create a Legacy of Your Service
U.S. Marine Corps, U.S. Navy, U.S. Air Force, U.S. Army, U.S. Coast Guard