Frank Capra, who served in the US Army between 1918 and 1945, is perhaps most well-known for his direction of classic Americana films It's A Wonderful Life and Mr. Smith Goes to Washington. However, his greatest contribution to American culture may be the documentary series he produced during World War II for the Allied forces: Why We Fight.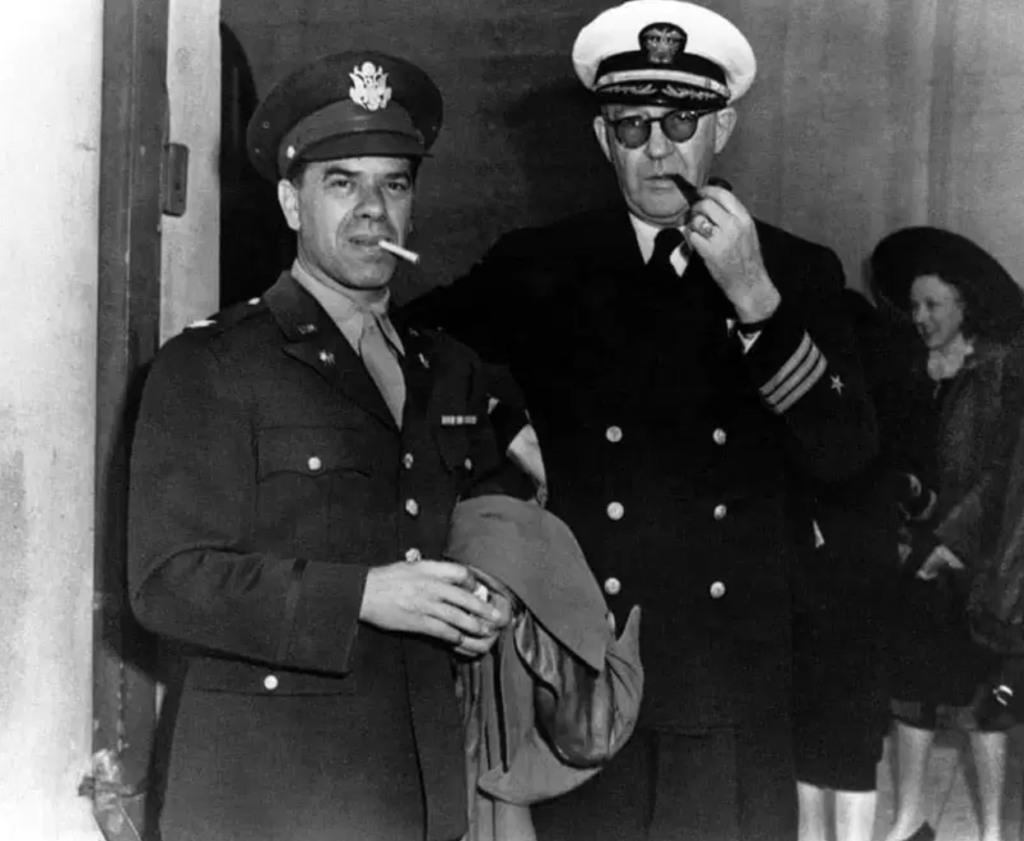 Born in Bisacquino, Sicily, in 1897, Francesco Rosario Capra was the youngest of seven children born to the Capra household: humble fruit growers. In 1903, the family emigrated to the United States, spending 13 days in the degrading squalor of steerage. This experience profoundly affected young Francesco. On arriving in the US, the Capras moved to the East Side of Los Angeles. Capra's father worked as a fruit picker, and Capra himself sold newspapers after school for 10 years, until graduation. Instead of entering the workforce, he enrolled in the California Institute of Technology. Sadly, his father died in 1916, so to avoid draining too much of the family's resources, Capra worked to support himself by playing banjo at nightclubs and taking odd jobs around the area, from waiting tables to cleaning engines at a local power plant. Capra was an exceptional student, and received a prize for his high grades equivalent to his tuition for the year, as well as a six-week trip across the US and Canada. When the US joined World War I in 1917, he enlisted in the US Army, and was a supply officer for the student soldiers at his college in the Reserve Officers Training Corps program. While studying, Capra also completed campus ROTC. He graduated from CIT with a degree in chemical engineering in spring 1918, and gained a commission in the US Army as a second lieutenant. However, he wasn't in the role long; shipped out to the Presidio, peace was declared within a month and Capra quickly fell ill to the Spanish flu. Discharged in less than two months, Capra moved back to Los Angeles, where he worked odd jobs, including as an extra, and tried and failed repeatedly to get his writing published.
Frank Capra Goes to Hollywood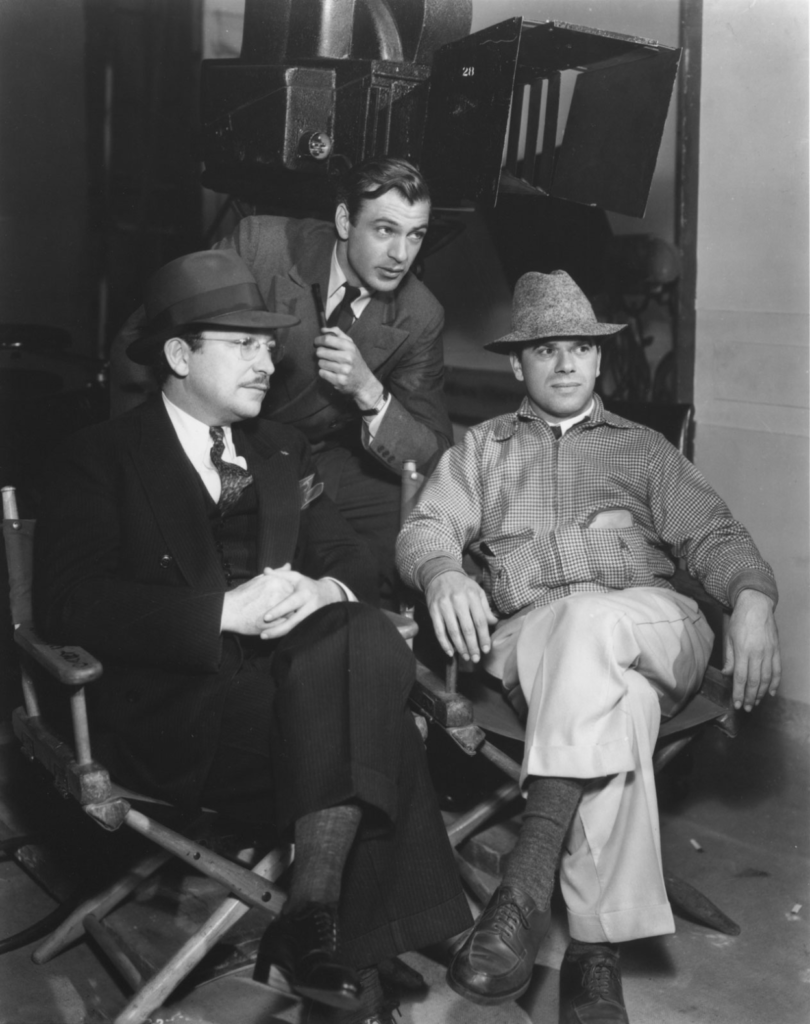 In 1920 Capra became a naturalized American citizen and renamed himself Frank Russell Capra. The only one of his family to have gone to college, and the only one without a steady job, he fell into depression, compounded by an undiagnosed burst appendix that required even more recovery. Capra moved back to San Francisco, living in flophouses, taking odd jobs, wandering the West. At 24 he directed a half-hour documentary, La Visita Dell'Incrociatore Italiano Libya a San Francisco. At 25, he fast-talked his way into directing a short film, Fultah Fisher's Boarding House (1922) for Fireside Productions, which was establishing itself in San Francisco. With this under his belt, he managed to get a break from Harry Cohn, returning to Los Angeles. In 1923 he married the actress Helen Howell. Writing for Hal Roach's Our Gang series, he struck up a working relationship with comedian Harry Langdon, and made two comedy films together: The Strong Man (1926) and Long Pants (1927), after which they fell out. Capra was able to secure a directorial gig on For the Love of Mike (1927).
Capra was rehired at Harry Cohn's Columbia Pictures to produce feature films, and more than other directors Frank took to incorporating sound technology, his engineering background coming in useful. In 1928 alone, Capra made seven films:
That Certain Thing
So This Is Love?
The Matinee Idol
The Way Of The Strong
Say It With Sables
Submarine
The Power Of The Press
His output was considered successful, and he received a generous raise. However, he also went through a divorce from Howell.
---

---
Capra's career was going from strength to strength, and in 1932 he remarried, having four children with Lucille Warner. In 1933 he made his first movie for which he was nominated for an Academy Award: Lady for a Day. However, there was some confusion at the awards ceremony when the award was given, as the actual winner was also named Frank (Frank Lloyd, who directed Cavalcade (1933). Capra took the humiliation very personally, so it is perhaps for the best that he won next year for his direction of It Happened One Night (1934). He actually went on to become President of the Academy in 1935. At the height of his powers, Capra netted Best Director nominations three times in four years, for Mr. Deeds Goes To Town (1936), You Can't Take It With You (1938), and Mr. Smith Goes To Washington (1939), claiming Oscars for the first two. In 1936, Capra also hosted the Oscar ceremony.
Frank Capra Goes To War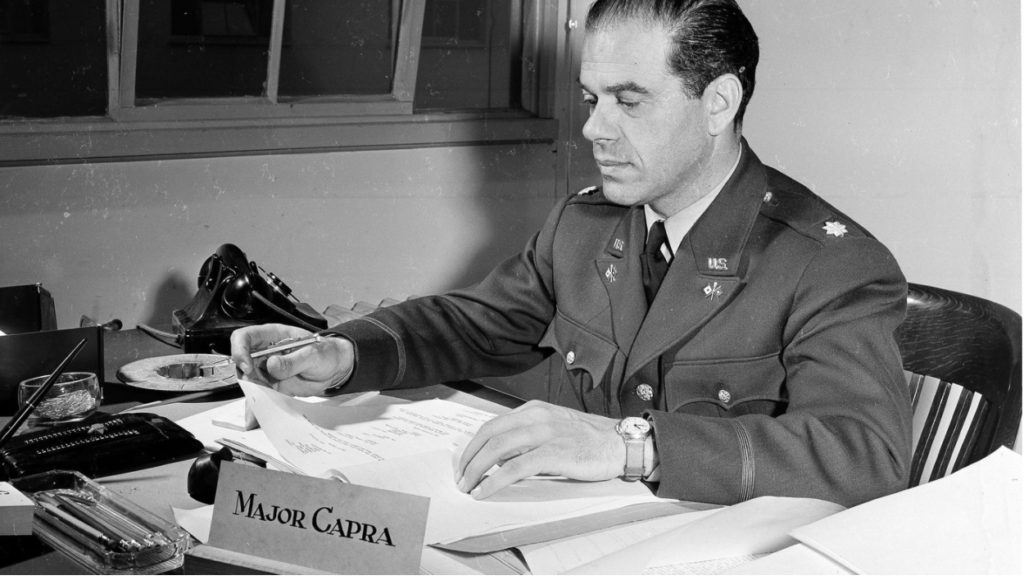 Capra was known for having anxieties about politics, and the last two films he made before World War II (Mr. Smith Goes To Washington and Meet John Doe (1941) were laced with his political opinions: anti-corruption, anti-fascist, pro-individual. Within four days of Pearl Harbor, Capra had left his Hollywood ties behind to rejoin the US Army. Despite being 44 and therefore not required to enlist, Capra considered it time to put his money where his mouth was, having exhorted his countryfolk to love their country through his films for much of the past decade. Capra was assigned to support the Office of War Information (OWI), working directly under the Army Chief of Staff George C. Marshall, who wanted Capra to produce a series of motion pictures to explain the enormity of the situation to the enlisted men of the Armed Forces, and the country as a whole. A secondary objective was to counteract the propaganda films of the Axis powers such as Leni Riefenstahl's Triumph of the Will (1935).
Frank Capra Filmed Motivational Documentaries for American Soldier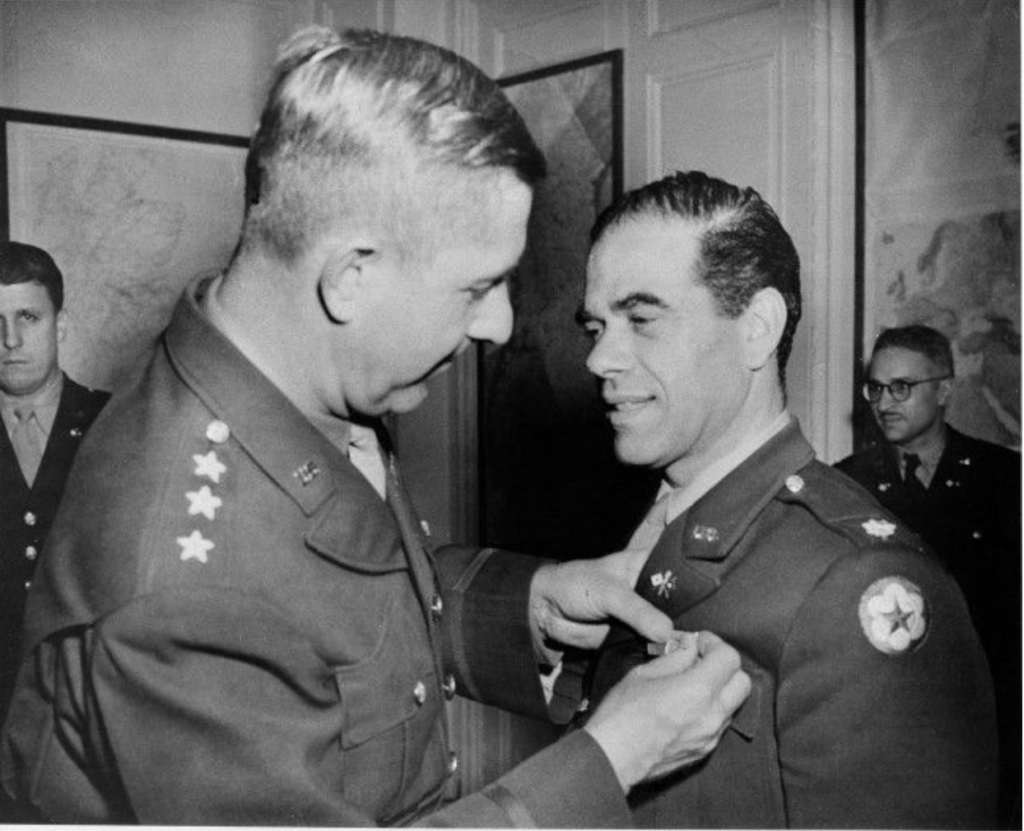 Capra directed or co-directed the Why We Fight series and associated films:
Prelude to War (1942)
The Nazis Strike (1942)
Divide and Conquer (1943)
The Battle of Britain (1943)
The Battle of Russia (1943)
The Battle of China (1944)
War Comes to America (1945)
Know Your Enemy: Japan (1945)
Here Is Germany (1945)
Tunisian Victory (1945)
Two Down and One to Go (1945)
Capra also produced but did not direct The Negro Soldier (1944). Distributed to the forces and the general public, Capra's films were hailed as being tremendous contributions to the war effort and motivational for the American soldiers fighting it. Capra received another Academy Award for his work with the Army: the Best Documentary Feature in 1942 for Prelude to War. Promoted to the rank of Colonel, he was awarded the Legion of Merit in 1943 and the Distinguished Service Medal in 1945. Winston Churchill recommended Capra for an honorary OBE, which he eventually received in 1962.
Capra after the War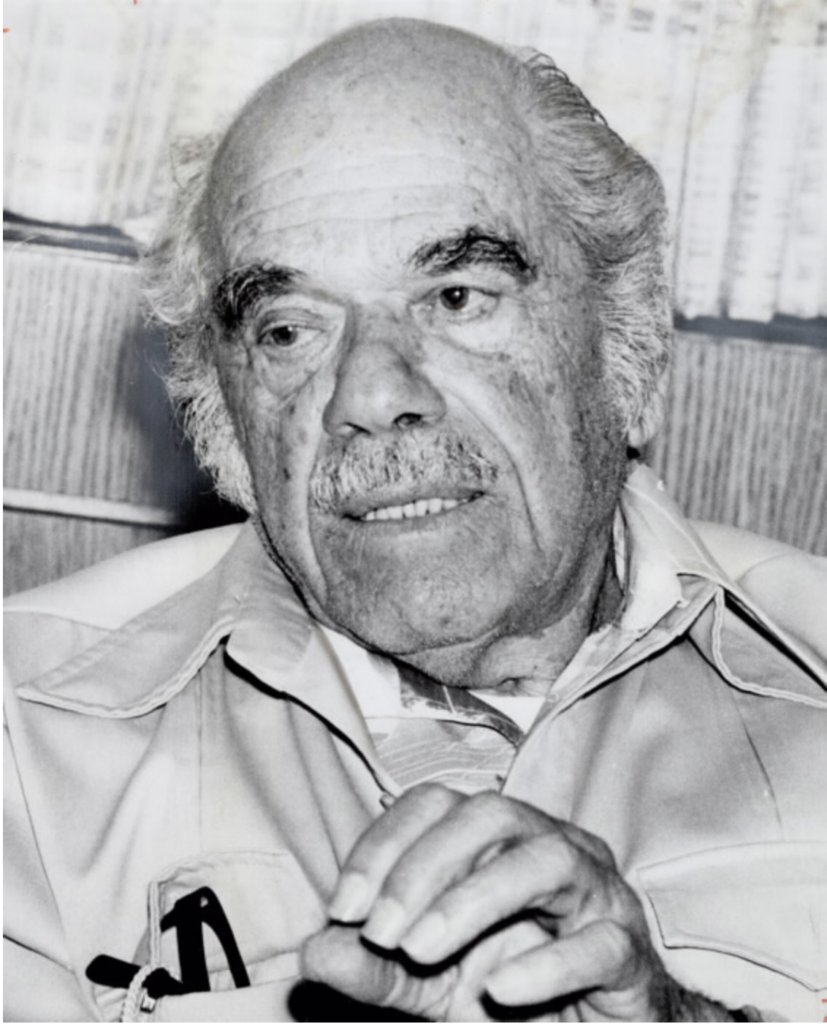 Though Capra founded his own studio in the aftermath of victory, Liberty Films, it only produced two films: It's A Wonderful Life (1946) and State of the Union (1948). The financial failure of It's A Wonderful Life in spite of its critical acclaim (including five Oscar nominations) was a hammer blow to Capra's credibility as a filmmaker. This disappointment compounded his disillusionment following the House Un-American Activities Committee's persecution of his industry. In public statements, such as his autobiography, Capra blamed the increasing power of actors, and what he saw as the mounting immorality of Hollywood, for his retreat from film making. Privately, he was also crushed by the Army rejecting him when he attempted to re-enlist in 1950 at the breakout of the Korean War, and the bureaucracy that snarled his attempt to join the Department of Defense's new think tank VISTA. Though he directed two Bing Crosby films, Riding High (1950) and Here Comes The Groom (1951), Capra decided to return to the California Institute of Technology and produce educational films there. In return, they honored him with their Distinguished Alumni Award in 1966.
Though his career had come to something of an ignominious end, by the 1960s his films were being hailed as the works of an exceptional auteur. In 1982, the American Film Institute gave Capra their AFI Life Achievement Award. In 1986, Capra received the National Medal of Arts. At the age of 94, in 1991, Frank Capra passed away in La Quinta, California. He always considered the Why We Fight series to be his most important work, and at Together We Served, we believe the same. We honor the life's work of a dedicated artist and patriot.
Learn About Other Celebrities Who Served
If you found this account of Frank Capra's military service interesting, we think you may enjoy the military service stories of other celebrities who served on our blog. You will also find military book reviews, veterans' service reflections, famous military units and more on the TogetherWeServed.com blog. If you are a veteran, find your military buddies, view historic boot camp photos, build a printable military service plaque, and more on TogetherWeServed.com today.