During the early morning hours of May 15, 1967, personnel of the 1st Brigade, 101st Airborne Division, were ambushed in the Song Tra Cau riverbed near the Duc Pho District in the South Central Coast of Vietnam by an estimated battalion-sized force of the North Vietnamese Army. The NVA attacked with numerous automatic weapons, machine guns, mortars, and recoilless rifles from a fortified complex of deeply embedded tunnels and bunkers that were effectively shielded from counter fire.
Maj. Charles Kettles Volunteered to Lead a Flight of Six UH-1D
Upon learning that the 1st Brigade had suffered casualties during an intense firefight with the enemy, then – Maj. Charles Kettles volunteered to lead a flight of six UH-1D helicopters to carry reinforcements to the embattled forces and to evacuate wounded personnel. As the flight approached the landing zone, it came under witheringly deadly enemy fire from multiple directions, with reinforcements hit and killed before they could even leave the helicopters.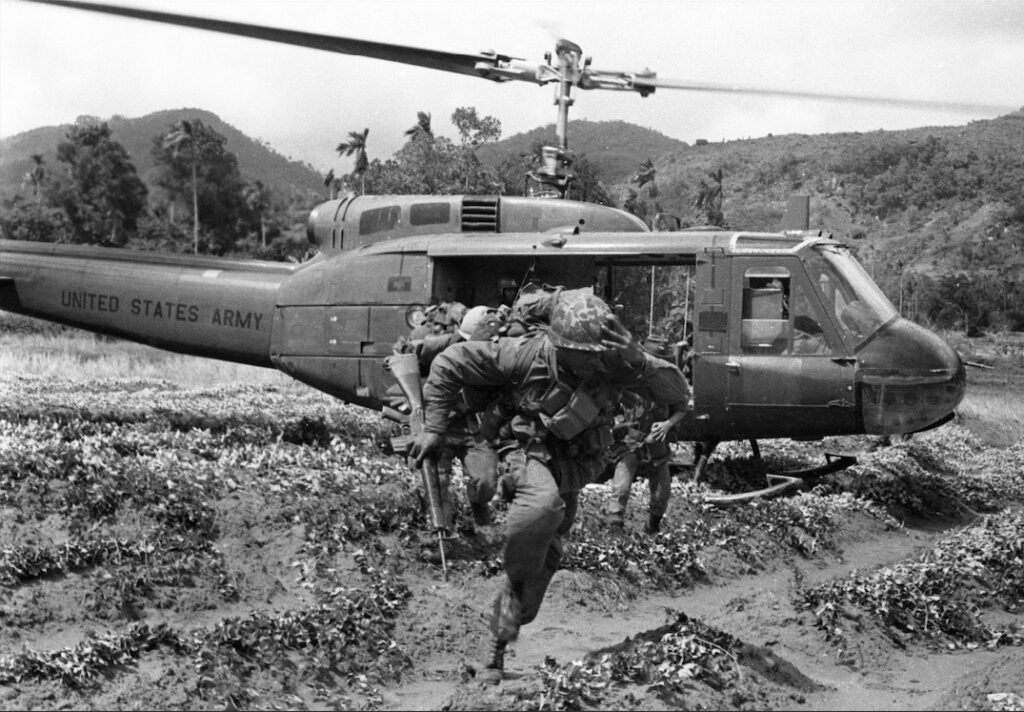 Jets dropped napalm and bombs on the enemy machine guns on the ridges overlooking the landing zone, with minimal effect. Small arms and automatic weapons fire continued to rake the landing zone, inflicting heavy damage to the helicopters. However, Kettles refused to depart until all reinforcements and supplies were off-loaded and the helicopters were loaded to capacity with wounded personnel. Kettles led the flight out of the battle area and back to the staging area to deliver the casualties and pick up additional reinforcements.
Kettles then returned to the battlefield, with full knowledge of the intense enemy fire awaiting his arrival. Bringing reinforcements, he landed in the midst of enemy mortar and automatic weapons fire that seriously wounded his gunner and severely damaged his aircraft. Upon departing, Kettles was advised by another helicopter crew that he had fuel streaming out of his aircraft. Despite the risk posed by the leaking fuel, he nursed the damaged aircraft back to base.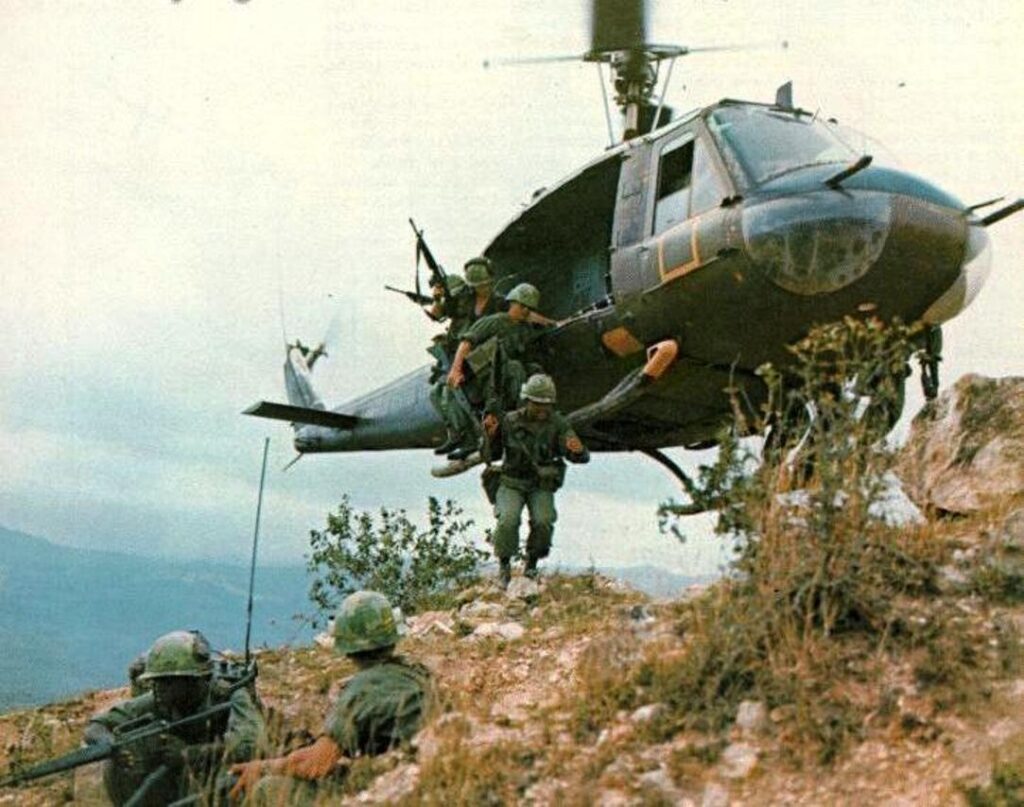 Later that day, the infantry battalion commander requested immediate, emergency extraction of the remaining 40 troops, and four members of Kettles' unit who were stranded when their helicopter was destroyed by enemy fire. With only one flyable UH-1 helicopter remaining, Kettles volunteered to return to the deadly landing zone for a third time, leading a flight of six evacuation helicopters, five of which were from the 161st Aviation Company. During the extraction, Kettles was informed by the last helicopter that all personnel were aboard and departed the landing zone accordingly. Army gunships supporting the evacuation also departed the area.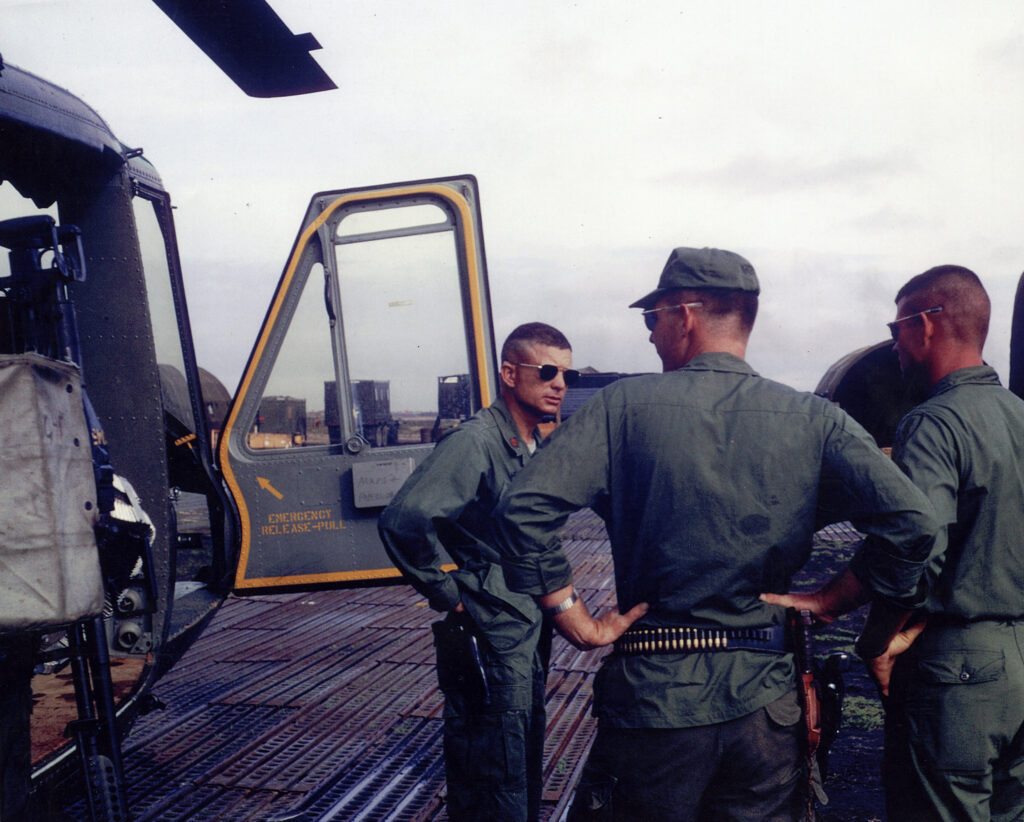 When they were airborne, Charles Kettles learned eight men had been unable to reach the evacuation helicopters due to the intense enemy fire and had been left on the ground.
With one of the rescued Soldiers on board in addition to his crew of four, Kettles immediately turned his unarmed Huey around and headed back to the landing zone to rescue the remaining troops. Without gunship, artillery, or tactical aircraft support, the enemy concentrated all firepower on his lone aircraft, which was immediately damaged by a mortar round that damaged the tail boom, a main rotor blade, shattered both front windshields and the chin bubble and was further raked by small arms and machine gunfire.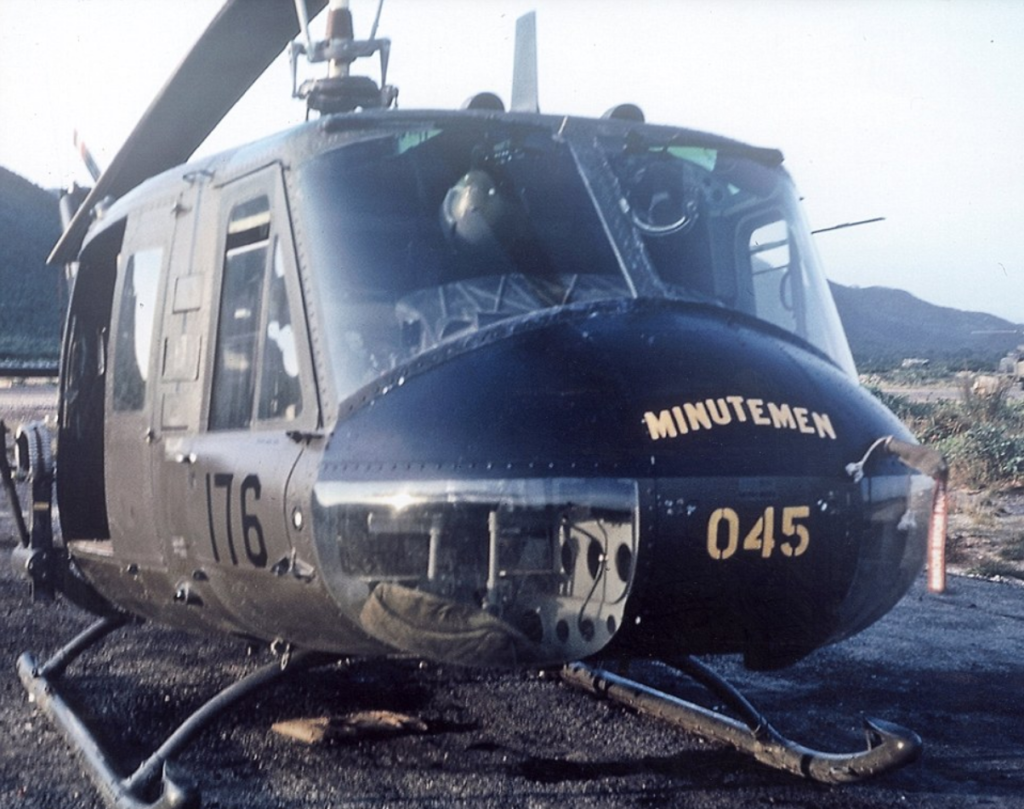 Kettles Was Awarded the Distinguished Service Cross (DSC)
Coming in low over the treetops, Charles Kettles skillfully guided his helicopter onto the ground where the eight Soldiers dove into the helicopter, but there was another problem: it was now about three men, or 600 pounds, too heavy. "I didn't know if we were going to get out of there," Kettles remembered, "but I was just going to give it my best try."
In spite of the severe damage to his helicopter, Charles Kettles repeatedly adjusted the revolutions per minute until the heavily damaged aircraft lurched upward, stayed close to the treetops and limped home to Duc Pho. Without his courageous actions and superior flying skills, the last group of Soldiers and his crew would never have made it off the battlefield.
For his heroic efforts, Charles Kettles was awarded the Distinguished Service Cross (DSC), the nation's second-highest medal for gallantry.

Who Was Lieutenant Colonel Charles S Kettles?
Charles S. Kettles was born in Ypsilanti, Mich., Jan. 9, 1930. The son of a World War I Royal Air Force (Canadian) and World War II Air Transport Command (U.S. Army Air Corps) pilot, Kettles had aviation in his blood. While attending the Edison Institute High School in Dearborn, Michigan, Kettles honed his love of flying on the Ford Motor Company Flight Department simulator.
Following high school graduation, Kettles enrolled in Michigan State Normal College (now Eastern Michigan University), where he studied engineering. Two years later, Kettles was drafted into the Army at age 21. Upon completion of basic training, he attended Officer Candidate School at Fort Knox, Kentucky, and earned his commission as an armor officer in the U.S. Army Reserve, Feb. 28, 1953. Kettles graduated from the Army Aviation School in 1953, before serving active duty tours in Korea, Japan, and Thailand.
Kettles returned in 1956 and established a Ford Dealership in Dewitt, Mich., with his brother, and continued his service with the Army Reserve as a member of the 4th Battalion, 20th Field Artillery.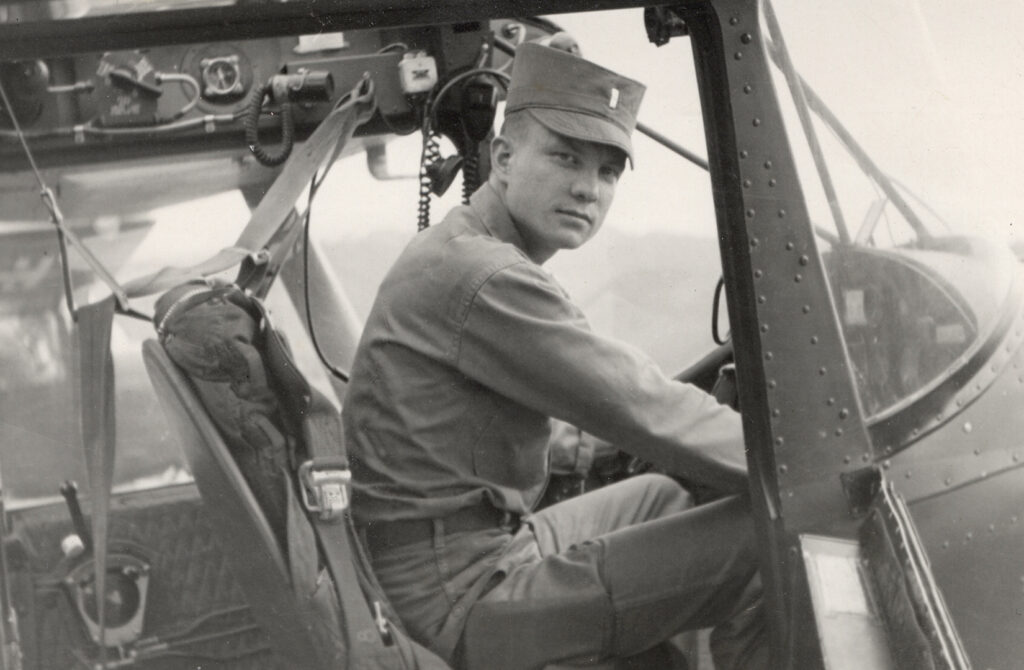 Kettles Completed His Bachelor's Degree
He answered the call to serve again in 1963 when the United States was engaged in the Vietnam War and needed pilots. Fixed-wing-qualified, Kettles volunteered for Active Duty and attended Helicopter Transition Training at Fort Wolters, Texas in 1964. During a tour in France the following year, Kettles was cross-trained to fly the famed UH-1D "Huey."
Kettles reported to Fort Benning, Georgia, in 1966 to join a new helicopter unit. He was assigned as a flight commander with the 176th Assault Helicopter Company, 14th Combat Aviation Battalion, and deployed to Vietnam from February through November 1967. His second tour of duty in Vietnam lasted from October 1969 through October 1970.
In 1970, Kettles went to Fort Sam Houston in San Antonio, Texas, where he served as an aviation team chief and readiness coordinator supporting the Army Reserve. He remained in San Antonio until his retirement from the Army in 1978.
Kettles completed his bachelor's degree at Our Lady of the Lake University, San Antonio, Texas, and earned his master's degree at Eastern Michigan University, College of Technology, in commercial construction. He went on to develop the Aviation Management Program at the College of Technology and taught both disciplines. He later worked for Chrysler Pentastar Aviation until his retirement in 1993. Kettles currently resides in Ypsilanti, Mich., with his wife Ann.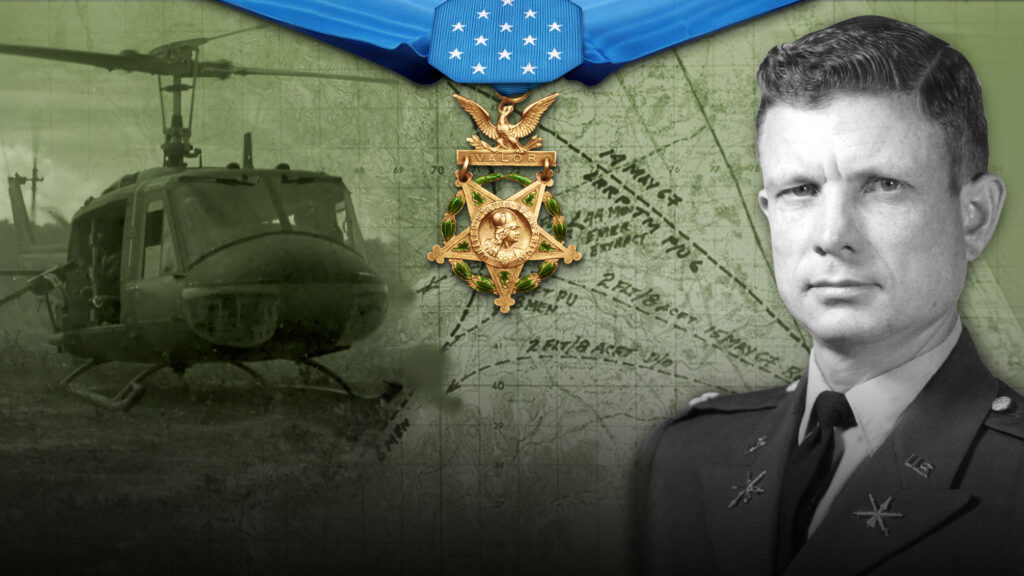 Many who were present for or had heard of Kettles remarkable act of heroism wondered why he never received the Medal of Honor instead of the Distinguished Service Cross. Numerous attempts to get his DSC upgraded to a Medal of Honor were made, but all such efforts failed. Eventually, the tenuous efforts paid off, and his DSC was upgraded to a Medal of Honor.
President Obama Awarded the Medal of Honor to Charles Kettles.
On Monday, July 18, 2016, President Barack Obama awarded retired Army Lt. Col. Charles Kettles the Medal of Honor during a White House Ceremony.
"You couldn't make this up. It's like a bad Rambo movie," Obama said, describing the harrowing exploits of then-Major Kettles on that fateful day, May 15, 1967, in "Chump Valley," South Vietnam.
As commander of the 176th Aviation Company, Kettles' mission was to fly in reinforcements and evacuate wounded Soldiers of the 101st Airborne Division, who were outgunned and outnumbered by the North Vietnamese in a rural riverbed near Duc Pho. "They needed support fast," the President said.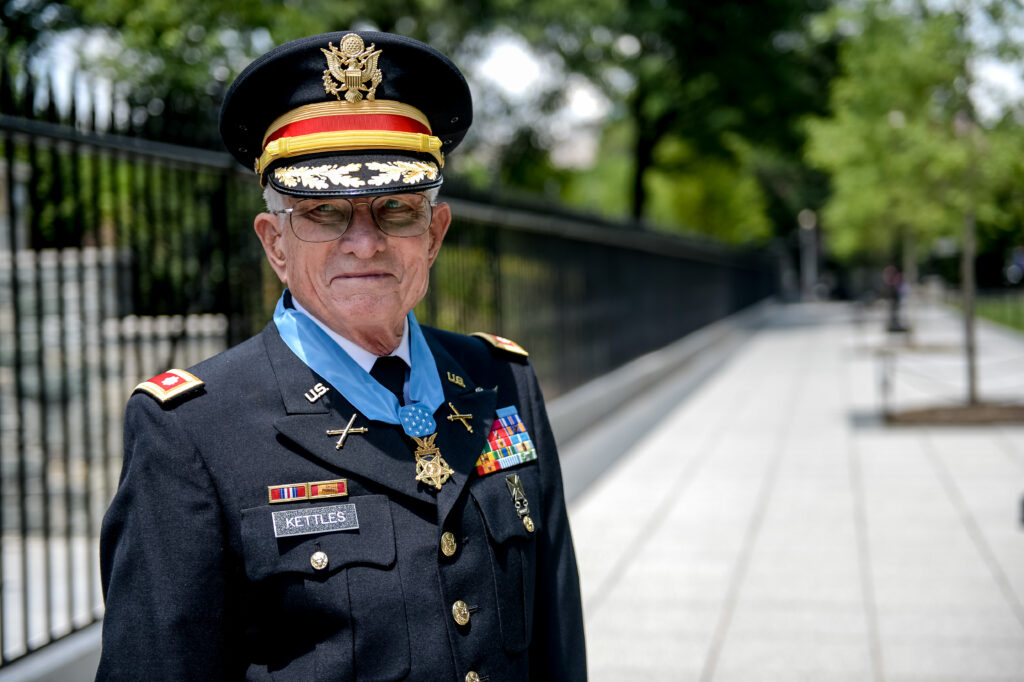 Towering above Chump Valley was a 1,500-foot-high hill where the enemy was entrenched in an extensive series of tunnels and bunkers. It was "the ideal spot for an ambush," Obama said.
Despite the dangers that they all were aware of, Kettles and his fellow company of Soldiers took off in their Hueys. As they approached the landing zone, they met a "solid wall of enemy tracers coming right at them," Obama said. "None of them had ever seen fire that intense. Soldiers in the helos were hit and killed before they could even leap off."
Despite the withering fire, Kettles landed his helicopter and kept it there exposed so the wounded could board.
"Once more, machine-gun bullets and mortar rounds came screaming after them. Rounds pierced the arm and leg of Chuck's door gunner, Roland Scheck," Obama said. His Huey was hit. Fuel was pouring out as he flew away. His helicopter was so badly damaged that he couldn't make it to the field hospital so Kettles found another helicopter and took them to safety, the President said.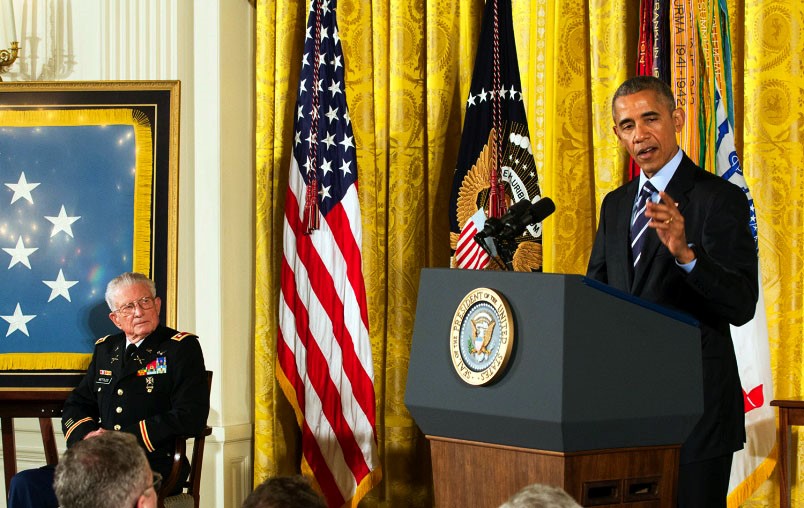 By then it was near evening. Back in the riverbed, 44 American Soldiers were still pinned down. "The air was thick with gunpowder, the smell of burning metal," the President described. "Then they heard a faint sound. As the sun started to set, they saw something rise over the horizon – six American helicopters, one of them said, "as beautiful as could be.'"
For a third time, Chuck and his unit "headed into that hell on earth," Obama said. "Death or injury was all but certain," a fellow pilot had said, "and a lesser person would not return," the President related.
Once again, the enemy unloaded everything they had on Kettles as he landed: small arms, automatic weapons, and rocket-propelled grenades, Obama said. Soldiers ran to the helicopters as they had before. When Kettles was told all were accounted for, he took off, the President said.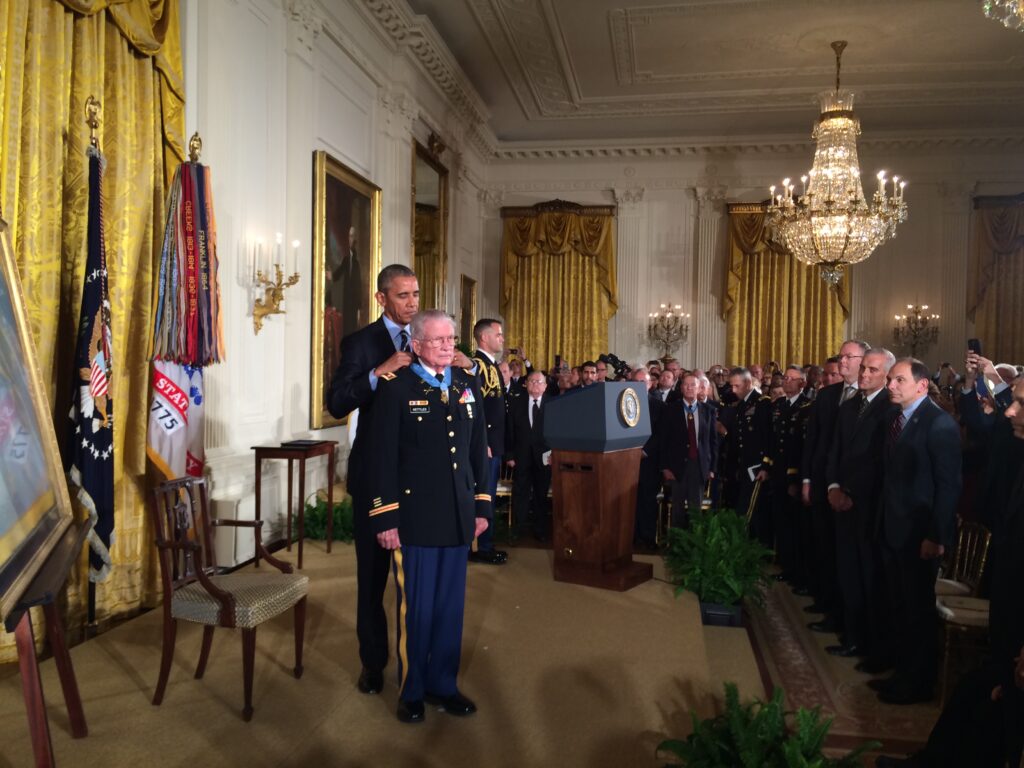 On the return flight, Charles Kettles received a radio call informing him that eight men had not made it aboard. "They'd been providing cover for the others," the President said. They "could only watch as the helicopters floated away. "We all figured we were done for,'" one later said. Kettles came to the same conclusion, the commander in chief said, conveying his words: "If we'd left them for 10 minutes, they'd become POWs or dead."
Kettles couldn't shake from his mind the idea of leaving the eight behind, so "he broke off from formation, took a steep, sharp descending turn back toward the valley, this time with no aerial or artillery support, a lone helicopter heading back in," Obama said.
"Chuck's Huey was the only target for the enemy to attack. And they did," he continued. "Tracers lit up the sky once more. Chuck came in so hot his chopper bounced for several hundred feet before coming to a stop," the President said.
As soon as he landed, a mortar round shattered his windshield. Another hit the main rotor blade. Shrapnel tore through the cockpit and Kettles' chair. Yet, Obama said, those eight Soldiers sprinted to the Huey through the firestorm.
---

---
The President described what happened next: "Chuck's helo, now badly damaged, was carrying 13 souls and was 600 pounds over the weight limit. He said, "it felt like flying a two-and-a-half-ton truck." He couldn't hover long enough to take off, but the cool customer that he is, he saw his shattered windshield and thought, 'that's pretty good air conditioning.'
"The cabin filled with black smoke as Chuck hopped and skipped the helo across the ground to pick up enough speed to take off, 'like a jackrabbit bouncing across the riverbed,'" the President said, relating Kettle's analogy.
The instant he got airborne, another mortar ripped into the tail and the Huey fishtailed violently. A Soldier was tossed from the helicopter, but managed to grab a skid, hanging on as Kettles flew them to safety," Obama said.
"The Army's Warrior Ethos is based on a simple principle: A Soldier never leaves his comrades behind," Obama said. "Chuck Kettles honored that creed. Not with a single act of heroism, but over and over and over and over. And, because of that heroism, 44 American Soldiers made it out that day."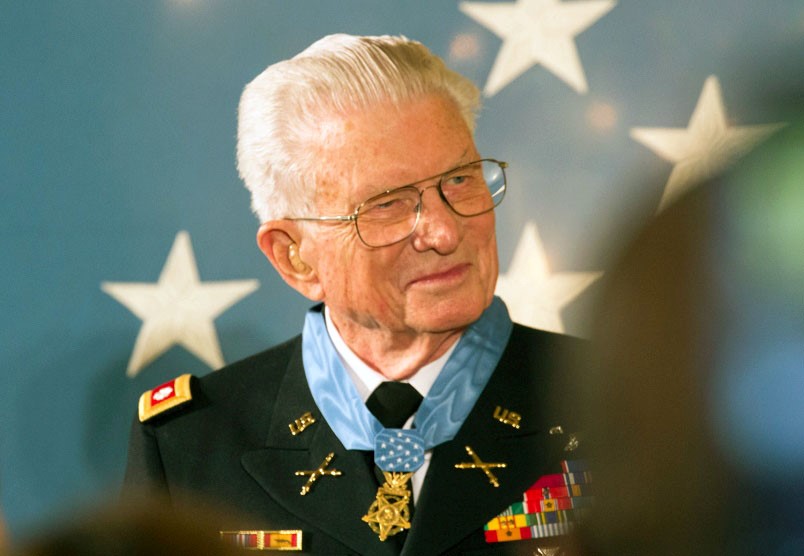 The most gratifying part of this whole story "is that Dewey's name and Roland's name and the names of 42 other Americans he saved are not etched in the solemn granite wall not far from here that memorializes the fallen in the Vietnam War," the President remarked.
"A Soldier who was there said, 'That day, Major Kettles became our John Wayne,'" Mr. Obama said. "With all due respect to John Wayne, he couldn't do what Chuck Kettles did."
"To the dozens of American Soldiers that he saved in Vietnam half a century ago, Chuck is the reason they lived and came home and had children and grandchildren. Entire family trees, made possible by the actions of this one man," the President concluded.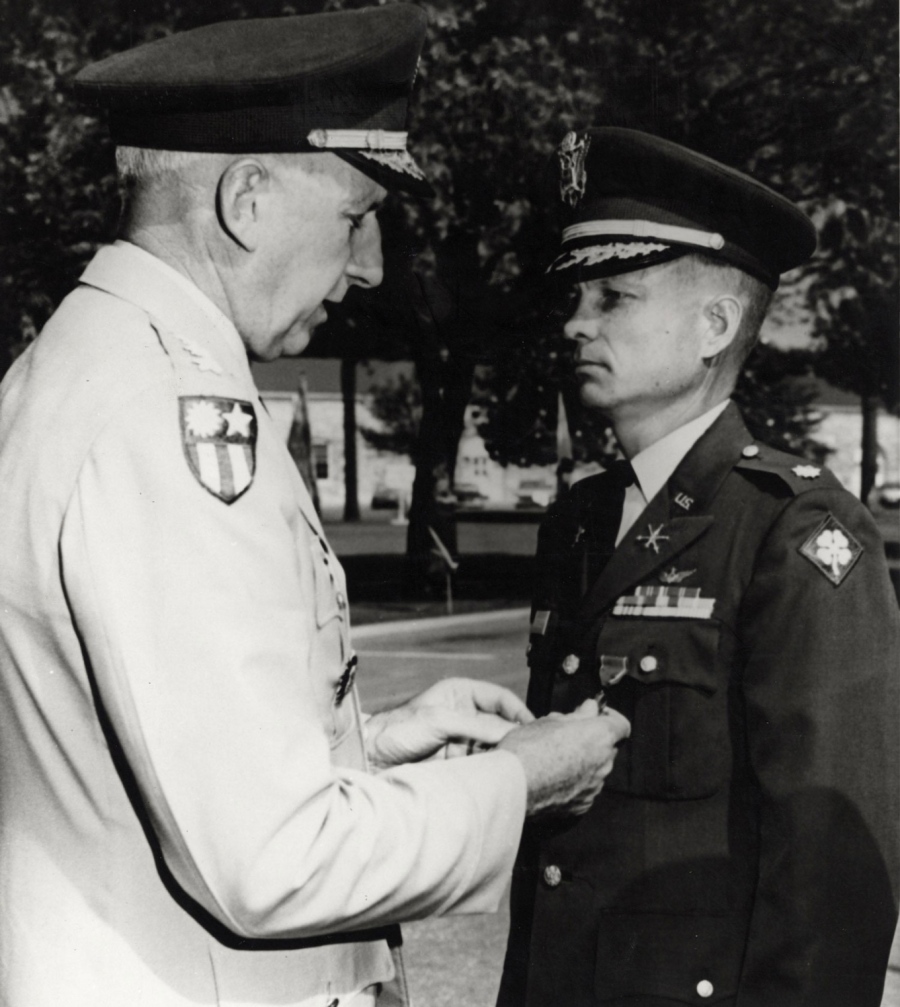 Kettles, 86, was joined at the ceremony by his wife, Anne. They will celebrate their 40th wedding anniversary in March. With them were eight of their 10 children and three grandchildren.
When the ceremony concluded, America's newest national hero said, "We got the 44 out. None of those names appear on the wall in Washington. There's nothing more important than that."
Also attending were some of the Soldiers Kettles served with that day, including Scheck, Dewey Smith, who was among the last eight Soldiers rescued that day, and a number of other Soldiers who fought in that battle. Past Medal of Honor recipients attended as well.
Read About Other Profiles in Courage
If you enjoyed learning about Charles Kettles, we invite you to read about other profiles in courage on our blog. You will also find military book reviews, veterans' service reflections, famous military units and more on the TogetherWeServed.com blog.  If you are a veteran, find your military buddies, view historic boot camp photos, build a printable military service plaque, and more on TogetherWeServed.com today.