American journalist Ernest Taylor "Ernie" Pyle was one of the most famous war correspondents of WWII. Using his folksy writing style, Pyle connected with his readers and brought the realities of the battlefront to living rooms across America. At his peak, his columns appeared in 400 daily and 300 weekly newspapers. His devoted readers included political and military leaders and first lady Eleanor Roosevelt. His coverage of campaigns in North Africa, Italy, and France earned him a Pulitzer Prize. While reporting on the war in the Pacific Theater in April 1945, Pyle was killed by enemy machine-gun fire on the Japanese island of le Shima.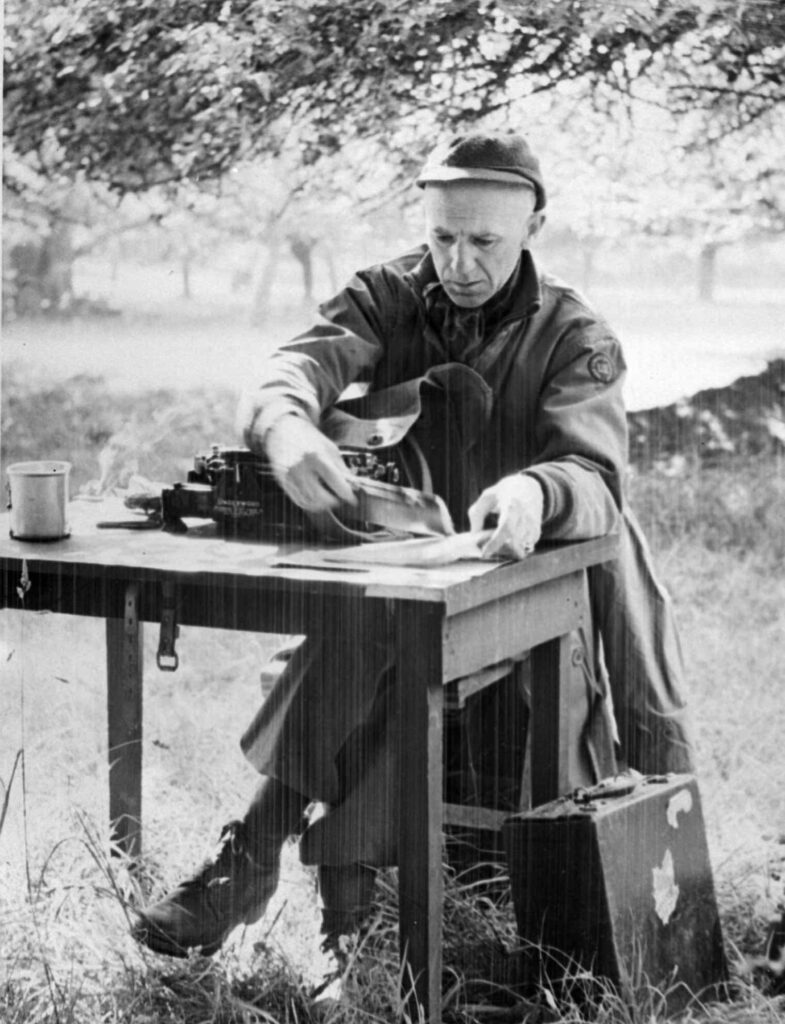 Born August 3, 1900, in Dana, Indiana, Pyle grew up on a farm. After graduation from high school, he longed for adventure and registered for the WWI Draft and joined the US Naval Reserve. WWI ended before he got a chance to see the world, so Pyle enrolled in journalism classes at Indiana University after returning home. One semester shy of graduation, Pyle took a job at an Indiana newspaper. His unassuming nature, ability to make friends, and engaging writing style opened doors at a string of newspapers. He was eventually hired by Scripps-Howard and became a roving reporter.
Ernie Pyle Brought the Realities of the Battlefront to Living Rooms in World War II
In 1940, Germany invaded France and Pyle traveled to England to report on the Battle of Britain. His columns from London brought international acclaim, and Pyle became a household name. Pyle returned home, but when Japan bombed Pearl Harbor, and the US entered the war, he headed back overseas. He petitioned for a draft deferment with hopes of remaining a war correspondent, and in 1942 he followed British and American troops during the invasion of North Africa.
---

---
On D-Day, Pyle was one of a few war correspondents chosen to accompany US troops during Normandy's invasion. He boarded General Omar Bradley's ship Augusta and went ashore at Omaha Beach on June 7, 1944. His poignant articles resonated with Americans who followed the progress of the war through his writings. Pyle returned home a folk hero in the fall of 1944. The stress of war and the impact of seeing so much death and carnage took an emotional toll. Pyle took a few months off but soon felt compelled to return to the battlefield. In January 1945, he headed for the Pacific Theater. He was with US forces on Iwo Jima, during strikes on Tokyo, and reported on Okinawa's invasion.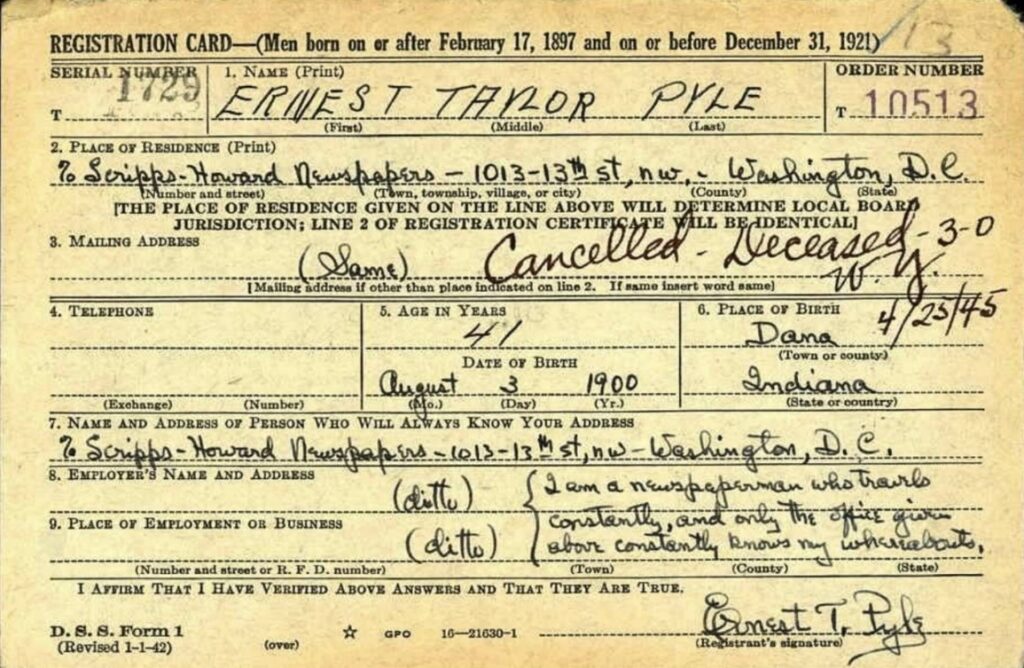 Ernie Pyle Was Awarded a Purple Heart
On April 18, 1945, Pyle went ashore on the island of le Shima with the 77th Infantry Division. Le Shima was a small island northwest of Okinawa, and the 77th was securing an airfield. Pyle was traveling by jeep with Lt. Col. Joseph B. Coolidge when they came under sniper fire. They jumped into a ditch to take cover. Pyle raised his head to look around, and a bullet from machine-gun fire hit him just below the brim of his helmet. He was killed instantly at just 44-years-old.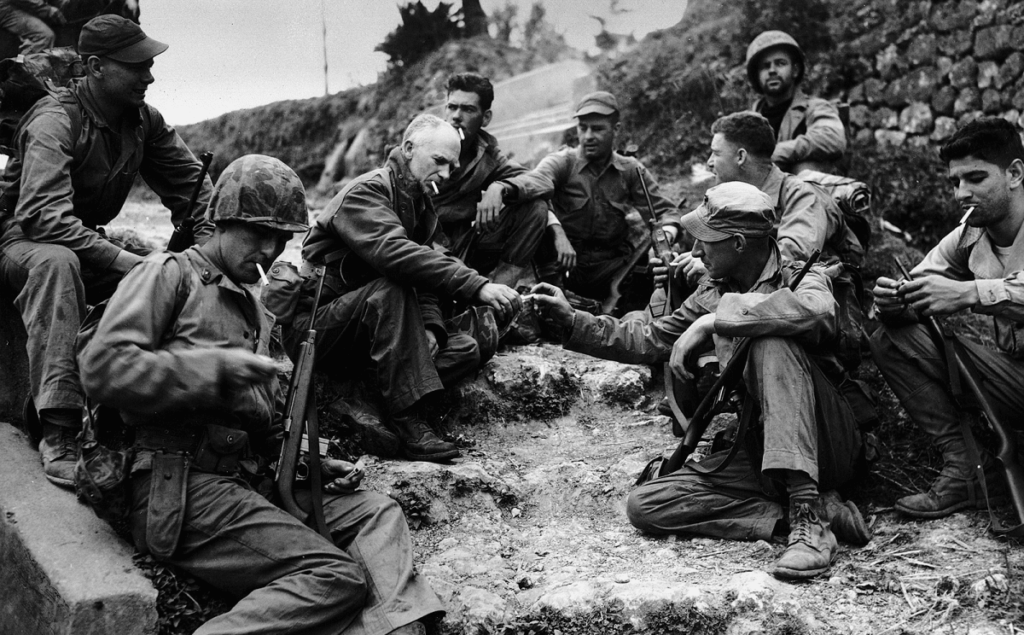 The 77th Infantry Division erected a monument at the site of his death, and Pyle was awarded a Purple Heart, a rare honor for a civilian. Tributes to Pyle poured in. Soldiers named a B-29 Superfortress in his honor, the film The Story of G.I. Joe premiered two months after Pyle's death. It was a tribute to American infantryman as told through Pyle's eyes and received four Academy Awards nominations. During the American occupation, a theater in downtown Tokyo was renamed the Ernie Pyle Theater, and the U.S. Postal service issued a postage stamp with Pyle's image on it. Ernie Pyle is buried in the Punchbowl Cemetery on the island of Oahu.
Read About Other Profiles in Courage
If you enjoyed learning about Ernie Pyle, we invite you to read about other profiles in courage on our blog. You will also find military book reviews, veterans' service reflections, famous military units and more on the TogetherWeServed.com blog.  If you are a veteran, find your military buddies, view historic boot camp photos, build a printable military service plaque, and more on TogetherWeServed.com today.