The Vietnam War ended for the United States in January 1973, but not entirely. South Vietnam would fight in vain for its existence for another two years. As North Vietnamese troops closed in on the South Vietnamese capital of Saigon, U.S military assets scrambled to evacuate American personnel and South Vietnamese refugees. Ultimately, the U.S. military and the CIA's Air America evacuated 1,373 Americans, nearly 6,000 third-country nationals, and more than 138,000 South Vietnamese refugees. Called Operation Frequent Wind, the evacuation was among the last combat actions between North Vietnam and the United States.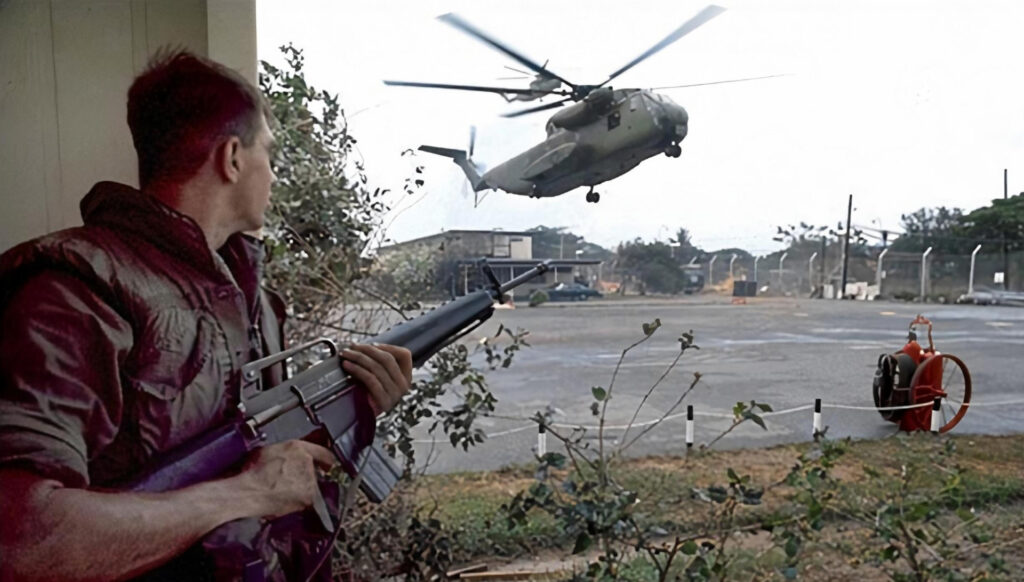 The Success of Operation Frequent Wind
The end of American involvement in Vietnam is often punctuated by the imagery of U.S. military personnel pushing helicopters into the sea from the decks of aircraft carriers. Out of context, these images seem to punctuate the failure of the American mission in Vietnam. Looks can be deceiving. 
A closer look at the UH-1 Hueys that went overboard shows that the helicopters were South Vietnamese, not American. They were pushed overboard because the mission of evacuating South Vietnam was so successful that more room was needed to land more helicopters carrying more refugees. 
When the Vietnam War ended in 1973, the war between North and South Vietnam continued, regardless of the stipulations of the Paris Peace Accords. By 1975, it was clear that South Vietnam would not survive. The National Security Council under President Gerald Ford identified 1.7 million people that would potentially need to be evacuated if Saigon fell.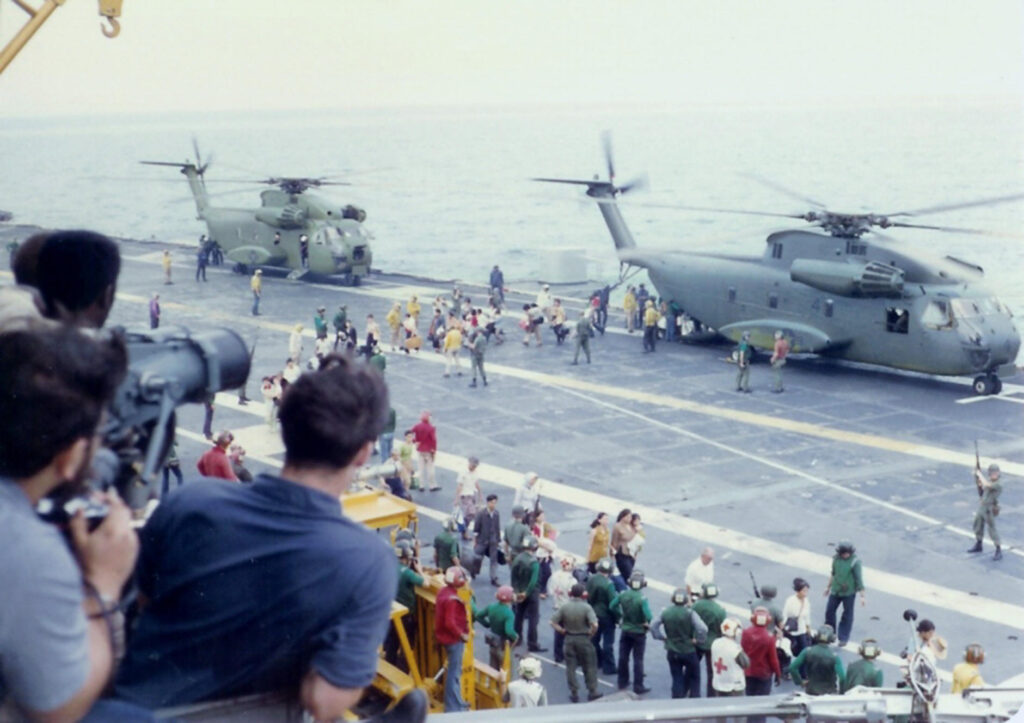 Although prepared for the collapse of Saigon, no one in the American government was prepared for just how fast the North Vietnamese would advance in the spring of 1975. The standard evacuation plan for the Saigon embassy was only prepared to evacuate 119,000 embassy personnel, at-risk Vietnamese civilians, and their families.
The evacuations began in early March by fixed-wing aircraft from Tan Son Nhut airbase and other airfields by both commercial airliners and C-141 and C-5 aircraft. After South Vietnam's president went into exile on April 21, 1975, the flow of refugees increased, civilian flights stopped altogether, and North Vietnam continued its advance. 
Although it is widely believed the North ordered its forces not to interfere with the American operation so as not to provoke airstrikes, intermittent fighting was reported throughout the operation. As the month of April progressed, the situation got more and more dire. The communists were coming, and there was no stopping them.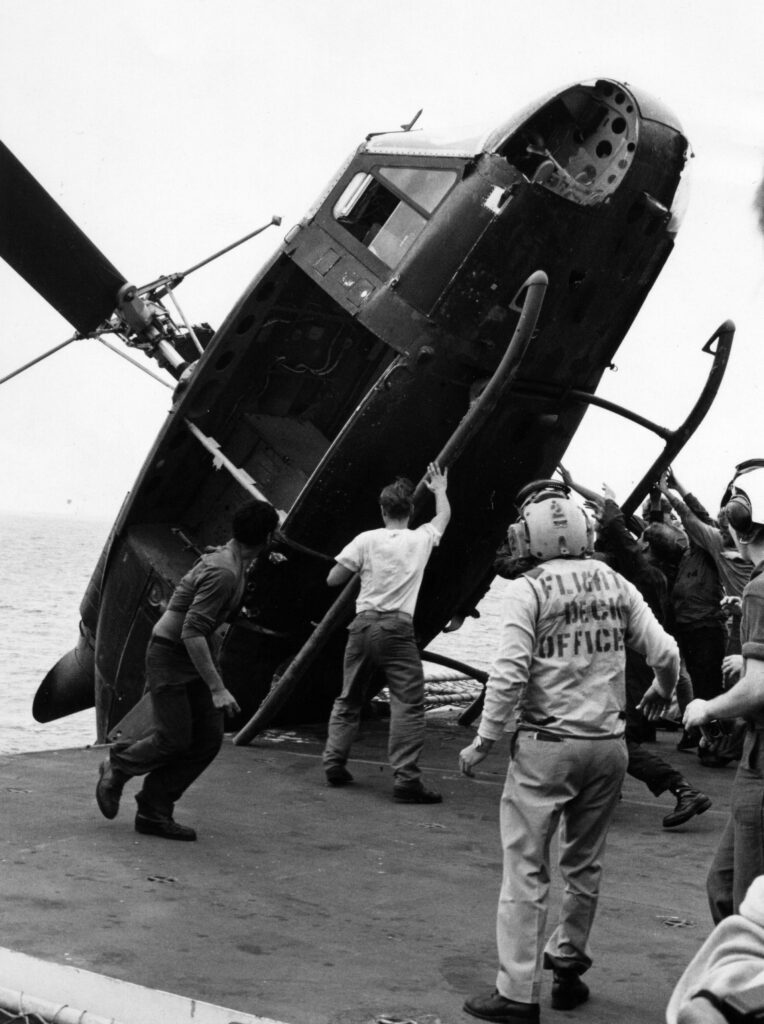 The Aerial Evacuation: Miraculous Logistics and Daring Actions
On April 28, Tan Son Nhut was attacked by South Vietnamese pilots defecting to the North. With fixed-wing aircraft unable to move civilians to safety, Operation Frequent Wind, the evacuation of Americans and Vietnamese civilians by helicopter, began. As the communists came closer to Saigon, more refugees began clogging the streets. The U.S. would get as many out as it could.
U.S. forces assembled Task Force 76 off the coast of ​​Vũng Tàu. Two other task forces assisted the effort. Task Force 77 provided air cover, while Task Force 73 provided logistical support. A massive helicopter evacuation was launched on April 29. 
---

---
American and South Vietnamese helicopters participated in the airlift, along with the CIA's Air America fleet, picking people up from preselected Saigon rooftops. Marine Corps CH-53 and CH-46 helicopters moved U.S. Marines as security forces to these areas across Saigon, all in an operation that was nothing short of a miracle of logistics and daring. 
In two days, 71 American military helicopters flew 662 sorties between Saigon and elements of the Seventh Fleet. Counting fighter escorts, tankers, and command and control flights, the U.S. forces flew a total of 1,422 sorties over Saigon on the final day. They were able to get out more than the Saigon embassy had planned.
The aerial evacuation of South Vietnam was the largest in history. So many Huey helicopters clogged the decks of the ships from Task Force 77 many South Vietnamese helicopters had to be pushed into the ocean to make room for landing more helicopters and unloading civilians.
Read About Other Battlefield Chronicles
If you enjoyed learning about operation Frequent Wind and the fall of Saigon, we invite you to read about other battlefield chronicles on our blog. You will also find military book reviews, veterans' service reflections, famous military units and more on the TogetherWeServed.com blog. If you are a veteran, find your military buddies, view historic boot camp photos, build a printable military service plaque, and more on TogetherWeServed.com today.